Broccoli haircuts are Gen Z's sensation cut. And it's the way these cool, young, and fashionable guys want to highlight curly hair texture and normalize natural hair. These gentlemen are all about embracing an effortless look and a cool, relaxed vibe.
Also known as the mop top, the hairstyle features fades, short trims, or razored designs on the sides and a longer crown.
Photos of the Cool Broccoli Haircuts for Men
Scroll down and discover the best ways to wear a broccoli haircut, and learn how to draw all the attention to your cool curls!
1. Dark Ginger Top
Dark copper hair looks mindblowing, especially when you have fair skin and freckles. If the color is natural, you need the right trim.
And a broccoli cut is low maintenance and really highlights the texture of your hair and the nuance.
2. 3A Curls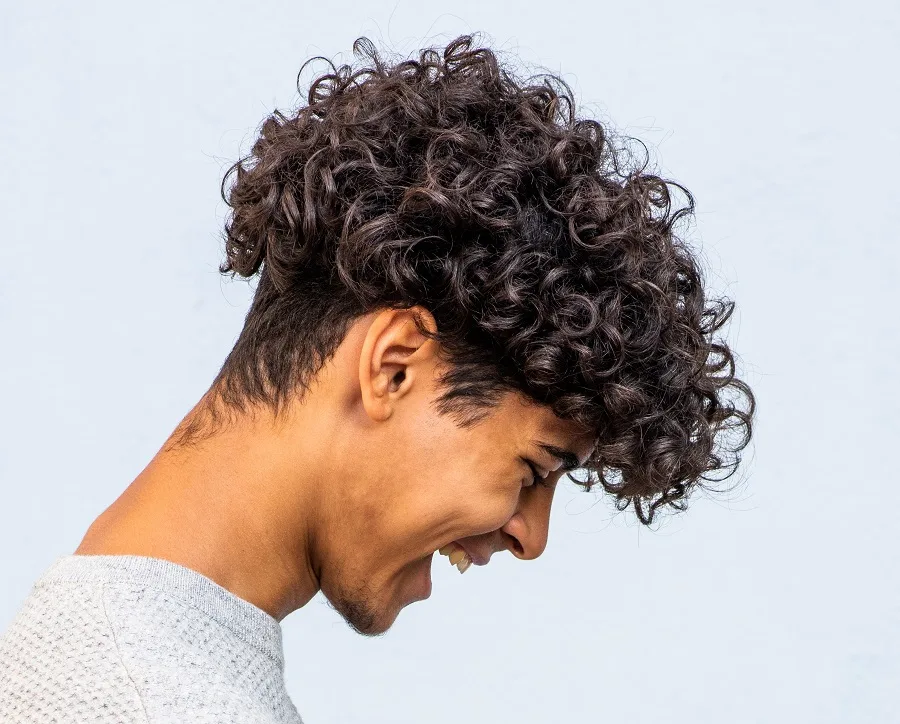 A curl activator and a curling mousse will help you define each strand and gain such amazing volume. Your goal is to make the hair look styled without effort.
Trim the nape and the sideburns to enhance those perfect ringlets.
3. Extra Curly with Shaved Sides
By using a sponge for rubbing your hair, you will gain that fluffy aspect with bumpy curls. Shave the temples and the lower back hair.
Lift up the roots with a hair fork comb.
4. Golden Copper Broccoli Hair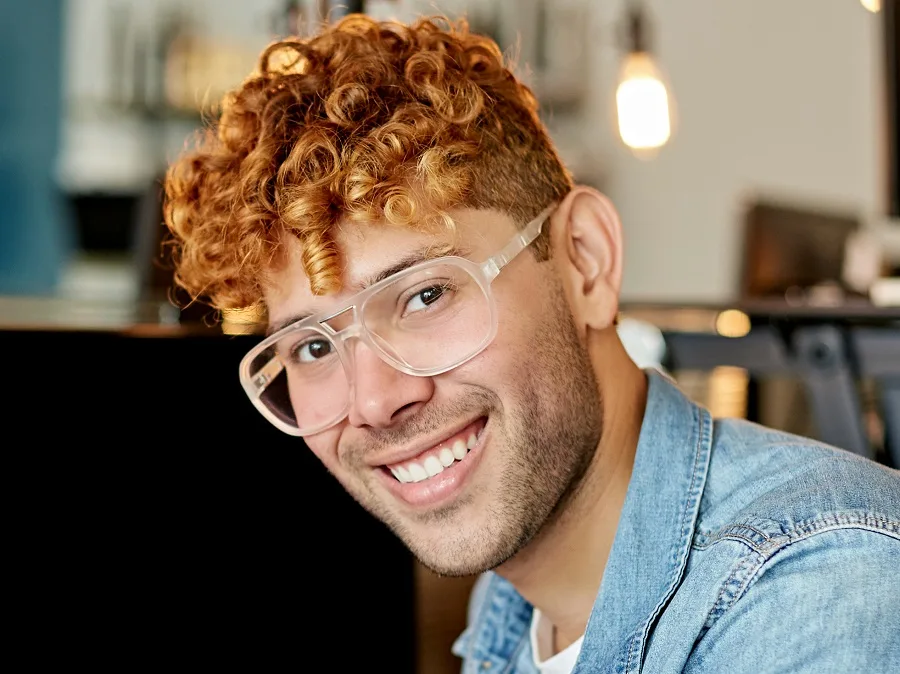 A tight perm can be the best solution when you want a mindblowing look with volume and loops falling on your forehead.
And if you're feeling bold, go for an eye-popping color like this light copper nuance for the top. Keep a stubble beard and shortly trimmed hair on the sides and back.
5. Blonde Highlights
Sprinkle some platinum blonde highlight on that 3C curly top. It will build more depth and give you that broccoli effect.
The sides can be trimmed short and keep them connected with a line beard that follows the bone structure of the jawline.
6. Coarse High Top
What a great way to obtain an elongated look! Create height by going for a mop top look that focuses on the textured curly crown. You will better highlight that textured hair by shortly trimming the sides and creating a contrast.
Complete your look with a goatee and short hair on the jawline.
7. Asian Waves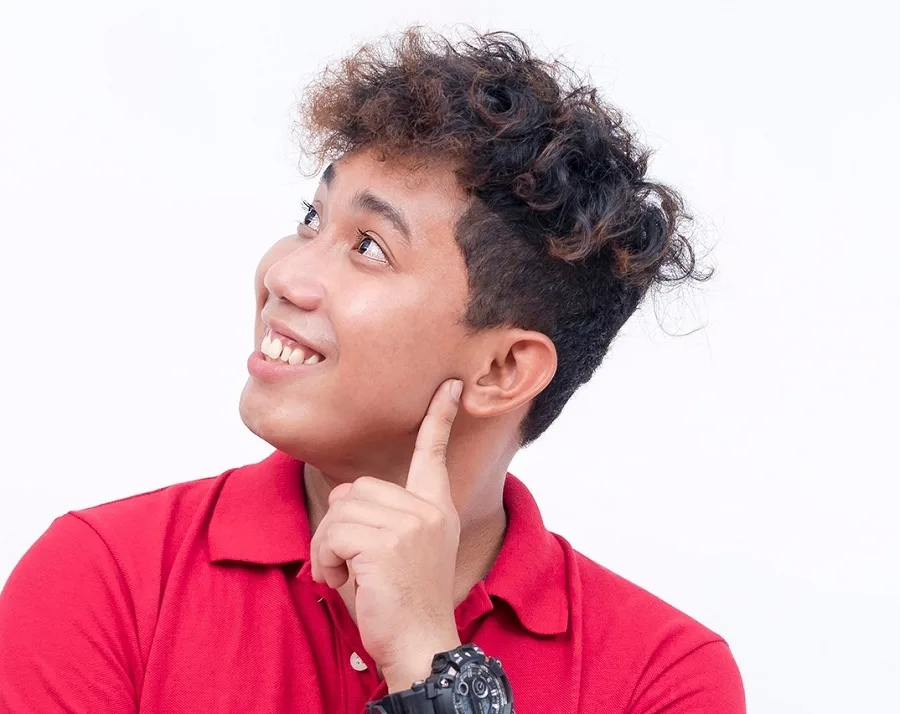 When your hair is not naturally curly or wavy, you can use styling tools like wands or straightening irons or you can go for a more long-lasting option, the perm.
This way you will gain the waves or loops you desire and can spice up your look by dyeing the tips in a lighter brown nuance.
8. Side-Shaved Design
If you're a fashionable guy who loves looking funky and trendy, you will love a broccoli-style mohawk.
On the sides, go for an abstract razored design and for the curls, mix a golden blonde with your natural hair. Choose a pair of round golden matching glasses.
9. Wet Tight Curls
3C curls can look fabulous if you're abundantly using gel for curly hair. They will gain a marvelous shine and shape.
The top will be enriched and highlighted by the low taper fade from the sides and back.
10. Platinum Blonde Messy Waves
If you have fair skin with pink undertones and blue eyes, a platinum blonde hair color will definitely work in your favor.
To achieve this nuance you will need to bleach your curls. If your hair is not that textured, you can do a perm, but make sure you're not doing these treatments on the same day. Your hair needs moisturizing and nourishment, and to recover from an aggressive treatment.
11. Ultra High Top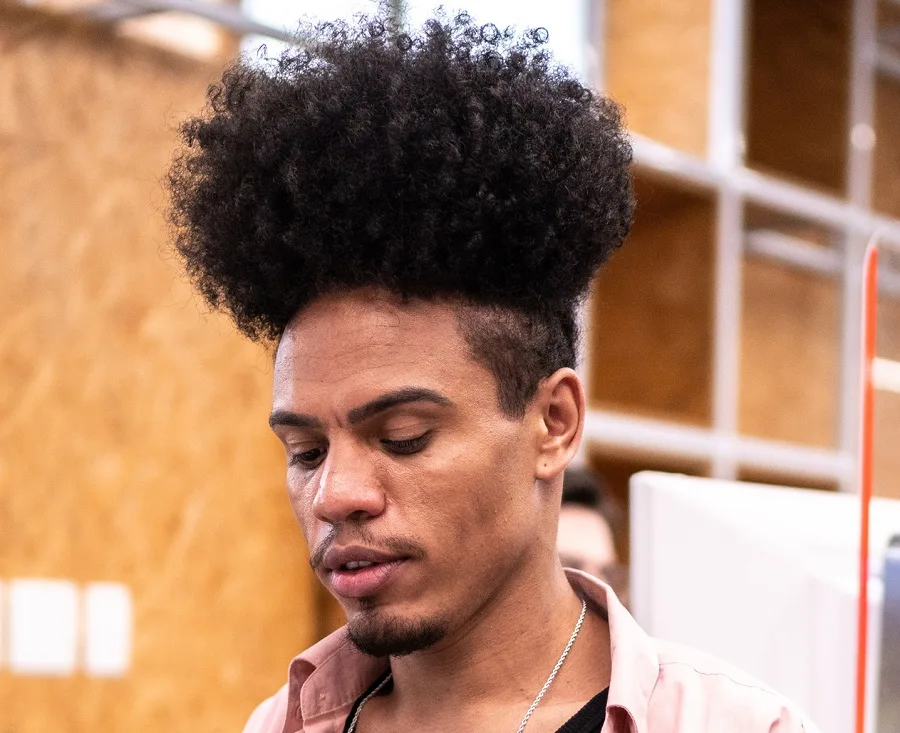 Combining an ultra-high top that has such dimension and volume with a very short cut for the sides and back, will transform the crown into a statement that can't pass unnoticed.
Work with your texture and apply a curl activator that will help you separate each loop.
12. Broccoli Haircut for Teens
The Broccoli haircut, also known as one of the TikTok hairstyles for Gen Z, is a very common option among teens who have natural curly hair and want to highlight their loops.
The top focuses on enhancing each curl and making your ringlets stand out.
13. Gen Z Silver Curls
Creating contrast between the sides and the top will help you get a funky look that will draw all the attention it deserves.
Trim the sides, bleach the top, and go for a silver toner. Wash your hair with purple shampoo to preserve the color.
14. Freeform Dreads
Combine a mop top with freeform dreads. Shortly trim the sides and back and use the top to style the dreads.
In the early stages, you will use a sponge that you will rub on your hair to gain that rolled aspect. Remember, this hairdo requires patience and devotion and you should embrace and cherish each part of the journey.
15. Side Taper Fade
When you have natural Afro hair, it tends to stay up and gains a lot of volume. You can easily diminish it by getting a low taper fade for the sides.
Trim the top so it will gain a slightly rounded shape that is easy to style.
16. Duo Color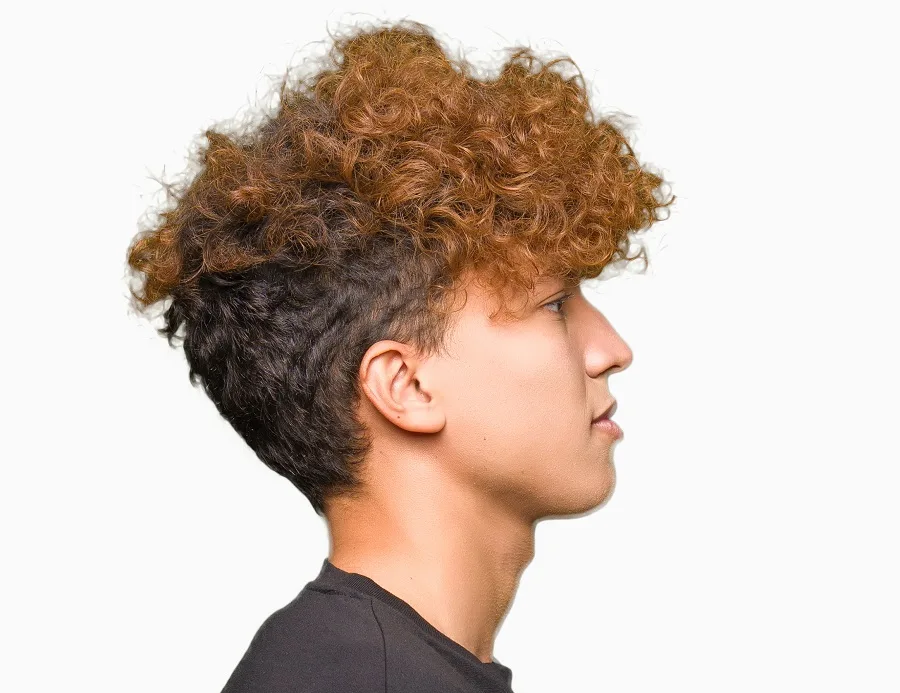 You can also create a cool gradient that draws all the attention to that long curly top. The sides and back should have a darker natural shade.
For the loops, choose a golden brown copper shade that also matches your olive skin.
17. 4C Blonde Curls
Rock your extra curly hair with a hairstyle that highlights each strand. First, choose a taper fade for the sides.
Dye the top and keep the roots in their natural shade. Bleach those ringlets and opt for a very light blonde nuance.
18. Messy Loops
Take advantage of your naturally curly hair and emphasize those loops by choosing a fade for the sides and keeping a long top that allows the curl to build and bounce.
Use a mousse for your textured hair if you want to give them a more defined shape. Then tousle your ringlets and you're ready to go.
19. Permed Top
Broccoli haircuts are incredibly versatile as you can choose any color combination and they will still look fantastic.
Moreover, you can build contrast between the sides and the top by sporting different colors and hair lengths.
20. Mop Top
First of all, style the sides by doing a taper fade. As a guy with 3C curls, you will want a hairstyle that puts them into the spotlight, and the mop-top is a perfect idea.
Moreover, you should give your hair a brown tint if your eyes are green.
21. Curly Mohawk
Mohawls are always trendy; each generation takes advantage of this cut and upgrades it in their own style.
For Gen Z, that means adapting a hairdo to suit all types of hair and mostly enhancing their natural features and beauty.
Broccoli haircuts feature short sides that are most of the time bald, with a fade or a razored design and a rich explosion of curls. If you also love a natural-looking mop top, then get your trimming machine, and let's get down to business.