Curly hair is all about inheritance and blessed genes from your parents. Curly hair with taper fades are super-fun to style, but they require some serious maintenance due to its delicate hair texture. Men who want curly hair with taper fades have come to the right place today to find out how many wonderful options they have to style their lovely hair with 10 different options to choose from.
Popular Curly Taper Fade Hairstyles for Men
To style your curly hair into one of the trending taper fade hairstyles going on right now keep on reading this article to grasp an idea of what is out there for you to try.
1. Messed Up Curly Top Hair Flicks
This curly taper fade look is currently on top in hair trends, which is why it has been mentioned as number 1 on the list. The top hair has flicks going in random a direction which is why it's giving a messy look with sides that are taper faded neatly.
Trendy Men Long Taper Fade Hairstyles
2. Top Bushy Hair Curls
This is also a revival from the past but from the 90s. All of the top hair is bushy curls and the sides are trimmed into a taper fade that would make any guy look like a top model on the run.
3. Fuzzy Looking Taper Fade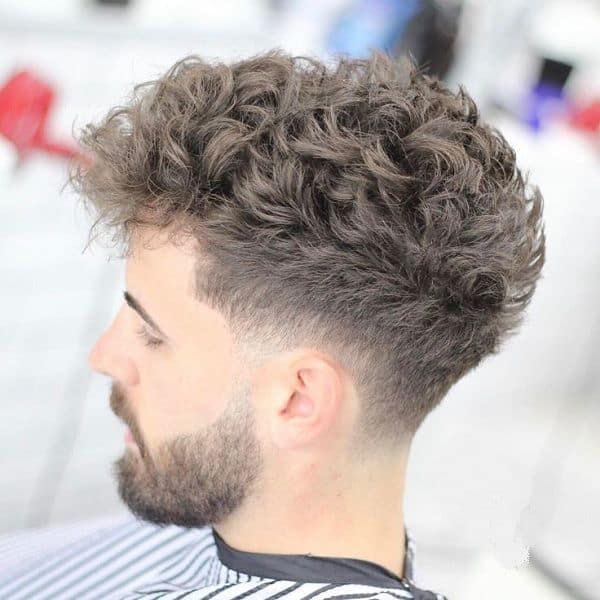 If you have fuzzy curls in your hair, then going for this taper faded curly hair look is the right thing. The curls are trimmed well and look amazing with a taper fade and a continuation of the curly beard.
4. Taper Fade with Top Curls
This is also one of the latest hair trends which have curly hair styled into a helmet shaped haircut. This haircut will look nice on men who wear glasses as the curls are falling naturally over the forehead with sides that are faded till the beginning of the beard on the face.
5. Well-Trimmed Side Comb Hair
Men who like combing their hair towards the side can go for this option. The hairline is neatly trimmed and there is an underline that emphasizes the border between the top hair and the tapered hair on the sides.
Best Taper Fade Comb over Hairstyles for Men
6. The 80s Inspired Front Bush
There comes a time in trends where there are revivals from the past that had been quite popular back then, such as this bush haircut. This curly taper fade haircut is for boys who love rocking trends from the past and they still remain popular even after a comeback.
The hair is bushy over the front which is reaching down the up-to-the forehead.
Some boys are blessed with such curls that look like real-life animated versions of sceneries. Like in this picture, one can instantly visualize sea waves by looking at this boy's amazing curly hair and the way it has been set with taper fade makes it even more beautiful.
8. The Blonde Curls
Having hair that is naturally blonde is one thing and also having curls in blonde hair is another thing. Together, this combination of blonde hair with curls makes one look super classy and styling them with a nice tapered or low fade undercut makes it look even more awesome. Men who love grooming on a daily basis should keep this curly taper fade style as their everyday signature look.
Coiled curls might seem difficult to cut into a hairstyle, but this one is just the right one to maintain such curls. The hair is shaped in a square box on top with side taper fade and a beard.
10. Side-Swept Neat Curls
Celebrities like, Charlie Puth have worn this taper fade on curly hair look in some of his famous music videos, which is why it became popular amongst his fans. The top and front hair are combed onto one side going downward with a slight tilt and the hair on the sides are trimmed into a taper fade which is covered partially by the top hair.
Best Mid and Bald Taper Fade for Men
By now you must have chosen your favorite kind of curly taper faded hairstyle that would go well with your curly hair. There could be more ways to style them lovely curls, but the ones we have mentioned in this article today are amongst the best and the current popular hairstyles on the hot list of curly hair trends.