Brown hair paired with blue eyes is a rare and beautiful contrast. Even though blue is the second most common eye color in the world, it's still considered unique because only 8 to 10% of the world's population has this amazing eye color. That's why we see many celebrities getting this brown hair and blue eyes look at red carpet events.
Brown-haired celebs are ruling the movie industry. Since brown is a neutral shade, it goes well with just about everything. Not only that, but it's also a classic color, so it won't steal the spotlight from your blue eyes.
With that said, check out this list of the most gorgeous celebrities with brown hair and blue eyes to get some tips on how to wear your hair.
Gorgeous Celebrities with Brown Hair and Blue Eyes
You can make the most of your unique features with the right hairstyle. Let these celebrities with brown hair and blue eyes serve as beautiful hair inspirations.
1. Megan Fox – Dark Caramel Moneypiece Highlights + Balayage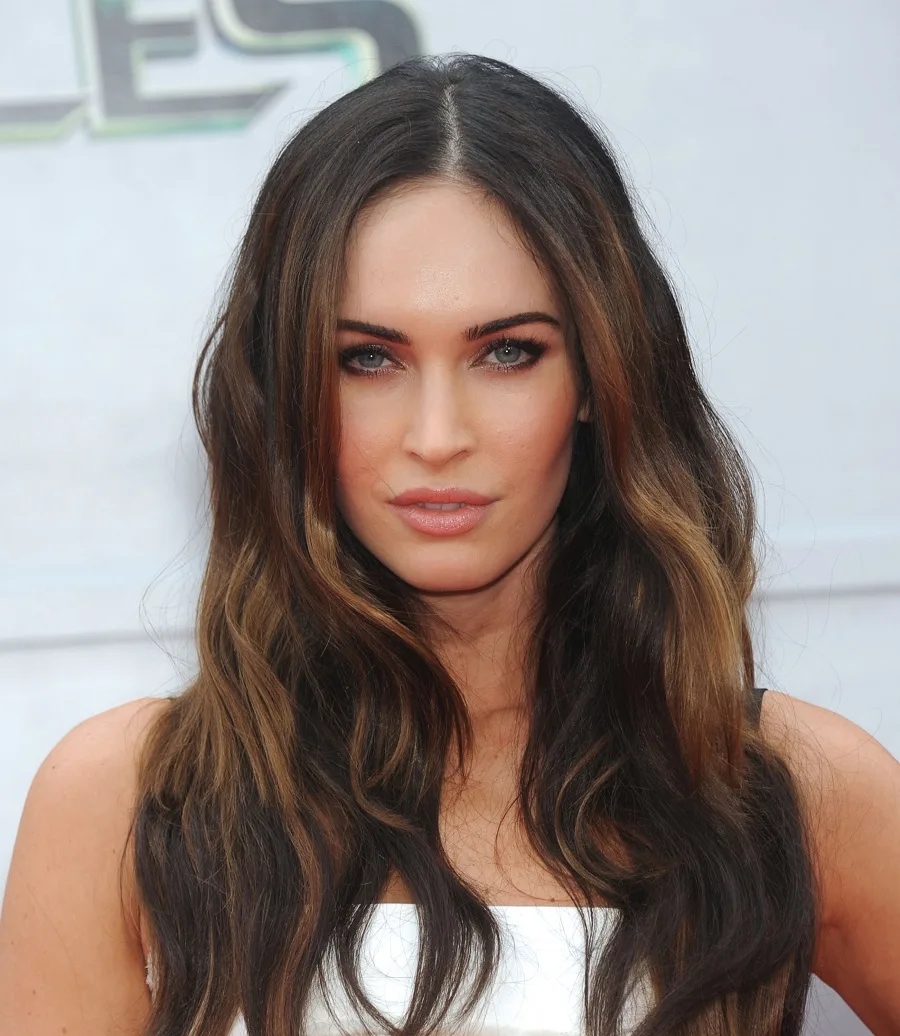 For the ultimate brown hairstyle, you can go for a combination of balayage and highlights, and Megan shows us how it's done.
The dark caramel balayage gives her hair a better dimension while the money piece highlights open up her face, accentuate her blue eyes, and brighten her complexion.
2. Sophie Ellis Bextor – Dark Auburn Waves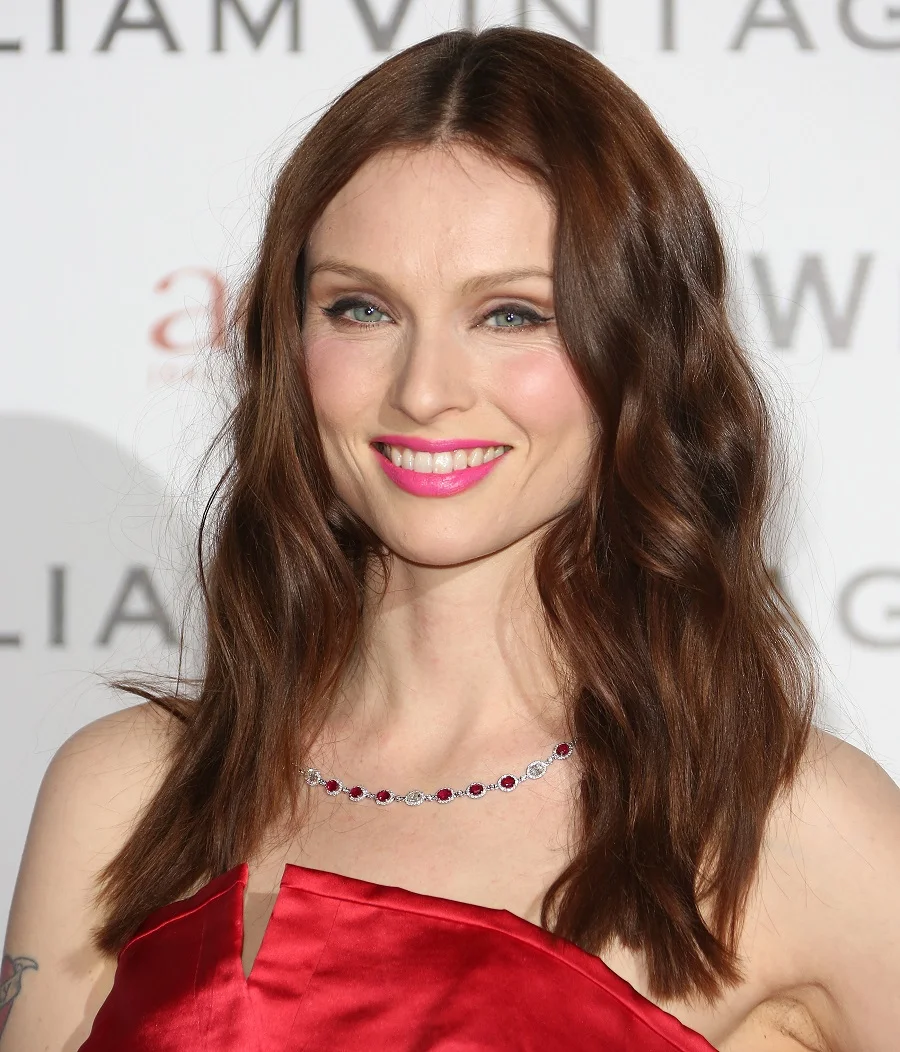 If you have blue eyes and a neutral skin tone, Sophie is one of the celebrities you should copy. The red tinges make her auburn hair the perfect match for her blue eyes.
Not only that, this reddish-brown color also brings out the rosiness from her pale cheeks.
3. Miranda Kerr – Dark Brown Topknot Bun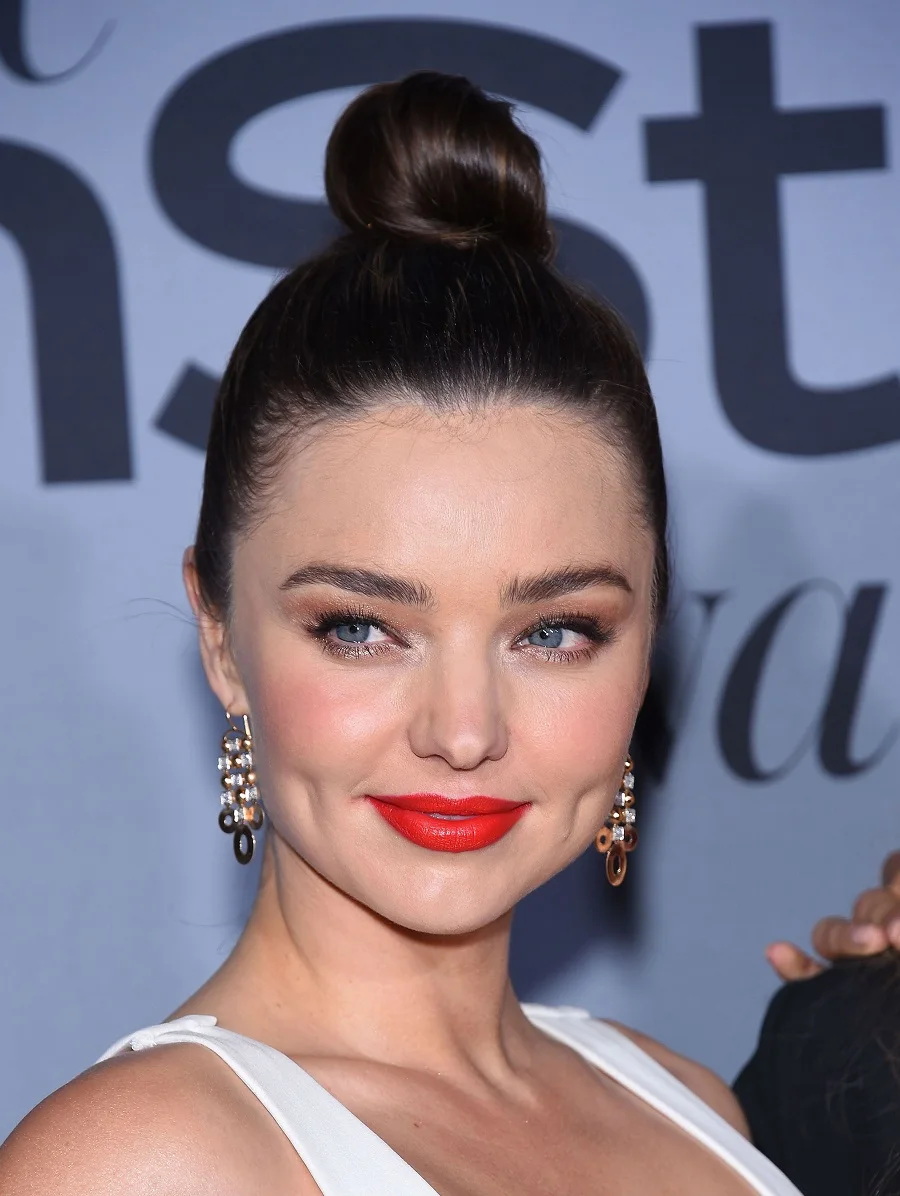 Pull the hair away from your face in the most elegant way possible with Miranda's sleek top knot bun.
This hairstyle is perfect for opening up your face and drawing attention to your beautiful blue eyes while giving you that elegant yet still modern look.
4. Zooey Deschanel – Dark Brown Waves and Braids + Caramel Highlights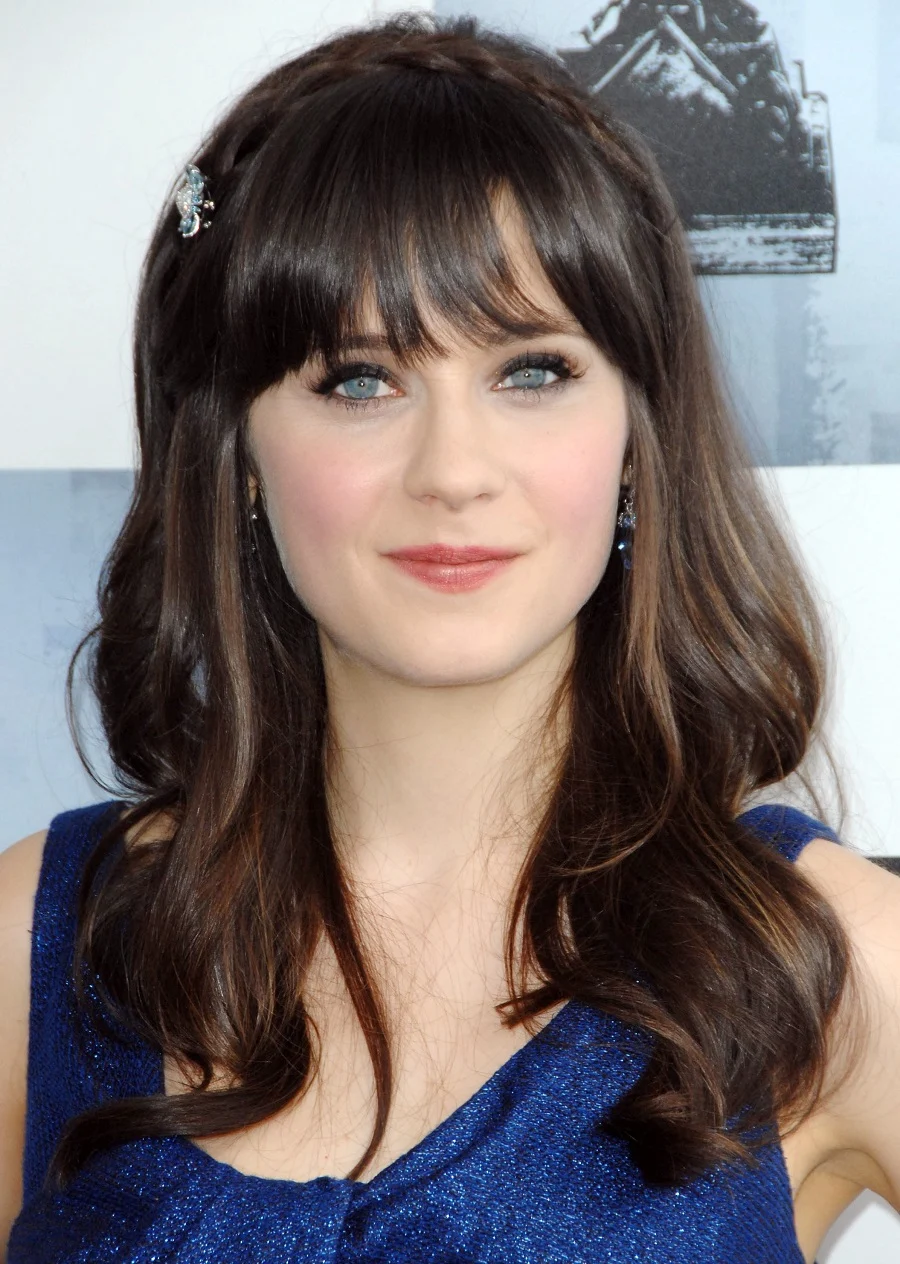 If you're more into the girl-next-door look, there's no better celebrity to follow than Zooey. Her braided crown and simple waves make her even more charming while her wispy bangs cover her eyebrows, so your entire focus will be on her mesmerizing blue eyes.
5. Alexandra Daddario – Chocolate Brown Side-Parted Hair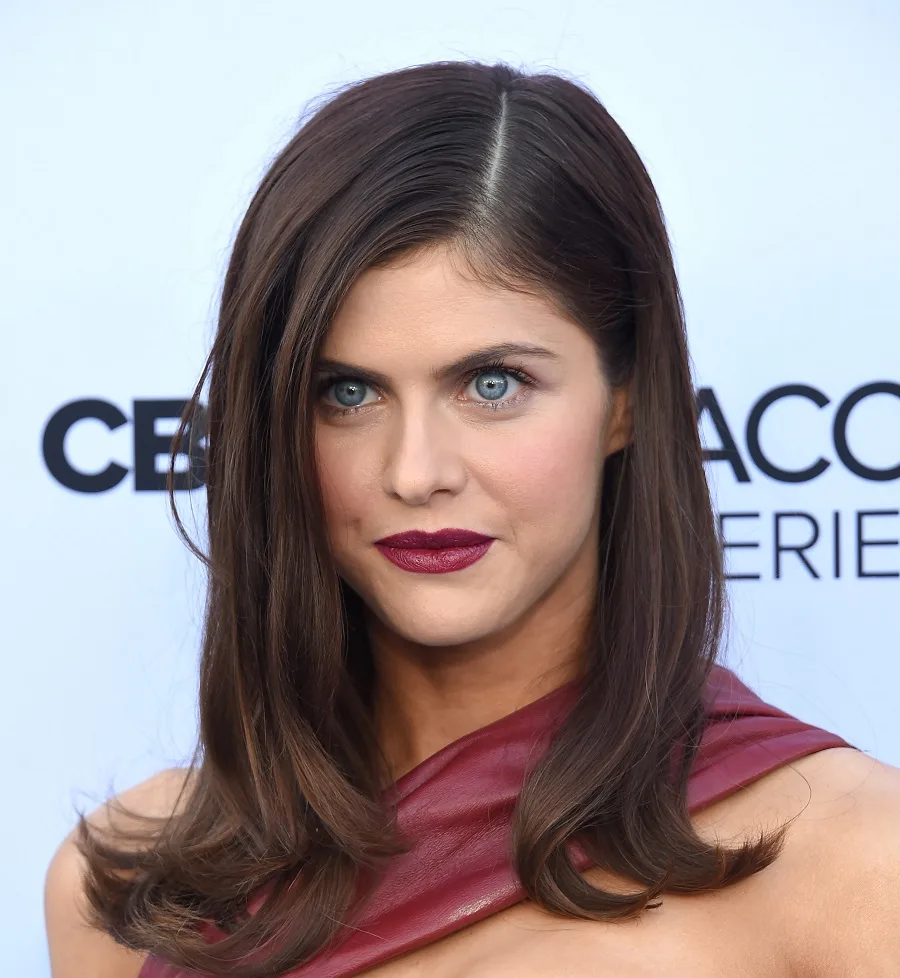 Alexandra is well-known for her simple elegance, and her side-parted hair is great proof of that. Despite its simplicity, her chocolate brown hair still made her stand out because it added richness and warmth to her skin and made her blue eyes pop.
6. Alexis Bledel – Copper Brown Partless Wavy Lob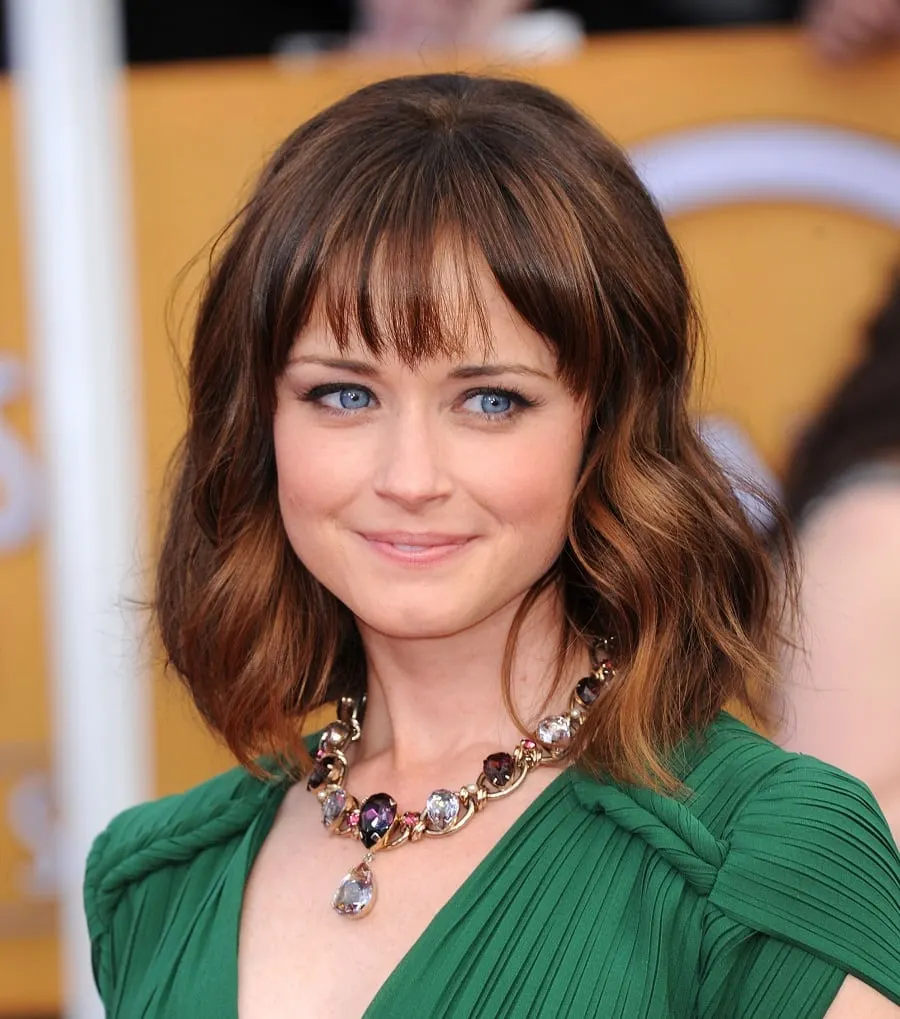 Alexis is serving us some vintage realness, and we're all here for it. Her no-part hairstyle is one of the most stylish ways to draw attention to the face and give her blue eyes maximum exposure.
On the other hand, her short bangs, perfect waves, and caramel balayage frame her face beautifully.
7. Aishwarya Rai Bachchan – Sleek High Ponytail + Reddish Brown Ombre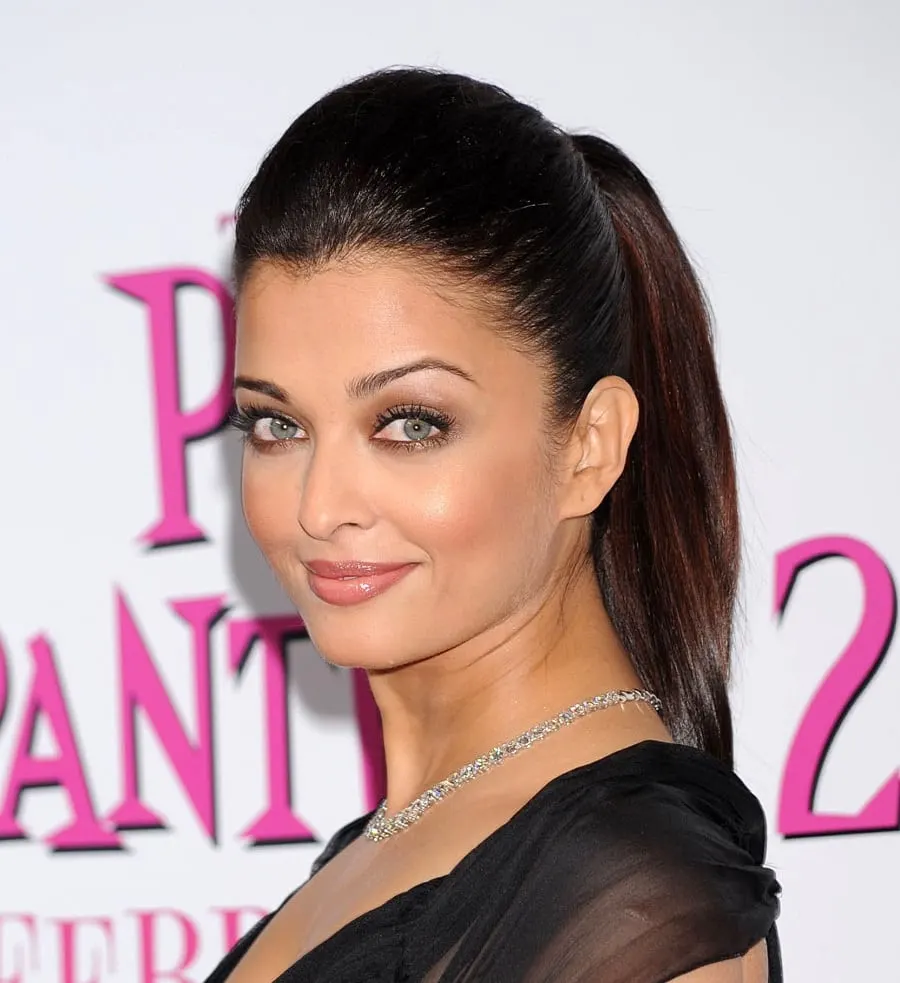 If you want your dazzling blue eyes to be the center of everyone's attention, wear your brown hair the way Aishwarya did it.
Her high ponytail is a sleek way to free her face from unwanted hair strands so her blue eyes and perfect facial features can take center stage.
8. Adriana Lima – Dark Brown Side-braided Wavy Hair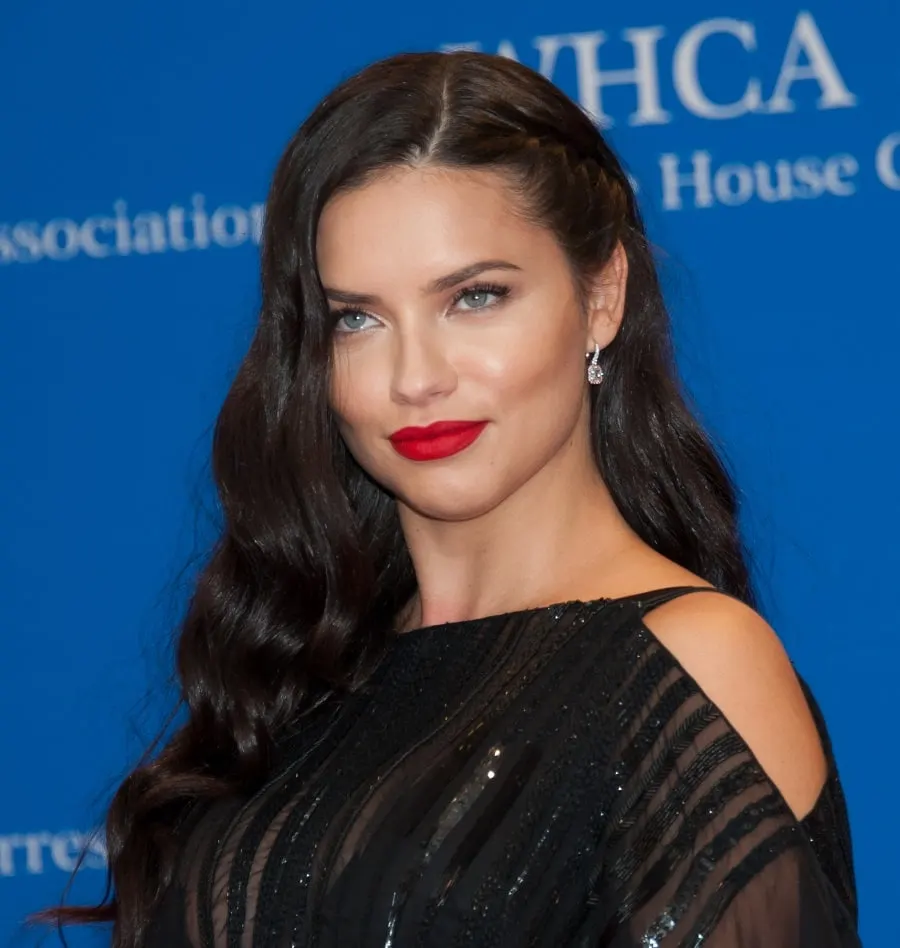 Adriana Lima is one of the sexiest celebrities with brown hair and blue eyes and that's because she knows how to style her hair well.
She let her hair loose on one side to showcase her beautiful waves and braided one side of her hair back to reveal her blue eyes.
9. Lyndsy Fonseca – Brunette Wavy Hair + Dark Blonde and Caramel Highlights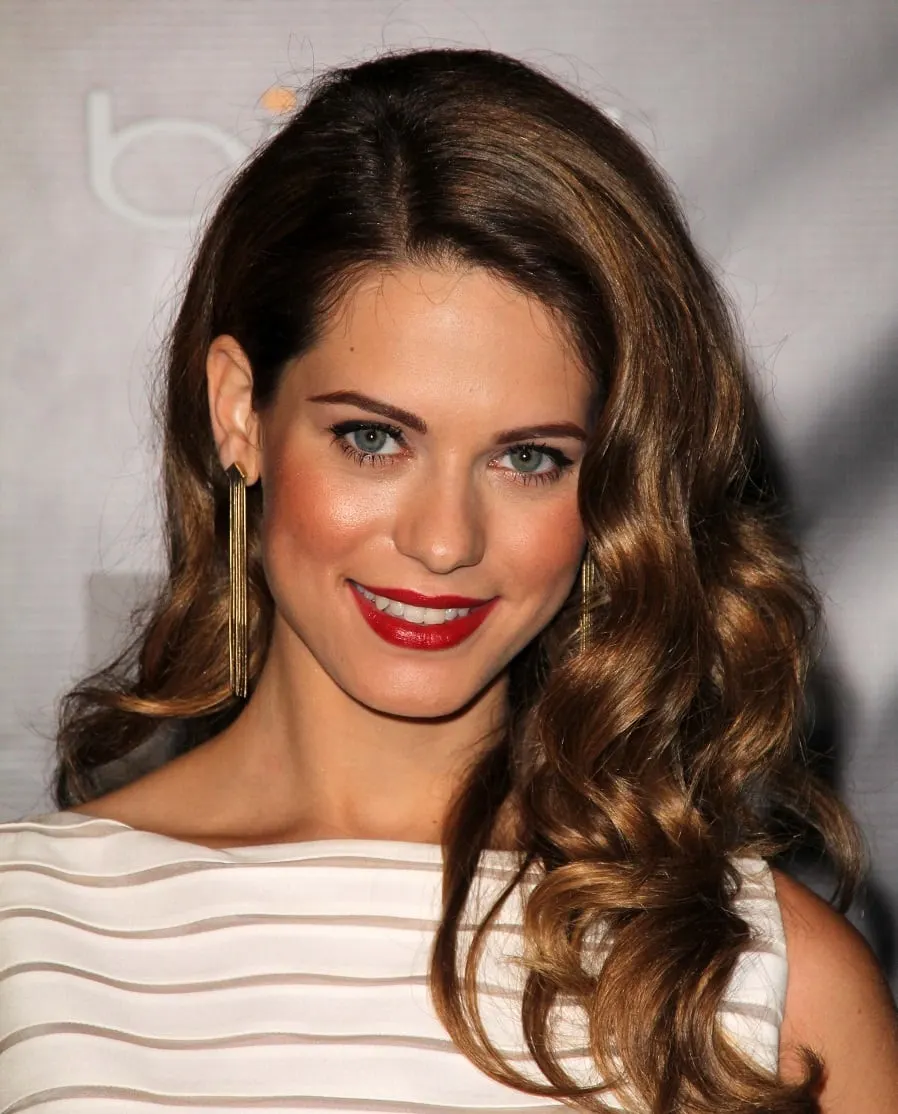 Brunette is a classic hair color, but Lyndsy knows how to take it to the next level. Instead of keeping it plain and simple, she added dark blonde and caramel highlights which are the perfect color for achieving that natural sun-swept look.
10. Thylane Blondeau – Light Caramel Balayage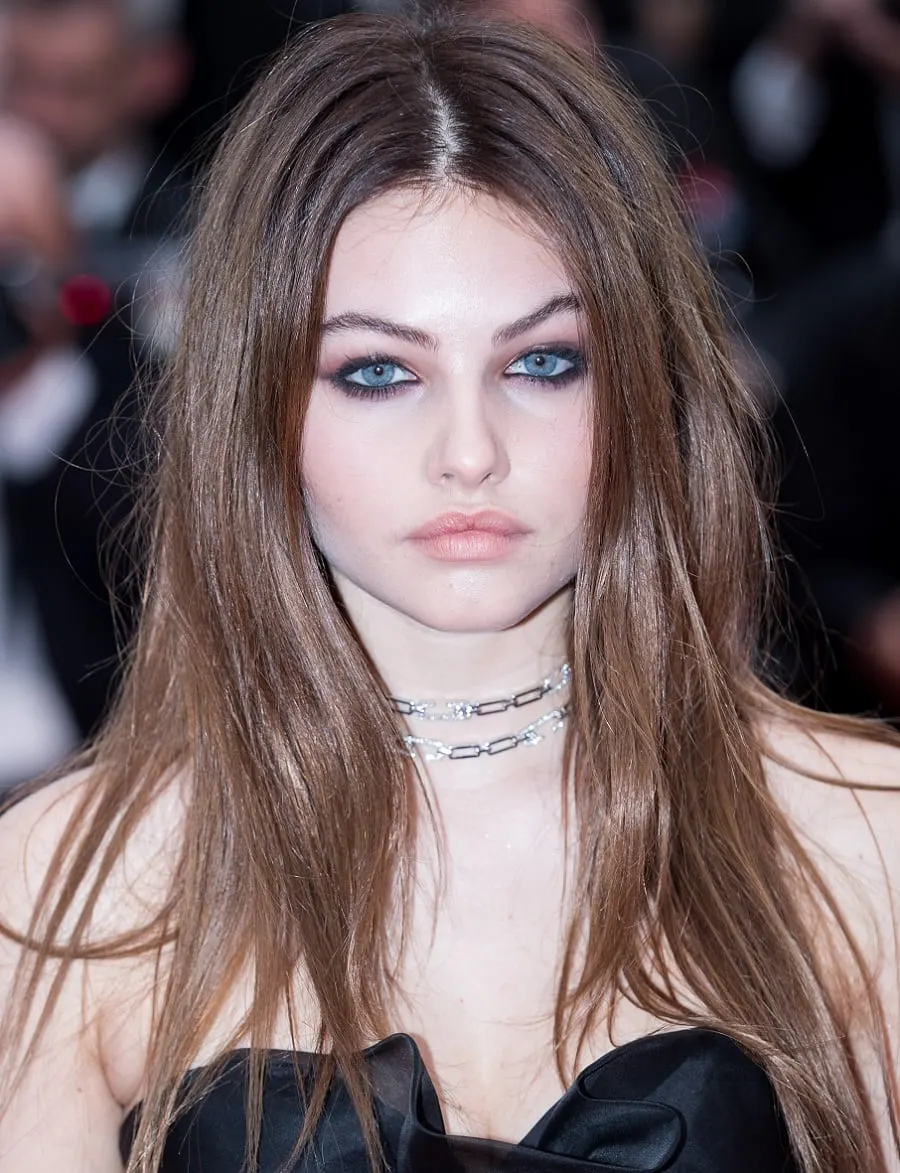 For an edgy take on this combo, Thylan is one of the celebrities with brown hair and blue eyes you should check out.
She kept her dark brown hair straight and simple with a middle parting which promotes asymmetry and focuses attention on her best facial feature which is her blue eyes.
11. Jessica Szohr – Black Vintage Lob + Caramel Streaks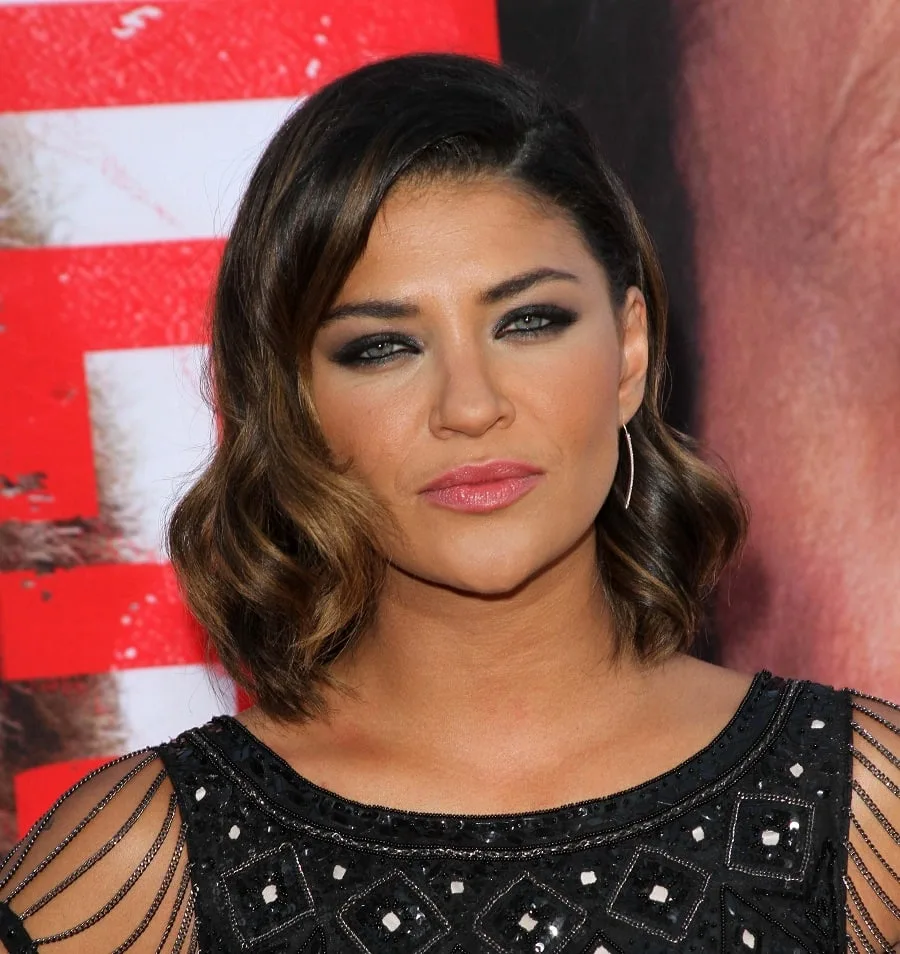 Jessica's look is vintage-meets-edgy, and you will expect nothing less from her. Her black vintage lob is perfectly curled to show off her gorgeous jawline. She amp up its edgy factor by going heavy on her eyeliner which drew attention to her light blue eyes.
12. Emily Blunt – Rich Brown Lob With Caramel Tips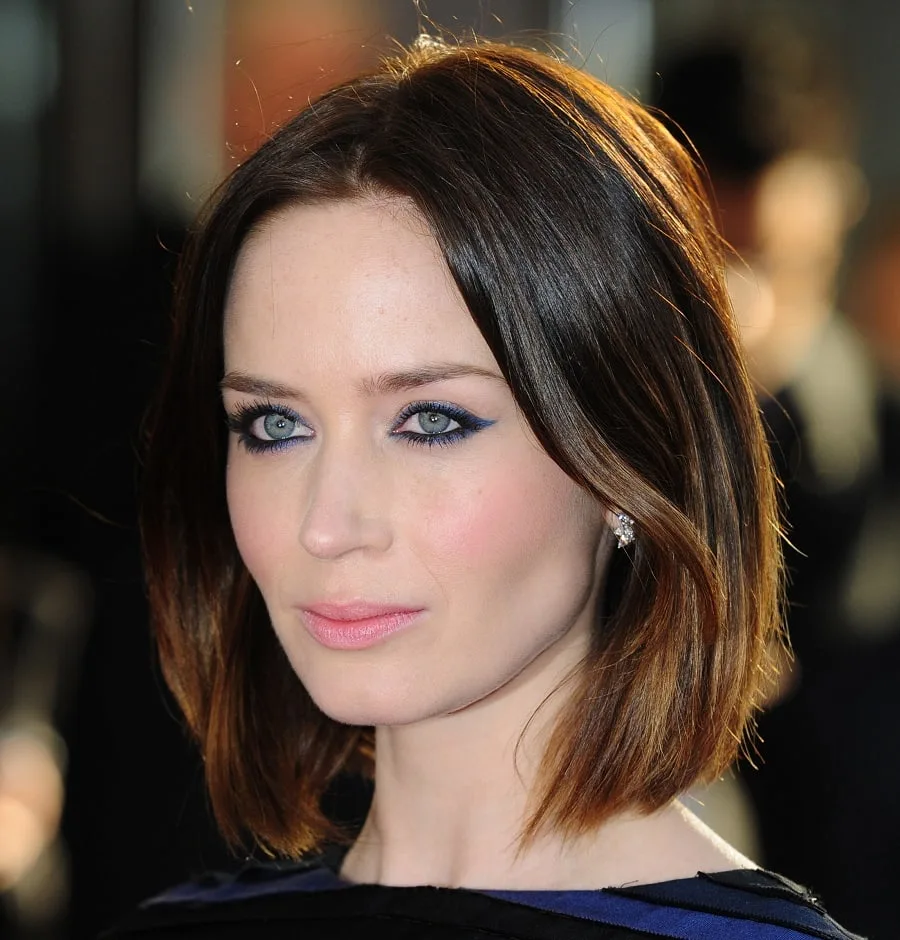 Emily wore a simple lob haircut, but her caramel-colored tips made it a head-turner. To make her blue eyes pop, she used blue and black eyeliner on her eyes.
13. Dakota Johnson – Brunette Wavy Hair + Curtain Bangs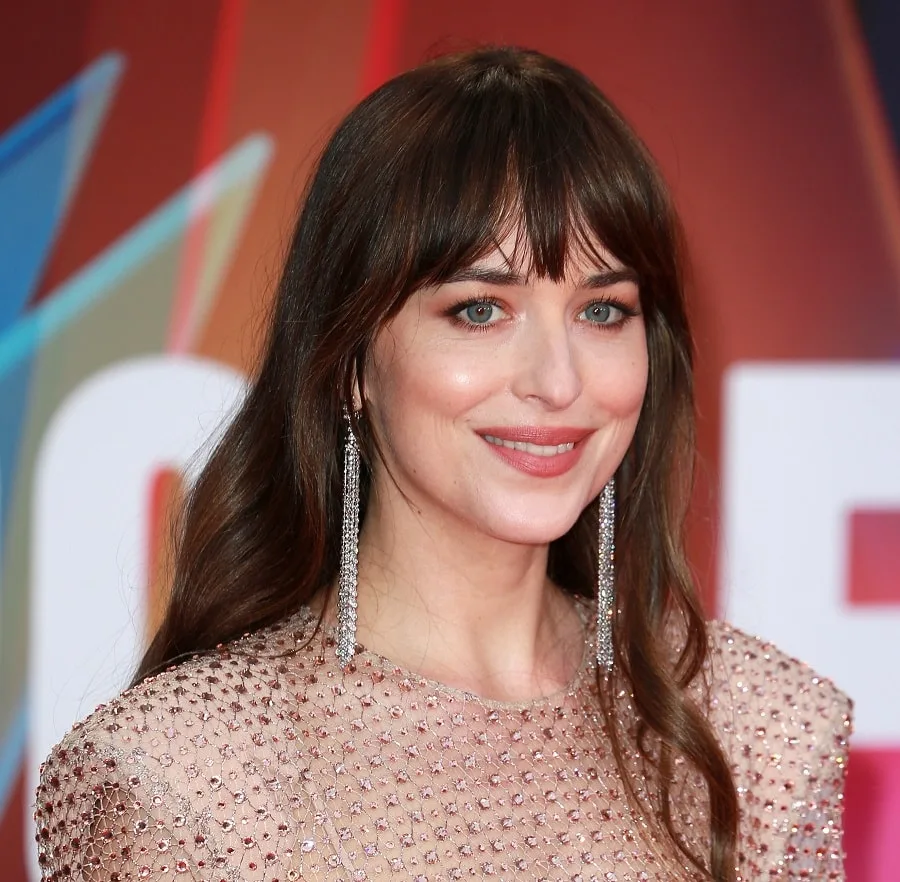 Every time you think of Dakota, her curtain fringe and messy brown hair would be the first things that come to mind. Since she has always been everyone's #BangGoals, her hairstyle is the one to copy if you have a large forehead like her.
14. Candice Boucher – Light Copper Brown Middle-Parted Hair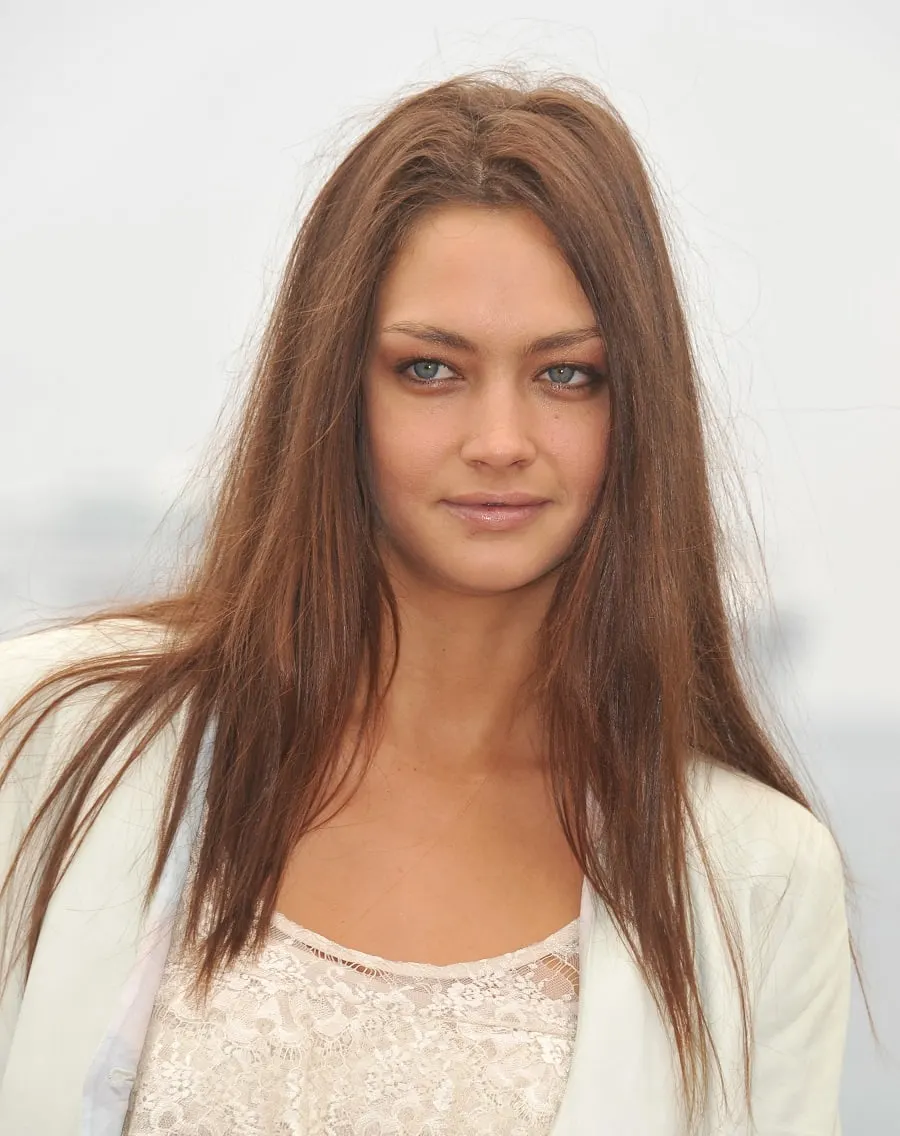 Go for straight plain hair like Candice's if you want to be your blue eyes and brown hair to be the apple of everyone's eye.
Her light brown copper hair perfectly complemented her warm skin tone. Its red tinges also matched her blue eyes well.
15. Brittany Curran – Full Brown Highlights on Updo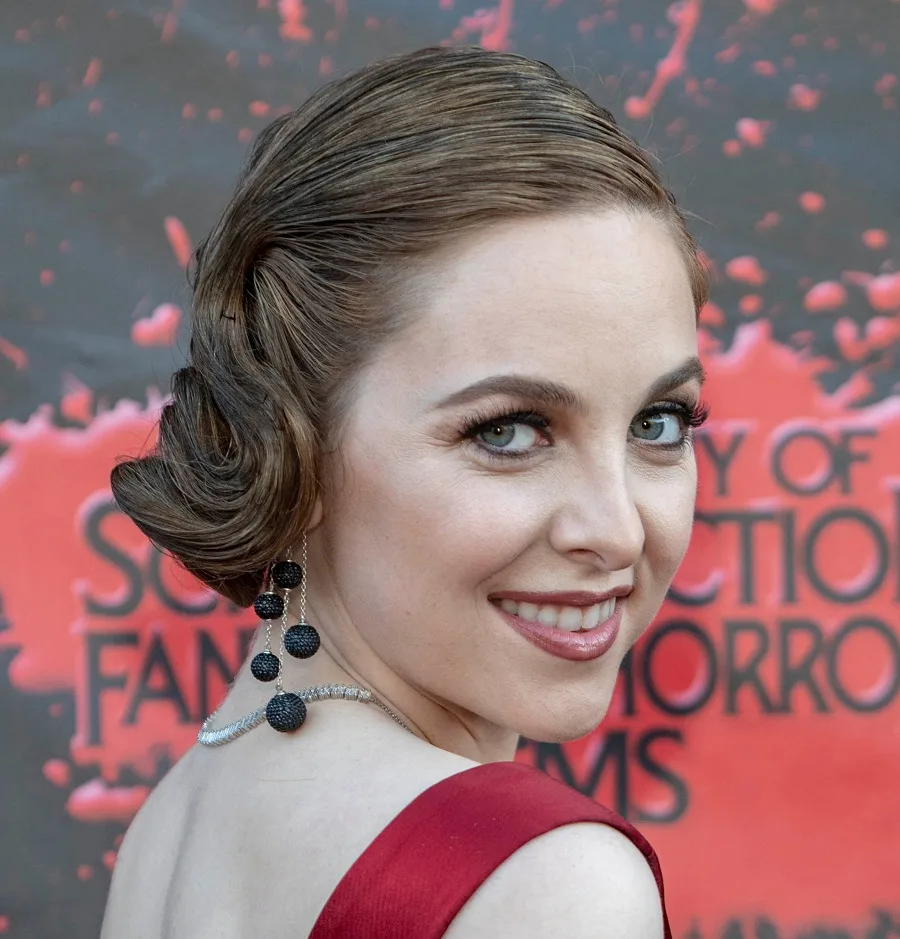 Highlights on updos make the hairstyle look more interesting because it boosts its dimension and texture.
For best results, go for full brown highlights which is also the best option if you want to transition from dark to light hair.
16. Barbara Palvin – Dimensional Brunette Half-braid Hair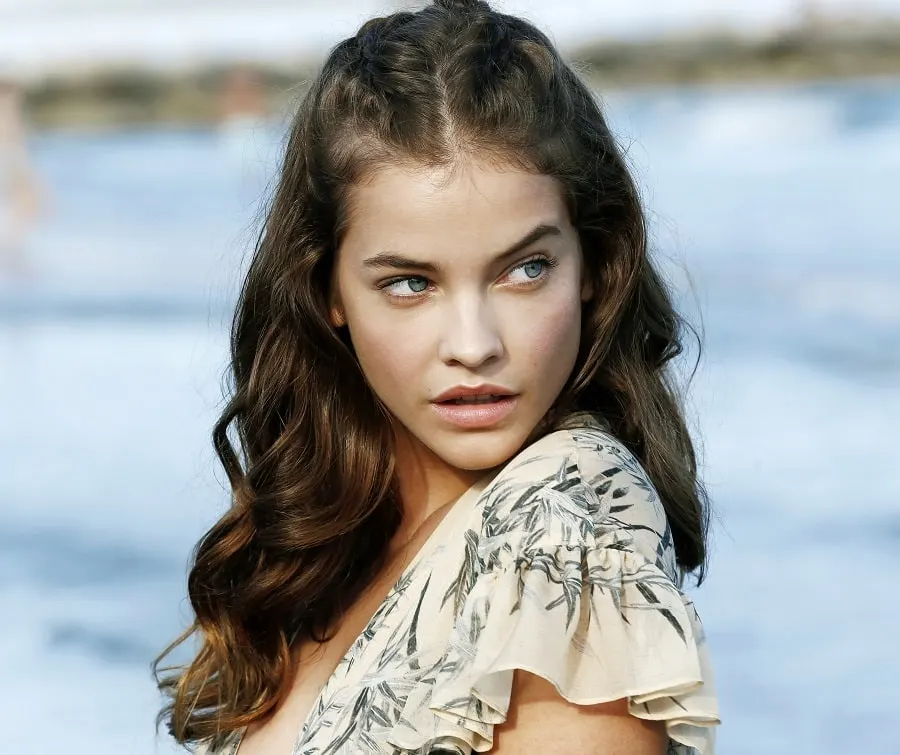 At first look, Barbara's hair seems plain and boring. Do a double-take and you'll see the different subtle shades in her brunette hair which is dark brown at the top and goes lighter towards the ends. These differences in hue give her hair a more interesting look.
17. Angelina Jolie – Chocolate Brown Waves + Caramel Blonde Balayage
Angelina is one of the celebrities with brown hair and blue eyes that always look on-point, but she looks breathtaking in her chocolate brown waves and caramel blonde balayage hairstyle.
The caramel blonde streaks are perfectly positioned to frame her face and bring out the warmth and richness of her blue-green eyes.
18. Alison Brie – Dark Copper Choppy Lob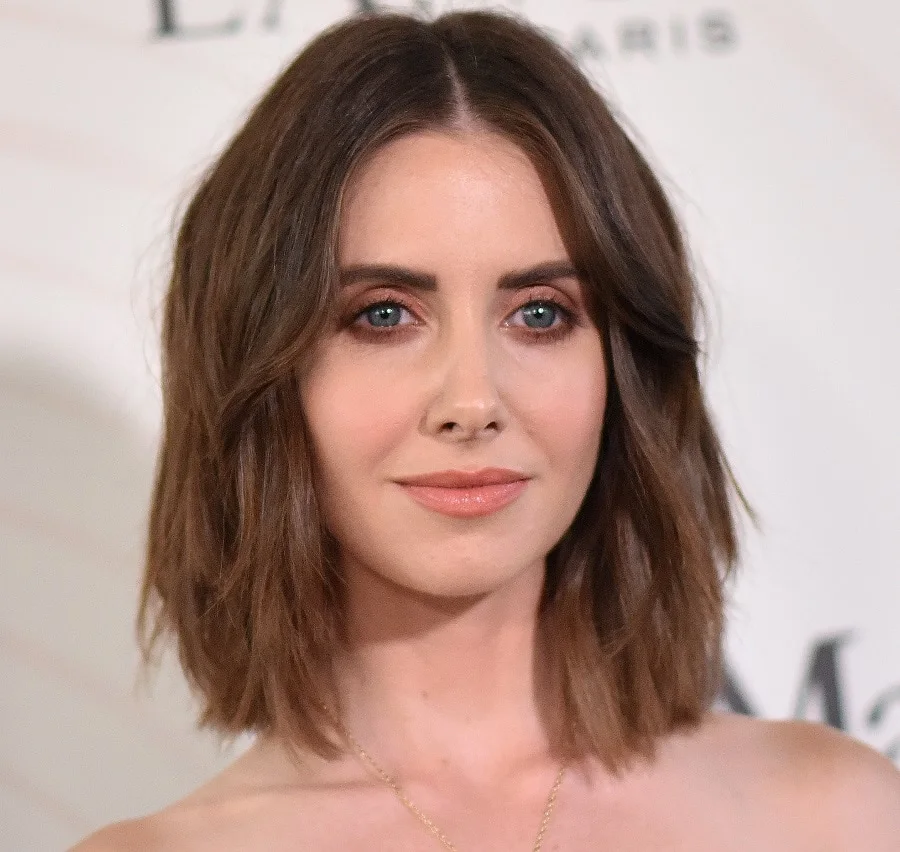 Blue and red are colors that complement each other well, so it's best that you go for reddish-brown hair if you want to highlight your blue eyes.
Take a cue from Alison and go for a subtle copper shade (instead of a bright one) to not just match your blue eyes but also soften your facial features as well.
19. Anna Kendrick – Chocolate Brunette Sexy Updo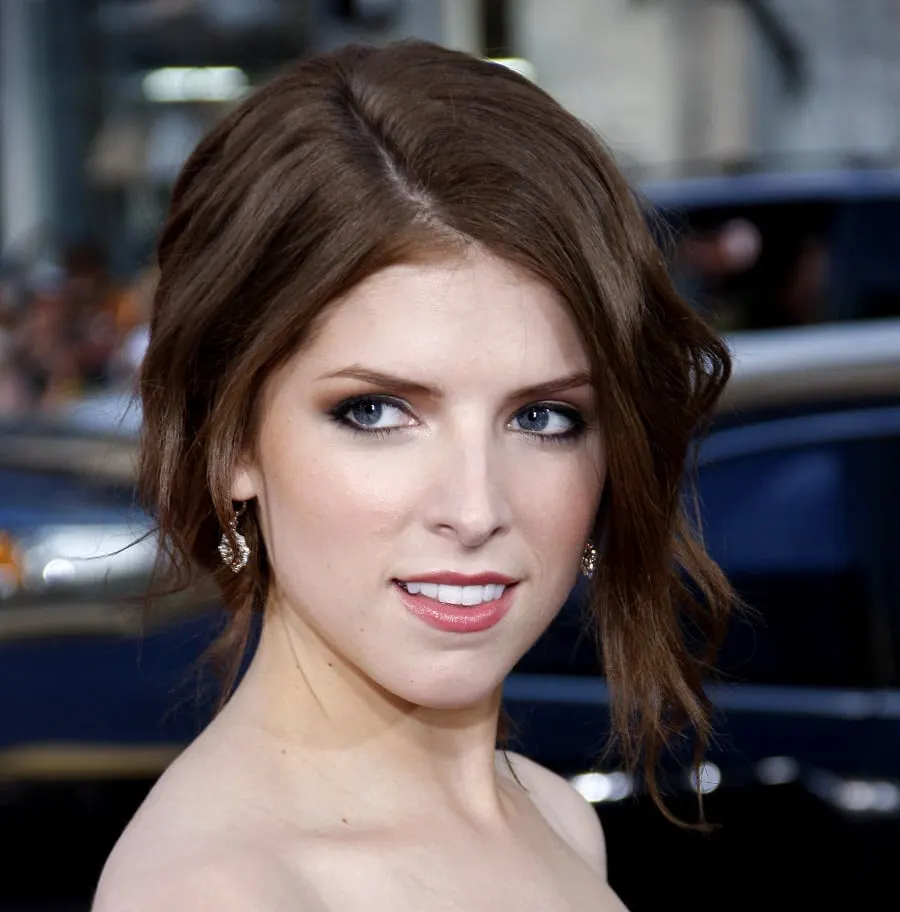 A dark chocolate brown hue is the perfect partner for Anna's deep blue eyes and pale complexion. The vivid brown shade delivers extra warmth to her skin and gives it a nice color boost.
20. Adrianne Curry – Dark Brunette Curled 'Do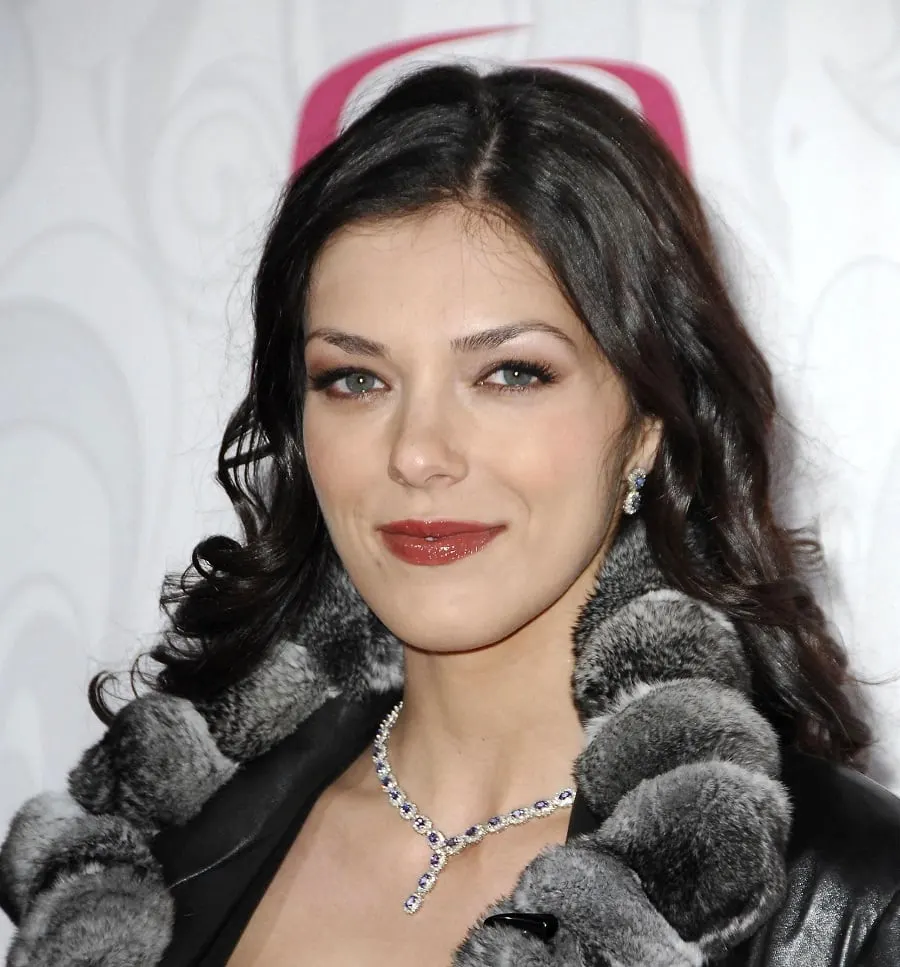 If you look as fabulous as Adrianne, you don't have to go for any hairstyling tricks. Just keep it elegantly curled and you're good to go.
Another styling tip that you should borrow from her is to wear jewelry with the same blue shade to highlight her gorgeous eye color.
21. Brenna D'Amico – Dark Brown Waves and Bangs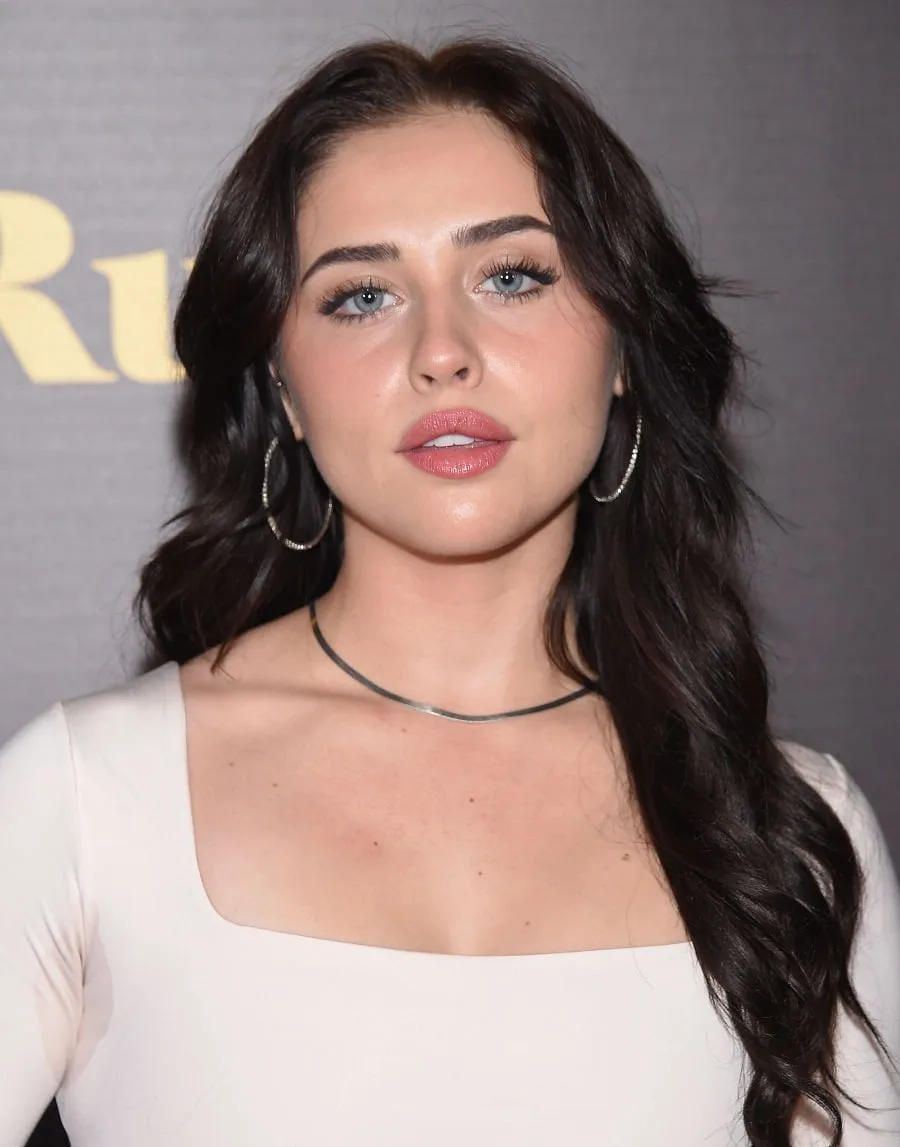 For those who want to give their look a youthful spin, go for the ultimate Gen Z hairstyle and Brenna's hairdo is a great example.
Her layered wavy hair is bouncy, thick, and full of movement. She also paired it with short curtain bangs, which draw the focus to her alluring blue eyes.
22. Gisele Bündchen – Brown and Blonde Medley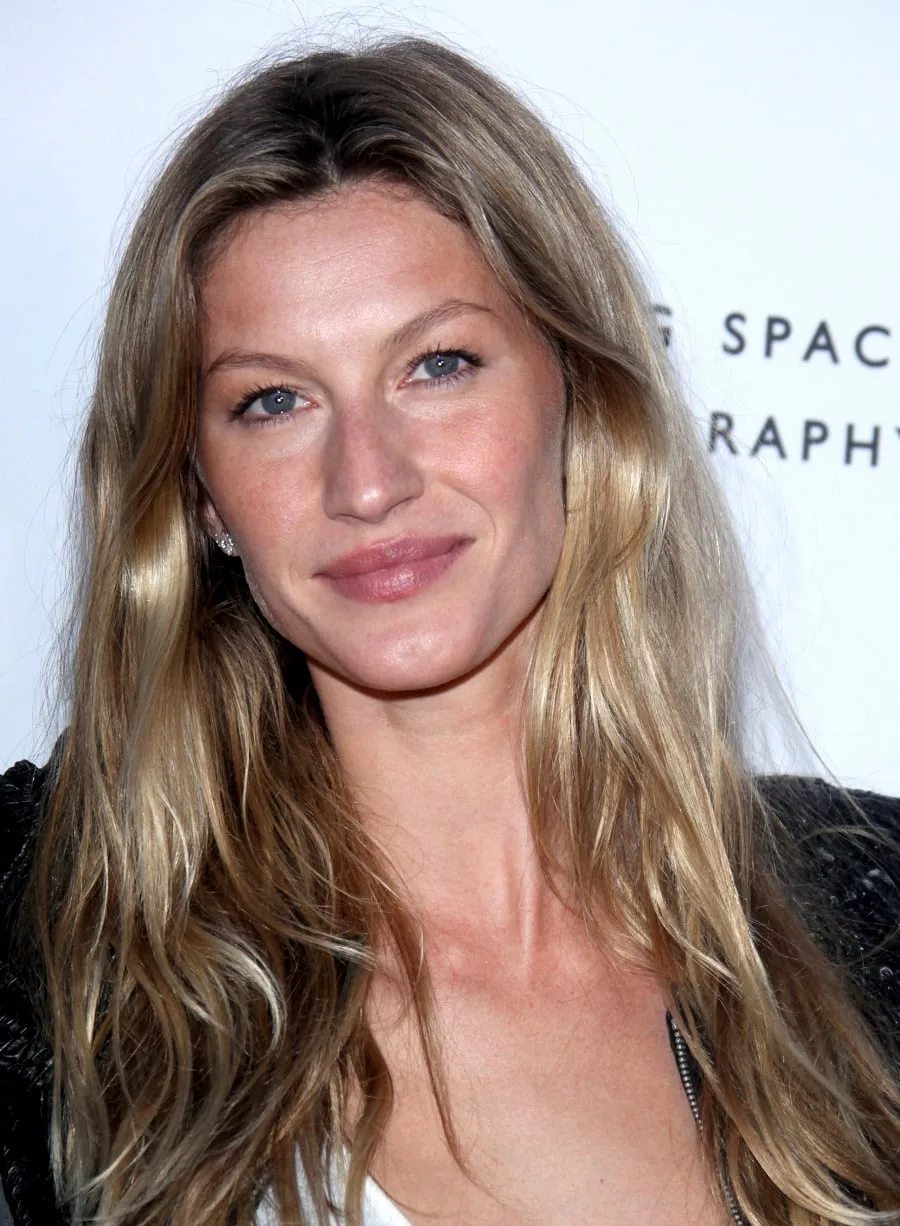 For an effortlessly sexy 'do, follow Gisele's lead. Keep it long, a bit wavy, and pile on the colors.
The blend of different brown and blonde shades (and a bit of gold) made her hair look extra shiny and stunning while her dark roots gave it the natural touch that it needed.
23. Georgie Henley – Dark Cinnamon Brown Micro Bob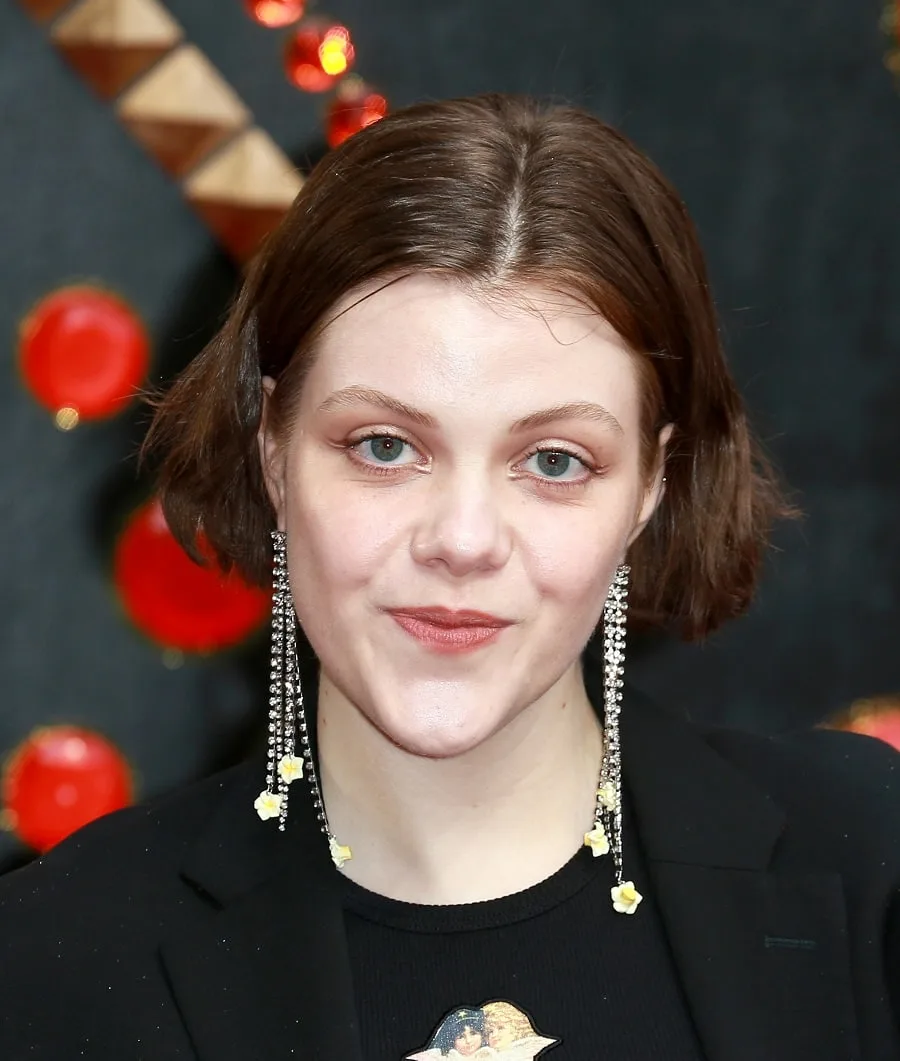 For women who love sassy and edgy hairstyles, one of the celebrities with brown hair and blue eyes to follow is Georgie.
Her ultra-short bob sits right between her chin and cheekbones and is the perfect length for emphasizing her gorgeous cheekbones and dazzling blue eyes.
24. Georgina Chapman – Dark Caramel Moneypiece Highlights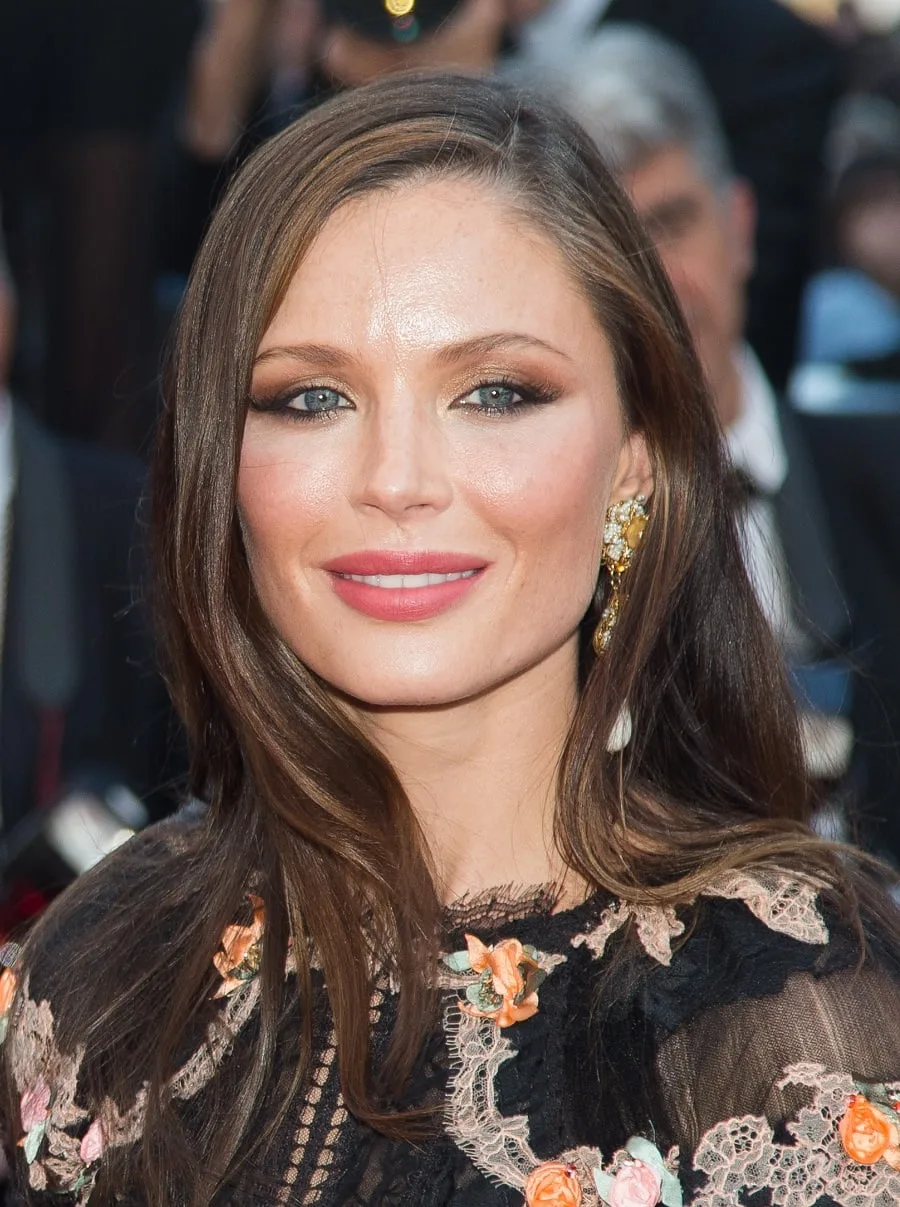 Get Georgina's look if you want to wear your brown hair the classy way. With its straight texture and minimal layers, her hairstyle is quite straightforward.
But what caught our attention is her dark caramel money piece highlights which brightened up her skin tone and made her skin glow.
25. Julia Voth – Dark Chestnut Half Ponytail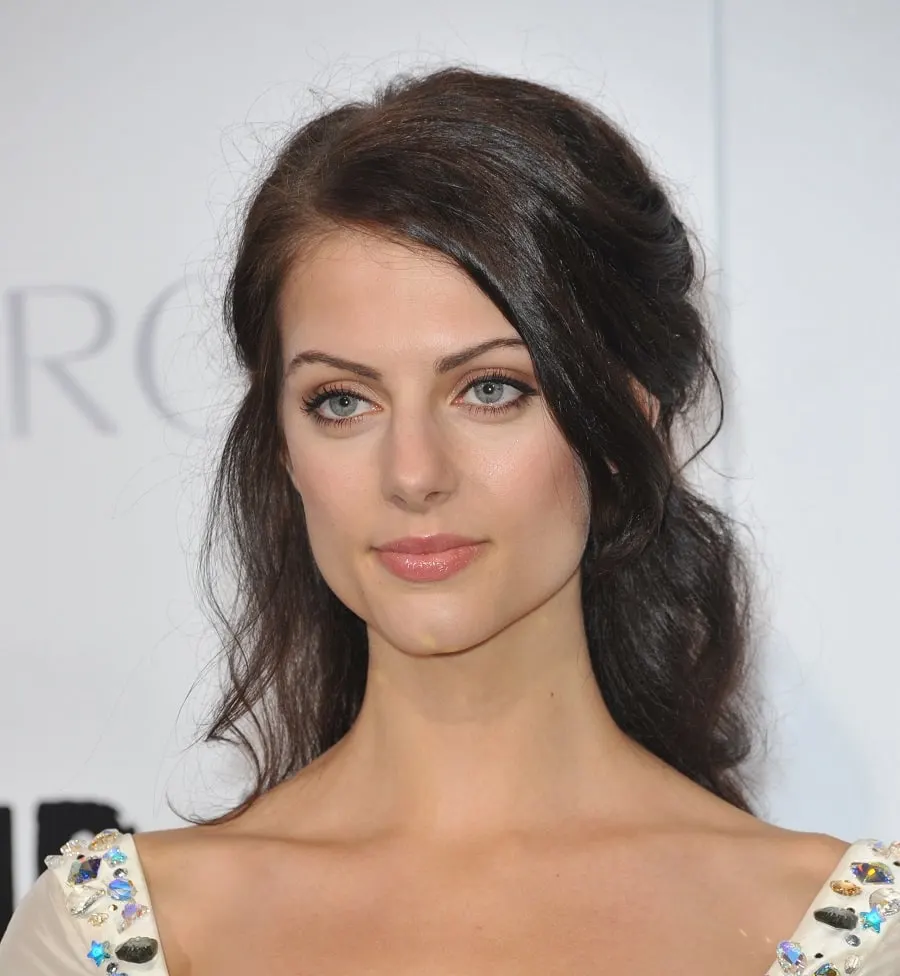 For ultra-feminine looks, Julia is one of the celebrities with brown hair and blue eyes that you should copy.
While half hairstyles are already quite popular, she made it look extra alluring by going for a loose ponytail, thick face-framing strands, and a side part.
Her dark chestnut shade made her hair look voluminous and gave it added pizzazz.
26. Samantha Hanratty – Rich Caramel Brown Curled Hair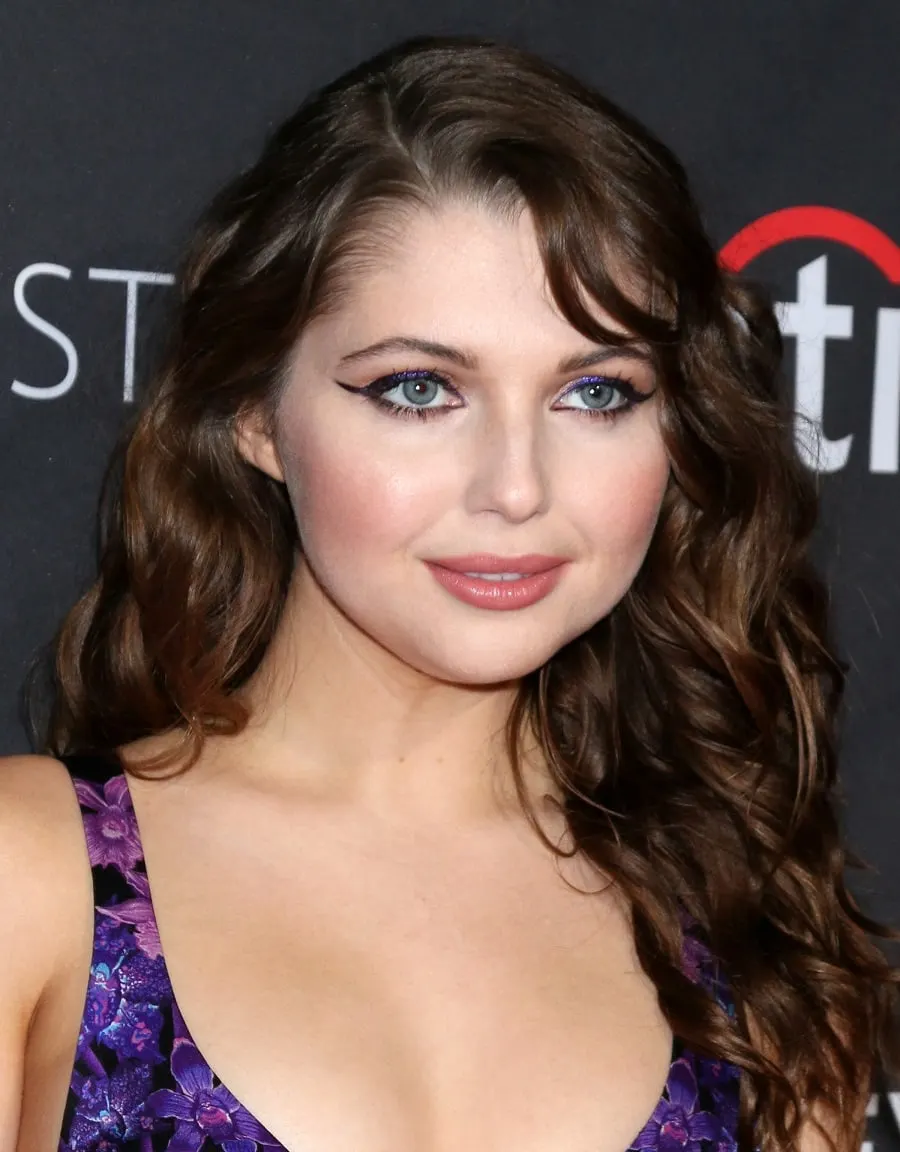 If you're torn between going for blonde or brown hair, Samantha's rich caramel brown hair is the perfect solution.
Since it's a blend of brown and golden blonde, this hue gives you the richness of brown color and the brightness and shine of golden blonde hair.
27. Susan Ward – Chestnut Brown Deep Side Part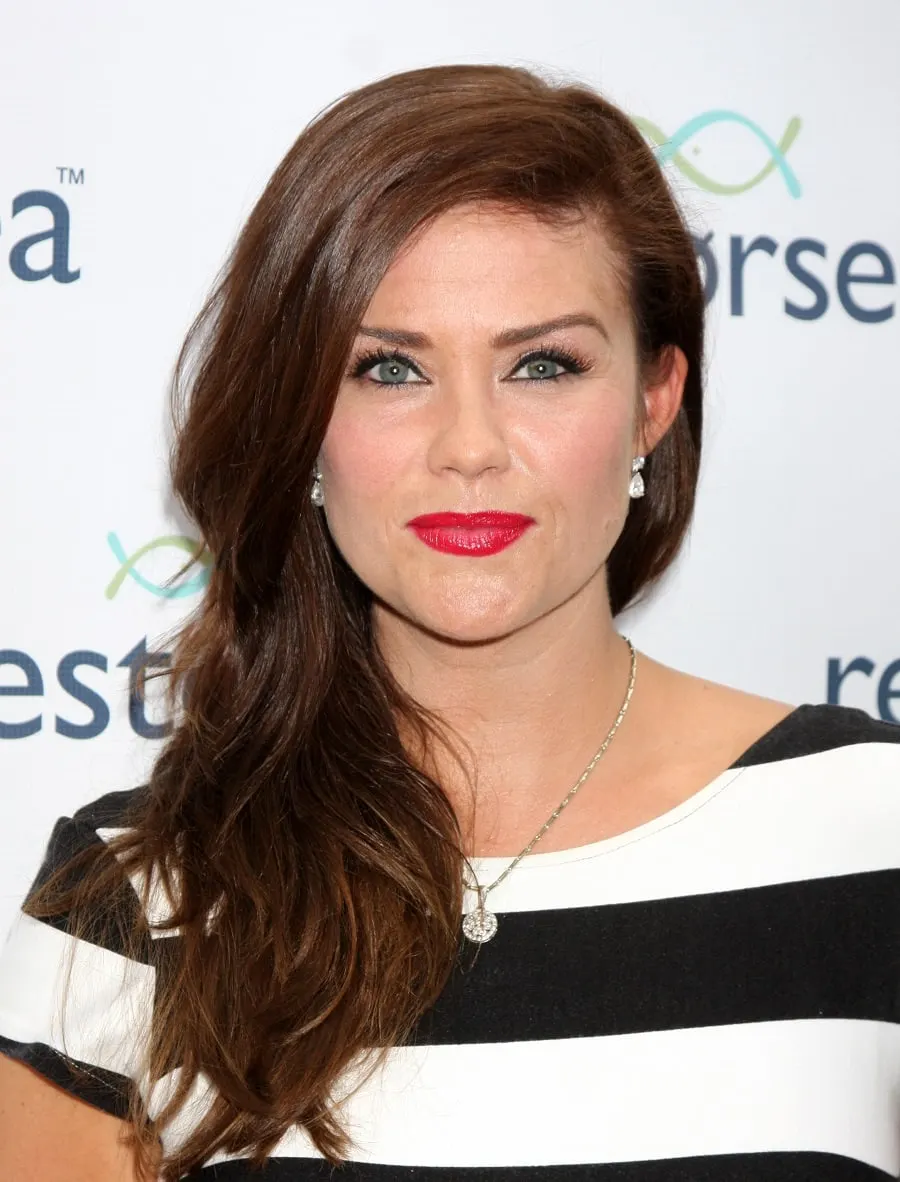 For a brown shade that will bring out the rosiness in your cheeks and go well with your blue eyes, a chestnut brown hue like Susan's is your best bet.
Since it's a rich brown hue with red undertones, it's a multi-dimensional hair color that will prevent your hair from looking flat.
Brown hair and blue eyes are a winning combination, but you can even take it to a whole new level if you style your hair the same way these celebrities with brown hair and blue eyes did.
So what are you waiting for? Go ahead and choose which celebrity hairstyle will be your next hair inspiration!
Related Topics