Brown hair with purple tips will be huge in 2023. Feeling like you could use a change or two in your brown hair? We've all been there! Sometimes our hair color looks like it needs something new, edgy, outrageous, sexy, you name it. Have you considered purple tips to bring more life to your brown hair?
These two colors are a wonderful combination, and it comes as no wonder why this hairstyle has become trendy. Scroll down to see the much-needed inspiration for brown hair with purple tips.
Tips to Dye Purple Streaks in Brown Hair
Curious about brown to purple hair and would love to try this trend? As you're already aware, transitioning from brown hair to purple isn't the easiest because your hair color is on the darker side, but it's not impossible. Your hairdresser will take into account your needs and preferences to section the hair and use bleach to lighten them before applying purple dye.
While you can do this at home, make sure you avoid it because the professional can do it without damaging your hair. But, if you want to do it on your own, these tips may come handy:
Think about the exact shade of purple you want keeping in mind that darker shades such as indigo, deep purple, and burgundy don't necessarily require bleaching but lighter shades such as lilac, magenta, and pastel tone require bleaching your hair first
Section your hair and apply bleach, if necessary
Avoid bleaching same section twice on the same day
After lightening your hair, apply purple hair color to the bleached sections
Use color refresher shampoos, avoid washing your hair on a daily basis, and avoid spending too much time in the sun to prevent fading.
Brown Hairdos with Purple Tips
Getting purple streaks in brown hair may be the change you need to feel better and more confident. Scroll down to see some of the best ideas to emulate.
1. Indigo-Like Style
If your hair is medium to dark brown, you can never go wrong with purple indigo tips. These two colors will accentuate one another and give you a beautiful look. To emphasize the effect, you may want to create gentle layers and waves or opt for a choppy long shag style.
2. Deep Purple Style
Chocolate brown hair that gradually turns into deep purple hue will give you a brand new, fashionable look. In order to emphasize the purple tips on your brown hair, you may want to create luscious locks, as seen in the hairstyle photo.
Some women prefer darker, more subtle shades of purple, but others are more inclined to choose vibrant, electric shades. If you're in that latter group, then you will be glad to know it can easily work with your brown hair with purple tips.
4. Vivid Purple and Dark Brown Hair
If you want brown hair with purple strands to be noticeable, then you may want to consider this look. Dark brown hair is combined with striking purple ombre hair in a unique new look. Super edgy and ever so cool, isn't it?
You can do brown to purple ombre hair in a demure and subtle way if that's what you prefer. Here's a perfect example – dark brown hair styled in gentle waves only shows a hint of purple tips, and it's absolutely fabulous.
6. Light Brown Hair
Purple streaks in brown hair aren't just reserved for darker shades, but lighter too. Get purple balayage hair tips on your light brown for a beautiful contrast of soft and strong tones.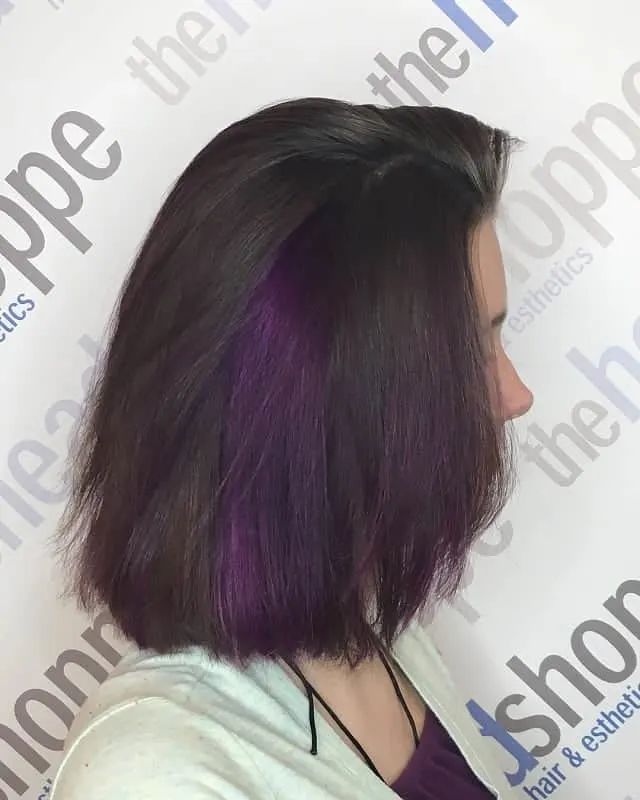 You don't really want to color tips of your hair only? Then the peek-a-boo style is the answer. Just a hint of purple tips on brown hair that shows up when you move your head can be enough for a dramatic effect.
Brown hair with purple tips is a popular trend among girls and women who love the combination of demure and edgy styles. Now that you've seen amazing ideas to copy all you need to do is to select your favorite shade of purple and get a whole new style today.