Channing Tatum is a well known American actor, who has performed in many blockbuster films like the step up, 21 jump street .e.t.c. Channing Tatum just not only made his name through his movies but, also has been inspiring his fans and people around the world always, through his amazing hairstyles.
Here, we will explore the best Channing Tatum haircuts that he wore on different events, which look very refined on him. If you are a big fan of Channing Tatum, then you can also try his different hairstyling avatar, which will surely make you stand out among the crowd.
Most Popular Channing Tatum's Hairstyle
Who can deny the charm of Tatum for his fantastic role in 'The Vow'? From the very beginning, he amazed us fan with his unique and amazing styles. Let's get swooned over the best of Channing Tatum hairstyles listed below!
1. Channing Tatum's Spiky Hairstyle
He looks so handsome with short spiky hair with the combination of an undercut. You can use a gel or other styling product to fix the spikes.
It is the classic hairstyle that suits Channing Tatum a lot.  The top hairs are a bit longer than, the sides of the head. The shorter top hairs are swept on the side giving a compelling look. This style looks surprisingly neat on Tatum, as shown in the image.
3. Buzz Cut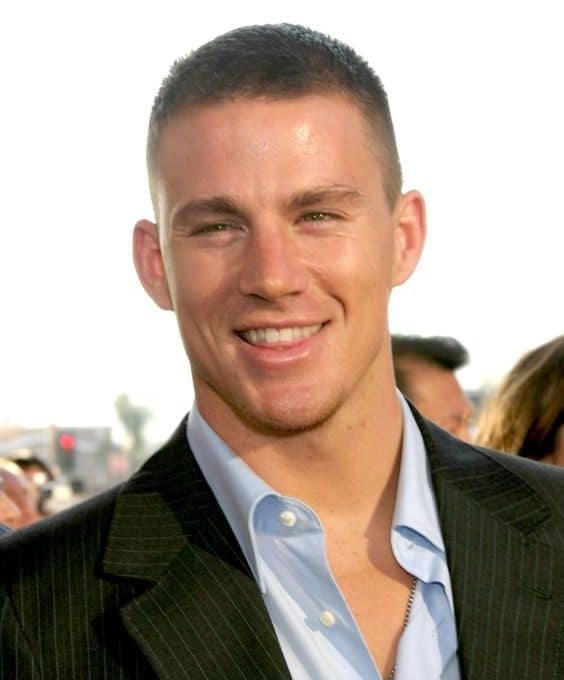 He wore this haircut in his TV series named "The Comrade Detective". It's one of the favorite hairstyles of Channing Tatum. He wore buzz cut hairstyle at various events.
The sides are highlighted, while the top hair is shaved or trimmed slightly, not shaven completely. These trimmed hairs give a bald look to Channing Tatum but, looks impeccable on him, as shown in the image.
Channing Tatum looks a gentleman in this comb-over hairstyle. The top hairs are combed on the side with a side part. This comb-over haircut with a short beard gives a neat look to Tatum.
5. Brushed Up
The medium/long hairs on top are brushed up giving Channing Tatum a very cool look. The sides are shorter than the top hair of the head. No one can beat his cool personality with this hairstyle.
6. Channing Tatum with a Quiff
As, you can see in the below image, that Tatum has applied some gel or pomade for a sleek, shiny look. The long hairs are combed into a messy quiff.
7. Channing Tatum with Bangs
He wore the short hair with bangs in a movie named "The Eagle".  After that, he wore medium hair along with bangs, at various events.
8. Channing Tatum's Crew Cut
He wore this hairstyle in his movie named "The Fox Catcher" in 2014. The sides are shorter than the top of the head, which are 2 and a half inches long.
9. Faux Hawk
Channing Tatum wore faux hawk hairstyle with short French beard to look smart on different award functions. A remarkable confidence has been seen in him with this attire.
10. Wet Textured
If you look at the image below, it is apparent that Channing Tatum had applied some pomade to give a bright glossy look to his hairstyle.
11. Channing Tatum Slicked Back Hairstyle with an Undercut
Tatum wore this hairstyle at the movie premiere of his film "The Hail Caesar". After that, he wore the medium-long hairs slicked back with an undercut.