Chocolate red hair looks truly stunning. The mix of red and choco shade doesn't just look rich, it appears natural. While many women opt for some shade of blonde, they forget about the priceless result that can be achieved by darker colors. Since most of the world's population sports dark hair, it seems obvious that the darker shades should prevail.
However, women often opt for something they believe is more striking and miss the opportunity to look smashing with their own natural hair. Knowing how to work with various shades of red and chocolate can help you create a magnificent appearance.
Best Shades to Go with Red Hair
Whether you have natural red hair or want to add some redness to your style, you can do it with a mix of colors. Going full red is a tough decision which can be a wrong one for many women who are against regular touch-ups.
Meanwhile, red hair with chocolate undertones might be a wonderful idea. You can kill two birds with one stone by adding some color shades to your red locks.
Since flaming blood red hair or red orange hair is almost impossible to keep intact long, many women tend to rethink their wishes. Darker red hair is easier to deal with. It looks more natural and doesn't require extra dyeing every month.
You can make your red hair a little darker by mixing in chocolate color shades. You don't have to go for outright highlights, but you can consider an ombre. A few partial or full highlights can significantly improve your red hair color.
Amazing Chocolate Red Hairstyle
While red hair color is usually the hardest to maintain, the brown is the easiest. Mixing chocolate color shades with red and brown is a great way to minimize the hair care and to reduce the frequency of the barber shop appointments.
If you dye the hair on your own, you still want to keep the damage to a minimum. Red chocolate hair color shades can do a great job keeping the hair looking fabulous with the extra damage.
1. Red Rose and Chocolate
Red ombre hair is one of the most stunning things you can do with your hair. The mix of dark shade on chocolate red hair colors can make you stand out of the crowd. Consider lighter rose hues on top and cherry red hair color shades on the bottom.
Classic Red Ombre Hairstyles for Black Hair
2. Copper Red with Chocolate Touch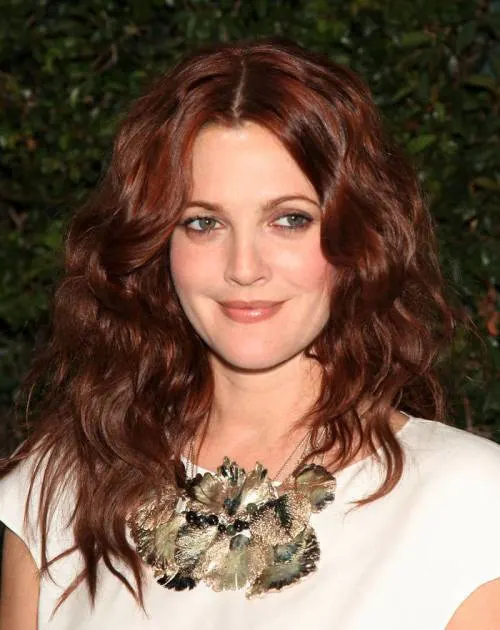 Dark copper hair color is the latest hit. However, copper hair dye is the first to wash out. By giving your reddish chocolate hair a touch of brownish color shade, you are allowing yourself to reduce the worrying about touch-ups.
3. Dark Chocolate Hair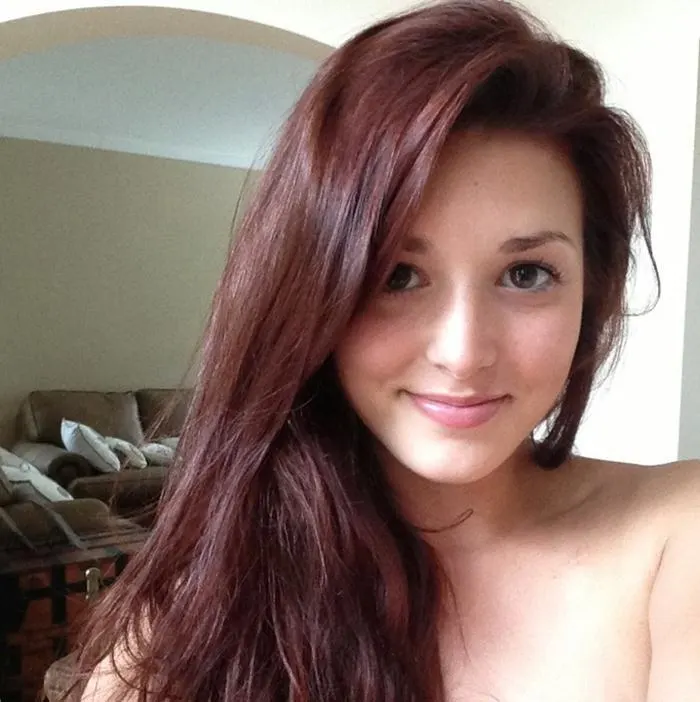 If you want your chocolate red hair to look softer and more appealing, you might want to try the light brown hair shade. Most of the hair should be dyed dark brown while the partial highlights are dark or light burgundy.
Amazing Red Bangs Ideas for Women
The mix of light and dark hair color is a good choice for girls who are not considering red chocolate hair color just yet. Brownish color shades mixed with chocolate balayage highlights can make your mane look truly fabulous.
5. Choco Red Hair with Auburn Undertones
Medium auburn hair color looks close to brown and can lose its redness if not outlined by darker shades. Consider light chocolate red hair color shade to make your locks stand out and shine with some redness.
Give your auburn red hair a little more style by adding chocolate shade. Darker hair color tends to hide skin imperfections and allow you to outline your facial features. Meanwhile, natural auburn strands seem like a great addition.
7. Chocolate Cherry Red Highlights
This dramatically blended Choco-cherry red lowlights with the loose wavy hair structure will make your entire appearance stand out in the crowd in any season.
It looks comelier on tan skin tone and glows even more on black outfits. The dark rich natural base with the over toned lowlights and hair treatment provide the hair dynamic features.
8. Bright and Dark look
Want something magical that will work as per your desire? If yes then, this latest red chocolate hair idea is certainly for you. It will appear bright in the sunlight and dark in the indoors. This hue is ideal for dark and medium skin tones. The red color looks vividly enchanting with a dark brown undertone.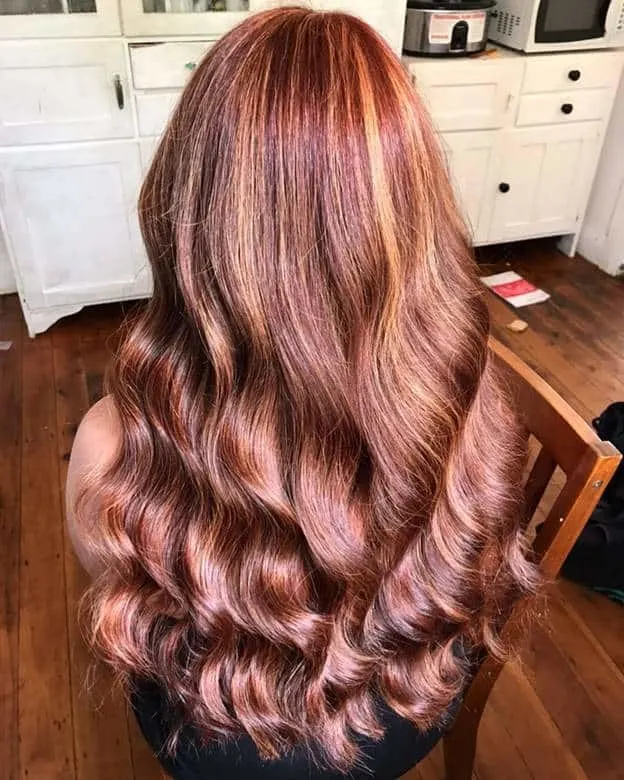 The glistening chocolate red hair strands looks undeniably gorgeous and give a whole new definition to your tresses. You can be as playful with this particular tone combination as you want. For example; you can incorporate rose golden blonde balayage or caramel/honey highlights into the red/chocolate brown mane.
The bouncy waves can be achieved with the help of an iron curler. So, try out this shade and get astonished that how noticeably, it will compliment your skin tone and appearance.
10. Melting Red-Choco Hair Color
The shining aesthetics of the hairstyle are screaming out the bold and élan features of the red chocolate hair color. This shade is very close to give you absolute natural vibes and provides a subtle element to your tresses.
It can be a perfect tone to wear for fall and summer seasons and looks uber-chic on long, blunt bob cut. You can achieve this rich glossy hair through a keratin hair treatment.
11. Deep Chocolate Hair Color
The deep chocolate red hair shade looks extraordinarily remarkable on warm and cool skin tones. If you have thick hair, it will give your hairstyle a natural and effortless flaunt. Ladies with fine hair should not be worried as you can add texture to your mane by turning it into soft curls.
Sometimes, it can be tricky to choose the suitable chocolate-red hue combo that looks promising on light skin tone. If you have a cool skin tone and want a divine change in your personality, you can jazz up your chic hairstyle with reddish chocolate shade, some plum, and golden highlights. The swirly hair texture will add more dimension to each toned hair strand.
Chocolate red hair can look either stunning or much better than you expected. If you never considered such a mix, you should give your hair a chance and enjoy yourself in the process.