Dark brown hair is no doubt a blessing with unmatchable beauty, yet single-toned locks can become dull and boring at times. Level up the game of your chocolate mane by chopping it down, playing with highlights, flaunting an ombre, or styling it in a fun way.
We are here with 25 gorgeous dark brown hairstyles in this regard to show off your brunette hair with confidence.
Fantastic Dark Brown Hair Ideas
Have a quick glance at the following dark brown hairstyles to bring a change in your appearance and select whichever suits your personality the most.
1. Choppy Waves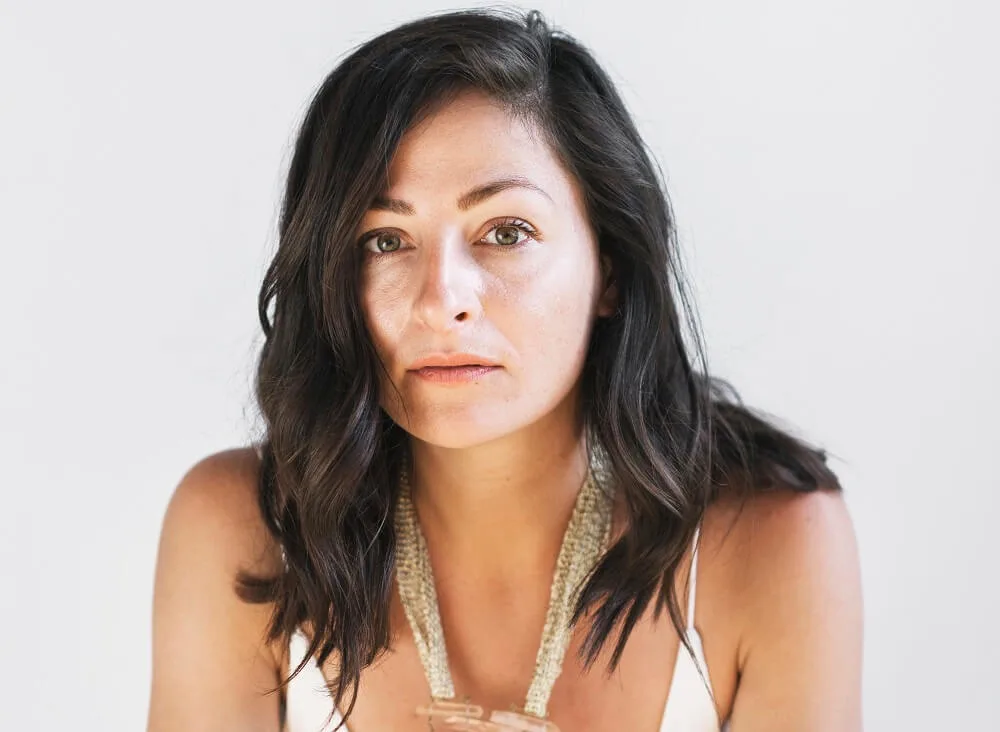 For the ladies who don't want to alter their natural dark brown color, play with the length of your hair instead. This style features natural waves that are chopped down into layers creating a voluminous haircut with a side part.
2. Boy Cut
This look is not for the chicken-hearted and is ideal for those who want a boyish appeal. Chop down the hair with neatly trimmed sides and a longer, wavy top. Some pomade is used to tousle the waves backward. This style is easy to maintain.
3. Dark Brown Curls
These gorgeous brown curls can be achieved with a curling iron if not natural. To further accentuate the look, subtle layering is done on the armpit-length strands. Let the hair sway in the wind with a side part by finger combing it every now and then.
4. Pinned Back
Considering the women over 50 with darker brown hair, this is the look to go for. Cut the strands just above the shoulders and curl them away from the face. With a side part, pin back the strands on the sides, leaving some loose at the front.
A low ponytail goes great with all hair lengths and textures. Comb down the strands with a side or middle parting and secure it with a hair tie near the nape of the neck. A long ribbon can be added for a cute girly touch to the look.
6. Sleek A-Line Bob
This stunning hairstyle features a sleek A-line lob for dark brown hair with a subtle ombre effect. The silky strands at the back are trimmed to neck-length with shoulder-length front strands. The brown hue at the top merges into a lighter cool brown shade below.
7. Caramel Highlights
Caramel highlights are timeless and look fabulous on a dark chocolate brown mane. The hip-length strands are curled and brushed down afterward to create luscious waves, with the lighter strands shining through the darker ones.
8. Keep It High
Rock a red carpet look with this hairstyle. Slick back the hair into a high ponytail and wrap some strands around the hair tie to copy this style. Tame down the baby hairs using hair spray and a comb to set off this sleek look.
9. Earloop Highlights
Color a section of hair at the back of the ears in a vivid shade to contrast with the remaining darker strands. This look consists of frozen pink earloop highlights peeking through the dark brown waves. Keep the mid-length locks at the front to show off the color.
10. Dark Brown Pixie
Tired of long hair? Why not consider a pixie haircut? This short hairstyle is low maintenance and has an edgy appeal to it. Chop the hair down with subtle layers and a long side-swept front fringe. The glossy look of these well-conditioned brown locks won't go unnoticed.
11. Hime Cut
Add a funky touch to plain brown hair by going for a hime cut. The back is kept long, with the edgy side locks falling on the cheeks. Cover the forehead with eyebrow-grazing bangs to complete the look.
12. Elegant Bun
This elegant style stunningly features dark brown hair color. The wavy strands are twisted into a bun at the back with a back-combed puffy top. A few waves are pulled out on the front to frame the face beautifully.
Wavy locks can be carried gracefully by securing half of the hair at the back with bobby pins leaving a few strands loose at the front. The beautiful glossy waves swaying at the back won't be ignored.
14. Fauxhawk Updo
Be dauntless this year and get a bold fauxhawk with neatly buzzed sides. The long strands are twisted around to create messy buns at the front all the way to the back. This contrasting hair look will surely turn around some heads.
15. Chin-Length Bob
If you are tired of your long hair, chop it down to a chin-length bob with slightly longer front strands than the rest. This look is ideal for girls with dark straight brown hair. Subtle layering with a cute hair accessory will set off this look.
16. Dark Brown Twists with Balayage
For the ladies with an afro-textured mane, this is the look to try next. Add soft honey blonde highlights midway to the ends to create a dark to light balayage effect. Section the strands and twist them all around the head to complete the hairstyle.
17. Side-Swept Hair with Undercut
Another way to flaunt dark brown short hair is by combining it with an undercut. One side is buzzed with two slits shaved into it to create a design while the remaining longer hair is swept on the other side. This look is punk and cute at the same time.
Box braids are a great way to tame curly hair. The strands are sectioned and braided down. Don't forget to get blonde strands that peek through the darker ones mimicking highlights. Top this side-swept look off by adding shiny hair cuffs.
19. Curly Highlighted Top
This is a brown hair look for women who want to keep it low-maintenance. The sides are trimmed down with a long curly top. Light blonde highlights are added to the top to make the tousled curls stand out in the crowd.
20. Layered V-Cut
This look is to die for. If you have beautiful shiny and long dark brown hair that you don't dare to dye or chop, get a V-shaped haircut with a lot of layering that keeps the hair length the same but still brings a pretty change to the mane.
Peekaboo hair color is fun and does not overpower the natural base color. Copy this look by getting a shoulder-length layered hair cut with bangs and add a sunflower blonde hue to peek through the chocolate strands.
22. A Touch of Red and Orange
Bring the fire flames on your head with this vivid hairstyle. The kinky curls are layered to frame the face. Select a spot at the top and one near the ear and bleach down the dark brown curls, followed by dying them in sherbet orange and fiery red hue.
Wispy bangs coupled with heavy layering are perfect ways to flaunt long, thin hair. Spice up the look by merging the dark brown hair color into a jet black hue to create an ombre effect.
24. Highlighted Front
Show off a different hairstyle by highlighting only the front portion while keeping the back plain. This look is created by adding chunky blonde highlights on the bangs and sides of a French bob cut to contrast with the darker back.
25. Lustrous Half Moon Bun
This stunning hairstyle featuring a half moon-bun on a darker brown base is perfect for any fancy occasion. The top is back-combed with side-swept front strands merging into the bun at the back created by using a hair donut. Add floral hair accessories to complete this lustrous look.
To sum up, dark brown hair can be styled in countless ways, and it will look stunning every time. There is nothing to wait for now that you have gone through 25 of the most remarkable hairstyles for brunettes. Choose the one that inspires you the most and give it a go!