Some women are born with thin hair and spend a lot of time trying to find the right hairstyle to help it appear thicker. Many will even go to the lengths of investing a lot of money in the right hair products to add waves or curls, or some kind of texture to give the appearance of a fuller look.
Instead of doing that, consider a hairstyle that you won't have to spend more money on.
Ideal Hairstyles for Long Thin Hair
Choosing the perfect hairstyle for your thick hair will no longer be a struggle with this list of 30 beautiful styles to choose from.
1. Long Thin Straight Hair
You'll see this long hairstyle on Heidi Klum a lot right now. With your long hair, you can rock blonde hair with a straight, layered bang that stops at the eyebrows.
2. Updo for Long Thin Hair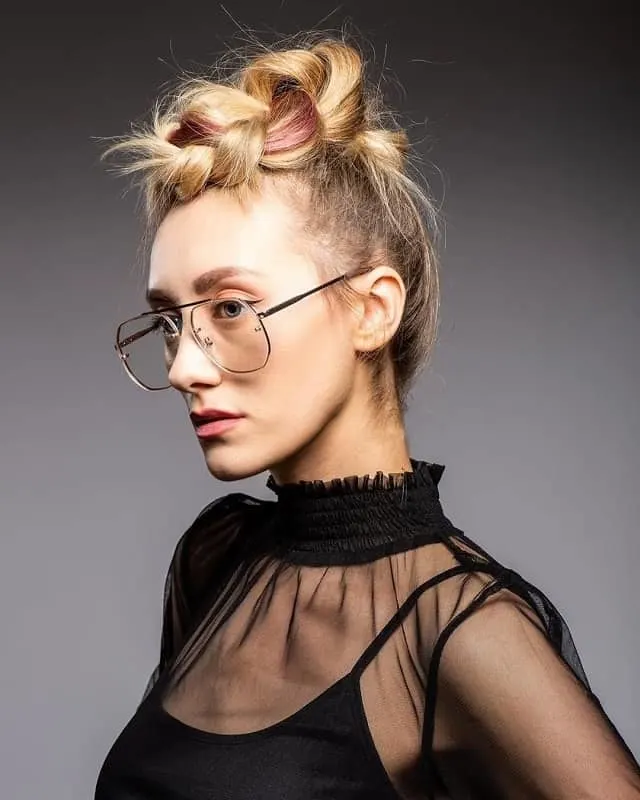 Be a showstopper at that party you're invited to by wearing your long thin hair up in a loose braided bun. A streak of soft pink adds a beautiful flair of color to blonde hair.
3. Thin Haircut for Round Face
Sometimes wearing hair down is enough of a style on its own for round faces. Simply part the hair in the center and straighten locks to show off its length.
4. Long Thin Perms
A one-time perm will cost you, but it will also last several months, meaning you won't have to fool with a curling iron. All over blonde gives you a beach babe feel but brunette hair color is just as gorgeous.
5. Long Thin Hairstyle for Wedding
Feel like a queen on your big day by taking thin hair and combing it up into a coiled loose bun. Avoid making it too tight for a soft, romantic feel. Decorate with barrettes or flowers to match your dress.
6. Curly Long Thin Hair
Hair can be curly while still being thin. A large low bun with tendrils on either side of the face will make everyone think you have a style full of volume tucked away.
7. Feather Cut for Thin Long Hair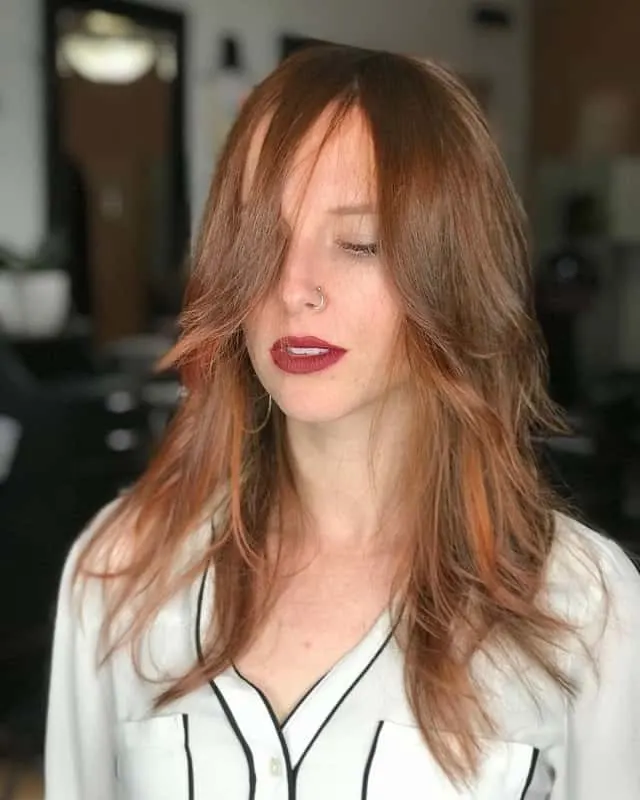 Having both thin hair and a large forehead can be a difficult combination to work with. Luckily, straightening your hair and adding a feathered side bang will help disguise any problems. A blend of red and blonde will also give you gorgeous color.
8. Thin Haircut for Chubby Face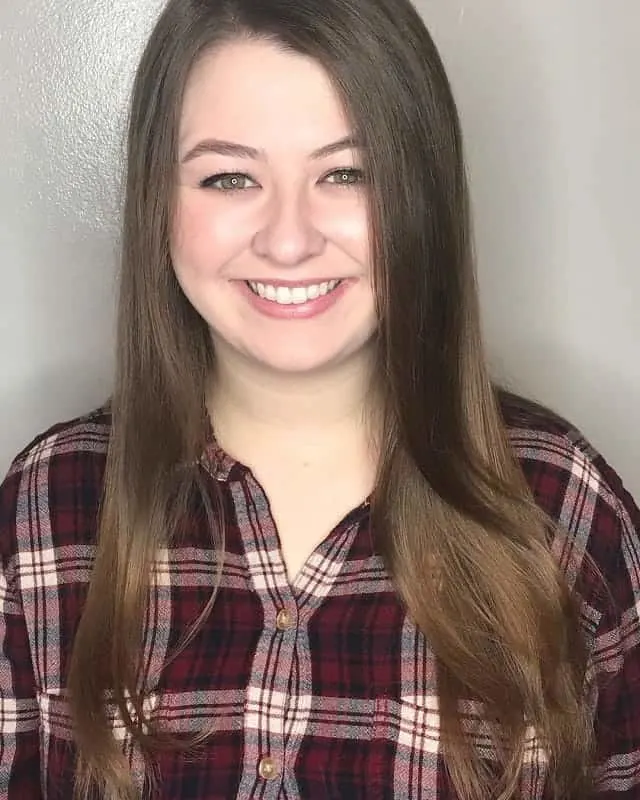 Round faces unfortunately always give off the appearance of being fuller. You can still look amazing with a side-parted straight style for your thin hair. Leave it all one color or add some highlights for fun.
9. Long Thin Hair with Bangs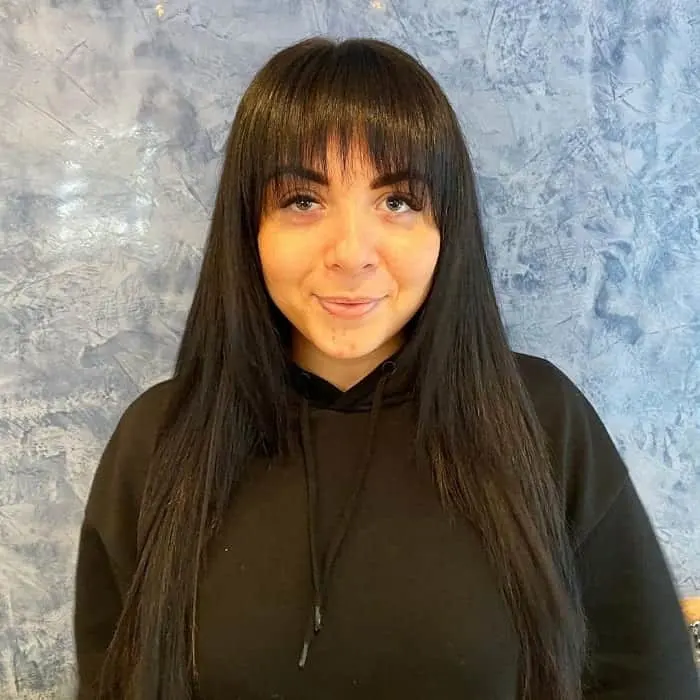 For a gorgeous hairstyle option, layer your long thin hair and choose long bangs that form an upside down V. This shape draws attention to eyes and narrows a round face.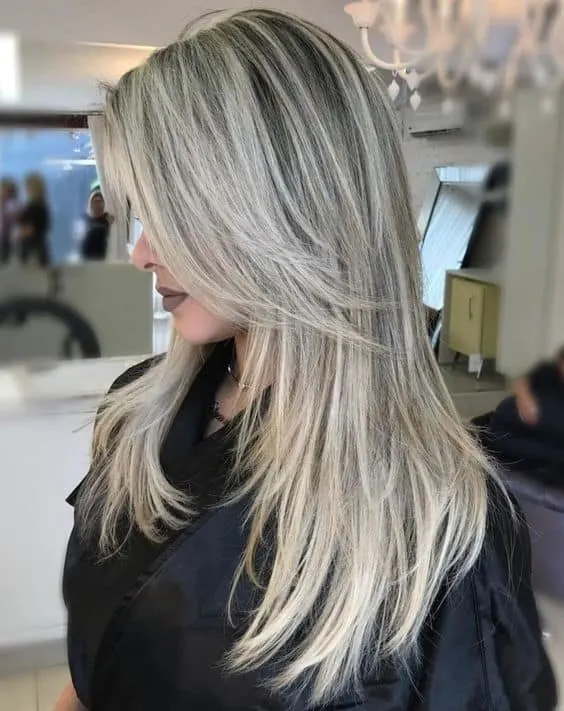 As previously mentioned, you should get a set of highlights in order to create an illusion of bigger & fluffier hair. Women with thin hair who want to try long hair will look lovely with a bleached set of platinum highlights.
This shag hairstyles for long thin hair with bangs will suit women who have oval faces the best. It hides the fact that your hair is thin, while also giving you a nice square-shaped face jawline & more defined cheekbones.
12. Super Long & Thin Hair
If your fine hair is extremely long and you don't want to cut it simply freshen it up with some baby highlights. Women who have round faces will create a dimension by letting their hair fall on both sides while being covered in dramatic highlights.
13. Long Layers for Thin Hair
Wear your hair on the side with some highlights and you will automatically look a lot more dimensional and proportional. This beige blonde haircut for long fine hair is ideal for younger women, and it is covered in beautiful highlights which you can try out this Summer season.
If you have long thin hair stylishly wear it on one side to create a dimension of a fuller hairline. This look is ideal for every day & casual activities.
This long hairstyle is ideal for thin hair and for women who have square-shaped faces. Jessica Alba is one of the brown-haired actresses who is rocking this hairstyle on a movie set, while you can easily wear it when at your prom, wedding, or any other formal event.
If you are a bride-to-be and you have fine long hair no worries, you can still enjoy a fuller outcome! This wavy and bouncy hairstyle will create an interesting illusion of voluminous hair, especially down the ends which you can achieve with some curling irons, all on your own!
Side swept braided bangs will open up your face and will allow you to play with makeup more than ever! This long hairstyle is ideal for fine hair, and it will look the best on women who are in their 20s.
If your hair is naturally blonde and is long and thin just embrace your look by adding a few low-lights down the ends, and by wearing your hair with a middle part. This adds dimension and creates a fuller hairline while not being harmful to your natural hair, only a bit towards the ends.
Gigi Hadid looks gorgeous with this long thin middle part hair, and so can you as long as you add a bit of texturizing spray towards the roots! You can also add some mousse to add that fluff at the top, it is that easy.
If you have long fine hair and you have a formal event upcoming get this half side hairstyle. It can distract the attention from an uneven and unflattering hairline while giving you a bit of that sass, ideal for night-outs!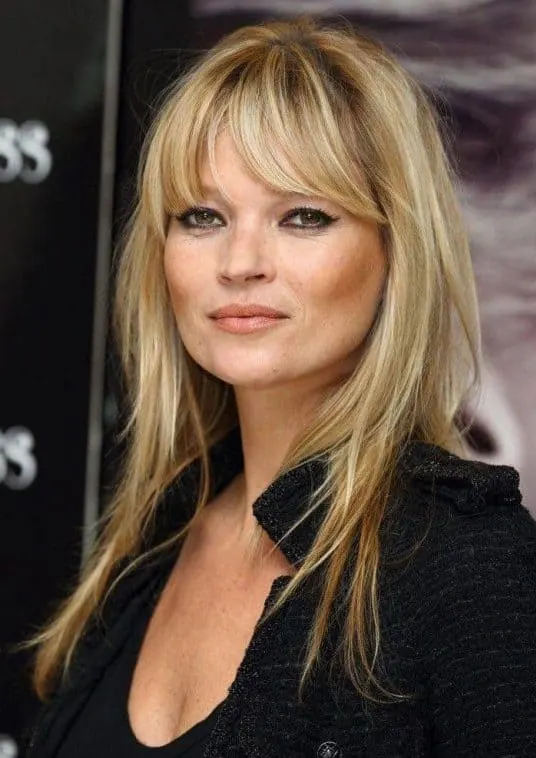 If you want to get a thin hairstyle just more than medium length, this hairstyle is perfect. just If you are in your 40s or 50s know that there is still a way for you to style your long thinner hair. Get a set of bangs to round up the look, and don't forget to wear a bit of makeup since it is a great way of distraction.
22. Long Thin Hair for Oval Faces
This long fine hairstyle with see-through bangs will suit women with oval faces the best. It is also quite playful, and it should be styled by women who don't mind straightening their bangs each morning.
23. Messy Hairstyle
If your hair is becoming thinner as you age hide that minor imperfection by getting a set of bleached highlights. This little trick will make your face makeup pop, and will also bring back some youth to your character.
Bangs are a must-have for square faced beauties because they can elongate and round up your face without making it look disproportional. Sandra Bullock is obviously rocking this long & straight thin hair look, and so can you! Check these bangs for women with thin hair.
If you can use a teasing comb each morning to give yourself a bit of volume on top make sure you fluff out your bangs. This Bardot bangs look will suit younger women the best.
Nicki Minaj looks fierce with these thin long black hair. This long style is ideal for those women with thinner hair who want to cover up their forehead and bring all the attention to the center of their face.
A proper side part will allow you to style your hair straight & sleek, which is an ideal look for daily activities. If you are a natural blonde you are going to love this hairstyle for your long fine hair.
Long bangs are so chic and in right now, so you should give them a go! This long straight thin hair with bangs will look so fashion-forward on teens, and younger women.
These highlights will be a huge hit for the Summer season, so make sure you get them before June! These will create an illusion of fuller hair, and will definitely look great on every lady.
Lastly, if you have a formal event that you need to attend to get your long fine hair into long beach waves with the help of your curling iron. This look is a must for weddings, and it takes away only 15 minutes of your time.
Ready to switch up your hairstyle and to enjoy mesmerizing long thin hairstyles? Or, want to get a short thin hair?You can easily style every hair type and length, as long as you have the right set of tools. Also, these 30 styles will come in handy if you are indecisive, so make sure you pick your favorite!