A-Line bobs are highly versatile, especially because you can choose the length, color and can be styled in limitless ways.They are those types of hairstyles that can hide certain features or, on the opposite, make them look more prominent. Layers also play an important role because they can give you a lot of dimensions.
What Is an A-Line Bob haircut?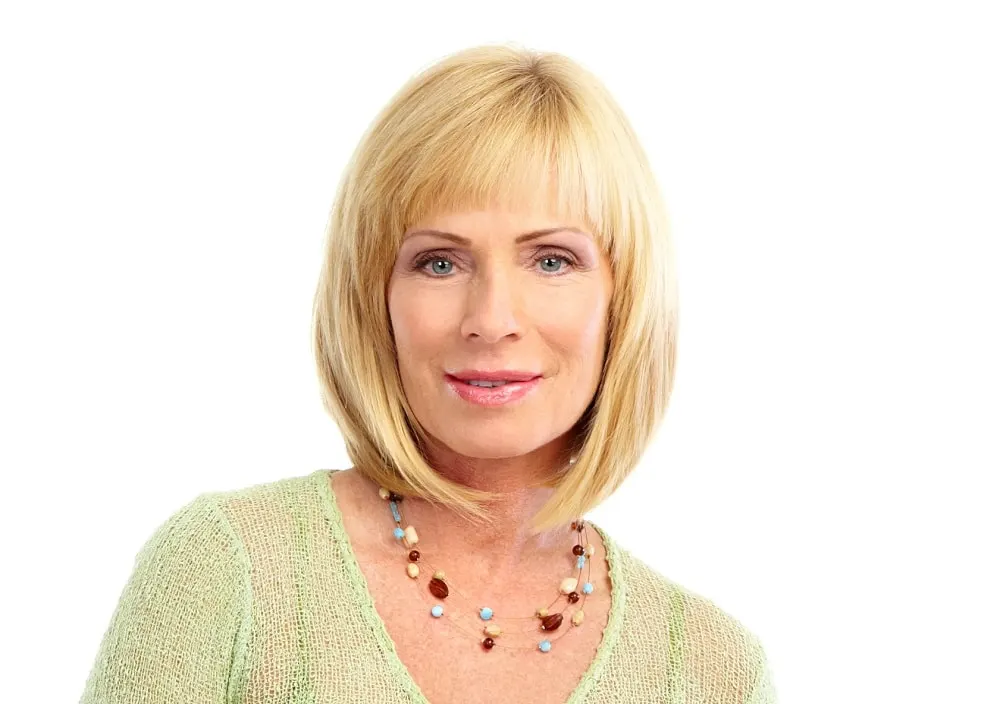 An A-Line Bob haircut is one of the most stylish for women of any age. It's easily maintainable, soft, and polished.
There are many variations, but they all have one thing in common: shorter in the back and gradually or quickly getting longer towards the front. The cut usually starts in the back at the neck's top and goes down between the chin and shoulders.
Most face shapes and hair types can hold this cut due to the diversity of styles, including shorter, longer, choppier, and curly.
New Ideas of A-Line Bob Haircuts
A-line bob haircuts are here to stay, and waves and highlights can make these hairstyles look modern and stylish. The color choice is yours, but you should make sure that it suits your skin tone.
Short or long, these haircuts can complete any look and leave plenty of room for your creativity. You can quickly obtain the volume you crave, and you can play with so many hair textures. Why not give it a try?
1. A-Line Stacked Bob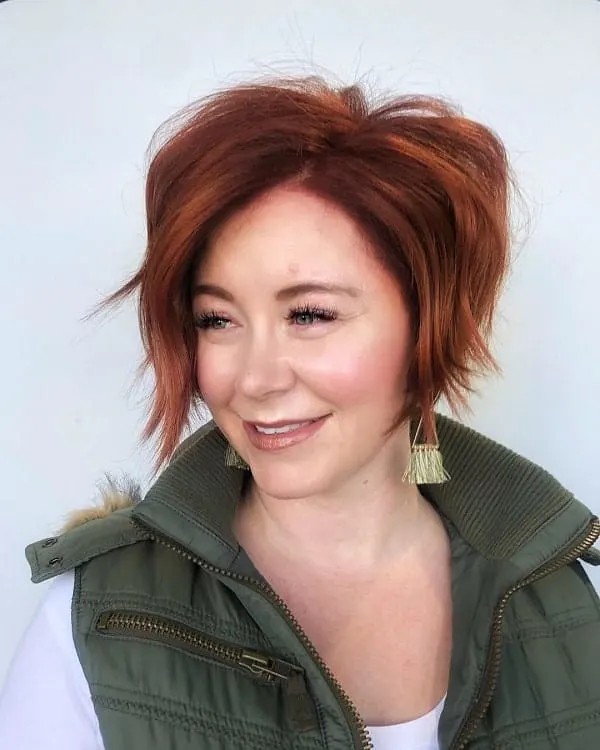 If you have a pale skin tone, a ginger brown color can become the best hairstyle change you ever did. Keep your hair short and layered to add volume to the top. Flip your bangs on one side.
2. Curly A-Line Bob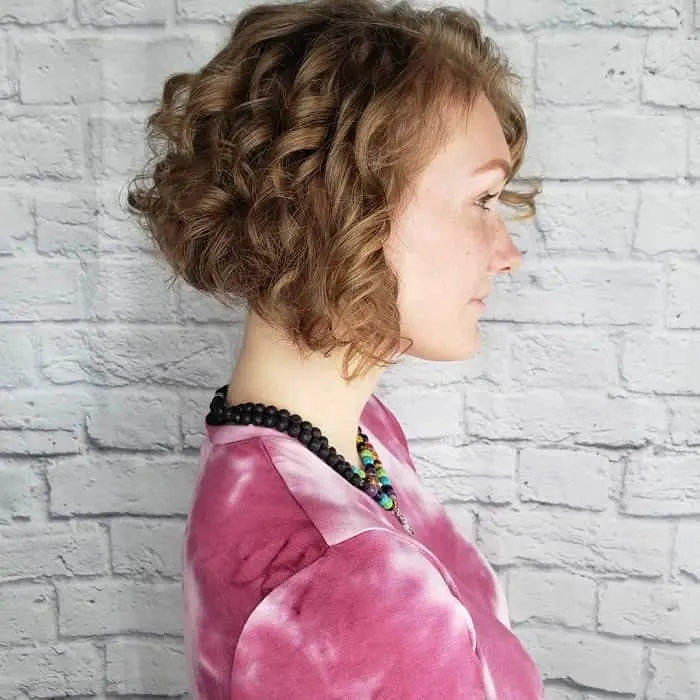 A short hairstyle will make your curls bouncy and better defined. One of the advantages of this A-line haircut is that it is low maintenance and if you want to look stylish, keep your bangs on one side.
3. Medium A-Line Bob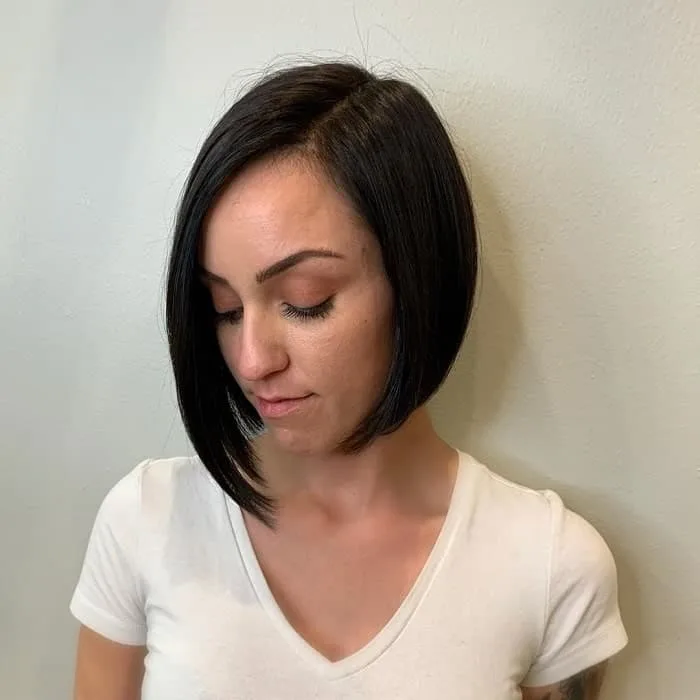 Whenever you want a flawless, elegant look, create an A-line hairstyle that reaches your chin line. Choose a black color for your locks for better framing. Slightly layer your tips for a see throw effect.
4. Holographic Effect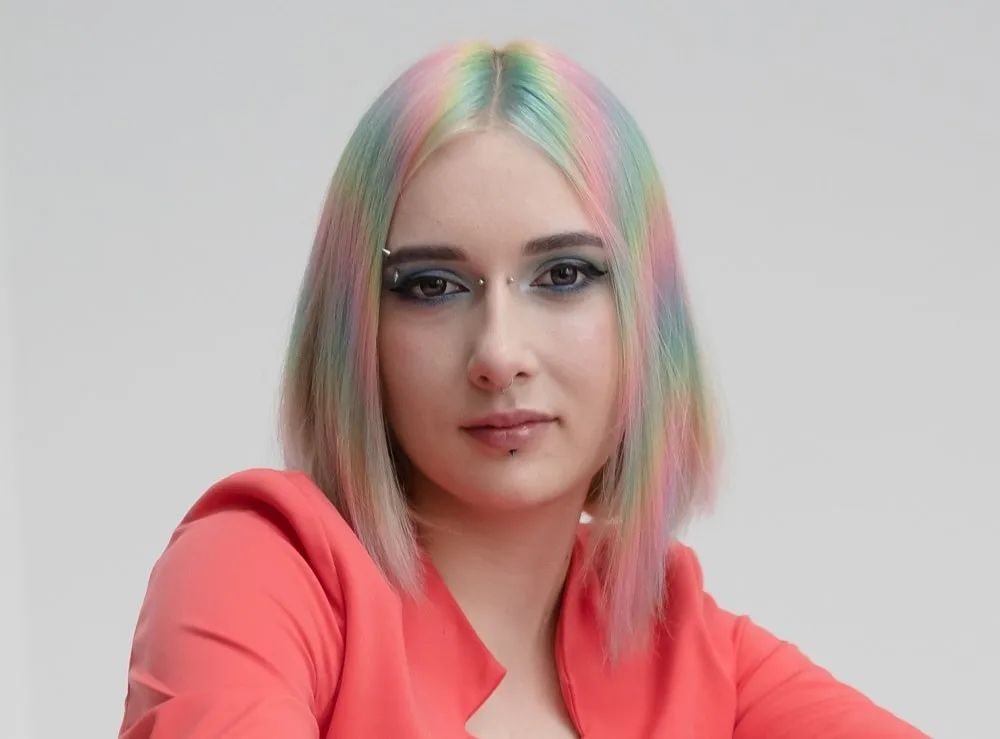 Turn your A-line bob haircut into one of a kind by creating a holographic effect. Choose pastel shades of pink, blue, green, yellow, and purple, and leave the rest to your hairstylist. This look is however high maintenance requiring regular touch-ups every few weeks.
5. Asymmetrical Haircut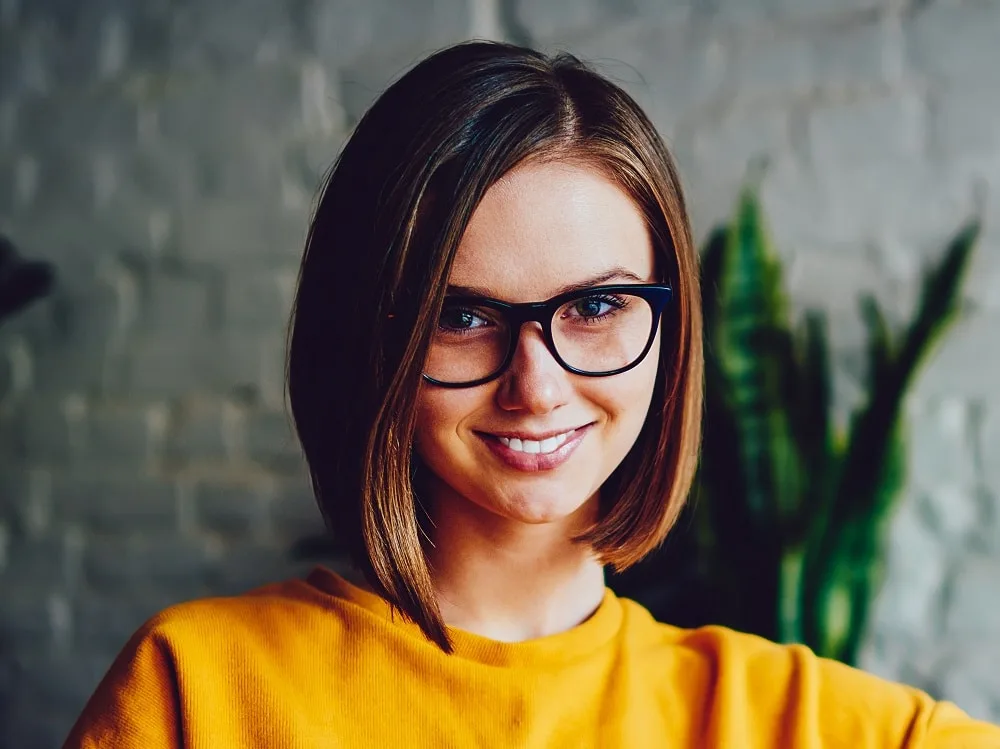 Playing with the symmetry of your hair can be fun. Instead of going for a usual cut, turn around some heads by keeping one side longer than the other to frame the face at the front. Ladies with glasses should definitely give this look a try. Simply chic!
6. Side-Swept Bangs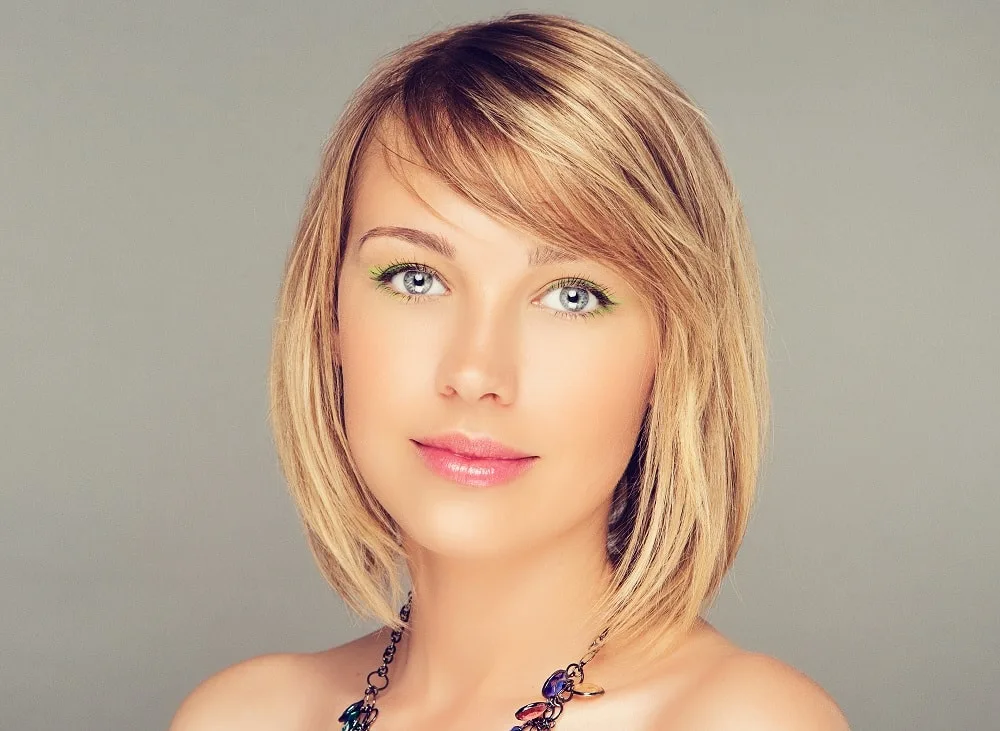 Bangs are ideal to cover a wide forehead and look exceptional with short haircuts. Experiment with straight-cut bangs or side-swept ones to accompany the angular side locks at the front. Spice up the look further with babylights and you won't regret it!
7. Sleek and Straight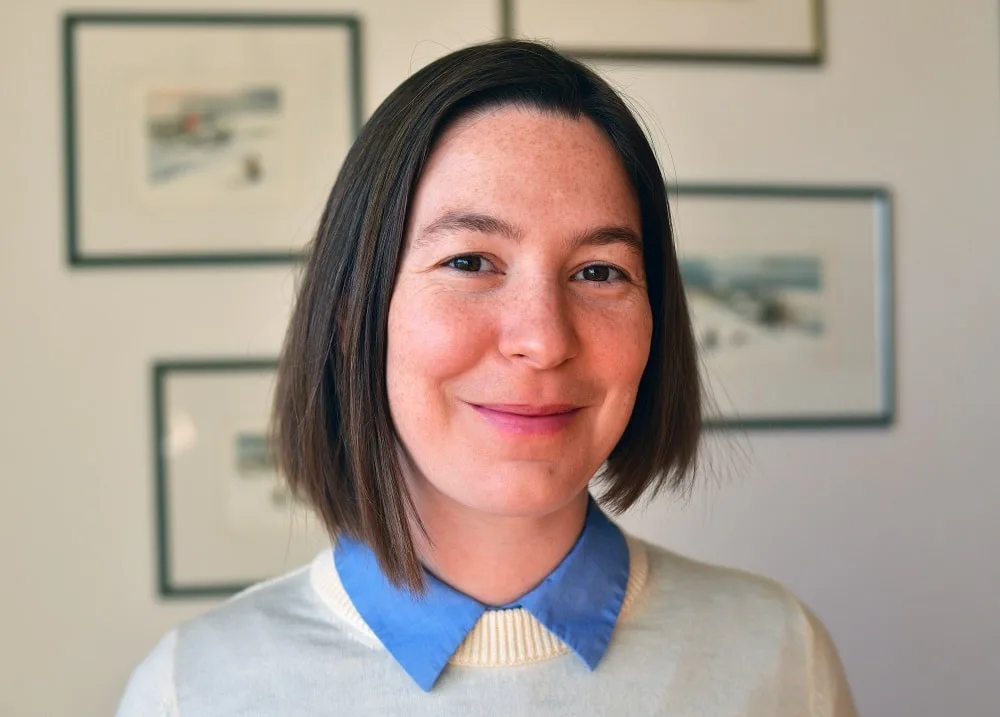 There is no need for extra detailing when a simple hairstyle is enough. Busy women can save themselves from the hassle of styling their tresses by chopping them into an inverted bob. Instead of going for a sharp angular cut keep it soft for an elegant appeal.
8. Chic Undercut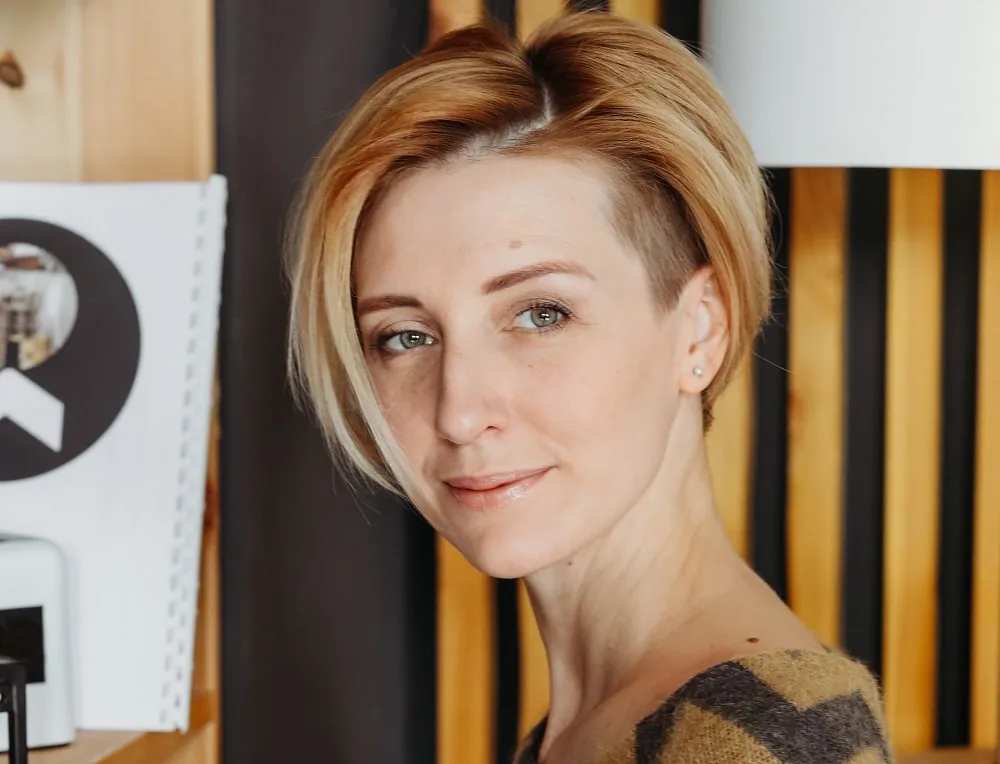 This bob is so short it looks like a mushroom haircut. Those with thick hair can shed off some weight from their head with a chic undercut. Create a natural ombre by coupling the light blonde strands with warm caramel roots.
9. Platinum Charm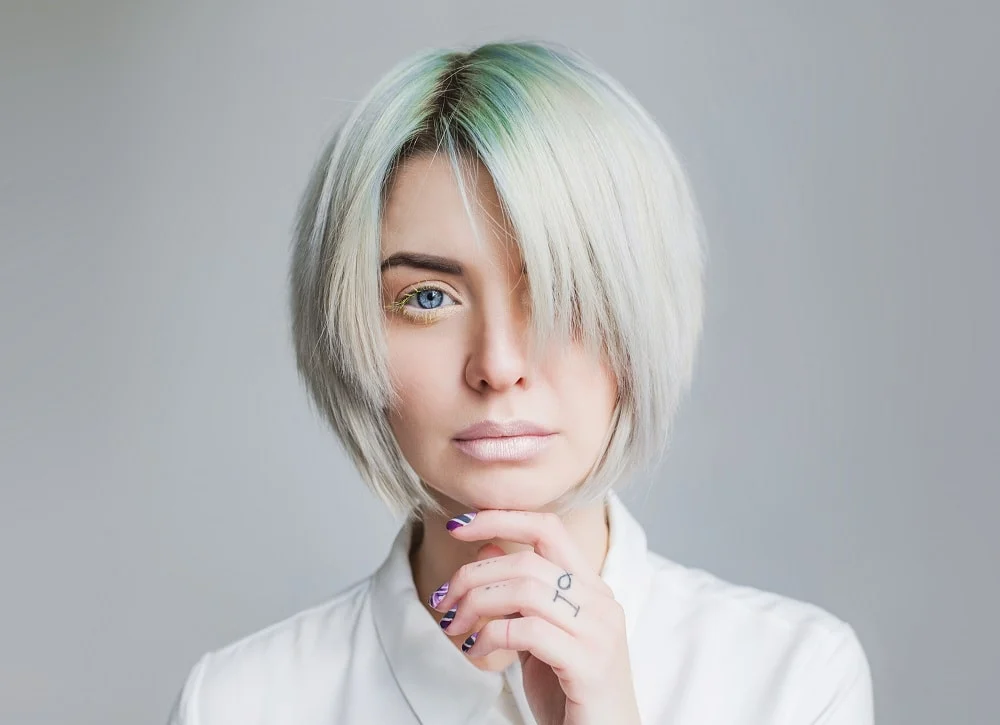 Can't take your eyes off, right? Platinum hair is in full swing this year and it is not difficult to understand why. The short back elongates towards the front with a choppy nose-length fringe. Add a touch of pastel green and blue to the roots and let the magic begin!
10. Copper Locks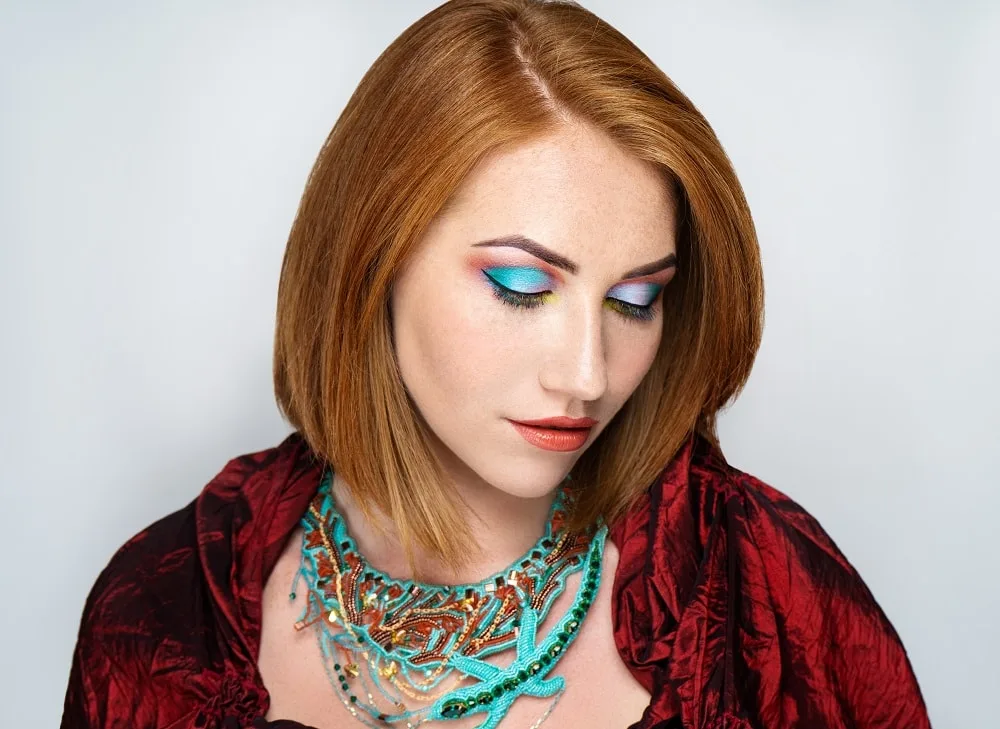 Nothing can go wrong with copper as there is a shade for every skin tone. Dye the hair in a medium coppery brown hue and cut it into an angled bob without bangs. Add subtle blonde lowlights on the front only to set the look on fire. Gorgeous without a doubt!
11. Extra-Short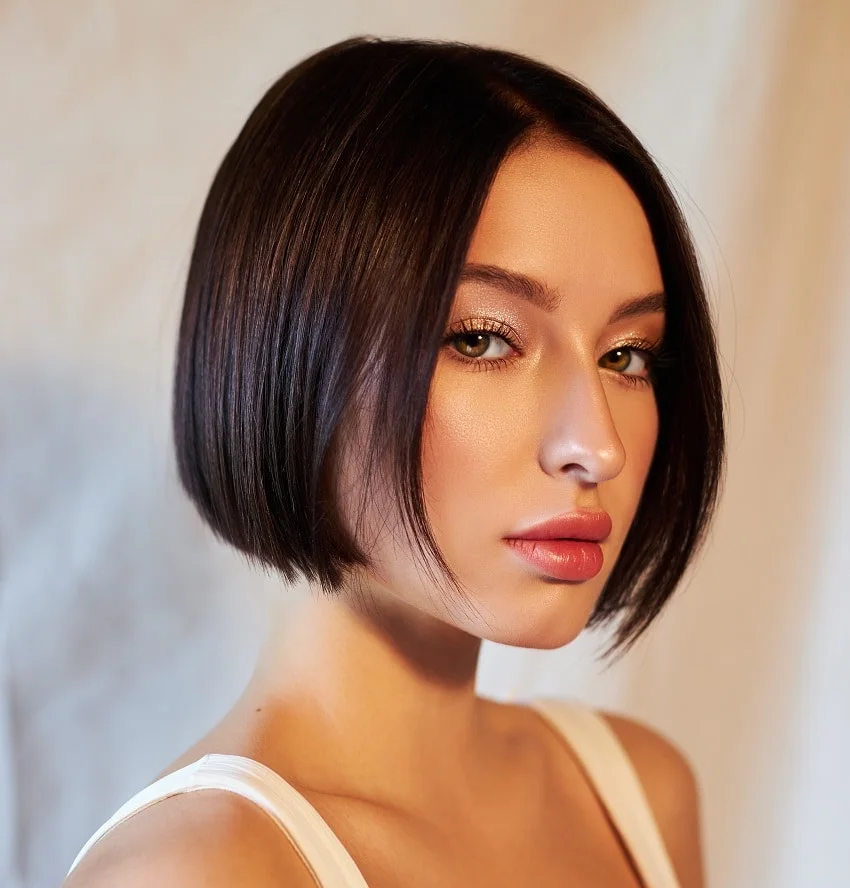 The shorter, the sexier! Those who don't mind a cropped cut can create an angle by buzzing their back at mid-ear-length for the strands to elongate towards the front reaching just below the chin. There you have it a modern take on a classic French girl bob.
12. Two-Toned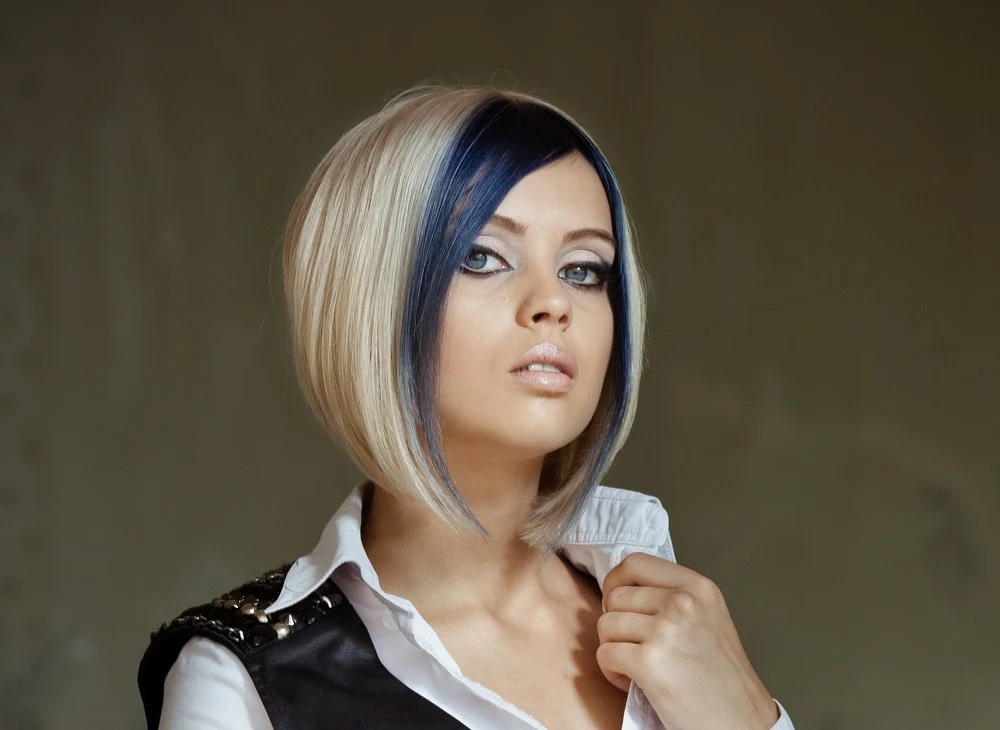 Bold ladies can express their wild side with a two-toned A-line bob. The front strands are dyed midnight blue to contrast sharply against the remaining platinum blonde hair. Also, instead of blue choose any color you want and rock it with confidence.
13. Red Hair, Don't Care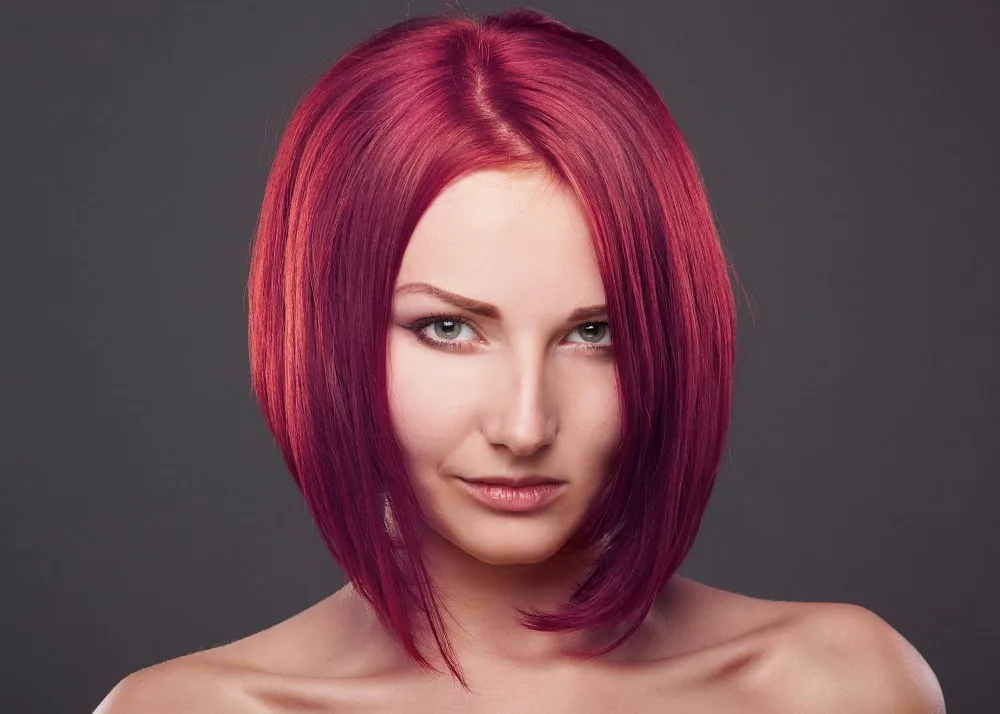 Red is an ideal hair shade to experiment with and those who still haven't rocked it are truly missing out. Set step into the world of color by rocking a bright cherry red tinge with a short bob. Add detail with lowlights or keep it simple. Your choice!
14. Stunning Money Pieces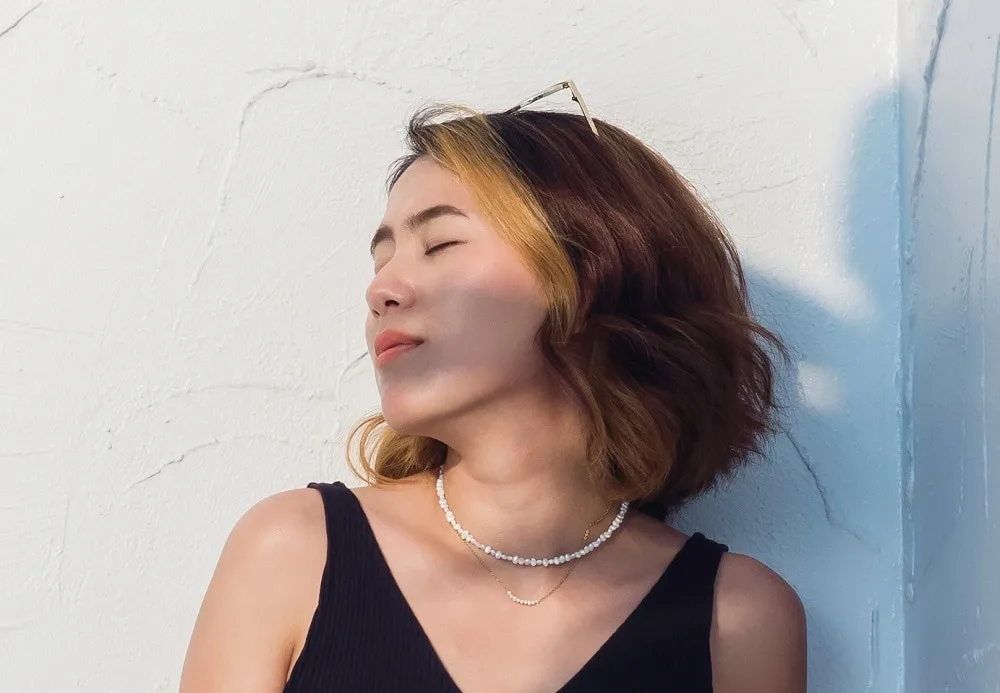 Stunning and inexpensive, that's what money pieces are! They are highlights that frame the face adding an instant glow to it. Brunette ladies can recreate this look at home by dying their front strands in a rich blonde shade and finishing off with curls. Voila!
15. Long and Strong
African-American women can sport a long angular haircut using a weave. The strands at the back dangle just above the neck and elongate quickly towards the front to fall on the chest creating a sharp angle that won't be overlooked. Simply wow!
16. Keep It Simple
Ladies getting on in years can create a lively appeal by chopping their hair into a simple A-line bob haircut. Hide those grays with highlights on a dirty blonde base and done. Short, stylish, and easy maintenance, what more to ask for?
17. Subtle Gradient
Those who are reluctant to try a sharp inverted bob can go for a subtle gradient with the short back gradually elongating towards the front. Straighten the hair while the strands bend naturally around the face for a flawless finish.
18. Bohemian Appeal
Go for a bohemian look by adding streaks of lilac to stand against the remaining blonde tresses. The key lies in straightening the hair and crimping some areas along the length creating a funky texture that is sure to attract some attention.
19. Gorgeous Mess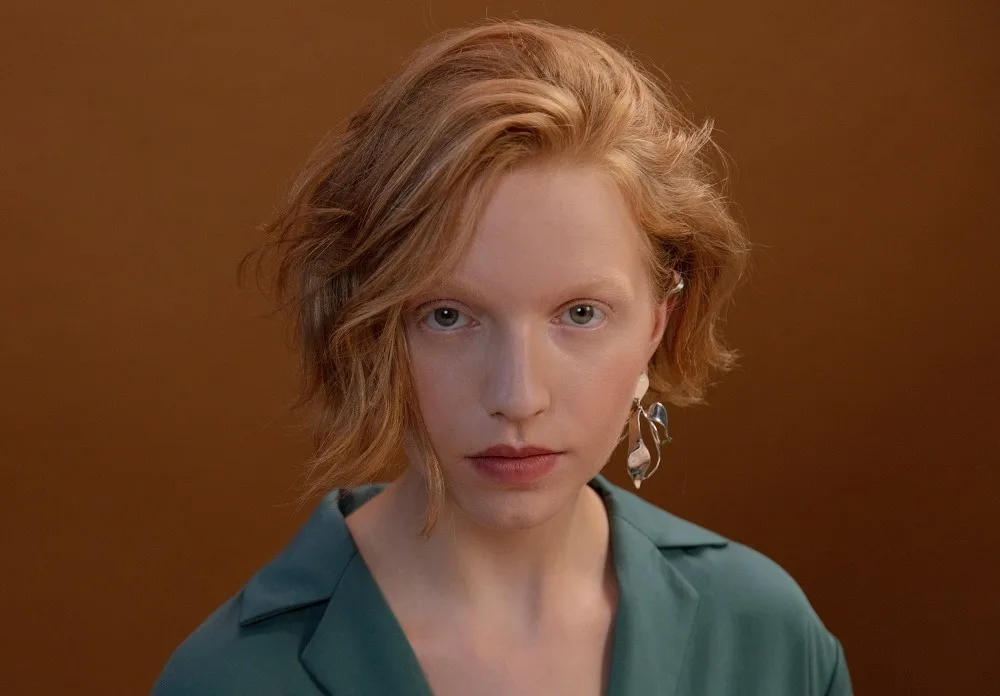 Messy is sexy and this hairstyle proves it! Couple your angled cut with an undercut along the sides and add loose curls. Tease and tousle the strands on one side for an undone appeal and finish off with some texturizing spray.
20. Faux Bob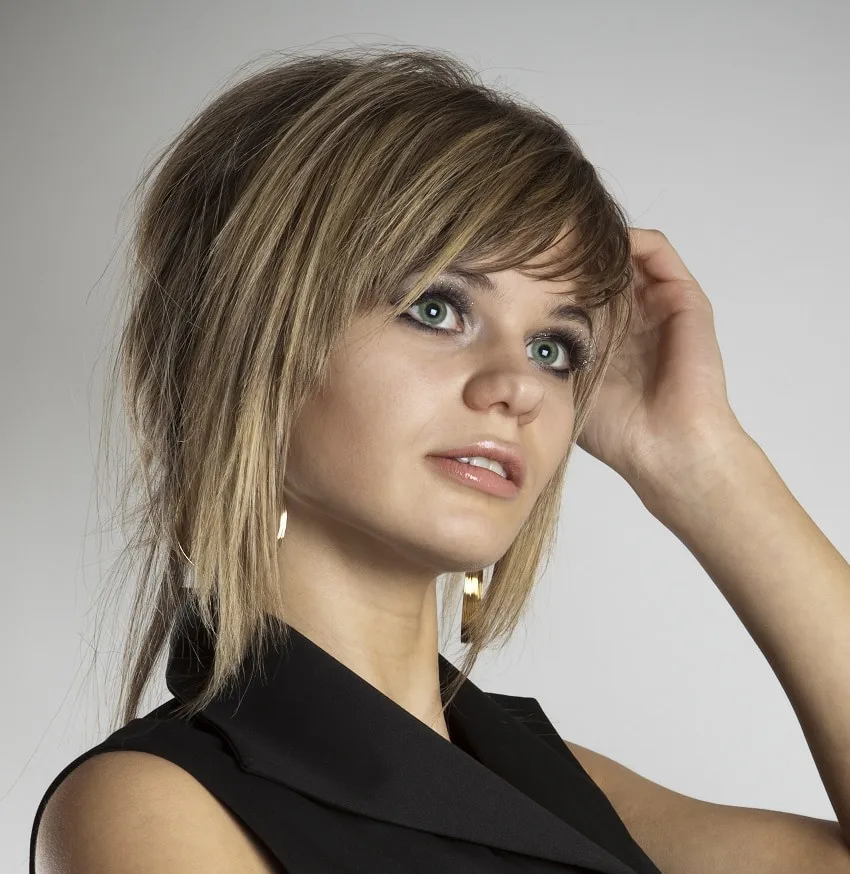 Create a faux A-line bob by gathering those long to medium tresses in a low loose ponytail and securing it to the base of the head. Pull the strands loose to create an angular shape with curtain bangs at the front. Tada!
21. Pop of Color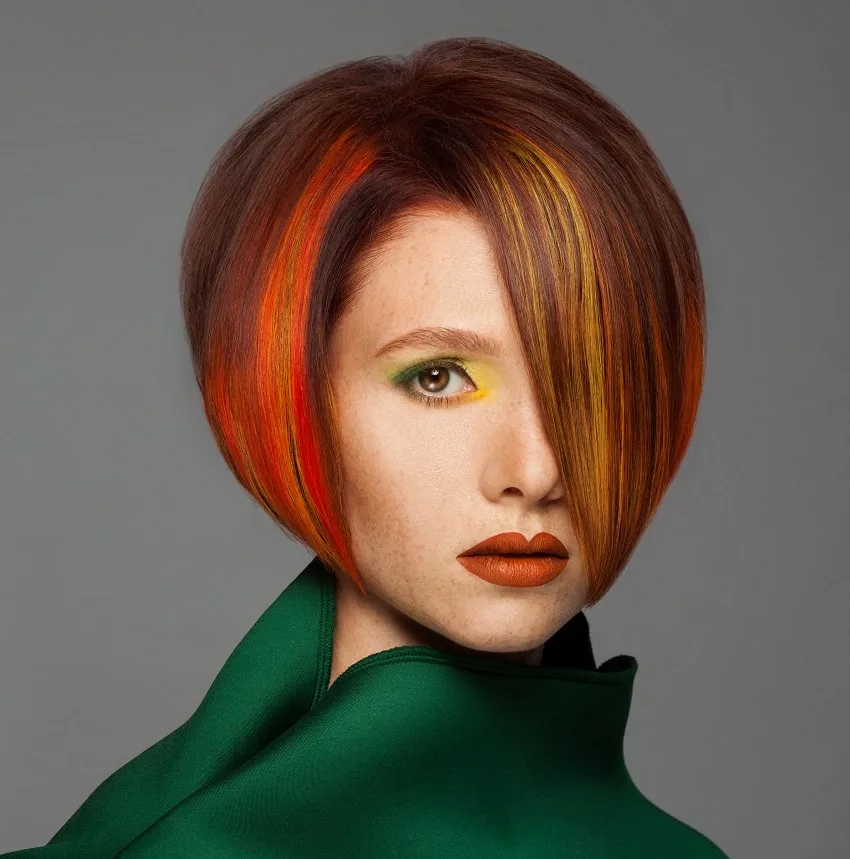 Celebrate the upcoming autumn season this year with a unique hairstyle. Dye the short hair in a brown shade, if not natural, and add stripes of bright orange and yellow for a pop of color on the head. Eye-catching!
22. A Touch of Blonde
Liven up those boring tresses with a touch of blonde. Go for an asymmetrical inverted haircut with one side longer than the other at the front and experiment with blonde highlights, a balayage, or an ombre. Whatever you like!
23. Purple Magic
Ladies blessed with natural curls can express their hipster personality by chopping their hair into a short angular bob with micro bangs cut straight across the forehead. Dye the mane in a light lilac-purple hue and wait for jaws to drop around you!
24. A-Line Bob on Thin Hair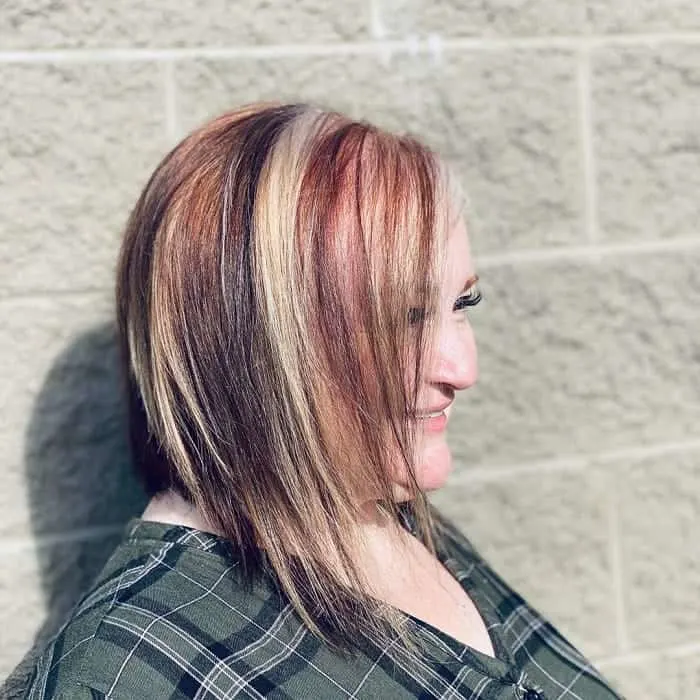 This A-line bob hairstyle for thin hair is ideal if you need more volume. Create a brown-red base and some wide blonde highlights that will give your hair so much definition. You can now say bye-bye to that thin hair aspect!
25. Thick A-Line Bob Haircut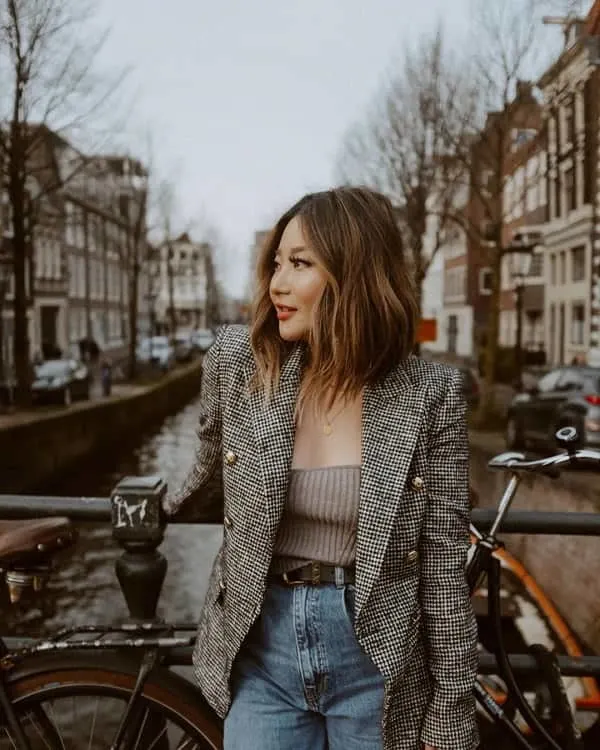 This medium A-line bob haircut for thin hair is modern, stylish, in one phrase, everything you need if you are searching for a surprising look. You can even make an ombre or a few thin blonde highlights to get a better definition of your locks.
26. Inverted A-Line Bob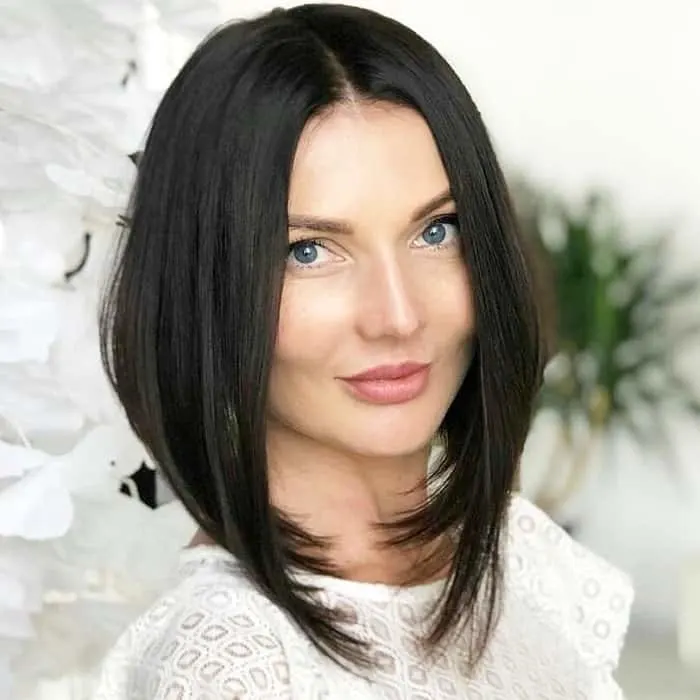 Keep your back hair short and choose a dark color for your hair. Your front locks need to be long, reaching your shoulder line if you are aiming for a better framing for your face.
27. Blonde A-Line Bob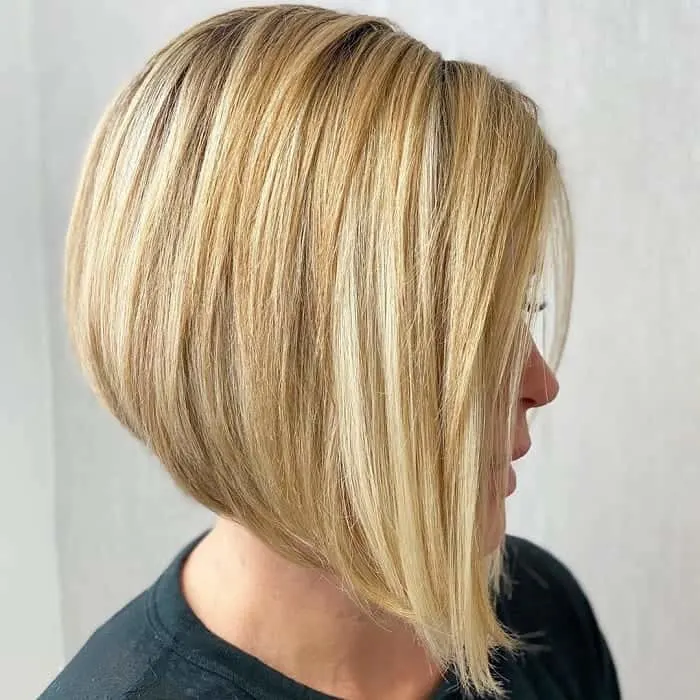 For this blonde A-line hairstyle, you need to keep your roots in brown color and use different shades of blonde to give your hair texture. Layer your tips to make your hair look textured and with more volume.
28. Blunt A-Line Bob Cut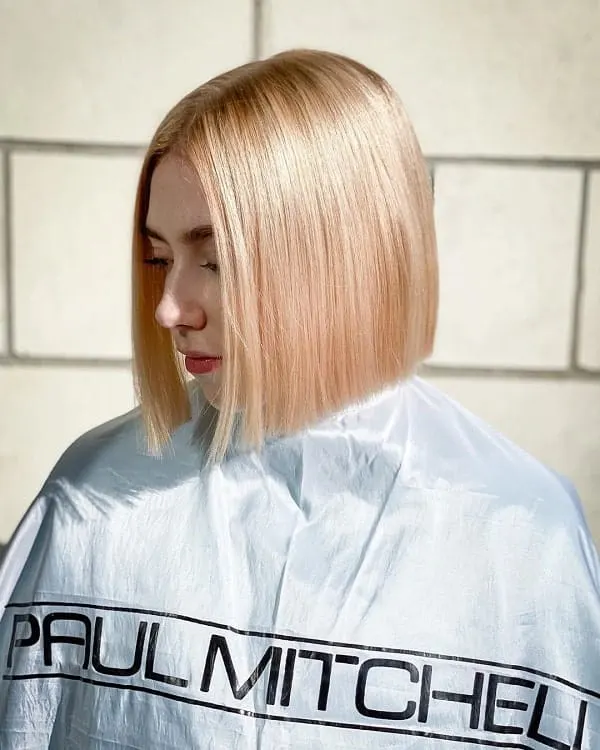 Play with a blonde color with pink reflexes for your hair and mix it with a blunt bob haircut. That straight cut will make your hair look flawless and like a state-of-art!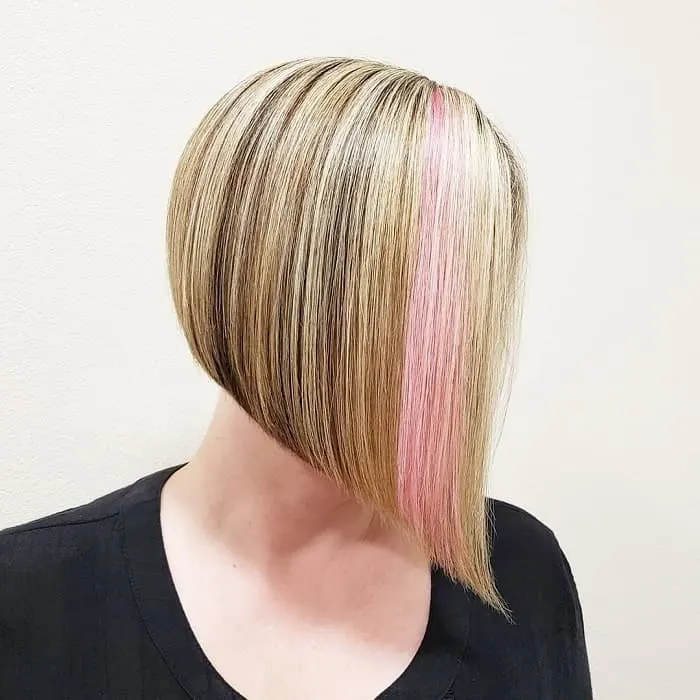 Take your hairstyle game to a new level with an A-line bob with bangs flipped on one side. Create a pale pink highlight on your bangs that will make your hairdo look childish but stylish at the same time.
30. A-Line Bob for Black Women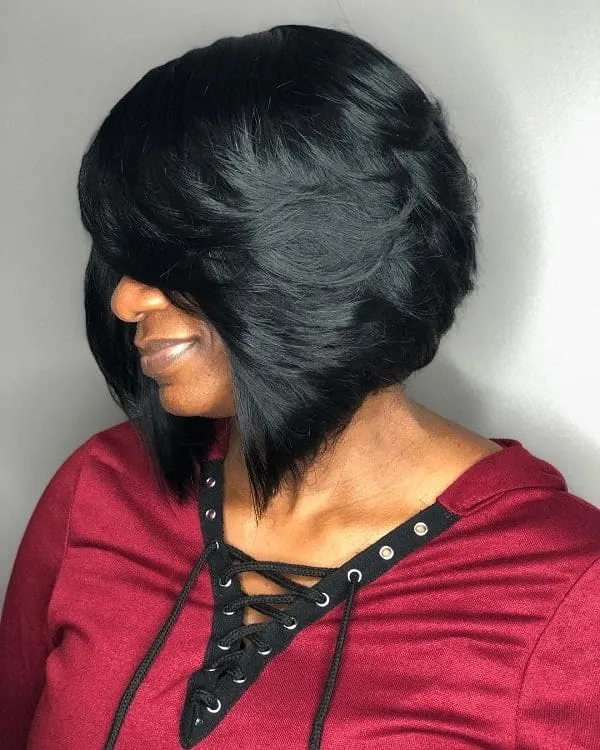 Black hair dye makes any A-line bob haircut for black women look astonishing. If you choose to layer your hair, this color will reflect light and make your strands have a textured, luminous appearance.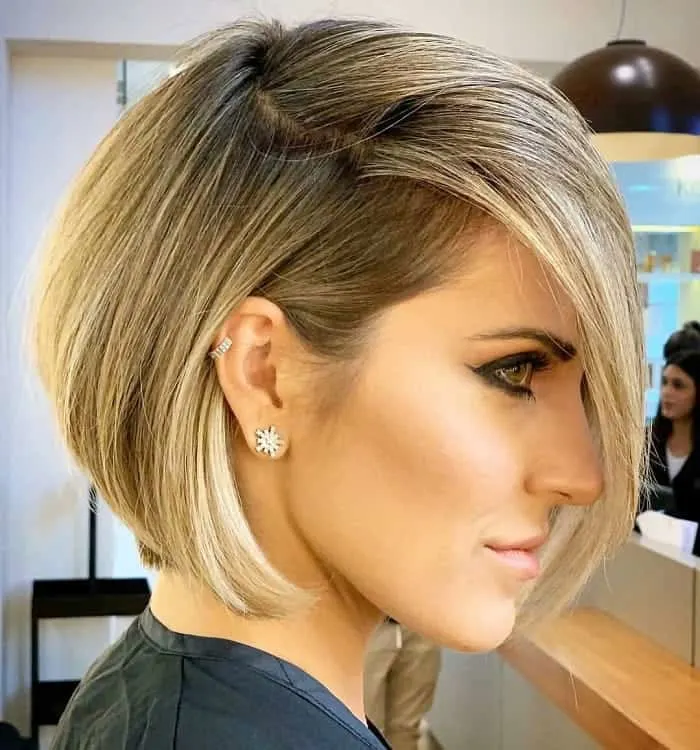 What we love about the A-line bob is that you can transform it into any style you want. If you want to achieve more drama with your look, just part your hair in a manner that most of it is on one side of your head as seen in the photo below.
Combine this haircut with makeup that accentuates your eyes, and you are ready for the night out.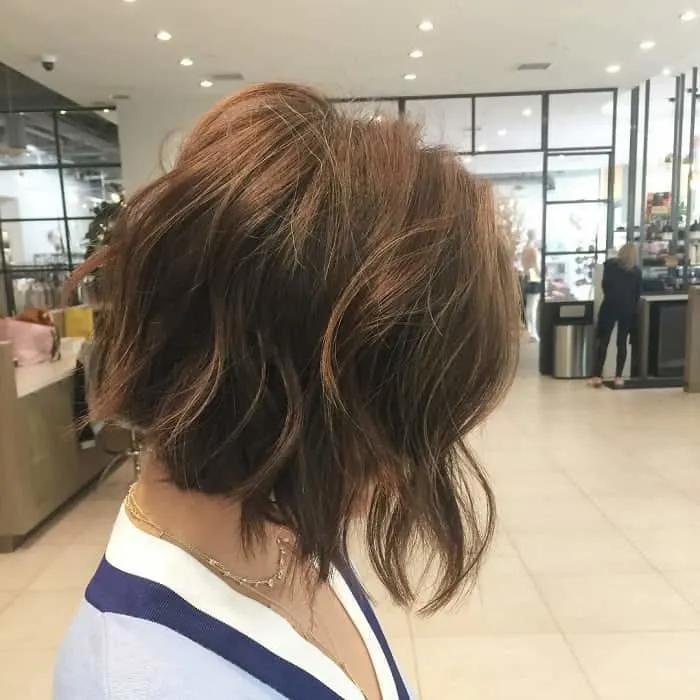 There is no rule which demands that every A-line bob haircut should be sleek; you have the liberty to experiment and try something new.
For those days when you want the effortlessly chic look, messy bob is the answer. Use a curling iron to get gentle curls or simply tousle your hair using fingers and a mousse.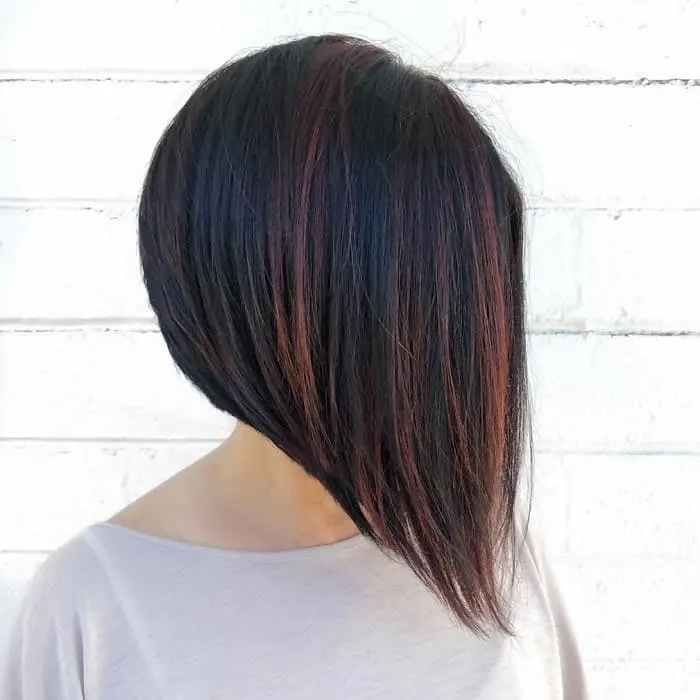 Highlights are always a good idea when you want to change something about your hairstyle, but still, want to retain the color. In dark hair, highlights add a dose of playfulness and only accentuate your haircut. This beautiful thick bob is elegant, with a dash of edginess.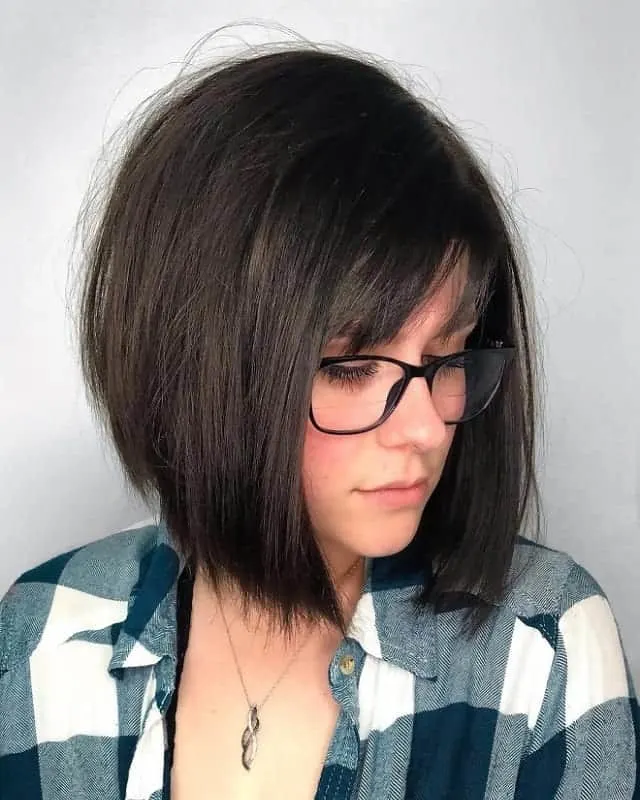 Some women stay away from bangs, but we should embrace them. A combination of bob haircut and bangs is perfect. Just like Bob, bangs come in all shapes and sizes meaning it's entirely possible to find ideal look based on hair texture and face shape.
This mid-sized or short stacked bob looks great when combined with short, parted, and side swept bangs.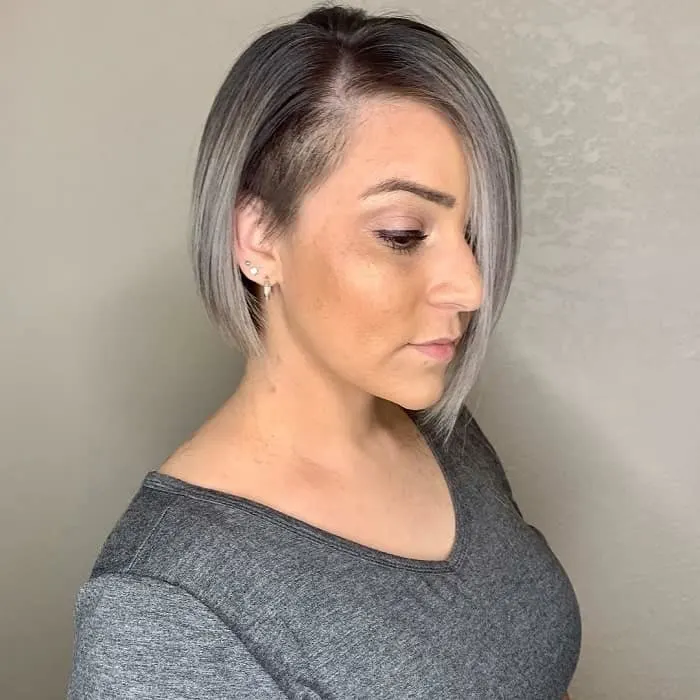 Want to get a little bit of edginess into your elegant hairstyle? Not a problem! Combine A-line bob haircut with an undercut, and you'll hit the jackpot.
You have the best of two worlds in one haircut – elegance and edginess, and it's so easy to achieve it.
36. Straight A-Line Bob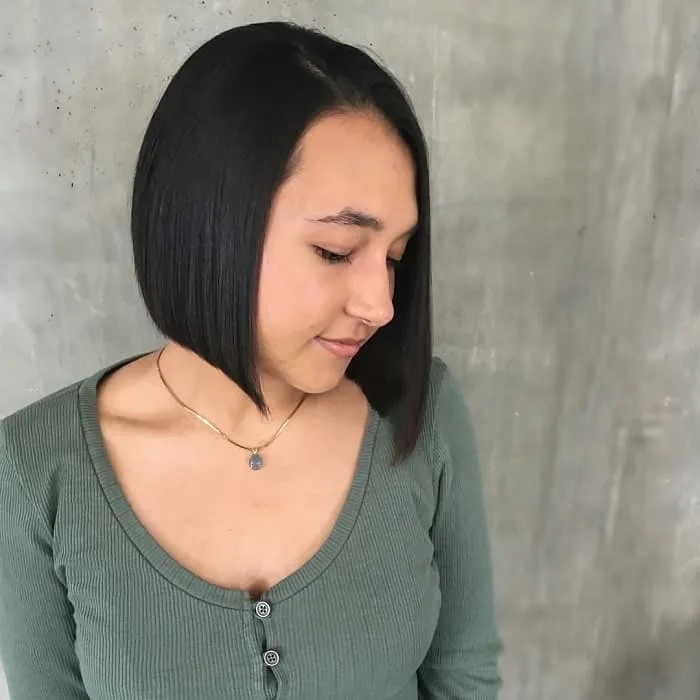 Lately, most women opt for longer A-line bob cuts, but you can go the other way around. This short, chin-length straight bob is ideal for girls and women with thin and fine hair. It will give you a little bit of volume, but at the same time, your hair will frame your face perfectly.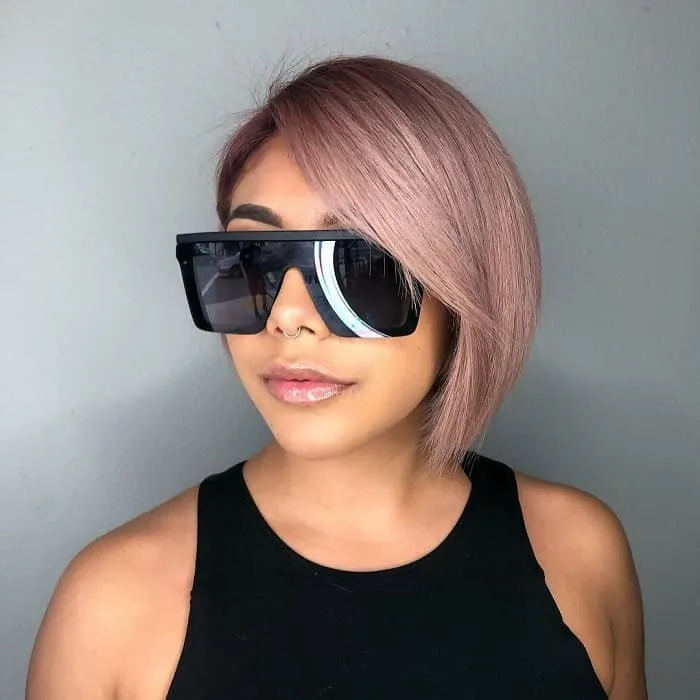 Do you love to experiment with different hair colors and styles? Then we have a perfect combination you can try – rose gold hair cut into a chin-length bob with side bangs. Isn't it cute?
This is yet another style that merges elegance and edginess. While it can look great on anyone, women with fine and thin hair will benefit the most from this.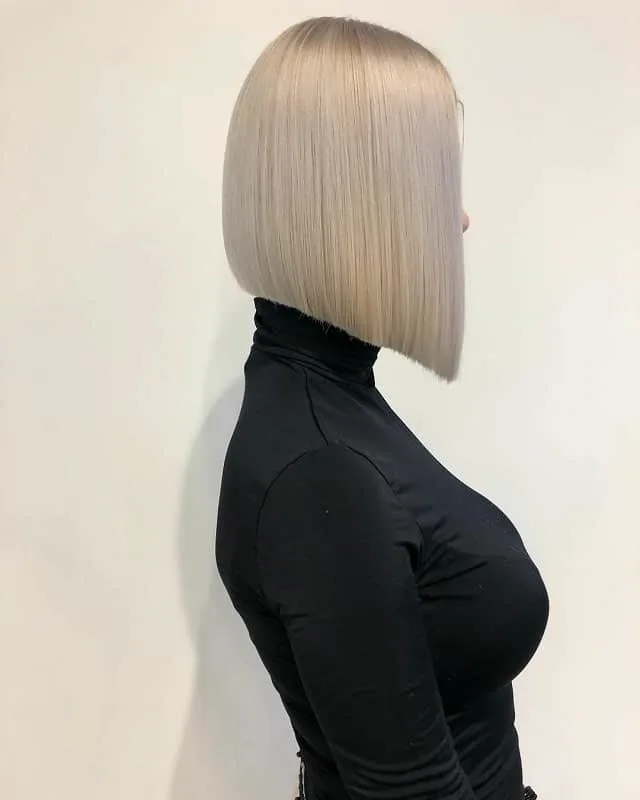 There's something sexy and powerful about sleek bob haircuts that look razor sharp. If you're a fan of these sleek styles, then A-line bob is a great option to try.
To keep this look you'll need a good straightening iron, but make sure you don't use it too much as hair doesn't really tolerate excessive heat styling.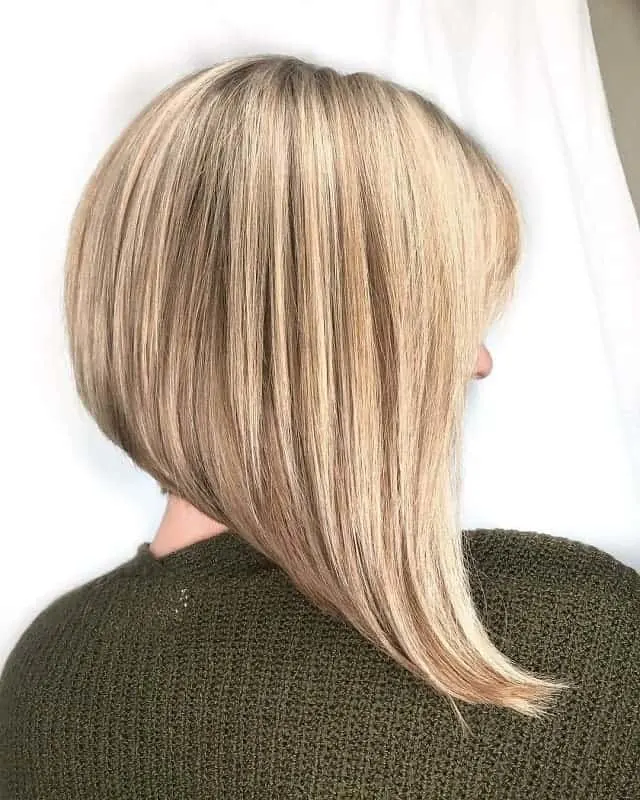 Here's one of the most dramatic A-line bob hairstyles; instead of keeping the transition to longer hair gradual, you can opt for the hair in front to be a lot longer. That way, you add more drama and edge to your look.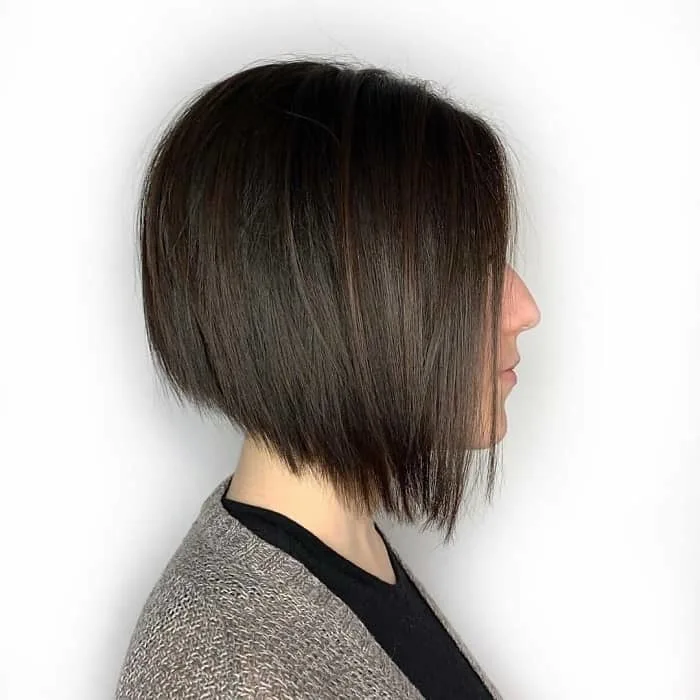 Choppy hair adds a dose of playfulness and fun into a strict style. When it comes to choppiness, it can be subtle as seen in the photo below, or you can go for a more dramatic effect. The effect is achieved through making sure the ends are not sleek, but rather fluttered.
41. Bob for Older Women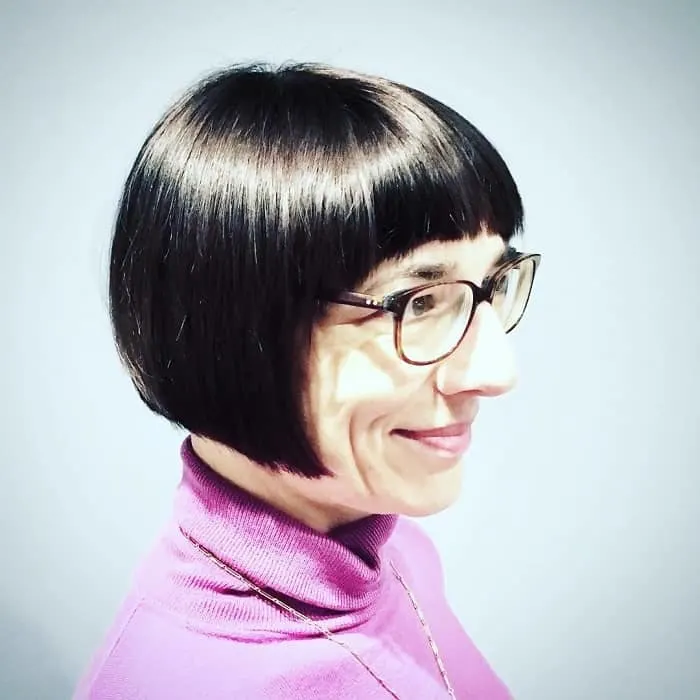 Many hairstyles are more suitable for some specific generation, but bob looks great on everyone. Women over 40 and 50 may appear even more youthful when they're rocking short A-line bob coupled with short bangs. Try it out.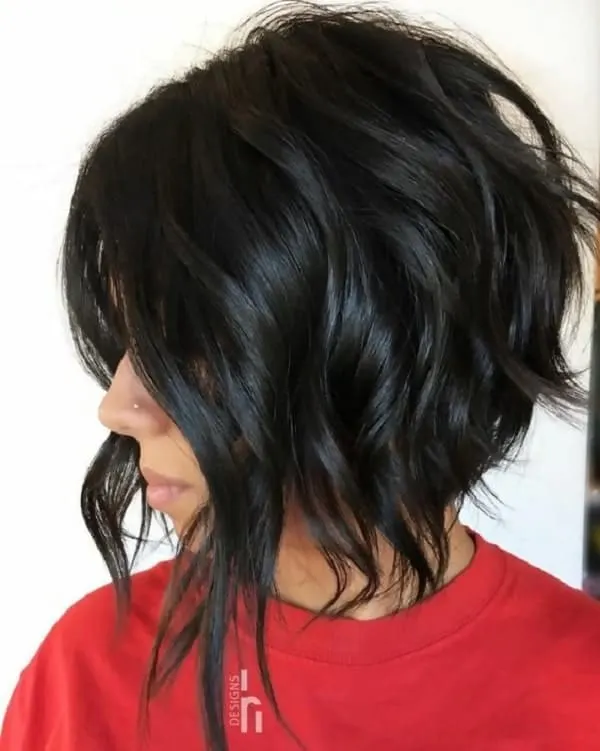 While a general rule is that A-line bob doesn't include layers, you can still experiment and give yourself a nice layered look. After all, layers are fun, and they boost volume perfectly. Inverted layered bob will give you a sophisticated, yet fun look.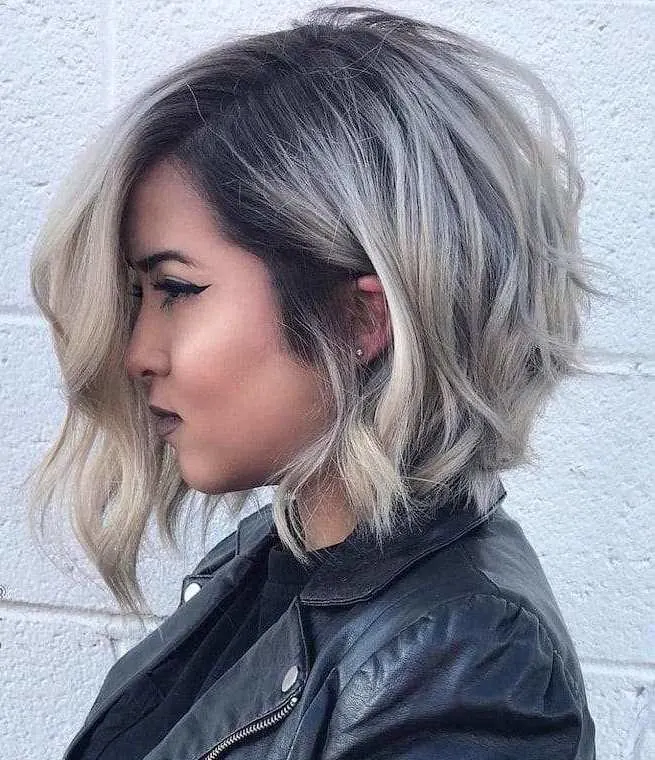 Here's a style that rock chicks will adore, and pretty much every other girl for that matter. Gentle waves and asymmetrical bob style are both girly and wild at the same time. This is a great style for women and girls who want to rock a more casual 'do.
Stacked hair and A-line cut can be a wonderful combination. Let's take this cute style as an example. Short, A-line cut bob is subtly stacked behind. That way, you get volume while retaining hair's movement.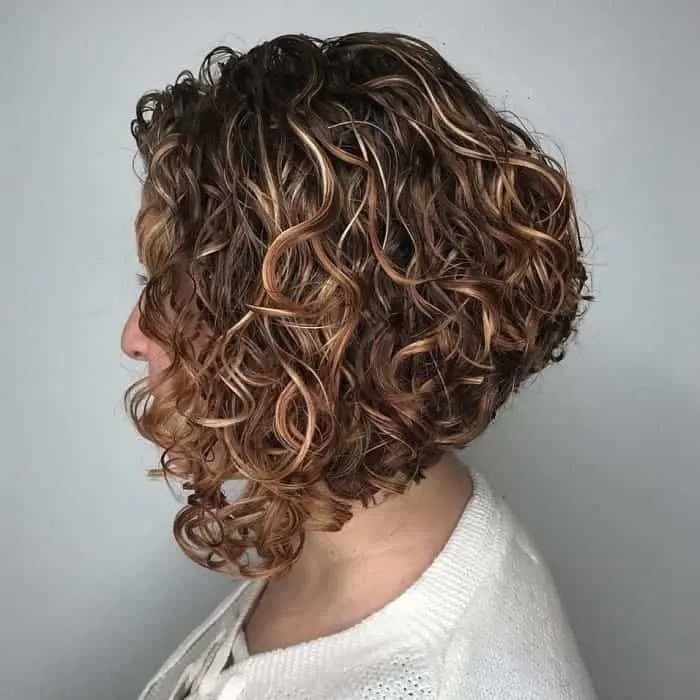 Somehow curly hair is considered unsuitable for bob haircuts, but let's banish that myth. The truth is that short and curly are a good match.
Longer A-line bob gives you more control over curly hair. At the same time, curls boost volume, get more freedom to move, and they allow you to prevent that puffy effect.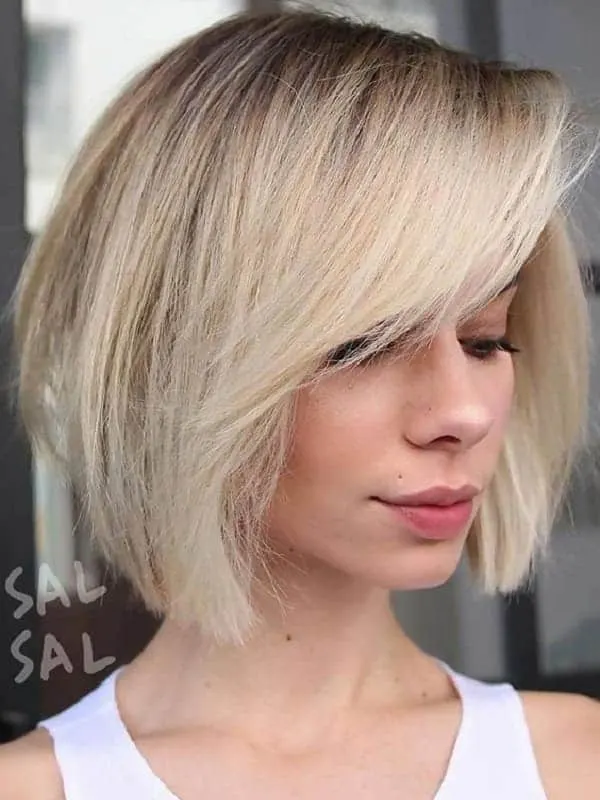 Do you wear glasses? You've probably thought that there are no good hairstyles to flatter your glasses on more occasions than one.
That's a common concern for most girls and women who wear glasses, but short A-line bob with blonde ombre and bangs can do the trick. These longer bangs will flow over the side of your glasses and frame your face. Try it out.
47. A-Line Lob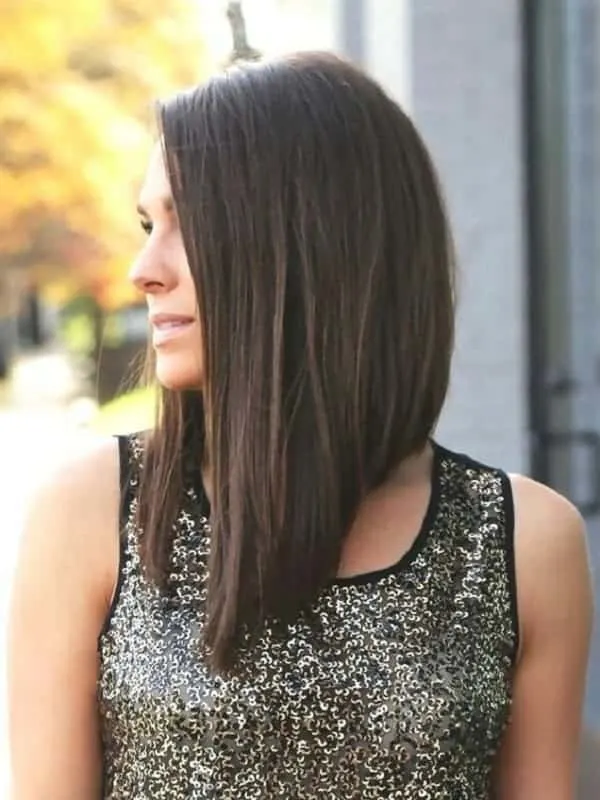 Thick hair is awesome, it has a lot of volumes, and it's soft to the touch. At the same time, it can give us a great deal of trouble because it can be difficult to control.
When not taken care for properly, thick hair can appear puffy and unruly. Long A-line bob haircut is a great style to control thick hair and keep it voluminous without puffiness.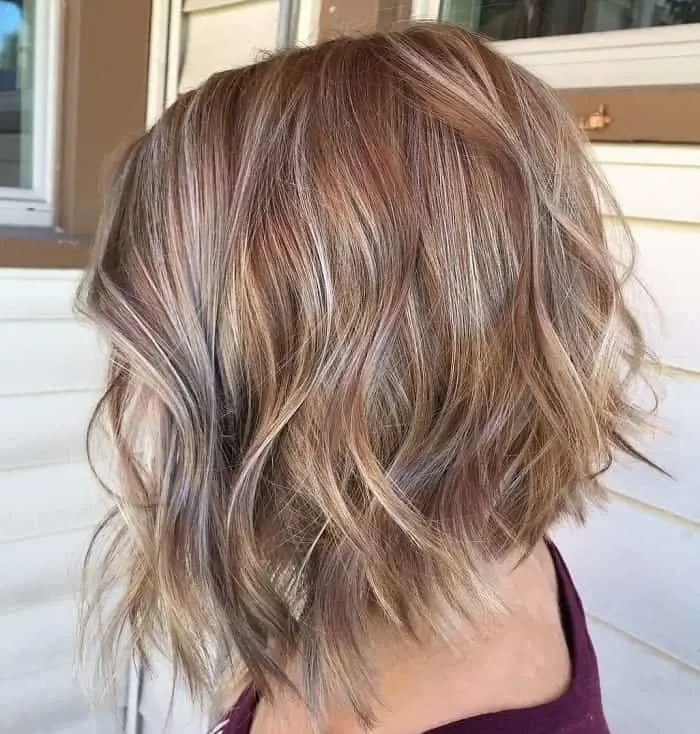 The truth is that A-line bob cut gives you tons of possibilities to mix things up and experiment with your hair. For example, you can opt for a choppy and wavy look with subtle highlights.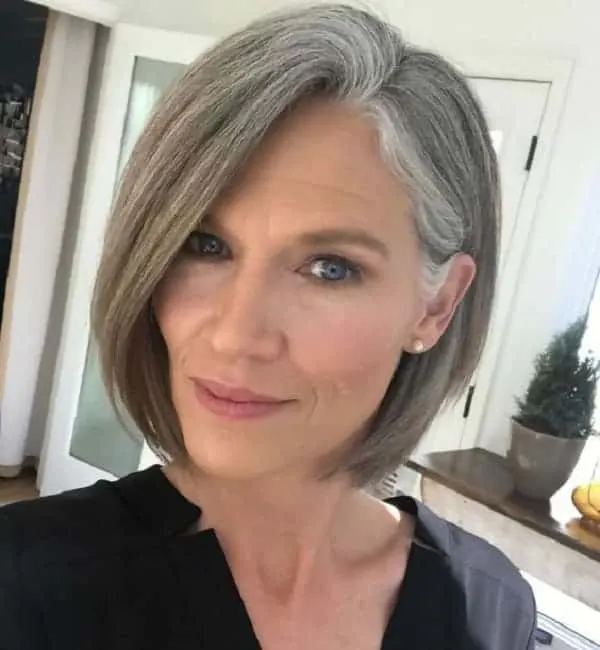 Women over 50 and 60 look absolutely gorgeous with A-line bob and cute asymmetrical parting on one side that take years off their appearance. This type of parting allows hair to flow to one side of the head more and create a youthful look.
This bob cut for older women is elegant, sophisticated, and voluminous which is particularly important if we bear in mind that hair gets thinner as we age.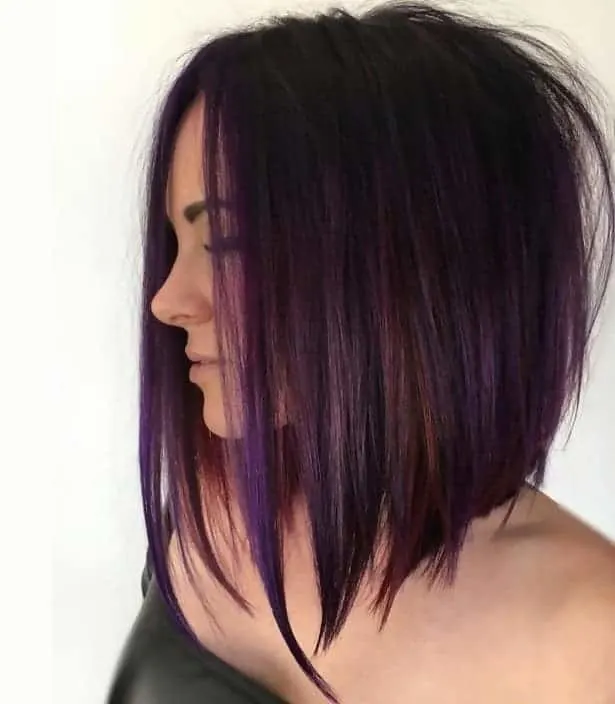 If you're feeling super adventurous, you may want to try A-line bob haircut with purple highlights. This longer bob frames your face while highlights accentuate the whole look. Superb!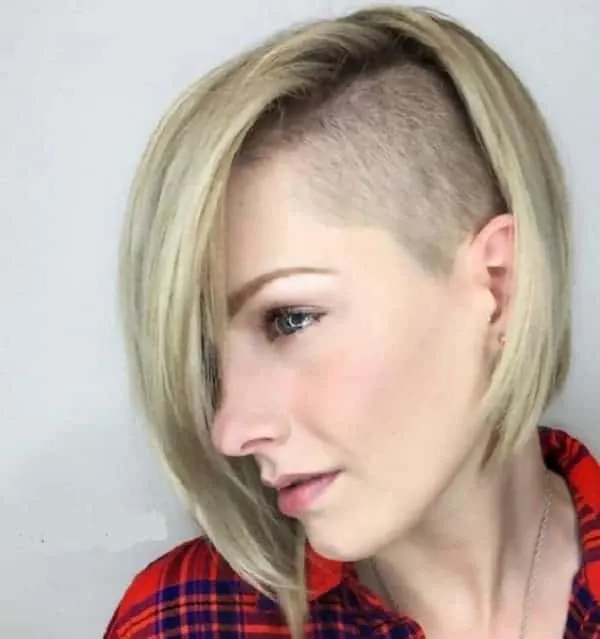 Here's a hairstyle that girls with wild side will want to try. A-line bob and shaved hair perfectly showcase your adventurous spirit. This is yet another cut that women with thin hair may find useful.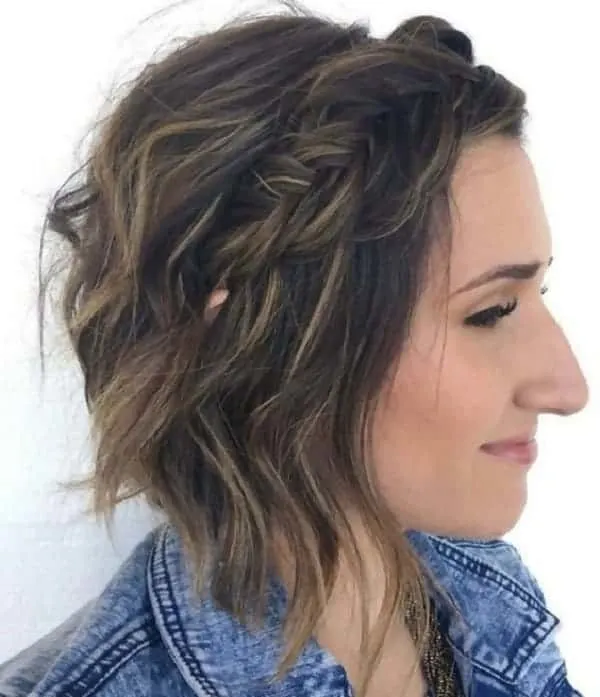 You can easily incorporate a braid into a shorter hairstyle. Let's take this photo as an example. In this case, French braid looks like a hair band, and it's super chic.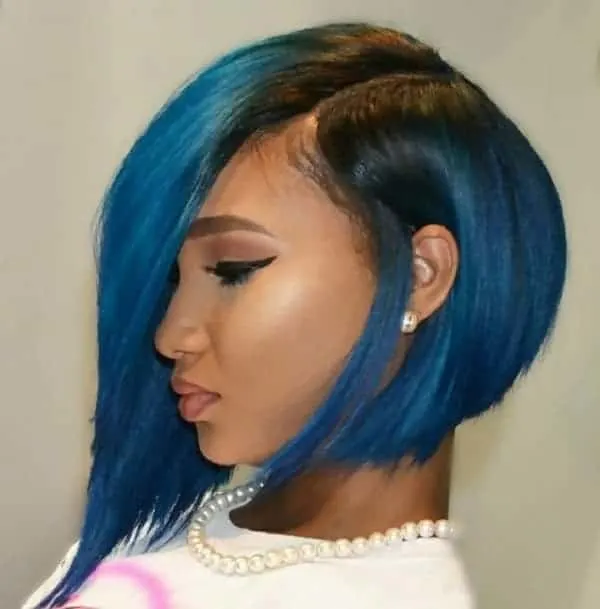 Black girls have thick hair, and A-line bob hairstyles can help you control their hair more effectively. To spice things up, you can opt for some vibrant hair color such as blue. Take a look at the photo below. Isn't it gorgeous?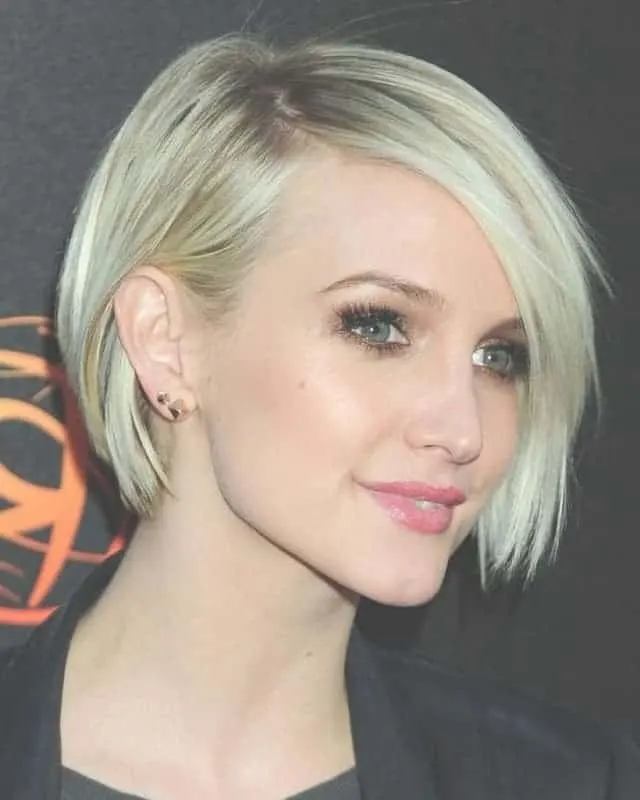 Not all A-line bob haircuts have to be medium or long. You can go for a super short alternative and look fabulous.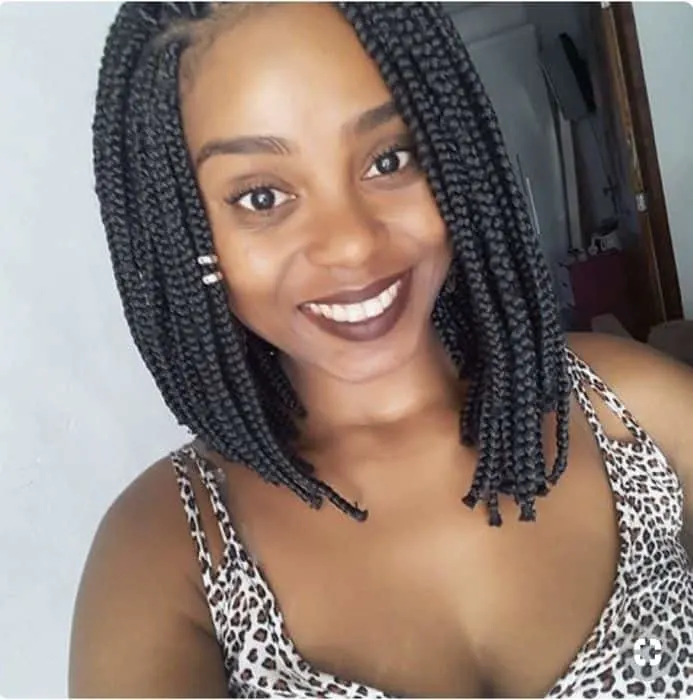 Got braids? If so, you can transform them into any look you want, and bob haircut isn't an exception. In fact, A-line bob gives your braids a whole new dimension.
How to Cut an A-Line Bob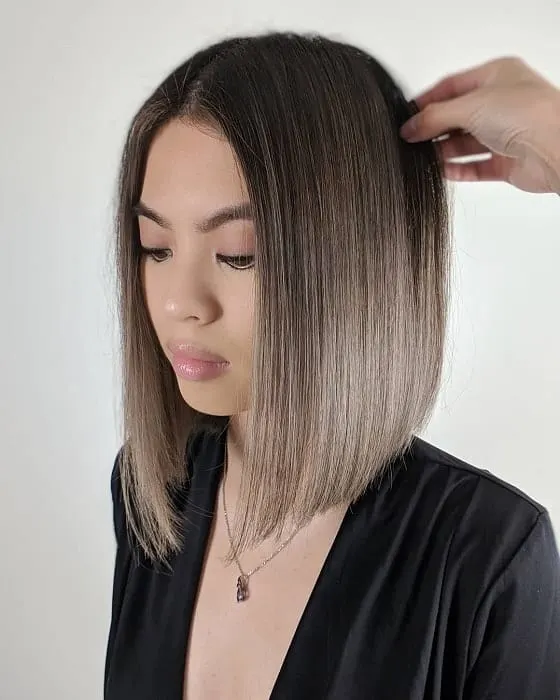 An a-line bob is a hairstyle that starts with a shorter length in the back and gets longer in the front. Hairstylists refer to it as a face-framing do because the sections in the front really accent the face shape. To cut it, you should first decide which length you want to opt for.
Start cutting in the back, then make your way to the front. Divide the back section from the front. Divide it once again with a horizontal line and secure the top up with a clip. Cut the bottom part in a straight line. Get the other part, section it in half vertically.
Cut it in parallel sections. Once you're done, you can divide the remaining top part in the back in half with a middle part and combine it with the remaining hair in the front. This is when you should start creating that a line. The a-line bob with bangs has to be shorter in the back and longer in the front.
How to Choose A-Line Bob Length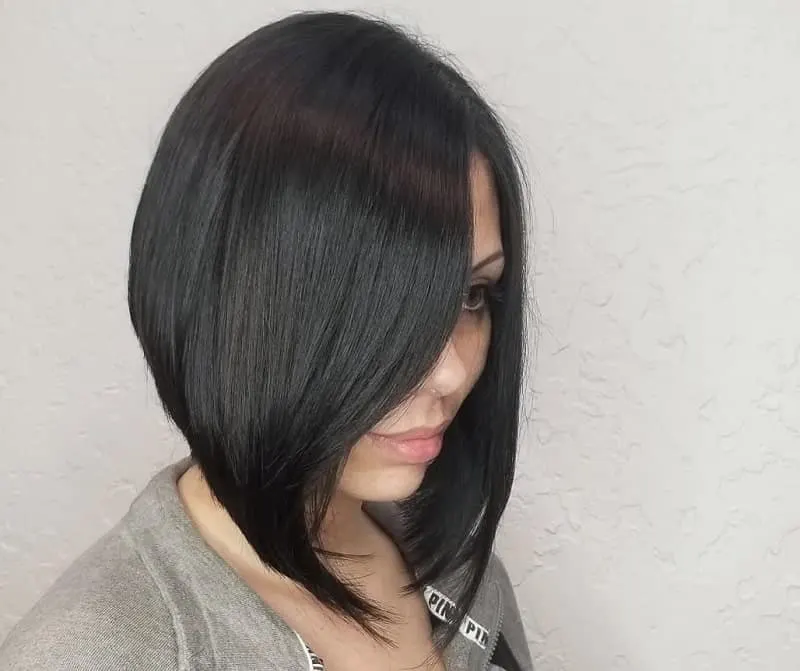 When it comes to bob haircuts, it's important to emphasize how versatile they are. Women of all ages can rock these haircuts. If you want A-line bob, the best thing to do is to book a hair appointment at a great salon where a hairstylist will determine the ideal length based on your face shape and hair texture.
For example, if your face is round, you may want to opt for A-line long bob which will exhibit a slimming effect in this case. It's practical to combine bob with side-swept bangs for an even better impact. A-line cut bob is also suitable for women with a square face, but make sure the length is an inch or two below your jaw.
Longer bobs are not only suitable for round face, but for the heart-shaped face as well, but chin length can also make you look fabulous. Women with an oval face can rock just about any haircut they want, and A-line bob haircut is not the exception. Shorter bob gives you a more flattering look, but don't underestimate the power of long bob as well.
If you have thin hair, opting for shorter cuts may visually boost hair volume. Thicker hair looks great either way, but styling longer bob may be more convenient as hair won't be too puffy.
When it comes to bangs, choices are numerous. Women with square and round faces should avoid blunt bangs and go for longer, side-swept, or parted kinds.
A-Line Bob vs. Bob
An a-line bob differs from the standard bob due to its angled cut. The classic bob cut is straight across at jaw length. The a-line bob starts in the same area but then gradually lengthens to somewhere between the chin and shoulders in front.
The Bob is a short to medium-length cut in which the hair is cut straight around the head. The hair can be any length between the jaw and collar bone. Having fringe or bangs is popular with a Bob cut.
The a-line cut can have a gradual or severe angle from the back of the neck to the chin, collar bone or even the shoulders. There are many variations beyond length with an A shape, such as a choppier cut, curls and waves, and bangs.
Both styles are trendy for women of all ages. Check with your stylist about which cut is better for your face shape and neck length.
A-Line Bob vs. Graduated Bob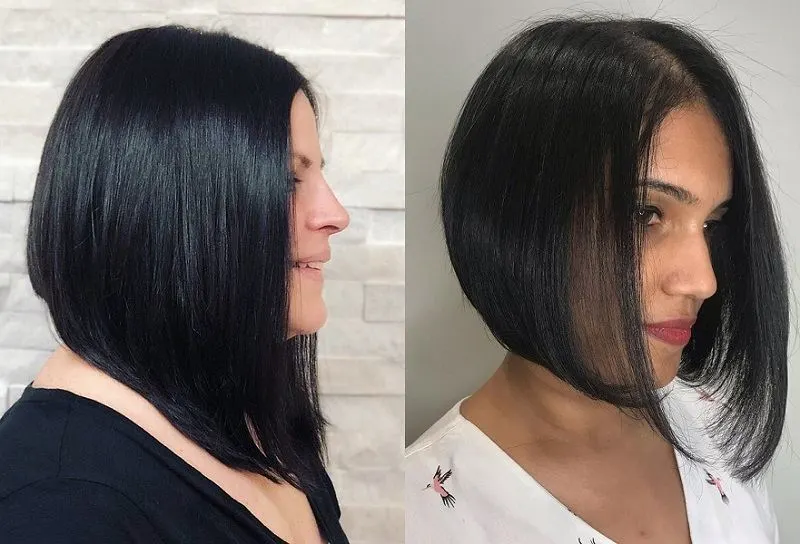 As mentioned above in the article, not all bob haircuts are created equal. A-line bob is sometimes mistaken for graduated bob, so it's important to clarify their difference. While both types of haircuts are characterized by longer hair in the front, graduated bob has stacked layers in the back.
A graduated bob is more curved and has a horseshoe-like appearance. On the other hand, true A-line bob haircut does not have stacking and is more relaxed.
As you can see, A-line bob is versatile and so easy to maintain. Use these photos as an inspiration to change your hairstyle.