Whether you're looking for the best look to rock on the farm or ranch or you simply want to embody a cowgirl look anytime, then you've come to the right place. Cowgirl hairstyles should reflect the lifestyle that comes with the territory. Every cowgirl needs styles that both protect their hair during physical activity and dresses up necessary accessories like hats.
We've got inspiring styles for hair that is short, long, or somewhere in between. Our looks will show you how to complement brooches, scarves, hats, braids, and beyond. Check out our top 21 ultimate cowgirl hairstyles.
1. Long Pixie Cut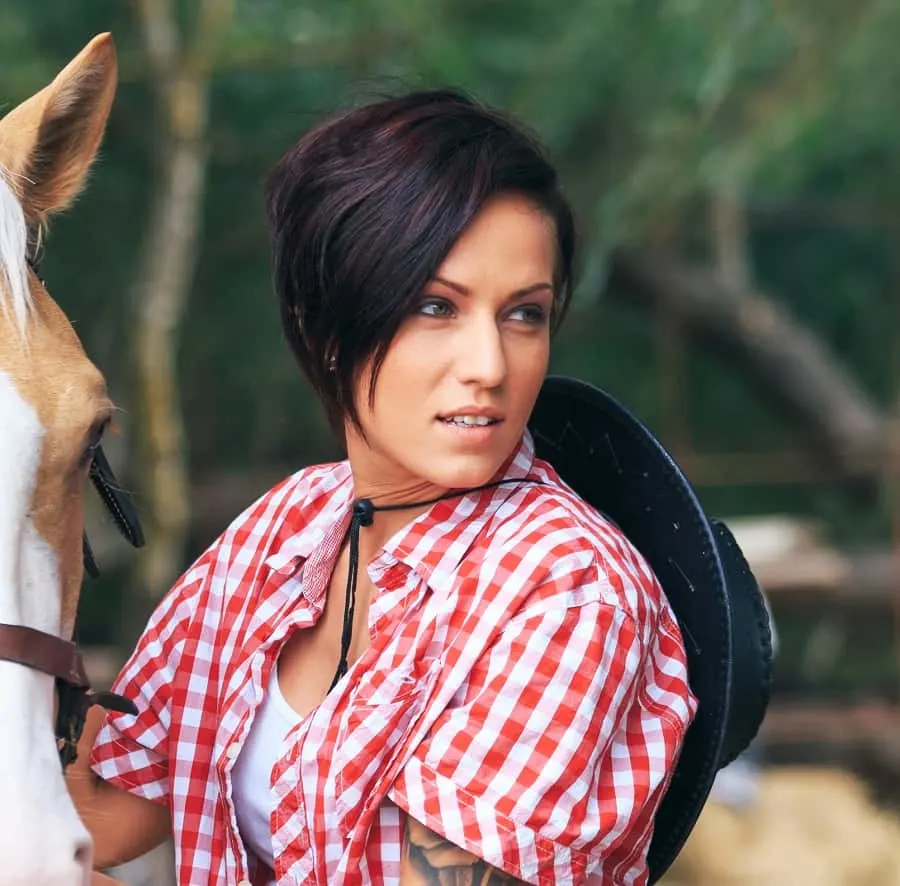 Opt for a sassy look by chopping the hair into a long layered pixie with the longest front strands falling on the face as a side-swept fringe. A pixie haircut is easy to maintain and looks amazing both on light and dark hair.
2. Dutch Braids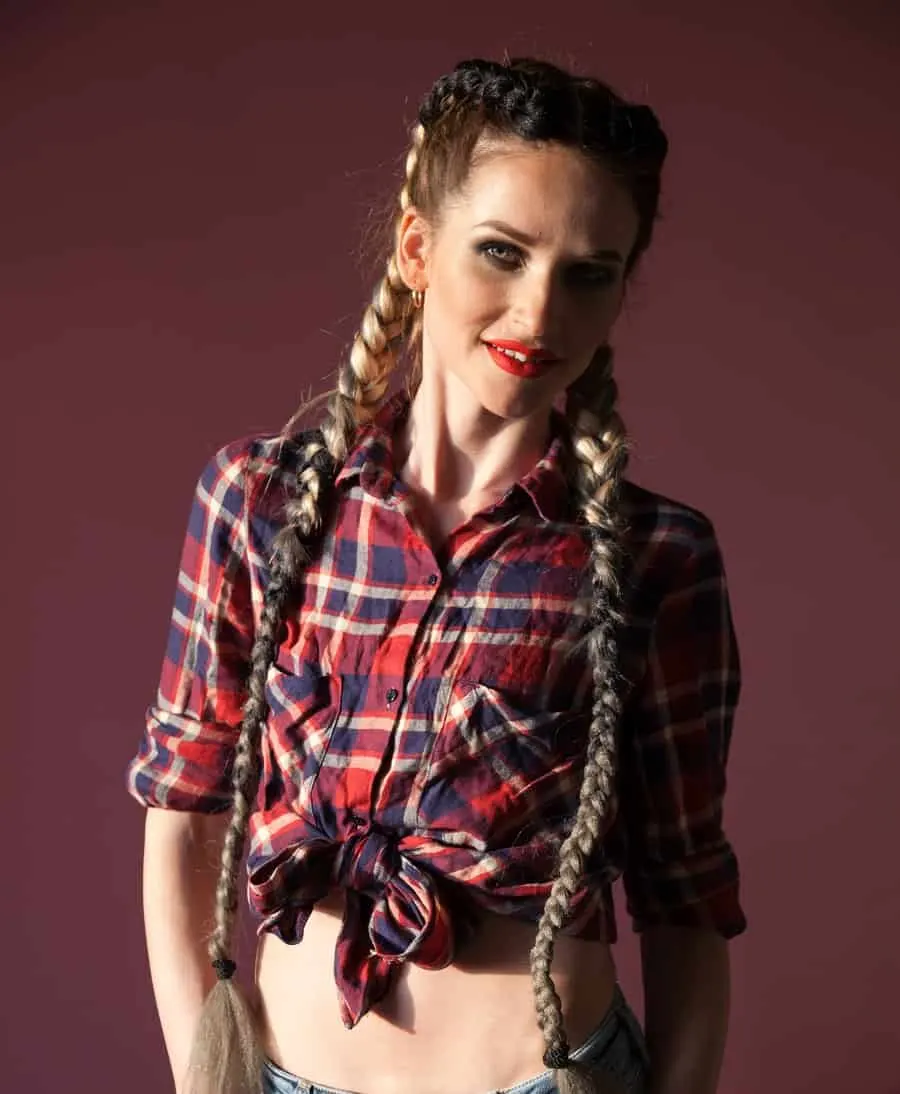 Dutch-style braids have stood the test of time and are ideal for achieving cowgirl aesthetic. This style features long dark brown hair with a blonde ombre that is intertwined into braids while incorporating black extensions along the length for a three-toned look.
3. Highlighted Curls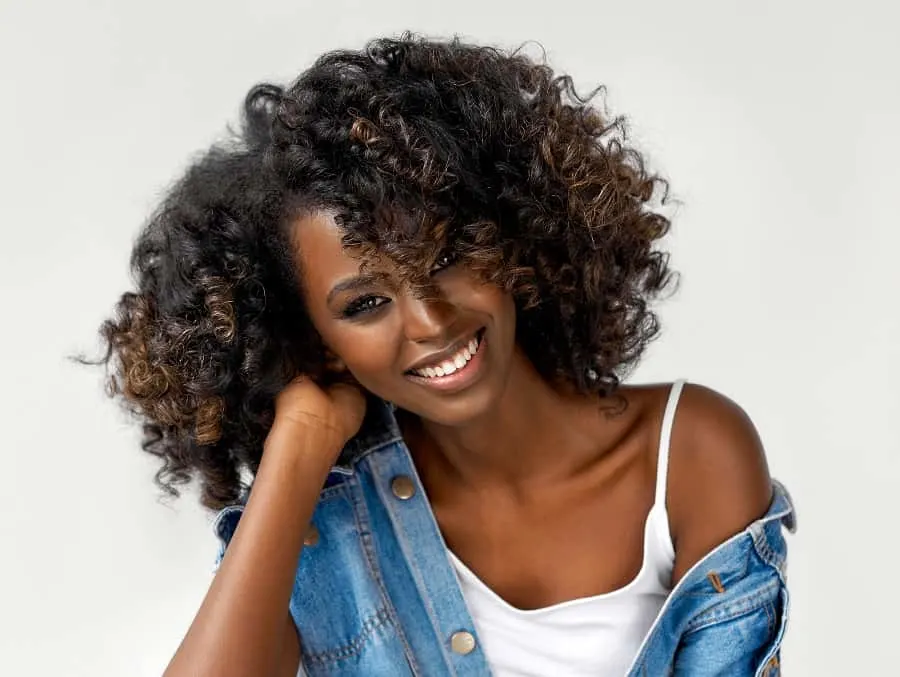 Black girls can take part in the cowgirl hairstyle trend too by layering their kinky curls to frame the face while adding caramel blonde highlights midway to the ends. This hairstyle will give any girl a fun and lively appeal.
4. Senegalese Twist Cornrows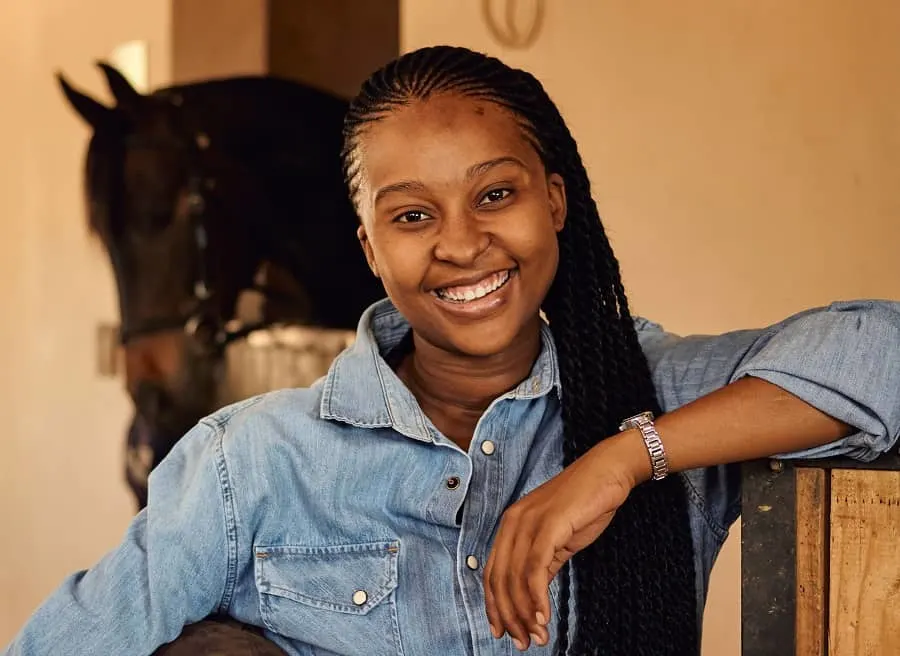 Another hairstyle for black ladies is these Senegalese twist cornrows that can be kept for some days. The hair is sectioned and twisted while adding black hair extensions that enable you to go as long as you want. Leave the twists loose or style them in a high ponytail.
5. Barely-There Ombre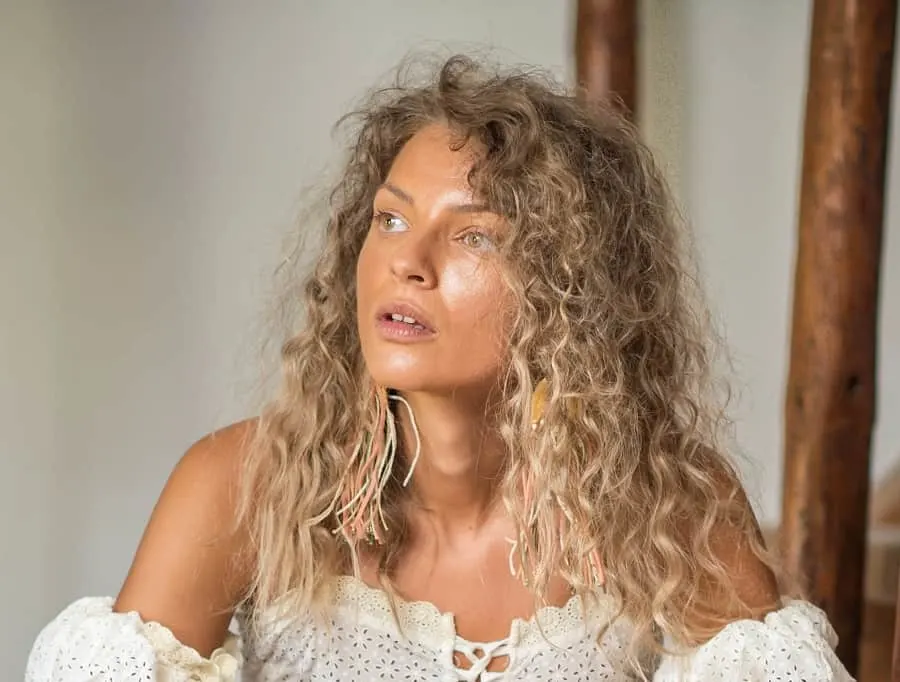 This look is perfect for ladies with fine-textured curly hair. The dirty blonde top lightens into a sandy blonde hue creating a subtle ombre effect that just looks natural. Carry the medium-length curls loose with a side parting and hand-tousle them for a ruffled appeal.
6. Dashing Dreadlocks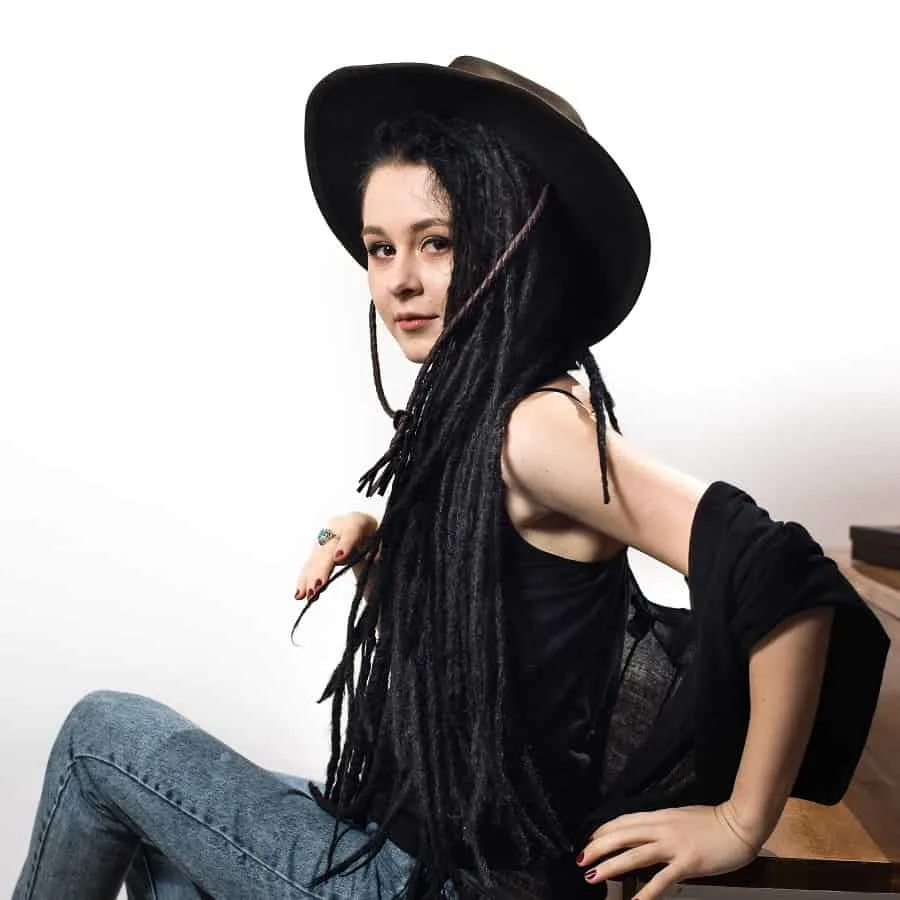 Dreadlocks are a cool and punk way to achieve a cowgirl look. The pitch-black dreaded long hair falling on one side of the shoulders is a whole new vibe that can be pulled off by any confident lady. Don't forget the hat as the look is incomplete without it.
7. Chestnut Brown Lob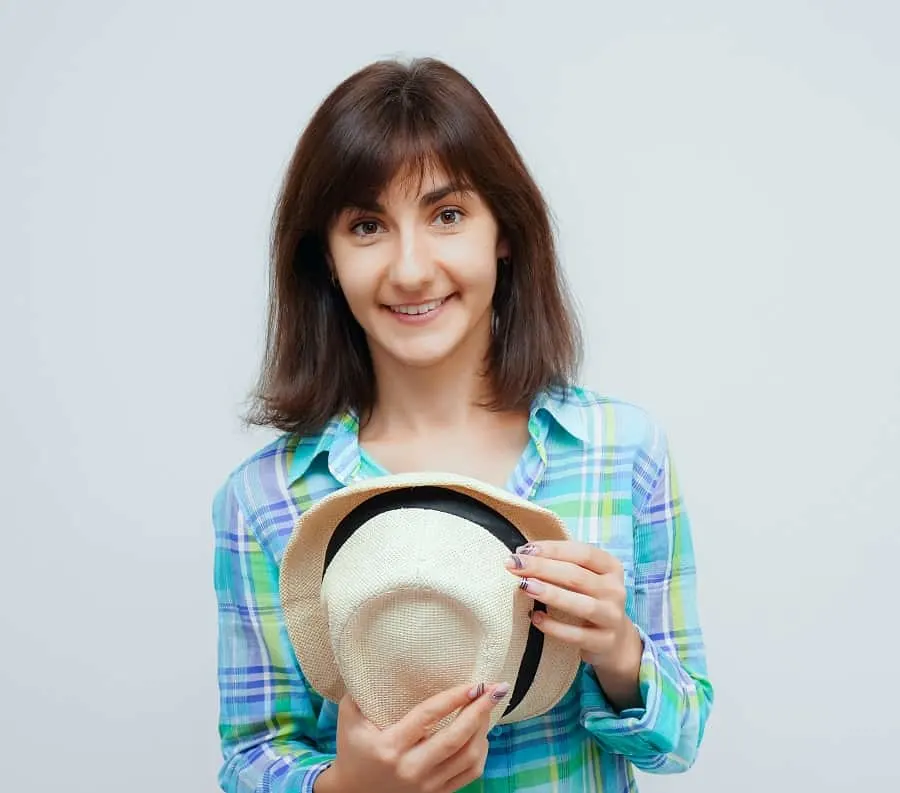 Those who want to keep it classic and low-key can go for this simple hairstyle. The chestnut brown hair is clipped to a classy lob dangling just above the shoulders with wispy bangs falling over the forehead. Top off the look with a chic hat.
8. A Hint of Pink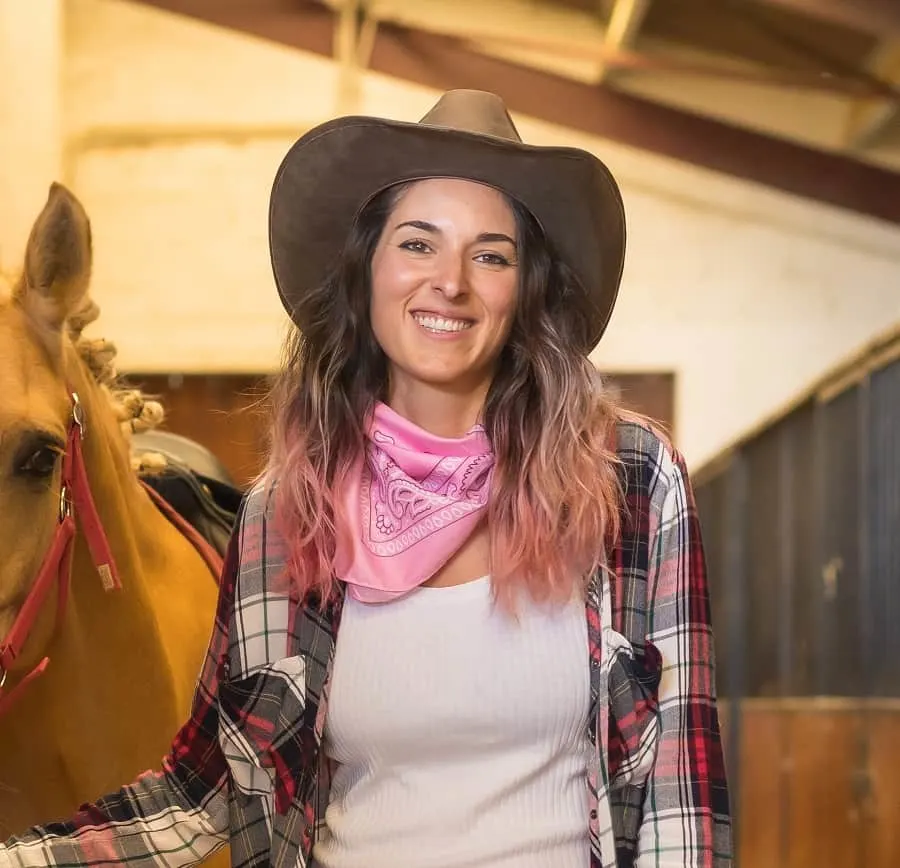 Consider this stunning cowgirl hairstyle as your next look for a girly appeal. It features a light pastel pink balayage where the dark locks melt into a pink hue with a touch of blonde between the two shades. A cowgirl hat is what sets off this cute look.
9. Cowgirl's Twist Hairstyle
Keep it simple and elegant by going for a blonde balayage on long hair and twisting back the side locks while securing them with a hair clip. This hairstyle can be achieved in a flick and looks no less compared to the other ones.
10. Bubble Braids
Show off your long tresses by styling them in funky bubble braids. Divide the hair into two sections with a center parting and add hair ties at equal intervals to achieve the bubbly look. A few loose strands at the front give off some romantic vibes.
11. Pull-Through Side Braid
Add a soft glow to the face by adding light blonde highlights to peek through the darker stands. Go for a middle or side part depending on the face shape and style the side locks in pull-through braids leaving the front fringe to accentuate the face gracefully.
12. Cowgirl Hairstyle with Hat
What kind of cowgirl would you be without a hat? You don't have to have a Stetson; in fact, any wide-brimmed hat will do. Give your hair some soft crimps for effortless outdoor texture and you're ready to go.
13. Short Hairstyle for Cowgirl
Creating the ultimate short cowgirl hairstyle is easy. Go for an unfussy feeling and curl your hair into beachy waves. Give it a tousle with your fingertips for a natural, windswept look.
14. Cowgirl Look With Long Hair
Double braids are fun, but bubble double ponytails are a little more fashion-forward. To create, divide hair into two even sections. Add a hair tie every 3 inches and slightly pull sections loose to create the bubble style.
15. Medium Hair
Sometimes, simple is all you need. Cowgirls with medium length hair should wear hair down with loose and luxurious curls. This way, hair can be pulled into a neat ponytail at any time.
16. Cowgirl Hairstyle for Black hair
Cowgirls need their hairstyle to work for them. Box braid styles are gorgeous, versatile, and easy to wear. Off duty, braids can be worn down over the shoulders, but at the ranch, they can be tied up into a chic low bun or even a low ponytail if your braids aren't too long.
17. Cowgirl With Braids
Show off your gorgeous mane with a braid, the quintessential cowgirl hairstyle. If you hair is luxuriously long, try a classic braid. Short hair or hair with layers look great in french braids. Either way, braids are a great way to protect your hair with style.
18. Cowgirl with Bandana
Bandanas are fun and look gorgeous. They also protect hair from sun damage and offer you a chance to show off your personal style with colors and patterns. We also love bandanas because they suit every hair type, length, and texture.
19. Cowgirl Hairstyle for Wedding
Show off your ultimate cowgirl look with this gorgeous braided wedding hairstyle. This long hairstyle is all about making a statement, so think big curls, braids, and a sparkling hair piece. Half-up styles are ideal for wearing hair beautifully curly while pulling your hair off of your face.
Looking for a simple yet chic cowgirl hairstyle for your blonde hair? Braids are great, but you a fishtail style kicks it up a notch. Keep it laid back and perfect for the ranch by loosening the braid. It also makes hair appear thicker.
21. Ponytail
You can never go wrong with a classic ponytail. Slicking all of your hair back is fine, but a side part adds just a hint of flair. A low ponytail is great for outdoor activities with a few wispy pieces left out for style.
There are many ways to wear a cowgirl hairstyle so it works for you. Loose curls, fishtail braids, or low, sleek ponytails make for functional yet beautiful styles every cowgirl can enjoy. Regardless of how you wear your hair, cowgirl looks are always simple and chic. So, which cowgirl hairstyle will you wear?