Curtain bangs can flatter any face type, or hair texture, including curly hair. The trick lies in getting a haircut with layers that suit your face shape. You have to work with your ringlets and waves and make them stand out, creating more volume and giving them bounce and body.
Though this hairstyle is generally considered for ladies with straight hair, they can look fabulous on curly hair too. Curtain bangs for curly hair can be achieved by trimming the pieces step by step.
So when you're getting the cut, ensure the strands are trimmed longer than you think you will actually need. Your hair will shrink, and you might end up with very short bangs that look unpleasant.
Lovely Curtain Bangs for Curly Hair
If you want to get curtain bangs on your curls, make sure you consider the unique needs of curly hair.
Curly hair tends to shrink when it dries, so it's essential to work with a stylist who is experienced in dealing with curly hair. As curly haird is more prone to frizz, dry and damaged hair can cause frizz and breakage. So, It's also important to keep the bangs moisturized and nourished.
With the right approach, curtain bangs can do wonders on curly hair. To help you achieve the perfect look, we have compiled a list of the best curtain bangs hairstyles for curly hair.
1. Layered Middle Part
When you have such curly hair, you must build layers. Your ringlets will fall one over each other, giving your hair a rounded shape and will create a lot of volume. Because your curls are so tight, always go lower with your scissors. Your hair must be wet and you should cut around the mouth line and adapt if needed.
2. Blonde Ombre
Waves give your hair more texture and look so beautiful if dyed in a warm blonde color, creating an ombre or building highlights.
As for your bangs, you should consider getting the popular wolf cut that keeps the fringe short, parted in the middle.
3. Top Curly Pony
Creating an ombre is a great idea for such thick curly hair. It will light up your face, and will work so well with medium hair and bangs. You can adjust the length of your fringe to your own personal style and liking. It looks fabulous in its natural shape and even strengthened.
4. Dark Roots
Short bangs create a beautiful face frame and are one of the best choices out there, especially when your hair is voluminous and you need to reveal your facial features. You can keep the roots in their natural color and dye your hair in a natural brown shade.
5. Waves and Curtain Bangs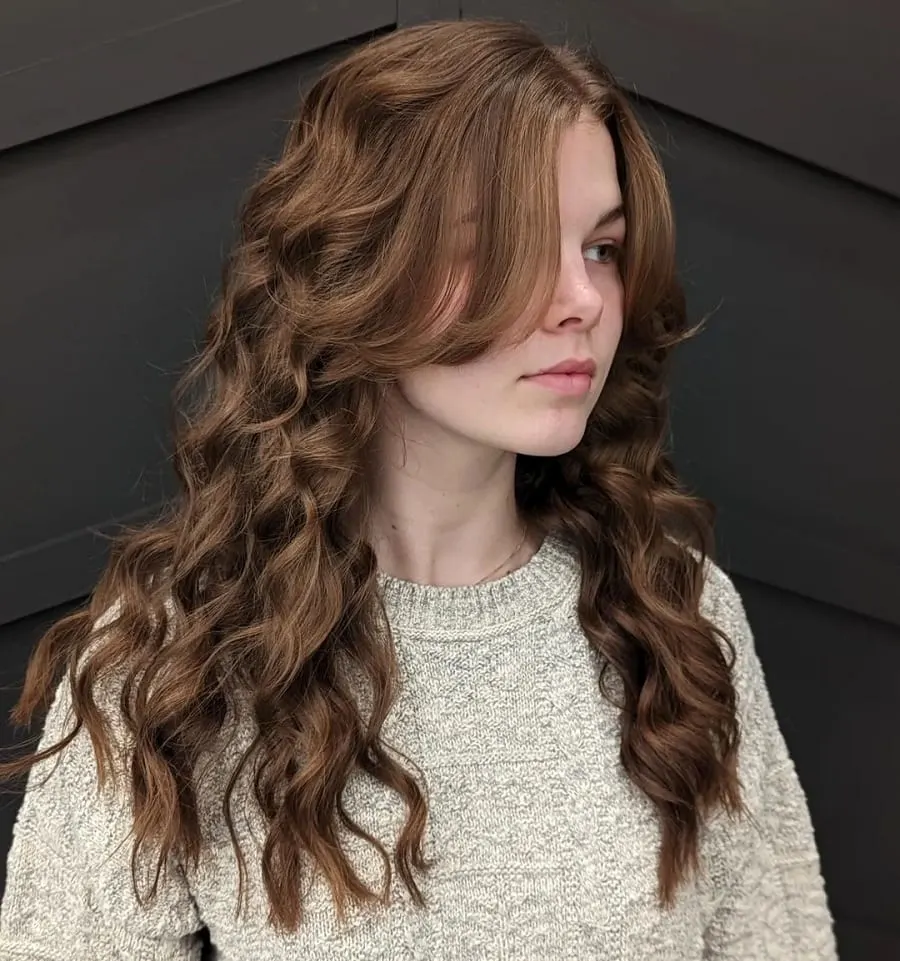 This curly-haired curtain bangs look gorgeous! Keep the same length for the mane and only trim the bangs. To style your hair, apply or heat protection spray, and use a curling wand to build your ringlets. You will style only the tips of your fringe, directing them towards the ear and back.
6. Blue and White Icy Look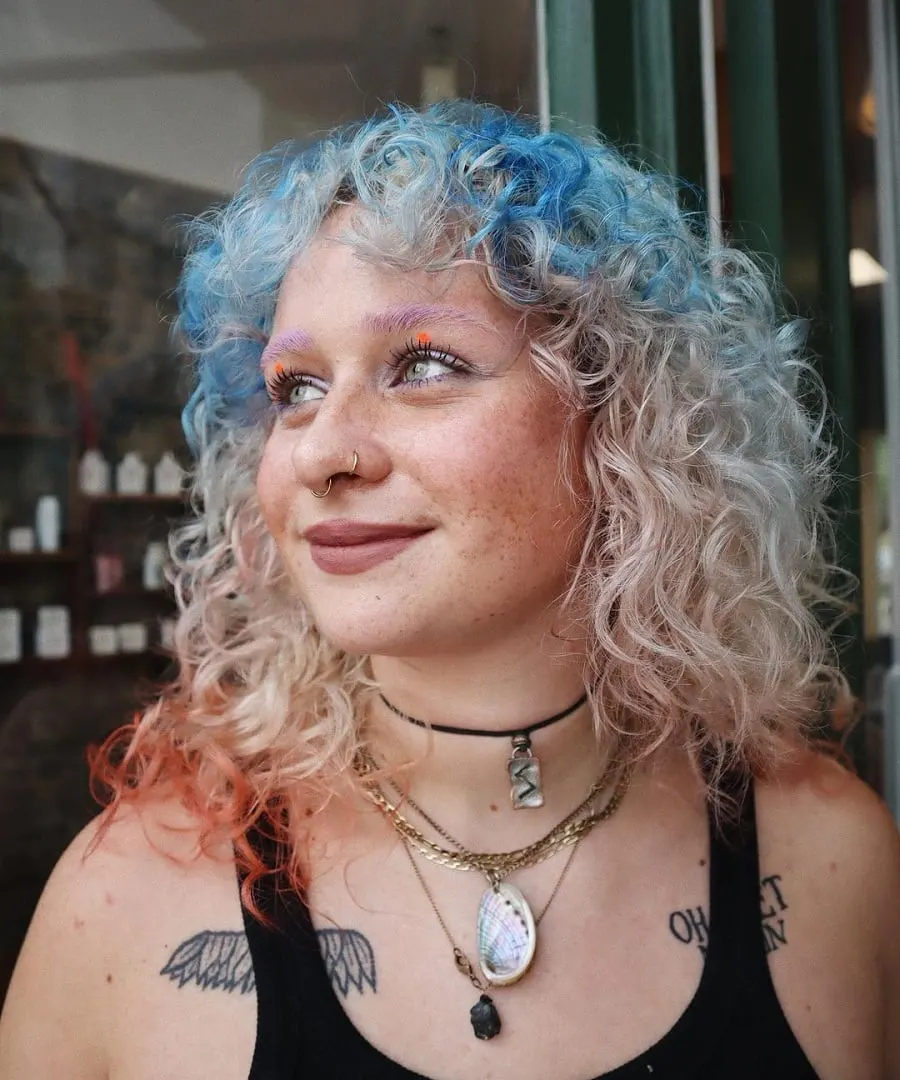 A shaggy hairstyle is ideal for girls who want to create a great canvas for semi-permanent hair dye. Choose a base color that compliments your fair skin. A white icy tone will work beautifully with top blue highlights and lower copper pieces.
7. Purple Hair
If you are afraid to experiment on your own locks, you can always use weaves or wigs. This way you can change your hair colour as often as you like. Wigs allow you to try out and see how you look with curly hair and curtain bangs, without taking any permanent action. If it suits you, you might consider making this a permanent hairstyle.
8. Head Scarf Hairstyle
A scarf can be easily transformed in a wonderful piece that completes your hairstyle. Spare your bangs, and tie the rest of your hair in a ponytail. Between the fringe and the pony, wrap of coloured scarf, and tie it in the low back.
9. Fierce Red
Before getting a red hair color, there are a few things you should know. As beautiful as it looks, this shade is not long-lasting, so it will require frequent touch-ups. But if you can afford to go to a salon every month, and invest in your hair, that is certainly an option that will grab all the attention.
10. Shaggy Look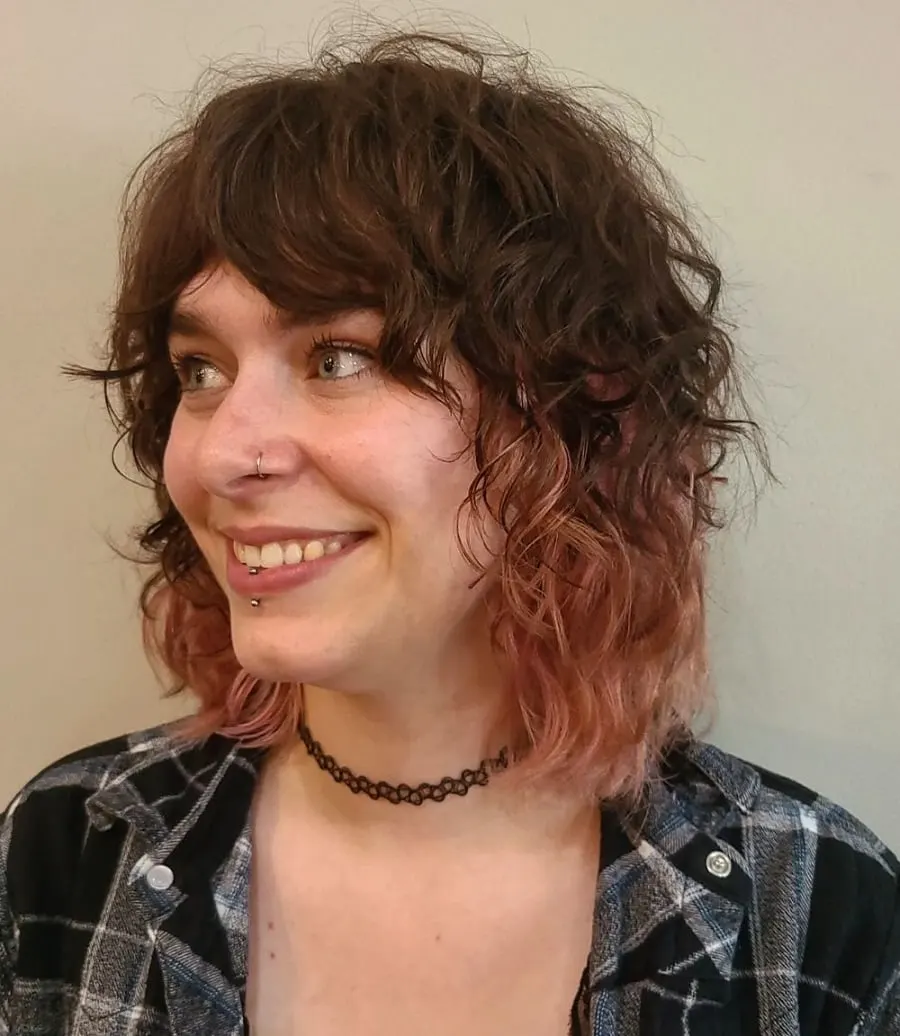 A shaggy hairstyle has a lot of layers and looks great with curtain bangs spread on the forehead. To spice things up, you can keep the upper section of your hair in a natural color and dye the rest of your hair in a pale red that looks washed off.
11. Messy Wet Look for Thin Hair
When you have fine hair, you need to create more volume. Go for a layered haircut with bangs and use hair gel to define your ringlets and waves better and give them more texture. You can also lift up your roots to build more dimension in the apex area.
12. Tight Copper Coils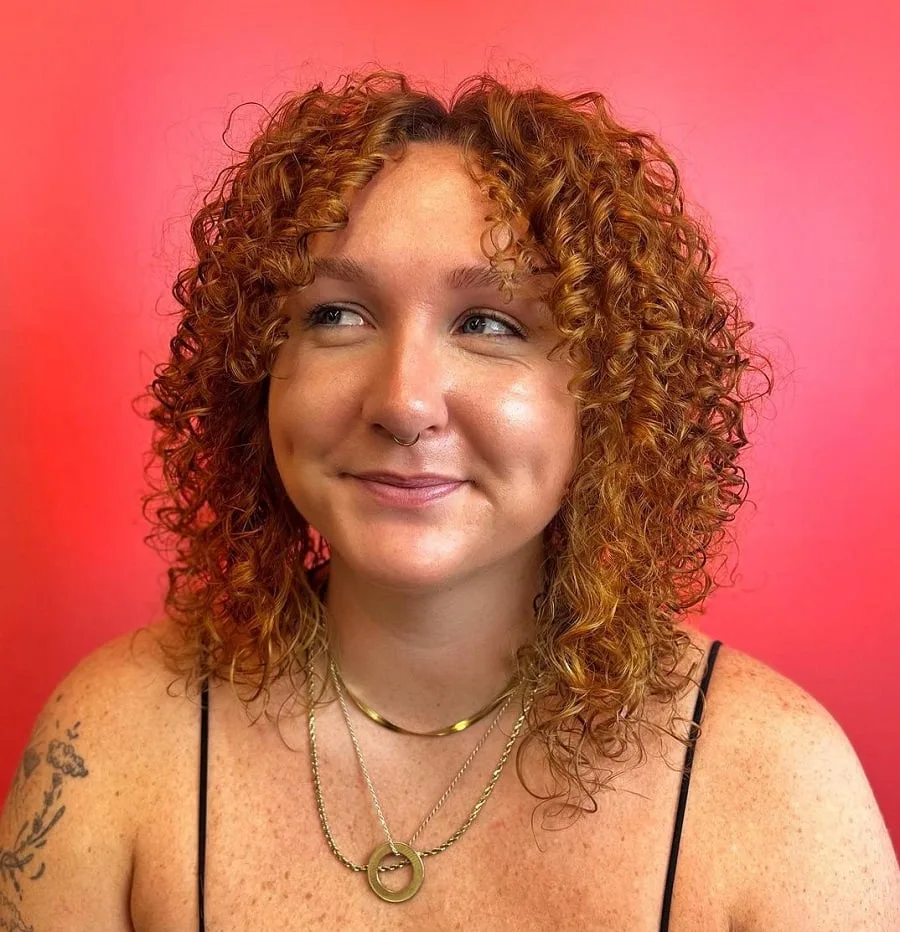 Such curly hair is certainly hard to tame and style, but not if you're getting a great haircut that only needs a little bit of product to tighten those curls. Use a styling gel that holds that pattern, get curtain bangs and a nice copper color that works with your fair skin tone.
13. Natural Layered Hair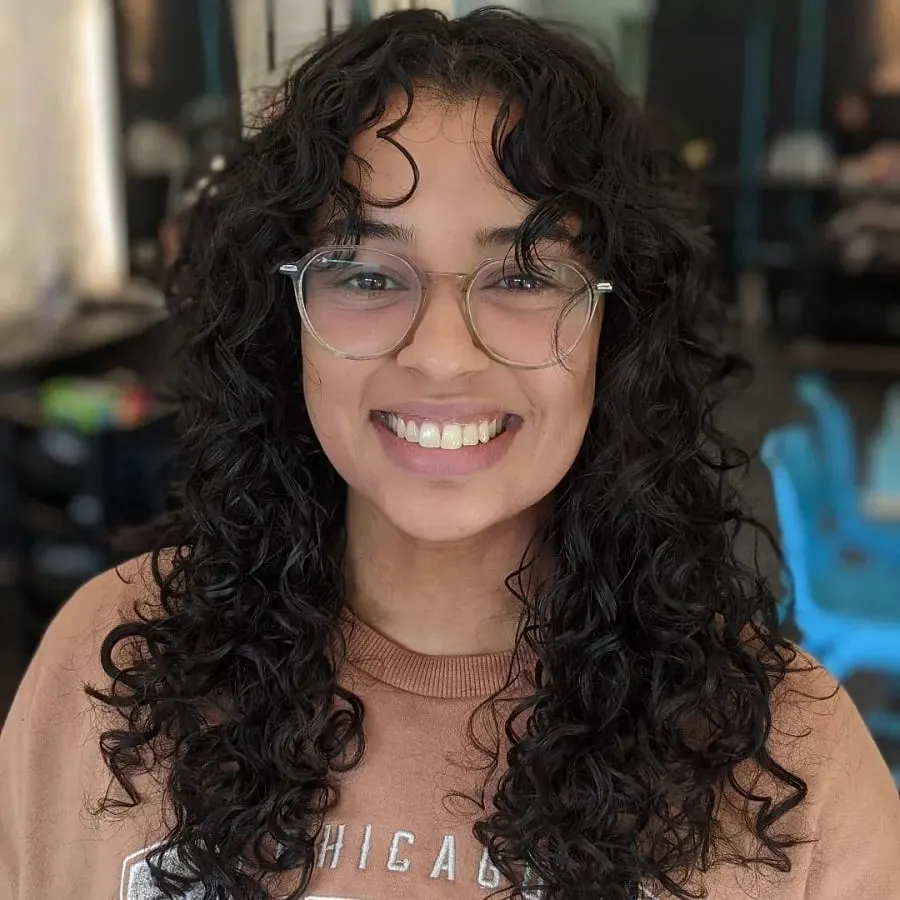 When you have such a gorgeous hair texture with tight ringlets, you should give them even more definition. After you get out of the shower, apply a curling mousse and dry your hair with a towel.
14. Curls with Highlights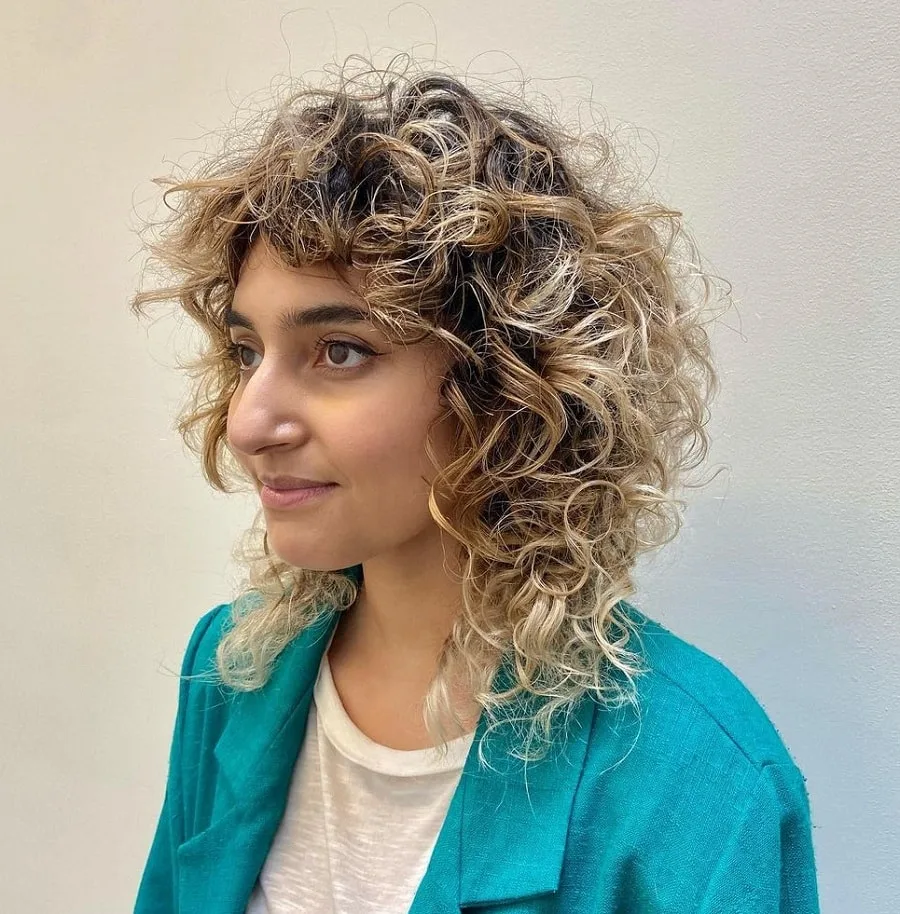 A creative way to get curtain bangs with curly hair. Highlights will add a lot of warmth and give you that romantic, girly touch. Go for a layered haircut emphasizing the top and curtain bangs you can messily style. Lift up the roots to gain more height.
15. Casual Waves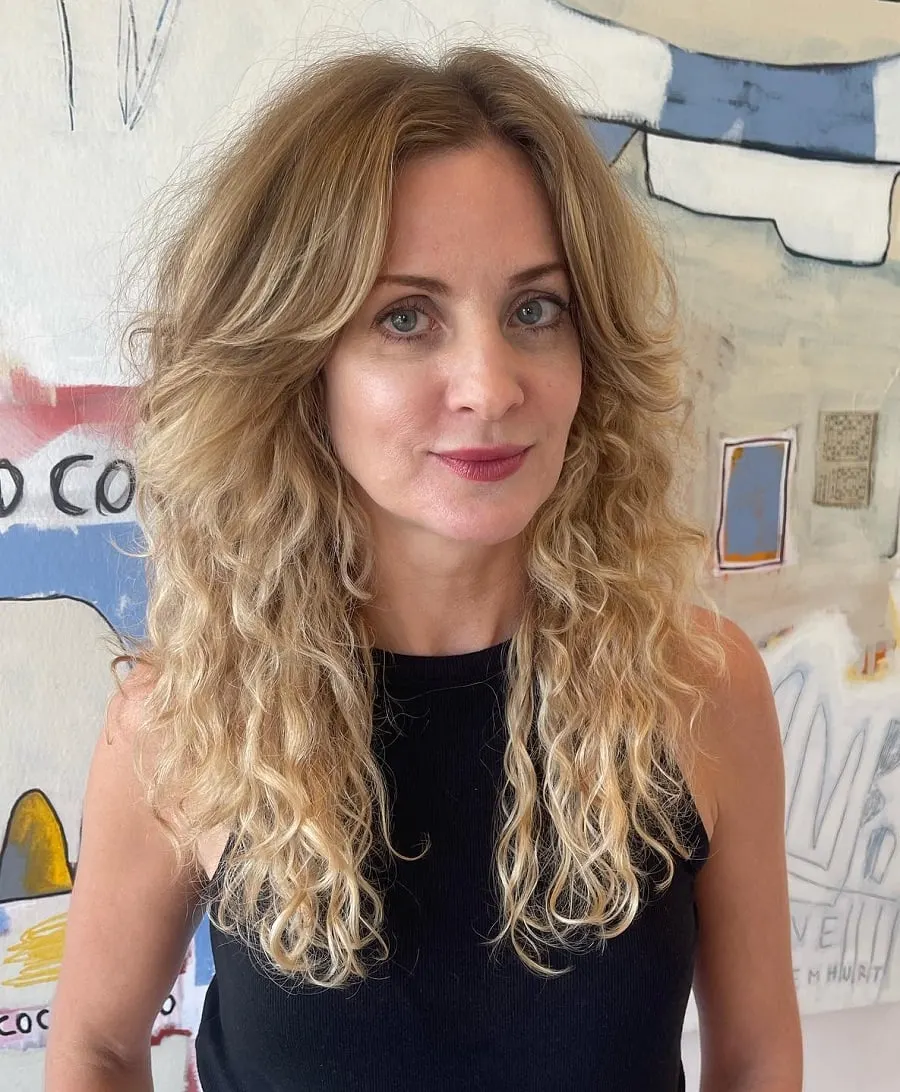 If you love the way curtain bangs frame your face, here's a trick you can do to make the look flawless.
After you shower, comb the fringe with a rounded brush and choose a large hair roller. Dry your hair with the blow dryer, while the roller is on. It will gain those naturally-looking twisted ends.
16. Curtain Bangs for Short Hair
Retro hairstyles are back and look fabulous on women with curls and waves. You can gain so much more volume if you choose the right cut, so build a few layers to give your hair body and shape and go for curly curtain bangs.
17. Dark Blue Ombre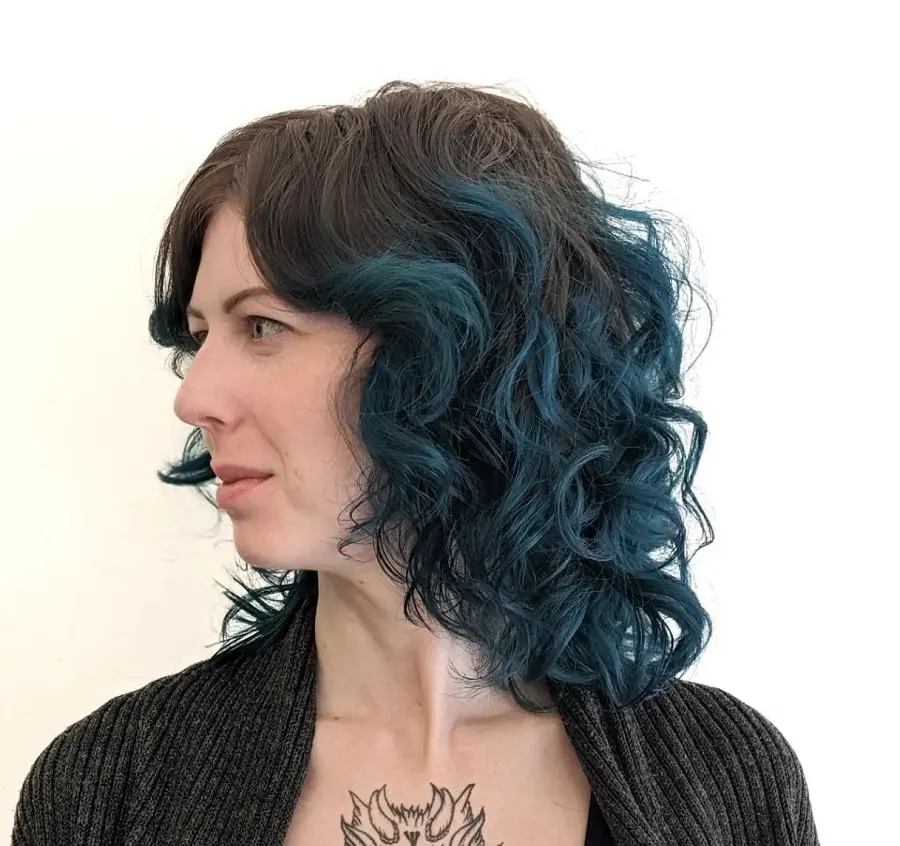 If you love a dark goth approach, then this curly curtain bangs hairstyle is something you will certainly appreciate. It features dark roots and a dark blue-gray ombre that makes your curls stand out. You can do a middle part for the curtain bangs or split the hair slightly on one side.
18. Two Blue Highlights
Adding a little bit of spice is always recommended, especially when you want everyone to notice your new haircut. Layer your curls and style long curtain bangs. Select two equal strands from your fringe, bleach them, and use a semi-permanent pale blue hair dye.
19. Low Copper Shag
Curtain bangs can help you achieve an elongated curly look, mostly if you pair this fringe trim with a shaggy cut. It will look fabulous, with loads of layers falling one over another.
Also, if you have fair skin and blue or green eyes, you might consider getting a copper hair color.
20. Layered Curly Bangs With Curls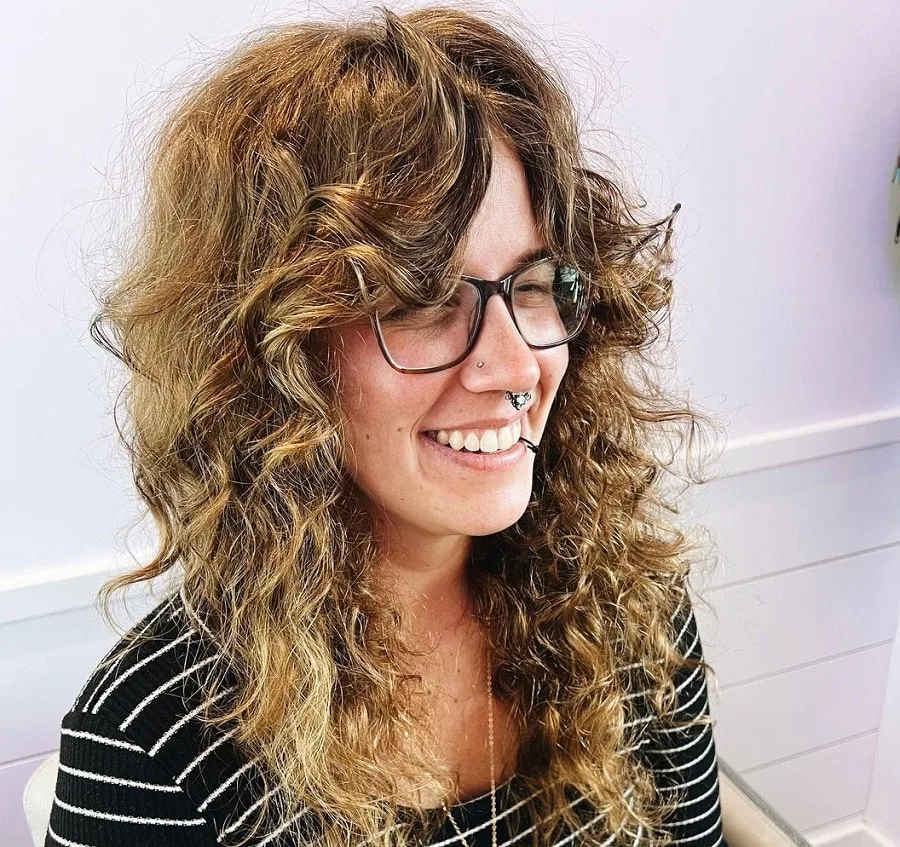 For many curly-haired women, getting low-maintenance curtain bangs that look good without too much effort is a blessing.
In this case, you should certainly go for layers. They make curly hair look voluminous, and ringlets will be tighter, and will have a better shape.
21. Rounded Shape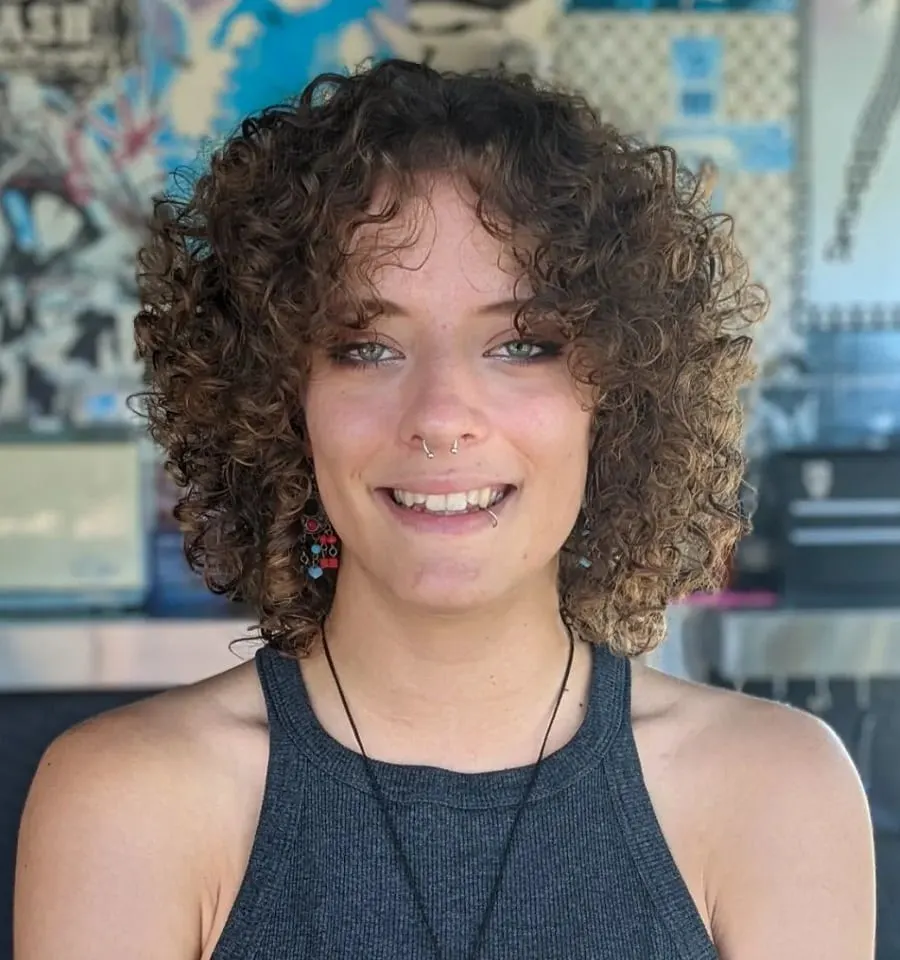 Having such tight curls can come as a struggle, but we are here to help. Get a medium hairstyle with a rounded shape and curtain bangs. We recommend you get this bangs cut with your curly hair in a hair salon because hair this tight can be tricky to style and trim.
22. Curled Curtain Bangs With Lower Blonde Highlights
When you don't want to renounce the length but want a visible change, you should go for curtain bangs.
They will draw attention to your facial features and you will get a modern cool girly look. Go for lower blonde highlights and use some foam to define those waves.
23. Blonde Thick Highlight
Girl, that's a hairstyle that will certainly get all the attention! First, go for a shaggy haircut with multiple layers.
Opt for curtain bangs that gain more length in the corners. Spare one side of your bangs and dye your whole hair in jet black color. You can paint that other part of your fringe in a bright blonde color to gain a dramatic effect.
24. Wolf Cut
The wolf cut is now skyrocketing for women with wavy or curly hair. You can get it at the hair salon or follow these rules to build your layers.
Firstly, pull all your hair in a ponytail close to the forehead. Tie your hair to the front, and using hair scissors, make the cut below your fingers, just in front of your nose. This way, you will build layers that you can work with without losing back length.
25. Tight Coils with Bleached Pieces
When your coils are this tight, you must be very careful when trimming your bangs. Because the hair is very curly, you might end up with curtain bangs that are way too short. That happens if you don't leave enough room for shrinkage.
Curtain bangs look fabulous on curly hair and are a great way to embrace a dramatic change. Before taking action, make sure you have all the tools you need, do your research, or even sample some faux bangs to see what length suits you best.