The ducktail haircut made quite a buzz around it in the 40s and 50s. Created by a barber from Philadelphia, this manly bold hairstyle features a sleek comb over with short sides and back. The crown hair has more volume and the back is parted in two sections, with a pointy end resembling a duck tail.
Nowadays, the hairstyle is updated and transformed and is often paired with quiffs, pompadour, or even mohawks. The parting is now done not only in the back of the head but also in the crown area.
Unique Ducktail Haircut Ideas
If you're a guy who loves unique hairstyles that'll stand out, scroll down and discover the amazing ducktail haircut!
1. Layered Ducktail Hair
A modern ducktail haircut is characterized by short sides, an emphasized crown that leaves plenty of room for styling and short nape hair.
In this case, the hair has volume in the crown area, while the upper back is longer, layered and styled upwards.
2. Sleek Comb Over
This men's haircut is incredibly versatile because it can be paired with other amazing and popular cuts.
For example, you can go for a sleek back comb over that reunites the top and sides in the back and ends up in a pointy shape with a well-defined middle part.
3. Texturized Back
Texturizing spray is a product you must have if you want your hairstyle to look this well-defined.
Create loads of layers, give your hair more volume, and comb it to the back. With a razor, make the nape hair look pointy and do a middle part.
4. Wet Ducktail Haircut
In some cases, you might not want the ducktail back to be standing out. Trim the nape hair, but don't make it too pointy, so you can switch from this hairstyle to another one without making a big fuss.
Abundantly use hair gel so your strands will gain that amazing wet aspect. Comb the hair back and simply part it in the middle.
5. Feathered Cut
This amazing hairstyle requires some effort from your part. Feather the hair and comb it to the back. As for your bangs, swipe them to the side to build more volume.
In the back, do a middle part and lift those longer strands, creating dimension. Go for a connected medium beard.
6. Rockabilly Pompadour
The Pompadour is often paired with a ducktail back, creating men's retro 50s-inspired look. For the temple area and back, go for a fade and apply plenty of hair gel to gain that sleek look.
The top should have volume and height, especially when you want an overall elongated look.
7. Long Layered Back
Create a fade or taper the temple area and keep a long crown hair. Use your bangs to build height, lift them and comb them slightly to the back.
As for the nape, keep it extended and also lifted. Play around with the ends, and give them a curvy twist.
8. Nape Fade
This ducktail haircut features a visible middle part that doesn't end with a pointy shape, but with a taper fade. The middle part is created from the crown and goes low, towards the nape.
The hair is arranged with styling gel then combed so each thin strand is well-defined. The hairline is razored so you can achieve a clean and outstanding cut. Also, the fringe is styled into a Pompadour, with volume and height.
9. Comb Over for Older Men
Even if you're an old guy with such thin hair, it shouldn't stop you from getting a cute hairstyle with a back middle part. Comb the top to the back and style it to cover those unwanted bald areas.
Also, you can use some hair gel to gain that wet hair aspect.
10. Two-Tone Mohawk Mullet
You can create a ducktail look from many other haircuts, including a mohawk. Shave the sides, so the center of your long hair really gets all the spotlight.
Dye the hair half black, half red, and instead of styling it up, as you usually do for a regular mohawk, part it in two. Style the tips towards the middle part.
11. Outwards Curls
Instead of doing a pointy-shaped nape hair, upgrade your hairstyling game and opt for something more chic.
Layer the hair, comb the fringe to the back, and the sides to the center middle part. Use a curler to style the ends outwards.
12. Wannabe Mohawk
If you don't feel comfortable with completely shaving your sides but love a cool mohawk, you should definitely try this fohawk look.
It has the top height of a mohawk that continues with a middle part and long strands feathered towards this parting. Use hair gel to obtain that spiky wet look.
13. Sleek Mullet
For this men's medium hairstyle, the top has a lot of volume and height, and each strand looks separately styled. Opt for a faded temple trim.
Go for dark blonde highlights that will warm up your look and keep a longer nape hair, just like a mullet.
14. Mohawk With Faded Undercut
Opt for a ducktail mohawk haircut with an undercut and lifted crown hair. The sides of your head should be horizontally parted in two.
The lower part must be completely shaved while the upper part is shortly trimmed. The back must feature a middle part with hair styled inwards.
15. Salt and Pepper Fringe Curl
When your hair starts to get whiter, it will gain that salt and pepper effect. Give your hair a gradual length towards the top and keep a long fringe that you can use to create a voluminous curl.
Pair the hairstyle with a beard with well-defined edges and connect it with your hair and mustache.
16. Bald Fade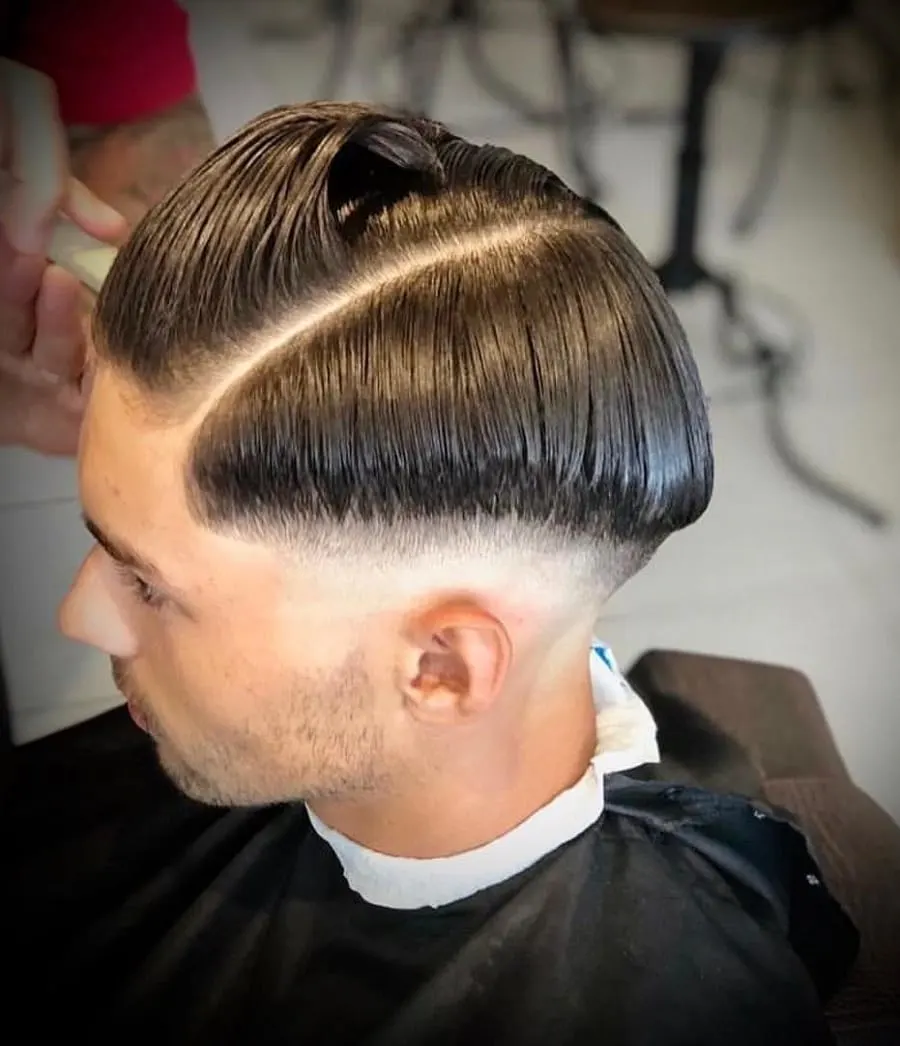 A taper fade will help you create great contrast for the upper part. The crown must have length and be trimmed in a bowl cut.
Do a side part and abundantly apply hair gel, then comb it to make it look sleek. On one side, you will comb down, while the other will be styled towards the back and slightly up, creating a curl.
17. Messy Ducktail Back
If your hair is slightly wavy, you can create a messy cute look for the crown and continue with a ducktail look.
The nape hair should be styled in a round shape, with a middle part and the hair must be combed to the center.
18. Thick Long Sideburns
If you start losing your top hair but still have some volume in the back, feather the hair and lift it up.
Go for a shaved face and a thick rich mustache, and long extended sideburns.
19. Gigantic Pomp
This gigantic pompadour is a real statement and requires long hair that you will beautifully lift. Go for a ducktail haircut and get a middle part from the forehead to the back.
Use a volumizing spray to preserve the look for the entire day. Opt for pointy sideburns and a shaved face.
20. Twisted Green Curls
A faux hawk is the perfect canvas for your ducktail look. Keep the top long and dye it in a dark green color.
Do the middle part and twist the hair inwards to obtain a full curl with impressive height. In the back, opt for a pointy cut that lies flat.
21. Diagonal Line
This atypical ducktail haircut is not centered but follows a diagonal line that starts from the center of the forehead and goes to the sides.
The hair is styled with hair gel to create that cute shape. In the back, the hair is trimmed with a machine and features a bald fade.
The ducktail cut is such an attention grabber and will definitely make a difference in your entire look. Adapt it to your personal style and everyday activities and enjoy an amazing retro hairstyle that regained its popularity in 2023. Try it on and let us know which of the examples above you chose!