As we age, it's natural for hair to start thinning. Throughout this post, you're going to see awesome medium length hairstyles for thin hair over 50.
The biggest problem for men over 50 is that they don't know what to do about their hair, and they think there aren't many options to mask the thinning effect. Not entirely correct!
No need to panic, if your's hair thinning and weakening. We're going to help you out.
Ideal Over 50 Hairstyles for Medium Thin Hair
Some men have thick, voluminous hair while others have thin hair. Let's see some of the best mid-length thin hairstyles that over 50 men can rock easily. Are you ready? Scroll down to see them all.
1. Wavy Hair Don't Care
A great way to style medium thin hair for men over 50 with grey hair is to make it appear visibly thicker and more voluminous. But how to accomplish that? It's easy; use a mousse to boost the volume of your hair and let it form waves naturally. Tousle your hair with fingers for a casual look and top it all off with beard.
Amazing Hairstyles for Older Men with Long Hair
Men whose hair is incredibly thin may want to consider cutting their hair shorter. That way, you'll avoid the uncomfortable consequences of thin hair and bald spots.
But, for an elegant look, you may want to consider combining medium hair with medium-length or long beard. This is undoubtedly one of the most handsome medium length hairstyles for thin hair over 50.
You're a proper gentleman who loves to ooze elegance and sophistication? Then we have an amazing idea on how to make thinning medium hair work for older men over 50.
Retain thin hair at medium length and comb it back. Opt for hair-styling products that don't weigh down your hair. Ideally, you should go for items that give you more volume.
The easiest way to maintain thinning hair for older men over 50 and appear more youthful is to opt short to middle length styles. In this case, you just need to comb your hair to the side and top it all off which nicely defined sideburns and interesting beard design.
Yes, men can be stylish as well. There's no rule which specifies that only women can look stylish and trendy. If you're 50 and older, it's easy to think there's not much you can do to appear hip and trendy.
The truth is entirely different. Just tousle your hair with fingers to achieve the effortlessly stylish and trendy medium length hairstyles for thin hair over 50, and you're ready for your day.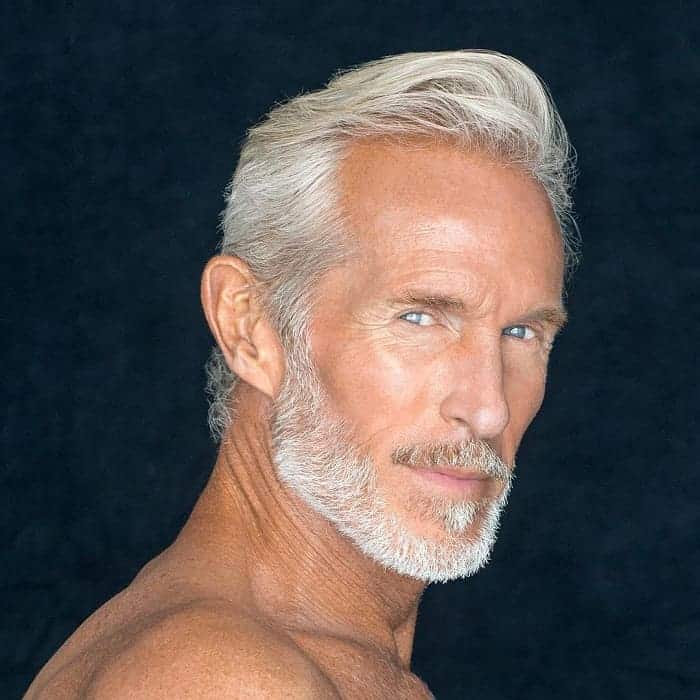 Aging can be your advantage as you have the opportunity to transform your style into something powerful, yet sensual at the same time.
Sweep hair to the side and trim your beard to achieve this medium hair look for over 50 men with thin hair. It's even more awesome if you opt for this sophisticated grey shade.
Charismatic Short Grey Hairstyles for Men
The most important thing to remember is that medium haircuts for thin-haired men over 50 don't have to be complicated and difficult to pull off. Keep your hair at medium length and make sure you care for it properly and you'll look great at all times.
Avoid washing your hair every day, and try not to use harsh products. Your hair will thank you with its manly, yet elegant look.
8. Silver Fox Look
Grey and thin hair can be a symbol of sensuality and good looks for older men when you style it properly. Silver fox look is attractive in more ways than one, and you should definitely consider rocking this style.
You can couple this medium & thin hairstyle for guys over 50 with a short beard, or you can go without it, depending on your choice and preferences.
9. Strong and Manly
If you're looking for a thin haircut for over 50 men that will make you look strong and manly, then this one is worth trying out. Allow your medium length hair and ducktail beard to combine into a marvelous look.
Popular Mel Gibson's Beard Styles
Bohemian look means you give out a vibe that you don't really put too much thought into your styling, but it looks great nonetheless. This over 50 medium hairdo for men is simple, easy, and works great with thin hair.
11. Hollywood Star Hair
If you've ever wanted to look like you've just stepped out of some Hollywood movie, then this medium length hairstyles for thin hair over 50 is the one you may want to try.
Manly Long Wavy Hairstyle Ideas for Men
12. Messy Hair
Messy shoulder-length hair is ideal for over 50-year-old men with thin hair who want to look great, but without spending too much time on their hair styling.
Hairstyle ideas shown above have probably inspired you to do something with your hair and change your image. When it comes to men's medium length haircuts for thin hair over 50, you should opt for the look that appeals to you and your preferences the most. At the same time, you may also want to experiment with different looks to spice things up.