Flamboyage is one of the latest hair color techniques that has been gaining popularity in the hair community. It's a combination of "Ombre" and "Balayage". Similar to both, the ends are lightened slightly more. It's trending because the process combines these techniques to provide depth and a sophisticated look to the hair.
The transparent layer used for coloring the hair in different sections creates a peek-a-boo highlight effect. You can purchase your strips from the Davines-Italian product line. Depending on your preference, this process takes anywhere from 30 to 90 minutes.
Ultimately, flamboyage is perfect for ladies seeking bold yet subtle highlights. With this innovative technique, there are various hair ideas that women can experiment with.
What is Flamboyage?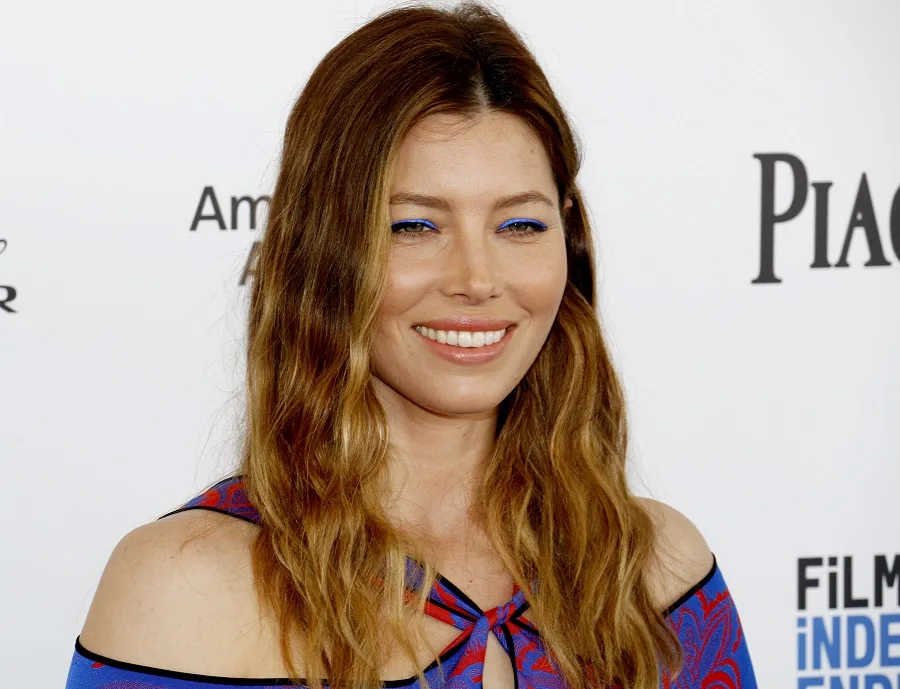 Flamboyage hair color is an innovative technique developed by Angelo Seminara from Davines. It is designed to create natural-looking highlights that mimic the appearance of highlights created by nature. Contrary to popular belief, this cutting-edge method is not a combination of ombre and balayage. Instead, it is an entirely new coloring service.
Flamboyage utilizes a unique application tool, also developed by Seminara. This technique differs from Balayage as it is not hand-painted onto strands. The resulting effect can be ombre or not, based on the stylist's application technique. If you are seeking a fresh, natural look in your hair color, Flamboyage offers a truly blended and seamless appearance.
How is Flamboyage Done?
Achieving the delicate flamboyage coloring technique may seem painstaking but quite straightforward. The method involves selecting fine hairs spontaneously and using a clever adhesive strip called Flamboyage Meche.
These self-stick paper strips are versatile and practical. Their transparency enables hair stylists to monitor color processing easily. Moreover, washing them out with water is effortless, without causing any snagging or stickiness.
The strips allow for precise and spontaneous hair selection. They also offer an excellent surface for color application and can be easily sealed by folding. The strategic placement of these strips provides colorists with artistic freedom. They can create depth and dimension in the hair as if it were a natural feature.
Will Flamboyage Suit You?
Yes, you can definitely try it as it complements any face shape, skin tone, and eye color.
You can customize Flamboyage to suit your personal preferences and lifestyle. Opt for longer layers and sides for added volume at the base. Alternatively, choose shorter layers and sides for easier styling.
Flamboyage is a low-maintenance color technique that is ideal for busy moms and working professionals. Pick from various colors or mix different tones for a bolder look. This versatile technique is perfect for those seeking a fresh appearance without investing too much time.
As the style grows out gradually and softly, you'll only need touch-ups every 4 to 8 weeks, or longer, depending on your hair growth rate. Flaunt your flamboyage with straight, wavy, or curly hair. You can also put it up in a ponytail to showcase the various colors.
Flamboyage is suitable for both cool and warm skin tones. It all depends on the color combination you select!
Amazing Flamboyage Hairstyles
Explore these stunning flamboyage hairstyles that are truly gorgeous and captivating.
1. Chrissy Teigen's Blonde and Honey Flamboyage Highlights
If your hair is naturally brown, then this style is perfect for you. Depending on your preference, your hair will be enhanced with blonde and honey highlights in streaks and layers. In addition, the color will add more texture, and the layers will contribute depth to your hair.
Chrissy Teigen definitely rocked this look, with the hair at the front being shorter than the hair at the back, expertly framing her face.
2. Blonde Flamobyage Highlights
This is perfect for those with long hair who want a portion of their hair to be blonde. They may like the color blonde but are not ready to commit to having their hair fully bleached. Opting for a blonde flamboyage gives them an idea of how their hair will look with the blonde.
Their hair transitions from their natural color, gradually scaling towards an ashy blonde hue. To add depth and volume, you can ask your stylist to cut layers into your hair.
3. Rihanna's Auburn Flamboyage Highlights
Auburn highlights blend perfectly with dark brown hair. From the roots, the hair is streaked with Auburn, gradually transitioning to fully streaked ends. This provides a beautiful contrast, from subtle to fully auburn.
Consider requesting your stylist to cut layers in your hair, creating more volume at the roots, similar to Rihanna's hairstyle. This layered look enhances the overall appearance and showcases the auburn highlights effectively.
4. Ashy Blonde Flamboyage Highlights
This ashy blonde highlight starts from the roots to the tip. It was lightly streaked at the crown of the hair, then fully dyed towards the end. You can add curls using a flat iron or curling wand, adding more texture to your hair.
In addition, you can add layers for more volume so that the hair at the front is shorter than at the back.
5. Light Brown Flamboyage Highlights
The light brown highlights will look similar to blonde, especially in sunlight. They complement brown hair, whether light or dark, perfectly. In this style, the ends are wavy too, which adds more texture to the overall look.
To achieve this style, lightly curl or crimp your ends with a curling wand. Then, comb them out to add the desired texture. This hairstyle is both classy and elegant.
6. Ashy Brown Flamboyage Highlight For Brunettes
If you are a brunette, this hair idea is perfect for you. You can lighten the ends of your hair or use an ashy brown color to highlight it. This will create a beautiful contrast from dark brown to light ashy brown.
This simple yet stunning hair idea can be worn straight or with evenly layered curls to spice up the look.
7. Light Brown Block Streaks Flamboyage Highlights
A unique highlight idea is to create blocks along the hair shaft. In this technique, your stylist applies the color with adhesive layers to specific blocks of hair, making the color more prominent. This striking look is perfect for the runway, as the lights will make it glisten.
In addition to its eye-catching appearance, these chunky highlights add depth and dimension to the hair. The frayed ends further enhance the overall texture, making this a truly distinctive style.
8. Light Brown Flamboyage Highlights On Dark Hair
Brown on brown always complements each other well. If you have dark brown hair, this idea is perfect for you. Your hair is streaked with light brown highlights all over. It gives off the effect that is a natural look.
In addition, adding soft curls gives the hair more texture and death.
9. Honey and Blonde Highlights
This absolutely gorgeous color will look on anyone's hair. Firstly, the hair is streaked with blonde and honey highlights throughout the hair to give it a more natural look.
In addition, it makes your hair look light, especially if you have dark brown hair. Then, the ends are crimped to give your hair curls added texture. It is great if you want a new look.
10. Dark Brown Flamboyage Highlights
Another hair idea that you can do without committing to the color. The hair is lightly streaked if you inspect it closely.
It allows you to test different shades of brown if you want to perfect your brown flamboyant highlights.
Overall the colors blend well which will give you a subtle look.
11. Bleached Flamboyage Highlights
The beach is streaked at the roots. Then, the rest of the hair is bleached. As you can see in this picture the bleach does not stay on for longer because it's not fully blonde.
However, there are present blonde colors in her hair. This hair idea is colored and layered perfectly.
12. Dark Red Flamboyage Highlights
This hairstyle is beautiful for a redhead who wants to tone up or down their color. Or, for individuals who want red hair. This red highlight is not too extreme or too bland. It will complement your skin tone very well because of it red copper and sun-kissed look.
13. Natural Brown Flamboyage Highlights
As you can see, her highlights look very natural. They are lightly done at the roots and heavily down towards the ends. It gives her hair a lot of dimensions. Also, if curls and layers are added, it will give her hair a naturally voluminous look.
It is perfect for ladies who want to color their hair but do not want to commit to the damage that their hair may face.
14. Natural Auburn Flamboyage Highlights
This is another natural flamboyage highlights look. As you can see, her hair is naturally brown, and the stylist "Flamboyed" the ends and added layers of here to give their hair a subtle, natural look. It is perfect for just about any hair color.
15. Blonde Streak Flamboyage Highlights
Another idea for blonde highlights however on men. Depending on your current hairstyle, you can try out this highlight. The light brown complements the skin color very well.
In addition, the color is very striking, with blunt layers. It definitely adds edge to their style, especially with the colors.
16. Bright Auburn Flamboyage Highlights
Bright Auburn Flamboyant Highlights is definitely one of the colors for this summer. The model's hair is cut bluntly at the tips, making the color tone more prominent.
In addition, it is heavy at the roots, and lighter at the ends. It gives your hair a striking feature and definitely a noticeable look.
17. Grey Highlights Flamboyage
Definitely not your grandma's grey, but an even more beautiful grey. Along with flamboyage highlighting technique, grey highlights are in. The grey gives the hair a cooler tone than dark highlights.
Her hair is lightly streaked from the roots, then heavily streaked at the bottom. It gives the hair a nice complement as well. In addition, they are layers that add more depth to her hair.
You can braid or twist the bottom at night so that your hair is a bit curly in the morning, which will give the style more texture.
18. Light Honey Flamboyage Highlights
These honey highlights are done to the ends of the hair to provide a simple contrast from dark brown or black to honey. It is a classical flamboyage, and simple to achieve. It will require little to no maintenance and not many touch-ups if necessary. It is definitely a go-to hairstyle.
19. Pink Flamboyage Highlights
Brown highlights become boring after a while, so you can try pink! Yes, pink! Pink highlights can be flamboyant into your blonde or dark hair.
Pink usually has an orange or rustful undertone, making it complement your hair well. In this picture, her entire hair is flamboyant with the link, which blends nicely with her dark brown hair. Another summer hair idea if you are looking to switch things up.
20. Peacock Flamboyage Highlights
This is definitely a unique hairstyle. Your hair ends will have a lot of colors like a peacock and depending on the length of your hair, preferably longer, it will look even more beautiful.
This style cannot be done at home; your stylist should only do it. You can switch up the colors by using a lighter green, purple or blue, depending on what works for you.
But it is definitely a show-stopper that will have all eyes on you. It is not overbearing depending on the colors you choose.
21. Light Orange Flamboyage Highlights
This is a beautiful highlight idea that will brighten up your everyday look. The light orange highlight is sparsed at the top and then heavily colored towards the tip.
Depending on the natural color of your hair, for example, brown, the mixture of colors will give the hair more of a copper tone. In addition, as the orange stays longer on the hair, it will get lighter similar to a blond-ish look.
22. Sunkissed Flamboyage Highlights
It is similar to the light orange highlights. However, the orange is mixed to represent the colors of the sunset. It is highlighted in layers evenly along your hair. In addition, if you add curls to your hair will add more texture and volume to your hair. This hair is perfect for the autumn season.
23. Copper Brown Flamboyant Highlights
Copper Brown Highlights is perfect on dark hair because it blends in very well. The hair is lightly streaked with highlights so that it blends in perfectly.
The angled bob gives you a creative look, especially with the angled bob. This is a low-maitenance hairstyle where you can wake up, comb it out in 5 minutes, and go.
It is perfect for moms on the go, and busy working women who want a new look that doesn't cost them much money to get, maintain, and style.
24. Mustard Brown Flamboyant Highlights
This mustard brown flamboyant highlights will give off an early 60s vibe. In addition, if your hair is styled is very low bangs and flowing hair.
If the highlight is down on dark brown hair it will have a brown undertone and depending on where the light hits, your hair will look like variations of different browns. It is a beautiful look fit for anyone.
25. Heavy Blonde Flamboyage Tips
As you can see the tips of her hair are very blonde. As you go up from the tips to roots you will see the light streaks from the roots. This is another idea that is perfect for trying the blonde color without committing to full blonde or if you want blonde hair with dark roots which is a beautiful contrast.
26. Turquoise Flamboyaged Highlights
For this hair idea, turquoise green is layered on the end of your hair specifically. Towards the top, it is lightly streaked, then it becomes fuller towards the end. Turquoise is a bold color to wear but it will always be trending. It will complement dark-colored hair, such as brown or black perfectly. Then, it will definitely pop on a lighter hair color.
27. Ashy Brown Ponytail Highlights
Ashy Brown Highlights specifically on the ends of the hair that normally hangs out of the ponytail is a nice hair idea. Whenever your hair is in a ponytail or a bun, then the color is more prominent. In this picture, you can see that colors complement each other well.
After a while, the color will fade, which could have your hair look dry, but adding a moisturizing or leave-in conditioner spray will enhance the sheen of your hair.
28. Light Brown Strips & Streaks Flamboyage Highlights On Curly Hair
These beautiful colored curls are for curly or wavy hair girls. In the photo, the ends of your curls are highlighted which enhances your image. You can also achieve this if you have straight hair by curling your hair using a flat iron or roller set to achieve these curls.
29. Blue Flamboyage Highlights
This color will remind anyone of the beach late at night. It gives off a cool tone. Blue Flamboyage highlights are definitely for a girl who wants to step out of her comfort zone. It will blend in with black or dark brown hair very well.
In addition, the fact that the blue is brighter on the ends gives the hairstyle more flair. Lastly, curls will add amazing texture to your hair.
30. Dark & Light Brown Flamboyage Highlights on Curly Hair
Another flamboyant for our curly girls. The ends are colored with different shades of brown. This look is gorgeous because your hair is multi-flamboyaged.
In addition, depending on where the sun hits you, it will also change the shade. It's another low-maintenance hairstyle especially if you have darker hair, because it complements it well.
However, if you have straight hair then you can manipulate your hair to achieve these gorgeous curls or ringlets.
31. Light Pink Flamboyage Highlights
Another pink highlight that is gorgeous for blonde hair. These light pink streaks blend in her with blonde tresses because they have a similar shade. If you have dark roots then it will add more depth to the hair. As well as, adding curls through your hair will give it more texture.
32. Blonde Streak Flamboyage Highlights
Another beautiful hair idea that you can try if you have dark hair and want blonde highlights. These are blonde highlights were streaked and layered with different intensities so that will look white or grey depending on the light that you are in. It is a gorgeous colour because the there is a beautiful contrast from dark to light brown to blonde, and then to white.
33. Honey Brown Flamboyage Highlights
In this hairstyle, the highlights were done more so to the ends of the hair to give the hair a nice contrast from one shade of brown to another. In addition, the layers were cut to frame the model's face shape. As well as, the hair at the front is shorter than at the bottom which gives off a natural layered look. This flamboyant hair color is usually worn by celebrities especially on the red carpet.
34. Blue & Purple Flamboyant Highlight Bob With Bangs
In this hairstyle, her hair is highlighted with different shades of blue and purple with dark roots. The colors are very contrasting but it complements her skin tone very well. The bob and the bang is framed to shape the model's face as well as accentuate her features. Lastly, the ruffled curls give the hair more texture.
35. Mahogany Flamboyage Highlights
Mahogany Highlights will blend perfectly with dark brown hair because of the similar color. You can do it sparsely throughout the hair to add more flair. As well as, adding layers and curls will give the hair more texture and depth.
Flamboyage is a low-maintenance hair color technique that is perfect if you are lazy or always busy. It doesn't require as much time as ombre and balayage and it can be manipulated to have light or heavy highlights depending on what you are looking for. So, which hair idea will you be trying?