Transitioning to gray hair is one of the worst hair issues a woman can ever encounter, and adding dark highlights is the best way to go. Dark highlights brighten and add dimension, depth, and dramatic effect to gray hair.
Check out our photo guide for the best gray hair with dark highlights to get your next hair inspiration.
Different Ways to Highlight Gray Hair
Here are some of the techniques you can use when adding dark highlights to gray hair:
This technique uses both highlights (lighter color) and lowlights (darker color). The addition of these colored hair strands diminishes the strong line of demarcation, making gray hair look more natural and allowing you to embrace your gray hair in the most beautiful way possible.
Salt and Pepper Method
This method also uses lowlights and highlights, but the goal is to soften the look of gray hair by blending it with different shades of gray and black. It's like a form of color-correcting technique done to achieve a uniform color by toning down the obvious silvery strands and brightening up the dull gray strands.
Best Gray Hair with Dark Highlights to Try
Are you ready to take your gray hair to a whole new level? Here are some gray hair with dark highlights pegs to check out:
1. Gray Bob + Black Highlights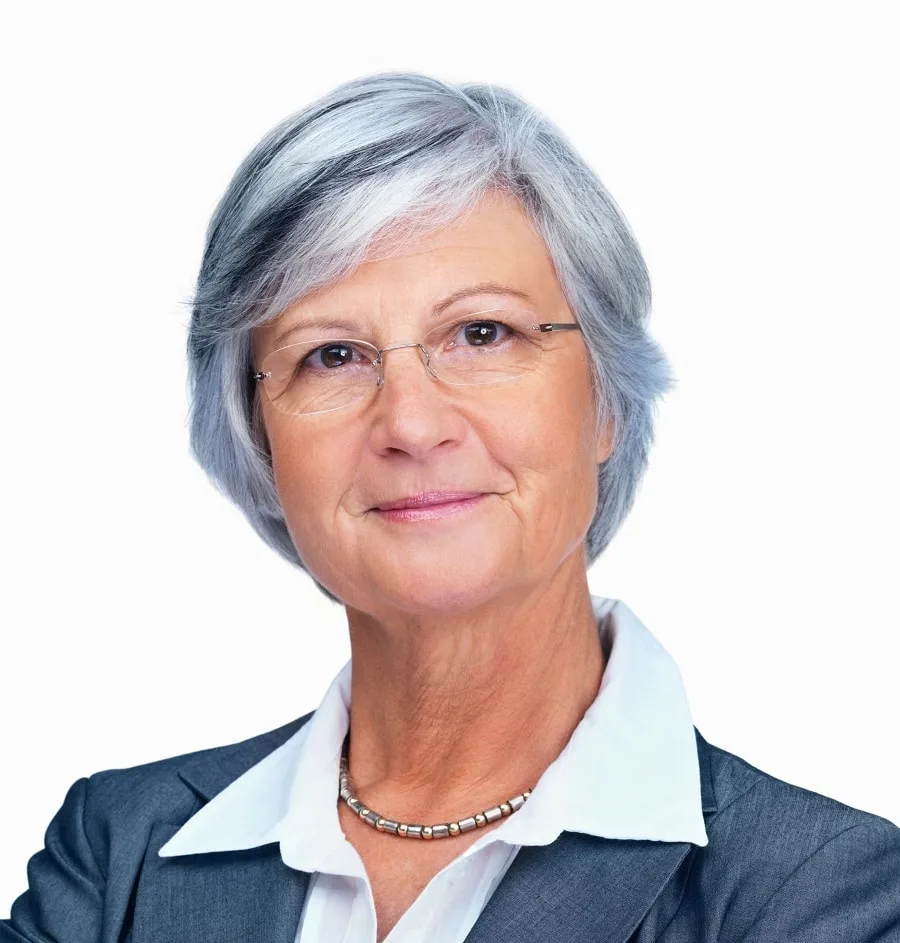 The bob haircut is the classic grandma haircut but you can inject a youthful vibe into it by adding dark highlights. If you want natural gray hair with black highlights, make sure to keep the highlighted strands thinner for a more natural look.
2. Salt and Pepper Bob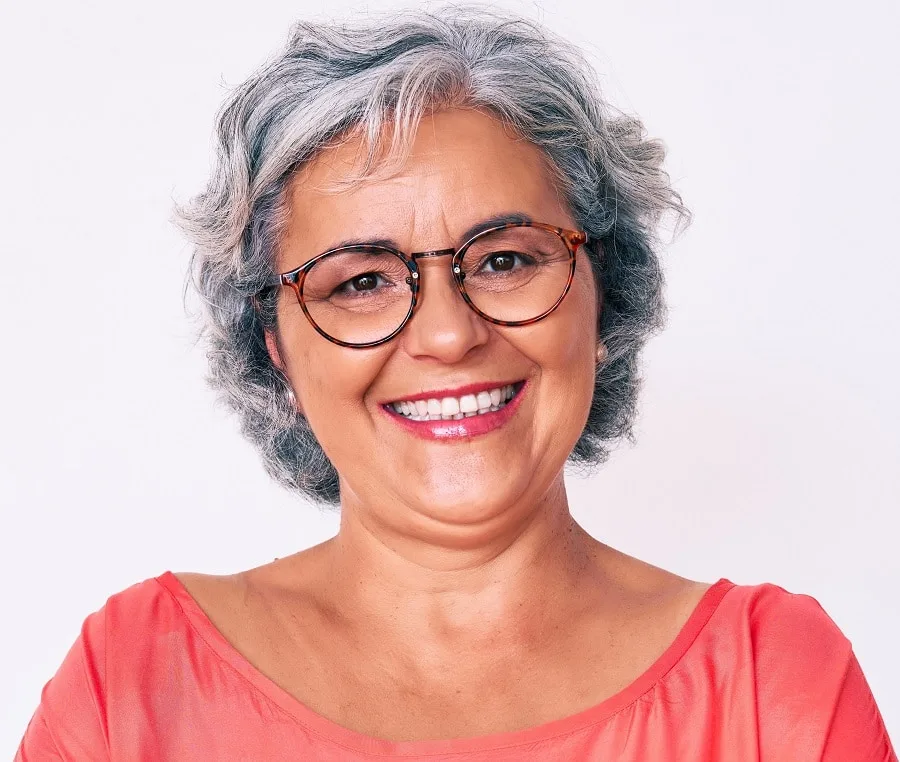 When your gray hair starts to show up, you get a head full of gray, white, silver, and brown to black hair. While this gray hair with dark highlights will make you feel old, cutting it short and curling it a bit can make you look chic-er and younger.
3. Gray Waves + Blonde and Dark Brown Highlights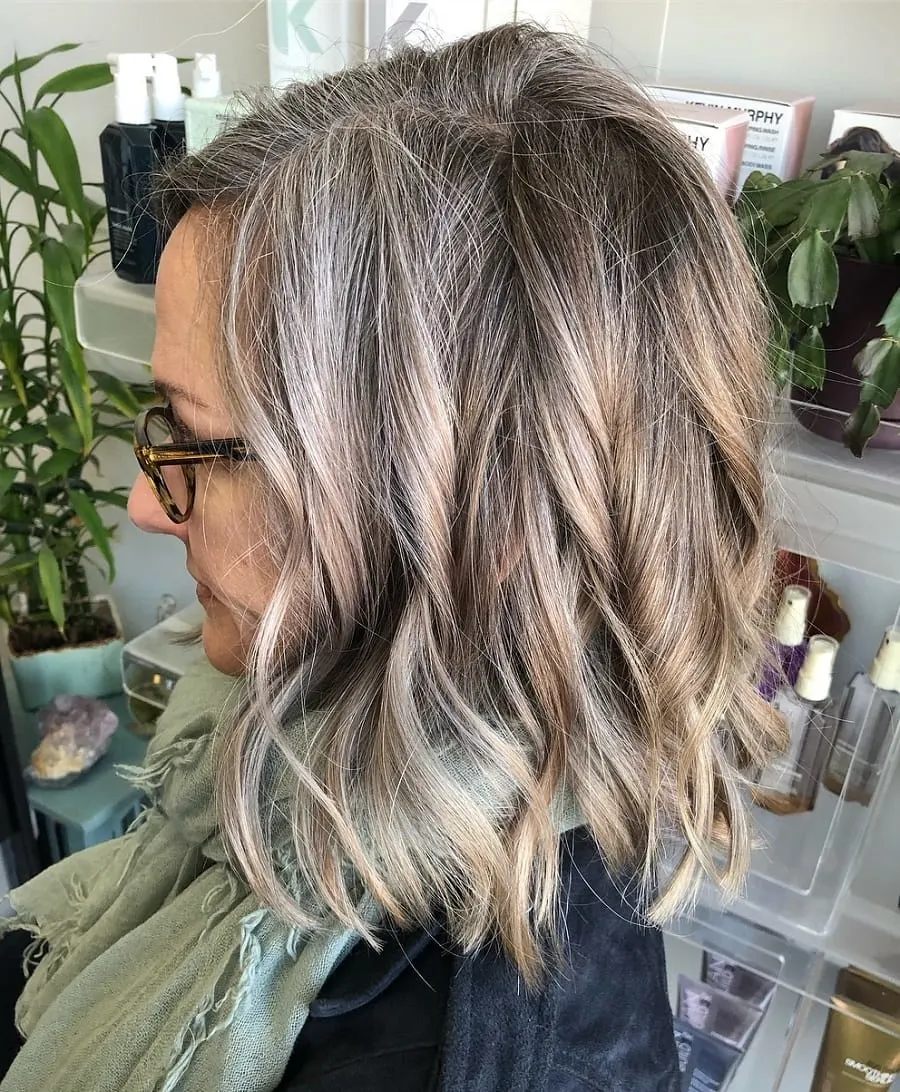 If you want a more stylish hair color, we suggest going for a mix of blonde and dark brown highlights. The different shades will make add depth and texture to your hair and make it look more eye-catching.
4. Brown Highlights on Medium Grey Hair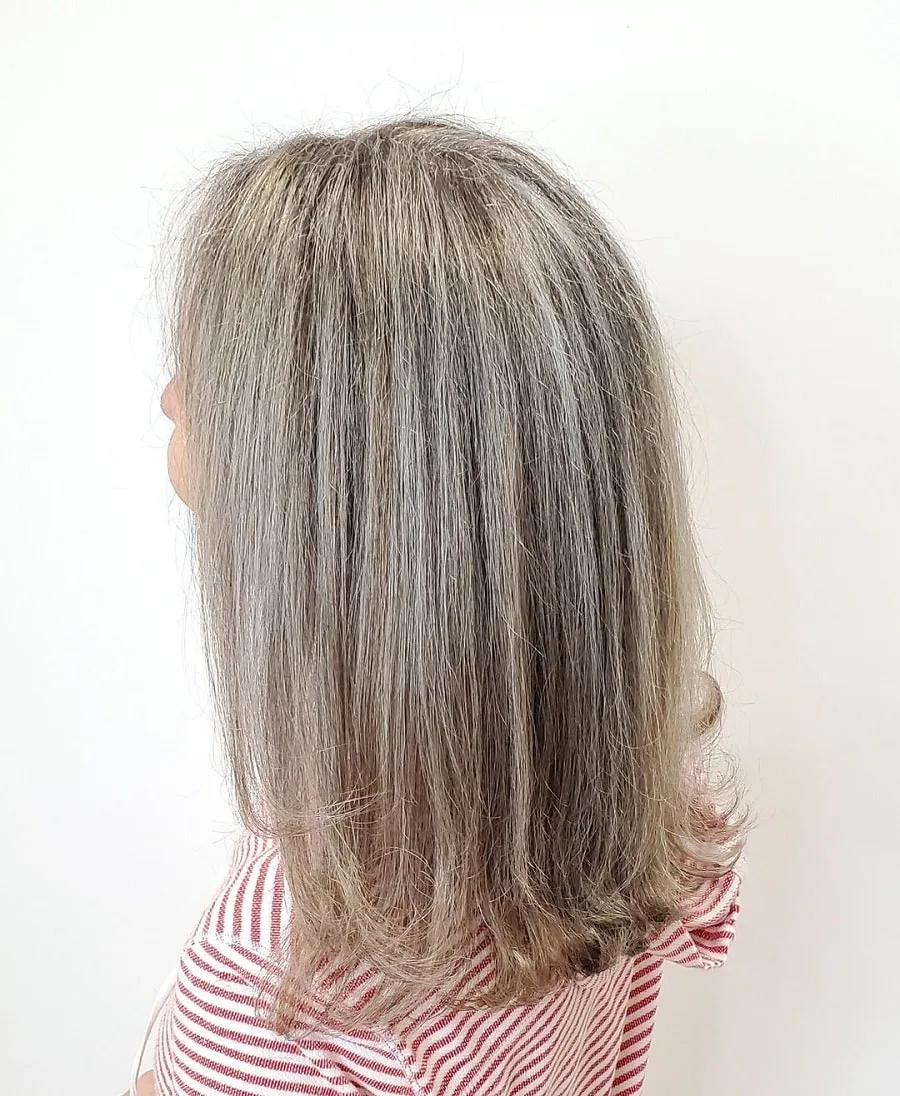 Gray and brown are always a good idea! The neutral and warm tones of brown highlights emphasize the richness of gray hair, making it look more beautiful.
The secret is finding the right brown shade. If your hair has a soft gray hair shade, we highly recommend going for a darker brown or richer tan color.
5. Chocolate Brown Lowlights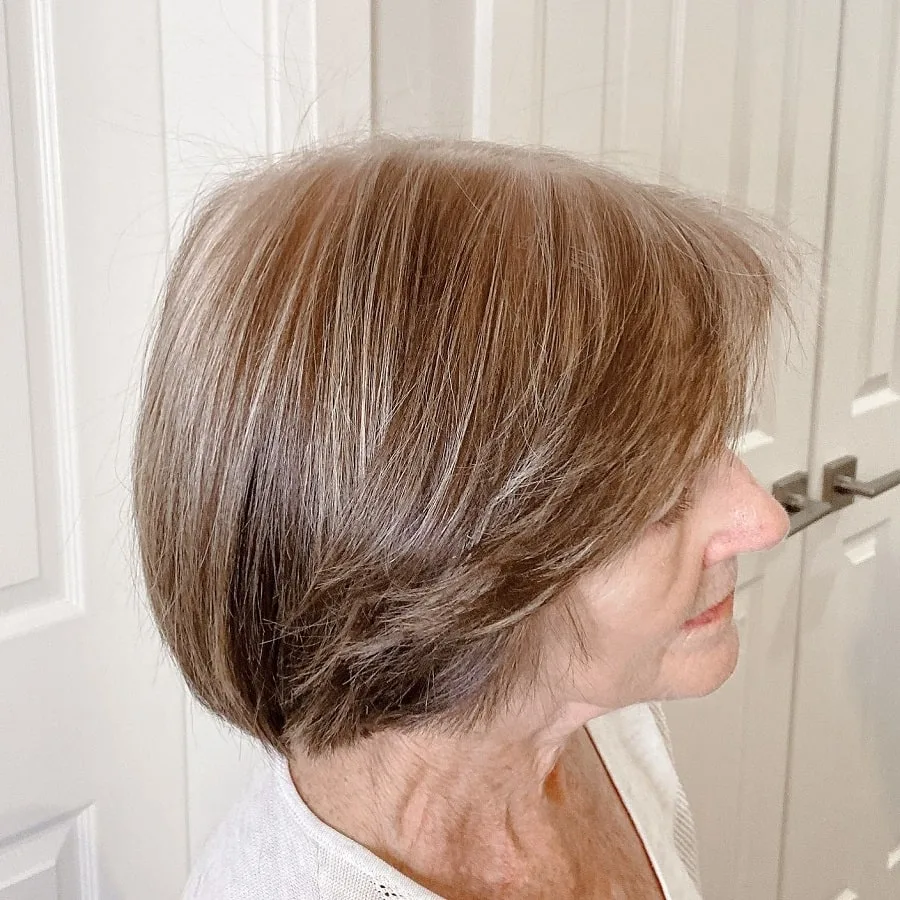 Here's another prime example of how amazing grays and browns look together. Chocolate brown lowlights will make your hair look shinier and smoother and looks oh-so-great on women with medium skin tone and cool undertones.
6. Gray Pixie + Purple Highlights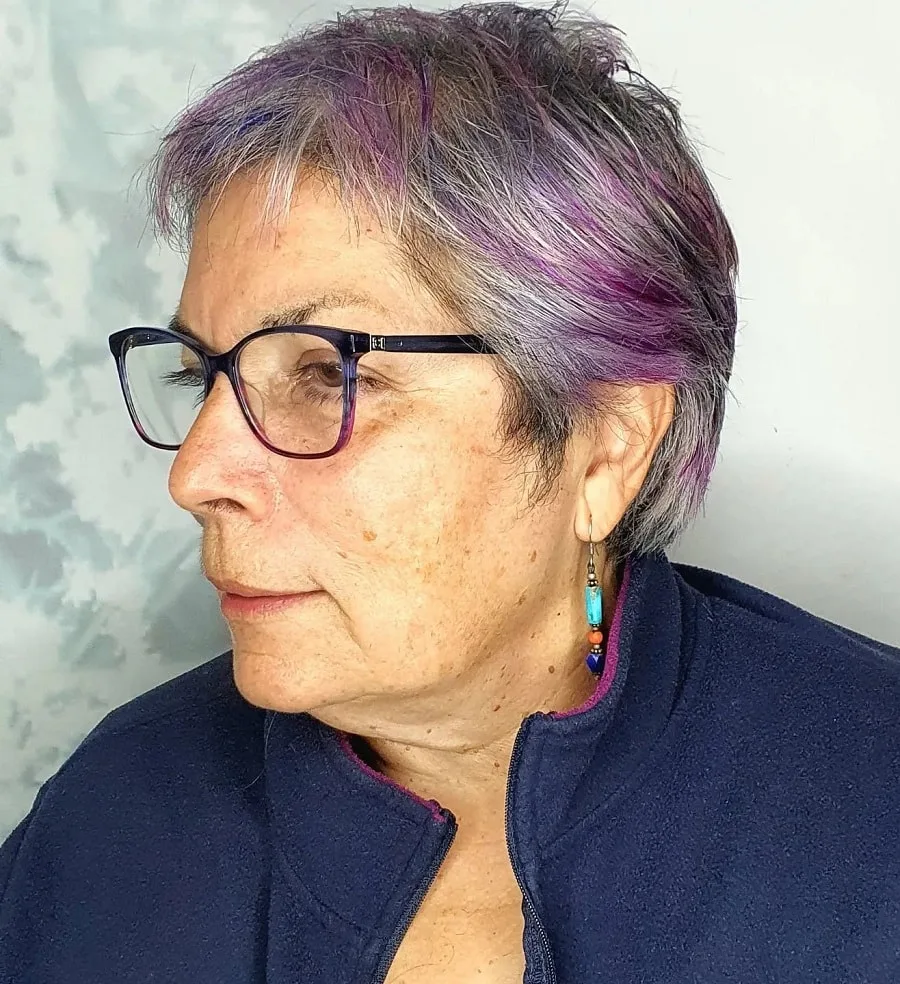 When you think about gray hair with dark highlights, purple is not the first thing that would come to mind but it's a great choice if you want something vibrant and unexpected. Your gray hair will serve as a blank canvass, allowing the dark purple shade to take center stage.
7. Gray Hair + Feathered Dark Highlights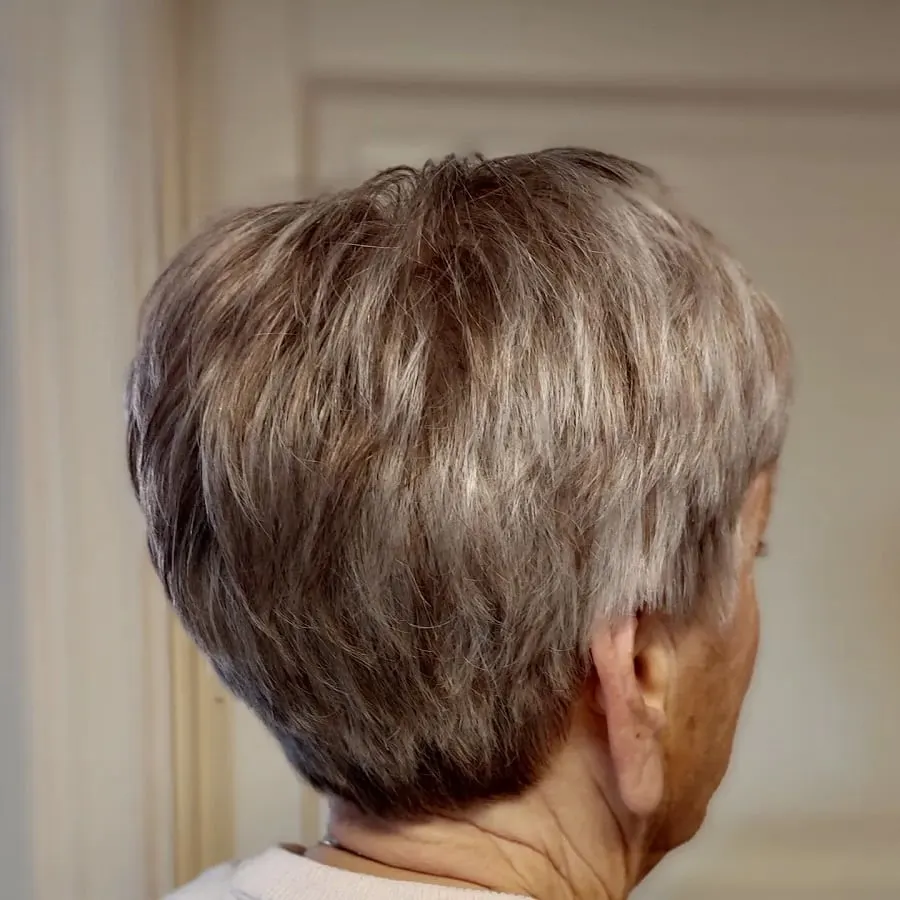 When it comes to highlights, you can experiment not just with hair color but with the style as well. The feathered dark highlights are designed to add texture, depth, and movement to your hair. It's best applied on thin, fine, and wispy hairstyles.
8. Chunky Highlights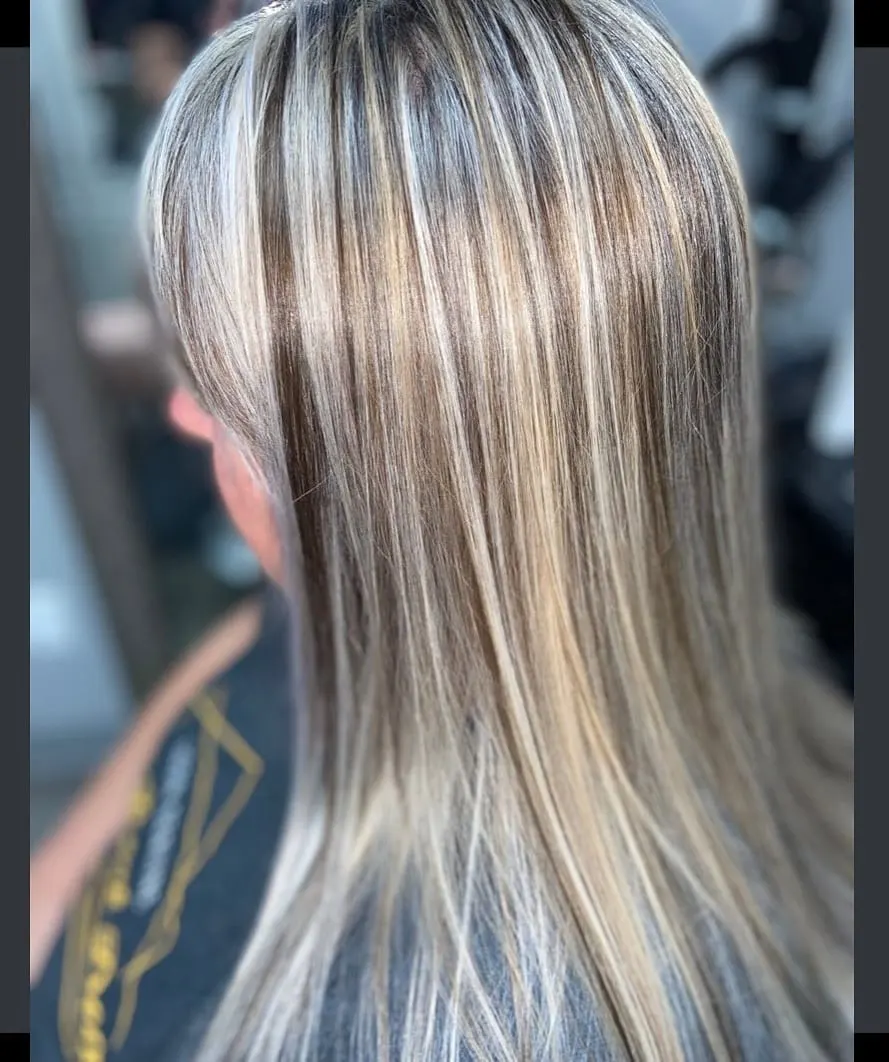 And on the subject of highlight styles, here's another option you may want to try– chunky highlights. This technique applies hair color on a larger chunk of hair strands for a bolder and higher-contrast look.
9. Layered Gray Hair + Dark Highlights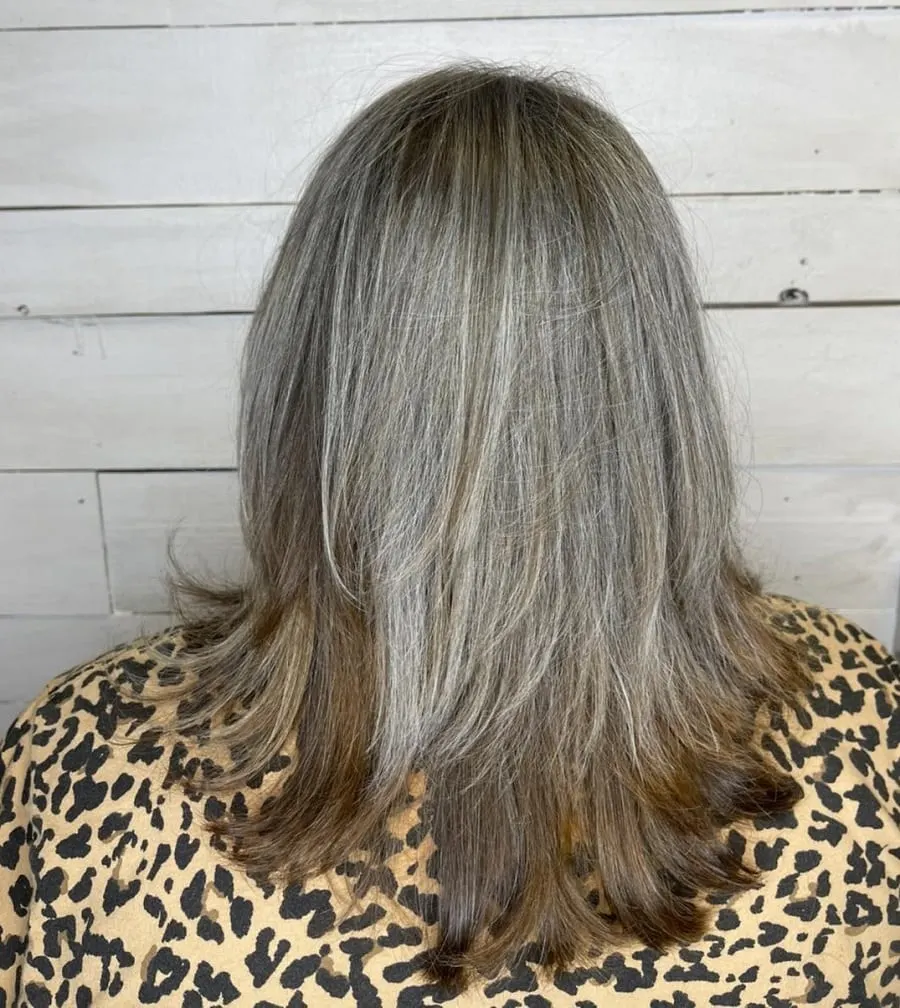 Your gray hair needs more than just layers– it needs dark highlights too, and one of the best options that you have is a dark brown highlight. Thanks to the neutral nature of this shade, it suits both warm and cool skin complexions.
10. Dark Roots + Dark Blonde Highlights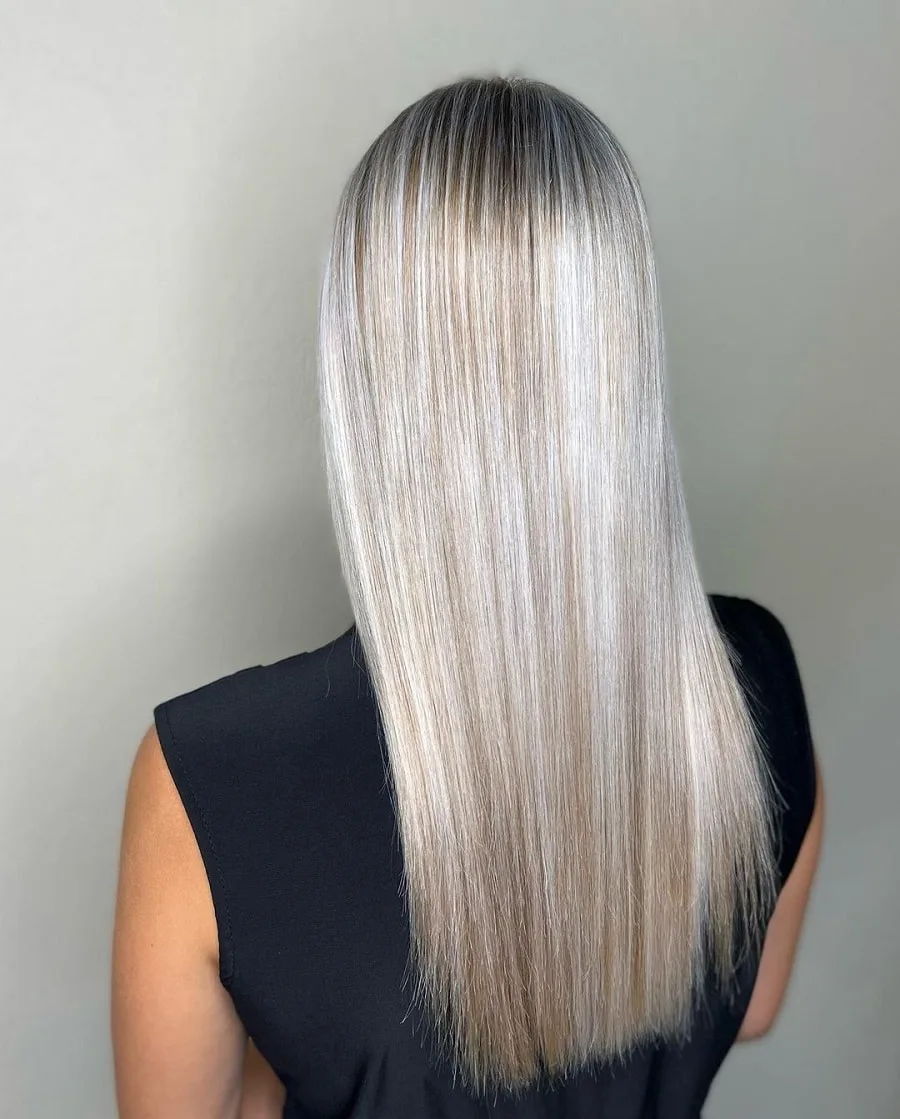 White hair with dark highlights? Yes please! And when it comes to white hair, dark blonde is your best bet. This combination of beautiful icy shades is perfect for fair skin tone with cool undertones.
11. Bronde Highlights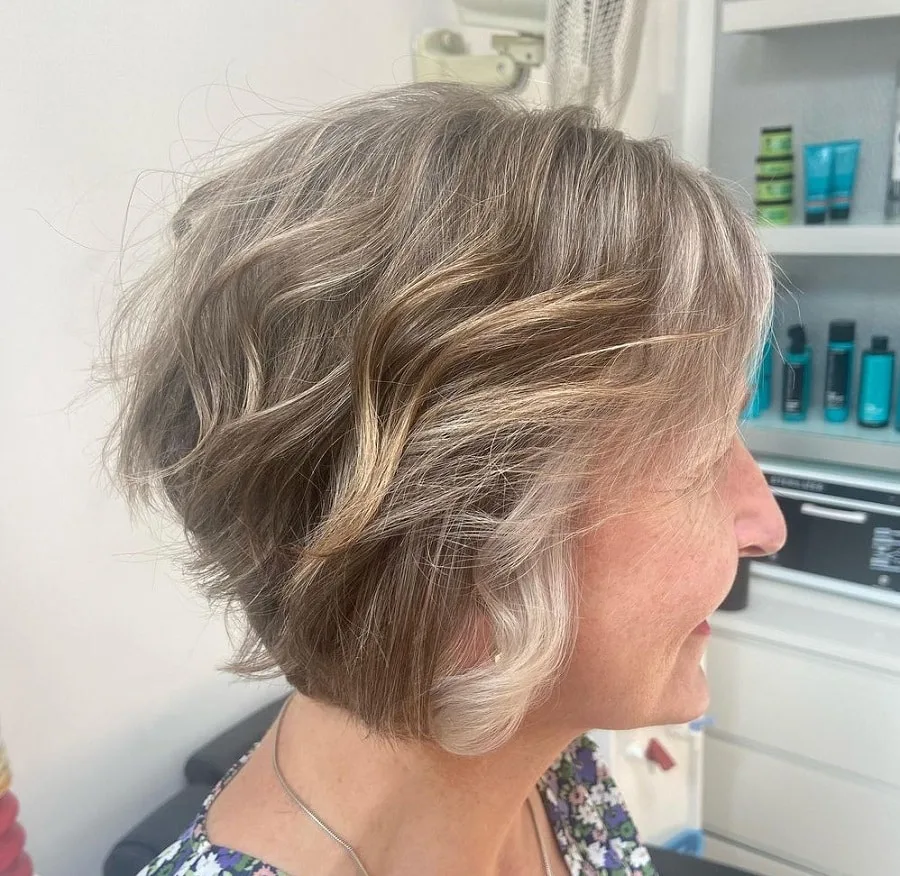 Can't choose between blonde and brown? You don't have to! Bronde highlights are here to the rescue!
This highlight color will add warmth and sophistication to your gray hair and is perfect for women with pale skin tone.
12. Ash Gray with Medium Brown Highlights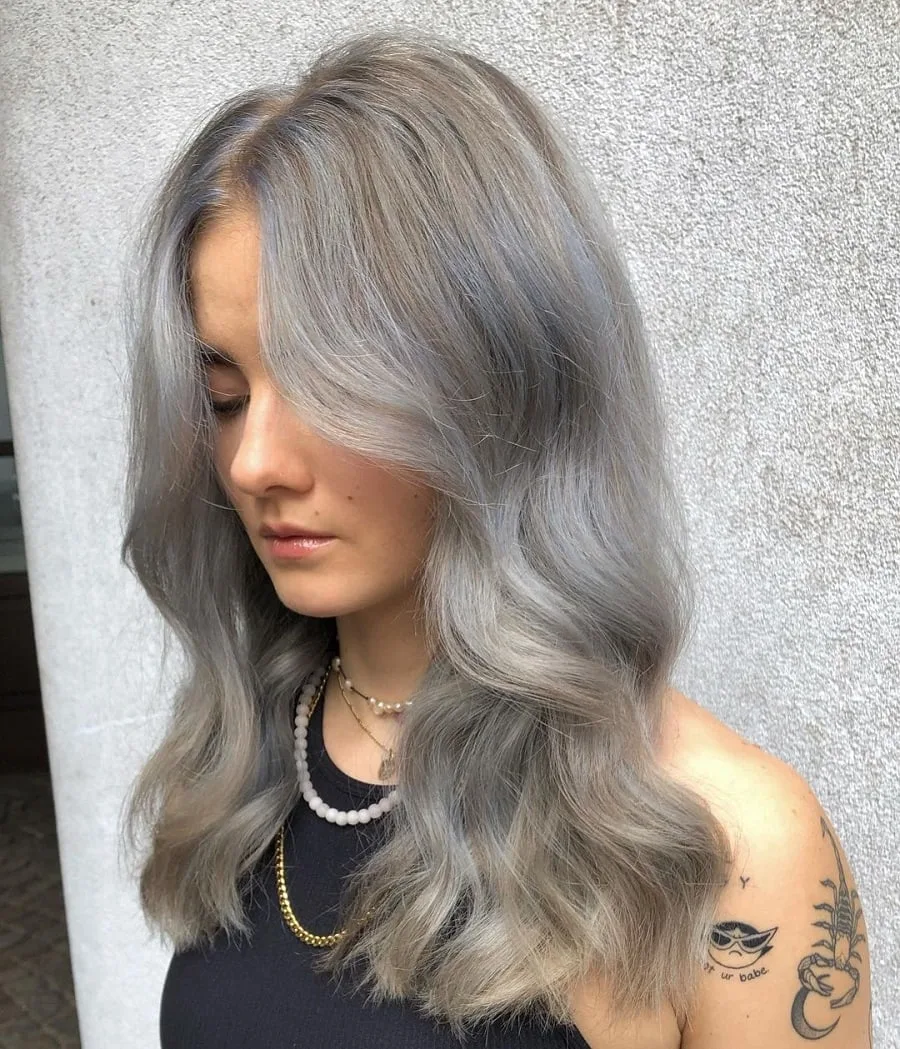 Brown highlights go oh-so-well with ash-gray hair. Just make sure that you go for an icy shade of brown, and you'll certainly achieve the perfect dark highlights on gray hair look. This looks best on women with cooler or neutral skin tones.
13. Long Wavy Gray Hair with Highlights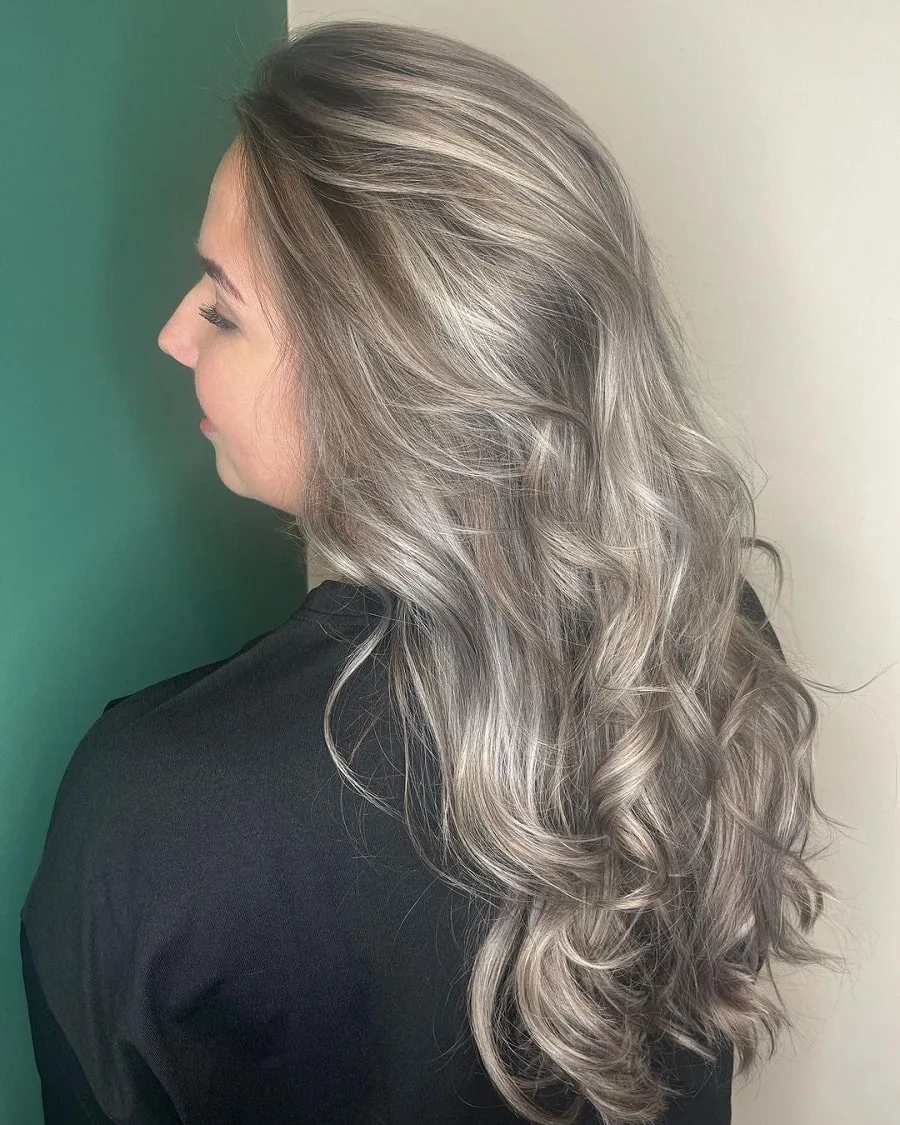 Long curly hair is one of the most coveted hairstyles out there, and the mix of gray, black, and brown hair colors made it more attention-grabbing. The combination of three hair colors is unexpected, but it sure works!
14. Salt and Pepper Curls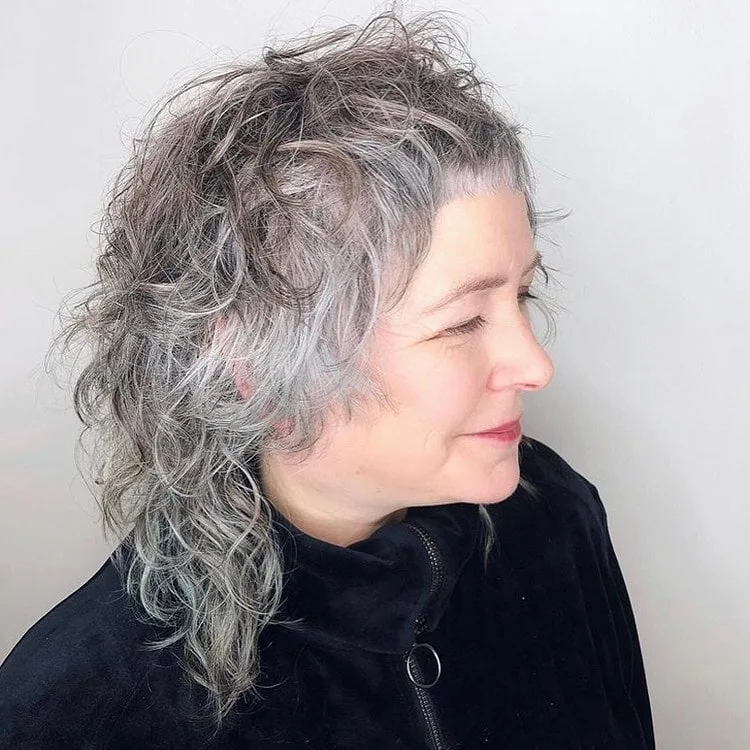 Salt and pepper hair with a tinge of brown highlights, anyone? The dark brown highlights create a better transition between the light gray shade and dark hair color, making it look more natural, It also adds a stylish touch to the messy and curly hair.
15. Dark Gray Hair with Darker Highlights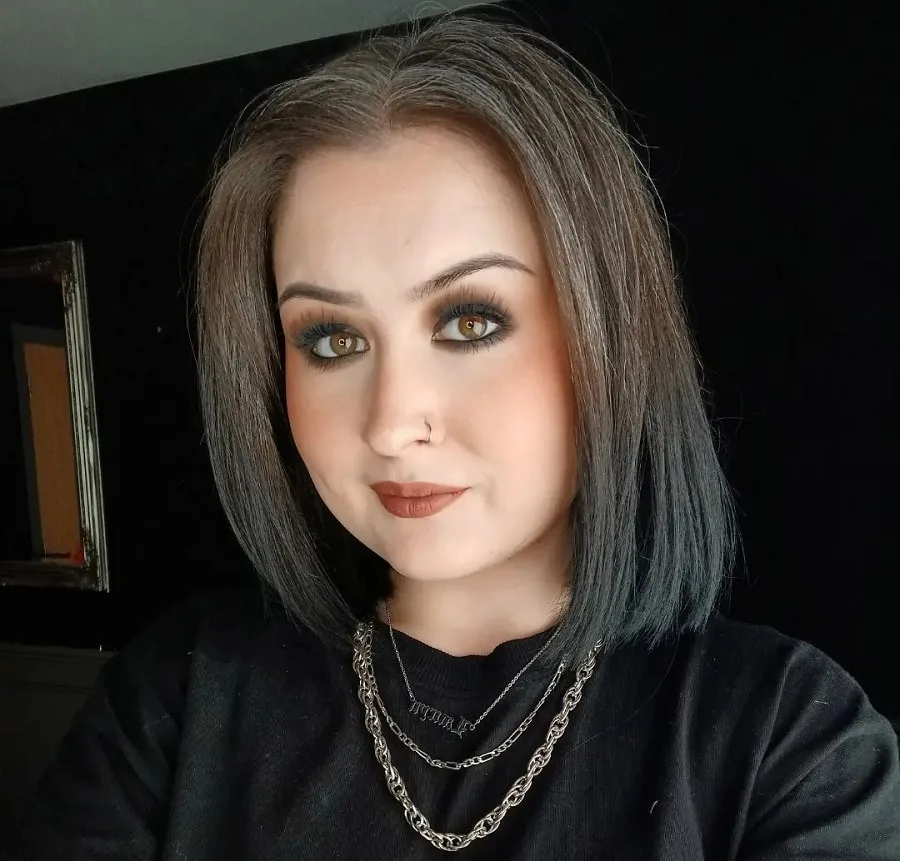 Are you dealing with a mix of darker and lighter shades of gray hair? Well, you can make it look more youthful with dark brown highlights! The addition of dark brown highlights delivered an interesting tone to this supposedly plain lob, making it look stylish and definitely more eye-catching.
You don't need to cover grey hair! With these amazing ideas for grey hair with dark highlights, you can show off your grey hair and enjoy your hair transition in the most effortlessly beautiful way possible.