Loose curls for medium length hair are totally adorable. Curls are chic, curls are nonchalant. They make your looks exciting, and your face wonderfully framed.
For all of you who experienced loose curls only in hair salons – we have something to say. Now, you can make it in the comfort of your home. Whether you opt for heat or no-heat curls, we can just say that they will both look incredible on your medium hair.
Here are some of the best ways on how to get and rock loose curls. Let's curl, girls!
How to Get Loose Curls on Medium Hair with Heat
There are no many tricks about getting loose curls. The main one is not to hold your curling wand for too long, or you will get small, tight curls. For some extra volume, hold your curling iron or a wand at the roots for just a second. It will provide you with some extra volume and texture.
You will need a wide tooth comb and a curling wand.
Section your hair at the back, so you get two halves.
You can even make smaller parts if that would be easier for you to style it by sectioning it.
You can section bigger or smaller sections of your hair to start curling, depending on which curls you want.
Curl your hair away from the face.
Curl the section and don't hold it for more than a couple of seconds and let it go.
If there is a part that you have missed, just check it after you have done with the curling.
Watch The Following Video to Learn How to Get Loose Curls on Medium Hair
How to Get Loose Curls on Medium Hair without Heat
If you don't want to damage your hair with heat, yet you want lovely loose curls for medium hair, check out how to achieve them. It's perfect for DIY.
Use a comb or a brush to detangle your hair, so there are no wrinkles.
If you have washed and dried your hair the night before, use a spray bottle to wet your hair. On the other hand, you can also do this instantly after taking a shower.
Section your hair in two parts.
Twist one part from the roots to the ends away from your face.
Flip the twisted part over your head and make it secure with a few bobby pins.
Repeat these steps with the other part of your sectioned hair.
After you are done with twisting, wet your hair a bit more.
You can leave curls overnight and voila – you will have lovely loose curls and medium hair combination.
Watch The Following Tutorial to Learn How to Get Heatless Loose Curls on Medium Length Hair
Best Medium Hairstyles with Loose Curls
If you are looking for your new everyday hair routine, look no further than this. Here are some of the best loose curls for medium hair examples that you can achieve yourself.
1. Messy Hair with Loose Curls
Messy hair is beautiful hair. This medium length hair with loose curls will provide you with a fantastic everyday look that is appropriate for all kinds of events. It will take just a moment of your time to make these lovely curls.
Strawberry blonde hair is one of the trendiest at the moment. To make it even more interesting, curl your hair and make them loose and gorgeous waves. Loose curls medium hair combination is the winning one in this case.
Honey blonde hair is perfect for women with warm skin tone. Loose curls on this balayage hair look even more highlighted. Don't hesitate to make this style be your everyday look. It is perfect for work, special events, and casual everyday wear.
Brunettes have fun as well as blondies! You can make your brown hair look amazing with caramel highlights. Those highlights will add more texture, and make your loose curls appear even more alive.
According to some hairdressers, ice blonde is the new color of the summer season. Even though it is a cool shade, it will match with the sea and beach. Loose curls for medium length hair combined with platinum shade will win over your heart.
Pearl blonde is one of the most beautiful shades of blonde hair. You can mix it with darker honey blonde hues to get a wonderful balayage. It is appropriate for all occasions. This hairstyle will give an upgrade to your everyday style.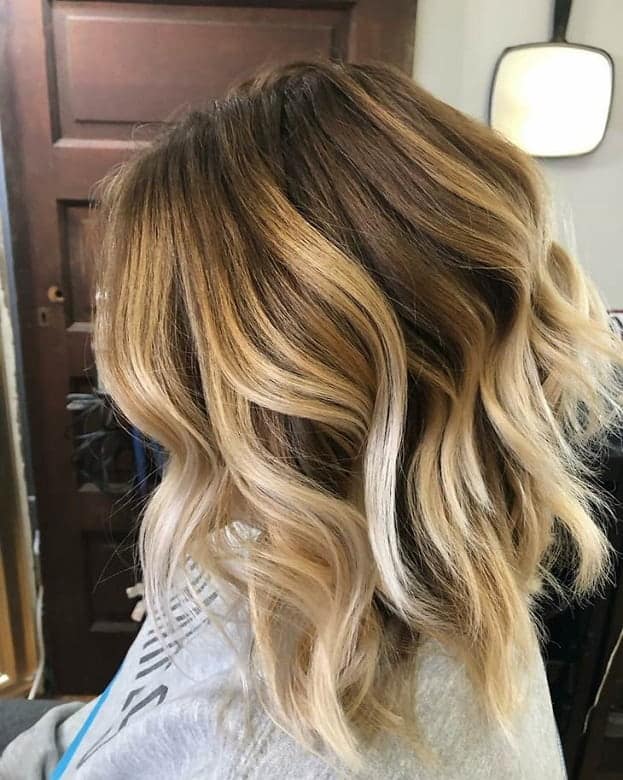 Lob aka long bob is a perfect medium length haircut. Easy to maintain and even prettier with loose curls. The asymmetric cut will give more texture and volume to your medium hairstyle with loose curls.
Loose curls for medium hair look gorgeous. They are perfect for everyday wear, and they will take only minutes of your time to achieve them. We hope this will become your new hairstyle routine.