Emerald Green — the color of growth and prosperity that represents goodwill and opulence. The emerald green hair color is so vibrant and vivid, so people couldn't resist adopting it as a hair dye because the classic black and brown colors do not entertain the fun-loving, daring and gutsy women.
Green hair dye is the ultimate cool hairstyle under consideration for women who love drama, excitement, and thrill. There are different hues of green you can fancy, but the most expressive, realistic and verdant hue of green is "Emerald green hair dye". Hair artists and goddesses rave over this color because of its charm and richness.
How to Dye Your Hair Emerald Green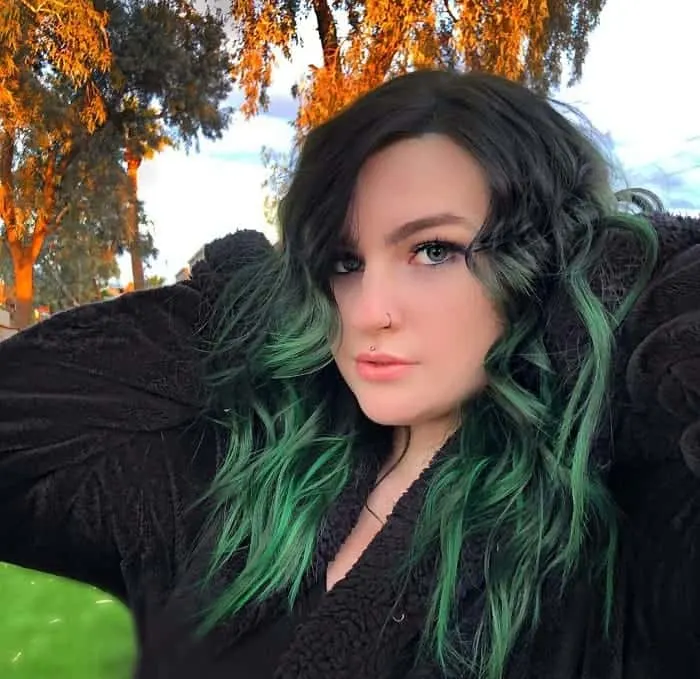 Trying bold colors is not at all easy, especially if it's your first time dying the hair. Many people fail miserably at dying bold hair colors at home because they don't follow proper guidance or lack basic knowledge.
The problem with bold hair colors is that they demand to be treated differently than normal hair dyes and are hard to achieve and maintain, but with proper care and attention to details, you can sport the emerald green hair color like a starlet.
Here's how you can dye your hair emerald green at home:
Study Your Natural Hair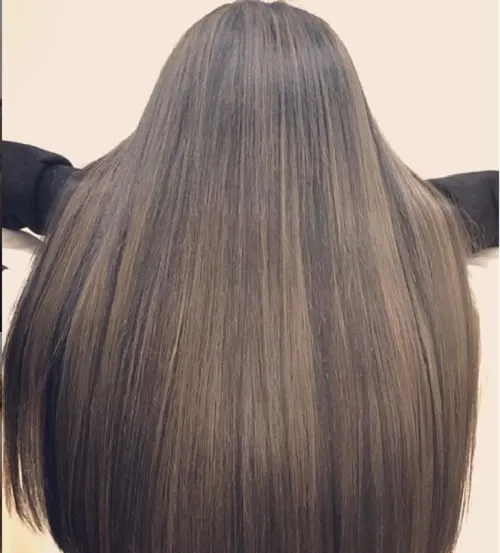 First things first, analyze your natural hair color to determine whether you need to bleach the hair before color application. Colors like natural blondes and light browns rarely require bleach before hair dye application.
However, dark hair colors like black, burgundy and dark brown hair greatly influence the outcome of the dye if applied without bleach.
The Bleaching Process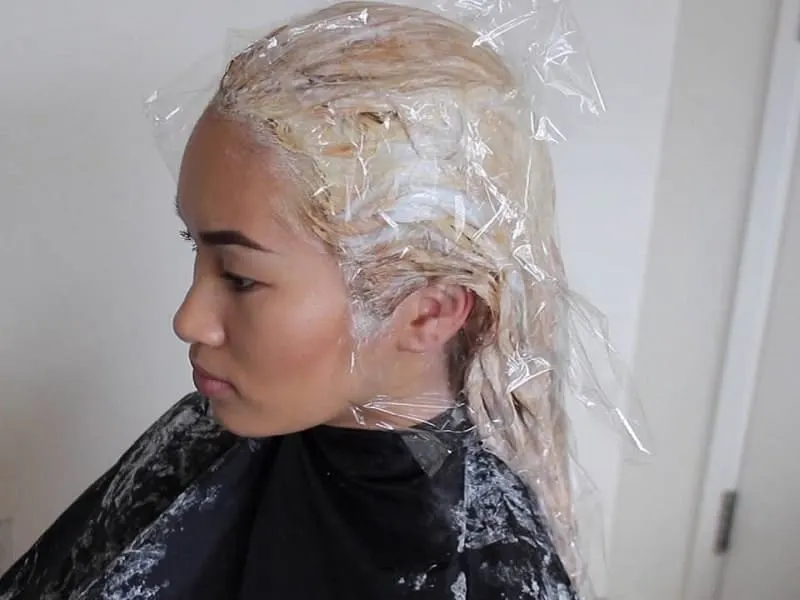 Bleach your hair, keep in mind that bleach is a harsh chemical i.e. if applied improperly, it can be hard and cruel to your hair which can cause serious damage. Mix and apply the bleach according to the directions mentioned on the box.
It is recommended to hire a professional for bleaching your hair who has previous experience to avoid any accidents.
Rinse your hair with cold water thoroughly to get rid of the chemical from your hair. A PH neutralizing shampoo would be the most effective option in this case.
Dying Your Hair Emerald Green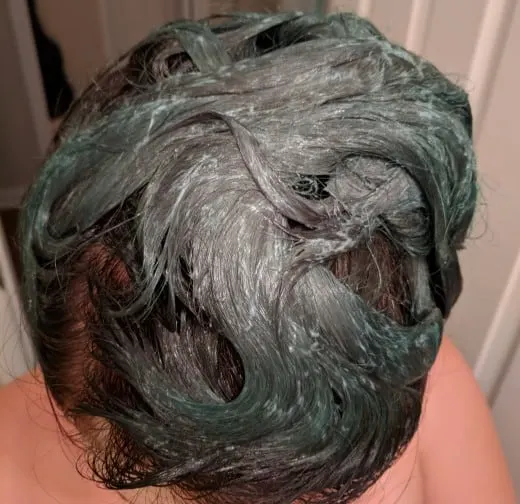 There are thousands of different hair dyes available and every shade comes with different instructions. Follow the packaging to get the best outcome. For an emerald green hair look, a straight green dye will work the best.
Make sure you mix the dyes thoroughly throughout, otherwise your hair may end up being dyed erratically. Wait for the dye for at least 30 minutes to do the magic. However, to get a more intense hue of emerald green on your hair, you may need to wait for an hour or two.
Rinse and Flaunt the Dye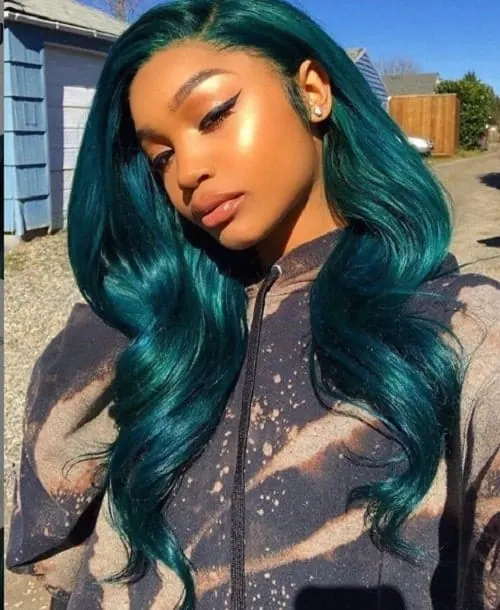 Rinse your dye through and through after the stated time and get ready to smack with the drop-dead gorgeous hairstyle.
Watch the Following Video on How to Dye Emerald Green Hair
Maintenance and Tips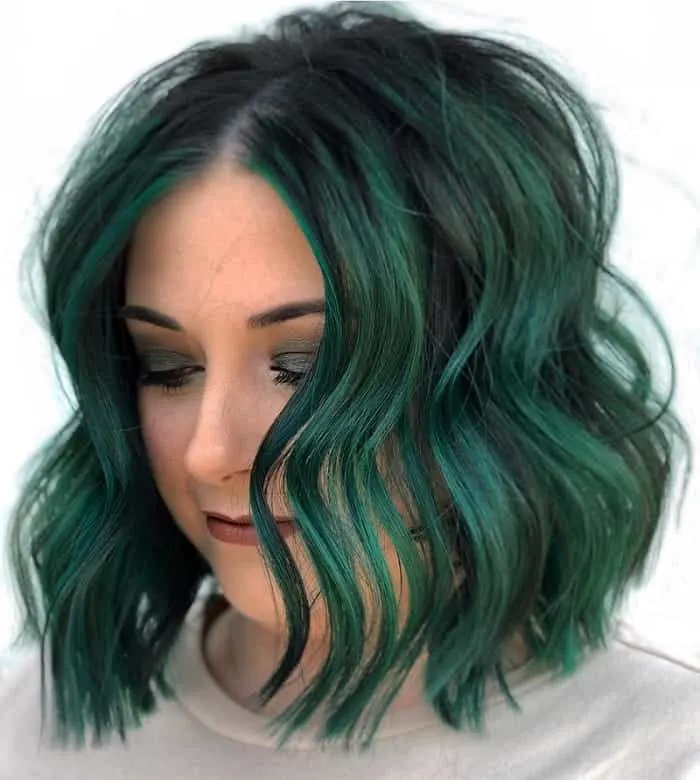 Bold hair such as emerald green hair dye adds luxury and extravagance to your boring hairstyles but demands extra care and attention. Here are some tips and tricks to avoid embarrassing fading and extend the life of your hair color.
Avoid Blow drying – Blow drying or heating can make your hair look faded and tired and dull. Avoid using flat irons and blow dryers to enjoy a long-lasting and fresh dye.
Avoid the Sun- If you are in hot, humid regions, don't forget to cover your head before leaving out at the day time as harmful Ultra-violet rays of the Sun can bleach your dye from the hair.
Avoid Washing your Hair- No dye lasts forever. Wash your hair as rarely as possible to prevent early fading. You can use dry shampoos, instead. Avoid chlorinated pools as the chemical can cause your dye to fade instantly. Remember to always wash your hair with cold water.
Regular Touch-ups- If you want your hair color to last longer and fresh, use the leftover dye and conditioner to touch up your hair fortnightly.
How Does Green Hair Fade?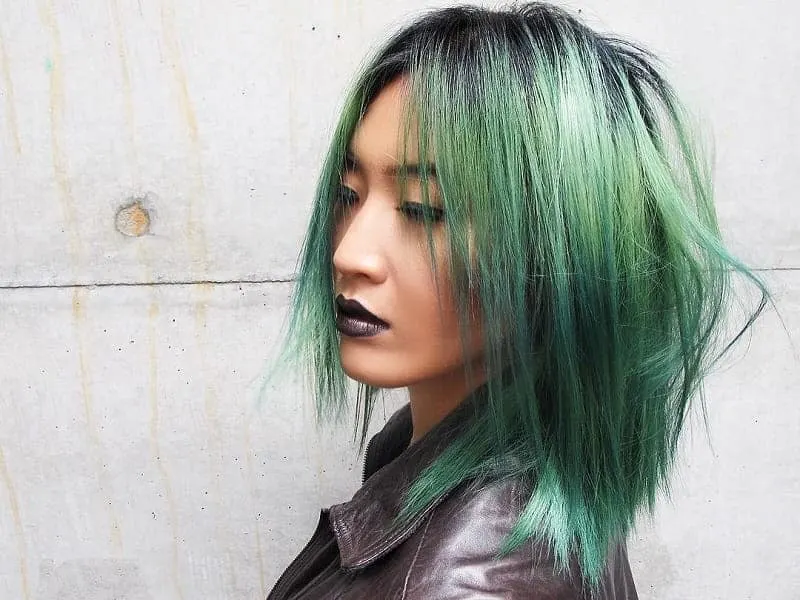 The green color is the trickiest to carry. Though green dye is the trendiest hair dye, it took the color almost a decade to gain popularity, because of its fade.
The green dye usually fades into the minty green color or slightly lighter, yellowish green, but it totally depends on your previous hair color and the intensity of the green dye.
If the color of your natural hair was light, or you dyed your hair pastel green, your hair will probably fade to a minty green hue. However, if you died them dark green or emerald green, the chances are, it will fade into the blueish tones.
Coolest Emerald Green Hairstyles
If you are in awe of green hair, but you don't have the slightest idea about how to get it, then do not worry as we have got it all covered for you. Here we have compiled a list of the 20 wildest emerald green hairstyles of all times:
This beautiful yet fierce hairstyle is enough to turn heads. The French braided ponytail with bangs and fringes on emerald green hair are something to glorify this period.
2. Emerald Pixie
Emerald green hair color with the short pixie cut and bangs can never go wrong only if you know how to sport it the right way.
Go for this edgy look and spruce things up with the bold lips, bun, fringes and the gorgeous emerald green hair dye contrasting the red eyes.
Ombre and balayage hair are what we dig this season. Bold lips, intense Smokey eyes with an emerald green ombre hairdo is incredible enough to turn heads.
5. Bangs
No combo can be better than a bangs and emerald green-dyed ombre hair. This fresh and fiery look is absolute love.
6. Stylish Bob
The beauty of a classic short bob haircut cannot be denied and it can be accentuated further by dying the hair in an emerald green hue and going for a layered side-swept fringe to cover an eye. This style looks equally chic on straight and curly hair.
7. Mohawk Mullet
Bold ladies can express their wild side to turn around some heads with this hairstyle. The faded sides with long sideburns are coupled with a short textured top and a long back falling forward. A hint of aqua blue to the green with matching eyebrows tops off the look.
8. Short and Textured
A short haircut is easy to maintain even when dyed in a bright shade. Chop off the locks into short textured layers falling on the face for a boyish appeal and keep the color vibrant by touching up the hair every few weeks with the leftover dye.
9. Mermaid Vibes
Young women can look like an ethereal mermaid with this wild emerald green hairstyle. The turquoise streaks standing against the green hair add further depth to the look. Plait the mane in a loose fishtail braid with some glitter and a pearl hair accessory to finish off this dreamy style.
10. Half-Up Look
Dying the hair green requires considerable bleaching but once done it creates a jaw-dropping look that won't be ignored. Flaunt your vivid hair shade with a classic half-up hairstyle. Twist back the side locks to be merged into a single fishtail braid. Complete the look with loose beach waves.
11. Halo Highlights
Halo highlights are inexpensive and look equally gorgeous. The focus is kept on highlighting the strands mainly around the face while keeping the remaining hair dark. Ladies who don't want to overpower their natural shade can opt for this look with chunky face-framing money pieces at the front.
12. Ombre Braids
African-American ladies can take part in the emerald green hair trend too without permanently committing to the shade. Use hair extensions to style the hair into box braids with the black top transitioning into a green tinge reaching the ends. Finish off with black hair beads.
13. Emerald Green Streaks
This look combines the beauty of black hair with the vibrancy of emerald green to create a dichromatic appeal making it ideal for women who are reluctant to bleach and dye the entire head. Add subtle layering to the medium-length lob creating some movement for a lively finish.
14. Two-Toned Undercut
A short pixie cut is perfect to show off your sassy nature and can be spiced up further with an undercut along the sides. Color the long top in an emerald hue keeping the sides natural for a two-toned look. Add choppy layers and brush the hair forward. Done!
15. Dutch Braids
Dutch braids are timeless and classy and look attractive on young ladies with long tresses. They are also ideal to sport unconventional hair colors temporarily. Recreate the look by selecting extensions with dark and light tones of emerald green and blue to be incorporated while braiding the hair.
16. A Hint of Purple
Hipster girls can copy this lively hairstyle to get noticed from a distance. Paint the entire head in a lighter shade of emerald green sparing the front strands that are dyed in a vivid ultraviolet purple tinge. Add loose waves and hand-tousle the locks for a carefree appeal.
17. Dip Dye Hair
The dip dye technique makes this emerald green hairstyle one of a kind. The ends are dyed in an olive green tinge creating a stunning ombre effect. Dye the eyebrows too to match the hair with wispy bangs covering the forehead while the loose waves fall forward on the shoulders.
Messy ponytails with baby bangs and fringes on emerald hair color serve some serious low-key hairstyle inspirations.
19. Hidden Gem
We are obsessed with this side braid bun hairstyle, if you want to show up a little of your funky and chic side, then go for this hairstyle. A pretty dark emerald green hair dye on the bottom layers looks exquisite with the braids and buns.
Dark emerald green highlights on thick, voluminous and wavy black hair leave everyone jaw-dropped.
Emerald green hairstyles can be worn at parties, weddings, plays or simply because you love the feel it gives. Dying your hair emerald green can be a pain in the neck, but with the right prep and care, you can not only wear it but slay it in the best way possible.