Everyone is opting to go with a grey curly hairstyle. Grey is one of those colors that goes well with all skin tones, and you could rock it if you have dark, olive, light or skin color that is anywhere in between as well.
The color is different but at the same time is not a color that's out there. It has a certain magic that no other color has. Plus, it is a perfect way to hide grey hair. Especially as having grey hair is something even the younger generations suffer with.
What Causes Grey Hair?
Sometimes people experience premature graying problems while others experience going grey with age. Premature graying is mostly genetics, and your hair produced something known as melanin which gives you pigment in your skin and hair.
When your body stops to produce melanin, hair starts to change its color to grey, white or silver. Grey hair is inevitable at some point or the other in each of our lives. Instead of fighting it, its time to embrace it and make it our strength. Here are some ways you could style your grey curly hair or your straight grey hair.
Reasons for Hair Turning White and How to Stop It
Hair Care for Grey Curly Hair
Handling gray hair requires a little more effort than usual. And, when the grey hair is curly, the care routine becomes a little more specific.
Grey hair has relatively less elasticity and strength. Hence, do not over-style them or heat them too often.
Gray curly hair is also dryer. Therefore, it is essential to keep them well moisturized at all times.
When it is about grey curly hair, avoid using hair products having too much of mineral oil. Moisturizing becomes even more difficult in such cases.
Vitamin E is the best nutrient for curly grey hair. It brings a shine and smoothness to the hair.
Popular Gray Curly Hairstyles for Women
Follow these basic guidelines to keep your grey curly hair shiny and rich-looking at all times! Check out the best hairstyles for curly gray hair here:
Changing up the way you part your hair is as good as changing up your haircut. To achieve this side part grey curly hair-do all you have to do is let your curls dry naturally or blow-dry it with the help of a diffuser.
This helps the curls look a little more like ringlets. Part your hair towards one side, you can either tuck your hair behind your ear or leave it as it is. This hairstyle is perfect for an everyday look.
On some days on some occasions, you just prefer to have all your hair out of your face. But sometimes you might want to do so by changing it up a bit. Because the usual pony or messy bun isn't cutting it. You could opt for this hairstyle where you have to roll all your hair inwards and pin it together.
You could leave a few loose strands here and there to frame your face. The best thing about this gray curly hairstyle is that you could have short or long hair and still do it. You could also wear this anywhere, to a fancy date, to an office meeting or to a party.
Curly short grey hair is always a good idea. If you have ringlets like curls and you want to switch it up a bit but are still indecisive about how grey would look on you. You could just opt for the grey ombre, stick with dark roots and then slowly fade it into grey.
You could style it with a side part. It's the perfect look, and you could wear it anywhere. You won't have to be worried about the color not suiting you because you could still stick to your natural roots.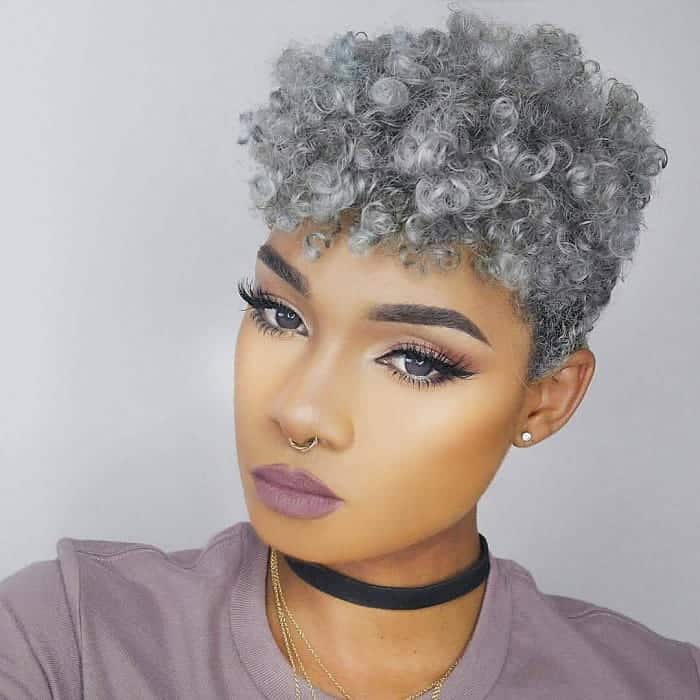 If you aren't worried about people's opinion and you have the confidence to carry anything this is the perfect look for you. You won't have to take a lot to maintain it because your hair is short.
Plus this pixie haircut has a very ruby rose vibe to it. It head-on, sexy and edgy. The color looks amazing and it's the perfect curly grey haircut to wear whenever and where ever.
Long hair can be challenging to work with, but if its grey its worth it. To get this look all you have to do is use a curling iron with a relatively large diameter, probably a 2 inch or 3 inches.
Curl your hair and then run your fingers through it, part the curls in the middle and you are ready to go. This look is something you can truly wear anywhere so you can never ever go wrong with this gray curly hairstyle.
You have to put in time and effort into your hair, irrespective of its natural texture. But here are five fun ways to style your grey curly hair. They are easy, quick and versatile. You can play around with each hairstyle and make it your own. But no matter which one you choose to go for, you are going to slay it either way.