In the world of fancy hair accessories, hair sticks still have their own place! Remember when almost every 90's girl rocked pencil-like things in her hair?
Well, these adornments have been around long before that and have been worn by ancient women as a symbol of status and royalty ever since.
Hair sticks are gentle on the hair and can be rocked both with simple casual updos or elaborate ones on special occasions.
So if you've got a pair lying somewhere in your drawer, it's time to take it out as we have brought the trendiest hairstyles that can be created by merely using these hair sticks.
Trendy Hairstyles Using Hair Sticks
If you're a fan of updos, hair sticks will soon be your favorite everyday hair accessory. Here are some of the most beautiful hairstyles using hair sticks.
1. Cinnamon Bun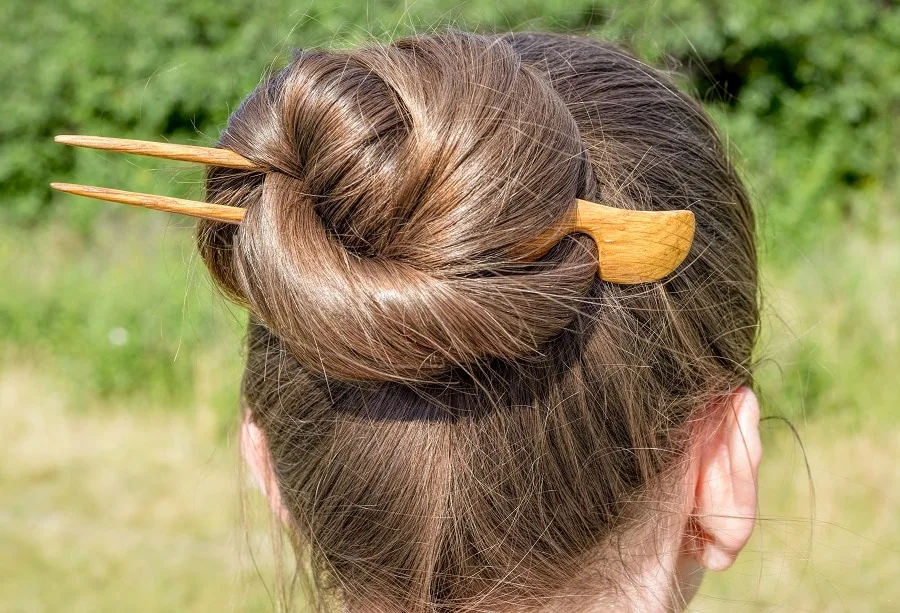 Wondering how to use hair sticks to recreate this yummy cinnamon bun? The trick is simple. Twist the entire hair length and wrap it around in successive layers. Take those sticks and weave them in and out across the bun and you are officially done. Classy!
2. Half-Up Hairdo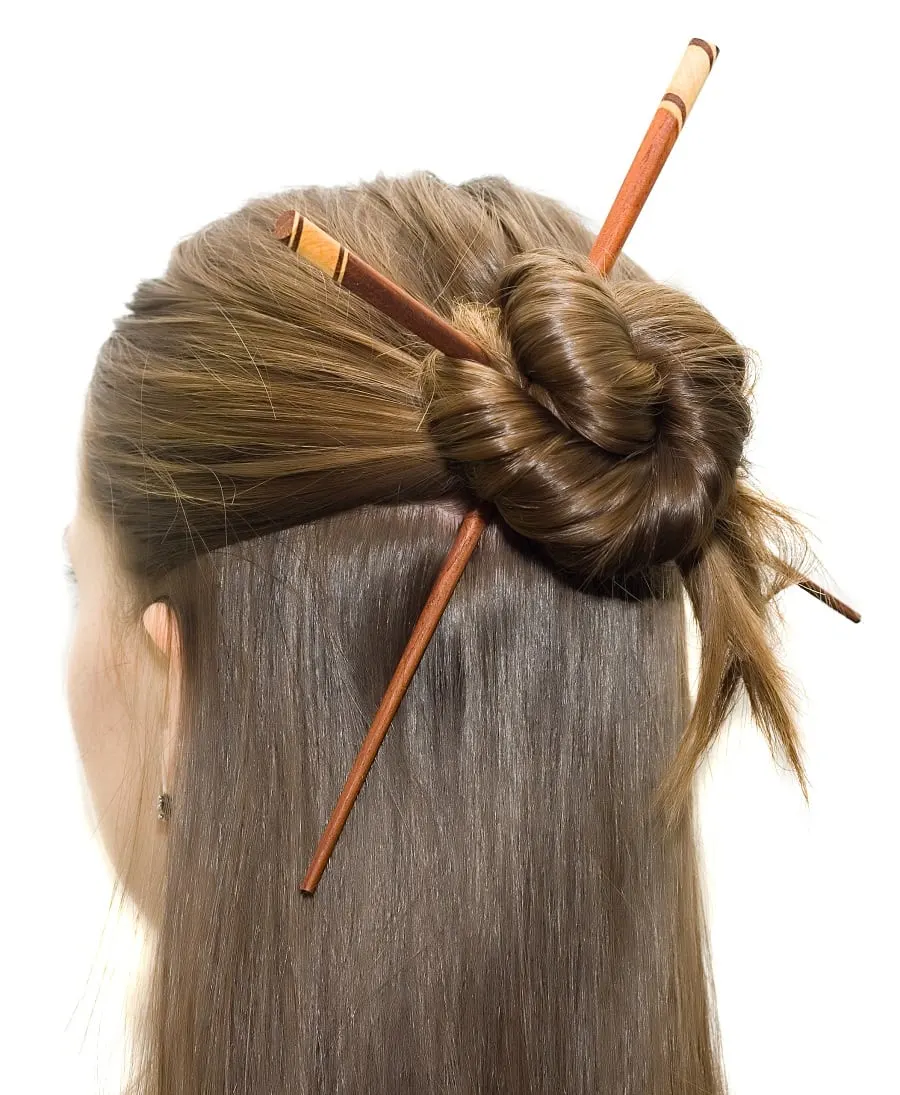 Half-up hairstyles are timeless and flawless. Sport them with whatever hair length and texture and you will never be disappointed.
Use the cinnamon bun technique with the exception of gathering only half of the tresses and inserting those sticks in a cross shape for some samurai vibes.
3. Ballerina Style
Dance around like a ballerina even on an oily hair day. Slick back the tresses in a high ponytail and swirl it around or use a hair donut bun maker to create a perfectly round updo and put a hair stick straight across it. Tame the flyaways with hairspray or spare them. Your call!
4. The French Twist
French twists look elegant without a doubt apart from the numerous hairpins needed to keep these classic updos in place.
Skip the tricky part by rolling the hair inwards and crisscrossing your fancy chopsticks across it. Pull some chunks loose to frame the face at the front.
5. Messy Cross
Hair sticks work wonders for long to medium tresses but when it comes to short hair, things might become a bit difficult. No need to worry as you can still enjoy a messy hairdo by twirling around the strands and leaving the ends out for a ruffled look.
6. Braided Beauty
Make jaws drop by rocking this intricate hairstyle at formal events. The side locks are plaited and wrapped around a braided updo at the back.
Incorporate a single clip-in extension for a pop of color and you'll be amazed how a single stick holds the entire look together. Magical!
7. Lazy Wrap
On days when you're too lazy for even a simple bun grasp those locks and twirl them loosely before inserting your embellished hair stick through them.
Leave some chunks sticking out for a carefree appeal and don't worry, with such vibrant hues you're going to look like a dreamy mermaid anyway!
8. Classic Bangs with Bun
Flaunt those gorgeous bangs with a simple bun at any height you prefer. Keep the hairdo a bit tight as the locks will loosen up once you pop your sticks through them. Seems too basic? How about a zigzag parting with funky space buns and some glitter?
9. Color Pop
Eye-popping isn't it? No wonder you're going to book a salon appointment after seeing this look. Ask for a purple and pink ombre or opt for any other color combination and flaunt it with a chic half-up hairdo with a decorative hair stick, of course!
10. Top Knot
Last but not least, here comes a top knot that is sure to turn around many heads. Create a ponytail on top and wrap it around, resulting in a stacked updo standing upright on the head. Place those hair sticks in an X shape and swoop down your edges for an ultra-modern finish.
Yes, we know! The number of hair stick hairstyles that you can spsort is pretty amazing. So the next time when you want to skip a hair wash or wish to carry a basic hairdo on a lazy/busy day you know what you've got to do and how! Best of luck!