Square faces are almost equal in length and width featuring a wide forehead, chiseled jawline, and protruding mandibles. Such faces look exceptionally attractive when coupled with the right hairstyles.
And by 'right' we mean haircuts and styles that soften those sharp angles and cuts making a broad face appear much slimmer.
Though limited guidance is available on hairstyles for black women with square faces, there is no need to scratch your head as we have collected the ideal hairdos to round off your harsh lines making that beautiful face appear less boxy.
Hairstyles for Black Women with Square Face
Compliment your square face with any of the following styles to divert all the focus on your best features.
1. Long Box Braids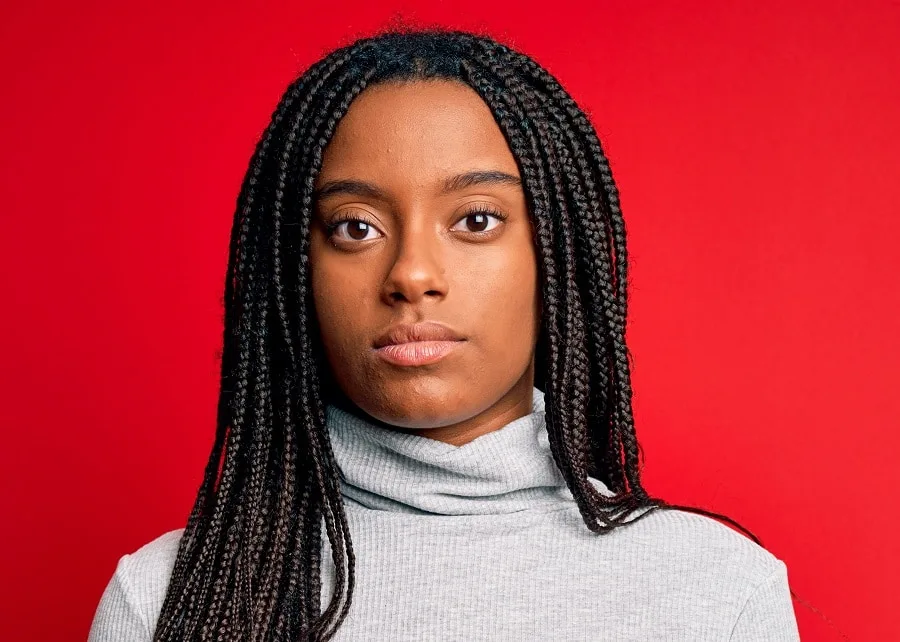 Long hairstyles are ideal for making square faces appear smarter. African-American girls can get a long mane instantly while protecting their unruly tresses with box braids. Add vibrant extensions for a pop of color and keep the knits loose with a simple middle part to conceal any sharp edges.
2. Highlighted Afro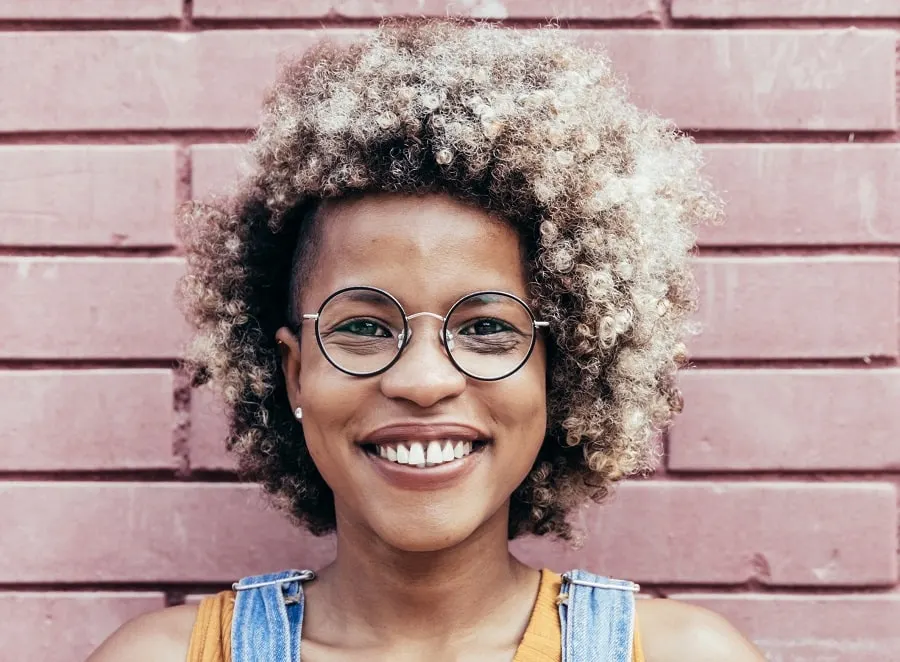 A medium-length highlighted afro is a suitable hairstyle for black women with square faces who want to keep attention away from their strong angular jawline.
Choose an ashy sandy blonde tinge and leave the roots dark. Another trick is to shave your sides to slim down that boxy face of yours.
3. Curly Crop
Add some roundness to a square face by chopping off your natural curls into a rounded crop.
Avoid going too short as it will bring all those sharp cuts and angles under the spotlight. Make use of that God-gifted texture and ask the hairstylist to add layers accordingly.
4. Chunky Rope Twists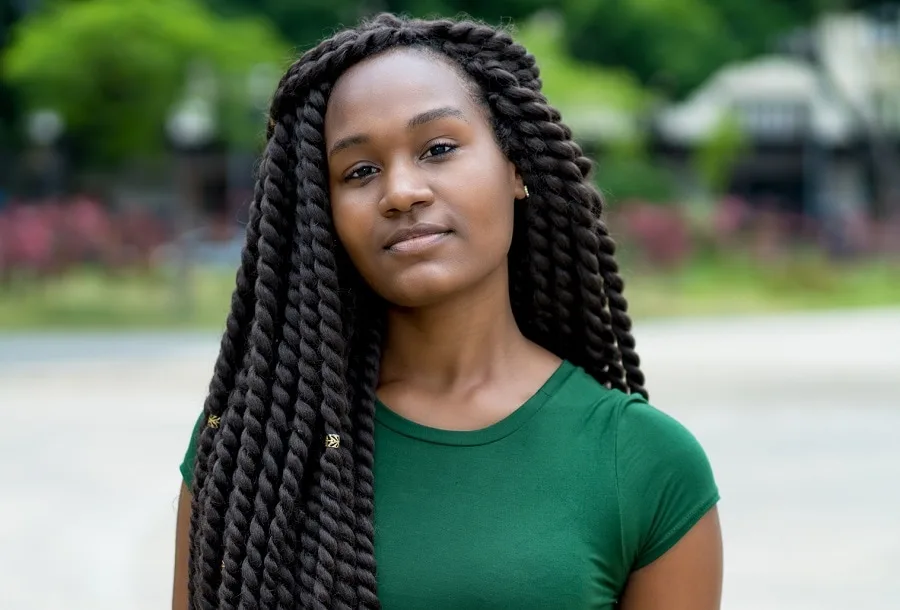 Who is going to notice that cubic face with such gorgeous Senegalese twists on display?
Use extensions to create chunky twists but keep in mind not to put an excessive burden on the scalp. Black women can go as long as they want and spice up their style further with some shiny hair cuffs.
5. Off-Center Part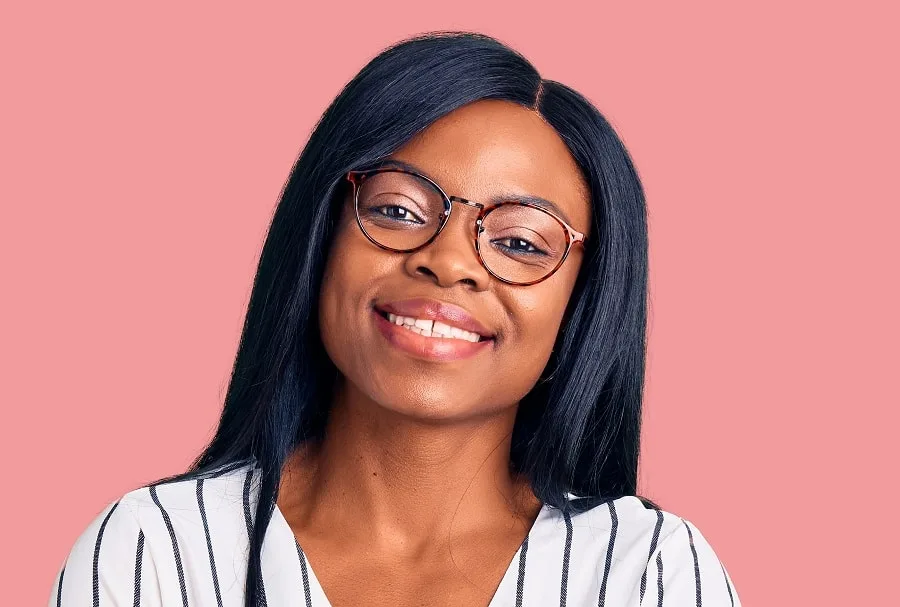 An off-center parting lies somewhere in between a middle and side part. It comes in handy for the lazy bones out there who do not want to complicate their hairstyle. It narrows down a square face while adding some roundness to it. Finish off with some soft layers to avoid a blunt look.
6. Side-swept
This a beautiful hair color idea for curly-haired black women. A simple side part can do wonders for a squarish face by throwing off its symmetry a bit. Building up some volume is necessary to round off the look, which can be achieved with flowy layers on a round haircut. Spice it up further with delicate highlights or a chic balayage instead.
7. Pineapple Updo with Bangs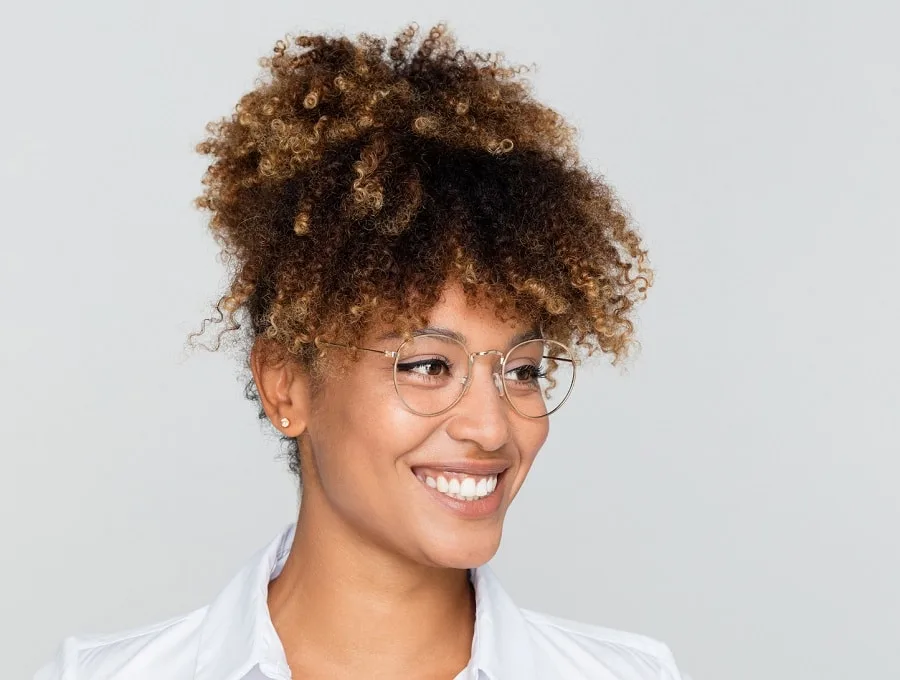 The pineapple updo is just made for African-American ladies with square faces and fluffy curls.
Highlights the tips and pile the strands up on top of the head to fall forward around the face. Pin down some curls to function as faux bangs in order to hide that wide forehead.
8. Round Deva Cut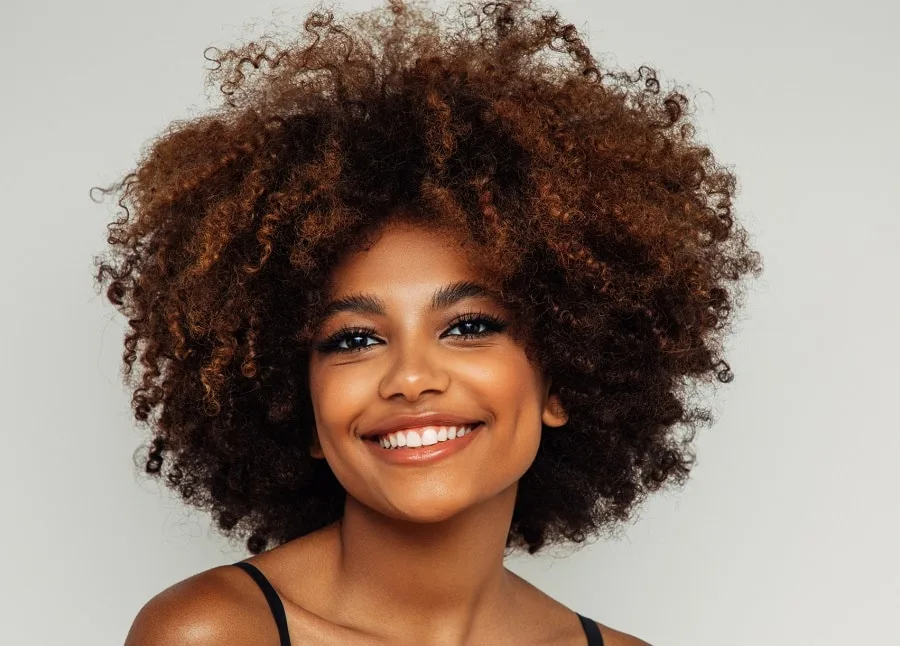 Another haircut for black women with square faces to balance out harsh facial angles. It features a round hairdo with shorter strands falling over the longer ones around the face, thanks to those purposeful layers.
A deva haircut grows out beautifully making it the best low-maintenance hairstyle for curly beauties.
9. Sexy Pixie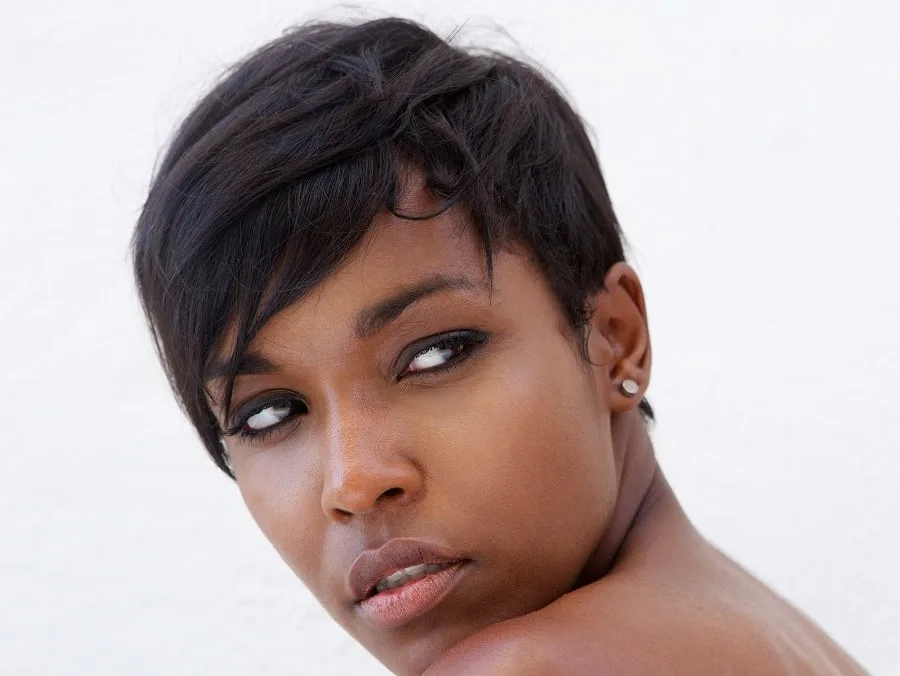 Although a pixie cut will highlight your wide bone structure, it still looks flattering on square faces.
Create some height and texture on top to soften any sharp corners while bringing all the attention to your eyes. Opt for side-swept bangs that will further help to elongate the face.
10. Choppy Bob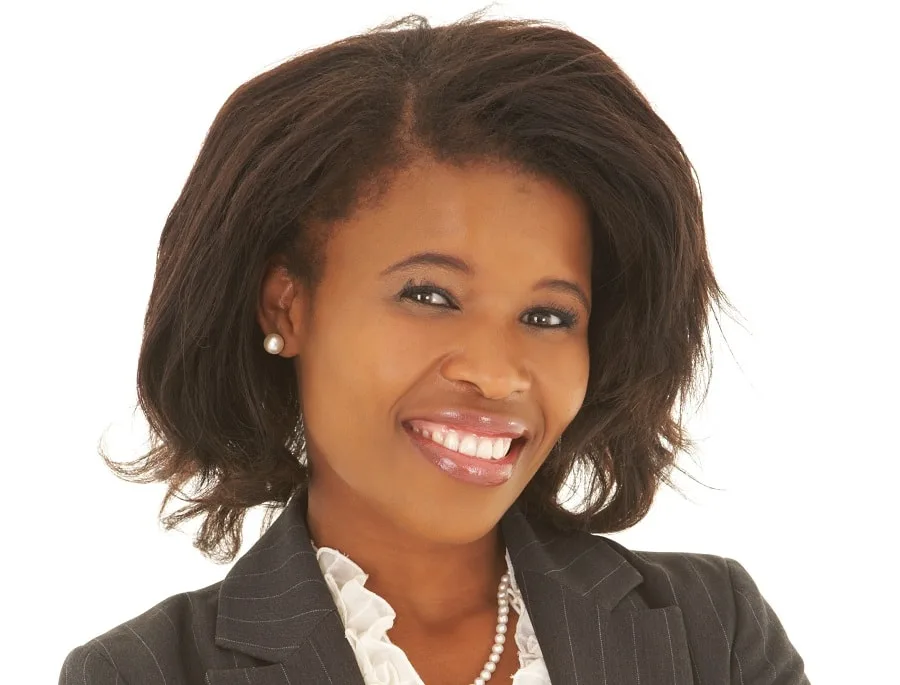 Looking for a stylish bob for African American women with square faces?
Black fashionistas who want to go short should ideally avoid blunt haircuts that end at chin level as they will make the face appear more box-like.
Keep the strands a tiny bit longer with some layering of course and go for a deep side parting to build some volume on top.
11. Space Buns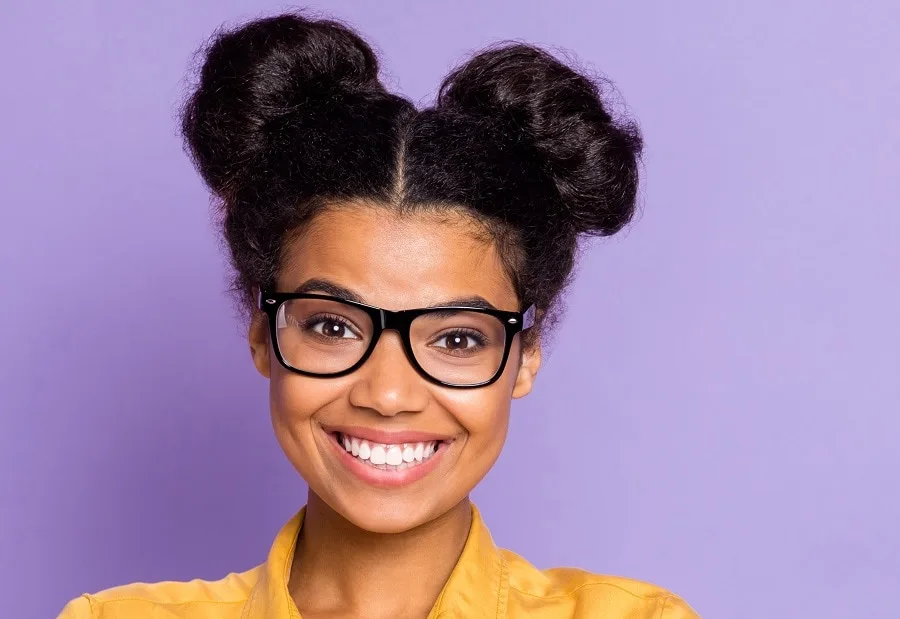 Space buns have so many benefits when it comes to square faces. They are easy to achieve, save an oily hair day, and make your broad face appear much longer by creating height on top of the head. The middle part further softens a wide jawline. Can't get any easier!
12. Soft Layers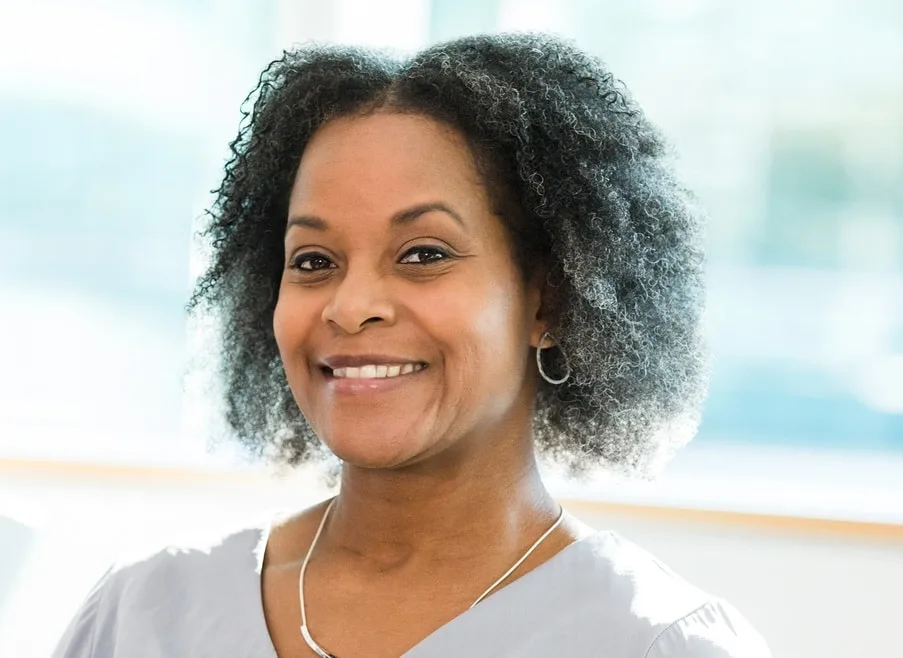 Blunt haircuts don't work for square face shapes as they shed light on less favorable features. Middle-aged black ladies can break down the flatness of their bob cuts with soft flowy layers. A grey ombre is ideal for those who want to embrace their natural greys elegantly.
13. Pink Half Updo
Celebrate your womanhood and ethnicity with some chic pink box braids styled into a half updo. Keep the knits monochromatic or incorporate different tones of pink instead.
Opt for a half-up ponytail, bun, or whatever else you like. The objective is just to create some height on top.
14. Messed-Up Curls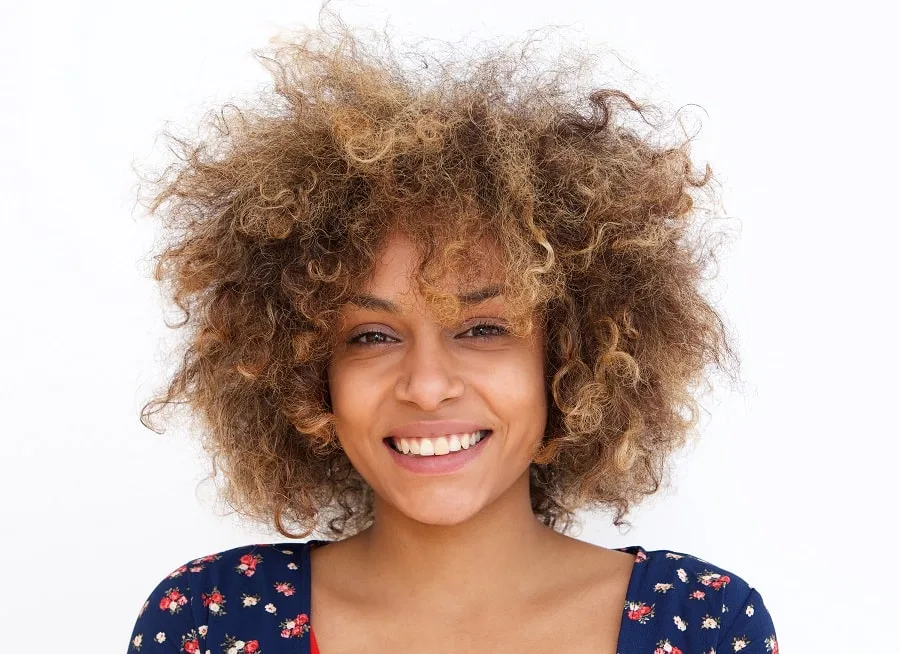 Ladies with frizzy curls need to start a regular hair care routine as soon as possible. Meanwhile, use all that natural fluff to hide the angular cuts of a square face.
Some layers, messy bangs, and blonde highlights will do the job! Tousle the hair with your fingers and voila!
15. Sleek Lob
Lobs are ideal hairstyles for black women with square faces and there is a reason for that. The strands falling at shoulder-length cut down the unnecessary broadness while hiding any prominent corners of the face. Although a blunt cut does not look bad at all, it would be preferable to incorporate some layers.
16. Long Flowy Tresses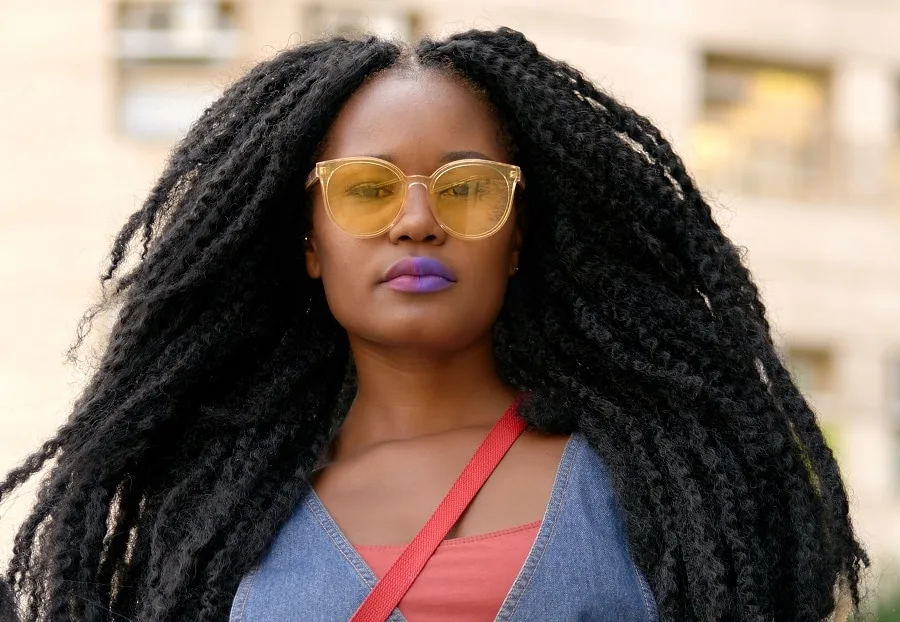 Can't take your eyes off, right? Nobody is going to look at your square face when you've got a Rapunzel-like mane dancing with the wind.
Use an extra-long weave in case of short hair and ask for a layered V-cut. Tousle the strands at the front and observe jaws drop wherever you go.
17. Classy High Bun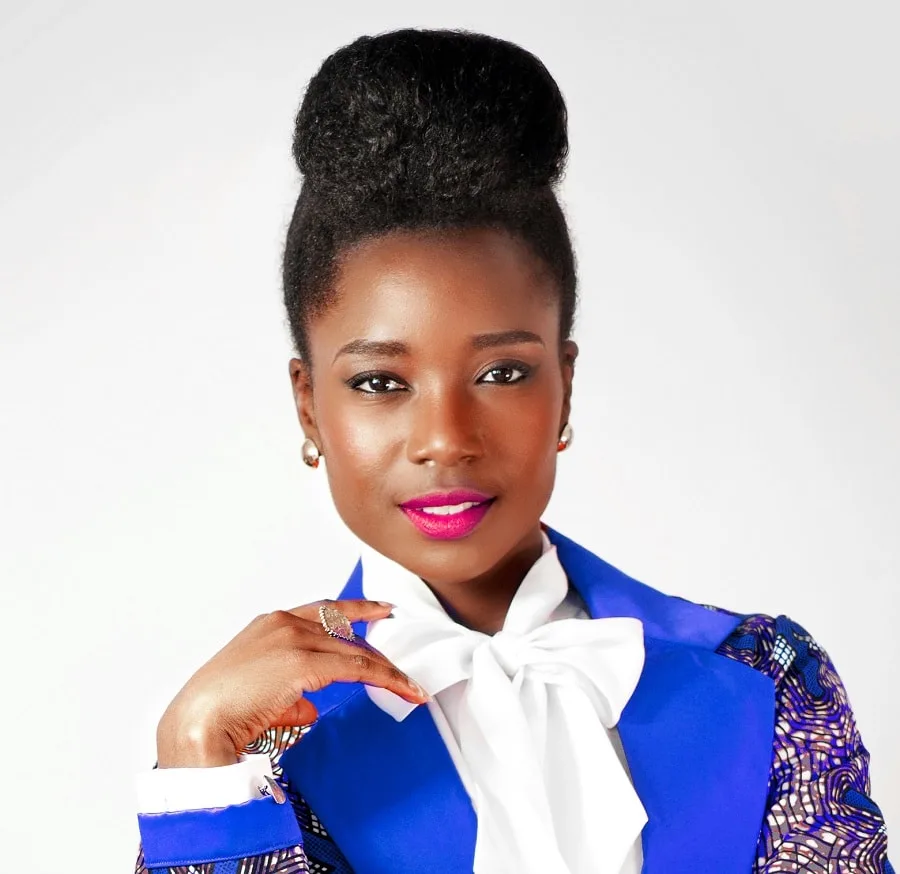 Those who love their face regardless of its square shape can make it the center of attention with a jumbo bun sitting on top of the head.
And although such a hairstyle makes all those sharp cuts and angles prominent, it still makes a square shape look effortlessly smart. Classy!
18. Short Red Fluff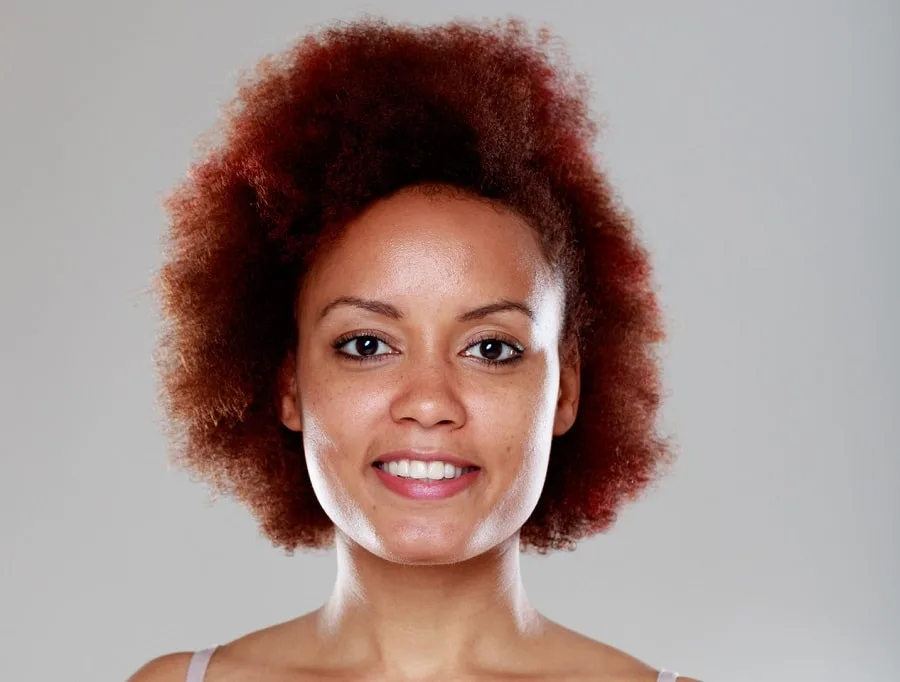 African-American ladies with medium-length afro curls can refresh their look with a permanent or temporary red hair color for a change.
Get a round haircut and pin back the sides tightly, if you don't want to buzz them, to slim down your box-like face making it appear longer automatically.
19. Voluminous Top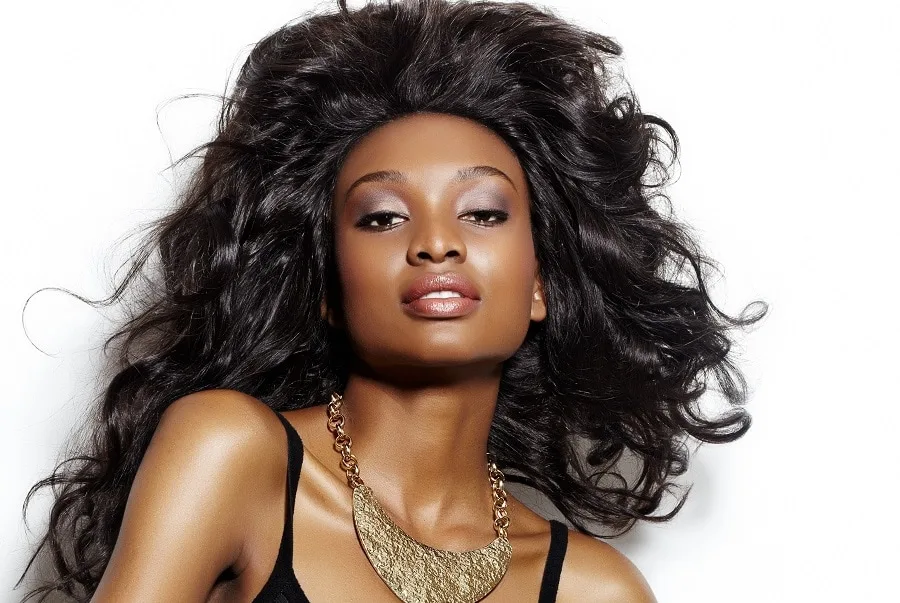 Voluminous hairstyles and haircuts are exactly what black women with square faces need to balance out their broad jawlines and high cheekbones. This look features a heavily layered mane with a puffy top and sides that can be achieved with some backcombing. Use hairspray to keep your style in place.
20. High Ponytail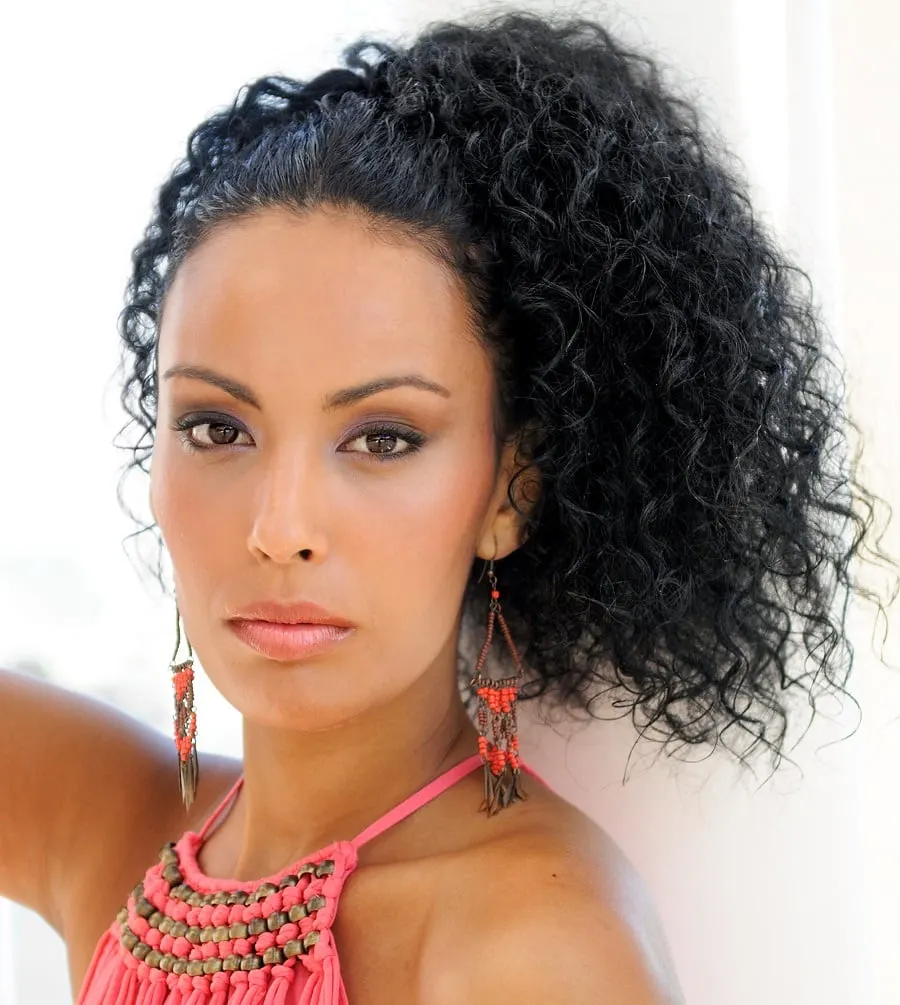 Lastly, high ponytails look chic and are suitable to soften square faces, especially in the case of unwashed hair. Slick back the tresses and spread those pretty curls all around for a playful appeal. Don't forget to put on some stylish earrings!
The hairstyles mentioned above for black women with square faces feature some very important tips and tricks to soften the overall harsh outline of a box-shaped face. All you need is to follow a simple basic guideline; avoid very short blunt haircuts and opt for more flowy hairstyles instead. That's it!