If you're a man with a double chin or fat face, don't worry – you're not alone. And while carrying extra weight isn't always easy, there are plenty of hairstyles that can help you minimize the appearance of these features.
There is no need to feel self-conscious, with the right haircut, you can look sharp and stylish.
Some people prefer a more natural look, while others choose more severe styles. However, these hairstyles for men with fat faces and double chins can be very versatile and can be used to create any kind of look you want.
Best Hairstyle for Men with Double Chins & Fat Faces
Check out these fat face & double chin friendly haircuts. You're sure to find a look that flatters your features.
1. Short Comb Over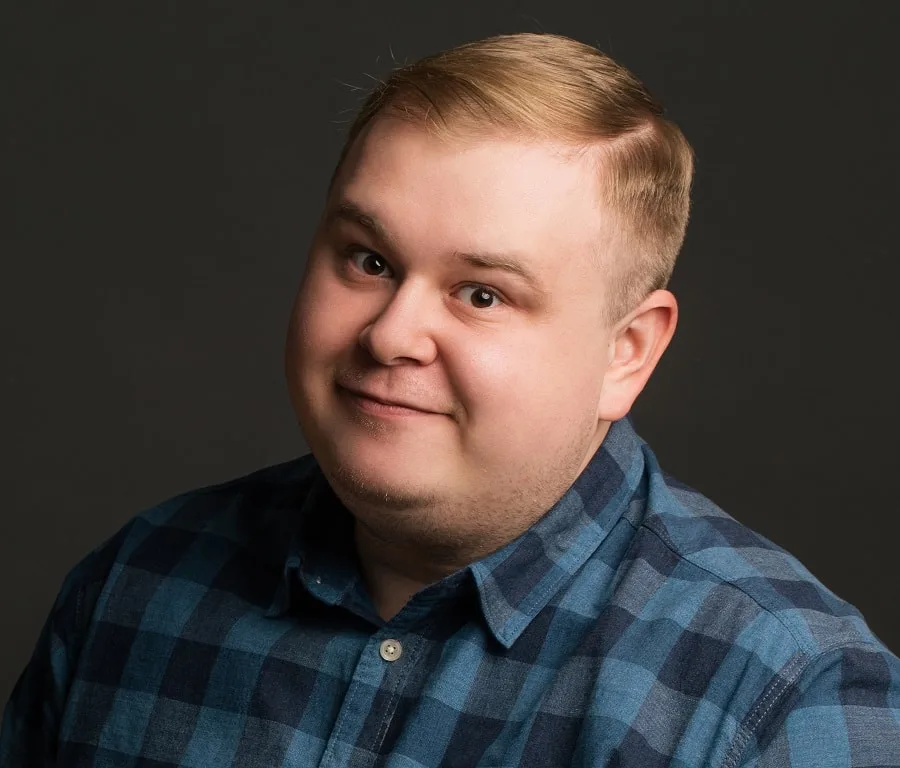 The hairstyle can help reduce the appearance of the double chin and make your face look more balanced and symmetrical.
To achieve the look, pull down on one side and then sweep across the forehead in a large sweeping motion.
2. Swept Buzz Cut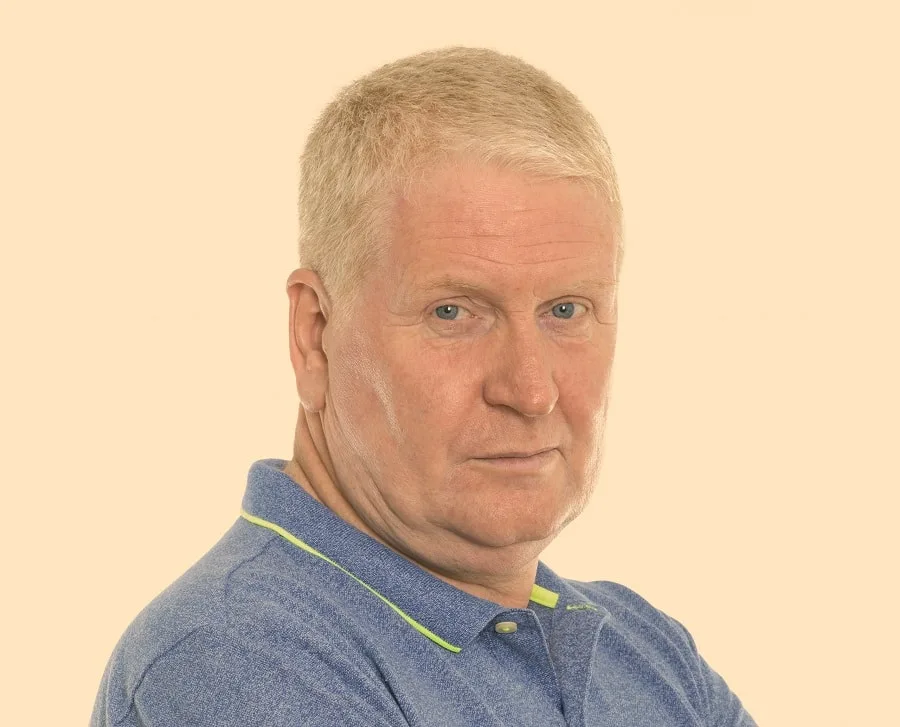 This particular cut involves cutting the hair short using scissors. You can get this look by sweeping the top with a barber comb on the top. It is perfect for fat men over 60.
3. Long Wavy Hair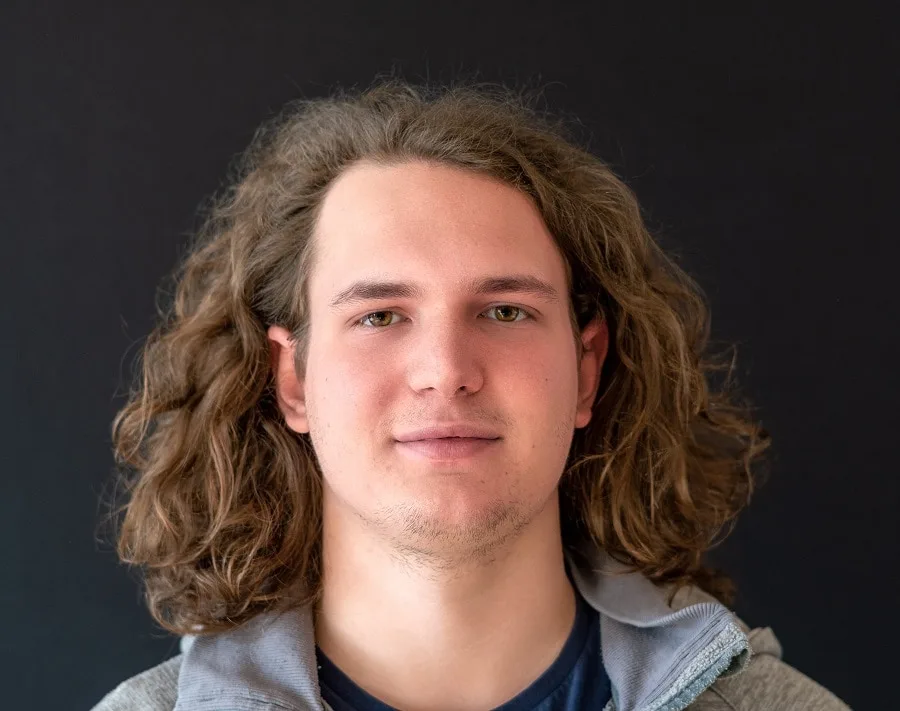 If you have long, wavy hair that is difficult to style on your own, consider brushing it back. This hair type is typically done with a brush through the hair, which creates a long, thick, wavy style.
4. Undercut Slick Back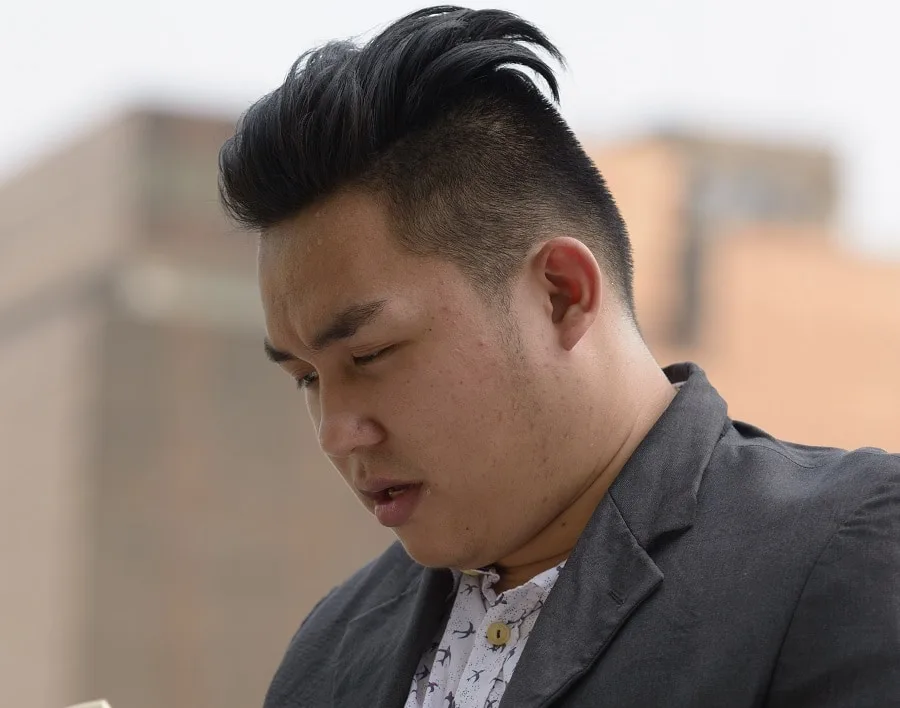 Try the slick back if you're looking for a short, undercut hairstyle that adds some structure to your chubby face. This style involves medium hair on top while the sides are trimmed short.
Use some hair gel on top and slick it back with a fine-toothed comb.
5. Man Bun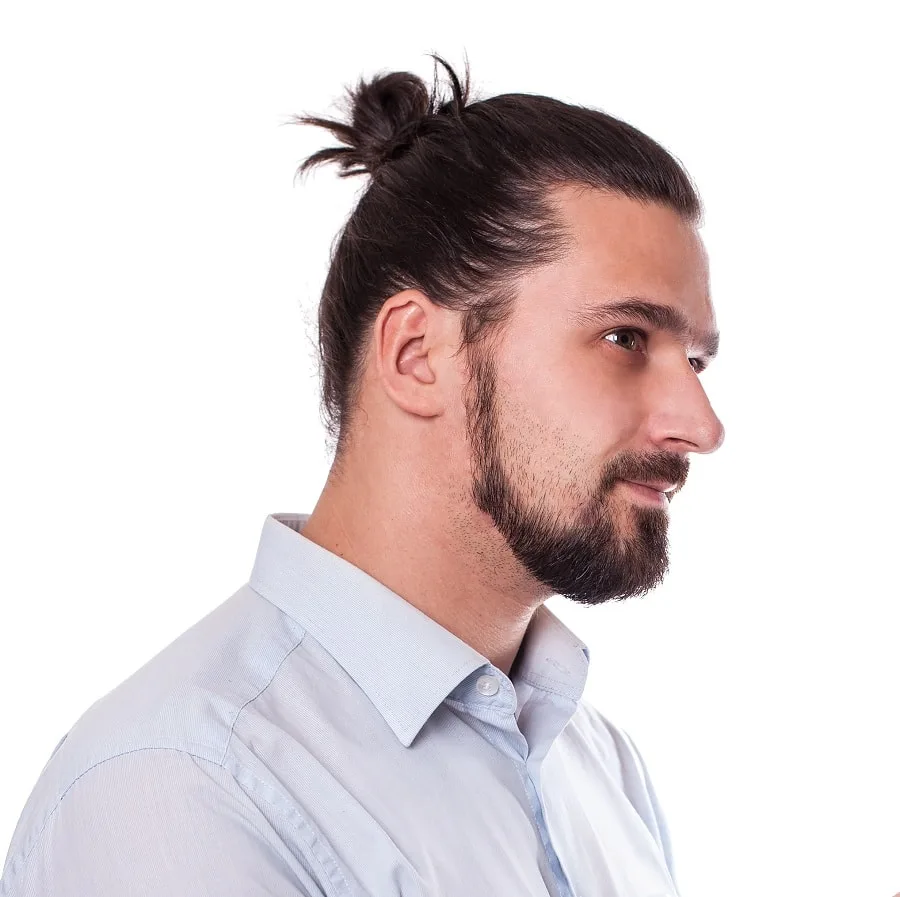 Styling a man bun is a relatively easy task that can result in a handsome head of hair while reducing the visibility of your double chin. First, define the shape of your man bun.
Next, make sure that the hair is tamed and styled evenly. Finally, use a hairband to hold the hair in place and give your face some definition.
6. Modern Bob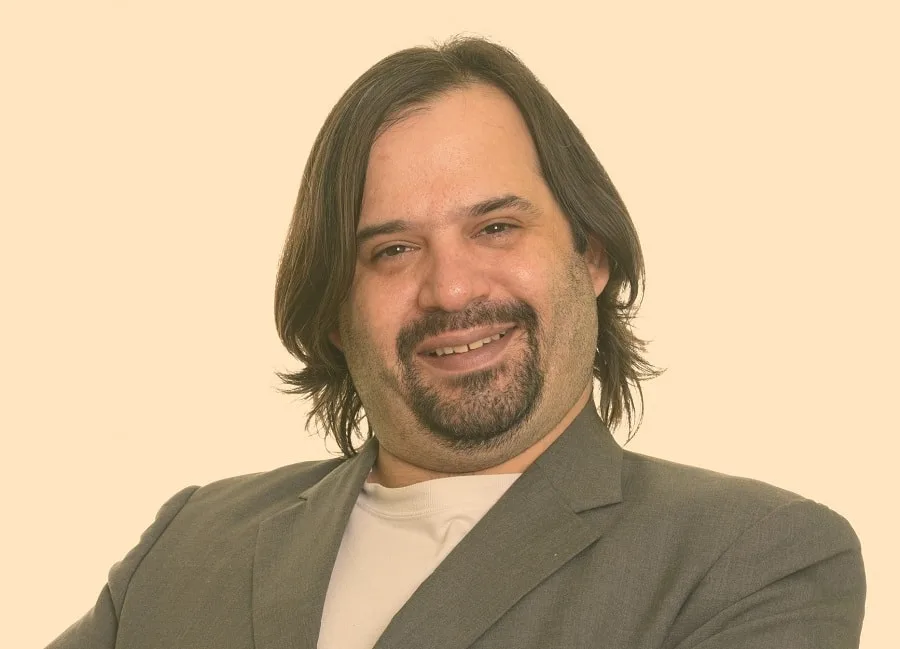 If you have a fat face and a double chin, styling bob hair with a side part can help give it a more appealing and balanced look.
Use a detangling brush to brush through the hair from the front of the head to the side. This will help distribute the hair evenly and create volume.
7. Brush Back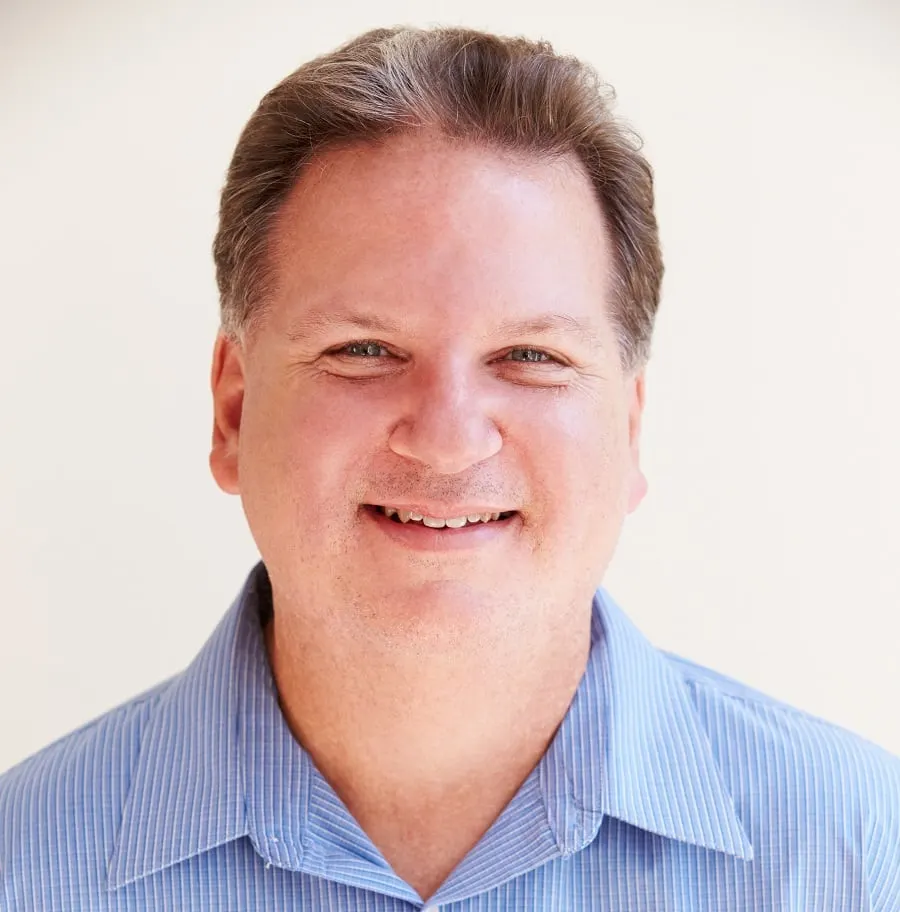 This type of hairstyle helps to smooth out the hair and give it a more polished look. Just comb your hair back using a bristle brush. It will emphasize your hair and help reduce the prominence of your chin.
8. Curly Fade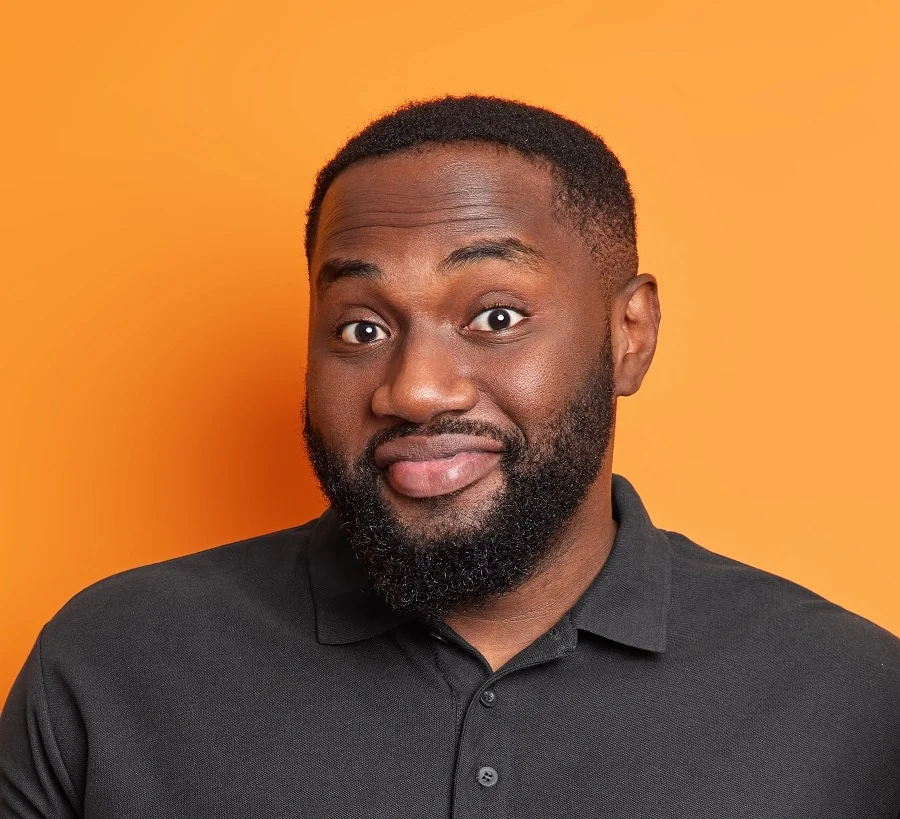 When styling short afro hair for men with chubby faces, it is important to consider the overall look. To get a uniform look, cut the hair short while fading the sides.
Also, having a full beard will completely disappear your fat face.
9. Wide Curly Top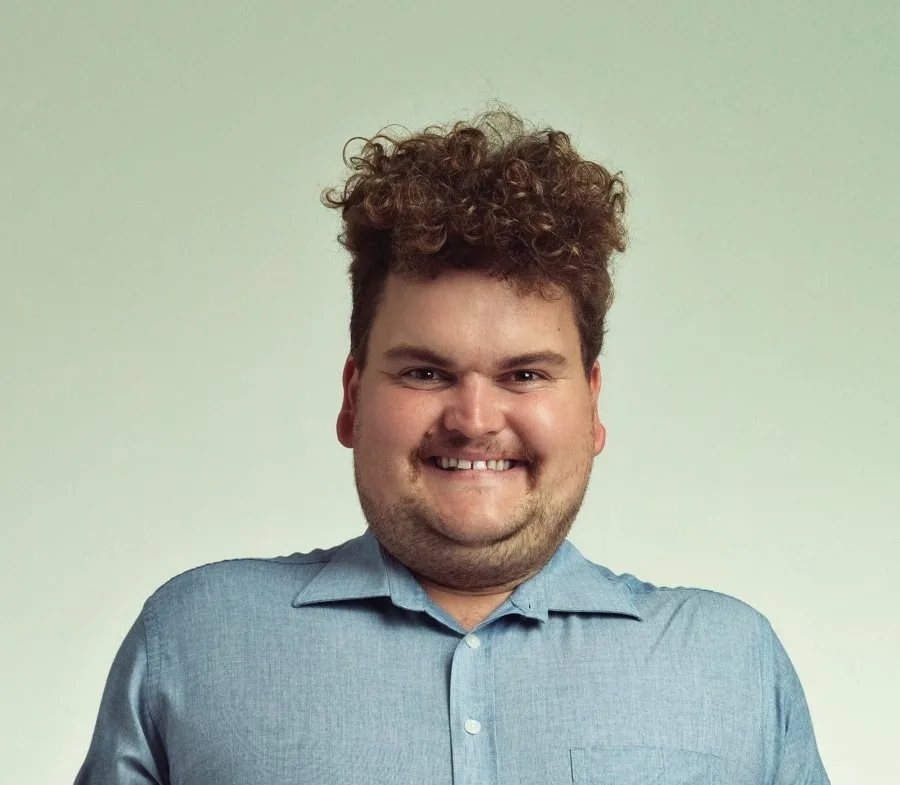 This involves creating a large, voluminous head of hair by cutting short the sides. Use a curling iron to make the curls on top, and finish it up using light hold spray.
This style is good enough to grab some attention, and people will forget about your double chin.
10. Out Grown Buzz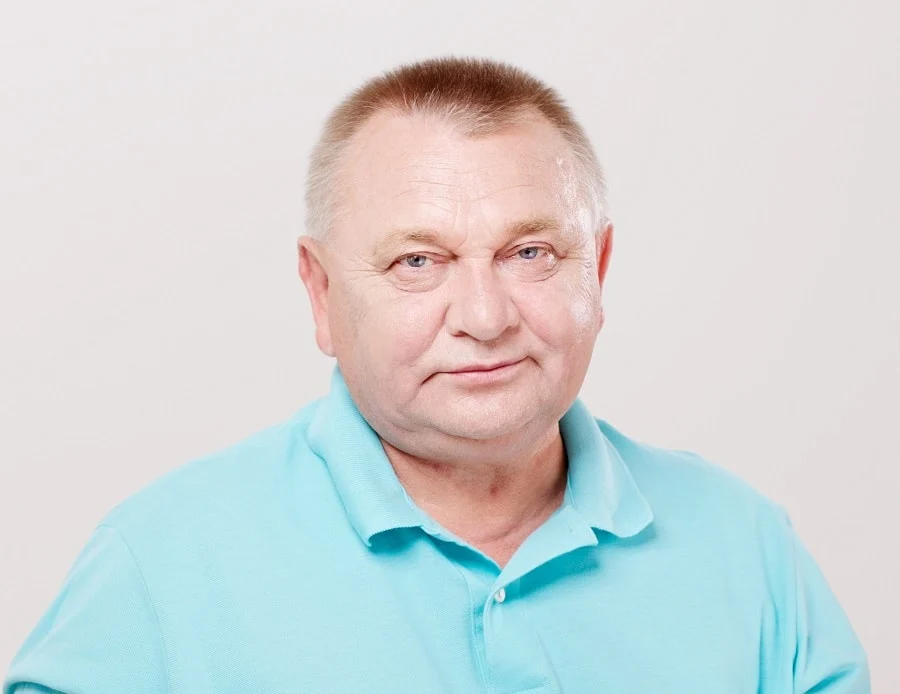 It is a great way to achieve a sleek and professional appearance for older men with fat faces. Start by washing your hair with a mild shampoo.
This will make your hair clean and silky. Next, use a number 2 clipper to trim your full head.
11. Forward Sweep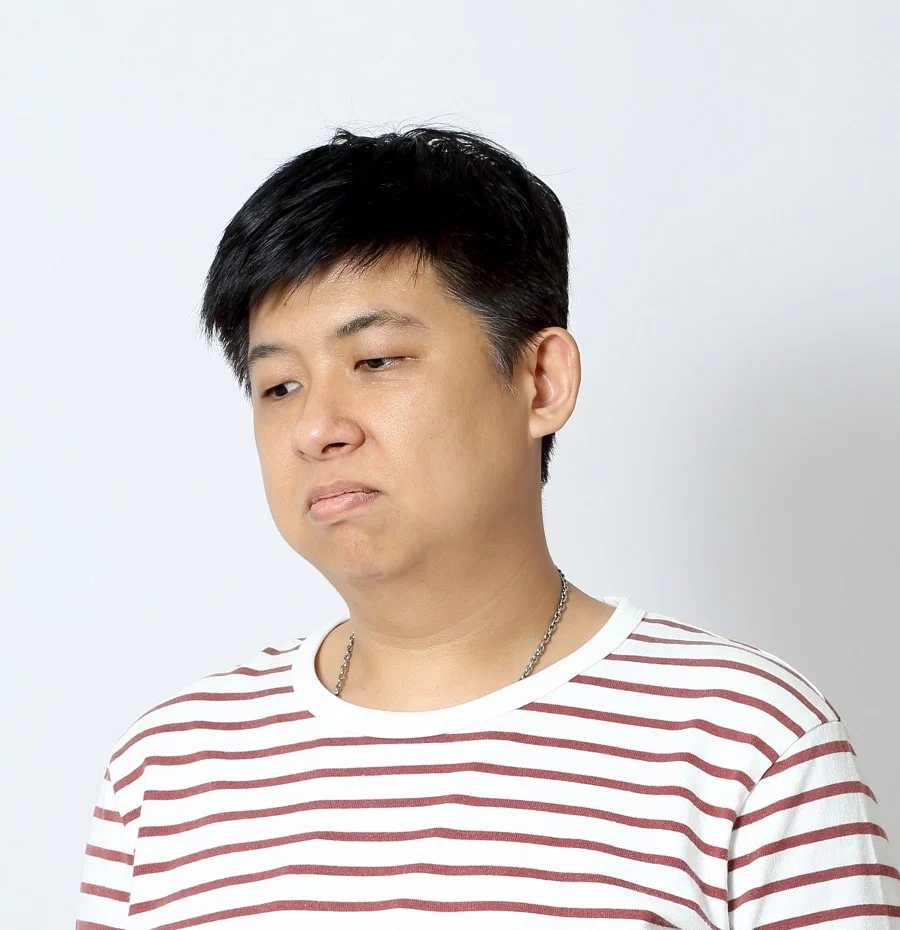 This style can be worn in any direction, so it's perfect for people who like to mix and match their hairstyles often.
The key to a forward sweep hairstyle is to use a light amount of shampoo and conditioner to keep your hair looking healthy and Shiny. They air-dry your hair and just comb it forward.
12. Messy Blonde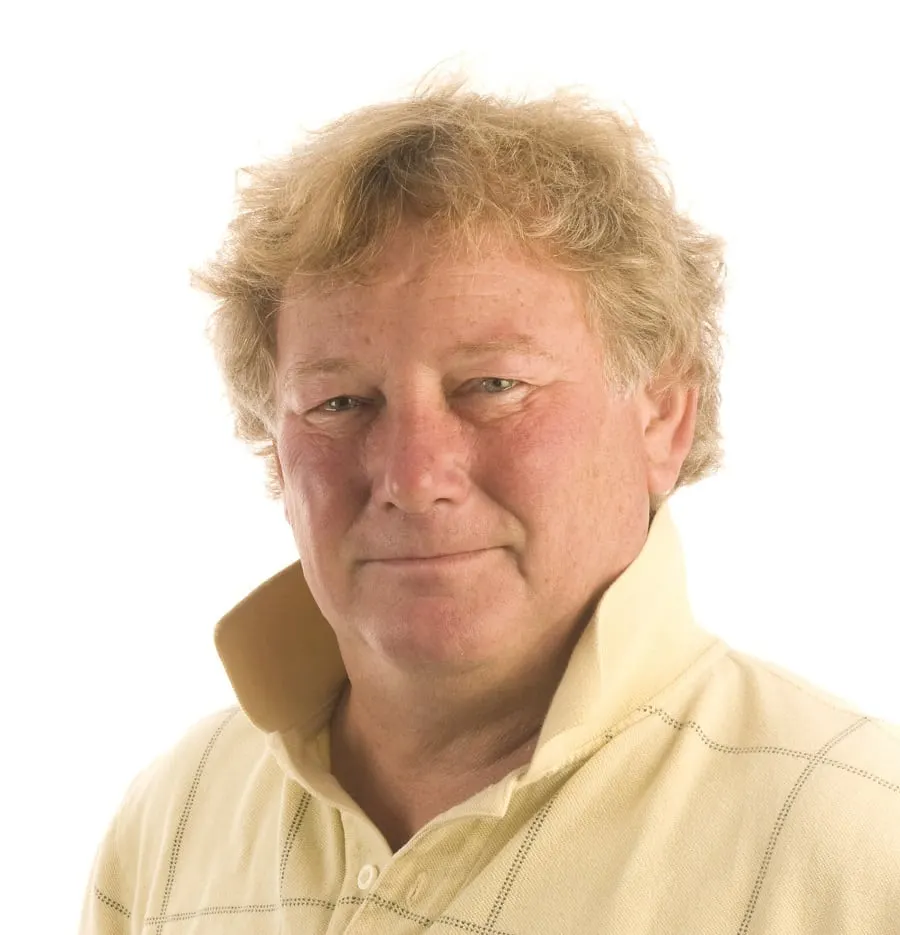 If you're trying to style medium hair in a messy way, use a hair dryer to blow it out of your face, giving it a messy surface on which to lay your hair.
This hairstyle will help boost your appearance and reduce attention to your face.
13. Medium Crew Cut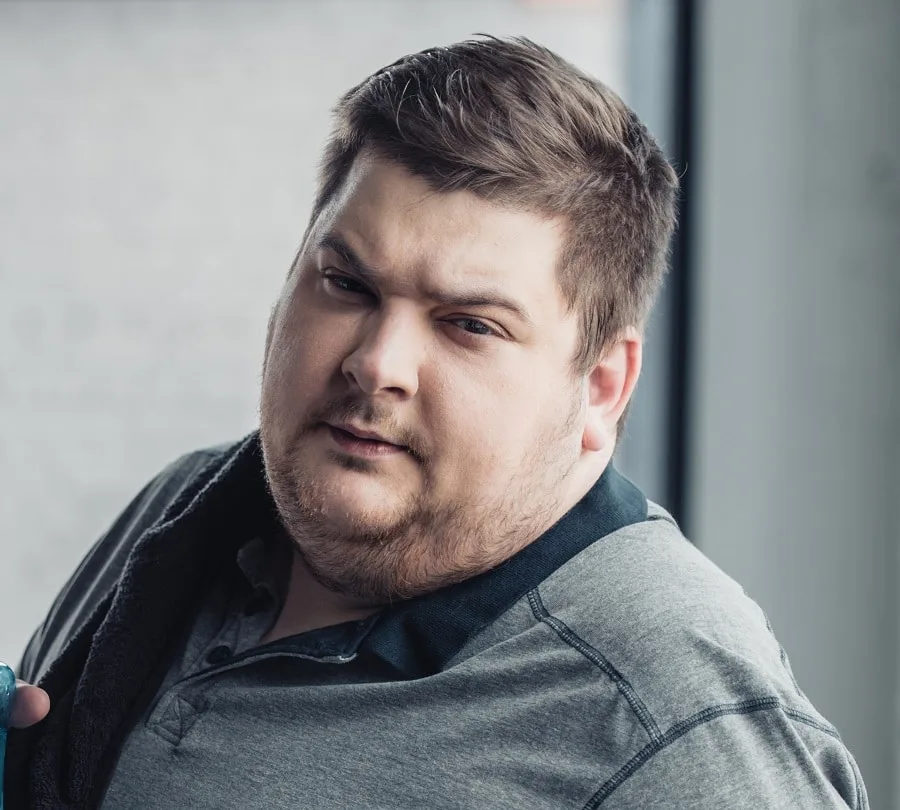 It is easy to style and is perfect for those with a round face. To get this look, be sure to use a hair clipper to get the desired length, and use a hair dryer on low heat to keep the hair in place.
14. Butch Cut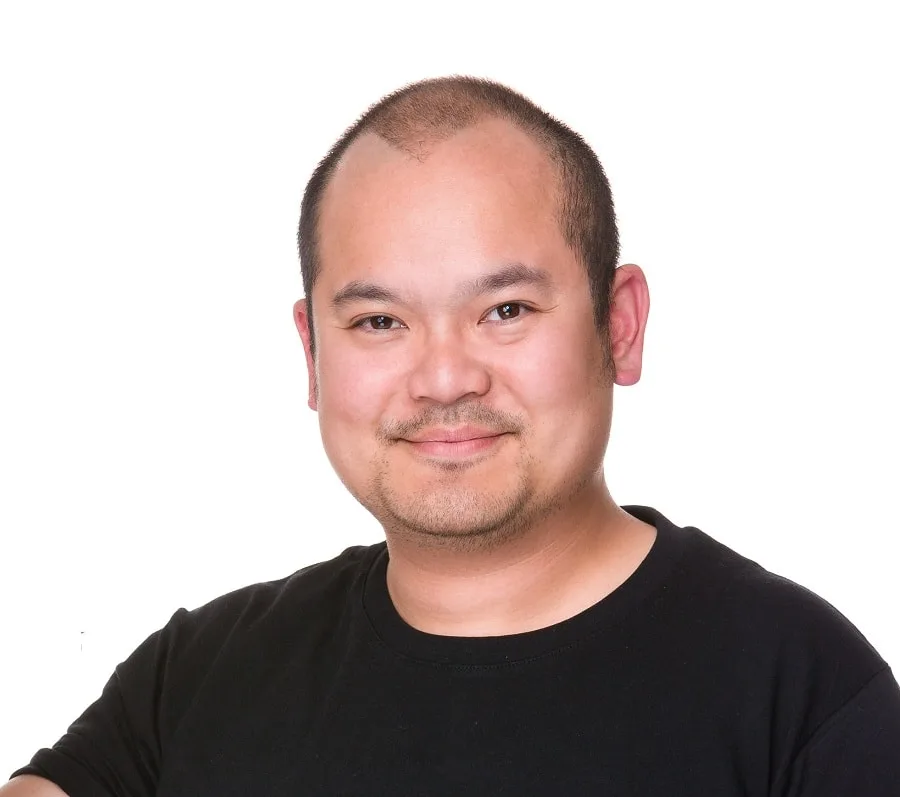 This style is typically used when hair begins to recede in volume, making it difficult to hold back a part of the head.
Start by using a number 2 clipper to create a tight buzz cut. Make sure your hair remains the same all over your head.
15. Tapered Comb Over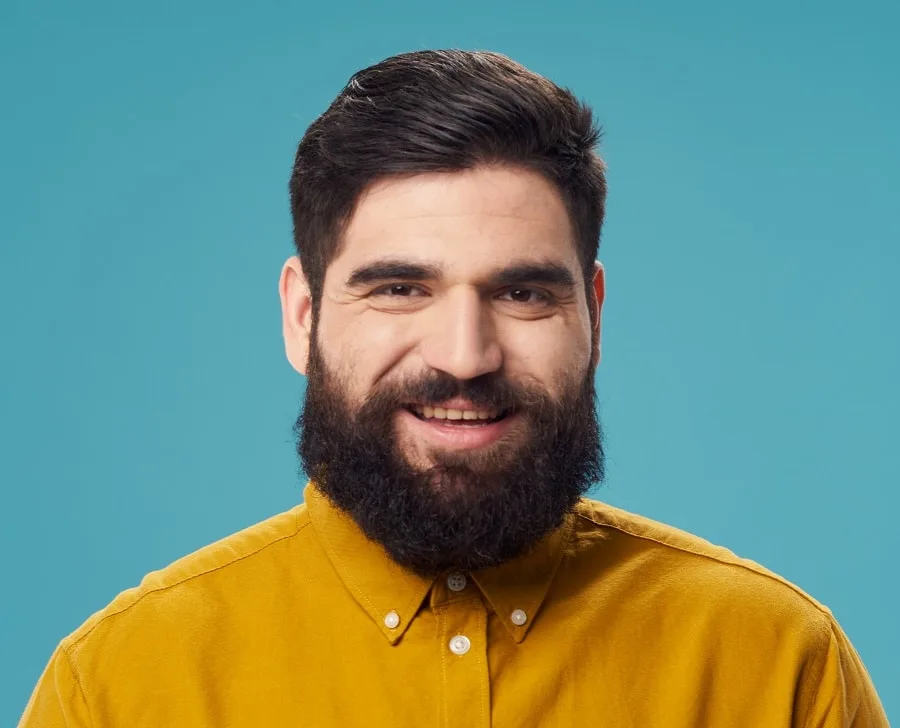 The haircut is characterized by shortening the sides, leaving the hair on the top medium. Use an all-purpose comb to press down the top.
Plus, keep a full beard to hide the apparent fat face. This look is seamless for men over 40 with fat faces or double chins.
16. Top Knot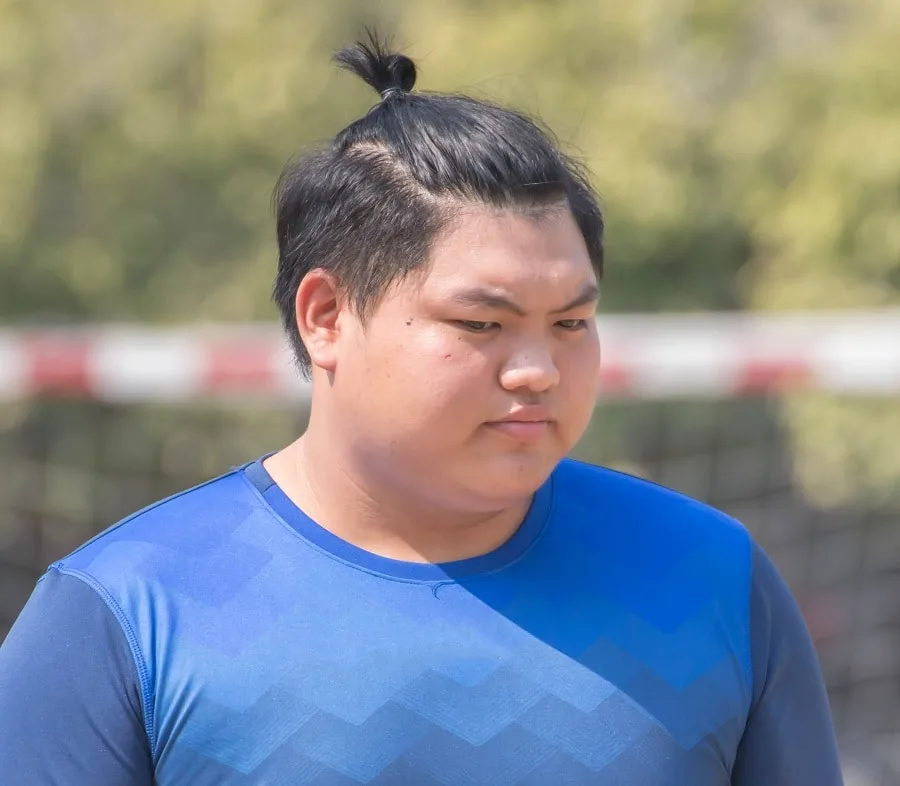 When styled correctly, a top knot can help hide the healthy chin and cheeks. The hair should be styled in a way that is visible from the front and back.
Just pull your hair back and away from your face and tie the hair on the crown of your head.
17. Short Caesar Cut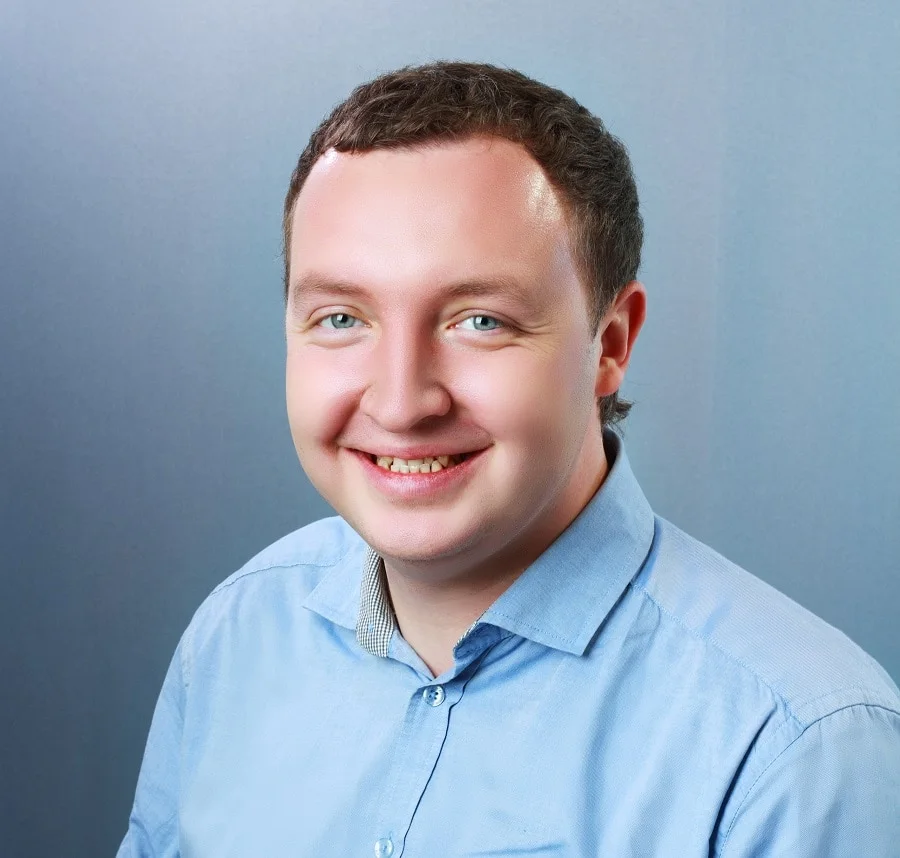 It involves cutting hair at the front or back of the head and then styling it to resemble a short sweep forward. Use some hair cream to make the hair shiny.
18. Short Brush Back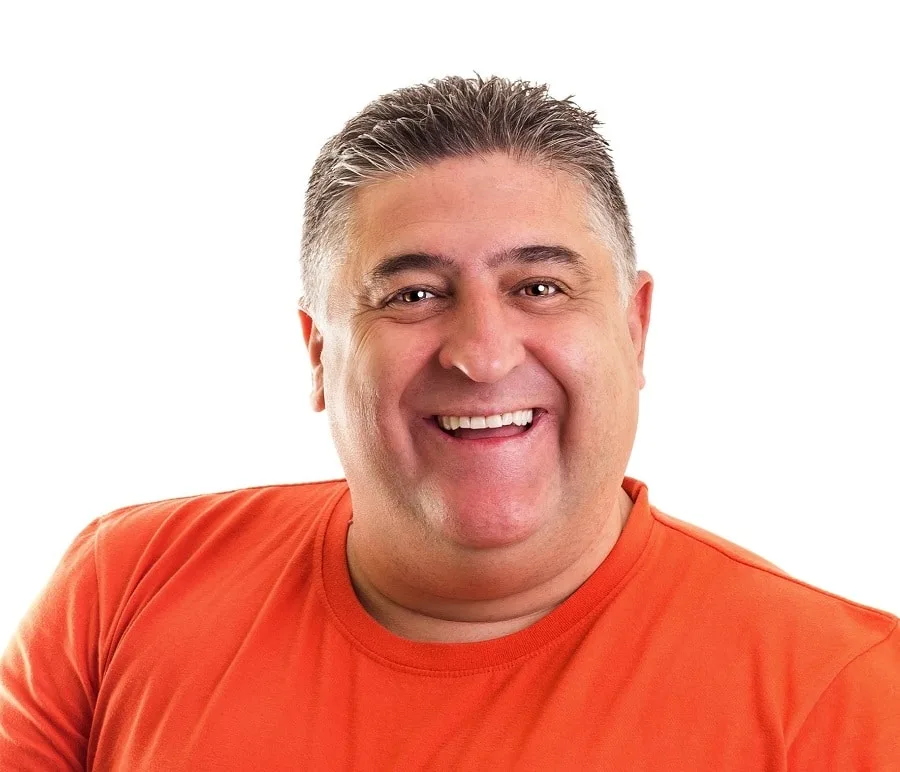 This style is recommended for guys who have double chins and thin hair. Keep the top shorts while cutting the sides shorter. Then go for the flat brush back that requires very little effort.
This hairdo can be simply worn with a simple T-shirt and jeans or a dressier style with dress pants, a shirt, and a suit jacket.
19. Ivy League
It is typically done with less hair on the sides and more hair on the top, which gives the appearance of swept-side hair.
Once you have parted on the side, start to sweep hair using your hand towards the sides, tucking it behind each ear and pulling it tight. Finish by combing hair to the side in a high-pitched gesture.
20. Mullet + Headband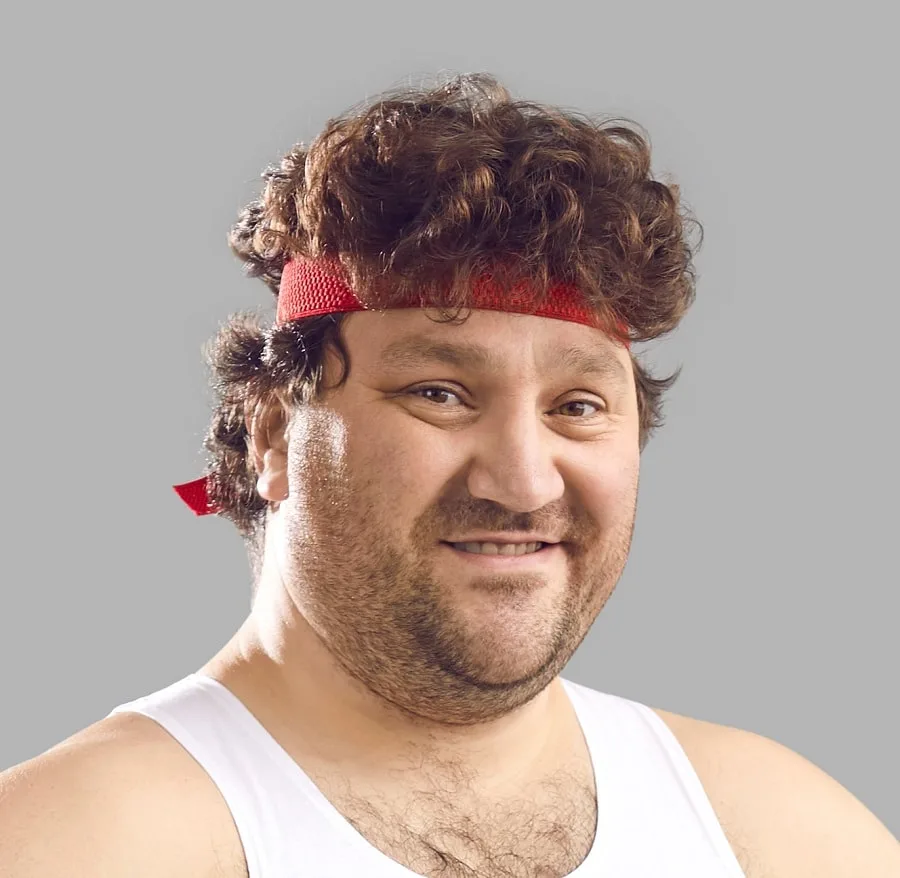 First, put on a headband to help keep your hair in place. Next, use a hairbrush to smooth out the mullet's roots to create volume. This will turn the head and become a point of attraction. Hence, no one will observe your plumpy face or double chin.
While there are many hairstyling options for guys with double chin and fat faces to choose from, the best way to find what looks best on you is to experiment and find what works best for your face type.