Whether you are a man born with naturally thin hair, or whether your hair has started to thin out as you have gotten older, there are still plenty of hairstyles available for you if you want a stylish haircut.
The men's hairstyle options for thin hair depends on your preference. Do you prefer the bold look showing the thinning hair or just want to cover up the growing bald? Yes, men can definitely look great with thinner hair.
Many of the hairstyles for men look brilliant with only thinning hair. These styles help to show that thin hair can be just as good as thick hair, if not better!
Hairstyles for Men With Thin Hair
Some of these styles have also been chosen because they will allow you to use little styling tricks to make your hair look thicker and more voluminous. You can actually adopt these tricks and tips so that you can use them in a lot of different hairstyles.
Thinning hair is a natural part of aging which happens to both men and women, so don't worry if your hair isn't as thick as it used to be. Below are some manly hairstyle ideas for thinning hair.
#1: Side-swept Spikes
Put a little bit of styling product in your hair and then use a comb to pull your hair up into spikes. Draw your comb to the side to give a side-swept look. This gives thin hair the appearance of extra volume.
#2: Mini-Quiff
Use a firm hold styling gel to tease the front of your hair up into a mini quiff. The rest of your hair will look great with a slightly disheveled look.
#3: Thin Curtains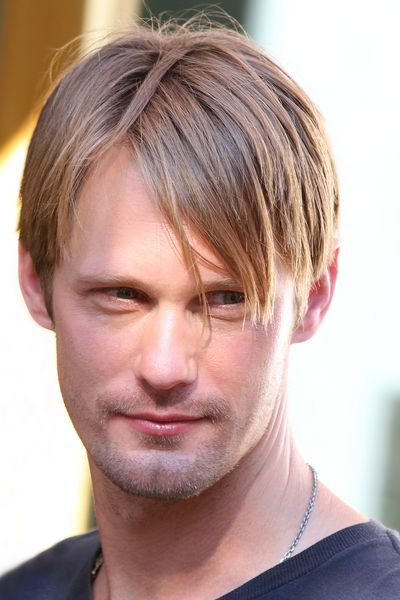 Tapered curtains actually look much better on thin hair than on thicker hair. These curtains look stylish rather than looking like a throwback to a 90s boy band!
#4: Sonic
Keep your hair a little longer on the top than on the undersides. Put lots of holding gel into your hair and then use your comb to slick your hair from front to back into a style that is reminiscent of Sonic the Hedgehog.
#5: Mid-length Spikes
Spikes like this can help to add volume to thin hair. First, you need to apply a little holding gel to your hair. Start from the base of your hair and draw your comb quickly upwards to create spikes with subtle definition.
#6: Manicured Comb-over
If your hair is starting to thin on the top you can create a comb over without looking desperate. Use your comb to carefully style your longer hairs so that they cover any areas which are starting to look thinner.
#7: Tousled Sharp Spikes
Hair spikes look at their sharpest straight after you have a trim. Get your stylist to make choppy cuts to your hair and then run their fingers randomly through it to get a sharp tousled look.
#8: Thick Fringe

You can create a thick fringe even if the rest of your hair is thin. Front loading your hair over parts of your face like this can actually help to make the rest of your hair look thicker.
#9: Volume from the Roots
Pulling your hair upwards from the roots give the impression of more volume. Run your fingers upwards through your hair the day after you wash it to get volume without having to use any sort of gel or artificial holding product.
#10: Brushed Forwards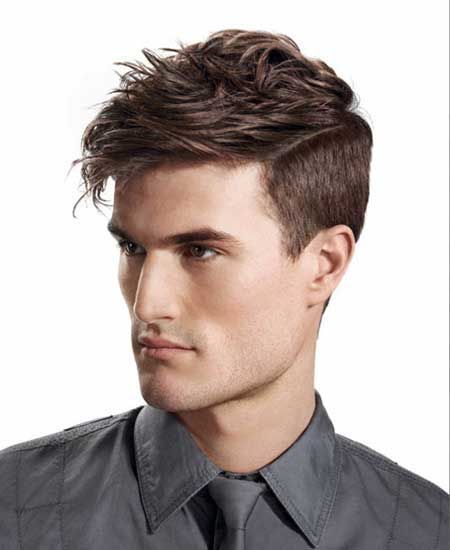 Run a little bit of holding gel through your hair, making sure that you pull upwards from the roots and then straight from front to back.