For men over 40, it might seem like the only haircut to have is short and somewhat styled with little to no product. However, there is actually a plethora of men's hairstyles to choose from and all of them are fresh, edgy, and work for most hair types and face shapes.
Hairstyles for Men Over 40
These haircuts for men over 40 are low-maintenance and will make you feel like a million dollars.
1. Thin Haircut for Men Over 40
One of the best ways to distract from thin hair is by shaping the top of your head's hair into a mohawk. The sides will stay short so all the focus is on the body up top.
2. Haircut for Black Men Over 40
If you're a black man in your 40s and you have curly hair, cut the hair short to encourage curl to look its best. At an inch long, curls will look healthy and those greys will make you look even more handsome.
3. Curly Hairstyle for Men Over 40
Men with curly hair can tame locks with just a bit of product like mousse. Part hair in the center and keep hair above the ears for this stylish long hairdo.
4. Over 40 Men with Short Hair
If you're a man with an oval or round face, try this short haircut with an even length on sides and a bit longer up top. A trim beard rounds out this style nicely.
5. Long Hairstyle for Men Over 40
Many women find men with long hair attractive. One hot way to wear your hair is in a messy man bun. It says casual yet boho and the women will love it.
6. Wavy Hair
If your hair is thick and wavy, cut the hair up top to just a couple of inches long. The short neat sides will frame the top handsomely and keep it low maintenance.
7. Medium Hair
For hair that is medium length and semi-thick, do your best to blow it out. Then part it in the middle and let layers fan out the hair nicely around the head.
8. Messy Hair
If you don't need to worry about looking professional or polished, a messy hairstyle is a fine choice for men over 40. Avoid frizz by using a bit of hair oil on fingers to smooth locks.
9. Ponytail for Long Hair
Whether it's thick or thin, a manly ponytail keeps hair looking edgy, especially if you add a shaved side or two. Switch it out with a man bun every now and then for an update.
10. Viking Braids
To get Viking vibes, a popular hairstyle for men these days, shave sides and the back of the head, leaving just a strip of hair up top to braid back. A scruffy beard makes the Viking look that much more genuine. You can also check out these beard styles perfect for men over 40.
11. Short Top with Pointed Bang
If you already have a subtle bang poking through, put an emphasis on it by leaving it long and shaving the rest of the hair short. For this look, all you need is a comb to run through hair.
12. Slicked Back Hair
Hair that is medium to long in length looks super dapper slicked back with a bit of gel. It's a great hairstyle looking to get all dressed up for fancy occasions.
13. Low Man Bun Updo
Another handsome choice for medium or long hair consists of gathering hair in a low bun coiled around itself. A few loose strands at the sides of the face won't hurt either!
14. Thick Layered Hair with Mustache
Tame your thick hair with layers that add healthy body and sexy waves. This center-parted hairstyle looks especially handsome with a streak or two of white hair and a vintage curved mustache.
15. Short Hair Spiked Up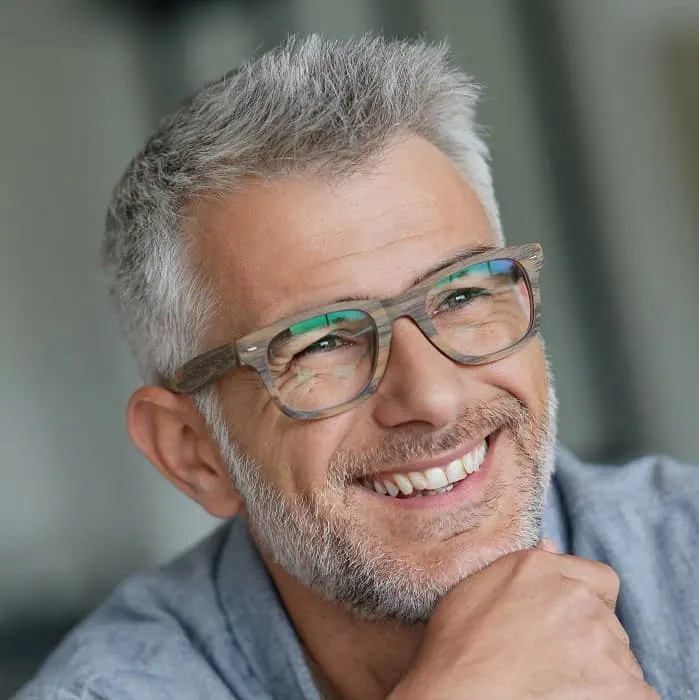 One hairstyle that works not just for men over 40 is this short hairdo with a slightly swooped up shape in the front.
Is your hair thick and maybe a bit hard to style? Keep it long or medium in length and form several braids that secure in back. Low fades edge up this Viking hairstyle.
17. Smooth Center Parted Hairdo
This haircut for men over 40 is parted at the side and smoothed down, no frizz in sight. A small wave at the opposite side makes this look very dapper and gentlemanly.
18. Long Dreads
Dreadlocks in both dark and medium blonde fit well for thick hair in any texture. Men who want a casual hairstyle low in maintenance, dreadlocks are an edgy alternative.
19. Short Hair with High Fade
An undercut and high fade are what make this short haircut fresh and clean. It's a great look to wear to work or on date nights. Maintain the short length and shaved back for a polished look.
20. Curly Short Hair
Mid-aged men with short & heavy textured like curls or slight waves look great when hair is shaped with product. Keep its length to shoulders for flattering of an oval or round face.
21. Box Braids for Natural Black Hair
Box braids aren't just for young men. Men over 40 can wear them just as handsomely, especially at a shorter length with a full yet neat beard.
22. Messy Waves
Growing old and not sure what to do with your whote hair? For hair that is thin up top and thicker at the bottom with waves, part it in the center for simple style or leave it slightly messy like pictured above.
23. Blonde Hair with Shaved Sides
Contrasting color on a men's haircut is a popular choice for men in their 40s. Choose a youthful color like blonde for the top, but keep sides short and dark.
24. Smooth Hair with Lined Fade
For a truly youthful look, part hair at the side and comb hair smooth. Shave in a fade and detail it with a line design like waves or zig-zags.
25. Small Quiff Haircut
This smaller version of the classic quiff is a great option for a short haircut. The front is swept up with airy volume while the rest of the hair is short and neat.
26. Combed Back Top
Don't want to chop your hair short but want a new style? Try the short sides, long top. All you have to do is comb back the top hair straight back and smooth it down for good looks!
27. Long Curly Hair
Add a twist to your hairstyle by shaving one side and leaving the other long. While it looks great with curly or wavy hair, it'll also look hot and edgy with straight locks.
28. Dark Colored Mohawk
Go with a high fade to set off a rocker mohawk. This thicker version looks best when hair is fuller. Mid-aged men can even add hair color to it, like purple or blue.
29. Pompadour
A pompadour works great for men with thick hair. You won't have to use too much product to shape the thick, full front on this short haircut.
30. Slight Waves with Grey Sides
Emphasize shaved sides by coloring them grey or white and leaving the top hair long with dark color and slight waves. It's the ultimate style for a dapper gentleman.
Surely you're feeling more relieved after seeing all the haircut options for men over 40. For long or short hair and thick or thin wavy or straight texture, there's a great style choice for them all.