Everyone has a different choice when it comes to their autumn or winter wardrobe, but one piece of clothing that will be worn most commonly, although not limited to these seasons, are dresses with a high neckline.
No doubt that extra strip of fabric around the neck is considered super chic, the next question that comes to mind is what to do with your hair to compliment this style.
Instead of fretting about it go through the following 25 hairstyles for high neck dresses that we have coined up after a lot of research. We are sure you will find something to match your taste!
Gorgeous Hairstyles for High Neck Dresses
Whether your hair is long, short, curly, or straight the following list has got a look for every hair length and texture to match your dresses. Keep scrolling!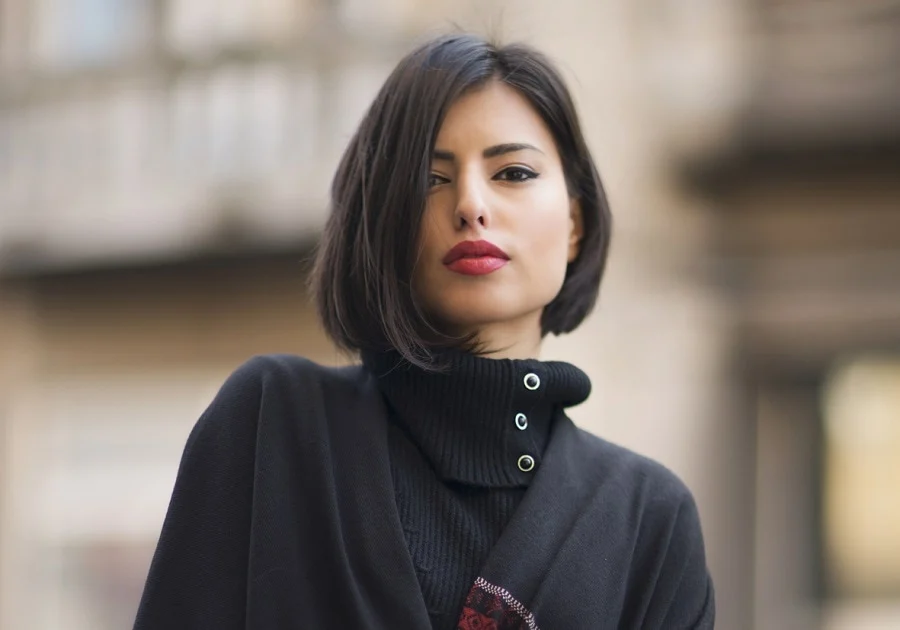 Play with the symmetry of your hair and cut it into a short bob with one side longer than the other for the strands to dangle just above your high neckline. Not sure about getting a chop? Tuck those locks inside your dress instead.
2. Braided Chignon + Curtain Bangs
Opt for a sophisticated look by braiding the tresses and wrapping them around into a low chignon bun sitting at the back with a curtain fringe framing the face at the front. Recreate the look with any kind of bangs and you will love it equally.
Those who are looking for something easy to maintain can consider a dreaded bob where the locs are cut short to bend naturally around the face. Spice up the look by dying the ends in a bright hue or add beads and hair cuffs instead.
4. Box Braids
Black ladies can complement their high-collared outfits while protecting their natural hair with box braids. Use extensions in any color when plaiting the strands to go as long as you want and let the knits dangle loosely or wrap them around in a bun. Whatever you like!
5. Silver Pixie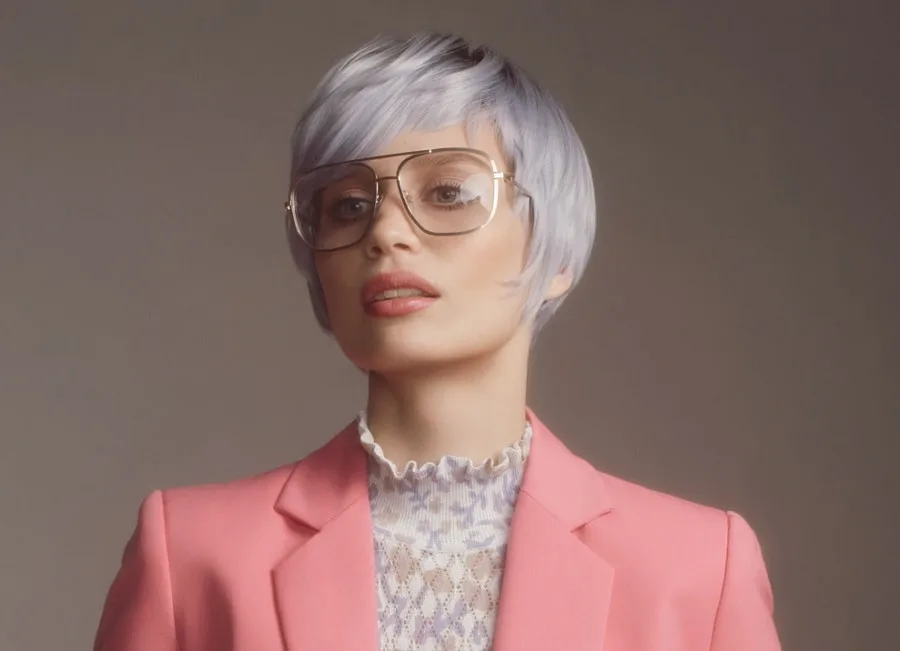 A pixie is, without doubt, another ideal short hairstyle for dresses with high necklines. The layered top tapers towards the sides with edgy side-swept bangs covering the forehead. Set the look on fire with a silvery grey hair color and get ready to rock the world.
6. Curly Mess
Ladies having a head full of curls can refresh their look by cutting the coils at varying lengths to fall around their face in layers. Add light brown highlights, hand-tousle the strands with a side part, and voila!
7. Chic Bixie for High Neckline Dresses
Shorter than a bob and longer than a pixie, that's what a bixie is. Opt for choppy layers creating some movement on the head and rumple them on one side for a messy appeal. Top off the style with a blonde hair shade, platinum highlights, and dark roots.
8. Layered Locks
Sticking to a basic hairstyle is sometimes more than enough. Breathe some life into those boring locks by dying them copper red if you are not a natural redhead. Ask the hairstylist for a layered haircut and wear the mane loose with a deep side part.
9. Extra Short
Short is sexy and here is a look to prove it. African-American ladies can start fresh by chopping their kinky curls into a short top with even shorter sides. You don't even need to comb your hair daily, get out of bed, and you are ready to go!
10. Classic High Bun
Keep it classy when choosing an updo hairstyle for your high neck dresses. Recreate the look by backcombing the strands before assembling them loosely in a high bun and pulling some chunks loose to accent the face at the front. Simply wow!
11. Top Knot
A classic high bun seems too formal? Opt for a playful top knot instead. Pull the hair halfway through the elastic band, creating a loopy bun and let the strands flare out towards the sides. Wrap the rest around the base and fix it in place with pins.
More Related Articles:
12. Gorgeous Beach Waves
Platinum blonde hair is in full swing this year. Funky ladies can copy this style with bouncy beach waves tousled forward on the shoulders. Opt for a middle or side part and complete the look with a beanie and colored sunglasses matching the ensemble.
13. Side Tousled
Those with a long mane can direct all the attention towards their high neckline by tousling their strands on one side at the front. Set the look on fire with a dark to light ombre or a trendy balayage and red lips.
14. A-line Bob
As the name suggests, an A-line bob is defined as an angular cut with short strands at the back that elongate gradually towards the front. Those who don't like a blunt look can opt for layers adding some texture to their hair. Chic!
The simpler, the better! Although a high ponytail is pretty easy to achieve it looks glamorous without a doubt. Save an oily hair day by slicking back those greasy tresses in a high pony without using any product. Can't get any easier!
16. Messy Updo
When you've got a gorgeous embroidered high neck dress, the best hairstyle to complement it is a simple updo keeping all the strands away from the face. Whether the hair is long or short pull it back in a bun. A bit of a mess surely won't hurt.
17. Blunt Cut + Dyed Tips
Blunt bobs and lobs are the hottest trend this season. Cut the strands to fall in a straight line across the back and dip the ends in a light blonde hue or try a vibrant shade instead for an eye-popping result. Flattering isn't it?
18. Fancy Coif
Steal the show at a formal event by accentuating a high halter neck dress with a fancy updo. The coif consists of multiple buns with some strands falling on both sides of the face while a pale bubblegum pink hair shade adds a groovy touch to the look.
19. Baby Bangs
Baby bangs and turtle necks both became popular in the 1950's. Recreate this retro look by cutting the front strands straight across the forehead keeping all the attention on the brows and eyes. Add soft layers to the remaining tresses and done!
20. Carefree Curls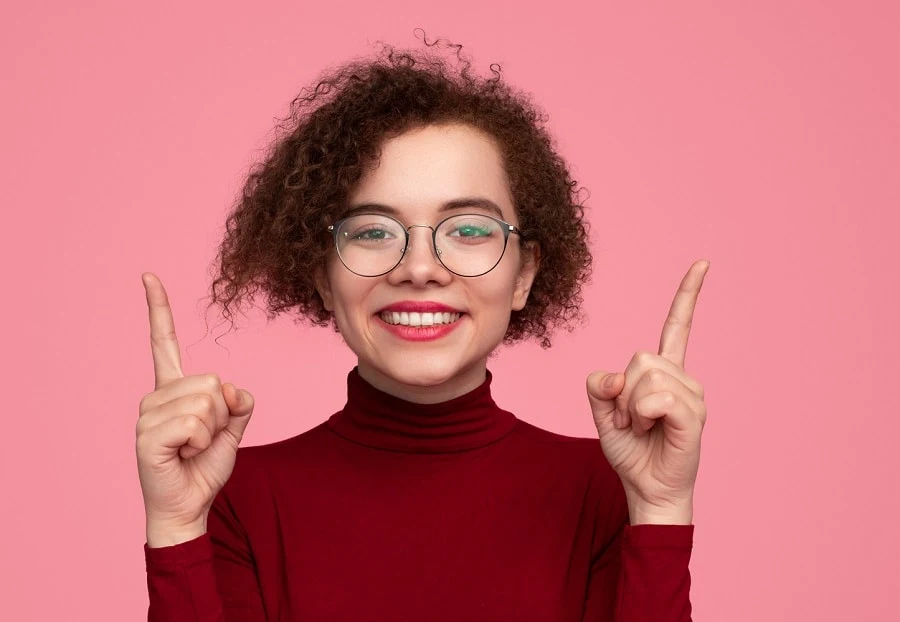 When it comes to curls the messier it gets, the better it looks! Chop those delicate coils in a chin-length French bob without bangs. Use a good quality curl-defining product when finger brushing the strands to keep them bouncy.
21. Side-Swept Quiff
To be honest, short hairstyles look the best with high neck dresses. Make a bold move this season and choose a metallic silver pixie haircut. Create a perfect quiff by brushing back the top using a round brush and hairdryer or sweep it to one side instead.
22. Spiral Curls
Bored of your straight hair? Produce the most beautiful curls using a small curling wand for a change. The key lies in securing the spirals with pins for some time before setting them free for a more defined coil. Top off with side-swept micro bangs for a vintage touch.
23. Space Buns
Space buns are fun, cute, and stylish all at the same time and go with all hair textures. Style two twintails on opposite sides of the head and swirl them around into perfectly round buns. Take a step ahead and experiment with a zigzag part rather than a simple one.
Turn around some heads with a stunning lob haircut. The ends are cut straight with jagged textured layers along the length adding some texture to the hair. Amp up the style with a medium blonde base shade, delicate babylights and finish off with soft waves.
25. Wedding Look
Brides who have decided on a high-neck wedding dress can couple it with this elegant hairstyle. Create beach waves and wrap them in an updo leaving the ends loose to dangle at the back with a puff at the front. Don't forget to add some flowers. Dreamy and romantic!
In a nutshell, an outfit is incomplete without a proper hairdo. Keep in mind that even though the list above covers most of the hairstyles that pair up perfectly with high neck dresses, there is no limit when it comes to coiffing your tresses. Choose the look that you seem to be the most comfortable with and just give it a go!