When you are going to a club or private events, you certainly need a party hairstyle that will make everybody say WOW! Outfits are tremendously essential, but if you don't pull off the best hairdo out of your mane, you can ruin the whole look.
Gorgeous Party Hairstyles
Parties are wild and people want to stand out, look fabulous, and make new friends. It's a big unrecognized competition of who looks best, and you undoubtedly wish that person to be you, right?
A party is also an excellent opportunity to experiment with your hair and get hairstyles that you can't pull off when you go to the office or a fancy restaurant. Get creative, use hair extensions, all types of irons, braids, sequins and glitter, feathers, it's all permitted when you want to rock a party. Below are 25 glamorous party hairstyles to try in 2021.
1. Long Hair with Half Bun
Impress everybody with a sequins outfit and a party hairstyle for long hair. Take the top strands and tie them into a bun and straighten the tips of your mane. It's a simple hairdo, but it will complete your look.
This Christmas party hairstyle is so fabulous! Use a crimping iron for the roots and style waves and curls for the rest of the mane. Take the top strands, twist, and tie them in the back. Keep a few loose strands on the forehead.
3. Club Party Hairstyle
A party hairstyle for medium hair will undoubtedly place you in the center of attention everywhere you go! Go for a caramel blonde ombre and use your bangs to create thin braids that you can pin on one side, covering the forehead.
4. Bun for Wedding Party
Weddings are one of the most important moments in any women's life and a hairdo that makes you look fabulous is mandatory. Build a bun and wrap a few hair strands at the base to obtain a gorgeous hairstyle for a wedding party.
5. Two Ponytails Party Hairstyle
This party hairstyle for short hair is ideal for girls that want to give their hairdo a sexy childish note. Get two ponytails on each side of the head and opt for a floral headband. Go with blue eyeliner and a pink lipstick.
6. Retro Party Hairstyle
When you are attending a themed party, you can't opt for a regular hairdo. This retro cocktail party hairstyle keeps your mane in a bob haircut with waves and as decoration, you can use a headband with a feather that can be placed on the forehead.
7. Faux Ponytail
This easy party hairstyle can be easily reproduced by extending your hair with a faux ponytail. Gather your mane on top and create a bun that will be used to attach the pony. Complete the look with flawless smokey eye makeup and long diamond-like earrings.
8. Curly Hairstyle for Birthday Party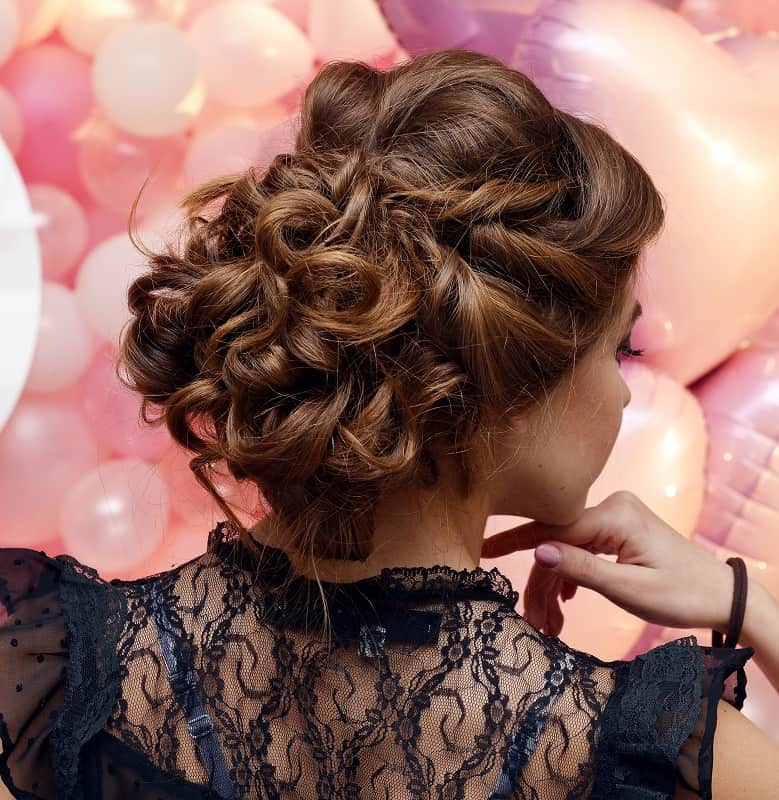 If you are searching for a hairstyle for a birthday party, this is the best option for you. Select strands from the front area and roll them into a big bun in the back. Before you pin it down, make sure to create curls that will provide a lot of dimension.
9. Braided Bun for Wedding Party
A bridal party hairstyle must be fierce, sexy, eye-catching, and should definitely suit your style and personality. Opt for a French braid that starts from the top and goes on one side, reaching the back. Style a gorgeous romantic messy bun, and you'll look marvelous.
10. Afro Curls
A curly hairstyle for a party is totally breathtaking and we have the perfect tool for this: the Afro curling iron. The device is very thin, so the curls it creates are tight and bouncy. It will take you a lot of time to obtain this hairstyle, especially if you have long thick hair, but it will totally worth it.
11. Bow Party Hairstyle
A holiday party hairstyle should inspire happiness and make you forget about your daily problems. Opt for a big bow on top of your head and a pair of beautiful yellow glasses.
12. Wavy + Twisted Party Hairstyle
A pool party hairstyle needs to look relaxed, without a big fuss. Go for simple light waves and a discrete makeup with a pinch – the red lipstick. Get this look only if you are planning to stay out of the swimming pool, otherwise, you will ruin the whole thing.
13. Indian Bun Hairstyle for Special Events
An Indian party hairstyle must look glorious and you can make one by decorating your hair with flowers. Use a donut to style your bun and roses to create a crown around it. For the middle part, opt for a piece of sophisticated Indian jewelry that comes from the top of your head and lands on the forehead.
14. Updo With Curls for Party
A retro tea party hairstyle can make you look gorgeous, especially if you build a low pony with a curl and Victory rolls. Complete the look with an eyeliner and a red lipstick.
15. Pink Braided Party Hairstyle
Get an inverted bob haircut with bangs and go for a pale pink ombre color. If you need to attend an event, this braided party hairstyle will make you look breathtaking. Spare two strands from the temples and build a knit that you can secure in the back.
16. Long Curly Hairdo
A freshers party hairstyle should make you look outstanding, whether you are a senior or a fresher. Get a dark ashy blonde color and style blonde highlights to obtain that fantastic color. Spare the long bangs and let them fall on the forehead while you secure the top in the back and create a half pony.
If you want a hairstyle for a night party that will make you rock, this hairdo is just the thing for you. Pin your whole head up and style big bouncy curls. Create an eye-popping makeup using electric colors like fuchsia and a pale blue eye shadow.
18. Great Gatsby Party Hairstyle
To recreate this hairstyle for gatsby party, you need a wide headband with an application and an iron to create curls and waves for your hair. Tuck some of them under the headbands and wear loads of beads on your neck.
19. Fishtail Crown
A garden party hairstyle can be messy and romantic at the same time. Take a thick strand from each side and build two fishtail braids which you will use to create a braided crown. Use the rest for your hair to build a big roll.
Whenever you need a party hairstyle for girls that make you look ravishing, style two messy space buns on each side and spare your bangs to create a beautiful face frame.
21. Vintage Party Hairstyle
To obtain a vintage party hairstyle like this, build a big roll of hair on top of the head using a wide rod. In the back, make an elegant bun and opt for small shiny diamond earrings.
22. Long Straight Hairstyle for Parties
A pajama party hairstyle needs to be simple, easy to do and you can build it just by layering and straightening your hair. As for the makeup, a nude lipstick will do the trick. So raise up your glasses and don't forget about the pillow fight!
A jazz party hairstyle should make you look glamorous and elegant and a simple low ponytail will be just what you need. Create a middle part and make that top look sleek and beautiful.
24. Afro Updo
If you are an African American woman, take advantage of those gorgeous coils and go for a dance party hairstyle that adds value to your perfect ringlets. Style a top ponytail that will look like a palm on top of your hair.
25. Cornrow Bun
Do you want to be the coolest girl from the club? Style cornrow braids and pin them in the back, in a low bun. Wear square modern huge glasses and pink earrings if you want to get all the attention.
When attending an event, even if we are talking about Christmas, themed, birthday, freshers, or club parties, you need to give your best and build the perfect outfit. You'll spend hours doing your makeup, choosing what to wear and making your party hairstyle, but in the end, all eyes will be on you. We'll be happy to find out which of the above is your favorite and how your party was, so write to us in the comments section!