The pixie cut is a classic look that people have loved for decades. A layered pixie is a fresh and edgy take on this hairstyle that anyone can rock. They are well known for their capacity to enhance texture and volume, making them a marvelous choice for women who want a low-maintenance haircut that they can style with a simple tousle.
Whether you've got long locks and want a drastic change, or just want to zhuzh up your current haircut, this is the look for you.
How to Cut a Layered Pixie
We break down exactly how you can achieve a layered pixie hairstyle. In order to get it right, you want to follow these next steps.
Prepare the Hair
Dampen your hair with a spray bottle of water. It doesn't need to be wet but should hang straight. Cut your hair to just above your shoulder to make the process easier. Section the hair into ponytails around shoulder length to keep it neat as you cut.
Comb the hair well before cutting.
Start At the Back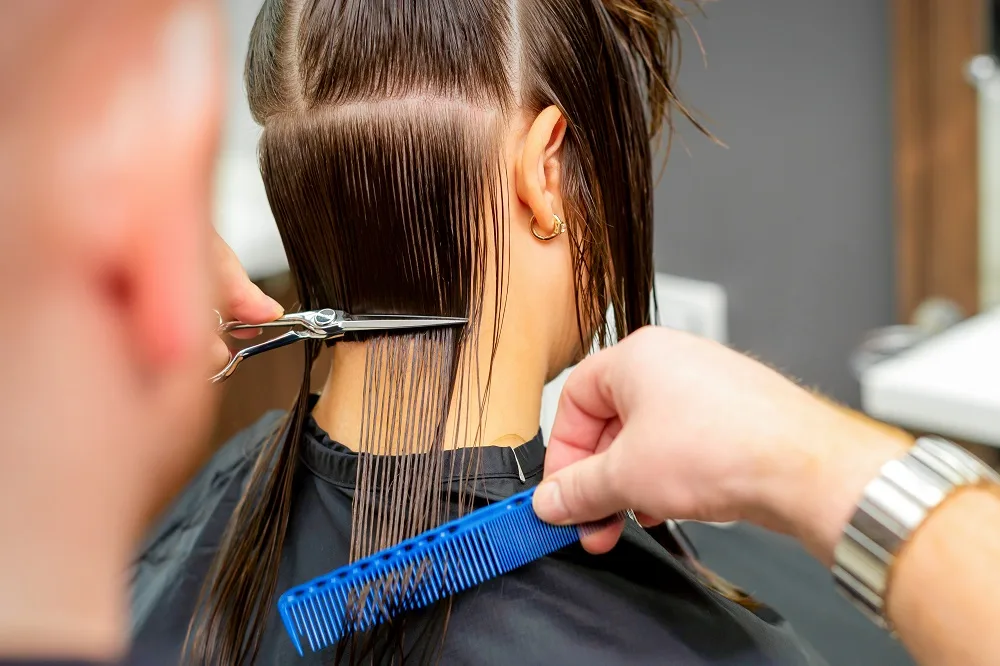 Section the top of the hair and trim around the nape until you reach the desired length.
Run the comb through the section you'll cut and pinch it off between your forefinger and middle finger. Cut along your fingers to keep the length consistent.
Refine the Back
Part your hair from behind one ear across the top of your head and down behind the other ear. Clip this front section forward and out of the way.
Repeat the cutting method on the hair at the back starting with a vertical section from the center back. Make sure to pull the hair straight out from the head and not at an angle. Check over the evenness by pinching and trimming horizontal sections after.
Cut the Sides
Continue cutting vertically and horizontally around the sides of the head. Always take some of a previously cut section to measure out the segment you'll cut next.
Cut the Top
Cut the top section with the same method but angle the hair based on the desired length. Pulling it up will create a shorter top layer with longer bottom strands. Blend in the top layer.
Cutting the Front
Comb the hair in front of the face and cut the bangs to the desired length. Blend the sides into the hairline and layer the top of the bangs like the rest of the hair.
Make Final Adjustments
Comb through all the hair once more to check for any misalignments or missed sections and make any final changes.
Style
At long last, the cutting is done, and you can dry and style your new do.
Layered Pixie Haircuts
If you don't mind shortening your long locks, or just crave a more tomboy look, the layered pixie cuts will suit you like a glove. You'd be tempted to think that you don't have too many possibilities when having short hair, but if you scroll down, you will discover so many gorgeous ideas to arrange your pixie.
1. Blonde Layered Pixie
A layered pixie bob provides a lot of options when it comes to styling. You can make it look messy, elegant, and even with a rebel twist. Get ready to obtain a hairstyle that you can mold on any occasion.
2. Asymmetrical Layered Pixie
If you have a rounded face, you need a layered pixie cut in your life. Give the top more volume to create an elongated appearance. Style bangs that you can flip on one side because they will diminish the prominent cheekbones.
3. Choppy Pixie with Highlights
Choppy layered pixie cuts look fabulous, especially if you build more texture. Opt for a honey blonde color and add thin platinum blonde highlights.
4. Ashy Blonde Layered Pixie
This ashy blonde layered pixie haircut makes your hair look thicker and with lots of dimension. Create an undercut on one side and maintain a long top that you can swoop on the other part.
5. Short Layered Pixie for Women Over 50
Short layered pixies are perfect styling options for women over 50. They are not only easy to maintain but can also look so damn good. At the same time, they are modern and chic, and you can even pull off bangs that fall on the forehead or can be swooped on one side.
6. Crazy Pixie
Pixie hairstyles suit women of all ages, no matter their hair texture, personality or style. So, if you want something crazy, that pops out, shortly layer your hair and go for an aquamarine colour. You might want to spice things up even more, so use your bangs, and ask your hairstylist for a multi-coloured piece.
7. Platinum Blonde with Green Roots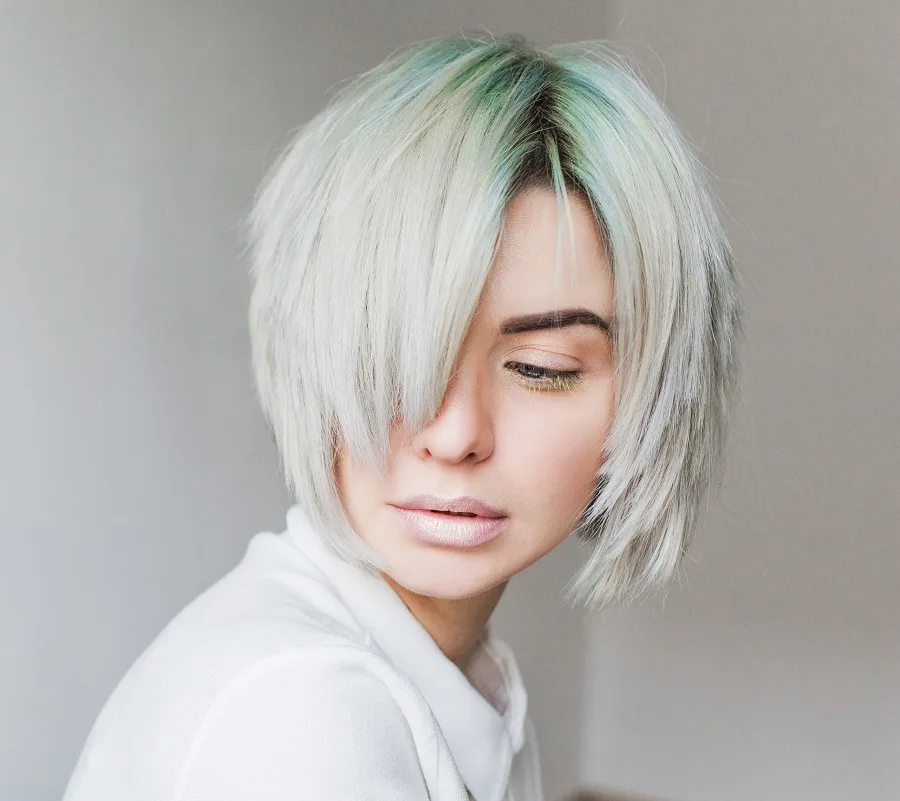 Layered hairstyles look absolutely gorgeous, especially when you use a straightening iron. You will beautifully highlight those layers. Consider choosing a pale green color for the roots, and transit that hue you to white color with grey reflexes.
8. Tight Ringlets
A short layered pixie haircut it's probably one of the best approaches for women with very curly hair that crave a hairstyle that can be styled in just a few minutes. When ringlets are cut short, the curls gain more bounce and movement, and have a silky stunning aspect.
9. Audrey Hepburn Look
This is a modern adaptation of the well-known Audrey Hepburn look. It shows off your feminine side, even if the hair is cut relatively short. Create layers and slightly wave them, and channel that natural, simple but chic style.
10. Pixie for Women over 50
Women over 50 love a good pixie because it is low maintenance and easier to dye, especially when dealing with white and grey threads that need proper coverage. A proper color that suits your skin tone will strip off ears from your face.
11. Pale Green
This year, pastels and pale colors are frequently requested by women who want a dramatic look change. However, you must know that getting such a color involves a few bleaching sessions until you reach this white blonde base. Only after that you may apply the green.
12. Pale Pink Ombre
Opt for a layered pixie with black roots and a stunning ombre that starts from a silver platinum blonde color, and uses a pale pink nuance for the tips. Layer the crown and bangs and swoop the top to one side, highlighting those gorgeously painted strands.
13. Ginger Ringlets
When you have gorgeous green eyes and want to make your facial features stand out, ginger hair color will certainly do the job. Moreover, it will make your ringlets impossible to ignore. Do a middle part, and let your fringe fall on the side framing your face.
14. Jet Black
A jet black color draws all the attention to your facial features. It provides great coverage for your hair that doesn't easily fade. By getting a layered black pixie haircut, you will obtain a mind-blowing combination that you can style in multiple ways. For this case messily arrange the crown and lift some strands from your bangs.
15. Copper Highlights
As you go older, your skin tone might change and you need to adapt your hair color. So when you have fair skin with pink undertones, consider getting a darker blonde shade and beautifully blend some copper highlights and lowlights.
16. Eye-popping Red
Red is a striking color for your hair, but one of the hardest to maintain. The pigment doesn't hold too much, so you will need to properly care for your tresses by using products specially designed for this fierce shade.
17. Stacked Wavy Cut
By combining of pixie haircut with a bob you will get a haircut that allows you to approach multiple styles. So you can build loose waves, using those longer front pieces, and messily tousle the top. When using the iron, make sure you also lift the roots.
18. Layered Cut with Bangs
A layered pixie with bangs cut just above the eyebrows will create the best frame for your face. Choose a natural brown color that suits your skin tone and compliments your eyes. If you have facial piercings and want to soften your appearance, go for a pair of vintage frames for your glasses.
19. Pixie Bob
A messy pixie bob is quite an option when you want to express your rebellious yet glamorous personality. Create a great contrast between your glossy makeup and messy tousled hair. Go for highlights and lowlights in the same color range: in this case, a darker blonde color.
20. Messy Short Cut
To reveal your face and make your haircut stand out, consider using two different hues of the same color. So, the shorter sides and the back can have a brown color with copper reflections while the top is brighter and more vivid. Lift your hair with your hands to build more height and volume.
21. Pixie for Older Women
A stacked pixie haircut with multiple layers will have a lot of dimension in the back, making her hair look rich and dense. As your white threads start appearing, you will have natural highlights that fabulously blend with your regular darker hair color.
22. Bright Copper
For this wavy layered pixie, you can use multiple colors that transform a simple haircut into a real piece of art. This way, by going for a bright ginger in the crown section and fringe, with the darker back hair, you will create a front centerpiece that catches the eye.
23. Pixie with Shaved Temple
Women with green eyes look absolutely fabulous with any red hue. So you have plenty of opportunities and shades to choose from. And if you don't want something vivid and eye-popping, go for a faded red and a pixie haircut that will channel that badass look. Shave your temples on only one side.
24. Layered Pixie with Finger Waves
Black girls look fabulous with layered pixie cuts and this is one of the best examples. Keep your hair short on one side and use your sideburns and temple hair to create finger waves. Give your top a lot of volume and style a small bump for the roots.
Ideal Layered Bobs for Women With Dark Skin
25. Blonde Pixie Bob Hairstyle
The contrast of lengths for this layered pixie cut with bangs is totally mindblowing. Make a look modern by spreading those asymmetrical bangs on your forehead and you'll obtain a hairdo that will get you loads of compliments.
26. Layered Messy Pixie Cut
A layered messy pixie haircut requires just a little bit of your attention. If the haircut is done correctly, you will probably need only a tousle and a fixing hairspray that will make it last all day long.
27. Long Layered Pixie Hairstyle
Ever thought about getting a long layered pixie cut? If not, this is probably the hairstyle that will convince you to renounce your long tresses and go for a haircut that can be both elegant and easy to maintain.
28. Layered Pixie with Choppy Bangs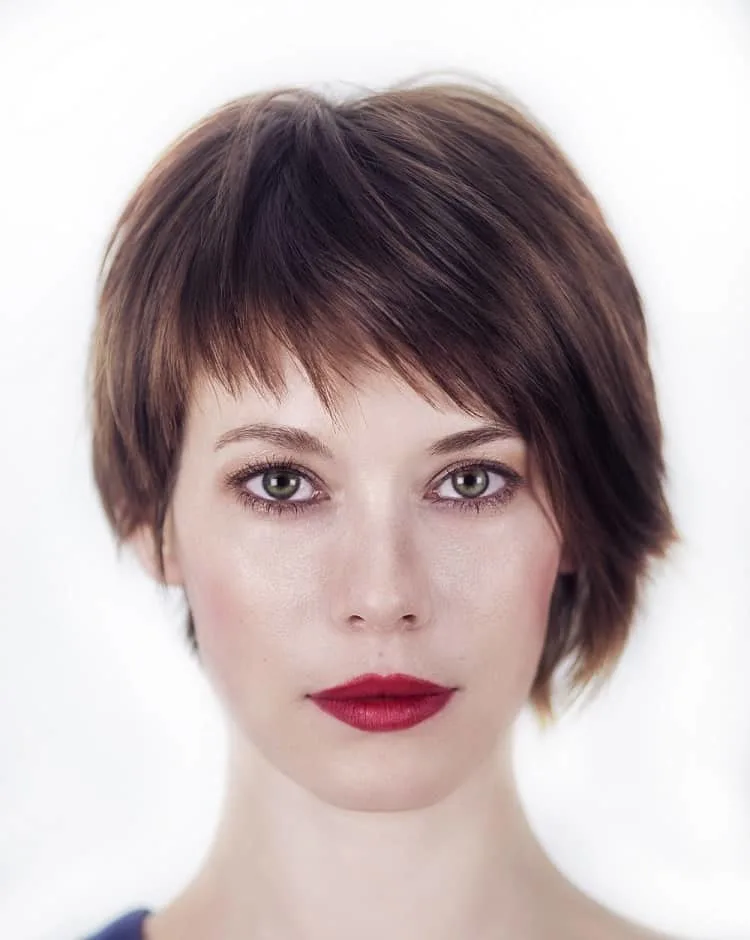 Asymmetrical layered pixie cuts can frame your features and spare you a lot of time and money spent on styling products. This wash and go hairstyle is ideal for busy women who need and want to look cool and chic.
29. Blonde Pixie with Side Bangs
Blondes do it better they say, and in this case, we can't do anything but agree. This long pixie is elegant and will make any women look ravishing and glamorous.
30. Layered Pixie for Brown Hair
Who said you couldn't reek sophistication when you have a short layered pixie. It will gorgeously frame your face and make your cheekbones stand out.
31. Mermaid Color
Express yourself throw your hairstyle. If you adore colors and you are not afraid to be in the spotlight all the time, layered mermaid hair will suit you like a glove. Make shades like purple, green, and teal blend if you want a lot of dimension.
32. Layered Pixie for Short Hair
Layered pixie cuts make beautiful hair look less dull, and they are one of the best options out there. They provide exceptional framing and give your short tresses more volume. You can either wear your bangs on one side or tousled, creating a messy look.
33. Layered Pixie for Curly Hair
Layered pixies suit any hair type and can even flatter curly hair. Short curls have more movement and bounce, so if you want your ringlets to stand out, you've found the right hairstyle.
34. Rainbow Texture
Having a short layered hair can be the best idea if you love experimenting with different shades and color. For example, you can recreate this textured rainbow hair without worrying about damaging your locks. Your strands will grow and regenerate faster, and you'll be ready in no time for a new hairdo.
35. White Gray Hair
One of the most underrated characteristics of a layered pixie is its versatility! That's right; they suit women all ages, all skin colors and hair textures. Also, they look incredible on white-gray hair, so give them a try!
Layered pixie cuts build a lot of volume, and they are so easy to maintain. Wash your hair, blow dry it and give it a tousle and you are ready to leave the house in just a few minutes. Who wouldn't want that?