Half braid half down hairstyles are always classic options for women of any age, be it a wedding, prom or any other special occasion. Women who are going to fancy or special events know that their hair plays a huge role in how others see them.
Really standing out in a crowd and looking the best possible can be overwhelming, but not when women choose the best style for their look.
Classy Half Up Braids Styles
There are a few different types of half up half down braids to choose from, which is why women will want to spend some time picking their style before their special event.
1. Half Up Half Down Cornrow Braids
Half up half down cornrow braids look fabulous, especially when they are being used to create designs. Orient the braiding down for the whole head but use two knits to create a part. These cornrows will go up, and they will give the hairstyle a whole new look.
2. Half Up Crown Braid
To make your hairstyle look this fabulous, you need to section the mane in two. Use the upper part for braiding and create a French or a fishtail knit. For the rest of your mane, opt for relaxed boho waves or well-defined curls.
3. Half Up Tribal Braids
Create tribal braids that go on each side and use a knit as parting. Decorate them with cuffed beads or golden applications and style a big bun on top of the head. Also, make two braids using the sideburns and let the fall before the ear.
4. Half Up Crochet Braids
If you have straight thin hair, that doesn't mean that it should remain the same. There are so many things you can do, and one of them is to apply crochet braids. Create knitted designs in frond and opt for a half pony.
5. Half Up Half Down Fishtail Braid
Take your mane and split it into two sections. Use the upper part to build a fabulous fishtail braid. You can directly start knitting,  or make a knot and then braid.
6. Half Up Braids for Wedding
Even if you are the bride or just attending a wedding, these half up braids are ideal hairstyles. You will look chic and glossy with two braids that act as a crown. Slightly pull off the edges of the knits to give them more dimension.
French braids are special in their own right, but including them as part of a half up half down hairstyle is a great way to make them even more impressive.
The braid can either be directly down the center of the head for a thick and stunning look, or two French braids can be braided off from the sides of the face and then joined at the back of the head.
No matter which type of French braid is used, this style is sure to be a showstopper.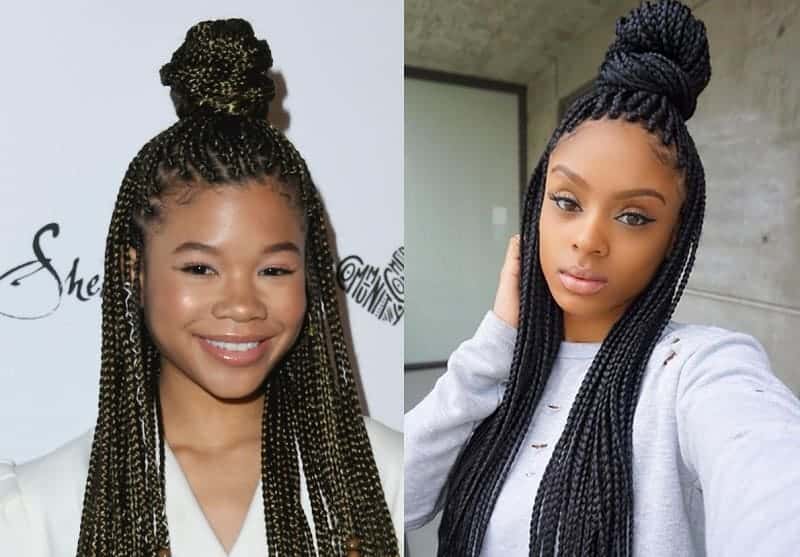 Box braids are not only gorgeous but are a great option for a half braid style. These thick braids add a lot of interest and movement to a woman's personal style, and piling some of them on the top of the head in an intricate knot is gorgeous.
Allowing the rest of the box braids to fall down around the shoulders gives the look some freedom and movement and keeps it fresh and updated. The movement of the braids keeps the look from appearing too tight and constricting.
These braids alternate between thick and thin and braid back from the face, which is a great way to keep bangs out of the way.
Bright colors make the look really pop, and impressively curly weave hair that hangs down around the shoulders finishes the look.
The puffy bun on the top of the head helps to set this look apart from other half down braided hairstyles, making it a bold look that is sure to impress.
A waterfall braid is a loose and elegant look for women who want their hair to express their generous spirit and loving life.
Because it's not as tight and defined as other types of braids, it may not be the best option for all women or for all situations, but the loose and airy look is very appealing for some people.
It's a relaxed style that still manages to look appropriate for special occasions such as weddings, graduations, or other festivals or parties.
Thick Dutch braids are incredibly popular with women who want to make a statement with their hair and who have enough thick hair to perfectly pull off this style.
As far as half up half down braids go, this style stands out from the crowd and is one that is sure to be eye-catching.
The thick braid circles the crown of the head and flows effortlessly into curls that cascade down the back, making this look unique and very attractive. It's best for women who have thicker and longer hair.
No matter if the braids are thick or thin, they can easily work with this half bun hairstyle. With some of the braids up and knotted on the top of the head and the rest of them allowed to fall gently around the shoulders, this look is refreshing.
The Fulani braids can be any size and can also be straight, curved, or highly angular, which means that women who opt for this style can easily adjust it to match their personality and lifestyle.
A half up braid looks great and will instantly give any woman a boost of confidence, no matter what special event she is going to. Choosing one of these 12 fun and easy styles will ensure that any woman looks amazing and will allow her to rest easy knowing that her hair makes her look and feel great.