Half up half down braids are a highly popular hairstyle for women. They've been around for years, and they remain stylish to this day.
There are lots of different styles of this type that you can use to change up your look. Certain styles suit everyday wear, and others are best for parties, formal events, and similar occasions.
The sweet and fashionable style is perfect for those who want to look effortlessly chic. It is a beautiful style that can be worn at any time of the day and will never go out of fashion.
Half Up Half Down Braided Hairstyles
Below you'll find a selection of these styles to keep your look on-trend and fresh in appearance. How many of these styles would you look to play with?
1. Little Twists and Loose Hair
If you like an edgy look, consider letting your hair look a little messy like this look. There are three styled sectioins in the hair, lacing through it like ropes, and there's lots of volume on top. Paired with bold makeup, you'll look dark, mysterious, edgy, but still delightfully casual.
2. Turquoise and Purple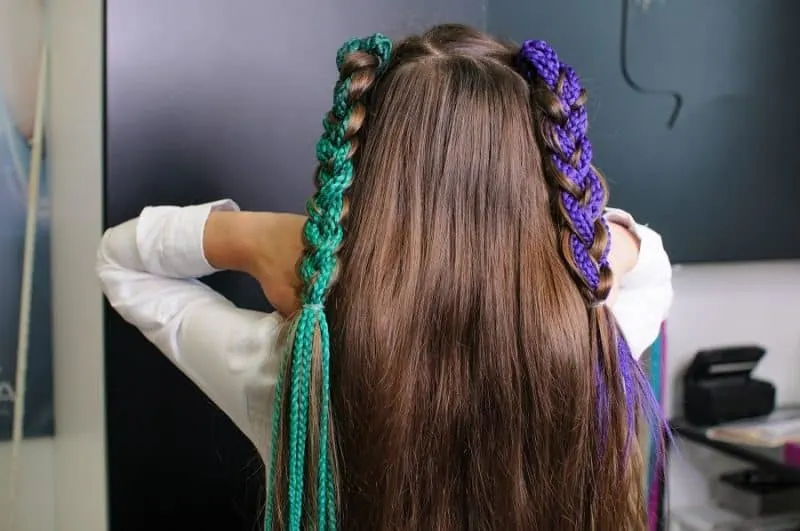 Most of this hair is loose and unstyled, but there are two pieces styled and placed high on the head. There are lots of little entwined sections running through two larger ones, and these little ones are brightly colored and adorn the look with a very unique touch.
3. Bubble Ponytail On Straight Hair
Do you want to look like a princess? Half up half down braided hairstyles like this feature a very thick styled section in a twisted manner, sitting around the head like a crown. The styled pieces then fall down the back of the hair elegantly. A nice natural ombre look adds depth to the look.
4. Curly Pink Mermaid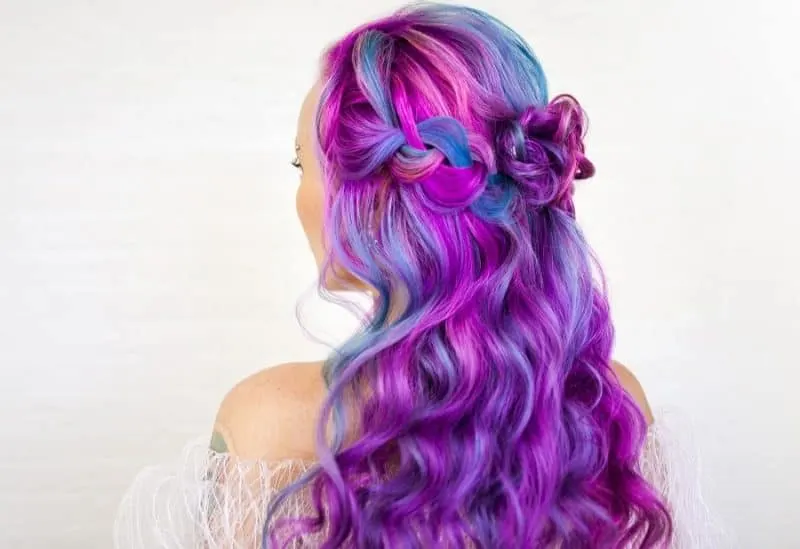 A mermaid look is very popular these days. This style is in purple and blue so it automatically ticks the boxes for a mermaid look, but it's also one of many half up half down braided hairstyles. The arrangement sits around the head like a crown at the back, then it finishes in a messy, textured bun.
5. Bun and Nicely Textured Hair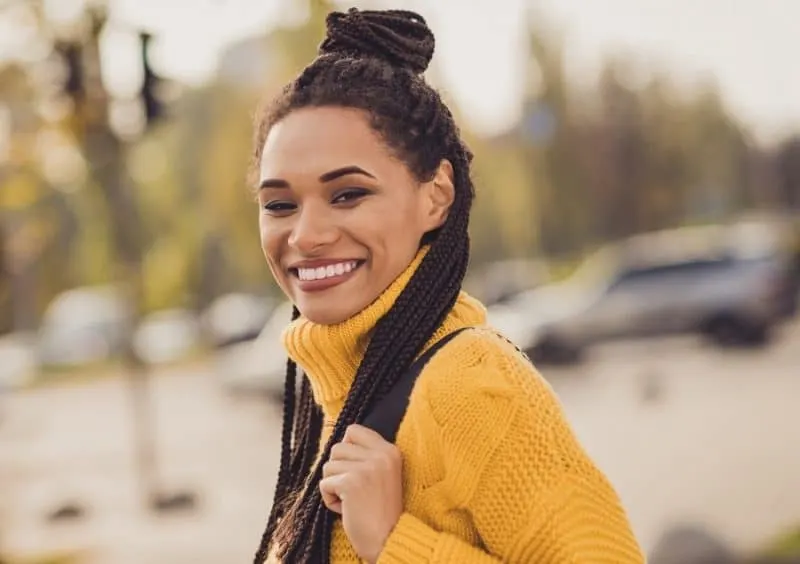 Black and mixed-race women can rock looks like this, as having lots of little box braids like this is classic in those looks. This look has the hair long and loose in its style, and some of those are taken up and wrapped into a bun at the crown of the head.
6. Crown and Fishtail
With this style, you'll look like a princess. There's a large bump at the front of the hair where the hair forms a twist that wraps around to the back of the head. There's a fishtail-style segment sneaking out from under it, and the rest of the hair is loose and curly.
7. Ultra Pastel Mermaid Look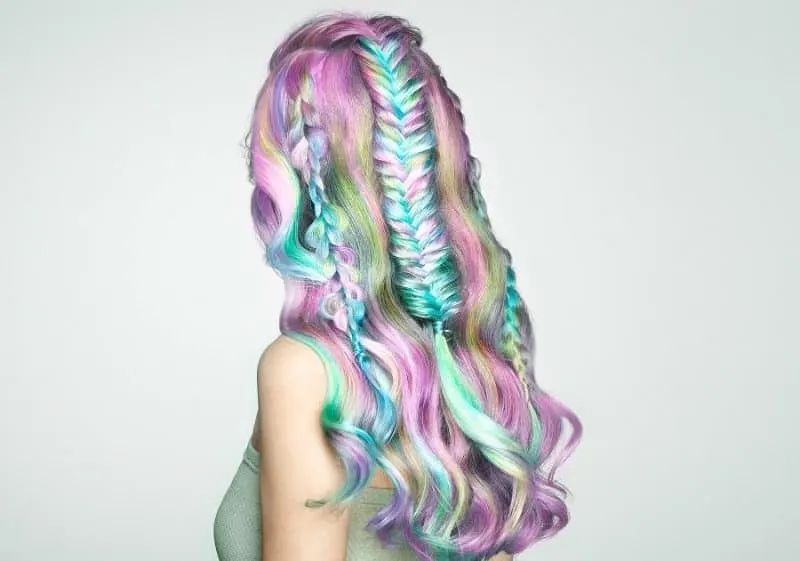 All the pastel colors, curls, and fishtails in this hair lead to it being yet another delightful mermaid look that someone with an incredibly fun and bright personality will rock. There's a large fishtail down the back of the head starting at the hairline, and two more casual ribbons of hair flank it.
8. Thick Complex Look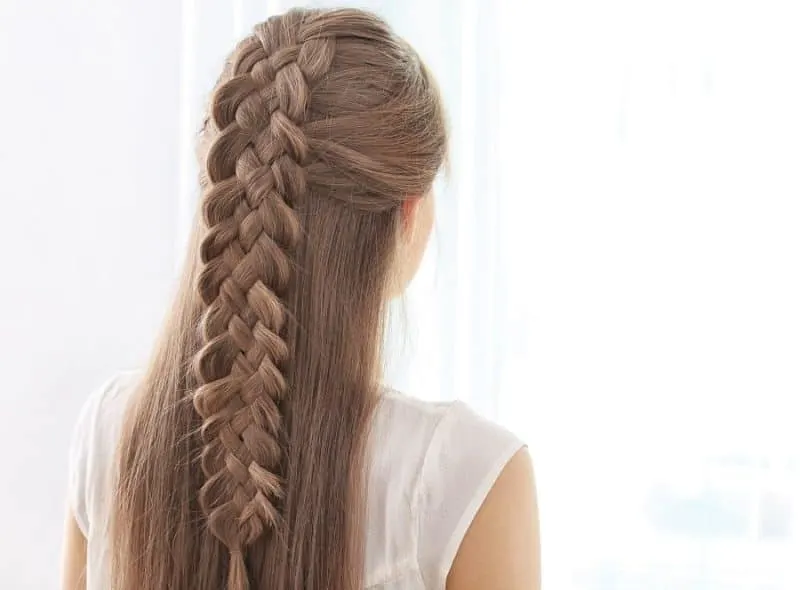 In this look, the hair is pulled back from the crown of the head into a very wide style. It sits atop some sweeping straight hair peeking out at the back.
9. Braided Side Section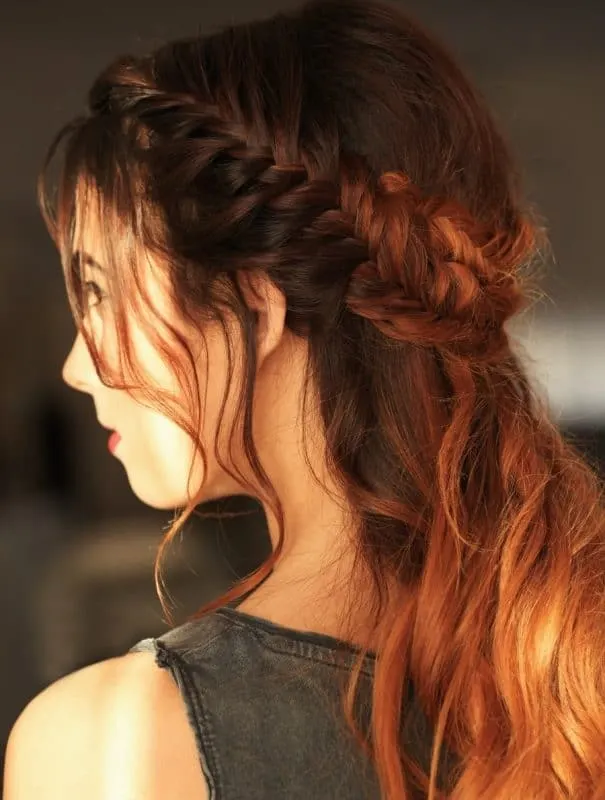 Side-placed half up half down braids are wonderful, often look very regal, and look quite historical. This style showcases both vibes. The twist starts at the hairline and wraps around to the back of the head, and there are lots of loose, curly strands.
10. Silver and Roses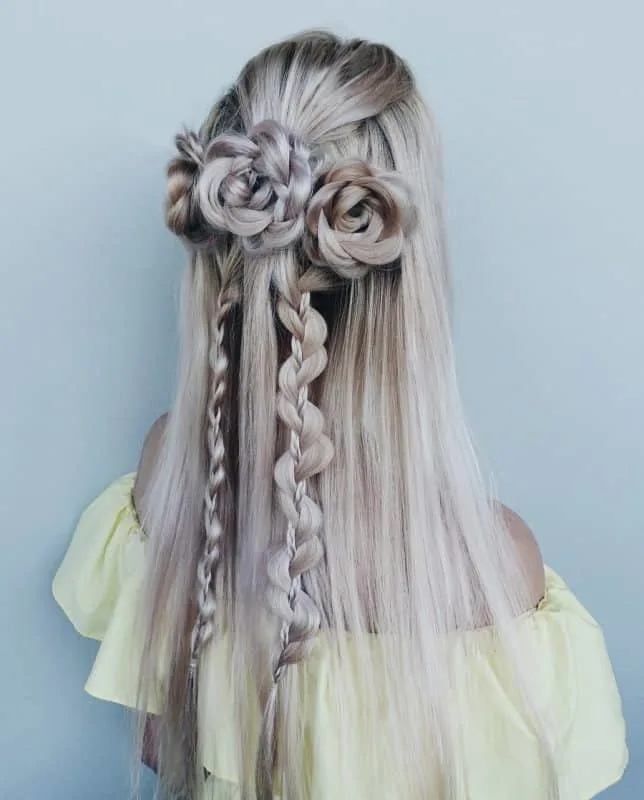 Silver hair is very trendy. It's never looked more elegant than it does here, as the hair is wrapped into roses that decorate the back of the head. Two twisted sections hang from beneath the roses, and the rest of the hair is straight.
11. Textured Top and Loose Under Layer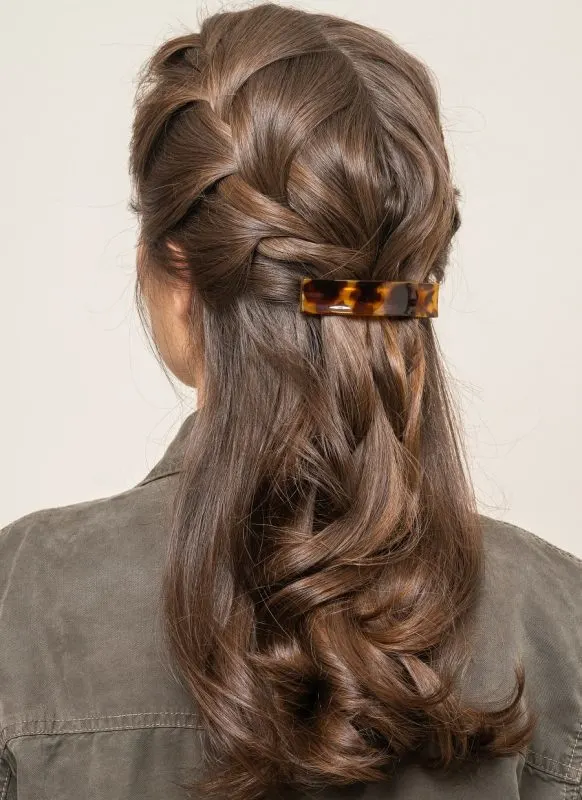 A style with a textured top is always interesting and eye-catching. This one has lots of large criss-crossing sections on top, secured with a clip. The bottom layer of the hair at the back hangs loose.
12. Crown with Fishtails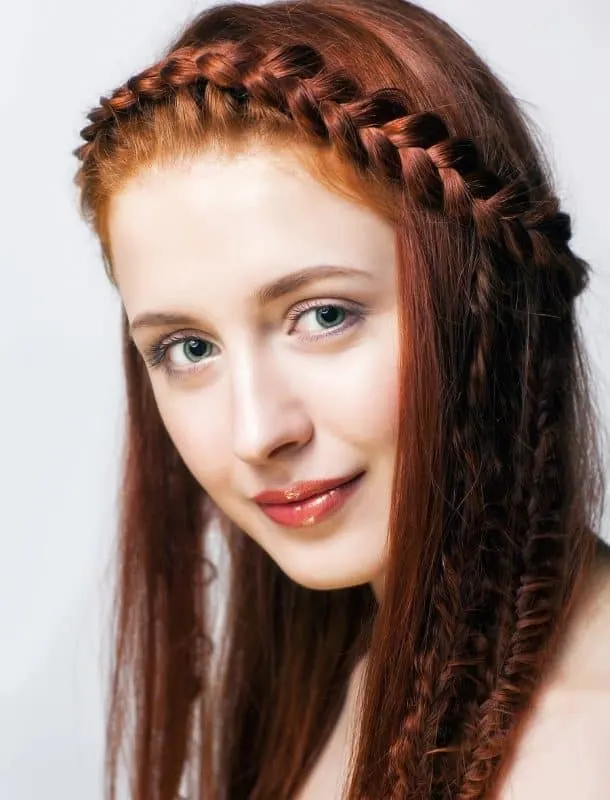 Crowns are desirable, so use your hair to create one! This one is very elegant and wraps around the front and back of the head, and some fishtails hang down the side.
13. Bejeweled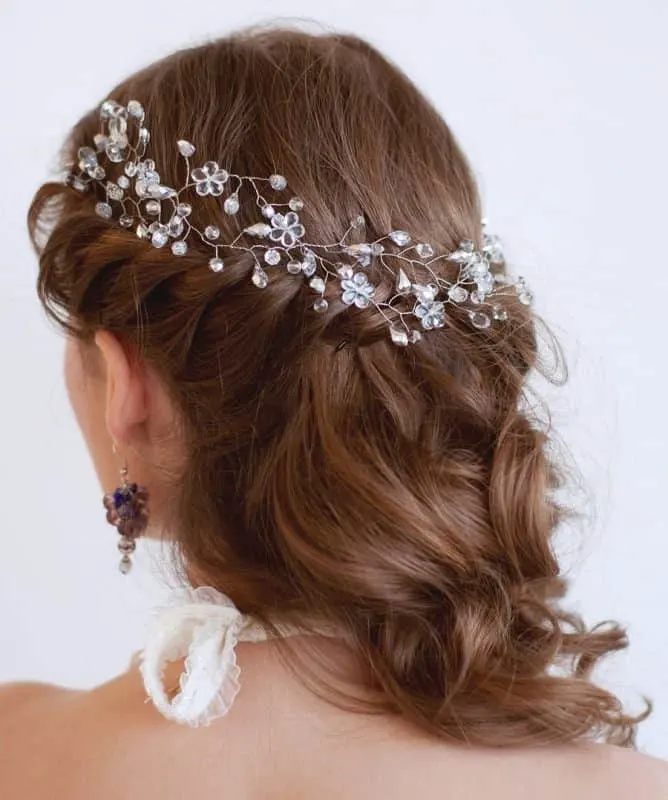 Half up half down braids for weddings are common and delightfully elegant. You can make them even more elegant by adding some jewels like these that sit on top of the lacing style. The section of hair wraps around the side of the head.
14. Flowers and Crossing Curls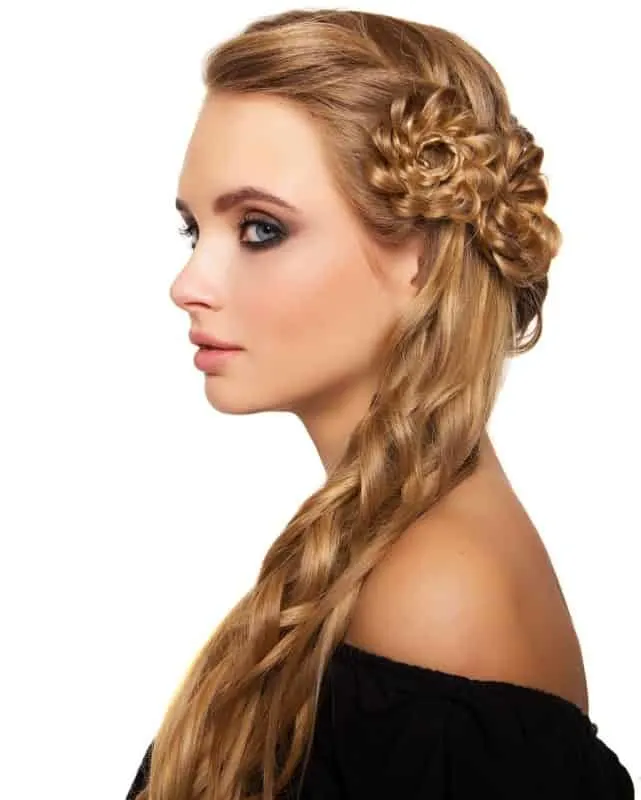 Forming flowers with your hair makes you look ultra-elegant. This style showcases two round flowers on the side. They're made of entwined hair, then the hair that hangs loose is in perfect curls that cross over each other.
15. Crimps and Turquoise Decoration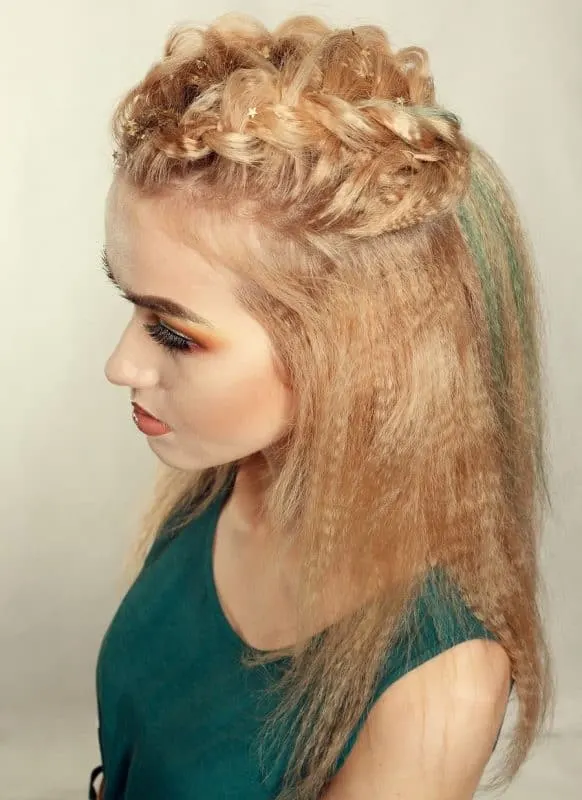 Retro looks are very trendy, and this is a great example. Most of the hair hangs loose and crimped with some turquoise decorating the back, and the top has double plaits that add nice volume.
16. Curly Bob and Top Twist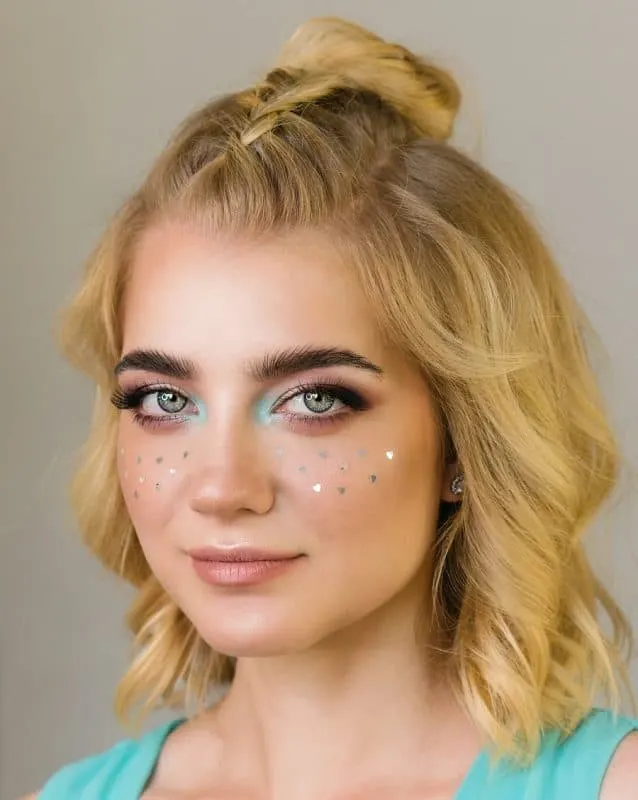 Curly hair pairs with the half up, half down style well, and this look has a woven look on the top and it ends in a bun on the crown of the head. The rest hangs in a loose and curly bob.
17. Thick and Looped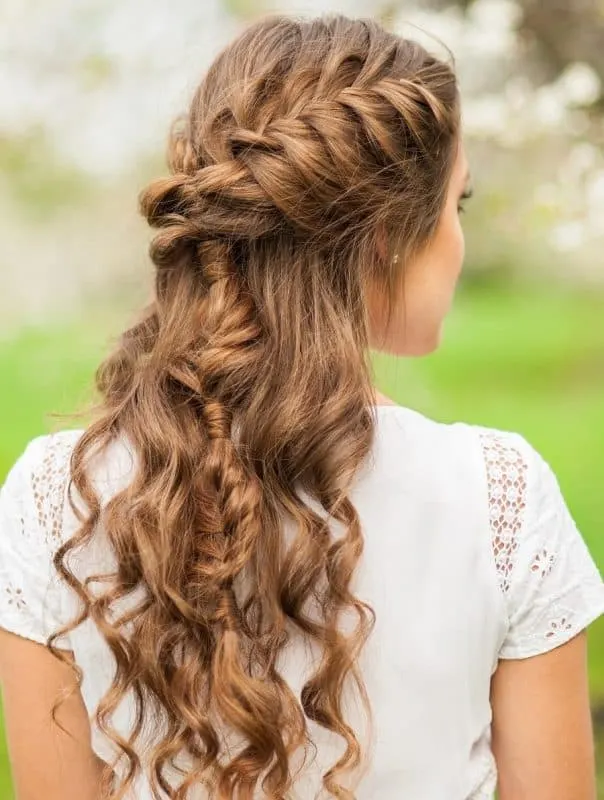 A thick-styled section adds a regal vibe to a style, as you can see here. There's a thick entwined hair segment on one side of this style, crossing over to the center at the back. A roped look extends from it and blends in with the hair.
18. Gentle Sectioned Side Look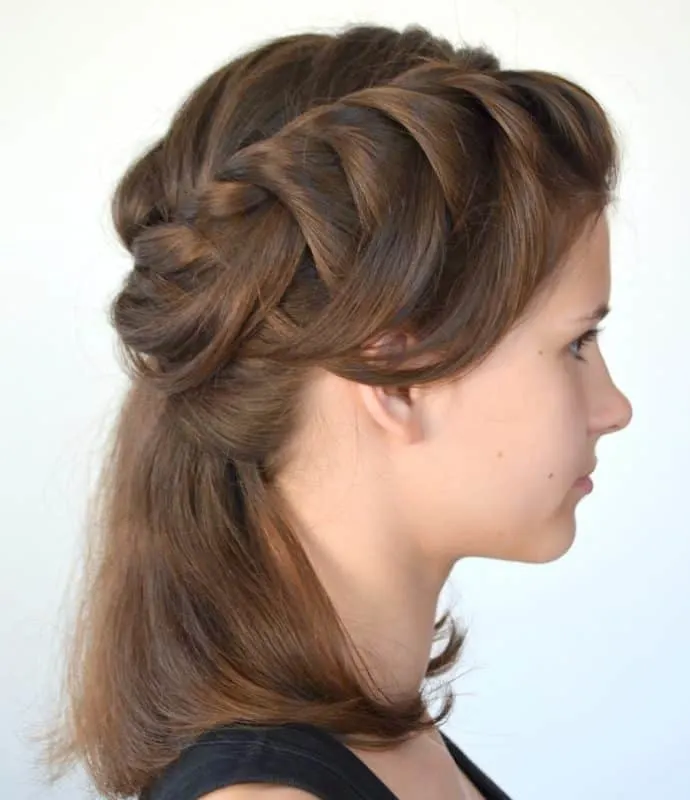 Some criss-crossing looks require such precise and perfect sectioning that it'll take a talented person to style them, like this one. This plait sits on one side of the head and is styled very gently but carefully, and it forms an updo while the hair underneath it hangs to the shoulders.
19. Heart and Space Buns
Most of this hairstyle hangs in a loose shoulder-length style. Tiny twists push up sections of the hair into a heart shape around the center part, and twisted buns form the peaks of the heart.
20. Loose Curly Princess Look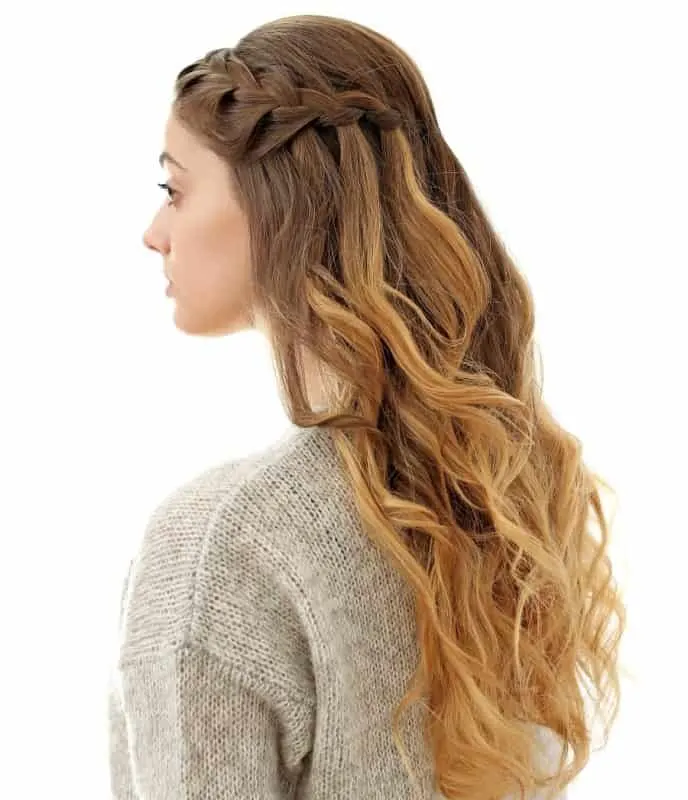 Many looks of this style will make you look like a princess, and this is one of them. The braid goes from one side of the head to the other and ends by trapping three curly sections and letting them fall to blend in with the rest of the hair.
21. Half Up Half Down Cornrow Braids
Half up half down cornrow braids look fabulous, especially when they are being used to create designs. Orient the braiding down for the whole head but use two knits to create a part. These cornrows will go up, and they will give the hairstyle a whole new look.
22. Half Up Crown Braid
To make your hairstyle look this fabulous, you need to section the mane in two. Use the upper part for braiding and create a French or a fishtail knit. For the rest of your mane, opt for relaxed boho waves or well-defined curls.
23. Half Up Tribal Braids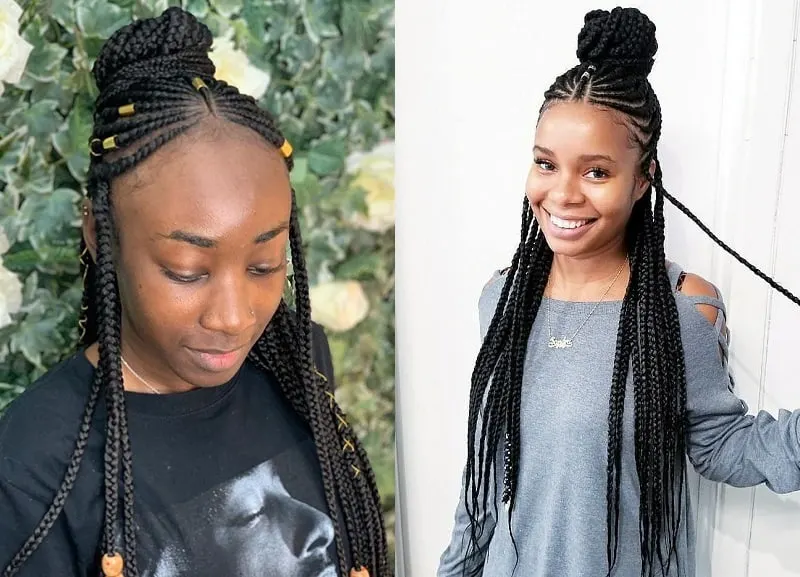 Create tribal braids that go on each side and use a knit as parting. Decorate them with cuffed beads or golden applications and style a big bun on top of the head. Also, make two braids using the sideburns and let the fall before the ear.
24. Half Up Crochet Braids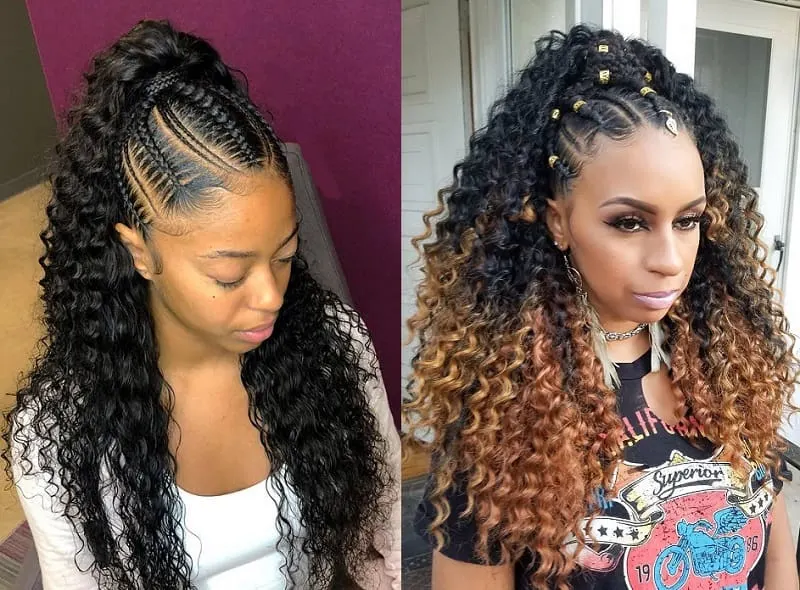 If you have straight thin hair, that doesn't mean that it should remain the same. There are so many things you can do, and one of them is to apply crochet braids. Create knitted designs in frond and opt for a half pony.
25. Half Up Half Down Fishtail Braid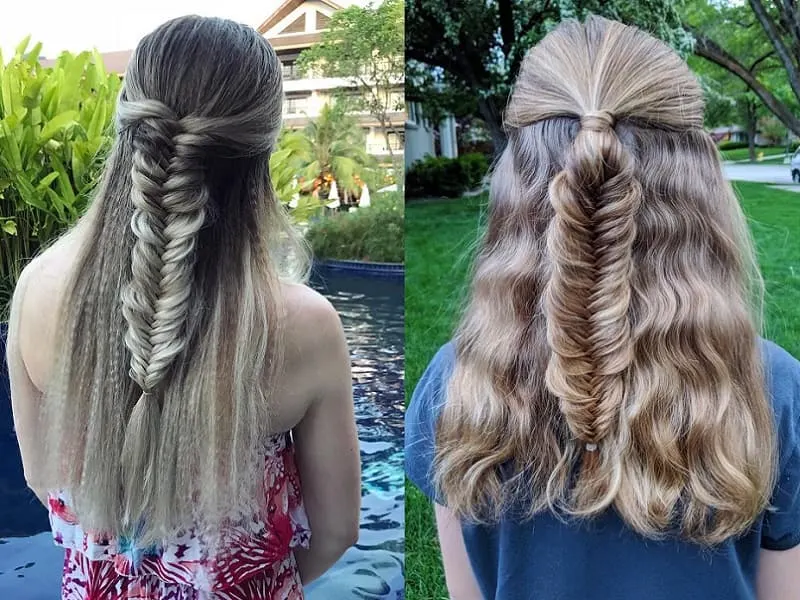 Take your mane and split it into two sections. Use the upper part to build a fabulous fishtail braid. You can directly start knitting, or make a knot and then braid.
26. Half Up Braids for Wedding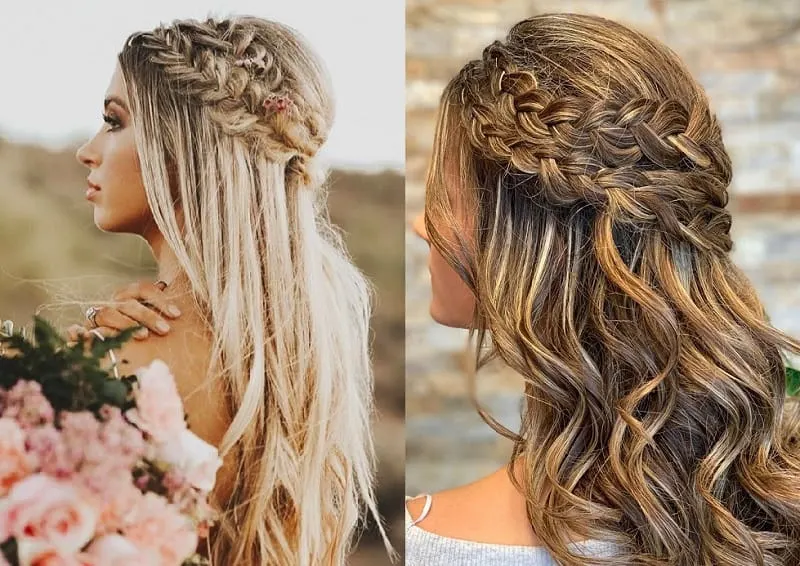 Even if you are the bride or just attending a wedding, these half up braids are ideal hairstyles. You will look chic and glossy with two braids that act as a crown. Slightly pull off the edges of the knits to give them more dimension.
French braids are special in their own right, but including them as part of a half up half down hairstyle is a great way to make them even more impressive.
The braid can either be directly down the center of the head for a thick and stunning look, or two French braids can be braided off from the sides of the face and then joined at the back of the head.
No matter which type of French braid is used, this style is sure to be a showstopper.
Box braids are not only gorgeous but are a great option for a half braid style. These thick braids add a lot of interest and movement to a woman's personal style, and piling some of them on the top of the head in an intricate knot is gorgeous.
Allowing the rest of the box braids to fall down around the shoulders gives the look some freedom and movement and keeps it fresh and updated. The movement of the braids keeps the look from appearing too tight and constricting.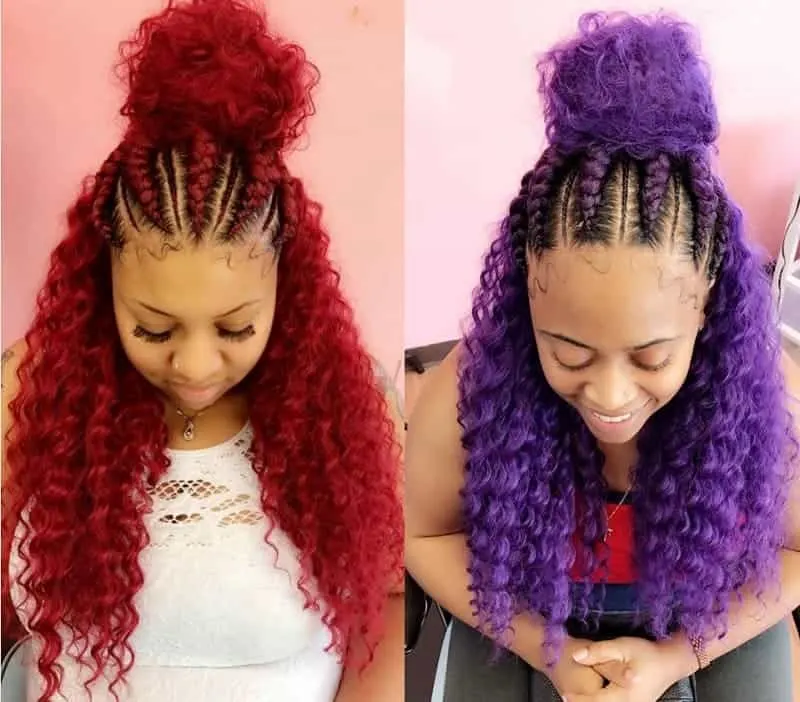 These braids alternate between thick and thin and braid back from the face, which is a great way to keep bangs out of the way.
Bright colors make the look really pop, and impressively curly weave hair that hangs down around the shoulders finishes the look.
The puffy bun on the top of the head helps to set this look apart from other half down braided hairstyles, making it a bold look that is sure to impress.
A waterfall braid is a loose and elegant look for women who want their hair to express their generous spirit and loving life.
Because it's not as tight and defined as other types of braids, it may not be the best option for all women or for all situations, but the loose and airy look is very appealing for some people.
It's a relaxed style that still manages to look appropriate for special occasions such as weddings, graduations, or other festivals or parties.
Thick Dutch braids are incredibly popular with women who want to make a statement with their hair and who have enough thick hair to pull off this style perfectly.
As far as half up half down braids go, this style stands out from the crowd and is one that is sure to be eye-catching.
The thick braid circles the crown of the head and flows effortlessly into curls cascading down the back, making this look unique and attractive. It's best for women who have thicker and longer hair.
No matter if the braids are thick or thin, they can easily work with this half bun hairstyle. With some of the braids up and knotted on the top of the head and the rest of them allowed to fall gently around the shoulders, this look is refreshing.
The Fulani braids can be any size and can also be straight, curved, or highly angular, which means that women who opt for this style can easily adjust it to match their personality and lifestyle.
As you can see, half up half down braids are a versatile hairstyle that can be worn in different ways. They're also great for people with short hair because they don't require much length to make them work.
The styles above are perfect for people who want to keep their hair out of their face but still want to wear it fashionably. They're also perfect for people who have shorter hair because the styled part will cover the part that's left loose to look like you have more hair.
So play with these looks and have fun!