Today is the day your life will become so much better thanks to the 25 box braids updo hairstyles we bring you. Ladies with box braids gather you will find so many ideas that will blow your mind.
You have choices for every single day of the week. Some are very simple and fun, while others are more on the wild side. That is why you have to go through all the 25 and save the ones you want to recreate. Feast your eyes on the looks below.
Latest Updo Hairstyles with Box Braids
Following are the 25 most lovely updo hairstyles with box braids for modern women to try.
If you didn't know by now, you can actually braid your box braids in a crown. Sounds like an amazing idea, right? This is a hairstyle meant for all types and colors of braids.
Ideal for: If you've been looking for a fashionable way to put your hair up, this chic box braids updo sounds like the perfect idea.
How to Style: You will need to define a starting point and work with three strands. It will be much easier if the hair is long.
This box braided updo style is larger than life. When you want to show off the shaved sides and back you just got, the best option is to put the braids in an updo.
Ideal for: Perfect for women who love undercuts and such edgy shaved hairstyles.
How to Style: You don't have to worry about creating the perfect bun. Just wrap the box braids and secure them high up. You can do this in two minutes. When you get bored, simply put them down.
3. Rainbow Half-Updo
Flaunt those stunning colorful box braids in a half-updo. That way you'll have a chance to escape the regular way of wearing them every single day.
Ideal for: Perfect for women who have long and colorful braids, but don't want to always wear them either down or up. It's kind of an in-between hairstyle that is flattering for everyone.
How to Style: Just get the top part of your hair and twist it in a bun. You will not have any trouble in pulling this off. All you need is a hair tie and several bobby pins.
4. Accessorized Box Braids Updo
Once you create the braided updo, there are so many different options on how to accessorize it. If you had any doubts, this hairstyle will solve them all.
Ideal for: Adding a headband to the mix will not only give you a glamorous touch but also help you keep the braids up and out of your face.
How to Style: Do a simple updo by rolling the box braids with beads in a high bun. This is where the fun starts. You can actually add a headband and still look cool. Just check out the example above. She looks wonderful and so elegant.
5. Patterned Half-Up with Box Braids
Another gorgeous pattern that deserves everyone's attention. The updo with box braids on the picture is meant to show off the fun design on both sides.
Ideal for: Great for ladies who are obsessed with pretty patterns and want to have their hair up at the same time. The fun half-up mane solves both of the problems, while also providing you a beautiful look.
How to Style: There is nothing complicated about this hairstyle. The essential is that you need to put half of the braids up in a bun. You can even add cute accessories just like the picture.
Box braids give you so much space for experimenting. You can go for the classic updo hairstyles, but you can also surprise everyone with the most stunning hairstyle you've seen in a while.
Ideal for: We are so in love with this box braids updo that we had to share it with you as well. All women with box braids can do, but they will need to have them long.
How to Style: Since this look requires skills, you might want to visit your hairstylist. They will help you copy the oversized swirl and be the trendiest girl around.
The messy buns you see on straight or curly hair can be recreated on box braids as well.
Ideal for: Great for anyone who has box braids, even the women with short ones. They don't have to feature a rainbow color wave.
How to Style: It is an effortlessly cool mane that you can do in so many ways. You just put the braids up and use a hair tie to secure them. If they are too heavy add some extra bobby pins.
8. Oversized White Updo
Add some color to those braids before working an updo. A contrasting shade is always a good idea.
Ideal for: It is ideal for experimental, bold types who never get enough of hair changes. These ladies are always intrigued by new trends and
How to Style: You will first need to get white or grey box braids, then turn them into a huge updo. This hairstyle is also decorated with a cool undercut.
9. Classy Updo
Try putting your box braids in a fabulous updo such as this one. You will need a special event and a good hairstylist.
Ideal for: This mane is the ideal option for an upcoming wedding or a big party you have to attend. There are times when you want to put your hair up so that it shows off your amazing outfit.
How to Style: Visit the hairstylist, so that they can completely recreate this look. You can try and do it at home but you'll definitely need more time and effort.
10. Half-Up Twisted Mane
If you haven't tried a twisted half-up by now, it's officially time to do it. You'll love this pretty hairstyle so much that it will become your signature sign.
Ideal for: Great for longer hair, so that you have more space to create a big swirl.
How to Style: Get a part of your hair and twist it in a large half up half down hairstyle just like on the picture.
Put the oversized box braids in a chic half-up.
Ideal for: It's ideal for ladies who love fun braided designs and half box braid updo hairstyles.
How to Style: If you already have oversized braids you'll find it so easy to get this half-up. It's amazing because you'll be able to rock that pattern in the front and everyone will see it.
Ask your hairstylist for the biggest braids ever.
Ideal for: Great for ladies who are into large braids.
How to Style: Get those massive braids up and try to secure them in a huge bun.
Forget about regular ponytails, there is a completely new way to do them.
Ideal for: Ideal for cool ladies who think that this box braids updo is the hairstyle of their dreams.
How to Style: For this hairstyle, you only need to gather the braids and put them in a pony. That's pretty much it.
Ponytails are the easiest version of an updo. Plus, they are great for literally everywhere you go and whatever you wear.
Ideal for: If you have a fun pattern of braids such as this one, you definitely need to show it off with a high braid ponytail. Flaunt those beautiful braids so that the whole world can see them.
How to Style: Just put the box braids high up and secure them in a pony. Use an additional braid to cover the hair tie.
15. Side-Swept Bangs
If you love bangs but you have burgundy box braids, do not worry. Take the braids to one side and that way you'll get a chic side-swept fringe.
Ideal for: All the women who are in the search of new fresh hairstyles can try this one out.
How to Style: Create an illusion of side-swept bangs with your braids. Get the rest of the hair to do a high bun with bangs.
Blunt fringe, colorful box braids updo, and an undercut can be a part of the same hairstyle.
Ideal for: This is a hairdo recommended only for the boldest.
How to Style: If you are ready to experiment with quite a lot, this is the mane to try.
In order to show the undercut, you need an updo.
Ideal for: The undercut will give a very edgy touch to your look.
How to Style: Just decide where you want the undercut to be, and rock it like a pro with your fabulous updo with box braids.
Bangs are such a unique and interesting way to upgrade your box braided updo hairstyle. If you are a fan of the fringe trend, this is the ideal time to put it to use.
Ideal for: Great for adventurous ladies who are willing to rock all the new trends.
How to Style: Ask your hairstylist for box braided bangs. From there on, you will only need to put the rest of the hair in a high bun. So simple, chic and eye-catching.
Space buns are celebrities' favorite hairstyle. You can also feel like a star if you wrap your box braids in space buns.
Ideal for: Women with a wild spirit, who never stop are the ideal candidates for the hairdo.
How to Style: Divide the box braids in two and put them in space buns.
20. Braided Half-Up Hairstyle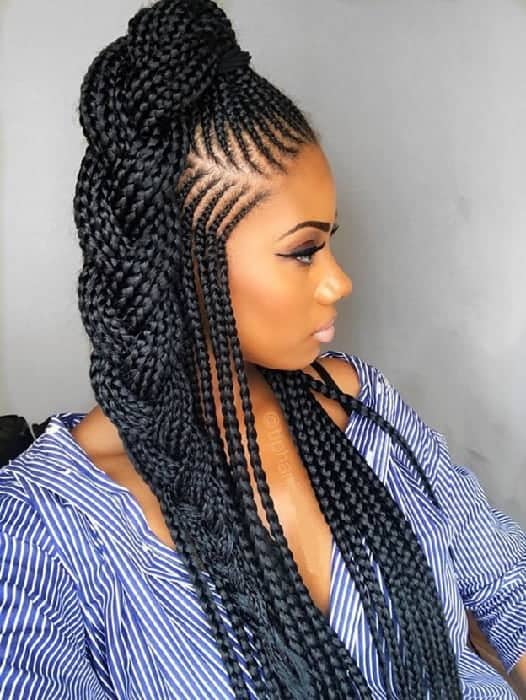 Yes, you can actually braid braids. That's a thing now! So, you can try it out and see if it works for you.
Ideal for: Those long braids can be even more interesting if you put them in a second braid. All you need is the top part of the hair and a hair tie. This box braid updo hairstyle is also great for short hair.
How to Style: Get the top part of the braids and braid them in an even bigger one. It will be very easy and takes a few minutes. Make sure that you first secure the section high up with a hair tie. This will help you debut the braid pattern that you have.
A cute bow like this one is definitely a fun way to upgrade box braids.
Ideal for: You will need a very long braids if you want to copy this hairstyle.
How to Style: Create a huge bow on top with your box braids. You will probably need the help of a professional if you want the polished look on the picture. If not, you can still experiment at home and score it after a few tries.
22. A Mix Of Braids
It's definitely not easy to find a unique box braids updo idea such as this one. Take the picture to the hairdresser and if you want to you can make your own additions and changes to the look.
Ideal for: When you really want to show the art of your braids, the best way to do it is with a half-up mane located on the center.
How to Style: The focus of the hairstyle is on the gorgeous box braids which look like they start from the half-up bun.
Buns are so amazing because you can literally place them anywhere. This updo with box braids features a side part and a bun that is located opposite of the part.
Ideal for: The women who love experimenting with many different hairstyles will find this one as a fun upgrade.
How to Style: Get all of the braids on the side where you want to do the bun. Wrap them up and you will need to set them into place with a tie or bobby pins.
When all the braids are facing up, a beehive updo is a hairstyle you should opt for.
Ideal for: If you already have box braids that are braided like this, you can instantly copy the whole look.
How to Style: Get the braids very high up and twist them in a bun. Your hairstylist will braid them in that direction, so this mane is probably your best option for an updo.
When one crown is not enough, add two. Get the best out of your braids by additionally braiding them into a crown braid.
Ideal for: Perfect for very long and voluminous braids. They will give you a chance to do all of this in minutes without too much effort. Plus, it's a really fun change.
How to Style: After you do the crown braid, secure it with bobby pins. If there's still braids, put them in a bun. A classic box braids updo hairstyle ideas for women.