Ponytails are the go-to hairstyles which are easier to make and it's low-maintenance. You can transform your ordinary ponytail into a high side ponytail, scrunch and many other versatile variations.
Ponytails are suitable for medium and long hair of any texture, whether you want to hit the gym or you're a college going girl.
How to Do A Side High Ponytail (Natural Hair + Weave)
For ladies, a ponytail is a universal hairstyle that doesn't need any particular occasion. You can comfortably wear it and experiment with different styles. Not only it's manageable, but it's the quickest and easiest hairstyle that doesn't require any rocket science.
Here is a step by step guide on how to make a perfect high side ponytail on natural hair in a matter of a few seconds!
Step 1: Things you'll need: teeth Comb, hair serum, rubber band. Comb your hair with a teeth comb to detangle your hair.
Step 2: Use a hair serum to create a silky and shiny effect. The serum is particularly effective in dealing with frizzy hair.
Step 3: Grab your hair high enough on one side and brush the top of your hair all the way up to the point where you have pulled it into a high ponytail.
Step 4: Secure it with a rubber band. You can also take some of the hair underneath the rubber band and wrap it around the band.
And Voila, you've mastered the art of a side high ponytail in just four steps.
As for high ponytail with weave/hair extensions, it's a bit of a hassle at first but you can achieve the desired result once you get the hang of it. All you've to do is repeat steps 1, 2 and 3. Grab your hair extension and fold it.
Pick the weave and wrap it around your natural high ponytail. Secure it with bobby pins or use weave bond glue so that the hair extension remains intact and doesn't fall out. Easy isn't it?
Watch The Following Video to Learn How to Do High Side Ponytail
Charming High Side Ponytail Hairstyles
Try out these top 5 side high ponytail hairstyles that make you look chic and all set while you're on the go.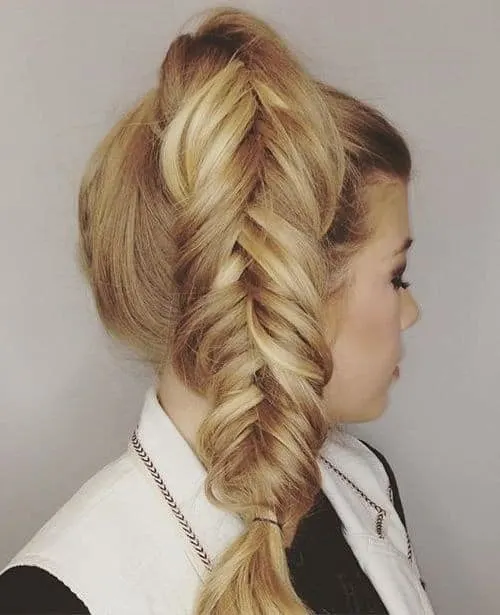 Skip your usual ponytail routine and try out this sultry side high ponytail braids that step up your ponytail game to a whole new level.
If you're a fan of braids, this hairstyle is meant for you. Let your ponytail fall to one side of your shoulder and look beautiful.
For ladies having medium-length hair, you too can rock this hairstyle with confidence. Bangs look amazing with every hairdo that also includes a high-side ponytail.
The thick Bardot bangs not only adds texture but it also completes the entire look.
If you've got natural curls and you want to flaunt them, you can't go wrong with this perfect side ponytail with weave hairstyle that complements your hair texture.
Add some volume to your crown area by backcombing it. Tie your hair to the high and secure it with pins. Lose your front parted hair and you're done.
Are you inspired by Beyoncé's blonde style? This hairstyle looks sleek yet sophisticated which is best suited for silky smooth hair. For girls having wavy/curly hair, you can make it look slick by applying a gel followed by combing your hair.
Tie up your pony high enough and wrap a few strands of hair around the base. Sweep your ponytail to one side and rock your long hair.
This high side ponytail is unique yet classy in its own way which indeed changes the game. The crown area is teased with faux pompadour braids that can easily grab one's attention.
It's one of the easiest hairstyles that you could achieve just by making braids the same way you make normal braids.
FAQs on High Side Ponytail Styles
Are high ponytail and genie ponytail the same?
Although, both of them are categorized as high ponytails the way you wear them is different. The Genie ponytail is stacked very high on top of the head whereas the normal high ponytail sits just below the genie ponytail. Nevertheless, both of them look amazing.
Can I do a high ponytail with a twist?
Absolutely yes! Once you've tied your hair into a high ponytail, partition your ponytail into two sections and twist both of them around until you reach the end of the hair. Make sure to loosely twist it to give a denser and more classy look.
Now that you're aware of how high side ponytail is evidently the easiest hairstyle on this planet that can be transformed into many styles and doesn't fail to make you look like a hair fashionista, do try out the high ponytail hairstyles.
You May Also Like