From long luscious curls parted off-center to straightened layers with side bangs, Beyoncé hairstyles are timeless and classic. Over the years, this celebrity Queen has proven it's okay to take risks. She's experimented with all types of textures, hairstyles high and low, and even hair colors.
Whether you're looking for a new weekend look, a special date night hairdo, or something to accentuate your best features, these Beyoncé hairstyles are a must-try.
Chic Beyoncé Hairstyles to Copy
For any occasion, casual or informal, you'll find inspiration in any of Queen Bey's hairstyles over the years.
1. Wavy Side Ponytail
Even Beyoncé knows that the way to a glam hairstyle is with length. After parting her hair off-center, she slicked it down into a low side ponytail filled with luscious waves. The base was wrapped with a section of hair for a detail that pulled the look together.
If you're a woman of color, you've probably rocked box braids at one time or another. Beyoncé's combination of long straight braids and half-braids ensured her curly texture could still shine through.
3. High Messy Bun
You might've thought a messy bun was for casual days, but Beyoncé proved it could also be classy in these promotional photos. Her thick bun was teased for volume and used thick sections of wavy hair near the face to keep the style soft.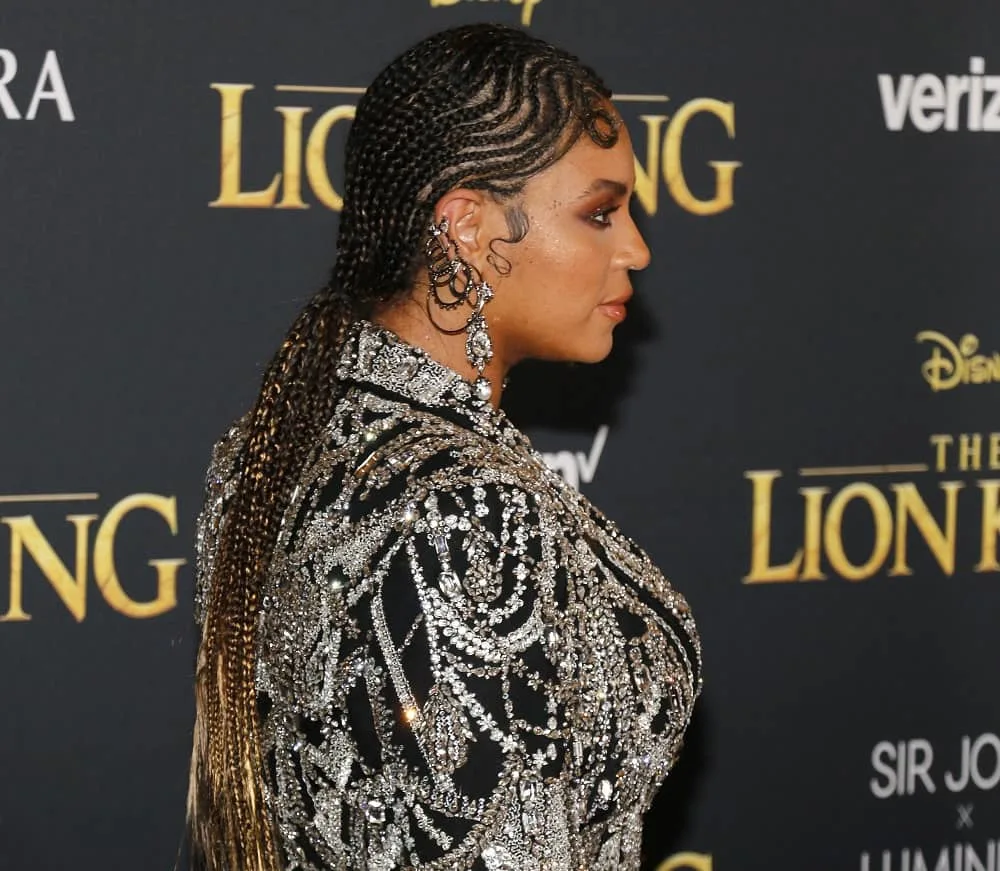 When it comes to cornrows, many women opt for the simple 'straight back' look starting from their hairline. Beyoncé's hairstyle showed how sexy curled or swirled-shaped cornrows can be, choosing to weave in gold extensions as well. Brush baby hairs smooth for the finishing detail.
5. Curly Half Ponytail
Whether your hair is naturally curly or you're dying to try extensions, Beyoncé's long curly half ponytail is waiting for you to copy. Slick up a small portion of hair close to your face and secure it tight for height.
This Beyoncé's hairstyle was actually dubbed 'Braidyoncé" for obvious reasons. Her blonde highlighted hair stunned in long cornrow braids. To add extra sparkle to your own look, consider hooking in hair cuffs or hoops.
7. High Side Ponytail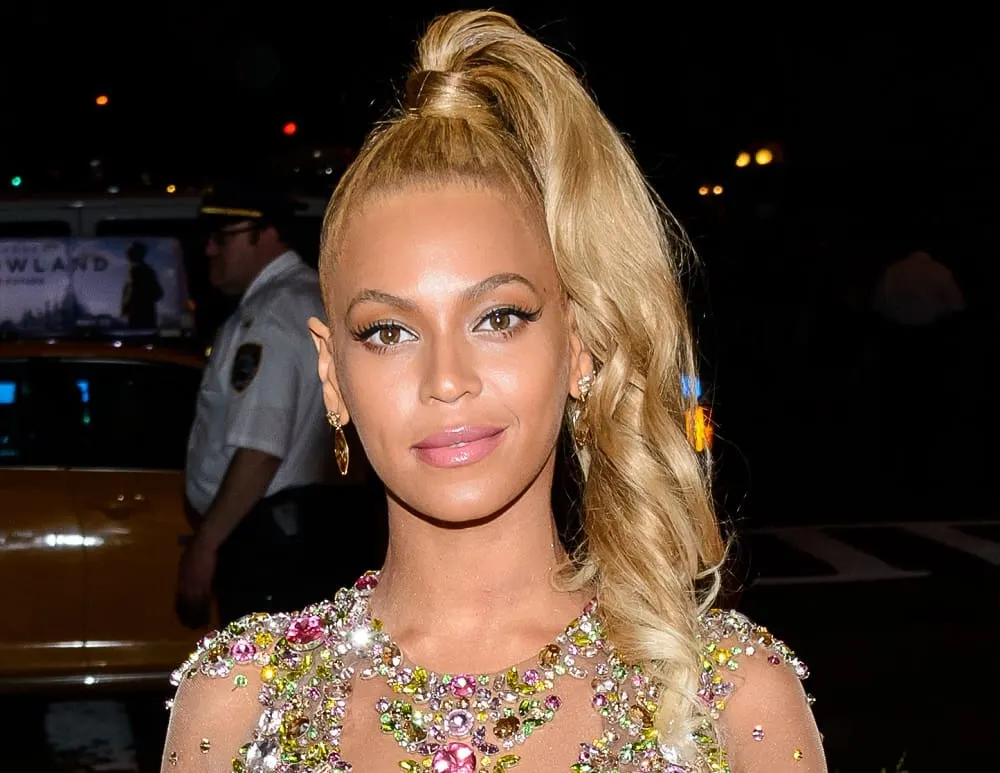 No matter your face shape, there's no mistaking how a sleek high ponytail will flatter it. Even the curves of Beyoncé's oval face shape were accentuated by her high, wavy 80s ponytail.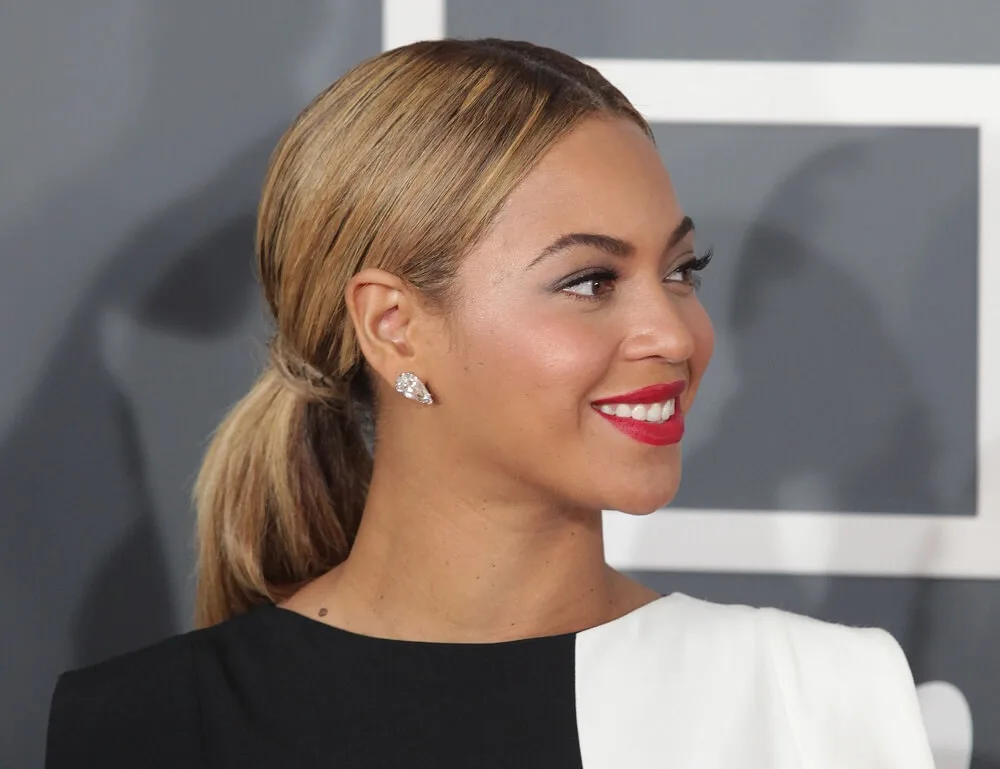 Never underestimate the power of a chic low ponytail. Beyoncé's hair was straightened and parted in the middle before it was gathered into a simple but stylish low pony at the nape of her neck.
9. Hollywood Waves
Another glamorous and gorgeous hairstyle for ladies with long hair includes Bey's low side ponytail styled with a looser version of Hollywood waves. They're subtle but prominent around the face and end of the ponytail.
10. Layered with Side Bangs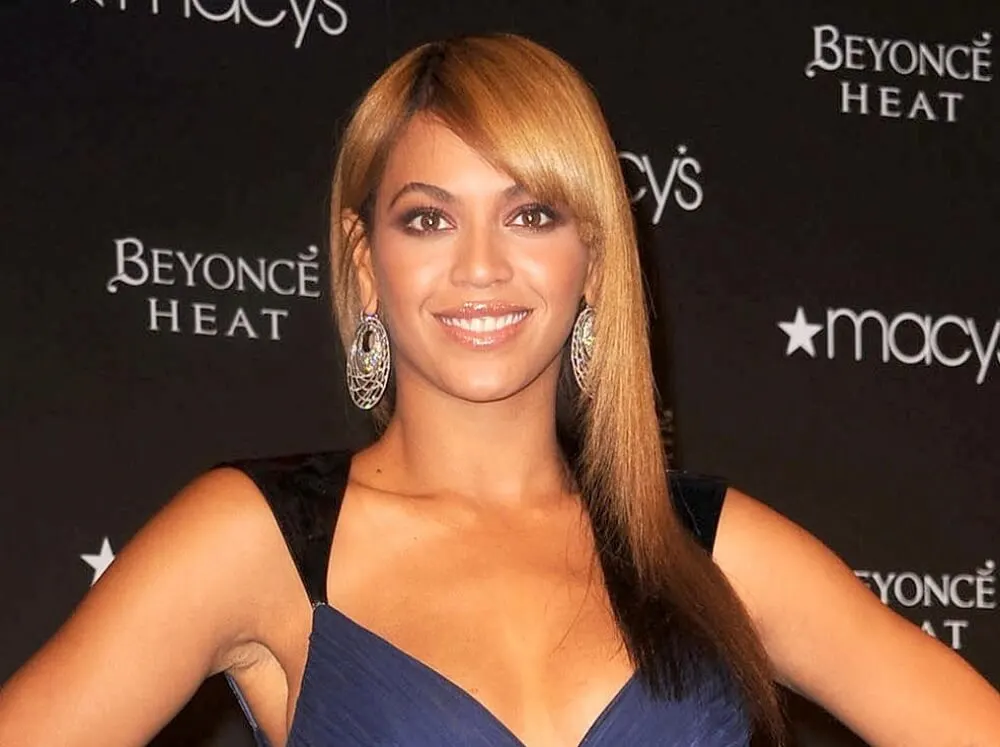 Whether you're looking for an everyday hairstyle or want to do something different with your curly hair, a straightened mane might be the answer. Opt for face-framing layers like Beyoncé's look here, complete with side bangs.
11. Side Parted Low Bun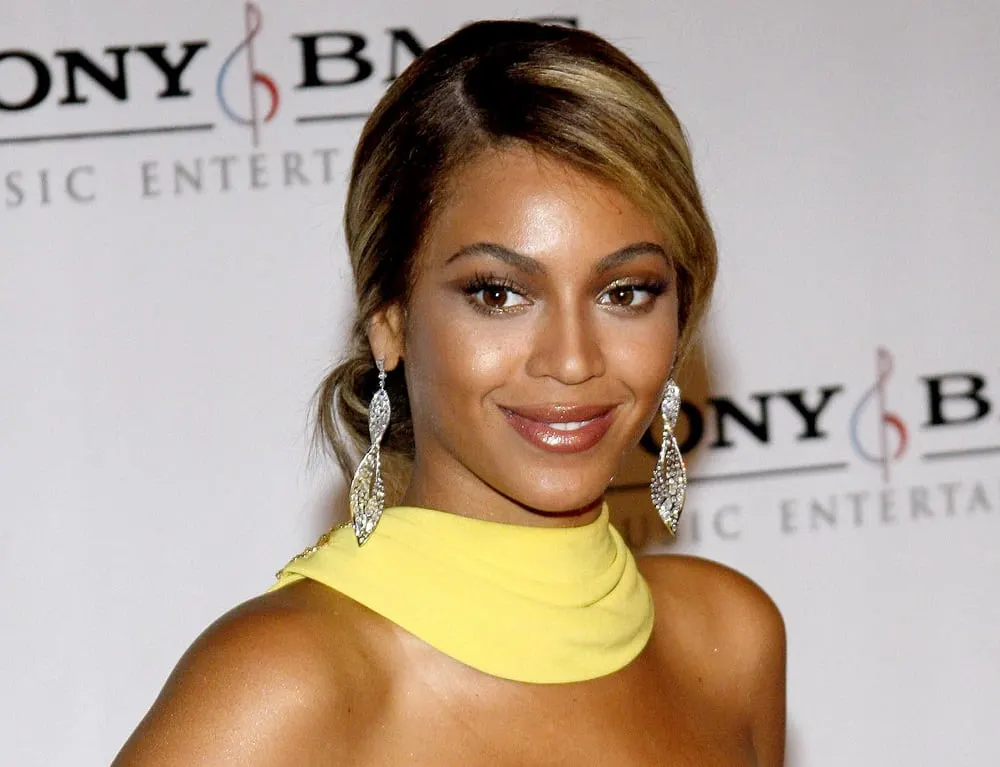 When you're trying to switch up the dimension of your face, do what Queen Bey does and comb in a minimal side part. She used it to style a low bun, letting hair half cover her ears.
12. Center Parted & Straight
Don't get into the habit of thinking a middle part can't do anything for your long hair. Beyoncé knows that when her hair is straightened, parting it in the middle is a simple but effective style.
13. Loose Low Ponytail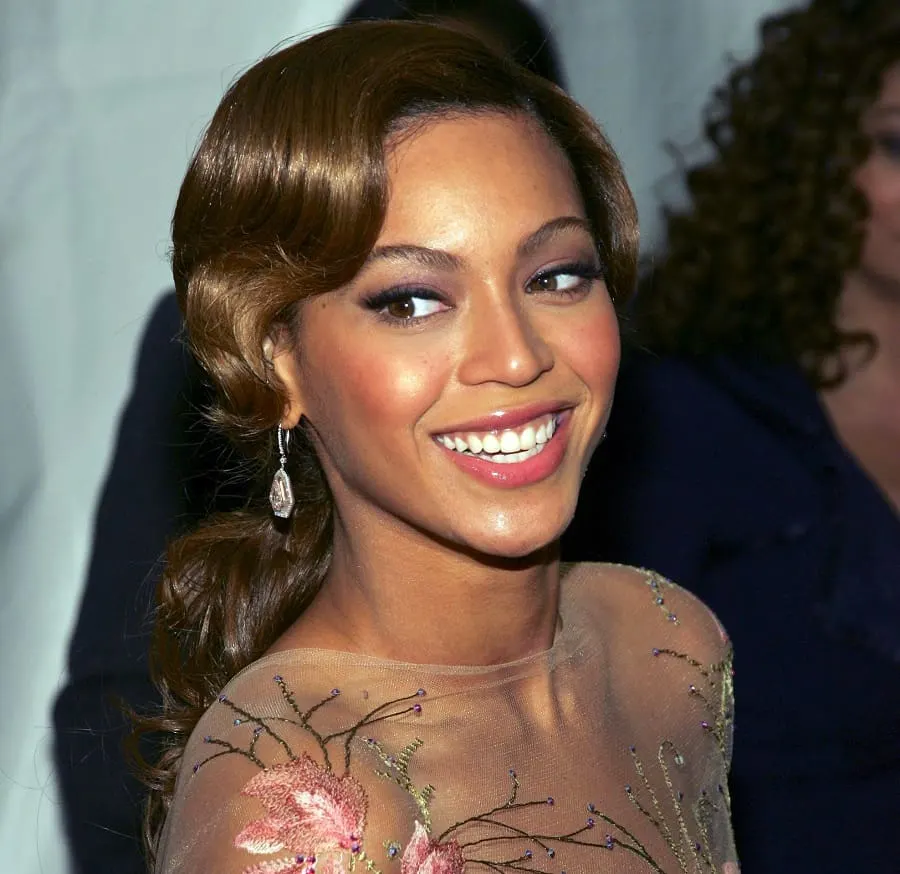 Not all formal hairstyles have to be slick to be sleek! A low ponytail with side part and soft waves is just as beautiful and more inviting. Use a neutral-colored hair tie or one that contrasts with your hair color for pop.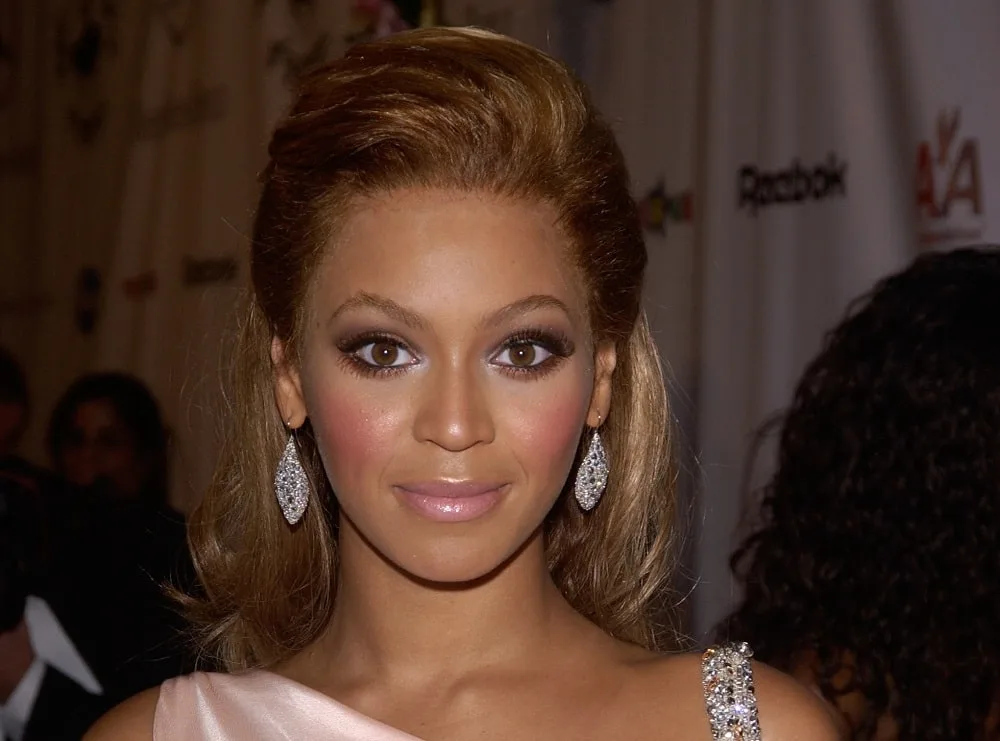 To get the height and volume you're coveting, take a hint from Beyoncé's teased half updo. Long or short hair, this style is flattering for all hair types and face shapes.
If you have an oval face shape like Beyoncé, you're guaranteed to look gorgeous with this long straight hairstyle featuring equally long straight bangs. Ask your stylist for layers to help with face-framing.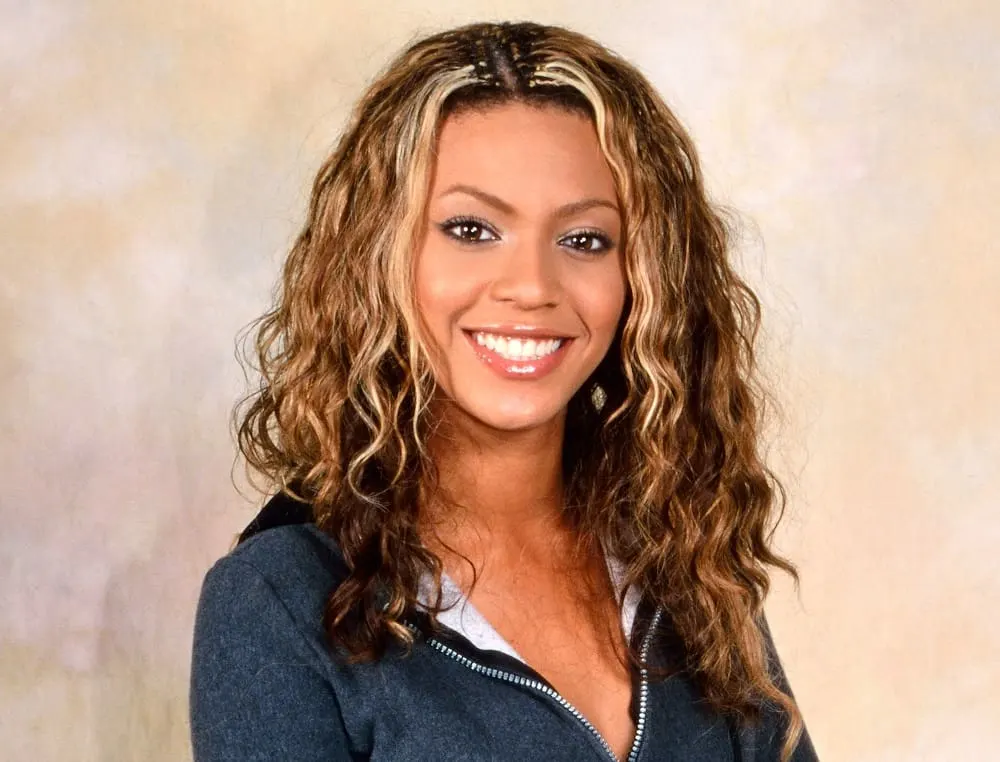 A bob or shoulder-length haircut are both beautiful choices for women with curly hair. Beyonce's curly hairstyle stood out nicely with blonde highlights and long layers for shape.
If you already made a decision to bleach your black locks, consider going for the lightest shades of blonde. Yes, they don't look too well with dark roots, but you can allow yourself to become a truly blonde princess for a few weeks.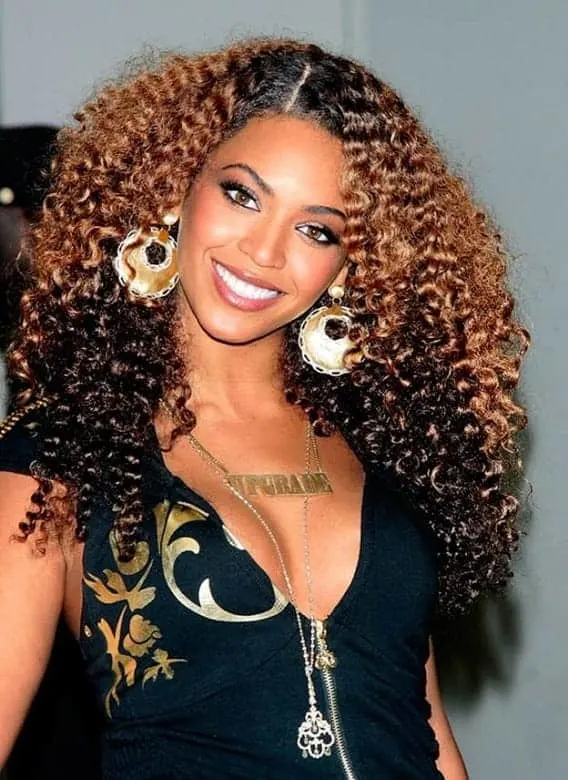 A classic Beyonce hairstyle. You can add some extra volume to your tight curls with the help of highlights. It is better you use highlights which match your hair and come in a lighter shade. Light brown highlights on dark brown hair are a good-to-go! This will not only give a bold look but also add volume to your curls.
19. Blonde Highlights
In this blonde hairstyle, Beyonce is mixing various shades of blonde. Here come the honey and caramel tones mixed with platinum strands. In order to achieve this vibrant hair color, you would need to bleach your locks.
Beyonce is sporting blonde hairstyles because she isn't afraid of showing off her dark roots. Thankfully, the current hair fashion allows the roots to be visible. In fact, they add the overall image some special style.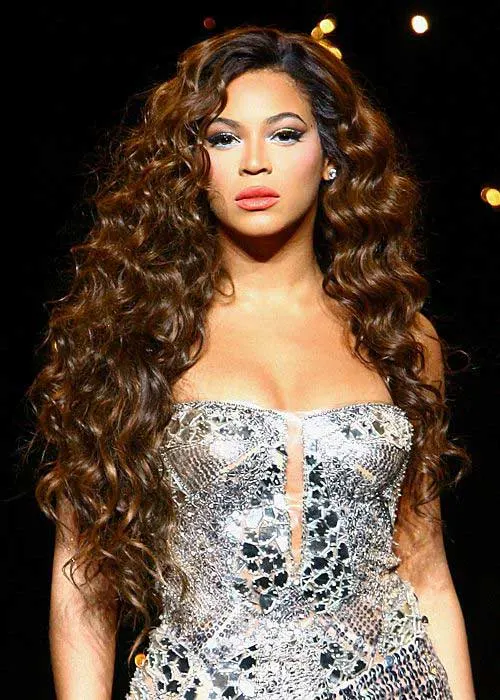 If you feel like adding more enhancement to your coils, you can use a blow dryer to puff them up. This is kind of an everyday tip but does wonders to the volume without the need for using highlights. Look how beautifully Beyonce sported this side-parted curly hair.
22. Shade mix
Have fun with a mixed blonde hairstyle just like Beyonce. Add some light brown strands and complement them with honey and dirty blonde highlights. Anything goes when you are brightening up your image.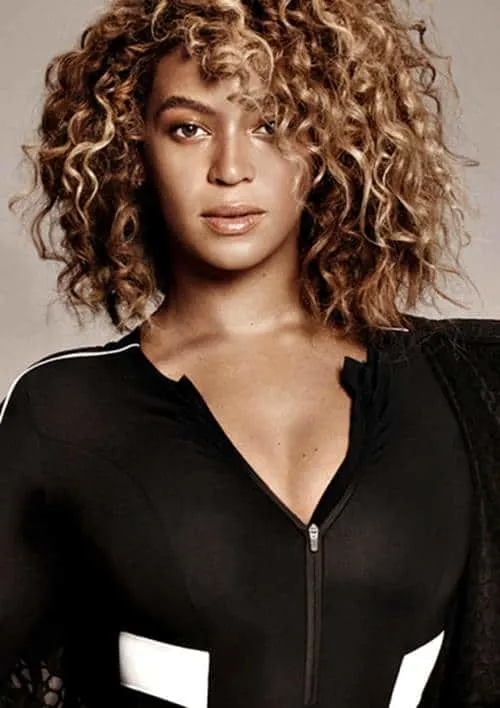 Get a fine bob cut and draw your hair into any type of curls you like. Set the hair to lose to flaunt. Add extra shine and gloss to your curls if you want a sleeker look. Use a glossing cream to define the curls like Beyonce and add shine to them.
This is the simplest yet chic and elegant Beyonce-inspired hairstyle to carry. Tightly tie the entire hair into a curly high ponytail on the top of the head. This can be your everyday as well as occasional look.
Create these loose curls with the help of curling iron instead of a curler. Wind the sections of hair around the iron and pull the ends while the iron cools. This is proof that Beyonce's curly hairstyles never cease to amaze us!
Which Beyoncé hairstyle is your favorite? If there's anything we can learn from this celebrity Queen, it's to not be afraid of branching out and trying new hairstyles. Try the trendy styles and start some of your own! You never know – you might love the way they make you look and feel!
More Related Articles: