High ponytail braids are a different protective style to wear for the next season. Braided ponytails have been trending since forever. Many artists have worn this hairstyle and completely rocked it to social as well as red carpet events. The trend has sparked many different high ponytail braided styles that we have been rocking throughout the years.
As well as, we have incorporated other traditions for the style that keep it looking fresh. High ponytail braids may take an awfully long time to style so get your food and neck pillow prior to going to the hair salon. Ensure that your stylist doesn't do it too tight because it could pull against your scalp, hair follicles, as well as strain your neck.
How to Pick The Right High Ponytail Braids for You
From box braids to twists, there are all sorts of styles of high ponytail braids you'll need to consider for your perfect style. Depending on how long you want them to last, you'll also want to factor in thickness.
Also, think about how you want to wear them because some styles of braids can be done yourself versus having to go into a salon. For example, feed-in braids are temporary and easy to DIY.
In addition to types and sizes, you will also want to decide which design you like best – curvy, diagonal, zig-zag? Consider if you have a special occasion coming up as well, such as a holiday party, that you'd like a special look for as that may influence your decision.
Take a look at your favorite celebrities who rock high ponytail braids for inspiration!
High Ponytail Braids
Here are 10 high ponytail braid styles that you can choose from: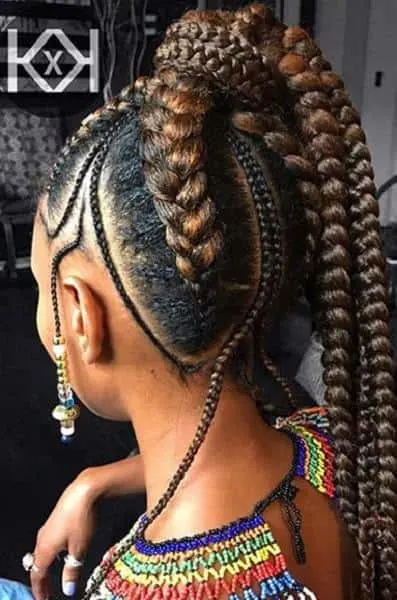 Ideal for: This high ponytail braid style is ideal for an important event such as your birthday, graduation or even a family reunion.
How to style: The style is a mixture of tiny and jumbo braids that are pulled into a ponytail. Then the high ponytail is braided all the way to the end. You can add accessories such as clips or beads to the small braids to accentuate the look.
As well as, you can use different color weave such as brown, gold and even green to add flair to your style for that special event. Ensure to get it down a professional or capable individual so that it comes out sleek for your event.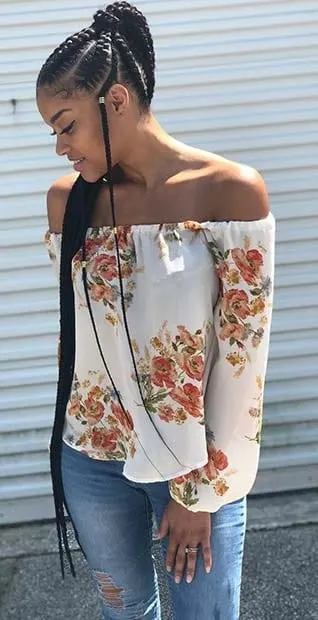 Ideal for: School, Thanksgiving or Christmas dinner, or a party.
How to style: This high braided ponytail hairstyle is similar to the previous one however there is a Fulani inspired style. The sides are braided towards the hairline. While the rest of the hair is jumbo braided back into a ponytail.
Then, the remaining hair is braided into a ponytail all the way down to your tailbone. You can choose to do your braids to waist length as opposed to the model.

3. Fulani Braided Ponytail
Ideal for: The next college event on campus whether it is a frat party, football/basketball game and so much more.
How to style: The Fulani braids are really unique because the braids are in different directions and patterns. Some of them come down to the ear like sideburns while others go back into a high ponytail. You can add fun accessories such as beads, hair clips and so much more.
Ideal for: Any event that requires you to show up and show out. It could any college event such as a cheerleading event, basketball game, frat party, or barbecue.
How to style: Go to your local salon and ask them a similar braided updo that Beyonce has worn. He/She will know how to hook you up. You can add hair beads or accessories towards the end of the ponytail as well as clips along the braids. The hair accessories will make the high ponytail braids style more interesting.
Ideal for: A new protective high ponytail style with braids that you wanted to try or any event which requires you to dress to impress.
How to style: As you can see there is a pattern which is fine then jumbo, fine then jumbo, and it continues. This style also has the Fulani inspired sideburn which you can choose to omit if you so desire. Also, you can see that blonde hair is added throughout the braids for a beautiful contrast.
Ideal for: Any summer party. An everyday look with high ponytail braids!
How to style: You would have your hair braided up into a ponytail using weaves such as Marley braids, Jamaican hair, and so many other styles. Then, you would place hair accessories such as hair cords. These cords you would wrap around the hanging ponytail. Lastly, you can add hair clips towards the end. This hairstyle will have you looking cool all year round especially if you wear shades.
7. Thick Braided Ponytail

Ideal for: Any casual event where you want to impress.

How to style: This style is different from all the other because it has a mix of jumbo, small as well as swooping braids. The swooping braid is a difficult technique to master but once done you will look fabulous. You can add hair clips like the model as well as hair rings. For this braided high ponytail style, the band that would usually hold the ponytail in place is done by using your hair which makes the style more beautiful.
Ideal for: Your next summer look, box braids with beads hairstyle.
How to style: Your hair would be thinly braided into a ponytail. Then, the high ponytail is braided towards the end then beaded. You can add beads, hair rings, or hair clips along the length of your hair to make it more fashionable.
Ideal for: This genie ponytail hairstyle is ideal for any occasion.
How to style: Sassiest high ponytail braids style for women. Another braiding technique that will take some time to master so please to ensure to get your hair done by a professional. However, once it has been done all eyes will be on you. You can accessorize like the model using the seashells, hair rings, hair clips, and even beads.
10. Cool Fulani Inspired Pink Box Braids
Ideal for: Any 90s inspired event.
How to style: Usually Fulani braids are braided downwards that lay on your back. For this style, it is done into a ponytail. There are the braids that fall like sideburns as well as the middle braid and braids coming from it. It's a unique high pony style with braids that has been inspired by African traditional hairstyles. Hair rings are usually added on the braids. As well as, the ends are beaded.
Braids require weekly maintenance in order to keep your hair looking sleek. You will need to moisturize it on a weekly basis. As well as, keep your edges "on fleek" on a daily basis.
Which high ponytail braids style will you be wearing in the next year?