If you want a high ponytail like Ariana then invisible ponytails are the way to go. You will achieve the same length and volume if you so desire. And, no one will ever know.
Why Is It Called Invisible Ponytail?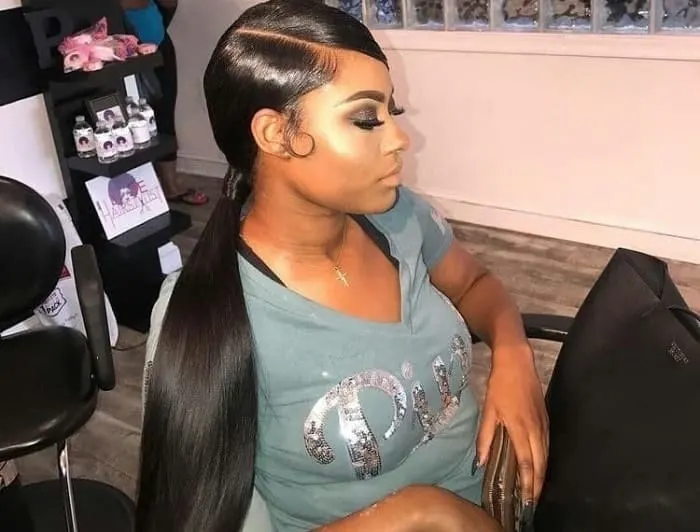 It is called invisible ponytail because the ponytail is created using weave which gives a more natural look. The weave, as well as the technique used, will conceal the fakeness of the high ponytail.
How to Do the Invisible Ponytail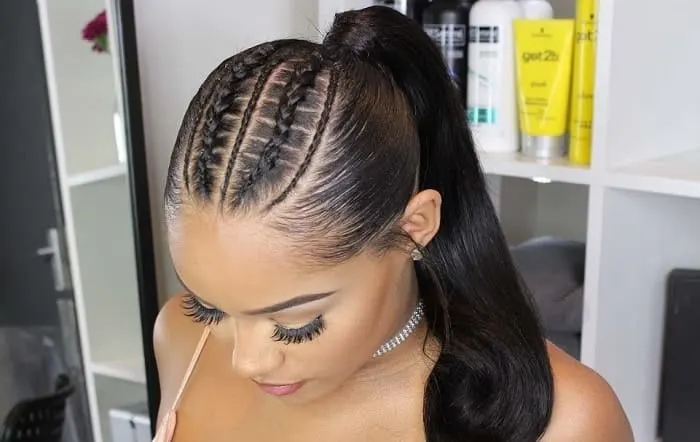 For the invisible ponytail, you would place your hair into a sleek low or high ponytail. Ensure that your relaxed or natural is very moisturized prior to the hairstyle. Next, sleek it down with hair gel, hair spray, and even mousse.
There needs to be no bump, crooks or creases that will cause a contrast between your hair and the ponytail. Next, clip on your weave into your ponytail. Ensure to secure the teeth in.
However, if you don't have the clipped version then wrap the Velcro area of the bundles around your ponytail. Ensure that is secured in with hair thread. Or, you can wrap hair from the ponytail around the section where the ponytail is secured. This will aid you in hiding that it's fake.
Watch The Following Tutorial to Learn How to Do Invisible Ponytail
Best Invisible Ponytail Hairstyles
Check out the guide below for 25 unique invisible ponytail hairstyles to try: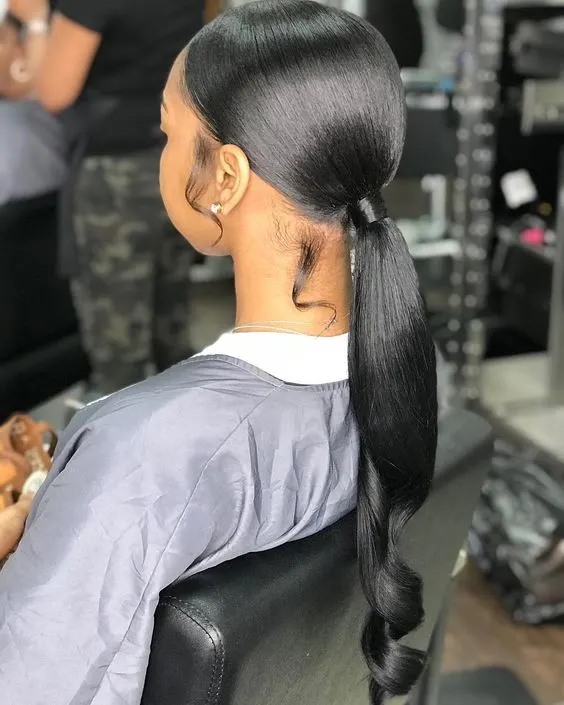 The stylist pulled all of her hair into a low ponytail. Then wrapped the bundle around her ponytail and use a section of the bundle to make secure the ponytail.
In order to get the curls, you would need to wand curl just the bottom portion of your invisible ponytail. In order to keep the shine, you can spray hairspray throughout the hairstyle.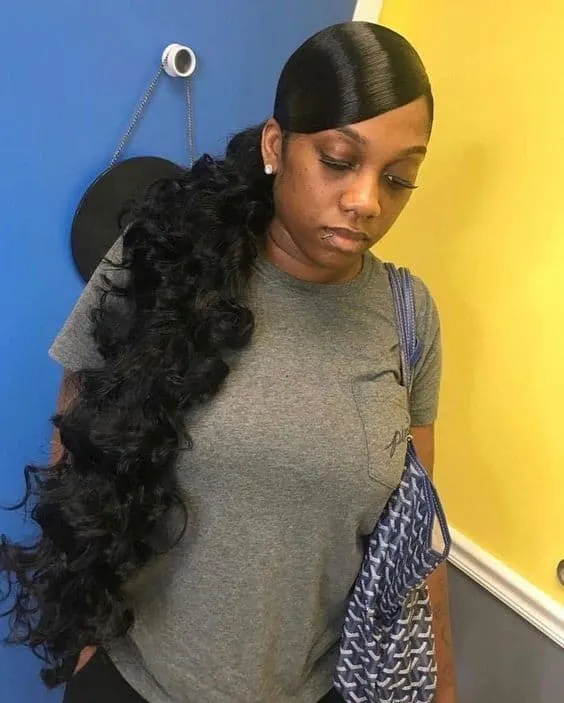 Her real hair is smoothed down suing gel and hair spray into a low ponytail. Then her curly invisible ponytail hairdo is secured in. If you had straight bundles you could curl with a wand curl, flat iron or flexi rod set.
Then, remove the curls and tease it with your comb. This will allow your tresses to have a messy curly feature to add texture to the ponytail.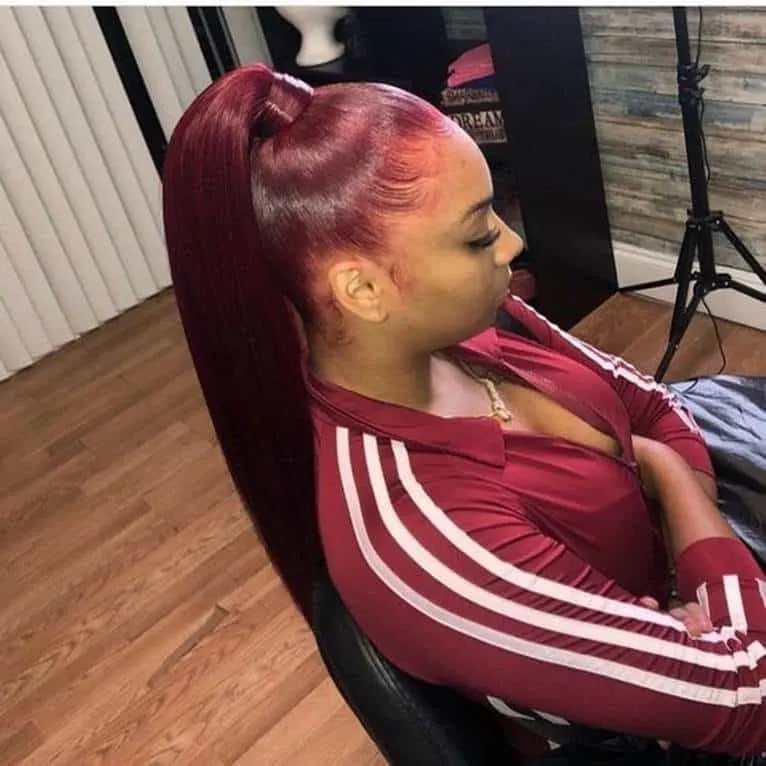 Very similar to the long auburn hair ponytail, the difference is the texture of the ponytail. This model's ponytail is straight and waist length.
While wearing this invisible pony, remember to maintain the health of your relaxed/natural hair. Do not keep it longer than a week one, especially because ponytail will pull on the scalp if kept in for a long time.
In order to achieve this hairstyle, you would place your hair into a low ponytail that is brushed to one particular side. Then, secure the long straight hair bundle using clips or hair from the bundle. Finally, you would accessorize with bobby pins of different sizes and shapes.
5. Low Ponytail with Side Burns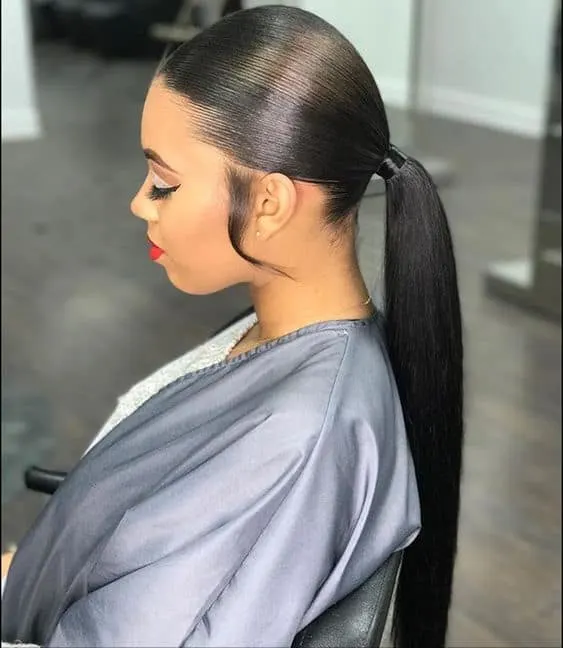 We are loving this sleek invisible ponytail hairstyle. Her hair is brushed into a sleek ponytail. Then secured with the ponytail. Next, slay your sideburns. You can brush them down to keep it sleek.
Your hair would be sleek all around. In order to keep the hair smooth ensure to spray and seal with hairspray. This ensures to maintain the shine and smoothness for the day.
6. High Pony + Swooped Edges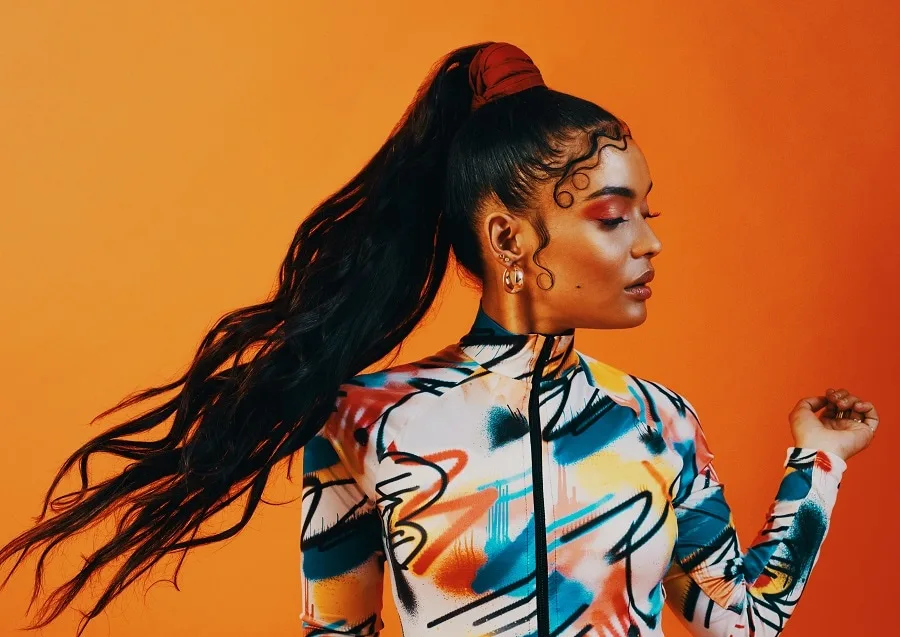 Get noticed from a distance with this edgy hairstyle. Gather the hair on top of the head, attach the weave, and secure it in place with a scrunchie or a head bandana to give the invisible effect.
The key lies in swooping down the baby hairs using mousse and a toothbrush creating beautiful swirls on the forehead.
7. Side-Swept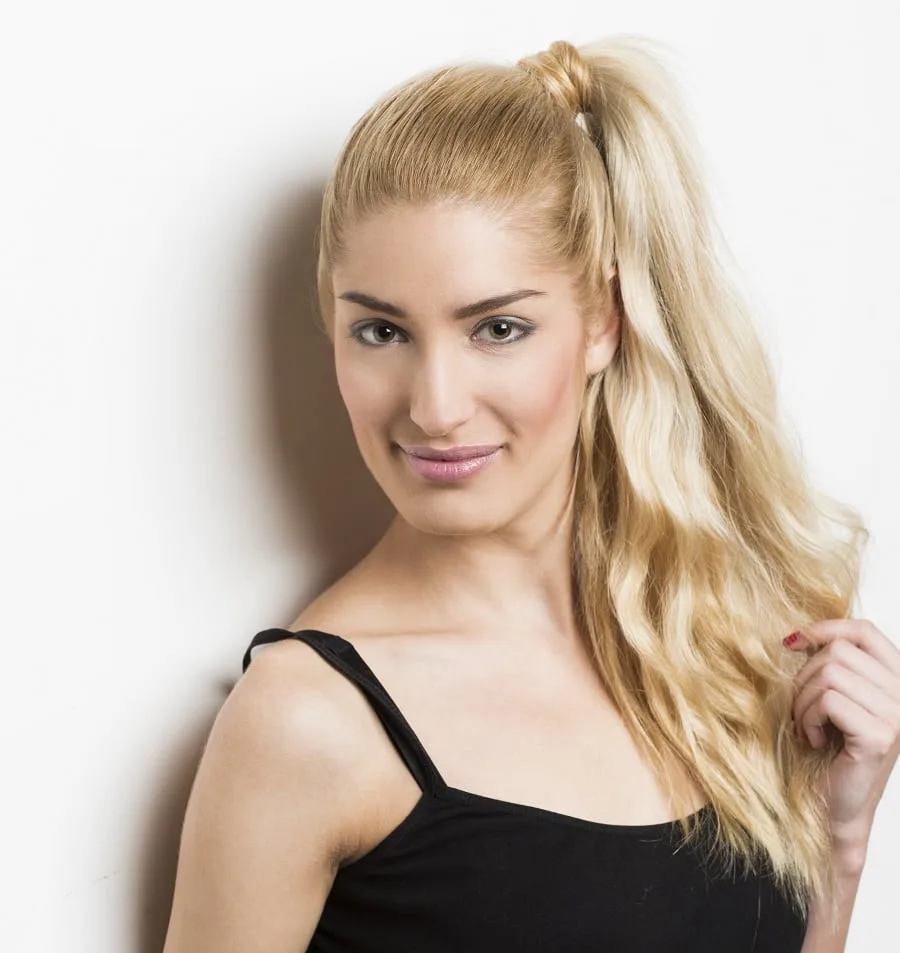 The rebellious side ponytails became popular in the 80's and since then they have been rocked by many.
Instead of going for a usually invisible ponytail sweep it to one side and wrap a chunk of hair around it several times creating stacked rings at the base. Simply chic!
8. Pretty Pigtails
Although pigtails may be too childish for some they can still be worn by adults with style. Gather the tresses into two high or low ponytails, attach the extensions, and plait the strands to the end. Tame the flyaways with hairspray for a sleek finish or leave them for a carefree appeal.
9. Two-Toned
This two-toned invisible ponytail hairstyle is the prettiest among all. Choose a weave curl with vibrant red highlights contrasting against the black base and wrap it around your natural hair.
Swoop down the edges at the front and add curls to the ponytail or keep it perfectly straight. Your choice!
10. A Hint of Blonde
African-American ladies can rock any hair shade without adding a drop of dye to their heads. That is what extensions are for!
Choose the one with blonde highlights or an ombre or attach individual blonde strands precisely to the ponytail achieving a similar effect. Eye-catching!
11. Get Creative
Why rock a basic hairstyle when creativity is off-limits? Recreate this intricate look by securing the square-shaped sections in rubber bands and interconnecting them towards the main ponytail.
Though laborious, the result is worth the effort. Try the style with cornrows too and you won't regret it!
12. Blonde Ponytail with Braids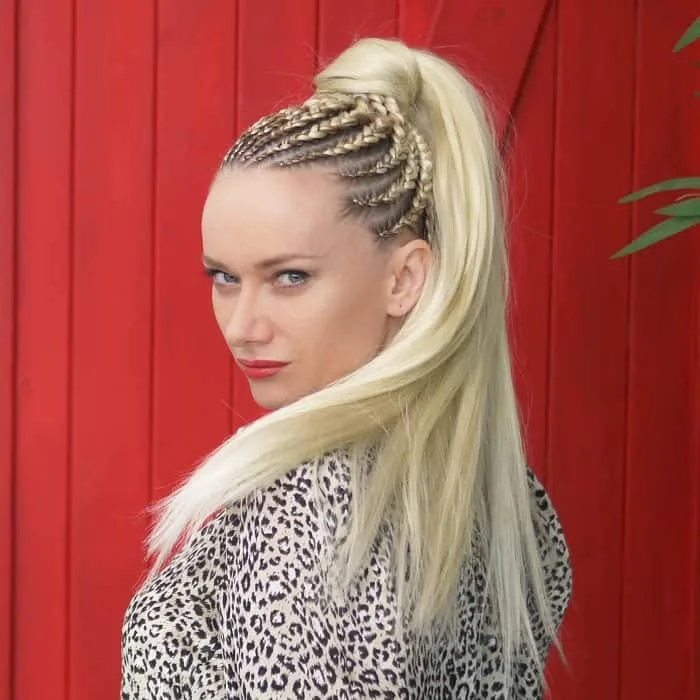 Feed-in braids are a great option when you want an invisible ponytail. Get several packs of jumbo hair or natural hair extensions and start building your braids. Once you reached the top, tie them into a pony and use a thick strand and wrap it at the base.
13. Ponytail for Black Girls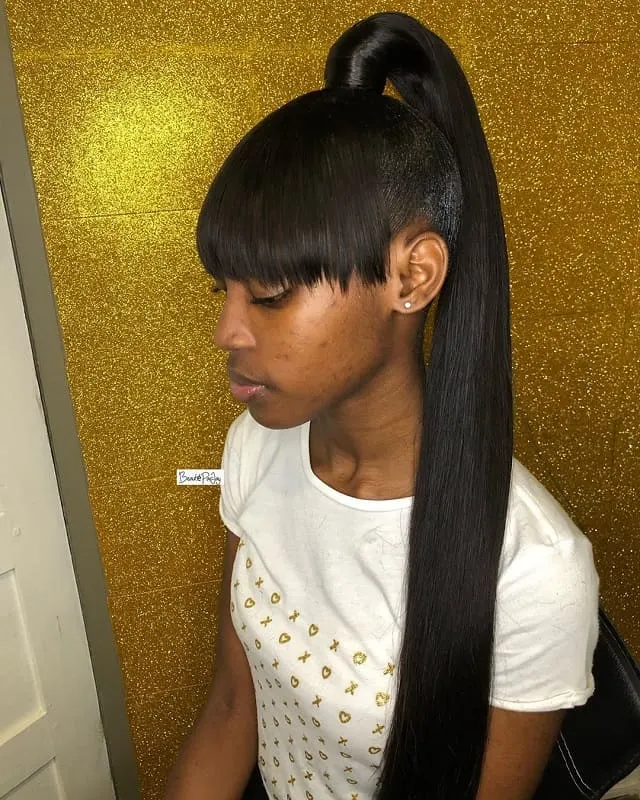 For this invisible ponytail hairstyle, you also need some faux bangs. Tie all your hair into a bun and attach the ponytail. Place your bangs close to the pony's base and trim the fringe as you to suit your preferred length.
14. Invisible Bubble Ponytail
Sew in invisible ponytails will extend your hair and help you gain that mesmerizing princess look. To recreate this hairstyle you need a lot of jam to backcomb your hair and glue it to your scalp.
Tie it in a braided pony. Sew the extensions once you are done, secure the pony multiple times. Pull off the hair from each hair bubble to get that globe effect.
15. Ponytail Palm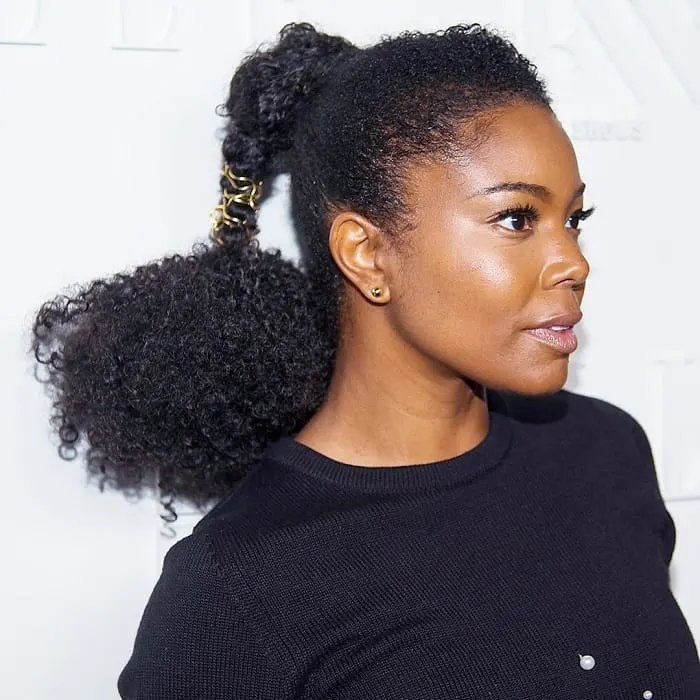 Gabrielle Union takes pride in her curly hair and Afro American heritage and appeared multiple times wearing faux ponytails. This time, she combed her hair into a ponytail, attached the extensions, and styled a palm at the bottom.
Lastly, is the mohawk braid. The single mohawk braid will add texture to it and give the illusion of a mohawk. Then, the ponytail is secured in to give her hair volume.
Ensure to slay your edges with your favorite edge control. Then, sleek it down with your bristle brush and tie it down with a satin scarf.
You would braid a straight line down to the center from the forehead, two ears as well as the back. In the end, it will look like a cross.
Then the remaining quarter you would pull into a mini ponytail then secure with an elastic band. Then pull off the cornrow braids and mini sections into a secured high invisible ponytail.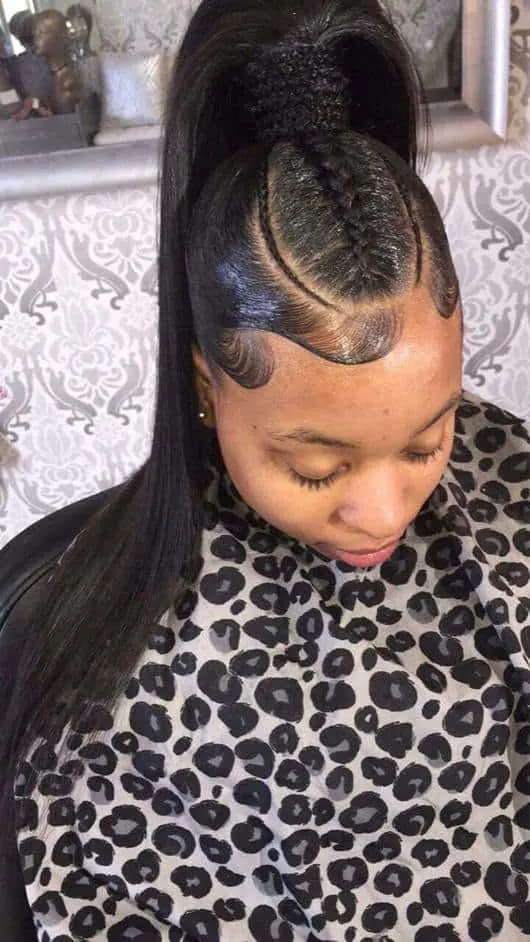 The contrast between small and huge braids are really beautiful. Then, the hair is all angled into a high ponytail.
Usually, you secure your hair in with a portion of the invisible style ponytail however, this model braided it. Lastly, don't forget to slay your baby hairs with gel and your favorite toothbrush.
19. Smooth Auburn High Ponytail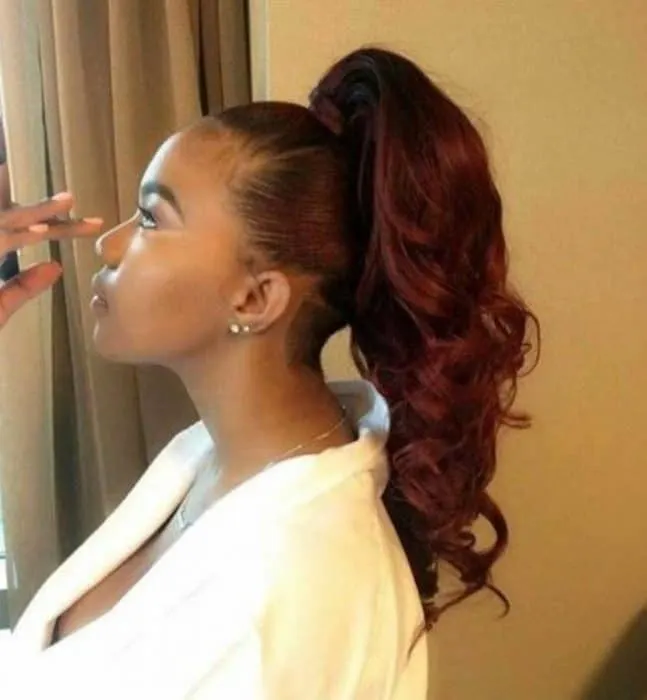 You would add a red bundle of hair to your ponytail. Ensure that your hair color, as well as the weave, matches so that it blends in seamlessly.
No one needs to know that the hair is fake. Then wand curls the ponytail. Wand curls will elongate the hair while adding texture.
20. Low Invisible Ponytail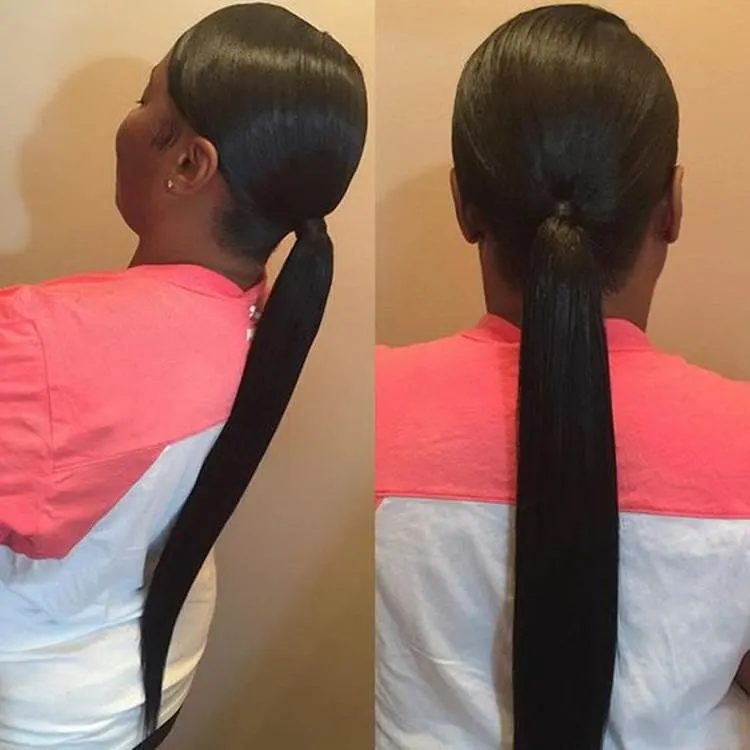 Another low ponytail, however, the invisible pony is sleek. We are loving this because the hair is smooth and shiny. Don't forget to slay your edges in order to preserve the look as well as the feel of the hairstyle.
21. Brunette High Wavy Ponytail
Her hair is smoothed into a ponytail. Next, the brunette and auburn ponytail is secured. The brunette and auburn hair shades are matching, which isn't overbearing. In addition, her black roots add another layer of beautiful contrast. Lastly, curl the ends to add texture to it.
22. Invisible Ponytail with Stitch Braids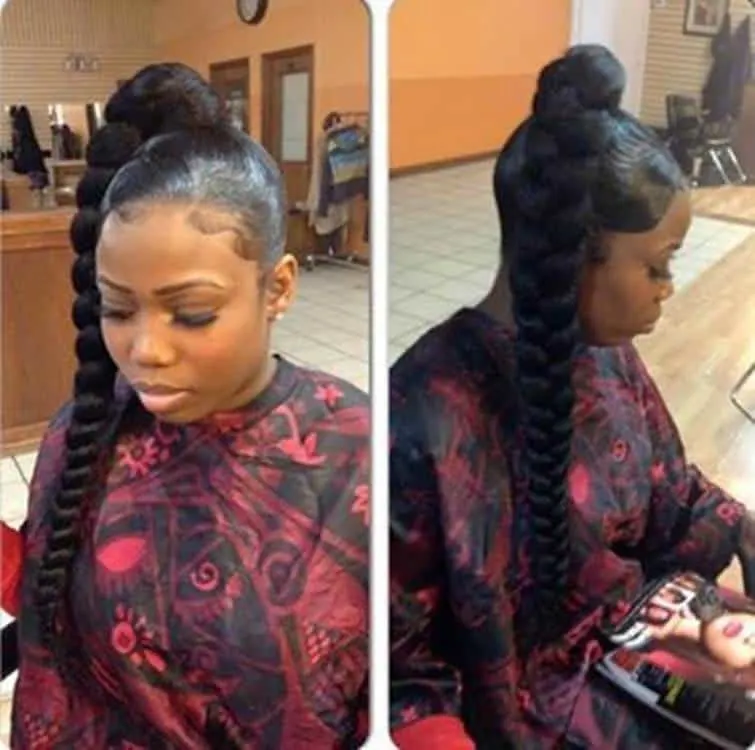 Another unique hairstyle where the pony is braided the end downwards. You can do a plait, fishtail braids and so much more.
Ensure to smooth your hair into a smooth ponytail through the use of hair spray, hair mousses, and gel. Lastly, slay those baby hairs to accentuate the overall invisible ponytail hairstyle.
Braids, curls, and high ponytails all into one hairstyle. You would braid your hair into a ponytail. Then, secure the high curly ponytail. It adds texture, volume as well as dimension to the overall look.
This invisible style pony is beautiful yet chic. Lastly, remember to retain the shine by using hair spray and slay your baby hairs for days.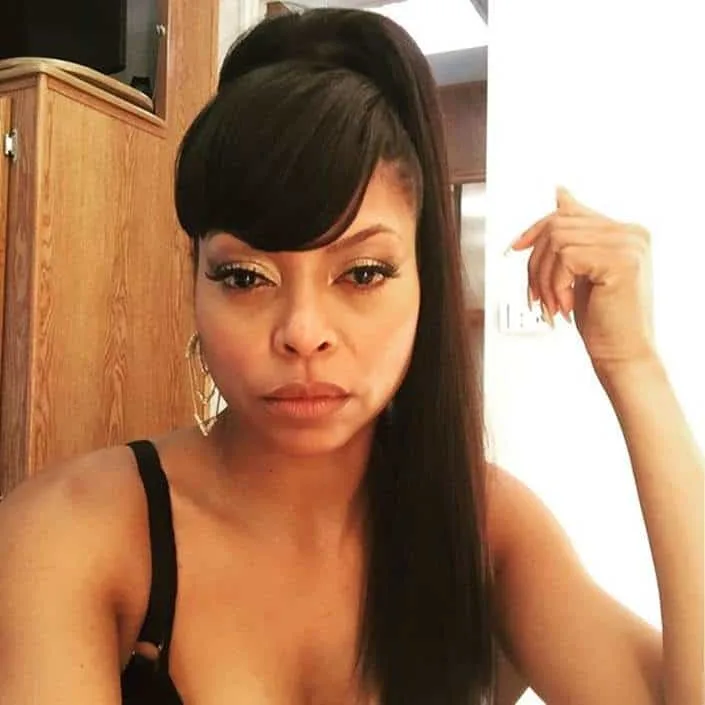 Not only is it sleek but Taraji is serving face. Her invisible ponytail with bangs is different from the other because her hair is fuller from the top to the bottom.
This adds volume throughout the entire hairstyle. Next, she has a side swept bang that is lower towards one side than it is at the other.
25. High Ponytail with Sleek Edges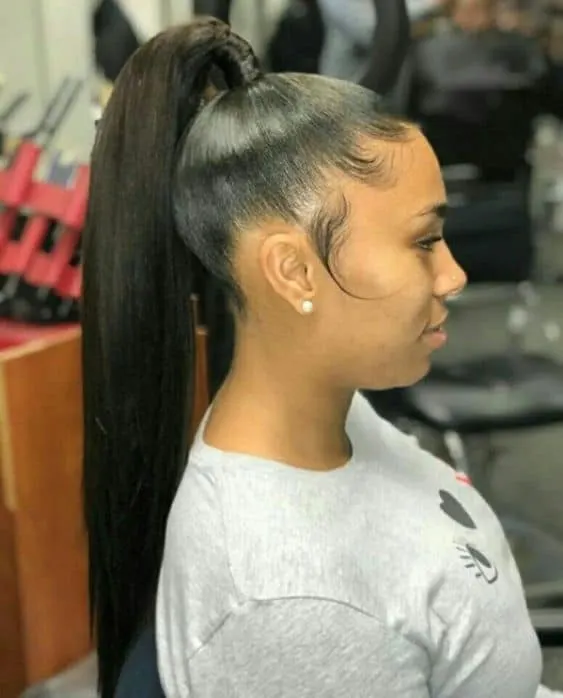 Another sleek invisible ponytail that will have all eyes on you. Daily maintenance will be required to remove the ponytails at night. Keeping it in for an extended period of time will pull on the hair follicles which can cause damage.
How to Remove Invisible Ponytail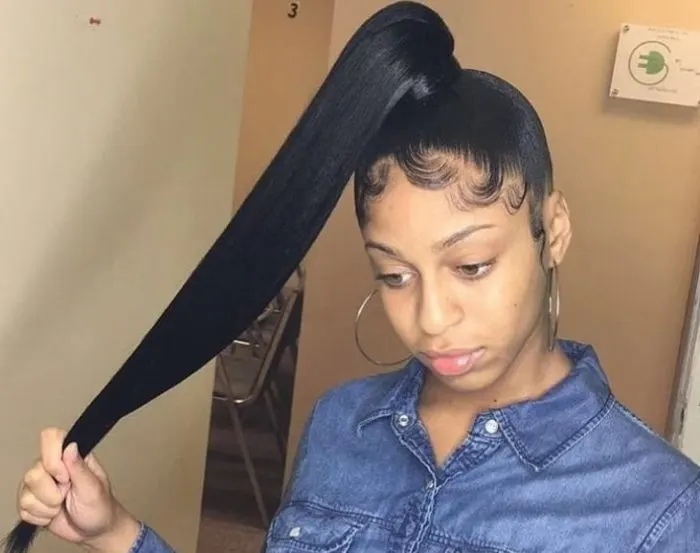 Removal is dependent on how the weaves were installed. If the ponytail as sewn in then it would have to be cut out. You would cut the hair thread or string which held your hair and the weave together.
Or, if it was glued in then you can remove it with alcohol depending on the hold of the glue. And the final option is clip-ins. If you clipped in the ponytail then just unclip your clips.
FAQs about Invisible Ponytail Hairstyles
How many bundles are needed for your invisible ponytail?
Bundles will vary depending on the length and volume that you desire. The longer the length or more volume you need the more Also, the length of your natural hair.

You may have long hair, so you will need fewer bundles. The bundles are only needed to add a bit more length and volume to your ponytail.
Sew in or weave which is better for ponytails?
Both. The success of them depends on your technique for installation. Sew-ins are woven directly into the roots of your hair. If this technique is done tightly it can pull on your scalp which can cause adverse effects.

The sew in should be sewed in with the right thread to secure the hold. Weaves are usually glued in. The glue that is used should be allergen-friendly. As well as, the adhesive may be too strong and stick to your natural hair.

So, when it's removed it pulls against the hairs. Ensure to use the perfect hair glue or gel to keep the weaves in place while you rock your ponytail.
Can invisible ponytail be done with natural hair?
Yes. It can be done once you flat ironed your hair. So, you place clipped in straight hair ponytail to your ponytail to increase the length as well as volume. Or you can get a curly ponytail.

Ensure to find a curly weave or sew in that will match your natural hair. then voila! You will have an invisible ponytail that can be transferred into a bun if during the day you're not feeling it.
These invisible hairstyles will have you rocking any event that you have. Which one are you planning to?