When you're not a professional, the chances of ruining your hair when trying to layer your tresses are really high. If you don't want to end up with a bad layered haircut, our advice will be to book an appointment with a good hairstylist that knows how to trim your hair gradually.
What Is a Bad Layered Haircut?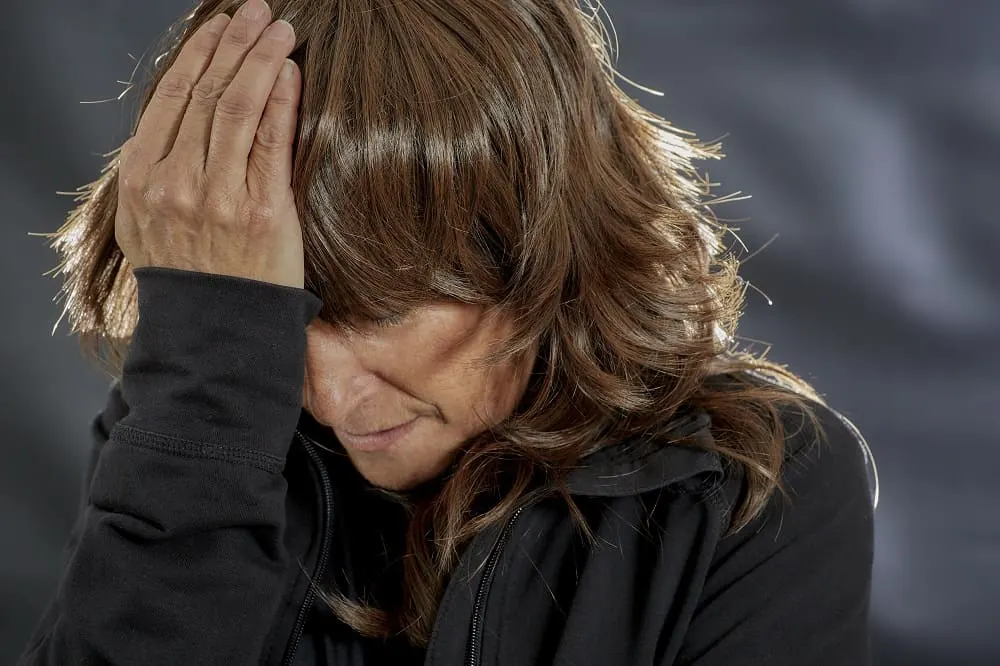 A bad layered haircut is one in which there are some layers that are too short and others that are too long in areas where the difference really stands out. The hair ends up looking choppy and uneven.
Moreover, bad layers are difficult to style and it's almost impossible to hide the uneven layers. They look rough! This happens when you try to cut layers without any experience and end up chopping up your hair.
Then there are some haircuts that are supposed to add volume, but instead of doing that, they make the hair stick to the scalp. This can happen if you put longer layers where shorter ones should be.
On the other hand, if you put short layers into thick hair you can make it uncontrollably wild as you increase the volume.
Bad Layers Example
Layers should beautiful fall one over each other, creating a stacked effect. We all know those funny videos that went viral on the internet, representing women who tried to get their favorite hairdo at home.
If you don't want to be like them, discover below a few examples of bad layered haircuts and find out how to avoid looking like that.
1. Bad Long Layered Haircut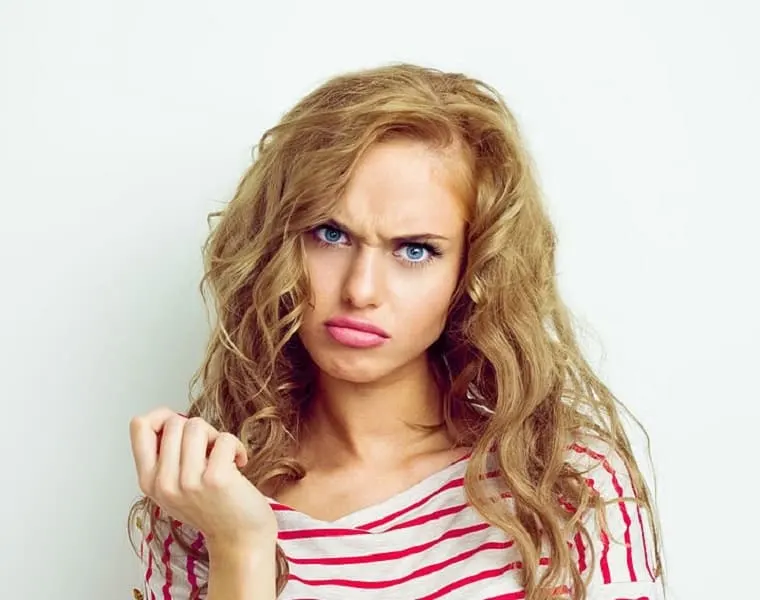 If you ended up having a bad long layered haircut, don't panic! We know you're having a drama queen moment and all for the right reasons, but when your hair is long, you can still fix the mess by visiting a hair salon.
2. Awfully Layered
Well, that's a hell of a bad one-layered haircut! They look more like blunt layers instead of beautiful blends. A good hairstylist can help you fix that by smoothing those chopped strands.
Unfortunately, you'll probably need a renounce a few inches of your hair to make it look good once again.
3. Bad Layered Hairstyle with Bangs
Instead of making the hair gain volume and texture, this long bad layered hair had only made it look thin and dull. If you ever experience something like this, get a medium hairstyle or a modern long bob that will look so much better than this. Make sure you avoid these bad bangs hairstyles.
4. Messy Layers
These bad face-framing layers are the best example of how you should NOT cut your hair. The short bangs aren't ideal for a round face; on the contrary, they make it look bigger and accentuate the cheekbones.
5. Women Over 50 With A Poorly Done Layered Cut
When you are a woman over 50, your hair starts losing its pigment and falling off. This is why you would need a hairstyle that works to your advantage, not a bad short layered haircut like the one above. Go for a pixie cut or a blunt hairdo.
6. Hair Highlights + Bad Layers
This bad chunky layered hair looks awful, mainly because those strands of hair are not beautifully blended. High definition is definitely not the goal here!
7. Short Messy Hair With Bad Layers
When you struggle with fine hair, layering and tousling are never going to help you achieve more volume. But blunt cuts will! Style waves or curls with iron or braid your hair before you go to sleep if you want more dimension.
8. Poorly Styled Layered Purple Hair
Why would you make your hair lose its volume, who wants that? Definitely not us, right? Avoid this type of haircut that gives dimension only to half of your tresses and diminishes the tips. The hair color is beautiful, but it will never work with such a bad layered hairstyle.
9. Bad Choppy Layered Hair
Did you ever wonder what a bad choppy layered haircut looks like? You have the example above. This experiment that went totally wrong will never flatter anyone because the layers are rough, and you can also see longer threads in the fringe area that are not supposed to be there.
If you want an asymmetrical hairdo and you know you don't have the skills to do it at home, visit your fav hairstylist and he'll do it right for you.
10. Thin Bad Layered Hair
When you have thin hair, layers are not your best option, and you can see that for yourself in the image above. Do you see how rare the ends look, even if she tried to obtain volume by waving it? So awful! Go for straight and blunt cuts or stacked layers because they can help you solve any thin hair problems.
Can You Fix a Bad Layered Haircut?
If you're the one who added bad layers, it's probably better to get a professional to fix it for you. If someone else did the botched job for you, and you have experience in cutting hair, maybe you can fix it yourself.
How To Fix Bad Layered Haircut
Here's how you can fix a bad layered haircut:
Fix uneven layers by starting all over again. Start from the crown of your head. Use small vertical sections and hold them out at a 90-degree angle. Then clip the hair straight across, parallel to the floor, where the hair is shortest in that section. This might make your hair considerably shorter, but it should look nicer when you're finished.
Fix choppy layers by creating a separate layer in between the two that are far apart. Do this by taking part of a longer layer and cutting it so that it lies midway between the shorter and the longer layer.
If your stylist unwittingly thinned out the volume from your already thinning hair, she added long layers by mistake. These can be fixed by cutting them down shorter. Hold your hair out at a right angle and clip the layer straight across halfway through the layer. It will make your hair much shorter but create the volume you need.
If your layers are too short, you might be unable to fix them at home. Instead, use hair accessories to hide your less glamorous look.
Watch the Following Tutorial to Learn How to Fix Choppy Bad Layers
Dos and Don'ts for Fixing Bad Layers
Here are some do's and don'ts to remember about re-cutting your own layers:
If you are able to fix your layers, don't rush it.
Do always work on wet hair.
Do use super sharp hair shears.
Do use vertical sections instead of horizontal ones. These will help keep your layers from looking choppy.
If bangs are part of your style, don't cut them straight across. Twist the hair and cut it across to get a more natural look. Then snip across the light tips at a 30-degree angle.
If you're uncomfortable grabbing a pair of shears and setting to work, do get the help of a professional instead.
Bad Layers vs Good Layers
There are other style differences between good layers and bad layers:
Good layers swing around the face with movement, whether you made extra volume with them or thinned out bulky hair. Bad layers are stiff and can stick out at weird angles.
Good ones look beautiful, but bad ones look unkempt.
Good layers style easily, you only need to comb them into place. Bad layers resist styling.
Good layering will highlight those areas of your face that you are pleased with. Bad layering does the opposite and can show every imperfection in your face and hair.
FAQs
Are layers bad for my hair?
No, layers are great for the hair when they are cut properly. They make the hair look great and because the split ends are trimmed, they encourage growth.
How long will it take to grow out bad layers?
You can see how long it will take by measuring the shortest layer to the longest and calculating how long it will take if your hair grows half an inch per month. How long it takes will also depend on whether your layers are long or short.

If they are short layers, they could take three to six months to grow out completely. If they are long layers, they could take six months to a year. You can help ease the process by getting micro trims that take off the layers little by little.
Can I fix bad layered hair without making it short?
If your hair is very long, it's possible to fix the layers and end up with a medium-length haircut. Fixing layers always makes the hair considerably shorter.
Are bad layers damaging to the hair?
If they were cut in so careless a manner that dull shears were used, yes, the shears can damage your hair by causing split ends. The damage will be from the dull shears, however, not from the layers themselves.
Bad layered haircuts are an easy thing to end up if you have inexperienced hands or a lack of skills. When you look at those celebrities' gorgeous tresses, layers and colors, remember that most of your icons pay a lot of money to look that good. We don't say that you need to invest thousands of dollars into a haircut, but finding a good hairstylist will save you from getting awfully haircuts at home.
You May Also Like