A perm makes styling your hair much easier, but that doesn't mean when you leave the salon, there's nothing else to do. Perms have different maintenance routines than straight hair; taking care of your perm will help keep your curls luscious.
After all, you don't want dry hair and dreaded frizz. So we've gathered a few tips for maintaining a perm so that it always looks like you just got home from the salon.
How to Care For Permed Hair
The main thing to remember about perm hair care is making a switch in straight hair mentality. You have curly hair now, and its texture and needs are different. Curly hair dries out quicker than straight hair and develops frizz easily.
Curls also go flat when not properly cared for. But we're getting ahead of ourselves. First, let's talk about how to take care of a perm as soon as you get home.
Immediately After the Perm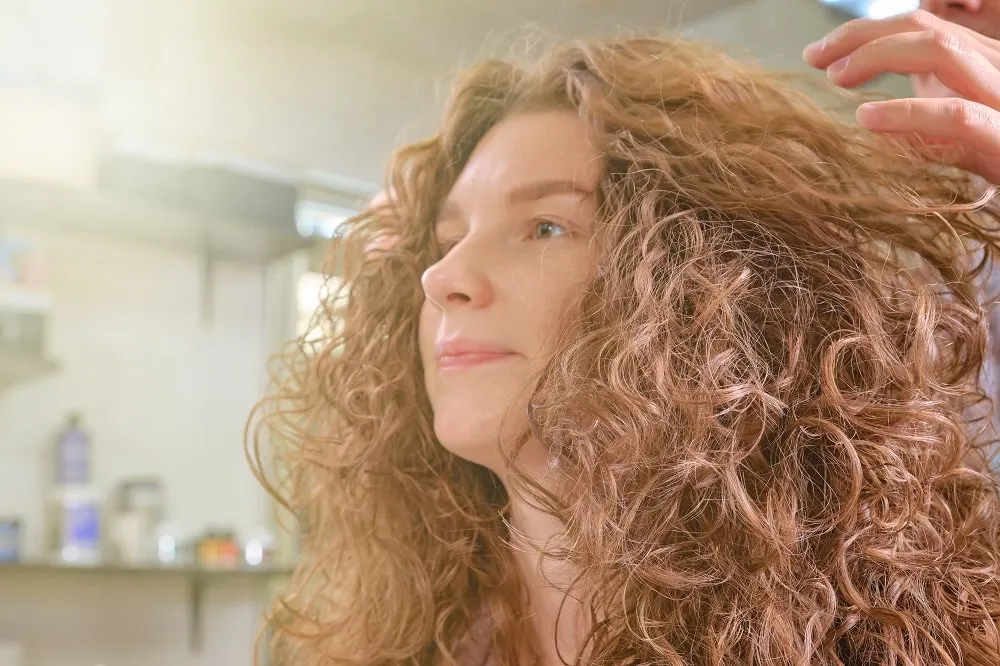 Maintaining a perm right after you get home is sort of like dealing with a keratin or smoothing treatment. You want to avoid anything that might dent your hair, like using hair accessories or putting your hair into a ponytail.
The perm chemicals are still settling into your hair and reforming it into permanent curls. That takes time.
First 48 Hours
While the keratin bonds in your hair are completing the reset from straight to curly, you don't want to get your hair wet for at least for 48 hours. Swimming in a chlorinated pool isn't a good idea anyway, as it will make your hair frizz, but don't wash your hair either.
If the smell of the perm chemicals is bothering you, try using a dime-sized amount of leave-in conditioner. It will refresh your hair and start conditioning it in preparation for your first shampoo.
Shampoo is drying, so to keep your hair moisturized, using a pre-shampoo treatment, like a leave-in conditioner, will help.
Perm Care for Already Textured Hair
Textured hair is the driest type of hair and a perm makes it even drier. It needs very hydrating products to keep the hair from breaking. Products for textured-hair perms typically contain a lot of glycerin and actually look moist and shiny in the hair.
A perm on textured hair isn't just a regular perm. It's a slightly different process called curl reformation and uses the same steps as a Jheri Curl. A stylist straightens the hair thoroughly before adding the curling rods and perm solution.
So there are two chemical processes used to make the hair extra dry. Products that keep the hair wet and moisturized are necessary for textured-hair perms.
Washing Your Perm
This is when it becomes super important to remember you have curly hair instead of straight tresses. Curly hair doesn't have to be washed as often, and because the perm has altered your hair, it's important not to wash it too much so that you don't dry it out.
If your hair gets too dry, it will become frizzy. Use a moisturizing, sulfate-free shampoo and don't towel dry your hair by rubbing it back and forth. Instead, use the towel to squeeze out excess water so that your hair doesn't frizz up.
Also, ensure to condition your hair after you wash it, even if you hardly used conditioner when you had straight hair. Curly hair needs all the hydration it can get, and hair conditioner leaves a light film on the hair that locks in the moisture from your wash.
To preserve your curls overnight so that they are not bent or flat come morning, try a technique called a pineapple. This is when you pull your curls up to the top of your head and tie them with a loose band.
Then you wrap a silk scarf around the sides. Silk helps preserve moisture and keeps your hair from drying out after rubbing against a cotton pillowcase all night.
Or, consider giving up your cotton pillowcase for a silk one. If you prefer to sleep with your hair loose, you'll still need to keep the pillowcase fibers from drying out your hair.
That's when a silk pillowcase comes to the rescue. The silk fibers don't rub against your hair like cotton.
Do's & Don'ts
Here are some do's and don'ts for maintaining a perm:
Do stay away from heat. Heat tools can dry your hair too much, create frizz, or cause your curls to flop. If you use a blow dryer or flat iron, deep condition your hair the day before and use a heat protectant.
Do try a diffuser attachment. It's best to air dry your hair. But if you're in a rush, let it air dry mostly, then use a diffuser attachment to dry the roots.
Don't neglect trims. It's possible that with all your loving care, your ends will split faster with a perm with natural hair. To keep your hairstyle fresh, get a trim every four weeks.
Do wait at least two weeks after a perm before coloring your hair. If you decide on a coloring treatment too soon, your hair might become damaged. Since bleach is the most damaging of color processes, it's best to avoid it.
Don't detangle dry hair. It helps preserve your curls if you detangle your hair with a wide-toothed comb while it's still wet. You can facilitate the process by using a leave-in conditioner for lubrication while you detangle.
Don't detangle with a brush. It will probably leave you with loads of frizz.
Don't swim in chlorinated pools with a perm. This can ruin your hair.
Do try loose updos or wear your hair down and loose. Using tight hairstyles and ponytails can damage your fragile tresses and cause breakage.
Do use a moisturizing mousse on your roots to give volume once your natural hair starts to grow.
Don't forget that anti-frizz serums can give you shine and keep frizz at bay.
Don't wash your hair with hot water! That can cause frizz and make your curls limp.
Do try hair oil. If your hair still seems dry even though you're conditioning after washing and using a leave-in conditioner, try adding a light layer of hair oil after the leave-in. This will help lock in moisture and add softness and strength. And don't worry. Curly girls do it all the time.
If you get a bad perm, here's how to get rid of a bad perm without cutting your hair.
FAQs
Can I use curling cream after a perm?
Curling creams are designed to help your hair clump and form curls. If your curls are flat or you have frizz, a curling cream can help you get your curls back into shape.
Can I wash my hair 36 hours after perm?
It's best to wait at least 48 hours before washing your hair after getting a perm.
Does permed hair look better after washing?
Your curls will always look more defined after you wash your hair. To preserve the curls, try raking an alcohol-free mousse through your hair while it's still wet.
Why should I avoid stretching my hair after perming?
You should only stretch your hair or wear tight hairstyles if you want to loosen your curls. Stretching your hair won't get rid of your curls entirely, but it will make them looser or flatter.
Is permed hair hard to maintain?
Maintaining permed hair isn't difficult, but it uses a different routine and products than what you used for straight hair. So it takes some getting used to.
How often should I wash permed hair?
Permed hair won't be as greasy as when it's straight, so if you can, it's best to only wash it once a week. Wash your hair twice a week at the most.
How often should I condition permed hair?
You should condition your hair after every wash in order to help lock in moisture. Using a leave-in conditioner after you rinse the regular conditioner is also a good idea. It'll help keep your hair soft and frizz-free.