Jumbo braid ponytails are all the rage. Sometimes called box braids, this style is marked by wide, long, thick braid(s) and can be achieved with natural hair or a weave.
Jumbo braided ponytails are also extremely versatile because you can bring up the look with hair jewelry, use micro braids to accent the look, keep it clean and classy, or weave in beautiful colors that reflect your personality.
These braids became popularized decades ago in the 1990s when pop and R&B icon Janet Jackson wore the style in Poetic Justice movie. The trend has continued with this easy and chic style being seen everywhere around the world.
How to Do Jumbo Braid Ponytail with Weave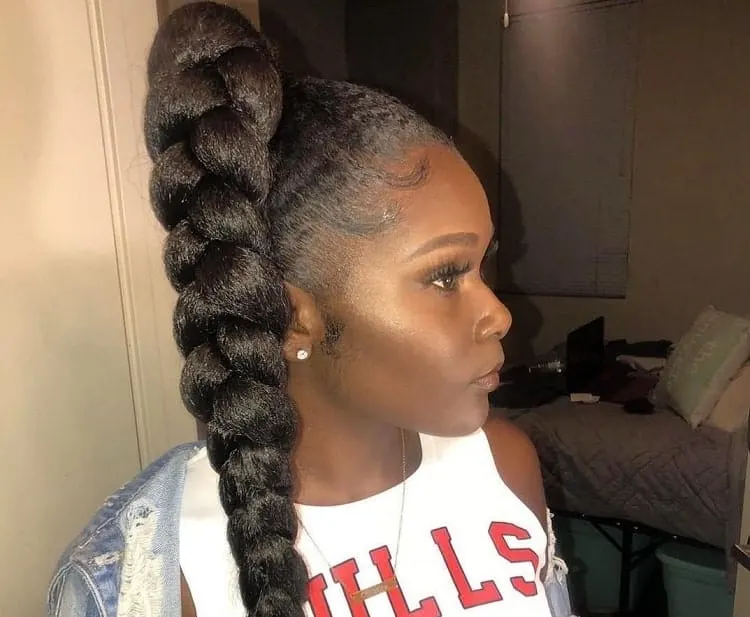 Creating a jumbo braid ponytail with a weave is easy and takes no time at all!
Step 1: Use your favorite hair smoothing product and apply it to hair. Brush your hair into a high ponytail taking care to smooth back the hair on the scalp.
Step 2: Secure the ponytail high enough on the head that all of your hair can be captured in the ponytail. Use the rubber band on the hairpiece to secure the weave to the ponytail. Align your natural hair under the hairpiece.
Step 3: Keeping the hair together, separate into three equal-sized sections. Incorporate natural hair as you are weaving the braid together until all of the natural hair is braided together with the weave.
Step 4: Continue braiding the weave all the way down to the end of the hair. Secure the bottom of the braid with a rubber band so it does not unravel. Add hair charms or cuffs to finish the look with hair jewelry.
Watch The Following Tutorial to Learn How to Do Jumbo Braid Ponytail with Weave
Best Jumbo Braid Ponytail Hairstyles
The following are some of the classic hairstyle ideas to wear jumbo braid ponytail.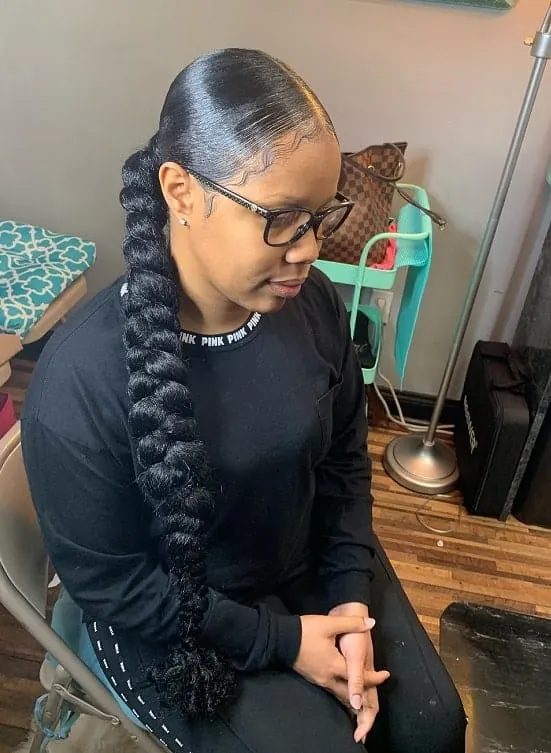 All you need to rock this jumbo braid ponytail for women look is a few feet of natural hair or weave and a ponytail holder.
This simplistic, one jumbo braid, side ponytail is classic, elegant, and clean. Braids are a great way to keep your hair out of your face but also have a nice hairstyle.
Hair Jewelry, such as the gold braid cuffs in this jumbo braid style for women, are fashionable and trendy. Hair bling is fun and a great way to accessorize or show off your own unique personality.
This high jumbo braided ponytail hairstyle features multiple box braids gathered high together on top of the head.
Jumbo braids can be a great look on anyone. This jumbo braided ponytail uses natural hair and the box braiding method to create a nice thick side braid.
Using extensions, weave, or dying your natural hair a fun color is a great way to make a jumbo braid fun and sexy.
4. Ponytail with Microbraids and Weave
The jumbo braid ponytail on this model is accentuated by micro braids that come from the forehead and twist back in a French braid style.
This braid uses weave and is held in place using smaller braids wrapped around the base of the ponytail. The fun red colors also add to the modern, trendy, and fresh look of this hairstyle for women.
Wearing a jumbo braided high ponytail with a weave is easily made elegant, sophisticated, and eye-catching by wrapping a thick section of hair or weave around the base of the ponytail.
This method of the braided ponytail is convenient for covering the rubber bands, ponytail holders or bobby pins used to style.
6. Extra Long Jumbo Ponytail
This sleek jumbo braided ponytail looks so gorgeous and will undoubtedly make everyone admire your hair. Make sure the combing is flawless and make a significant construct on top before you knit the pony.
7. Triple Pony
Part your hair into three sections, two on sides and one on the center of your head, and build French knits. Once you are done, secure them at the bottom and style a low Jumbo braided ponytail.
8. Ashy Blonde Braided Pony
If you want a unique, sexy ponytail, style bangs and build a Jumbo braided ponytail on top of the head. Use an ashy blonde color that will perfectly match that straight fringe.
9. Half Box Braided Ponytail
Half Jumbo box braided ponytails are among black women's favorite because they create height for the top, look romantic, and elongate any rounded face. You can play with the thickness of the braid, making them thinner or chunkier.
10. Stitch Braided Pony
Stitch feed in braids will look remarkable even if the procedure is quite fastidious. You first need to part your hair and use loads of jam because you don't want any rebel strands sticking out. Gradually incorporate Jumbo hair, and in the end, tie all the braids into a pony.
Frequently Asked Questions
High or low ponytail which looks good with jumbo braid?
High ponytails are generally the best look for jumbo braids because the high ponytail is dramatic and allows the braid to cascade down the back or shoulder.

However, low ponytails can also be worn with jumbo braids as well as half-ponytails.
Box braids and jumbo braids, are they same?
Box braid is the style of braiding marked by weaving three sections of hair together. Jumbo refers to the large size; however, jumbo braids and jumbo box braids can be used interchangeably with your hairdresser.
Jumbo braid hairstyles for women are one of the best ways to protect your natural hair while creating a look that is sophisticated, elegant, stylish, and dramatic.
The jumbo braid ponytail hairstyle is popular worldwide and can be achieved with or without weave depending on the thickness of your natural hair.
You May Also Like