Looking to highlight your bob hairstyle in way that makes it seem like it was never done at all? Creating a balayage bob involves a hand-painted technique that may take longer to apply than other highlights, but it's one that will give your hair an effect that feels totally sun-kissed and natural. Thanks to its customizable nature, your stylist will be able to incorporate effects and colors as you wish.
Balayage Bob Hairstyles
Below are 20 sexy styles for every color, style, and personality out there.
1. Cool Brunette Balayage Bob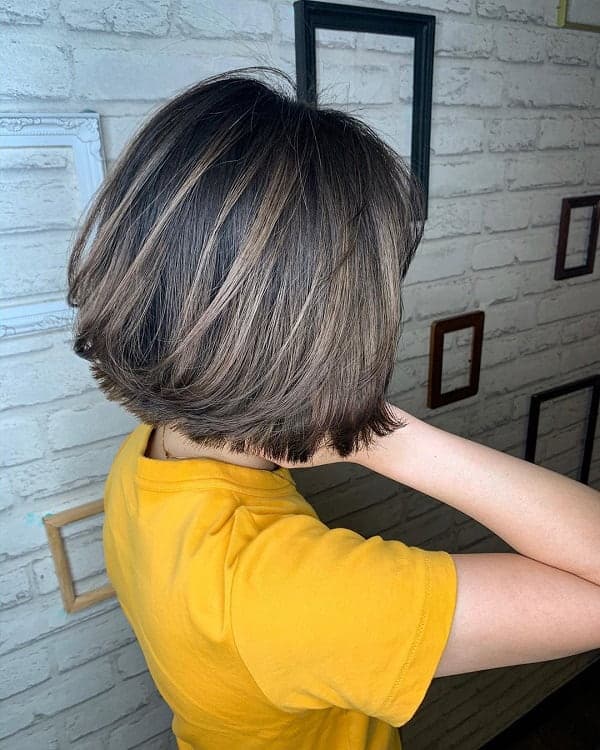 Adding in gray or ash tones is a popular look of the moment. This works on brunettes just as well as blondes. Add a few icy hues to the outermost strands on top of darker brown color for a rooted, dimensional effect.
2. Chin-Length Balayage Bob
Because balayage is tailor-made to you, it works on hair as short as a pixie. This light brown color is focused on the lower portion of the hair and makes an otherwise basic chin-length bob stand out. Add a side part and a few textured tousles for emphasis.
3. Bob Haircut + Caramel Balayage
Add warmth to your chocolate brunette locks with subtle caramel balayage highlights. These tones make hair look especially rich when mixed with another lighter tone on top of the base color. However, beware of brassiness as this style wears on.
4. Brown Bob Balayage
Embrace classic brunette hues with the balayage technique. Even as you focus lighter color at the bottom half of the hair, it's wise to paint the same color on the first strands that surround the face for a brightening effect.
5. Textured Brunette Bob with Balayage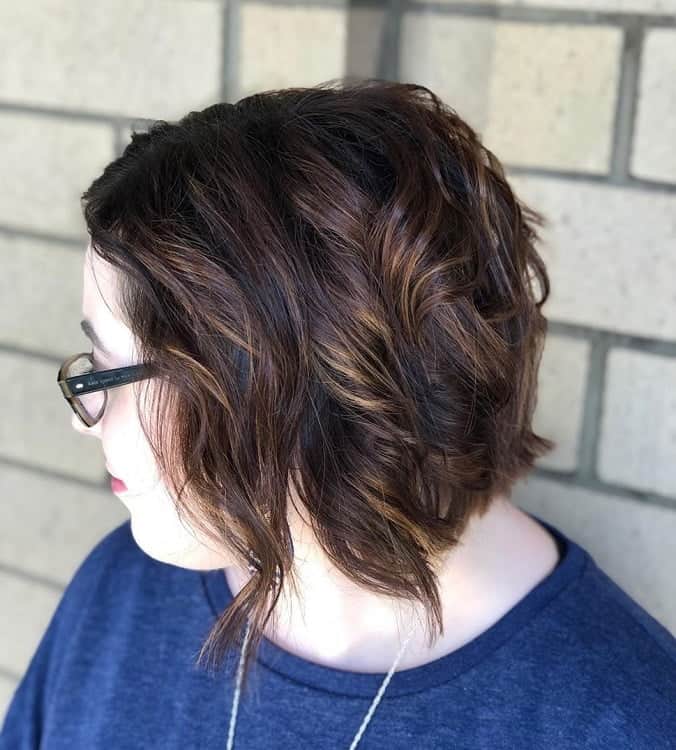 This balayage effect is lighter and less focused on the bottom half of the hair. Rather, it touches at the points on the hair where the light catches. This can be done on any hair color imaginable, regardless of which one you choose, for a look that is subtle and natural.
6. Straight Bob Balayage
We often see the trendy balayage technique on even trendier waves, but sleek looks are just as chic. In fact, you'll be able to see how expert your stylist is at creating the blend on your hair, whether your hair has tones of pink or classic browns or blondes.
7. Balayage Angled Bob
Give your balayage bob something extra, like an angled cut. The hair on angled looks grows gradually longer as you move from the back of the head to the front, creating the perfect opportunity for movement and beautiful highlights.
8. Balayage on Pixie Bob
Pixie bobs are an ideal in-between style for short-haired babes who want to maintain a bit more length. Balayage provides natural dimension that grows out well with time, even on short locks! Light side bangs compliment the darker tone of the shaved portion nicely.
9. Choppy Bob Balayage
Choppy layers add dimension to bobs, but balayage highlights take the effect to the next level. Incorporate richness into your current tone or add gorgeous strawberry hues if you skin has pink undertones.
10. Orange Ombre Balayage
Ombre balayage is so miraculous that it makes even bright orange hues look naturally grown out. The orange works because of the warmth of the brunette underneath, so it's important to stick to similar tones, whether you choose something fun or more approachable.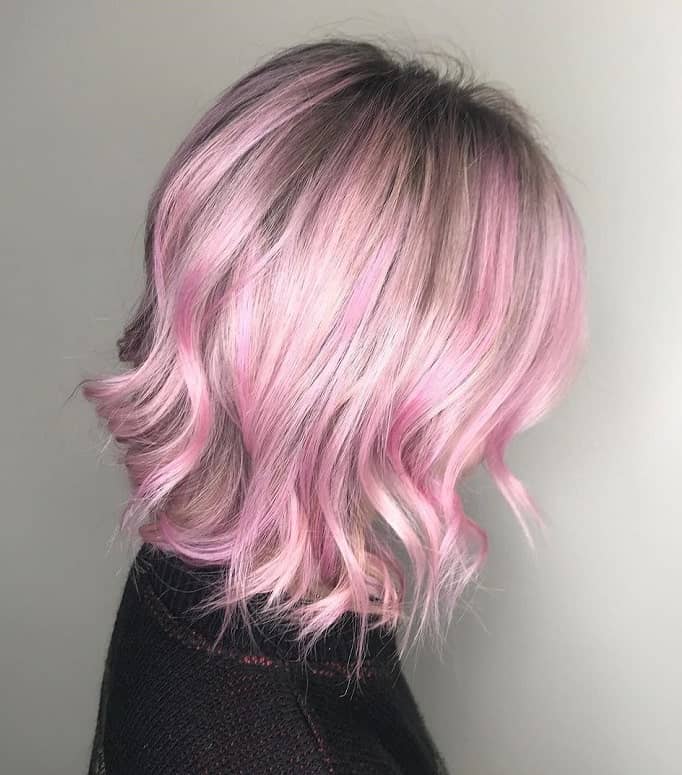 Let's start off our list with this stunning pink lob balayage that is every girl's dream. The subtle girly pink stands out in the blonde and makes for the perfect barbie hairstyle.
Girls wishing to realize their dream of bubblegum pink hair can safely try this style. The beautiful strands complement most women but are better suited to those wanting to express their funky, cheerful side.
Get the perfect blonde to make sure your pastel pink hair pops. Make sure to get different hues of pink so that the color blends in well with your hair. With such a striking color you can make any style with your hair.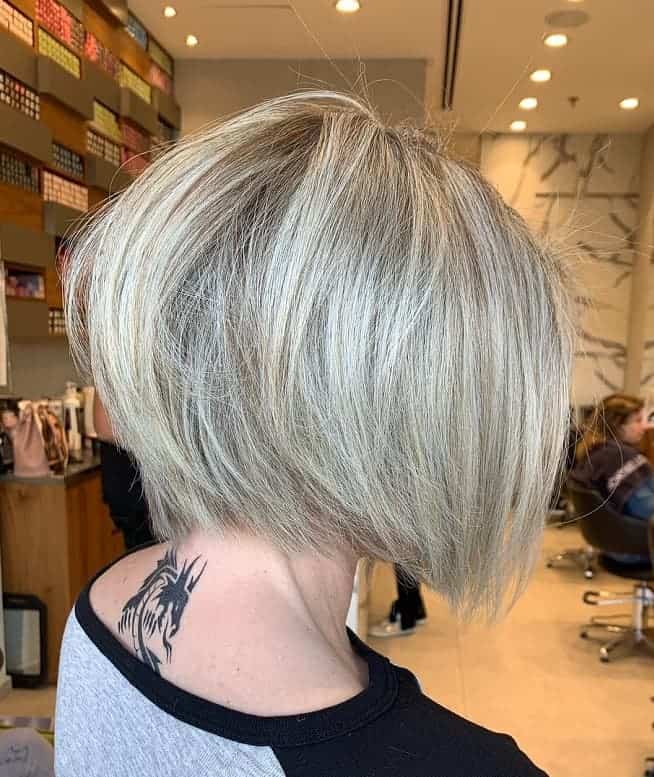 Another cool balayage short bob styles to satisfy your inner diva. The balayage compliments the short hair but will also look amazing with a bob.
Women looking for an edgy hairstyle can opt for this one. The edgy short bob and the sophisticated color makes this hairstyle perfect for stylish ladies.
The short bob cut is ideal for this edgy look. The platinum blonde mixed in with ash grey hair is a perfect combo. Blow dry your hair to give it that volume for a perfect finish.
13. Balayage Bob with Highlights
The classic gold and brown hue of the balayage has been an amazing success. It is the safest bob with balayage highlights to try if you are new to the trend.
If you want a change in your look but nothing too crazy the classic balayage is the way to go. The soft hues uplift your personality without making any drastic changes.
Get the classic hues to complement your hair. Use a curling iron to add in those beach waves to really make your hairstyle pop!
14. Sunset Red
Get a unique balayage to truly make an entranced. The sunset balayage blends the red and orange hair colors of a glorious sunset to give you an iconic look.
If you are bold enough to carry it, we don't see any reason to not try it. This balayage bob is the perfect look for fashionistas, popular figures, and the everyday girl, wishing to try something new!
This balayage can be a bit tricky. It uses the orange and red tones to mimic the deep red of a sunset. Finish off the look by giving your hair some fancy curls with a curling iron to add dimension to your hair.
The galaxy trend is still strong, especially among the younger generation. This balayage fulfills your wildest dreams, giving you hair straight out of your fantasy!
The color may not be suitable for formal occasions, so we suggest this style for the casual lifestyle or if you have a relaxed workplace.
Merge the blues and purples into a perfect long bob balayage. Once colored, remember to use lots of conditioners and use a straightener to give yourself that sleek look of perfection.
Another one of the subtle balayage bob hairdos, this look portrays the natural red hair color. The orange-brown combination brings out your features without being too much 'in the way'.
This look is perfect for every woman. The color usually suits most face cuts and makes for an iconic balayage.
You can keep your hair straight or you can add small curls with a curling iron at the end of the strands to add texture to your hairstyle.
Lavender always looks stunning, but this hairstyle takes it to another level. The lavender purple hair will give you great vibes!
We suggest you only try this hairstyle if you are able to pull it off. Purple can be a difficult color, but if it suits, you are likely to fall in love with this stunning hue!
Color your wavy bob balayage using gradient colors in the icy blue family. Once ready, blow dry your hair to give it a lift. Remember to use a texturizing spray to give your hair extra volume.
Another ladies favorite. This balayage is one of the softer hues to try and still manages to look extremely elegant.
The look suits working moms as well as teenagers. It is a versatile style that merges with the person's personality and compliments it!
The soft rose gold hues add texture and dimension to your hair. Try adding waves in your hair with n-heat curls to channel a new hairstyle.
Try this finger curls hairstyle. It's elegant, sophisticated and will give you a vintage hair look.
The above balayage bob is a winner for formal occasions like when you're attending a wedding or a party. You can also wear it to casual events. Being versatile, it suits most face cuts.
Remember to add in some hair spray to make sure your short balayage bob is good to work with. Use a curling iron strategically to create finger waves to achieve this stunning hairstyle.
20. Balayage Bob with Vintage Curls
No matter what color your blonde balayage bob, you can always add in this vintage hairstyle to create a romantic look.
We recommend this balayage bob hairstyle for both formal and casual events. It's an easy way to make your hair look attractive yet unique.
Stick to the curling iron to get this look instantly. Use a medium thick wand and roll your hair around it to create thick curls. Don't open the curls so they stay rolled u; vintage fashion.
The balayage bob hairstyles have been the highest contender among hairstyles in the fashion world this year. No wonder it has expanded into a category of its own! Have a look at these trendy hairstyles and give yourself a beautiful makeover!