Asymmetrical haircuts need no introduction as we all know how cool and glammy they make ladies look. If you got tired of that dull haircut, why not try something that really flatters you and makes you look the best.
We seek appearances that can set us apart. So for a change, try any of the listed bold, classy asymmetrical haircuts. In short, break away from the ordinary and embrace the extraordinary.
Variations of Asymmetrical Haircuts
Monotony is quite boring, and what we all need is a little newness to give us a fresh perspective and bring us out of the mundane. It applies to everything we do, which includes our hairstyles too. So if that is what you all beautiful women desire, then Asymmetrical haircuts are the option to go about it.
No matter how short or long the tresses are, asymmetrical haircuts and hairstyles add a lot of value to any other haircuts, even if we're talking about pixies or bob cuts. In the article below, you will find the best examples that can prove what a great job an asymmetrical cut can do to your hair!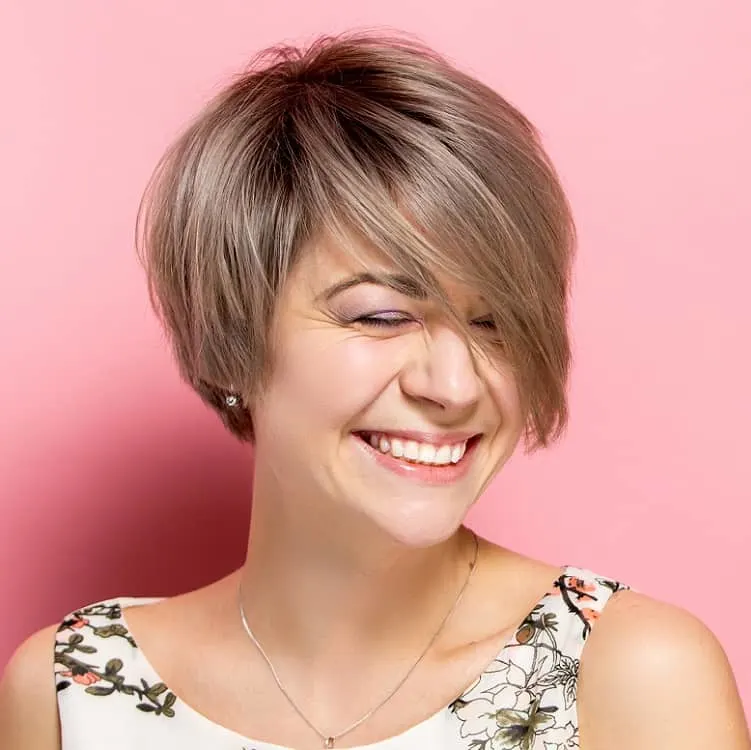 Short asymmetrical bob flatter women with round faces because they tend to create an elongated effect. The hairstyle is ideal for women of all ages, including ladies over the 40's.
2. Asymmetrical Bob with Highlights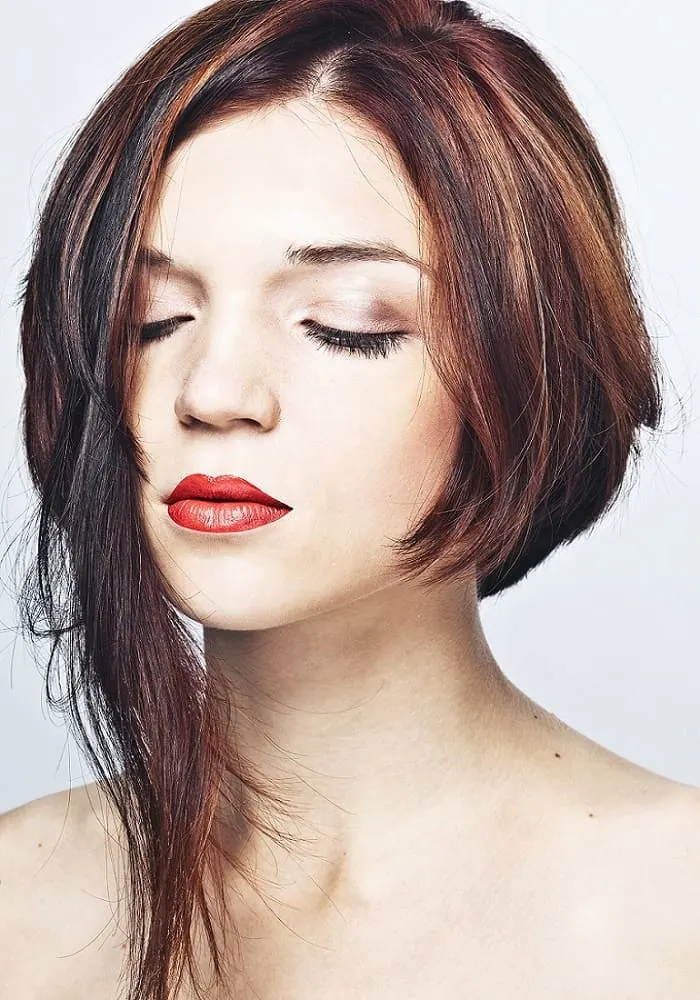 Medium asymmetrical haircuts are truly captivating when the difference between the sides is quite noticeable, like in the example above. Gain that most wanted texture by applying some wide brighter highlights.
3. Asymmetrical Bob with Purple Highlights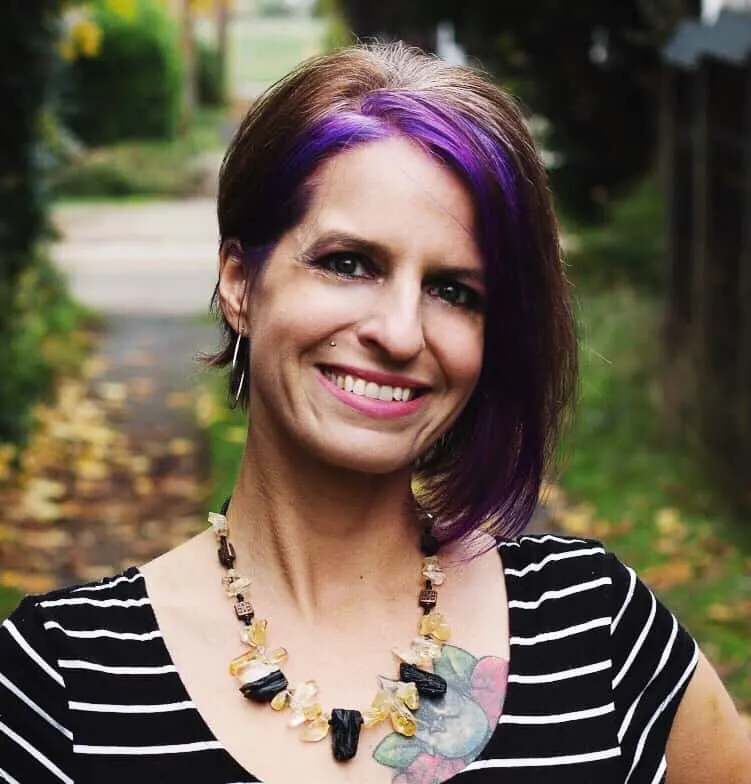 Asymmetrical bob will never be out of fashion. They are highly versatile and can seem elegant or even rebellious. When you love vivid bright colors as much as we do, you can dye your long bangs and temple hair in electric shades such as purple.
4. Asymmetrical Long Hairdo
Depending on your preferences, you can opt for a long asymmetrical hairstyle that keeps the hair on one side a little bit below your shoulder and the other reaching your waist. The hairstyle will undoubtedly become an attention grabber if you also go for baby bangs.
5. Asymmetrical Pixie with an Undercut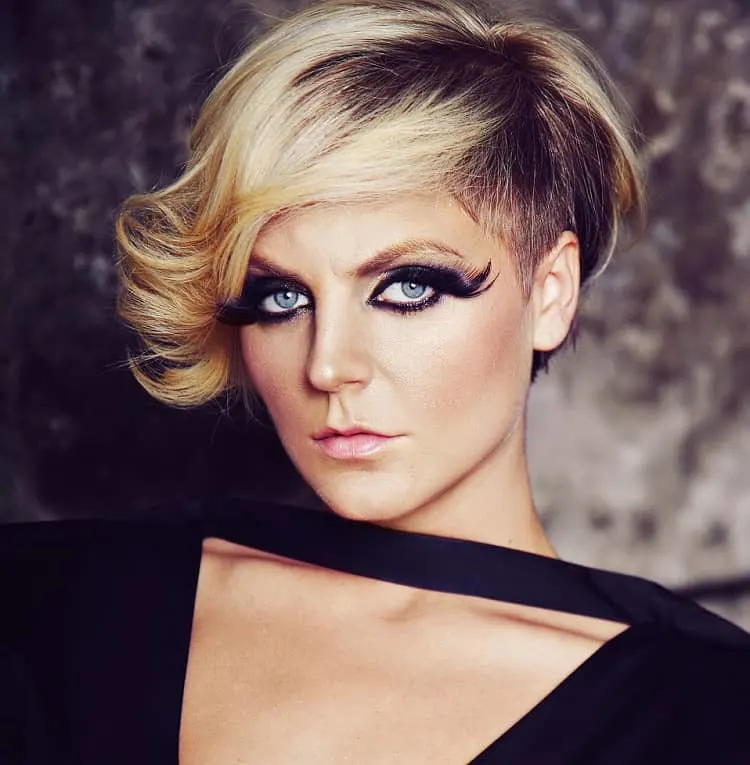 Even an asymmetrical pixie with an undercut can look elegant and chic, and it's all about the curls and waves that provide that glamorous note. Such a sudden transition will make you look mindblowing, whether going for a fresh hairdo or a glammy look.
6. Asymmetrical Blonde Bob with Bangs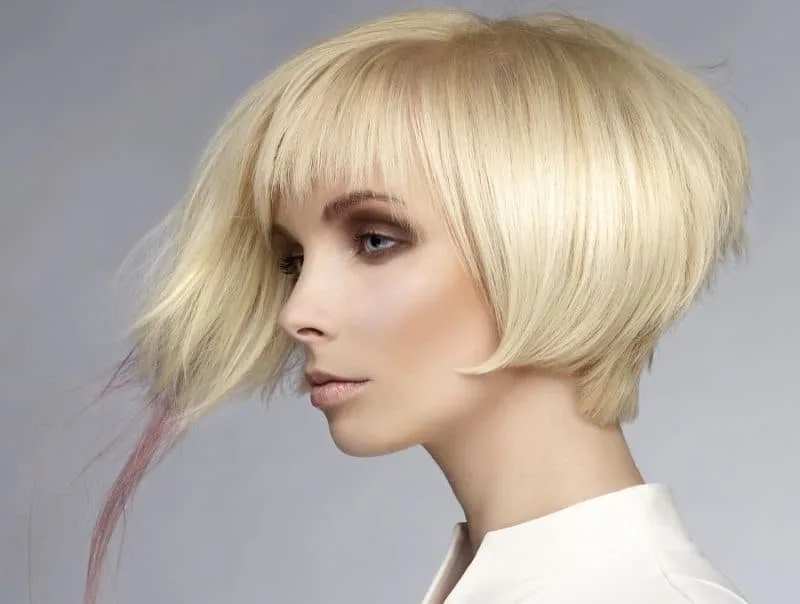 To project a fierce and bold image, you need to get this hairstyle. This includes cutting the hair short but a little shorter on one side with bangs just above your eyebrows.
Keep a few strands longer than the overall hair and color it pink. This new twist will make your look even more attractive. It suits diamond-shaped faces the most.
7. Mohawk Fade with Red Highlights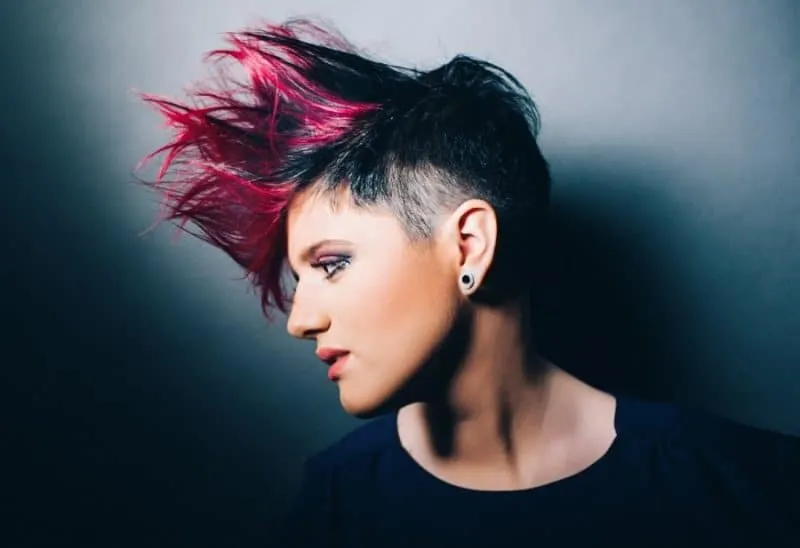 Be brave enough to take a risk and step away from things that bore you with this stylish and unusual haircut.
With long spiked hair on the top added with red highlights, and hair shaved in the sides into a fade, be the creators of change. It looks mesmerizing on thick hair, especially.
8. Long Hair with Ascending Bangs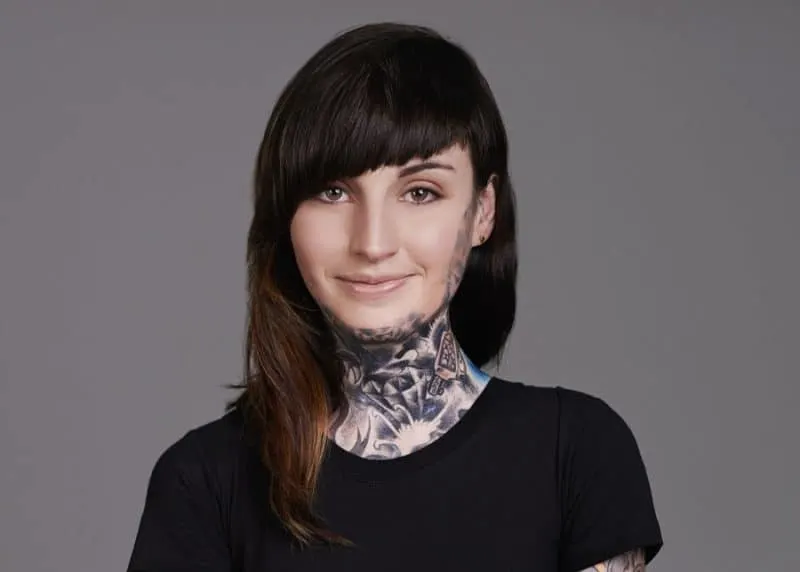 This hairstyle is truly a one-of-a-kind asymmetrical haircut you can opt for. It looks great on thin as well as thick hair. It suits women with oval-shaped faces the most.
All you have to do is cut bangs with one side a little shorter than the other with hair just above the eyebrows and the other side with hair just above the eyelid.
9. Hues of Pink And Blue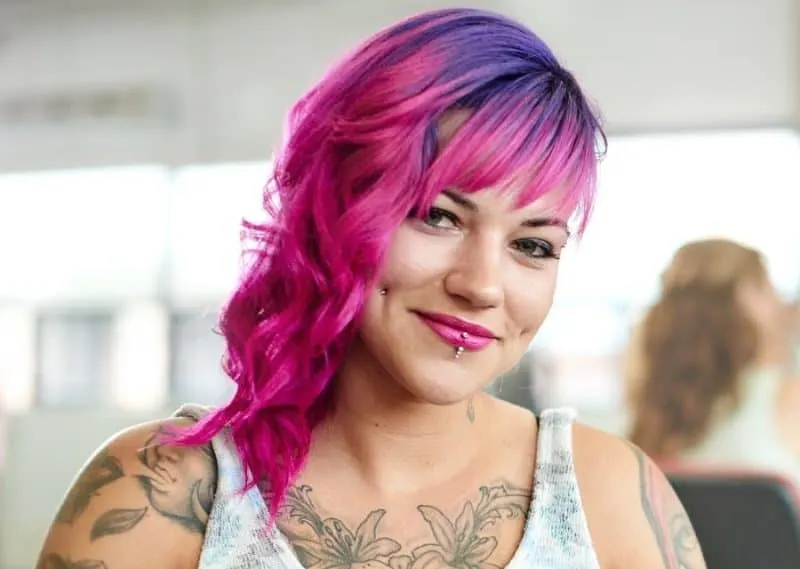 What can be more alluring than the color pink? Combine the boldness of an asymmetrical haircut with the adorable pink, and be the talk of the town.
The blue dye starting from the roots and fading into the pink, creates a truly remarkable look.
10. Rainbow Colored Pixie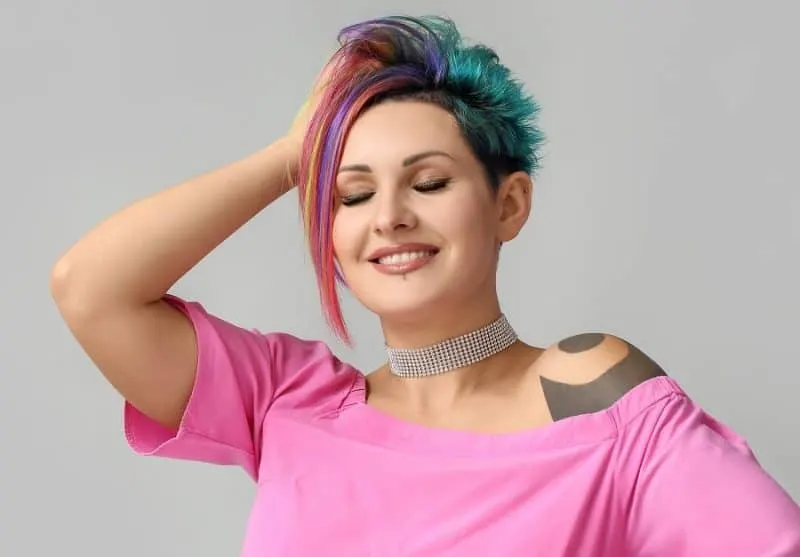 Pixies are already so much fun, but when added with beautiful rainbow colors, they can be a visual treat.
It is a great option for women with thin hair and wide oval faces or round-shaped faces. You can even keep one side a little longer and add various colors to it.
11. Charismatic Copper Red
Flaunt the good side of your face, the side you always take your selfies of with this hairstyle. Add the copper-red to make the cut more prominent as well. This color usually works well on fair complexion and heart-shaped faces.
12. Luscious Lavender Curls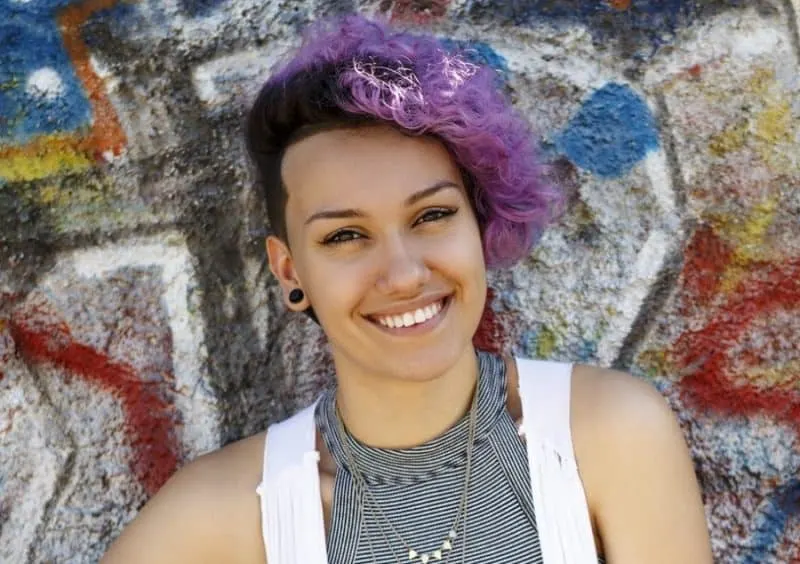 Curl the long part of your asymmetrical bob and add beautiful purple color to it. This hairstyle looks great on fair, medium, and dark-toned complexions and works great with all face shapes. If you have thin hair on the front, curls can hide it very well.
13. Rainbows on Emo Hair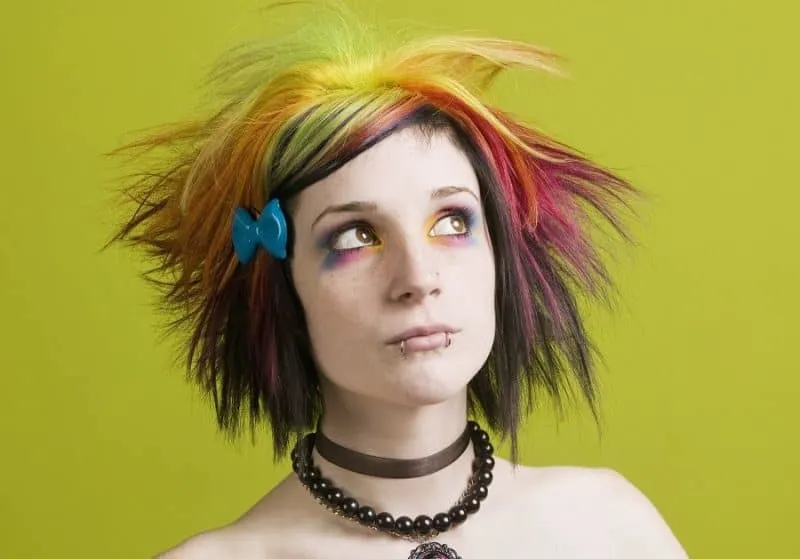 We all are two sides of the same coin, and this hairstyle brings out two worlds together.
The messy dark side of the emo with the pretty playfulness of the rainbow colors can seek the essence of our various shades.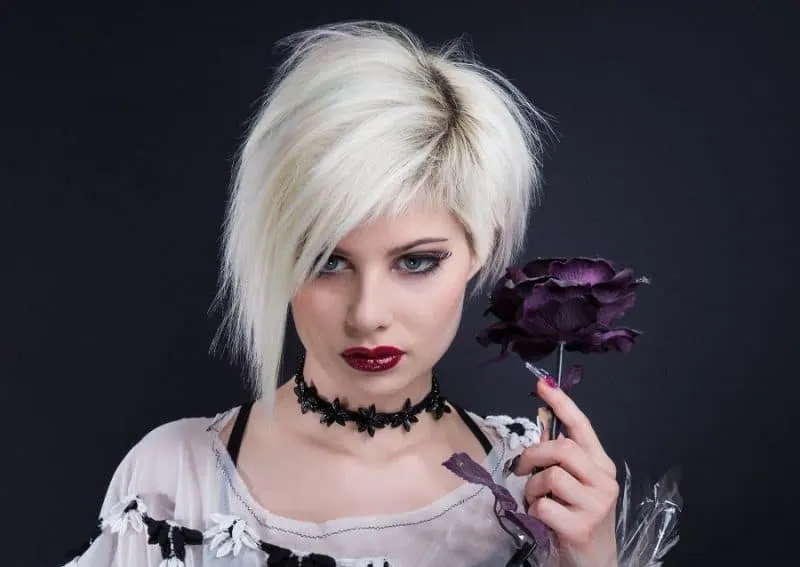 This side-parted asymmetrical cut hair suits all kinds of hair and is perfect for all lengths and textures of hair.
Models and celebrities have been rocking this hair color for a long now as it adds the mysticism and softness of snow. However, it does take effort to maintain the snowy look.
15. Half Straight and Perm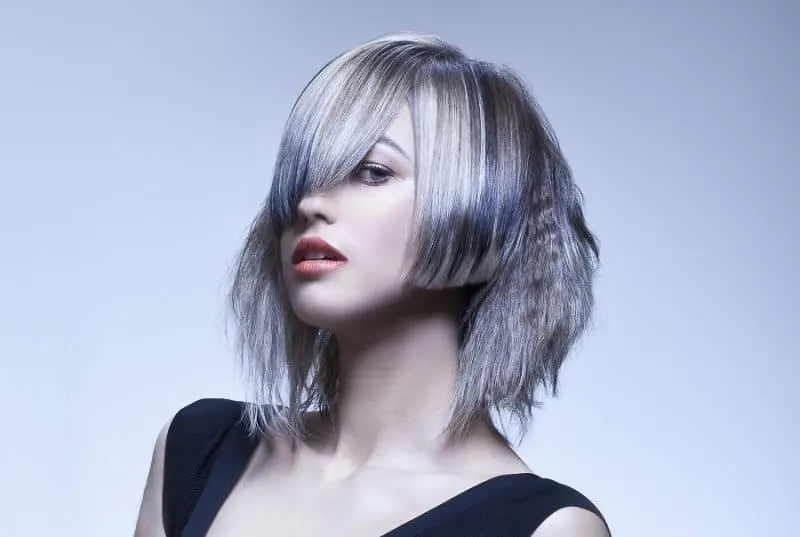 How about a hairstyle that gives you two styles in one? This hairstyle with messy hair on the back, sleek and straight hair on the front and side-swept bangs can give that look. It works better with thick hair and can make your jawlines prominent.
16. Blonde and Beautiful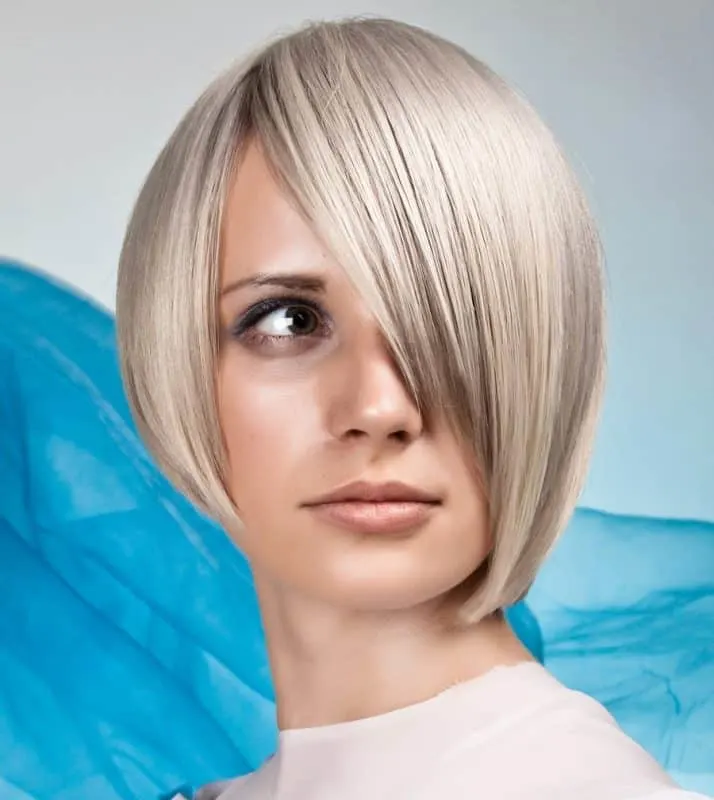 The asymmetrical cut hair is back in style, and how! It is a great option to prep you up for the summer as well.
Your search for a new style ends here and now with this uneven short and straight hairstyle. Blonde dye or even highlights can give you a mesmerizing look that most suits a fair complexion.
17. Lopsided Hairstyle for Black Hair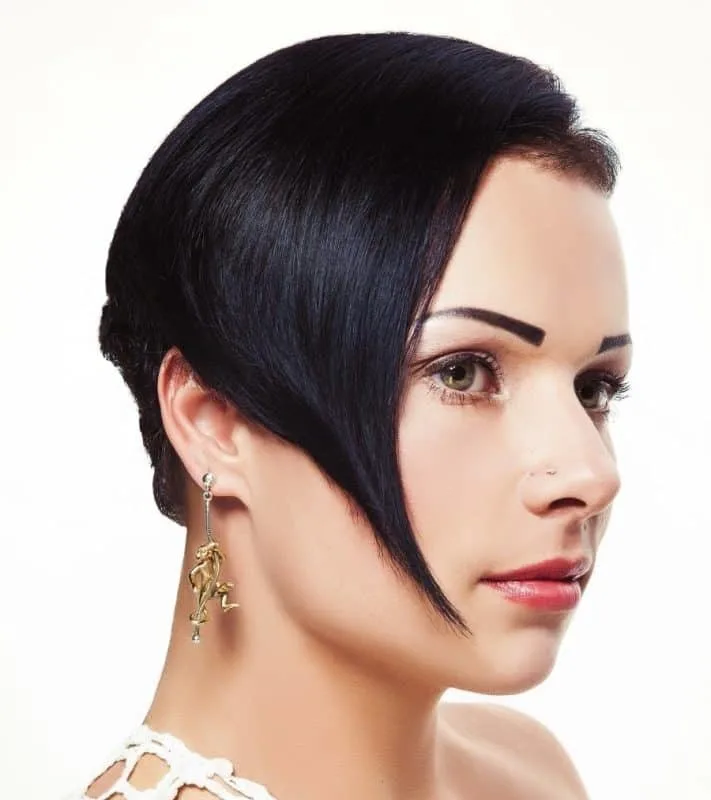 This hairstyle works specifically well for thin hair and medium hair. It looks great in women with square-shaped faces and black hair.
The black hair brings out the structure of this and looks amazing in all kinds of skin tones as well. Black is truly beautiful.
18. Uniquely White Blonde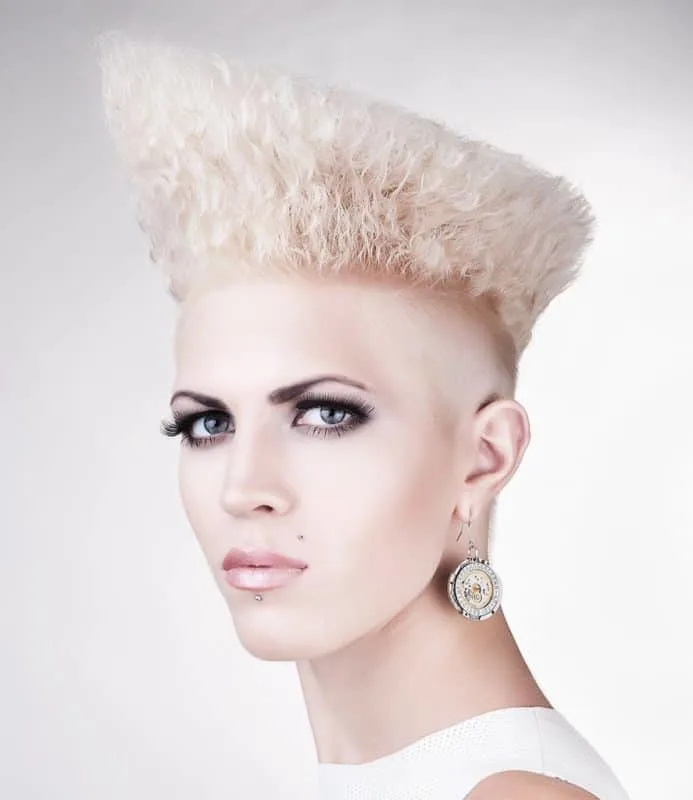 Make all heads turn in amazement with this unique hairstyle which includes shaving off the sides and having uneven elevated spike hair on the top.
To add more to it, dye your hair white blonde and leave your mark.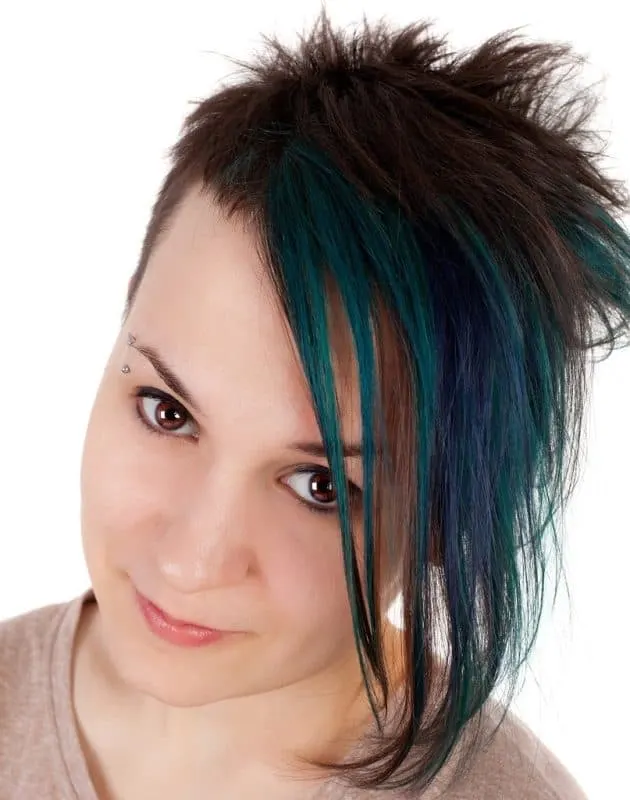 Asymmetrical haircuts can be pretty epic when done the right way. This hairstyle, in particular, looks effortlessly amazing for its shabbiness, with shades of blue sliding into the brown hair. It is a great way to bring your facial features and flaunt them.
20. Cut It Like a Bowl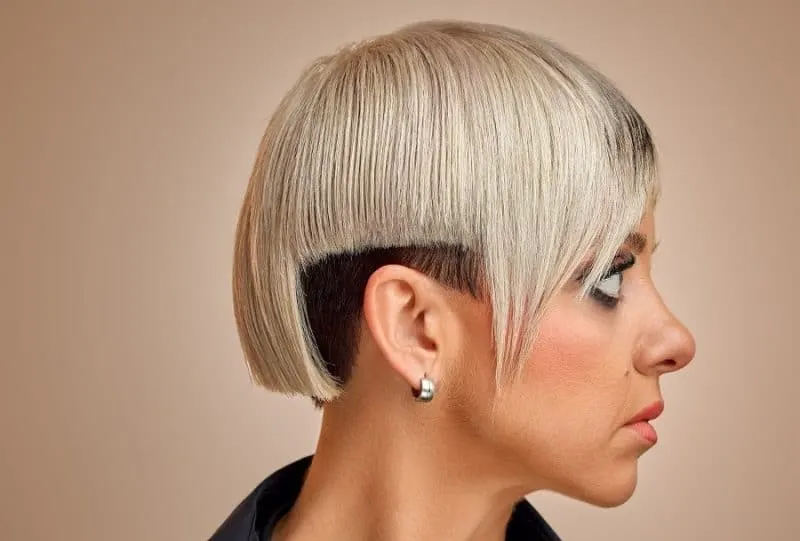 You have to commit to this look before you plan on getting it done. But if you ask us, bowl cuts are trending these days and are truly eye-catching.
They look good even on women with dry hair. You can show off your feminine neck area with this look and adjust the hair to fit round or small faces.
21. Messy One Sided Long Lob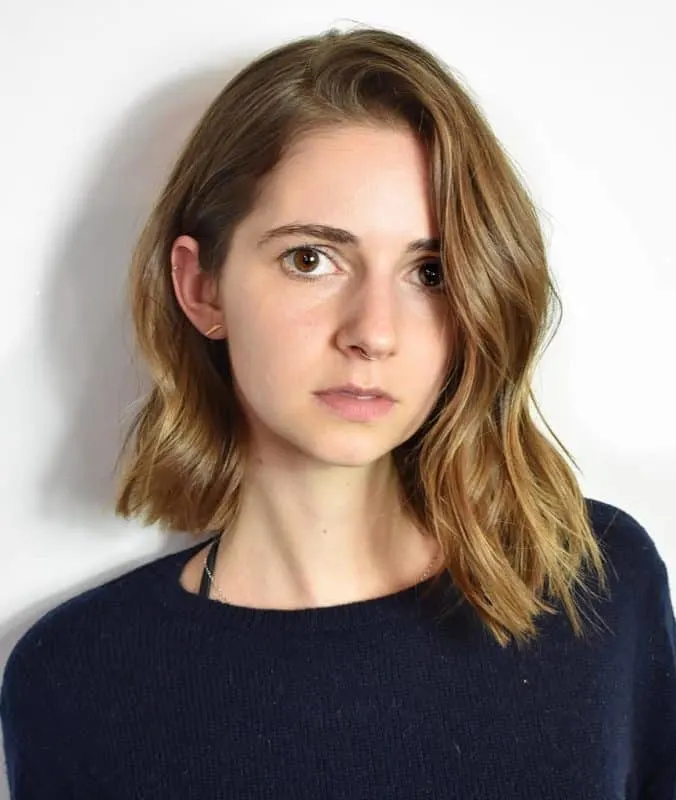 You can add more volume to your thin or medium hair with this hairstyle because of its messy look.
However, it looks flawlessly elegant and mostly looks great on heart-shaped or square-shaped faces and is perfect for those who wouldn't dare to cut their hair too short.
22. Pretty Pink Asymmetrical Bob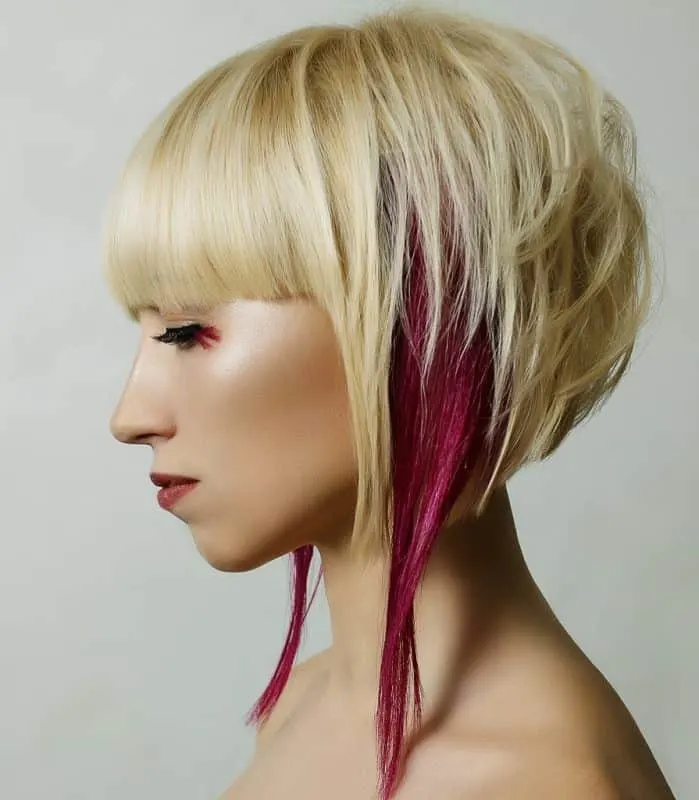 This hairstyle oozes beauty and vivacity with hair short till the middle of the nape and bangs just over the eyebrows.
What adds to the oomph factor is the pink dye on the long strands left on both sides. It frames the face as well as flaunts all the best features.
23. Alluring Auburn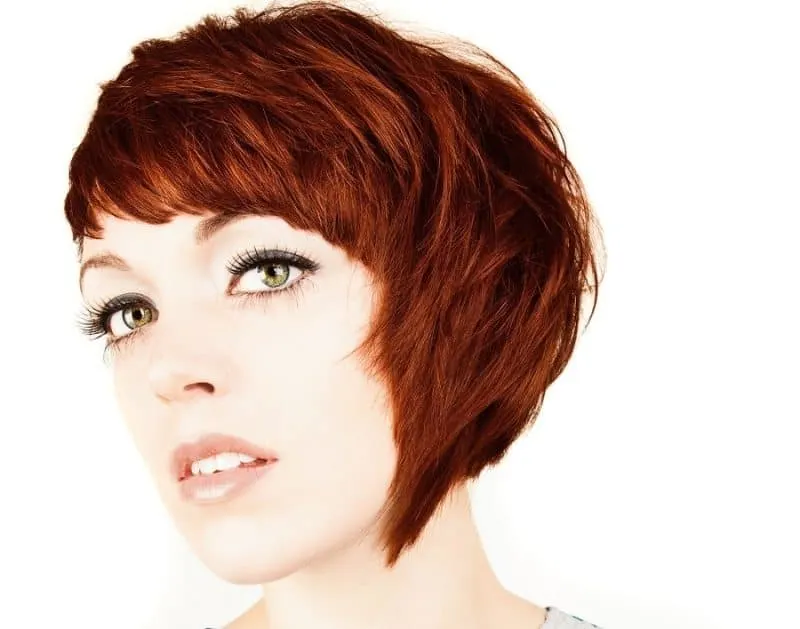 If you have a fair or medium complexion and want to try fierce shades of red, then auburn is the color for you.
It makes your skin tone even more prominent, with the asymmetrically long hair giving a perfect structure, and this hairstyle can help make your eyes more noticeable.
24. Short Hair with A Little Surprise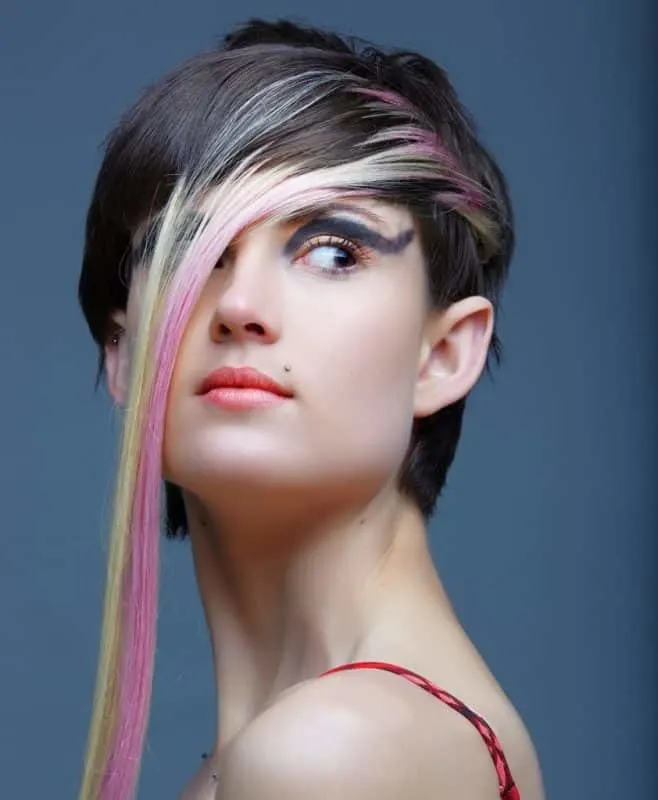 This hairstyle is perfect for you if you fancy yourself as someone daring enough to experiment and open to new experiences. It requires you to cut your hair short with just a few strands long on the front and color them yellowish pink.
Then side-swept them towards the other side, falling above your eye. It looks more beautiful in black hair because the color black makes all the colors added to the strand more prominent.
25. Short Ginger Hair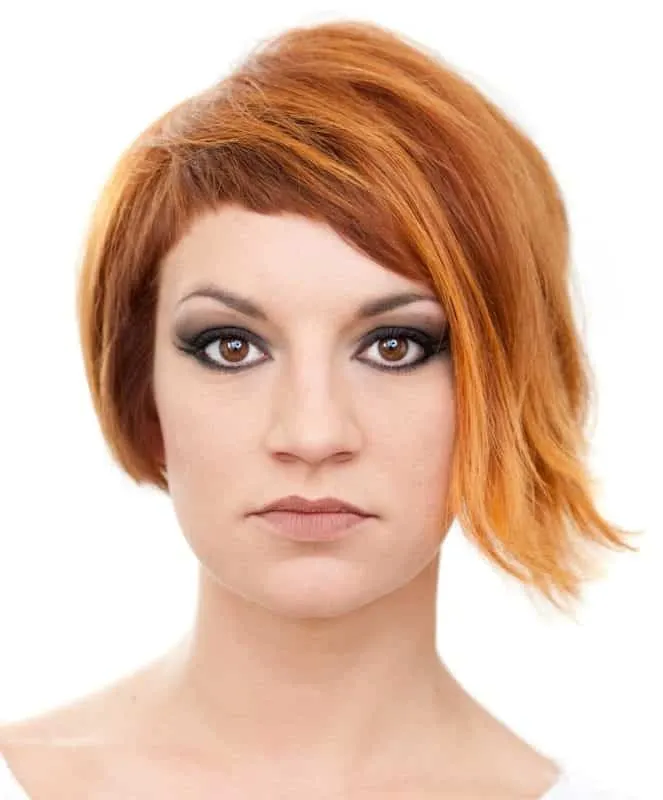 Get a basic asymmetric haircut and make it special with the ginger dye added to it. Ginger color especially suits the pale neutral skin tones as it flatters this skin type more.
The cut also looks more structured and done. You do not have to go through a lot of hassle to bring uniqueness to your look, as the color ginger is itself unique.
26. Asymmetrical Purple Hair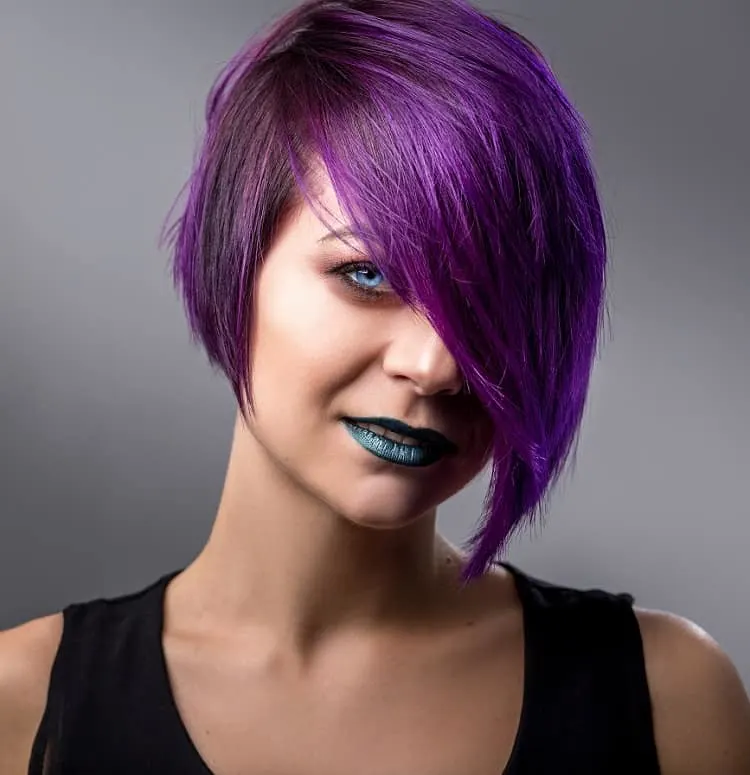 Asymmetrical punk hair is all you ever needed as a teen that wants a nonconformist hairdo. A bob haircut that has the fringe swooped on one side is also pitch-perfect for those who struggle with rounded faces.
27. Asymmetrical Curly Hair with Baby Bangs
Asymmetrical choppy hair is highly based on layers that flatter both straight and wavy hair. The lack of symmetry will suit your personality and your face piercings if having some.
28. Asymmetrical Long Bob Hairstyle
Asian hair looks so fabulous when cut in an asymmetrical bob haircut. With a balayage, the black shades can be transformed into an ashy blonde at the tips. The result will be a low maintenance hairstyle that you can style easily with a rotative brush.
29. Asymmetrical Blonde Curly Hair
Try to avoid as much as possible triangle-shaped hair and go for asymmetrical curly hair. Layer the whole mane and keep it short on one side and in the back. Keep the bangs long and flip them one the other part.
30. Asymmetrical Bob for Thin Hair
Asymmetrical haircuts won't look so dull on fine hair because they will get a lot of definition thanks to those layers and a pastel purple ombre. Also, the haircut will slimmer your face and elongate it if having a round figure.
31. Asymmetrical Pixie for Women Over 50
Asymmetrical haircuts are fierce and perfect for women over 50 that want a stylish, elegant look that lasts all day. Go for wispy bangs that are slightly swooped on one side and choose a dark caramel hair color and blonde highlights to obtain a warm look.
32. Asymmetrical Galaxy Hair
Galaxy hair will yell confidence wherever you go and paired with an asymmetrical hairstyle, and it will do real wonders for any round face. Complete the look with thick glasses that have two color frames, black and pale teal.
33. Asymmetrical Hairstyle with Short Bangs
An asymmetrical haircut with bangs is modern, eyepopping, and if you maintain the front strands long and with highlights in a dark sandy blonde color, your hair will definitely look brilliant. Before you pull off the bangs, remember that a short fringe will accentuate boxy features, so make sure the idea suits your figure.
34. Asymmetrical Haircut with Shaved Sides
Undercuts are highly fashionable and trendy at the moment, and they can make any woman look confident and sexy. Don't be afraid of the trimming machine, go for an asymmetrical haircut with shaved sides, and get ready to be in the spotlight.
35. Asymmetrical Lime Layers
Yellow and lime green hair can suit you like a glove if you have fair skin. An asymmetrical lob haircut with waves will give your bold, unusual color a glow and better definition. If you wear glasses, it's even better! Opt for thick black frames to make sure you stand out.
36. Asymmetrical Scene Hair
Bright colored hair and long bangs on the forehead will make an awesome asymmetrical scene hairstyle. Opt for an undercut on the other side and keep the sideburns long and visible. Complete the look by creating loose waves for the colored ends.
37. Asymmetrical Ombre for Thick Hair
When you're searching for an asymmetrical hairstyle for thick hair, wavy bob with an ombre will define your strands and threads like never before. Believe us, this hairdo will win your heart, and you'll never want to go back to your old hairstyling habits.
38. Black Asymmetrical Braids
Show off black girl's sense of style by opting for asymmetrical braided hairstyle with a shaved side. For the rest of your hair, create black box braids and extend them with Jumbo hair. Wear the whole mane on one side, and you will look jaw-dropping.
Stacked asymmetrical haircuts like bobs or lobs will give your nape hair a better definition. By pairing that incredible haircut with a green lime hair and some dark violet peekaboo highlights, you'll have a real masterpiece that everybody will admire.
40. Asymmetrical Hairstyle with Undercut
An asymmetrical hairstyle with a short side or undercut is on point and destined to get all the attention. Wave the longer bangs that are flipped on one side, and you'll embrace a marvelous youthful look.
41. Side Braid with Undercut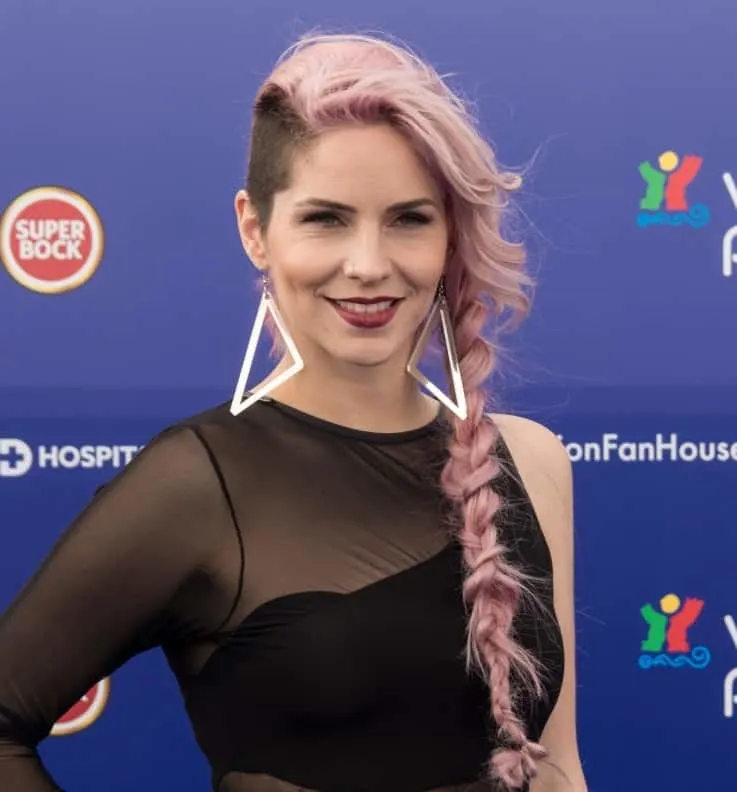 When you want a red carpet look, get a bold hairstyle that won't pass without a notice. The main ingredients for this successful look are a gorgeous pastel pink shade, a long hair that can be braided on one side, and an undercut that really makes you stand out in any crowd!
42. Asymmetrical Teal Hair
Round chubby faces can look slimmer with the proper haircut. Get an undercut on one side and style an asymmetrical bob that keeps your bangs beautifully covering a part of your forehead. If you have blonde hair, opt for a pastel teal ombre.
43. Asymmetrical Side Swept Pixie
Layer and feather the hair and keep it short on one side. Create a rounded contour and arrange very short bangs that are spread on the forehead. Maintain some long layered locks on the other side, and tousle them to create a messy look.
The asymmetric haircut has a magical way of transforming any basic haircut into something trendy or adding a modern element to it. Opting for this haircut can leave you stunned!
With the various styles available, you can choose and take the kind of risk you are comfortable with, as there is now a style for everyone. Leave behind all your fear of getting short hair and rock this style with every outfit and on all occasions.