Women with long hair truly have the option to try out different types of hairstyles. From layering them to curling them to straightening them, the list is endless.
However, women who have long hair and wear glasses need to ensure that they opt for hairstyles that suit them while they are wearing their glasses.
Whether you wearing it due to a prescription or just to enhance your look, you must also style your hair in a way that goes well with your glasses. The right hairstyle along with your favorite pair of glasses can accentuate your look and better highlight all your features.
Top Long Hairstyles for Women with Glasses
Finding long hairstyle inspiration for women with glasses may seem like a challenge, but we are here to make your search easier. We have curated the top 23 hairstyles that any woman with glasses can try out. Scroll down for your next long hairstyle inspiration.
1. The Pulled Back Ponytail With Oval Glasses
If you are aiming for a professional, no-nonsense look, then we recommend this simple yet powerful pulled-back ponytail. Coupled with your pair of favorite glasses, this long hairstyle is one of the easiest ones on this list.
2. Messy Braided Updo With Aviator Glasses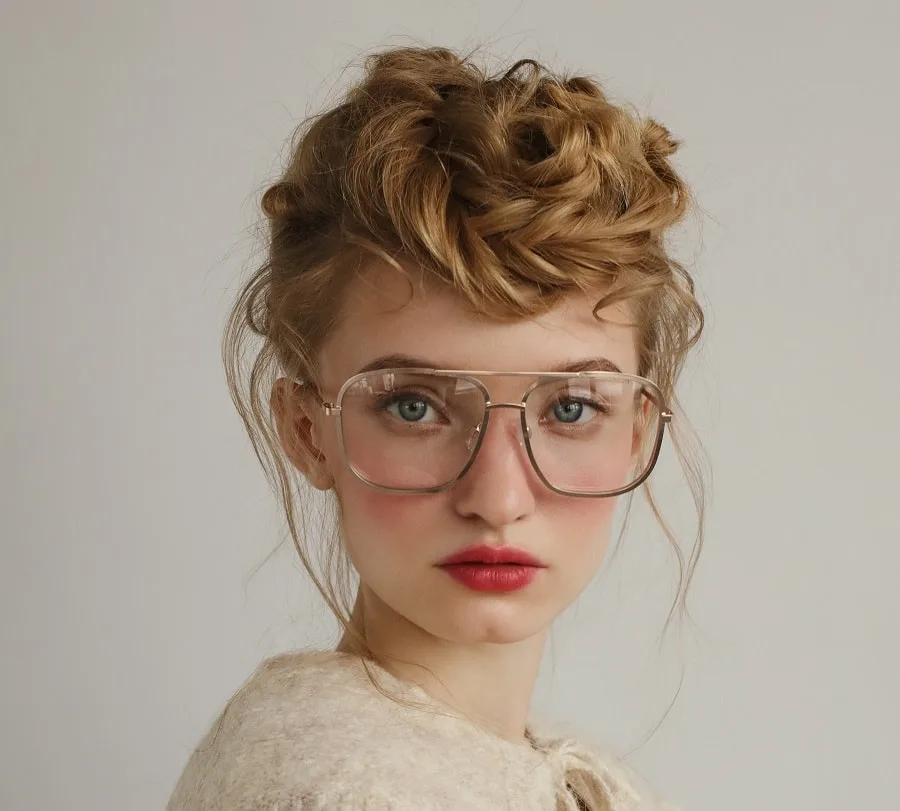 Channel your vintage love through with this messy yet elegant braid coupled with some wispy strands on the sides. This long hairstyle for women will look amazing with a pair of vintage glasses. Though it will take some effort to get this style right, it is worth all your time and efforts
3. Dreadlocks With Bandana for Round Glasses
Do you have dreadlocks, wear glasses, and are clueless about how to rock your look? The most simple and effective way is to simply use a bandana to keep your dreadlocks away from your face. You can color-coordinate the bandana with your outfit of the day.
4. Professional Top Bun With Horn Glasses
Want to ace that meeting at work? Looking for a look that gives off major professional vibes?
We highly recommend this clean and sophisticated high bun and your pair of glasses – that's it! We guarantee that you will rock your meeting!
5. Side Shaven With Square Glasses
If you have long hair, are bored of your same old look, and would like to try something fun and edgy, then you must give this side shaved hairstyle a try. Paired with your glasses, a long hairstyle for women with glasses is definitely a conversation starter.
6. Pile it on Top With Round Glasses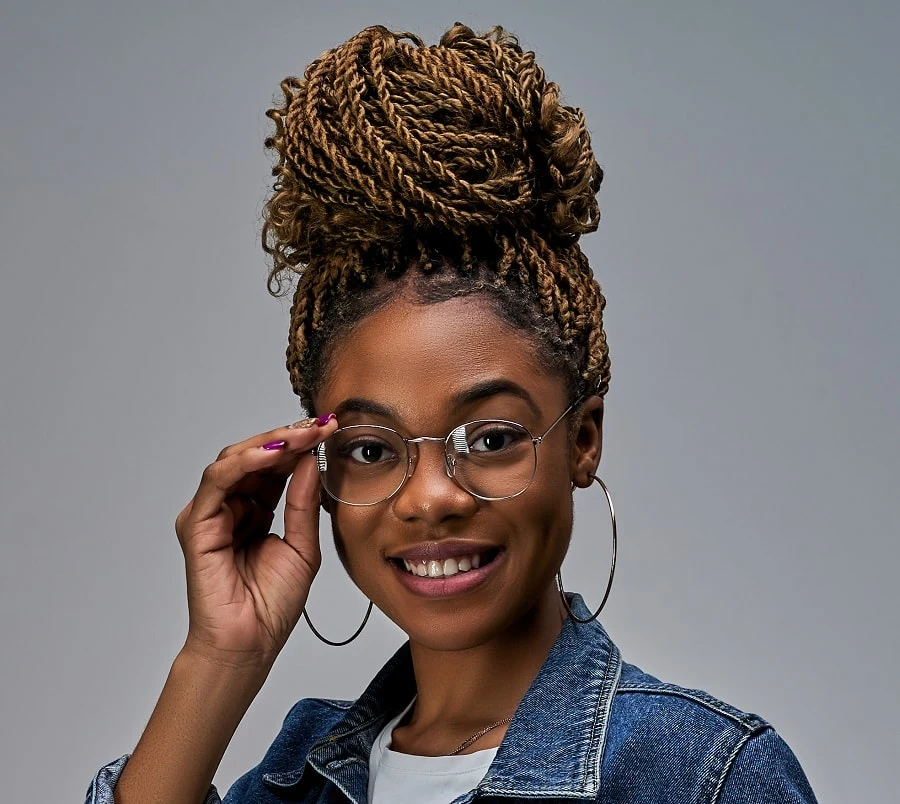 Twp strand twists are absolutely amazing and when you try even a simple hairstyle such as this one, it can completely accentuate your overall look. So the next time you are stepping out for a fun night, try this all-on-top twists hairstyle with your glasses.
7. Two Ponytail With Large Glasses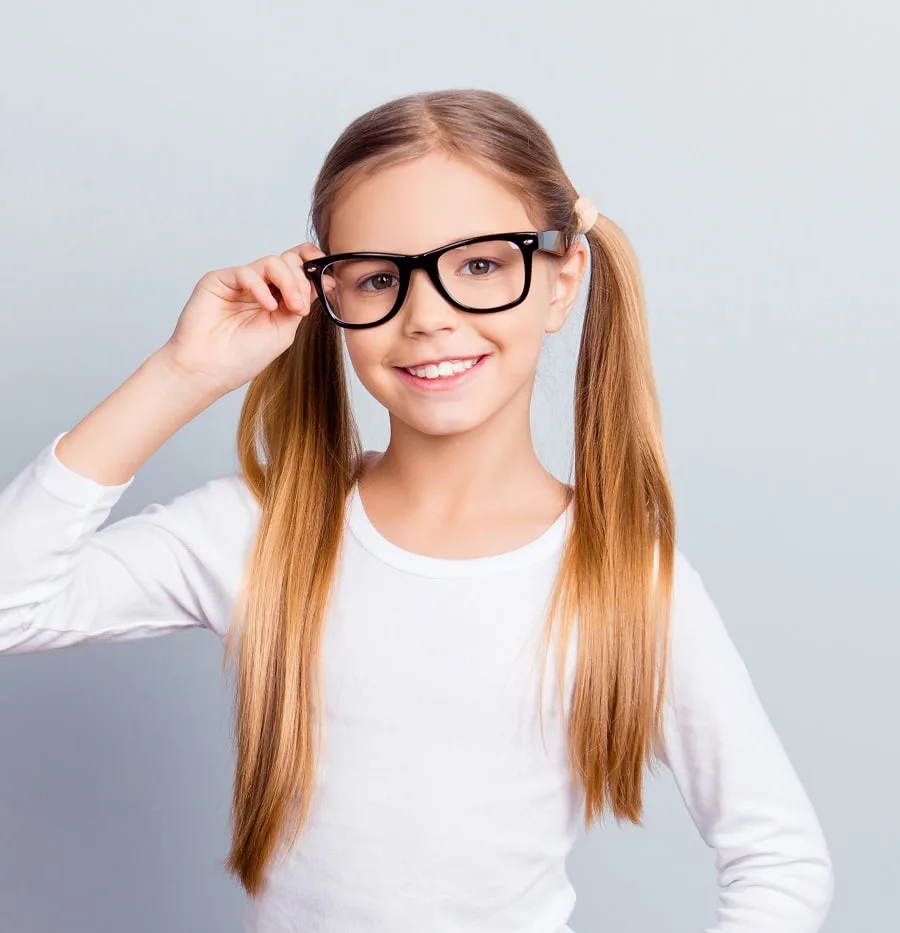 Whether you are in your teenage years, 20s, or even 30s, this classic long hairstyle for women with glasses always works like a charm. Whether you are lounging at home or planning a casual evening with your friends, this two ponytail is a great hairstyle to flaunt.
8. Space Buns with Medium Glasses
Want to showcase your fun side to the world? Let your cute pair of glasses and this two-bun hairstyle do the work for you. This is an easy and low-maintenance long hairstyle for women hai.
9. Low Braid with Small Glasses
As women age, many of them, especially those who have long hair, tend to opt for simpler hairstyles that are easy to create and maintain as well. If you are looking for some inspiration, then we recommend this easy and simple low-braid hairstyle.
10. Pop it with Purple With Aviator Glasses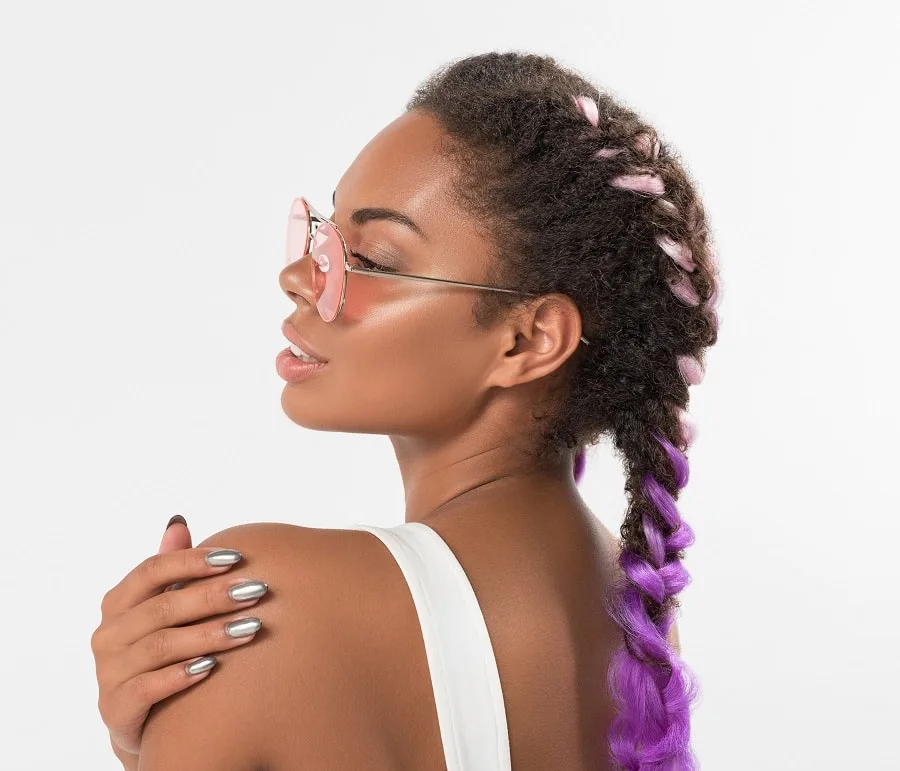 Here is one of the most appealing and eye-catching long hairstyles for women with glasses! The curly braider hair with different hues of purple – from light to dark is sure to grab eyeballs anywhere you go.
11. Sleek Straight Hair With Cat Eye Glasses
Two elements that absolutely scream professional are a pair of no-nonsense glasses and of course this stunning sleek straight long hair with bangs. Just ensure that the ends are well-maintained and symmetrical.
12. Side Curly Low Bun With Oversized Glasses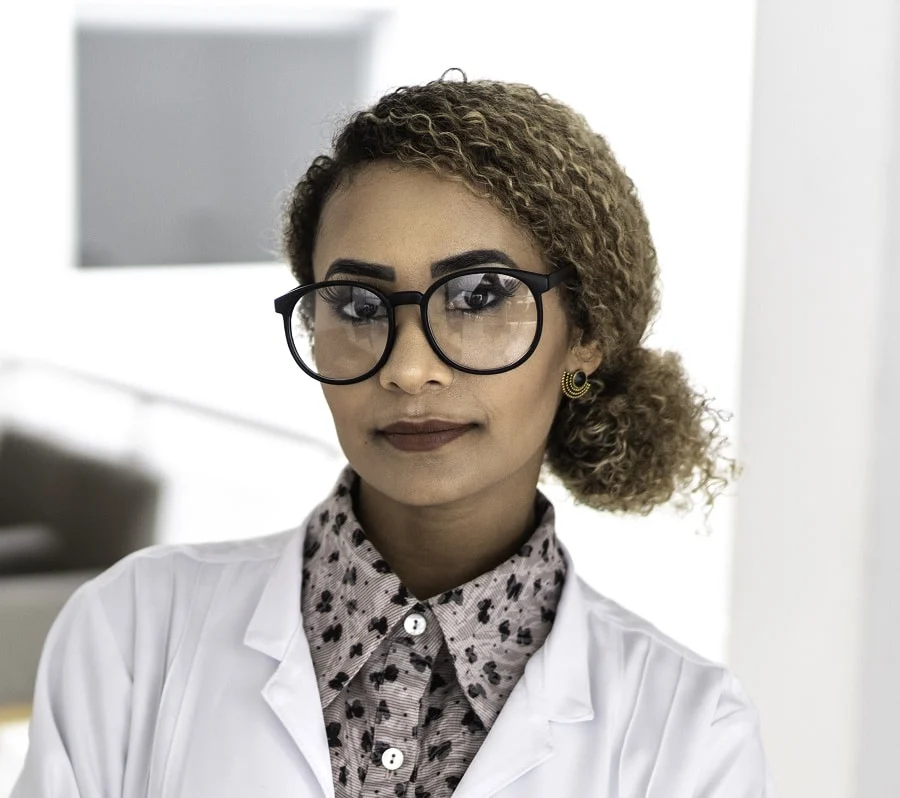 Women with long curly hair, especially those with tight curls, often struggle with styling their hair. Add in a pair of glasses that they cannot do without and it becomes a daunting task. So, here's a fun and cute side bun hairstyle for you to try out!
13. Pigtail Braids With Rectangle Glasses
Remember how we were not great fans of this pigtail braided hairstyle in our younger days? Well, this classic long hairstyle has been around for ages, and today women of different age groups love to flaunt it.
14. Go Pink, Go Bold With Cat Eye Glasses
This is by far the most fun long hairstyle for women with glasses on our list! This vintage hairstyle with that cute pair of glasses, polka bow, and that vibrant pink is like your Disney-look wish come true!
15. Half-Up Half-Down With Horn Glasses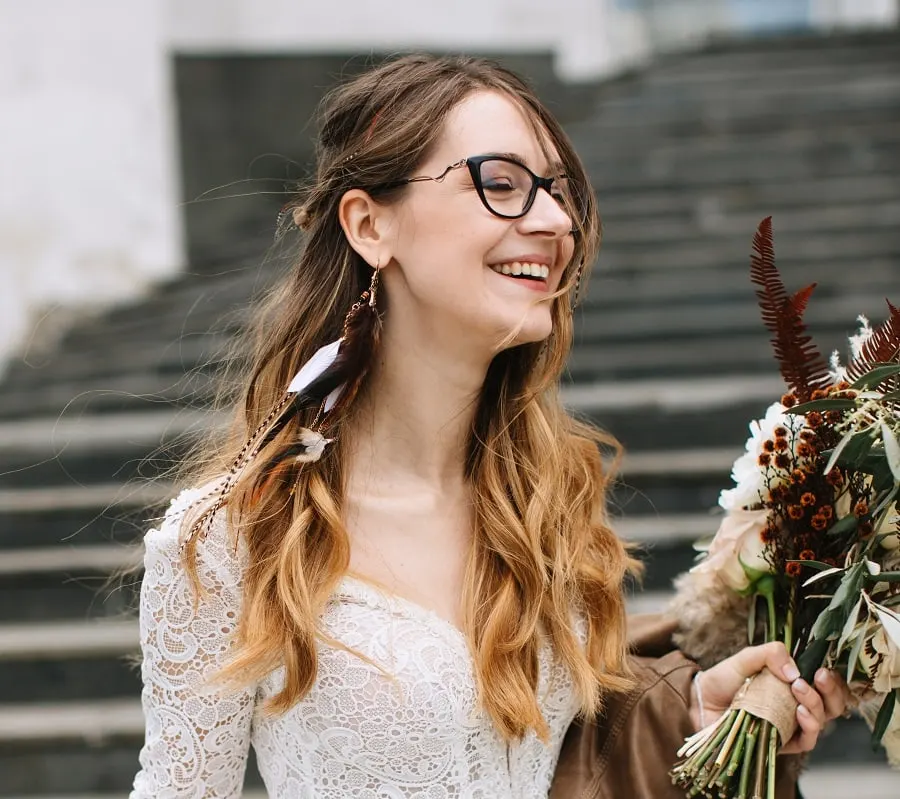 Many women with long hair prefer to flaunt this style of having their hair half-up and half-down. This layered hairstyle with two-toned color suits women who wear glasses. It is a popular look as this hairstyle looks good with all types of glasses.
16. Fancy Dreadlocks With Aviator Glasses
Yet another dreadlocks hairstyle that will have your family and friends going ga-ga over you! A big pair of glasses would look just stunning with this bandana-covered dreadlocks hairstyle.
17. Bow Hairstyle With Rectangle Glasses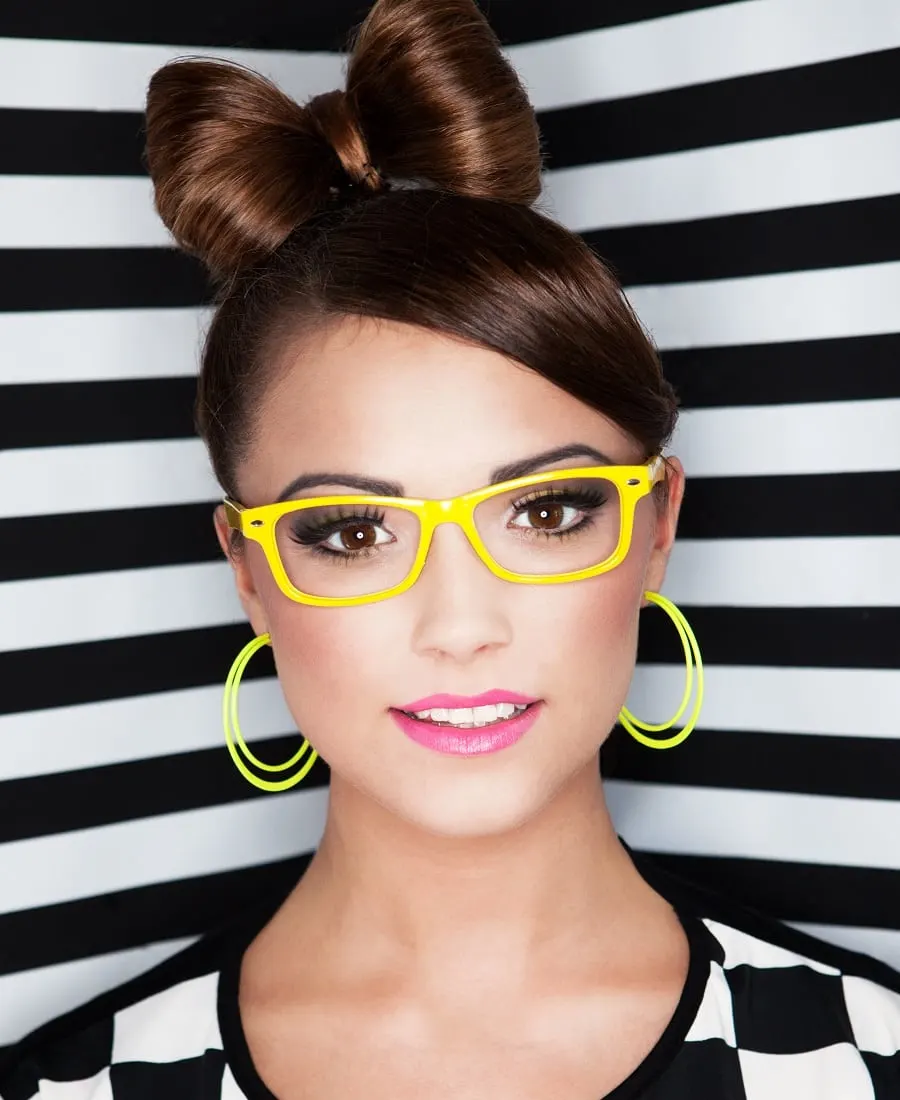 Our love for Disney-inspired hairstyles is never-ending! Here's yet another of our favorite long hair updos for women who wear glasses.
The edginess of this sleek hairstyle is offset with that cute little Minnie bow. Finish off your look with a pair of glasses in pop color.
18. Long Curls for Women over 50 With Square Glasses
We highly recommend this long grey curly hairstyle for ladies with glasses, especially those who are in their 50s and 60s. The main reason being that it is absolutely easy to style and maintain with minimal effort.
19. Box Braids With Round Glasses
Box braids are definitely a fun hairstyle that goes well with different types of glasses. The next time you plan a casual evening, try this simple half-up braid hairstyle and match it with your favorite pair of glasses.
20. Bouncy Waves With Browline Glasses
If you have long wavy hair, then try this simple hairstyle which adds some volume and bounce to your hair. The waves look amazing, framing your face, and further accentuating the glasses. It is a low-maintenance and easy-to-achieve hairstyle.
21. Long Hair + Headband + Round Glasses
Want to show the world your cute side? Then this long hairstyle for women with glasses and headband should definitely be your next look! Probably one of the easiest hairstyles on this list, all you need is your favorite headband in a nice funky color and a pair of round glasses – you are ready to roll!
22. Side Swept Tight Curls With Oversized Glasses
Now here's an eye-catching long curls with glasses! Your tight curls are swept away on one side and a pair of oversized glasses is definitely going to make you the talk of the town!
23. Flower Headband With Oval Glasses
Last but not least is this simple and beautiful long hairstyle which has been taken a notch up with that beautiful headband of flowers. Just don your glasses, let your hair loose, and jazz it up with the tiara!
As you can see from this list, there are several hairstyles that women with long hair and who wear glasses can experiment with. Not only are these hairstyles amazing to flaunt but they also enhance your overall look.
You can opt for layers and waves if you like soft vibes or go bold with vibrant colors and different types of hair accessories for an edgier look. We hope our top choices come in handy for you when you visit the salon for your next hair pampering session.