Women of a certain age know there's more to life than spending hours primping and preening in front of the mirror, but they still want the elegance and beauty that a flattering haircut can offer.
A low-maintenance haircut for women over 60 don't have to be traditional, but it should be easy to manage and customized to your signature style.
You should also consider the texture of your hair so it falls naturally into place without too many products or tools.
Low-Maintenance Haircuts for Women Over 60
If you've been searching for a trouble-free updated look for your locks, consider one of these ten youthful yet refined low-maintenance hairstyles for over 60 women:
1. Modern Feathered Bob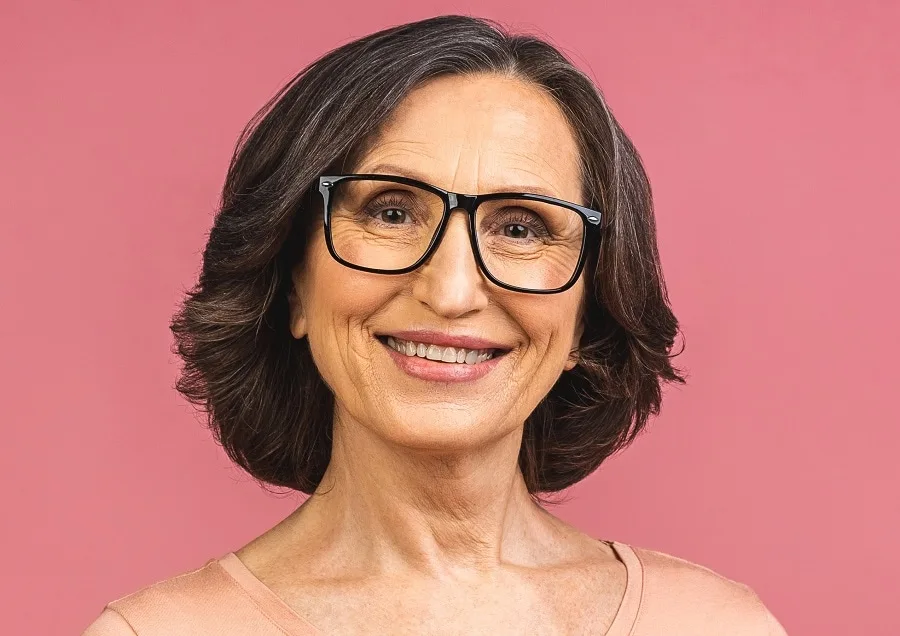 For a mature woman who rocked the longer Farrah Fawcett feathering in the 70s, you'll love this more modern version that features an easier-to-care-for length and more subtle texture.
It's perfect for framing your face shape and only requires a few minutes with a curling iron to create the soft, outward flips.
2. Shoulder-Length Layers
highlights
Every easy-to-maintain haircut over 60 doesn't require a super short crop. You can still rock your length with volumizing layers that look flattering on just about anyone.
Try adding a combination of highlights and lowlights for even more dimension.
3. Wispy Waves
Age often brings thinning hair, but you can mask the loss in volume by creating soft waves with a large-barrel curling iron or a round brush and curling iron.
This airy style looks stunning with any face shape or hair color, but those with a receding hairline will appreciate the light, side-swept bangs that mask hair loss.
4. Permed Crop
For the ultimate low-maintenance hairstyle, a cropped perm offers shape and texture for over 60 ladies without requiring everyday styling.
You'll spend a couple of hours in the salon every 5-6 months, but it's worth the small investment for gorgeous, undemanding hair that looks stunning regardless of your face shape.
The short length also means your curls add volume instead of weighing your hair down.
5. Chin-Length Bob With Parted Fringe
Greying hair tends to have a coarse, wiry texture that can look dull and lifeless.
A chin-length bob ensures that you're not constantly battling against split ends, flyaways, and dehydrated locks, as it's much easier to keep the shorter length well-hydrated.
Adding a split bang helps frame your face and gives your hair more movement.
6. Lob With Textured Ends
Lobs are an excellent, low-maintenance haircut for older ladies with heart-shaped faces, as long as you avoid styles that hit right at the chin.
They tend to emphasize the narrowness of your jawline and the width of your forehead. Instead, try tucked-back, textured ends because the flare will create balance at the bottom of your face.
7. Razored Bob With Full Fringe
A short and sassy razored bob is perfect for removing extra weight from thicker hair and only requires a bit of pomade to create the signature spiked ends.
Adding a softened blunt bang draws attention to your eyes and contrasts the angularity of your hair's back.
8. Old Lady With Crew Cut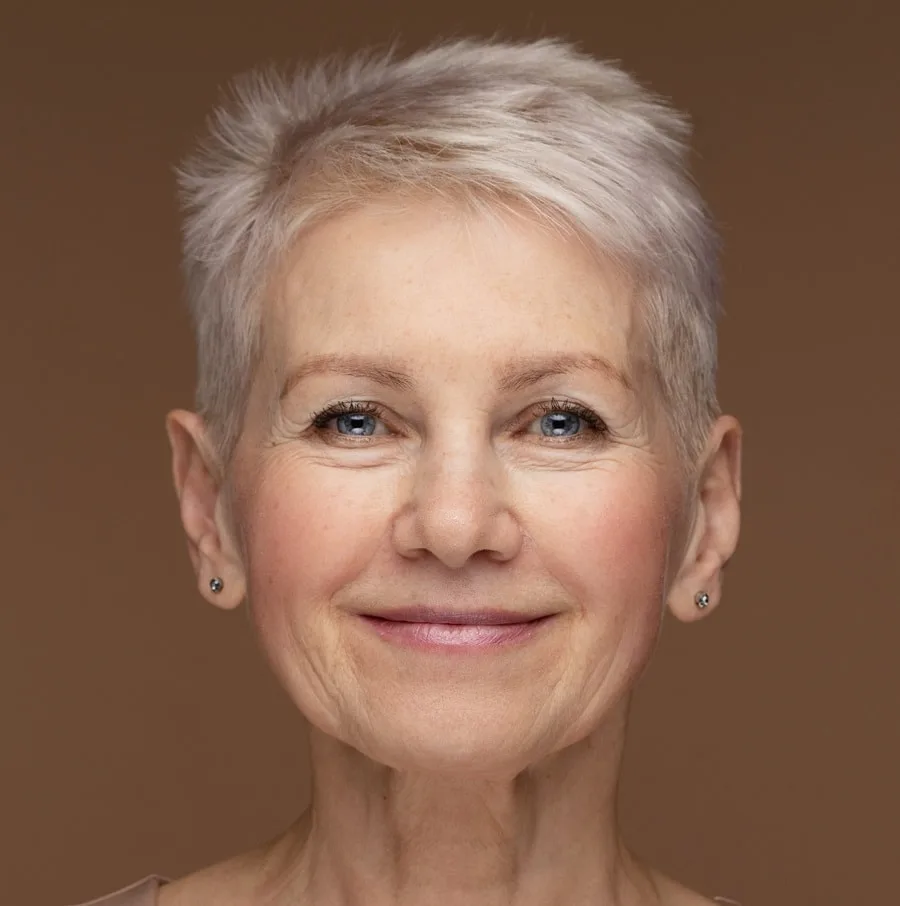 It takes confidence to wear a traditionally masculine style. Still, if you're willing to take the risk, you'll be rewarded with a carefree look that makes an ideal canvas for experimenting with color.
Whether you go au natural or try a bold new hue, this older woman's cut is universally flattering and irresistibly low maintenance.
9. Long Center-Part Soft Waves
If you're lucky enough to have a healthy, full mane into your 60s, you should show it off!
Let your natural texture shine by skipping the styling tools and adopting a weekly deep conditioning routine that keeps your locks hydrated.
When you need your hair out of the way, a quick side braid or low ponytail requires minimal effort.
10. Pixie with Purple Highlights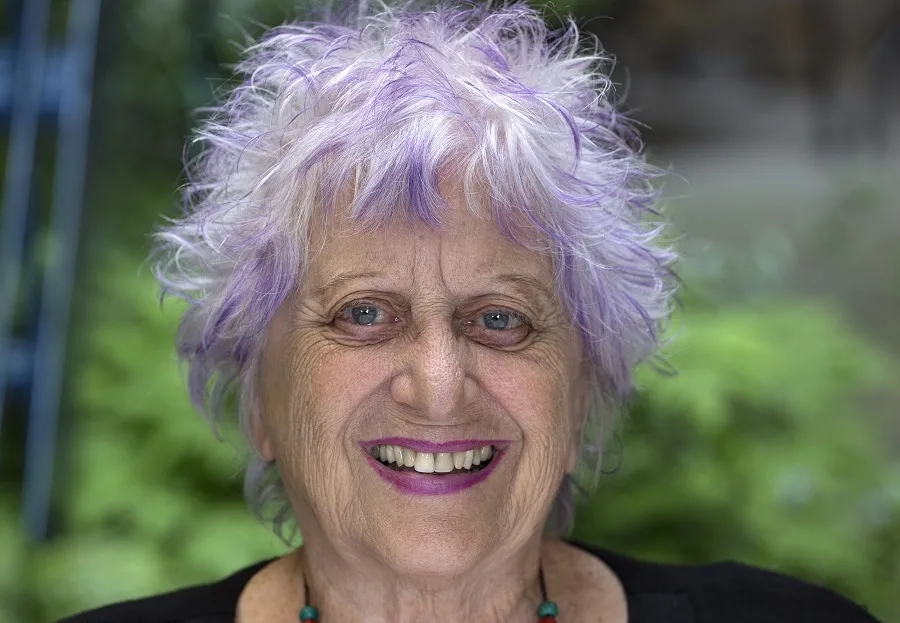 One fortunate side effect of going grey or white is skipping the damaging bleaching process when you want to try out a funky new dye shade!
This tousled, grown-out pixie cut lets you skip out on complicated hair care and show off your youthful side.
You can achieve it by warming a little texturizing wax between your hands, then sweeping your fingers up through the ends of your hair.
With age comes wisdom and beauty, particularly when it comes to simplifying your everyday haircare routine.
Instead of wasting time and money on more complicated styles, try these carefree and low-maintenance haircuts to show off your best assets. They're easily adaptable, effortlessly gorgeous, and perfect for the older woman over 60 on the go.