Let's say you want to try this white hair men trend and aren't sure whether it will suit you or not! No worries, we have got you covered. White hair is not for older men anymore, and it's one of the hottest hairstyle trends for men across the globe.
The beauty of white hair is that it can work for any hair length, type, and texture. Plus, it's easy to subject it to your personal style and rock it with ease.
Striking White Hairstyles for Guys
We have 20 hot ideas you may want to show to your barber or hairdresser. These men's white hair ideas are bound to impress you to try out this trend as soon as possible. Scroll down and check them out.
1. Smooth Side Part with Beard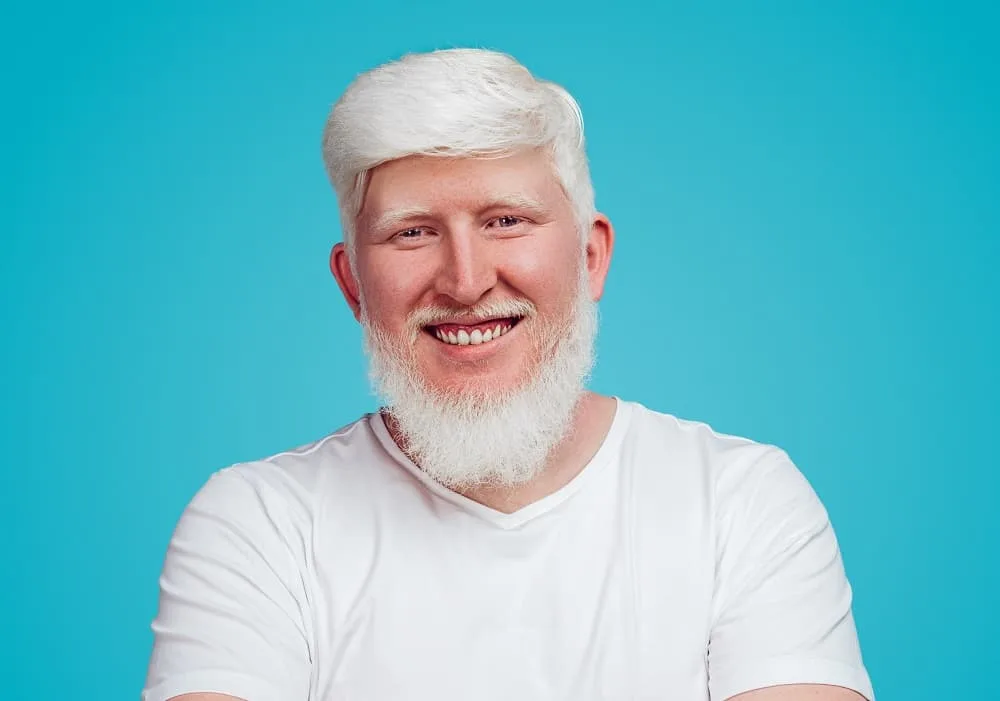 This super white look is suitable for men of all ages. The sides are neatly trimmed and the longer top is side-swept with a deep side part. Dye the eyebrows white too to match the hair and ducktail beard and finish off this decent look.
2. Curly White Top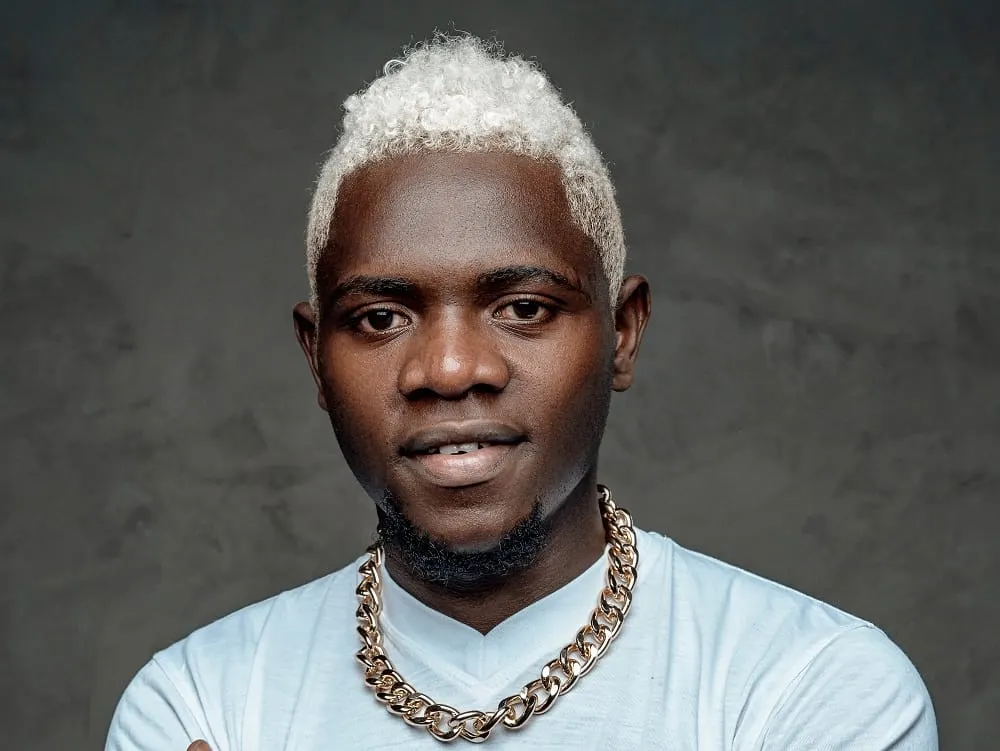 You don't need to worry about rocking white hair if you are dark-skinned. Take inspiration from this hair look where the sides are neatly buzzed down and the longer top curls around naturally. An angular line up keeps this look neat and clean.
3. Laid-Back Look
Have a look at this laid-back white hairstyle that is ideal for men with short hair. It is a longer form of a buzz cut where the hair is uni-length all over the head. This carefree style does not need much styling, just comb it and you are ready.
4. White and Purple Fauxhawk
Want a more dramatic look? Ask your hairstylist for a bold fauxhawk haircut and combine your icy white hair with chunks of purple and subtle pink in between. Use gel to spike up the hair with the front strand dangling over the forehead.
5. Classic Comb Over
A classic comb over is timeless and easy to pull off with shiny white hair. Grow out your hair and trim the sides. Add a platinum white hue to them and comb them over with a side part. The wavy strands will set off the look naturally.
6. Ultra Short Hair
The best thing about white hair is that it looks great on all men, regardless of the length of their hair. So, if you're in the mood for white hair boy style then getting your hair ultra-short can do the trick. Growing your tapered beard can create a wonderful contrast to your buzz cut.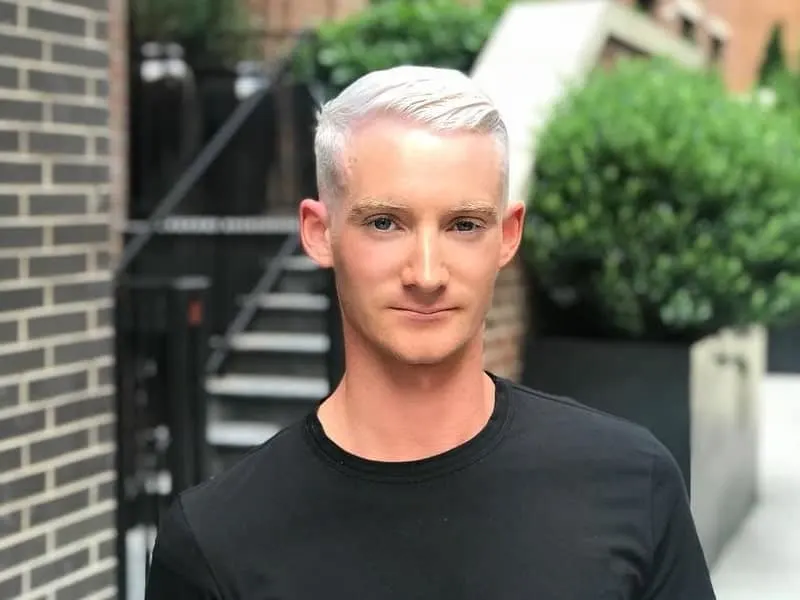 You're a kind of guy who loves sleek haircuts? Sleek styles work with different hair colors, and white shade is not the exception. White hair dye for male and a sleek or sophisticated style can boost your confidence and give you the alpha male vibe.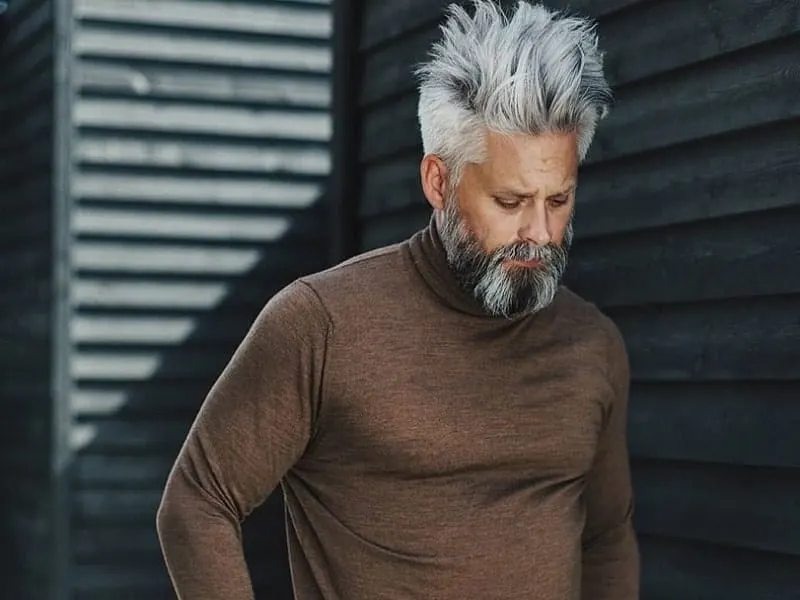 If you're more into dramatic and voluminous hairstyles, then you'll be happy to know that white hair can accentuate the thickness of your hair. White hair dyed men's hair has tons of options, including this dramatically spiky look coupled with a full beard. Isn't it awesome?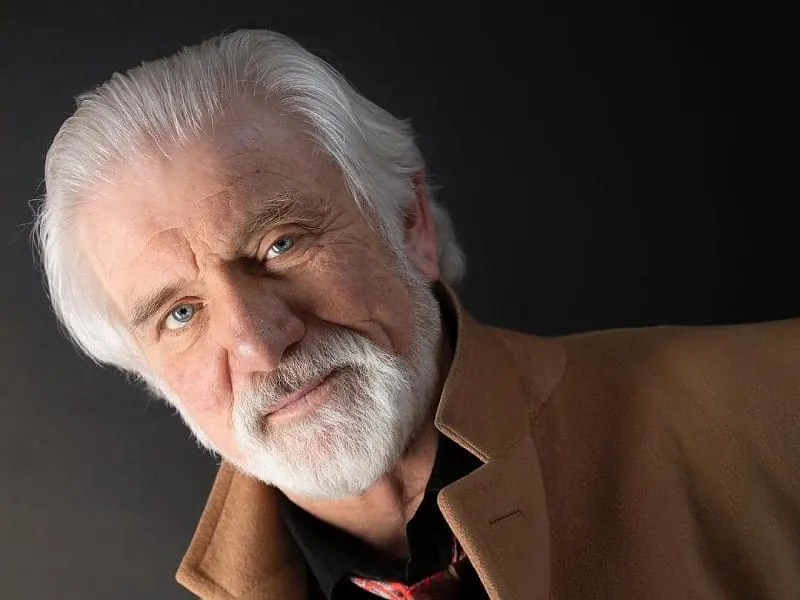 Here's one of the simplest white hairstyles for guys with beard and it also happens to be cool at the same time. Keep your white hair longer and pair it with grey beard for a cool dude look. This style is easy to maintain and looks great on everyone.
The crew cut is one of those male hairstyles that are always trendy. Some men choose long, while others want them shorter and subtle. The latter is the perfect match with men's white hair. Top the look with cool mustache for a unique effect.
Are you looking for a style with more edge? Then white hairstyle is the solution you're looking for. You can keep your hair short, create patterns you want, and shave off the rest of your hair.
When it comes to patterns, it's all about your wishes and creativity. You can even go for some wild looks and patterns.
You'd like to try white hair men look, but you don't want it to be super white? Not a problem, here's a great style you may want to rock. Basically, two-toned look consisting of your natural hair color and white dye can be the much-needed hair change you've wanted to see.
13. Low Fade on White Hair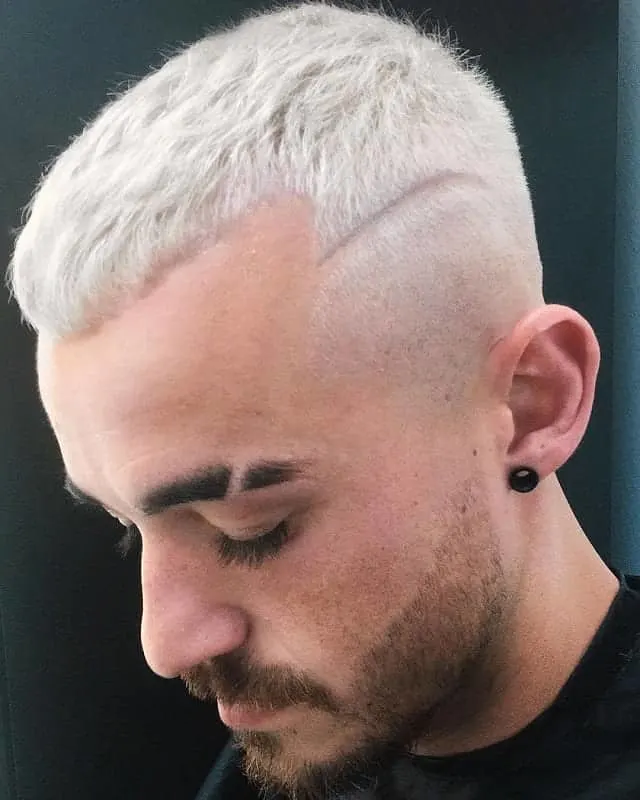 The low fade is among those male hairstyles that will never cease to be trendy. There are many white hairstyles for boys you can try, and this is one of them.
Let's be honest, low fade with a line offsides or shaved look can look great on all men regardless of where they're from, whether they're white or black, and other factors.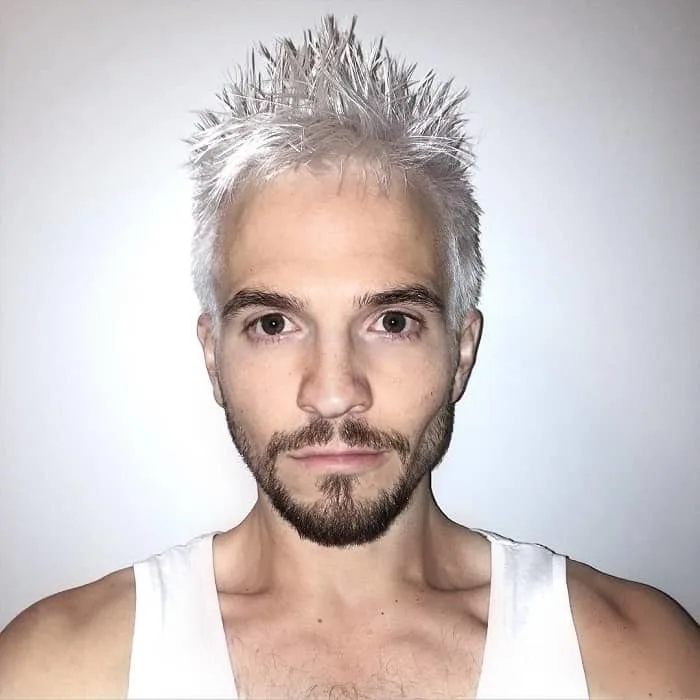 As already mentioned, spiky hair can come in different forms; it can be shorter or longer depending on your preferences. If you're into edgy hairstyles then long, big spikes are worth considering. Combine them with nicely groomed scruffy beard for a complete, edgy and hot guy look with white hair dye.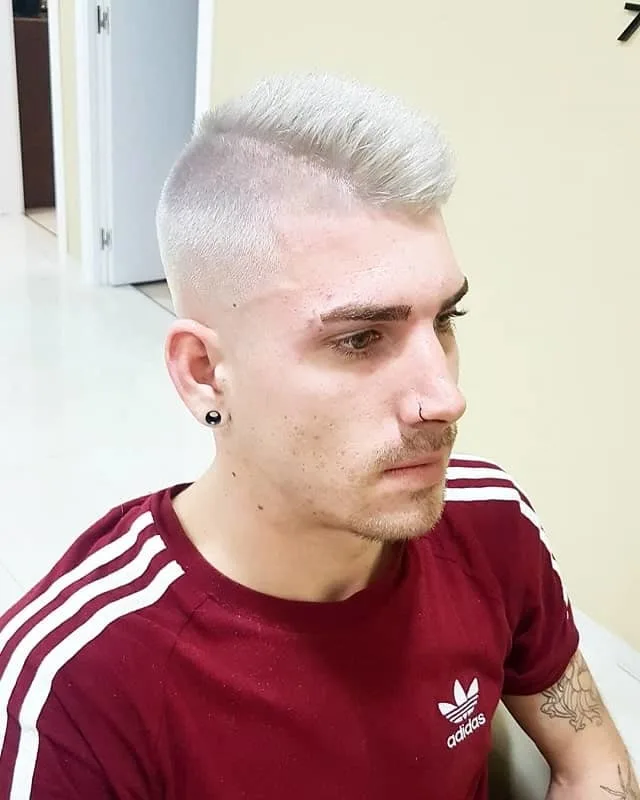 Mohawk is a symbol of an adventurous spirit and edginess. It's also the type of style that brave guys choose to stand out. The beauty of the Mohawk is that you can accentuate it with different hair colors and white hair is also an option for men.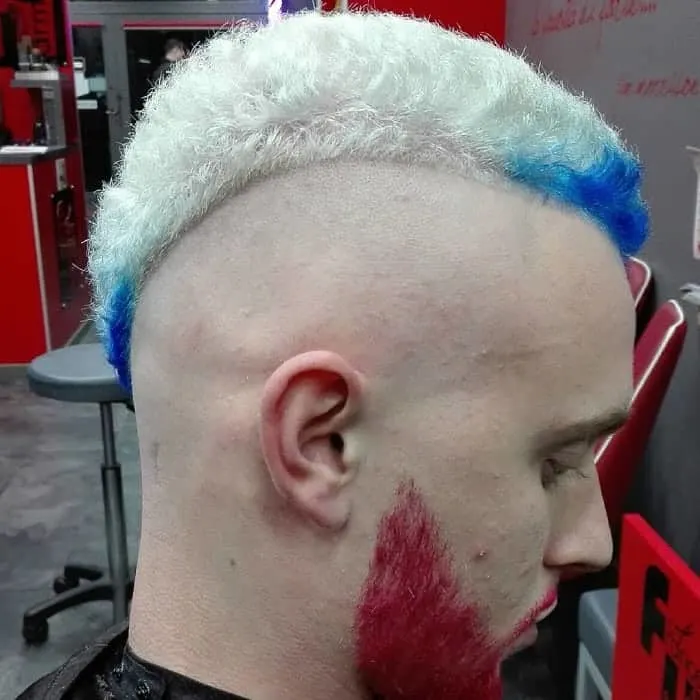 Here's a great white haircut that all patriotic guys will want to rock. Dye your hair white and get blue highlights (wherever you want on your hair). Now, dye your beard red and there you go – all colors from the US flag. If you don't have a beard, you can dye your hair in white, blue, and red too.
Got long hair and don't want to cut it? Great decision! Stand out in the crowd with thin long braids and white hair color. This Viking hairstyle is particularly awesome for Lord of the Rings fans, as it looks like a style that elves rock.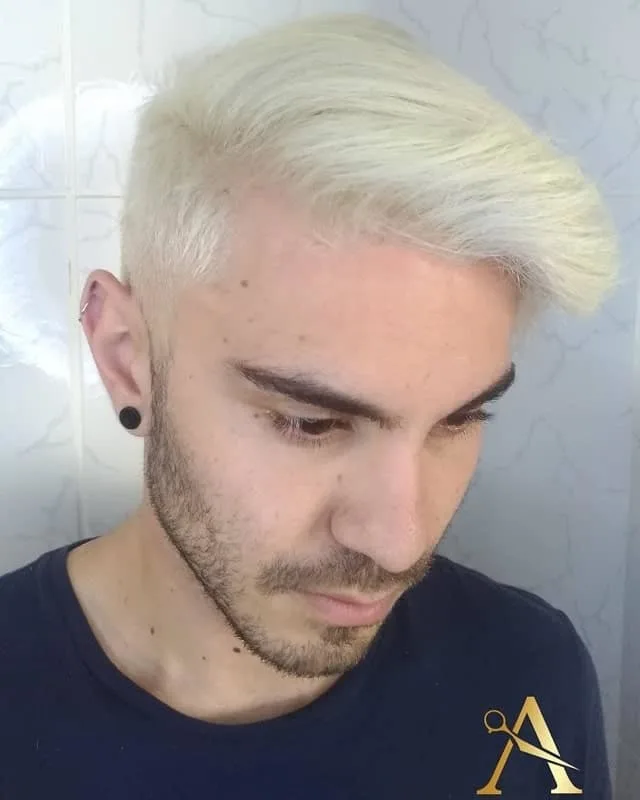 Most guys don't like when their hair is parted in the middle. A stylish way to part your hair is to get a deep or side parting and comb your hair to one side, for a cool white hair boy look.
If you have curly hair, there's no reason to hide it. Dye your hair white to accentuate your curls and playfulness they bring to your appearance.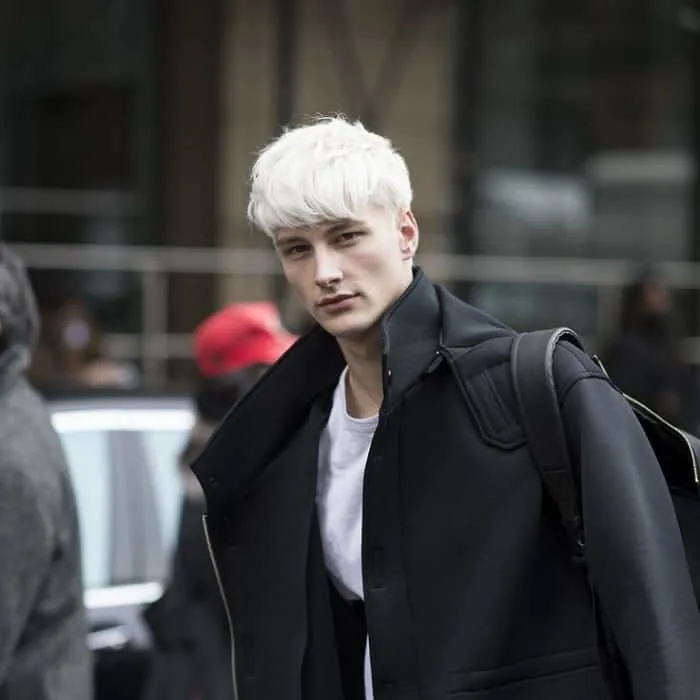 Yes, dudes can rock bangs too. Take this style as an example; messy white-haired men with long bangs look beyond awesome.
Now that you've seen these white hairstyles for men, all you need to do is to go ahead and try it out. Maybe you may want to experiment with different styles, be unique, try something edgy, options are endless. Be bold and brave and let your hair show it.