When it comes to seeking inspiration for a new women's hairstyle, there's no better place to look than Hollywood's most beautiful stars, like Penelope Cruz.
Her signature long dark brown hair is typically seen straightened or in loose waves, but this beauty has been known to rock a chic updo or a short bob too!
From ponytails and long braids to side buns and layered lobs – Penelope Cruz's hairstyles have never had a bad day. Treat your eyes to the actress's timeless hairstyle choices.
Penelope Cruz's Latest Hairstyle in 2023 – Ponytail with Bangs
Instagram/tamararalph
Check out any star magazine and you'll see Penélope Cruz likes to wear her long brunette hair down on the red carpet.
However, there are a few times when she has played around with a chic updo or a classic ponytail. Her hairstyles may be simple, but they are classics.
Penélope Cruz's Haircuts and Hairstyles
If you want an elegant hairstyle that looks good all the time, take a cue from the Spanish actress Penelope Cruz and try one of these 20 gorgeous hairstyles.
1. Lob with Highlights
Penelope Cruz has naturally dark hair, but she has chosen to use highlights several times to give her look a glow. We like her choice of warm blonde mixed in with her dark tresses on a middle-parted lob.
2. Updo with Long Side Bangs
In this style, Cruz chose to softly gather her hair in an updo, leaving her side bangs loose for face-framing and a gentle detail that flatters her face shape. The layered bangs feature a couple of thick highlights.
3. Sleek and Straight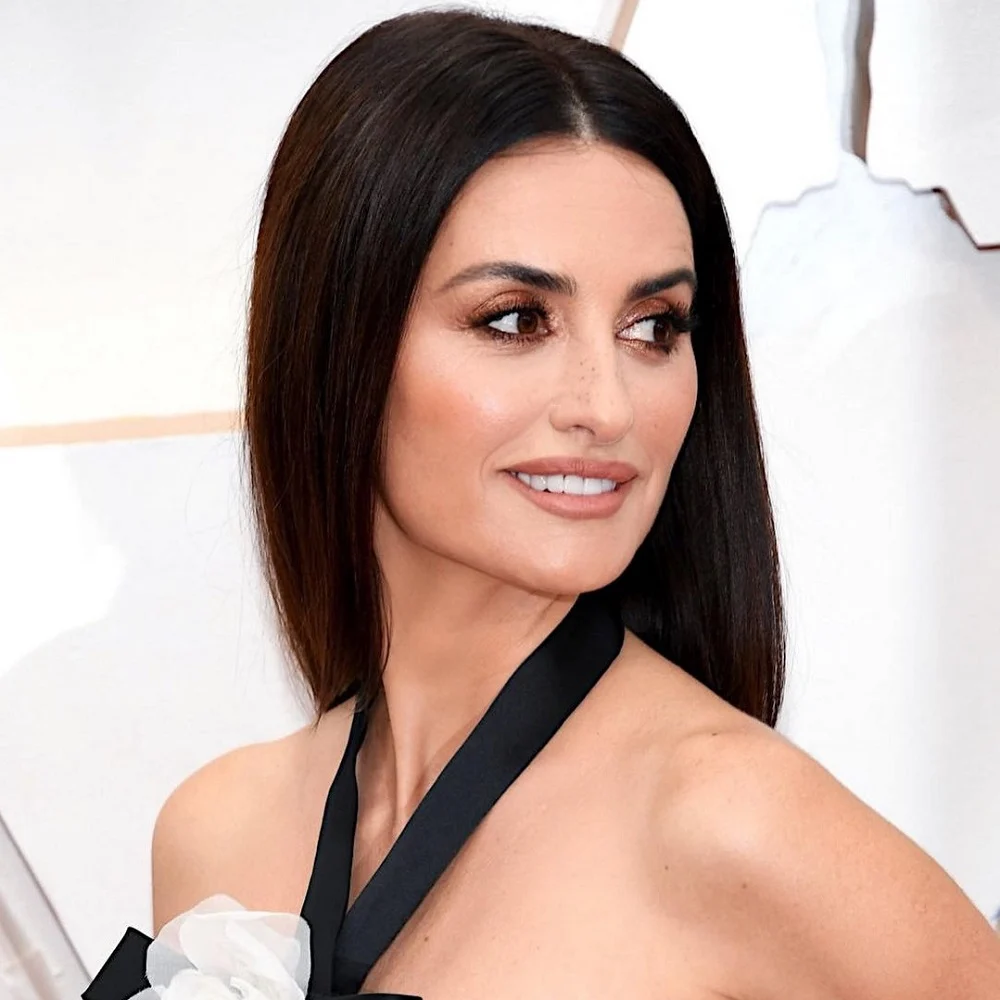 As we said, a simple hairstyle doesn't mean it's not stylish. For an easy chic hairstyle, copy Penelope Cruz's straightened locks.
They make her hair sleek and smooth, free of frizz. A middle part is all you need for quick styling.
4. Casual Updo
Penelope can rock it with a casual updo, even though she ages nearly 50! Ladies with natural wavy hair can try this elegant updo too.
A low-side bun is another look that takes only minutes to style. Leave one or two tendrils loose alongside your face for that final soft detail.
5. Long Glamorous Waves
Give your long hair a dash of old Hollywood glamor by parting your hair off-center and filling your mane with large, smooth waves.
Pulling your hair over one shoulder is a beautiful look for an off-the-shoulder dress.
6. Wavy Layers
Layers are a super common way for women to wear their hair these days and it's easy to see why.
Check out Penelope Cruz's medium-layered hairstyle above and you'll see how full and thick her mane looks.
7. Half Updo with Side Swept Bangs
Penelope Cruz's extra-long hair is simply stunning in a half updo with side-swept bangs. At this time in her life, her hair was lighter in color which really flattered her light skin tone and big brown eyes.
8. Low Side Ponytail
A low-side ponytail is just as cute as a high pony, as the brunette actress demonstrates here. She parted her slightly wavy hair off-center before gathering those long brunette locks into a casual side pony.
9. Penelope Cruz's Brown Ombre Hair
If you're a natural brunette like Penelope and you want to try brown ombre, you're pretty much guaranteed to have these gorgeous hair results!
Leave your hair down with soft waves at their ends for the perfect daily hairstyle.
10. Slicked Back Hairstyle
To switch things up a bit on the red carpet, Penelope Cruz rocked this slicked-back hairstyle.
Comb in a little hair mousse or use your fingers to get the voluminous texture up top, leaving the rest of your mane down and loose.
11. Long Layers with Bangs
Long layers work great with or without bangs, but just in case you have a fringe you want to keep, Penelope demonstrates above how to style them.
Maintain long bangs and tease your roots for volume for a full mane everyone will covet.
12. Long Braided Ponytail
A braid is a no-brainer if you have long hair and want to show it off. Whether you go au naturel or add extensions for lengthier locks, copy Cruz's long braided ponytail with short, neatly combed bangs.
13. Natural Long Bronde Hair
In true Spanish fashion, Penelope Cruz loves to wear her hair down. These long highlighted locks were parted in the middle and then straightened and finger-combed or given a blow-out for sleekness.
14. Side Parted Waves
Going out and want a hairstyle that catches everyone's eye? Part your hair off-center, then use a curling wand to make these large waves in the bottom half of your hair. Style them over one shoulder and seal them with hairspray.
15. Side Pinned
Not feeling a half updo or a ponytail? Give your haircut a partial off-center part, and use black hair pins (for brunette hair) to pin back one section of hair on either side. Fill rest of your mane with tight ringlets.
16. Casual Middle Part
2008 hairstyles never went out of fashion, so try a chic lob with warm blonde or caramel highlights, and face-framing layers or curtain bangs. The options are limitless, and you'll look as pretty as Penelope.
17. Messy Updo with Feathered Bangs
For women with thin hair struggling to make it look thick and full, consider this Penelope Cruz hairstyle in 2007.
It's a side bun full of waves and curls that plump it up. The side bangs with flipped ends help to flatter any face shape.
18. Smooth Bun Updo with Bangs
An evening out calls for an exquisite hairstyle. We love the actress's sleek bun updo with a teased crown and short bangs. Give fringe easy shaping by asking your hairstylist to cut them jaggedly.
19. Vintage Hollywood Glam Hairstyle
Cruz loves to bring back the nostalgia of vintage Hollywood, as seen here on long wavy hair with a heavy side part.
To get the glamorous texture, focus on creating large but tight waves and style them over one shoulder.
20. Curly Bob
When Penelope Cruz rocked this short curly bob in 2003 for the premiere of one of her films, it was a hit.
The soft, slightly messy curls are so gorgeous and full of bounce, that they make you want to reach out and touch them!
So, which of Penelope Cruz's hairstyles is your favorite? If you have long hair, we recommend trying them all. Rock the short curly bob in the summer for a cooler look, and the long hairstyles throughout the rest of the year for both casual daily wear and dressed-up occasions!
Trending Topics