Mushroom cuts might seem a thing of the past to you, but in reality, they are proudly conquering the women's hairstyle trend with creative styles. In the 21st century, mushroom hairstyles got a complete do-over. Movie stars and other celebrities are proudly sporting the new and improved 'bowls' and 'mushrooms'".
If you hated mushroom haircuts when you were a kid, you need to rethink your values and start keeping up with the times. These amazing hairstyles are exactly what you need to give your image a breath of fresh air. Therefore, the next time you see someone sporting one of these haircuts, think about the way it will look on you.
Mushroom Haircuts and Hairstyles
Women's mushroom haircuts vary greatly. Depending on the type of hair you have, you can either get a very short bowl or a long, curly, and messy mushroom cap. Whether you like long or medium-length hairstyles, there is a bowl out there for you. Most people have a very limited vision of these hairstyles.
In order to allow you to take in all the wonders of this haircut, we have collected 70 different styles. Take a close look at each one and we guarantee that you will find the one appealing hairstyle you're looking for!
1. Metallic Mauve
It's not only the cut that makes a hairstyle look awesome but also the color. So choose wisely and make sure the nuance suits your skin tone. Opt for a metallic faded mauve with silver hues.
2. Shorter In Front
Mushroom hairstyles look so flawless, especially if you keep your ends healthy and styled slightly inwards. Choose a brown ginger color and wash your hair with a shampoo and a mask that gives you more volume.
3. Half Bowl Cut
You don't need to worry if you're not ready to go for a full bowl cut. You can have this trim by chopping only half of the sides and bangs. Keep the other half of the laterals and the back long and layered. Use a purple mauve color if you really want your hairstyle to look breathtaking.
4. Black Mushroom Hairstyle
Messy black mushroom haircuts will look fabulous if you completely shave the sides and the back and keep the hair just above your eyebrows. Give them a curved, arched shape, and get yourself a pair of gold-framed glasses and accessories on the same note.
5. Autumn Colors
You can build your gradient however you want. Either way, if you use a great colour combo, it will look absolutely spectacular. In this case, go for a green nuance in the back. You will transform it into a red dark ginger and a bright yellow for the bangs.
6. Shiny Mushroom
A bubble mushroom haircut is shorter in front and longer, in a V shape, in the back. If you want your hair to look exactly like the one in this image, you need to apply products that make your tresses look luscious. Use a rotative brush for the ends and build that low volume bump.
7. Wavy Yellow
An electric yellow hair colour will create an amazing contrast with your black skin. Dye only the crown hair and bangs. Keep the shorter hair from the sides and back in its natural colour. Also, you can style very thin sideburns to make your face look slimmer.
8. Messy Turquoise
For this bowl cut, the trim must be perfectly straight. If you think it looks dull, go for a gradient that uses a mix of colours like blue, turquoise, and aquamarine green. When your hair is naturally straight, all it needs is to mess it up with your hands.
9. Indigo Shades
You can wear your mushroom haircut just the way it is, or you can use a rotative brush to style large curls for the ends and give your hair so much volume. As for the hair colour, this haircut is so versatile and permissive, offering you plenty of opportunities when dying your hair.
10. Two Colors
A bowl cut looks outstanding on black women who want a back-to-trend hairstyle. The cut looks like you used a bowl as guidance when trimming the hair. To make the hairdo look more interesting, the longer pieces must have a honey brown colour while you keep the sides and back in their natural color.
This mushroom hairstyle is a great choice for women with thin and straight hair. The stacked part in the back creates an appearance of volume and the blunt bangs do the same job. The haircut is easy to style.
12. Modern and exquisite
This modern mushroom haircut for girls can make you look like a real queen. The strands are asymmetrical all over the mushroom cap and some hair is left behind the ears. This is far from the classics but looks fantastic.
13. Messy Look
Women with wavy and curly hair have too much trouble creating a classical mushroom haircut. There is no need to straighten your locks. Leave them as natural as you can and you'll get a stunning messy style.
14. Eye-reaching classic
This appealing mushroom hairstyle is exactly what you need if your hair is thin and brittle. The long eye-reaching bangs create a sexy appearance while some hair down the neck gives an impression of length.
Best Short Hairstyles for Teenager Girls
15. Rihanna's mushroom haircut
One of the reasons for the mushroom hairstyle popularity is the recent Rihanna haircut. She sports a stylish bowl with a stacked part behind and long blunt bangs in front. A great choice for thick hair!
16. Cone variation
The stacked part of the mushroom cut allows you to play around with different hair designs. The shaved neck is a great place for masterpieces. Start with something as easy as a cone and go on to more complicated designs.
17. Windblown and attractive
A mushroom haircut looks terrific when it's far away from the neat classical look. Allowing your hair to look wild and windblown will turn a prissy mushroom cap into a wonderfully impressive pixie.
Boldest Short Curly Hairstyles for Black Women [2023]
18. Color play
If you are ready to create a more or less classic mushroom hairstyle for women but want it to have some zest, consider the color play. You can dye just the mushroom cap part of your hairstyle while leaving the rest of your locks natural.
19. Back layers
Don't you agree that a simple bowl cut looks boring? Add it some extra oomph with a few layers. Go even further to making each of the layers a different color. You'll immediately look and feel more attractive.
20. High and impressive
The higher you create your bowl hairstyle, the better statement you can make with it. The bravest girls go for 4 – 5 inch long caps and shave all the rest of the hair. The impression is priceless.
21. Three-colored cap
Using just one or two colors for the mushroom hairstyles for women is dull. Consider creating a few different highlight to make your haircut even more interesting. Use partial highlights and lowlights if you wish.
22. Reversed mushroom hairstyle
Who said that the mushroom hairstyle should be longer in the back? Make it longer in front and enjoy the look. You'll need sexy eye-covering bangs and a differently colored cap for a stronger effect.
Cutest Short Braided Hairstyles for Any Woman
23. Cute and layered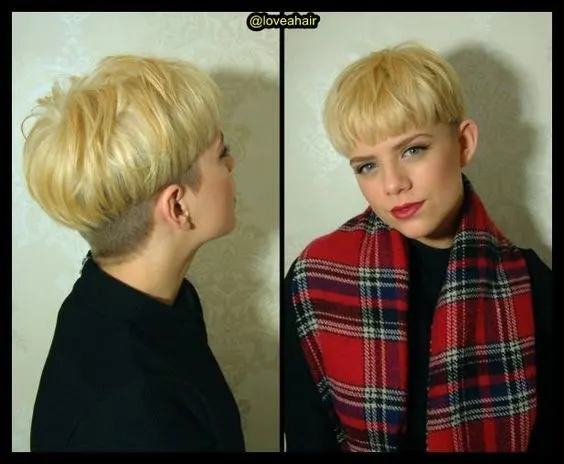 The longer the cap, the cuter the hairstyle. In fact, the longer it is, the more ordinary it might seem. Add some zest to the low mushroom cap with creating wild layers and keeping them tossed around.
24. Asymmetrical cap
Thick hair is perfect for creating an asymmetrical mushroom hairstyle for women. The cap should be patchy and feature strands of various length. The back part can also be voluminous and go down the neck.
Neatly brushed and greased mushroom cap is no fun at all. If your hair is thick and a little wavy, you can go for this stunning spiky mushroom haircut. You'll need a little hair gel and some imagination.
26. Neat and trimmed
By keeping the top part of the mushroom haircut neat and brushed, you get rid of the obvious mushroom cap design. This can be an advantage for women who don't like standing out of the crowd too much.
27. The classics
This is the classic mushroom hairstyle for women that you might want to try before you go on to wilder options. Women with long faces will appreciate the style since it makes them seem more round.
Don't be afraid of highlight experiments with the top part of your bowl haircut. The more highlights you use, the more impressive and modern it will look.
29. Wild colors
In the recent years, the mushroom hairstyle for women turned from something ordinary into a stylish choice. Make an even bigger statement with your bowl-like locks by dyeing them with outrageous colors.
50 Smartest Short Hairstyles for Women With Thick Hair
30. Vulcan arrows
Add two sexy and neat strands in front of your ears and your simple bowl hairstyle will turn into something completely futuristic. Don't forget to experiment with a few bright highlights.
31. Mushroom variation
This is a great variation of the long mushroom hairstyle that's popular for its low-maintenance properties. You can create this hairstyle with any hair type.
32. Round bob
An asymmetrical round bob can be easily turned into a mushroom haircut for women by rounding up the top part. The strands on the sides are optional and will appeal to women who don't like short hair.
33. Platinum blonde cap
When it comes to choosing the color for your mushroom haircut, consider something really interesting and impressive. Simple natural colors make the overall impression much less effective.
34. Modernized mushroom
This modernized mushroom haircut for women looks more like a simple short pixie. But if you look closely, you will see the special shape that adds the hairstyle some volume and a mushroom-like appearance.
35. Stunning similarity
The shape of a mushroom haircut is not the only thing that should remind of a bowl or a mushroom. If you do a good job playing around with colors and asymmetry, the result will be unbelievable.
A cut that defines mushroom haircut perfectly. Simple streaks with blonde highlights and ginger lowlights give dimension to the basic cut.
Neat inverted blow dry will help in achieving the typical mushroom shape. Strawberry blonde shade is for someone who likes to incorporate fashion into everyday style.
37. Rounded Bob Cut
Fading and undercuts are not a compulsion for mushroom hairstyles. Sometimes a merger of Bob cut, and bowl cut comes up with something sleek and specular. Such cuts give a soft and elegant impression. It is also a low-maintenance haircut, which is suitable for busy people.
38. Mermaid Pot Cut
A trendy variation of classic pot mushroom haircut, mermaid hair is the biggest hair color trends of the millennium.
Dyeing the front bangs in blue, teal blue, and alga green will turn a basic pot cut into a dew fresher. Easy to style and can be carried along with everyday outfits. It is a must-try for fairytale lovers!
Combining tousled hair with the traditional bowl cut gives an effortless air blown look. To get the best of this mushroom cut, style it with some volume-adding hair products.
Distribute the product evenly and style with fingers in cringing movements. Finish off with a strong-hold hairspray. It will keep the look steady in its place even in windy outdoors!
40. Asymmetrical Mushroom with Pointed Lengths
Experimenting with symmetries can create phenomenal results. Merging the regular bowl cut with long sideburns extending towards the back gives a modish look.
Pointed lengths at the back give a bi-level impression whereas the asymmetrical bangs look voguish. Moreover, blending with contrasting color techniques will enhance the tapered point-cuts.
An ideal haircut for busy and working women, the fringed pixie cut is one of the favorite choices of modern women. Disheveled fringes add an effortless modish look to the short-lengthened mushroom cut.
It gets along with all sorts of necklines but looks best with jackets and collars. It can be gelled back to match the formal attire.
42. Classic Hairstyle
When it comes to cropped haircuts, nothing can beat the classic mushroom haircut. The sleek and settled look can be spiced up by pairing it with unusual colors, such as greens and blues. A truly classic bisexual haircut with modern touch looks utterly stunning.
A unique blend of razor cut, asymmetrical disheveling and baby bangs, this type of cut is for those who dare. The typical punk style is for someone who enjoys the dusky side of life. Little details such as nose accessories and piercings will enhance the look.
44. Lilac Blunt Mushroom Cut
Are you searching for something out of the box? If so, then this lilac blunt haircut is just the right option for you. Neatly trimmed blunt-hair with a perfect undercut will look stunning in lilac hair color. The funky color will surely complement your vibrant personality.
A typical bowl cut can look extravagant when dyed in bold fuchsia tone. To make the most of this mushroom haircut, style it with some glossing hair products. The shine will give a three-dimensional look, bringing out the vivacity of the color. Suitable for people who love to dress up differently.
46. Curled Haircut
Curly hairs are the most unpredictable when it comes to a haircut. But with a well-defined nape area, the curls are much easier to handle. They are gathered just above the crown to give a voluminous look.
The neatly trimmed nape enhances the curls. For better results, you can even dye the curls on the crown in different colors!
47. Mosaic Mushroom Cut with Long Hair
The secret of the popularity of mushroom styles lies in their versatility. This unique blend of the typical bowl cut with long lengths demonstrates the fact.
Moreover, the area of mushroom hair is dyed in a mosaic pattern to achieve a distinctive appearance, giving a modish approach to fashion divas.
48. Futuristic Asymmetrical Haircut
It is an absolute fact that hair trends will continue to modify according to the progressing times. Inspired by the modern age, this futuristic haircut holds the true essence of authentic mushroom hairstyles. The micro-front bangs give a sharp look and, the asymmetrical lengths emit a feminine feel.
49. Gradient Ombre
Try this amazing mix of gradient Ombre with a mushroom haircut. The smooth blending of different colors makes it a masterpiece. The black border gives a finished and polished look, which makes it an awe-inspiring style for the hip-hop generation.
The umbrella cut is one of the basic forms of mushroom cut. Ginger color can turn this cut into something exciting and extraordinary. So, go ahead make your own style statement with its unique blend of cut and color.
51. Middle-eyed Pot Cut Hairstyle
You can carry the middle-eye length pot cut in different ways. The one-tone dark black colors bring forth the best of middle-eye pot cut. The simplicity of this mushroom cut creates a settled and neat impression, yet modish.
52. Windblown Hairstyle
Windblown looks give a light and airy feel. It is most suitable for people with fine hair. The mushroom haircut adds volume to the crown area, and the front tousled tresses give a fuller impression.
Simple coloring techniques can help in achieving more voluminous results. Such a hairstyle is capable of transforming the whole image of one's personality.
53. Diagonal Graduated Mushroom Cut
A visionary look for modern people, the diagonal bangs create a chic impression whereas the graduated bobs highlight the cheekbones. The pointed ends provide a slimming effect. This is suitable for those who adopt bold fashion statements easily.
54. Mid-eyed Rounded Mushroom Haircut
Cutting fringes to the mid-eye length covers the broad forehead easily. The rest of the lengths can be merged with the bangs in a round bowl-like shape to give a spectacular look.
55. Holographic Mushroom Cut
Holographic hair is the most trending fashion of today's modern world. People adore its unusual three-dimensional sparkly look. Silver holographic hair in combination with pot mushroom hairstyle looks savage.
56. Purple Extreme Undercut
Extreme undercuts look ravishing when dyed in odd colors. To experiment is the key to perfection. One must experiment more to achieve the desired results. The purple extreme undercut mushroom hair is a perfect example of trying something beyond ordinary.
The blunt-hair resting high on top of the extreme shaved nape area has a punk appeal. Some body-piercings will help to complete the transformation.
57. Asymmetrical Shaved Mushroom
Playing with your hair can get more interesting when different hair lengths are combined. A shorter front merged with slightly longer back lengths exhibit a contrasting brilliance.
The clean shaved and hair-free nape area defines the hair perfectly. Asymmetrical hairlines create a visual geometrical impression.
58. Long Sideburns
A typical mushroom bowl cut can be perked up with simple long sideburns. It was highly fashionable to keep long sideburns in the past. So, a roughly chopped mushroom haircut with long sideburns is an excellent fusion of old and new times.
59. Retro Mushroom Cut with Ultra-micro Fringes
If you have the courage to present your dauntless inner self to the world, then the ultra-micro fringed bowl cut is your ultimate choice. Different kind of alterations can make this cut appear more classy such as pastel fashion hair dyes, streaks or, simple accessories.
A hairstylist always loves to experiment. This chopped mushroom cut is a perfect example of such desire. The choppy hair gives a messy and effortless casual look which is most suitable for the young carefree souls.
61. Inverted Boat Cut with Fringe
You can style bangs of the regular mushroom in multiple ways. The inverted boat cut bangs are a bit unusual, but it perfectly frames the face, bringing the focus to eyes and eyebrows. Someone blessed with beautiful eyes can totally rock this look.
62. Lavender Hair
Are you looking for something soft yet sassy? Try this lavender grey hairstyle. A simple and stylish short hairstyle that can make heads turn around. An edgy transformation with a soft appeal.
63. Micro Mushroom Hairstyle
The basic crew cut combined with micro mushroom shape haircut can instantly ignite your personality. The bareness of the scalp had a brutish appeal. To carry such hair, one must accessorize it with suitable ornaments or piercings.
A beautiful soft fusion of vintage hair with modern trends. Pastel pink bordered Ombre hair is typical ramp hair. To accustom it with everyday lifestyle, a rounded haircut is a suitable option.
65. Gradient Hair
It is an interesting mixture of vibrant colors. The gradient effect involves bright-orange to deep-burgundy colors. Must be done with great care, as a little mistake can turn this phenomenal mushroom hairstyle into a disaster.
To avoid such a situation, one should do adequate research before going for such drastic changes.
66. Modish Wavy Mushroom Haircut
Surely, there is no harm in experimenting with your regular mushroom bowl hairstyle. Slight waves in front can make a huge difference in the appearance of your haircut. This haircut can look breathtaking when dyed in bright pink and red. It is a funky haircut that adds charisma to your personality.
67. Chopped Undercut
Everyone loves to have celebrity hair. A haircut that can make you stand out in a crowd. Simple chopped mushroom haircut dyed in fiery red looks ravishing when paired with suitable attire. The super close undercut makes this cut bold and daring.
68. Neat Hamlet Mushroom Hair
Centuries ago, bowl cut or pot cut was the only choice for people to look fashionable. You can observe the modern version as the neat hamlet haircut. It resembles the haircut of ancient actors of Shakespeare's play script and you can, also classify it as an everyday version of theater hair.
69. Blue Hair with Partial Crew Cut
Do you want to try something edgy? Go for this provocative mushroom cut. A unique blend of micro fringes and long back hair. A little above the ears, the partial crewcut on sides fades out. Reverse ombre in metallic blue color, which gives an exceptional look too.
70. Modern Look Bowl Hairstyle
An absolute match for the modern world, this stunning mushroom hairstyle holds the massive attraction of the spectators. It is a low-maintenance hairstyle which looks equally good with natural hair color. The pot-look suits almost every face cut and every age-group.
Women's beautiful and classy short mushroom hairstyles are giving you an opportunity to create the short haircut you always wanted while being modern and stylish. Pick the one you like best and go for it!