Your face shape can have a big effect on the hairstyles that suit you. There are plenty of great short hairstyles for oval faces, so you should be able to find a cut that works with your face. Finding the right cut can give you a big confidence boost.
The right hairstyles for oval faces work magic. Oval faces are lovely by themselves—the full cheeks, the pointed chins, the softer jaws. Discover the most flattering haircut for your face, and you can instantly bring out your best, most favorite features. Plus, not all short styles are created equal, so don't go thinking that you have to get a buzz cut or otherwise chop off all your hair.
Tips for Choosing a Short Hairstyle for Oval Face
Best Short Hairstyles for Oval Faces
You won't believe the versatile array of short hairstyles for women with oval faces. While many of them have similar details, such as a tendency toward side parts, they come in all different lengths and styles. From close crops to lovely lops, you'll find a haircut that makes you feel comfortable, confident, and cute as all get out.
Short hairstyles can help to change the appearance of oval face shapes. You can use your hairstyle to draw attention to the bits that you love and pull the attention away from the areas that you hate! Short hair can be used to widen narrow faces and shorten long faces.
1.
short thick hairstyle for oval faces
2.
short hairstyle for fat women with oval faces
3.
short afro hairstyle for oval faces
4.
short straight haircut for women with oval faces
5.
short haircut for over 50 with oval faces
6. Wavy Hair with Bangs
A light wavy style is a great way to frame an oval face. Give the look an edge by cutting in some graded bangs to cover up your forehead.
7. Platinum Hair with an Extreme Sweep
Platinum locks create a really eye-catching look for short hair. An extreme sweep over which creates an asymmetrical style will help to make your face look more angular.
8. Cute Wavy Bob
Chin length styles really frame the face, so they are good for women who have a natural oval shape. A side fringe helps to enhance a cute wavy bob hairstyle.
9. Cool Sweep
Sweep your hair over so that you have more hair on one side of your head than there is on the other side. For a cool look, lightly cover one of your eyes with your wavy hair.
10. Thin Bob with Side Fringe
A short bob is a hairstyle which really suits women with thin hair. A sideswiped fringe will give the hairstyle a trendy and modern look.
11. Amazing Curls
Tight curls look truly stunning on women who have an oval face shape. Use a diffuser attachment on your hairdryer to give your hair maximum amounts of volume.
12. Short and Thick Bob
A short hairstyle can look really stylish if you have thicker hair. Lightly layer the haircut to help to give more shape to the hairstyle.
13. Wavy Bob with Subtle Highlights
Layering helps to enhance the shape of a wavy bob hairstyle. Create the illusion of additional depth and texture by adding subtle highlights close to the roots.
14. Copper Brown
Copper brown is an incredibly glamorous color for women with oval face shapes. A shorter cut in this color is evocative of retro Hollywood glamor from the 1920s.
15. Pixie Cut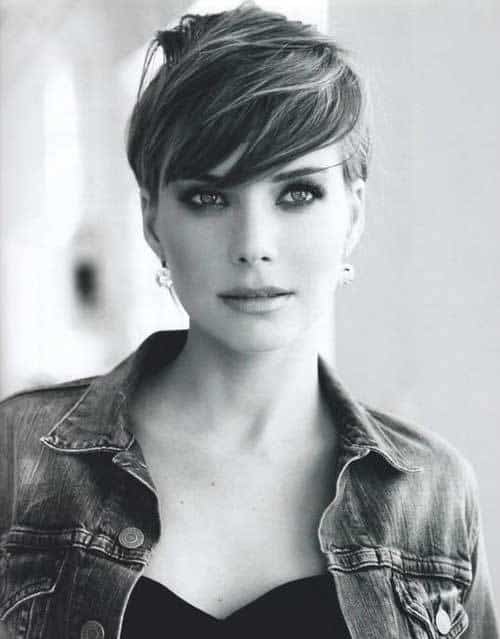 A pixie cut is the perfect short hairstyle for oval faced women. This style has been popular with women since Twiggy wore her hair short in the 1960s.
16. Half Cropped
Rihanna's the queen of discovering short hairstyles for oval faces and bringing them to the forefront. A close crop on the side and a long, falling fringe of hair over your forehead seem simple enough, but it will change your entire appearance. Trust RiRi, okay?
17. A Longer Lop
We know, this isn't expressly short. However, you might not feel emotionally ready to chop off all of your hair, even if doing so will flatter your pretty oval face. That's all right. Just work your way up to it. Lop your hair off as much as you're comfortable and work your way shorter from that point.
The Best Hairstyles for Oval Faces
18. Silver Swoop
All right, to be fair, the color is irrelevant—we just really like this silvery gray shade. The asymmetric style is the real key. Parting your hair to one side can help sharpen the soft curves of your face and lengthen your jawline a bit.
19. Tousled Crop
See? An asymmetric cut is a hallmark of short haircuts for women with oval faces. It adds more shape and creates interesting angles. This crop itself is all kinds of adorable, with a definite androgynous edge to it.
20. Layered Bowl Cut
On its own, a bowl cut is almost never flattering. Add a few layers and a side-swept fringe, however, and becomes a cut that can complement an oval face. For added dimension, get it stacked in the back.
Which Face Shapes Look Good With Short Hair?
21. Jagged Edges
This isn't quite a bowl cut, but it gets its inspiration from that style. This coiffure is longer on one side, though, and the layers are purposely jagged and uneven for an edgy, perpetually tousled appearance.
22. Almost a Mullet
Typically, we would not advocate a mullet, but the surprising truth is that it's a flattering short hair style for oval faces. The business in the front/party in the back delineation isn't so extreme here, but the front is definitely shorter than the back.
23. Extreme Bob
Asymmetrical bobs are sexy—end of. This extreme take on the style only has a little bit of length, but the sharply angled fall of hair is all you need. Crop the rest, girl, and get your life.
24. Short, Shaggy Lob
This isn't a bob or a pixie cut. It's not quite a lob, either, but that's close. The layers are deliberately jagged and uneven—that's the standout detail that makes this a million dollar haircut.
Short Hairstyle Ideas for Heart Shape Faces
25. Natural Curls
Sometimes, adopting a short hairstyle for an oval face requires nothing more than letting your natural hair do its thing. This is gorgeous—this woman is gorgeous. We love her glow, too.
26. Mid Parted Low Ponytail
For those who prefer the simple, sturdy look, this short hairstyle for oval faces with a cute ponytail and rolled up hair streaks looks lovely. The mid partition in the front just adds to its beauty. Rolling up a few streaks and blending them in with the ponytail gives a gorgeous look to the hairstyle.
27. Thick Box Braid Hairstyle
Like your hair unique and braided? Go for thick, fat box braids for short hair and give an edge to your oval face with a significant jawline. If you have got dark colored hair with a thick texture, this is definitely a look you should try!
28. Wavy Blunt Cut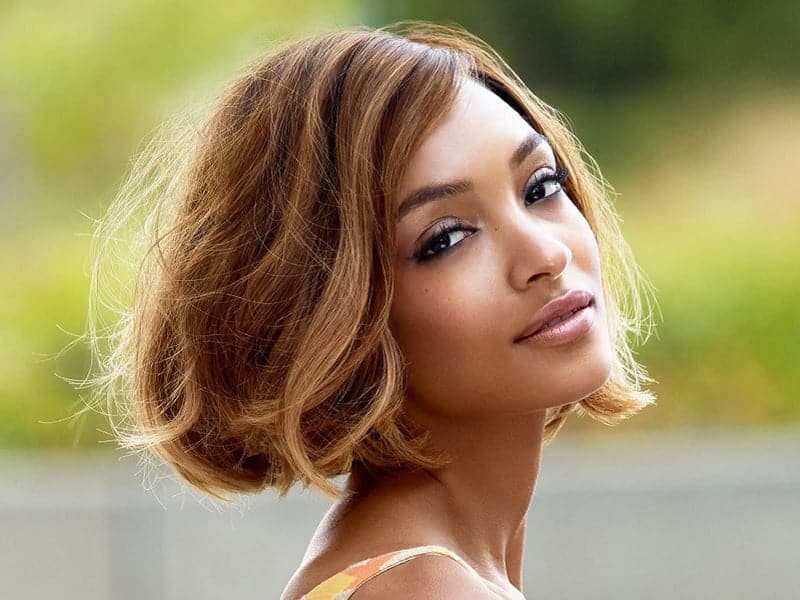 Bring out a quirky side of you with a slightly wavy blunt cut for your blonde/ golden hair. Stand out like a diva in this short haircut. A voluminous hair look will go in perfectly with this style.
29. Back-Swept Curls
Go for a cute short hairstyle. Leave your curls loose and pin them back to make your face stand out. Look pretty effortlessly! The elegance and subtlety of this look are undeniable!
30. Auburn Pixie Bob with Bangs
Give your usual pixie cut a new twist. Add side swept bangs to your messy auburn long pixie cut and enhance your cheekbones. Impress all eyes that fall on you with this ombre shaded look.
31. Gold Bob
Got a little wavy texture to your hair? Color them golden and style them in a bob. Let those waves add beauty to your overall appearance. The short hairstyle looks perfect on those with a fair skin tone and broad, oval face structure.
32. Spiky Mohawk
Yes, girls can style their hair into a Mohawk and look pretty too! Keep the hair in the front longer and keep them short in the back. The sharp sidelines just add to its bold look. There is a slight fade look to it too, making it sexier!
33. Bandana It Up!
Have long bangs swept aside and tie your hair into a patterned bandana. Bring out your feminine side with this cute hairstyle. Wear a sundress or a floral one piece to enhance this hairstyle.
34. Mid-Part Clean Sweep Hairstyle
Let your eyes do the talking with your hair swept back with a curly hint to them. Put on a serum to keep them in place and look like a queen in this sweep hairstyle. Light brown hair is ideal for pulling off this look!
35. Braided Band
If you have an oval face, go for a simple bob cut to enhance your looks. Add a braid like a band that runs along the sideline of the face to spice up your looks. The braided band gives a crown-like appearance.
36. Fine Blonde Bowl Cut
Give your blonde hair a fine look with a clean bowl cut. If you have got fine textured hair and an oval face, bring out the best looks in you with this sophisticated cut. The hairstyle looks elegant and classy and is good to go with any outfit you wish to wear!
37. Side Part Medium Bob
Oval faces look lovely in a bob cut. The style just brings out a beautiful look altogether. Try out medium bob cut with a side partition to give your face a newer dimension. Messy short hairstyles always pull off the looks!
38. Feather Lop Short Hairstyle
Bring out a sexy appeal to your looks with this blonde feather lop cut. The chopped off, feather ends of the hair add a diva-touch to the looks. Side bangs over the forehead just spice it up a little more! This hairstyle looks choppy and lovely on anyone and everyone!
39. Copper Pixie
Color your hair a nice copper brown shade and crop them into a short pixie cut. The copper hue brings uniqueness to the looks while the pixie cut has always been a cute style to try out! If you like it super short, go for a pixie haircut!
40. Icy Silver Waves
Oval faces look gorgeous in shoulder length wavy hair. Color your hair a silver color with a slight blue tinge added to it. Ice it up a little and bring out a unique and subtle appeal.
41. A Hint of Blue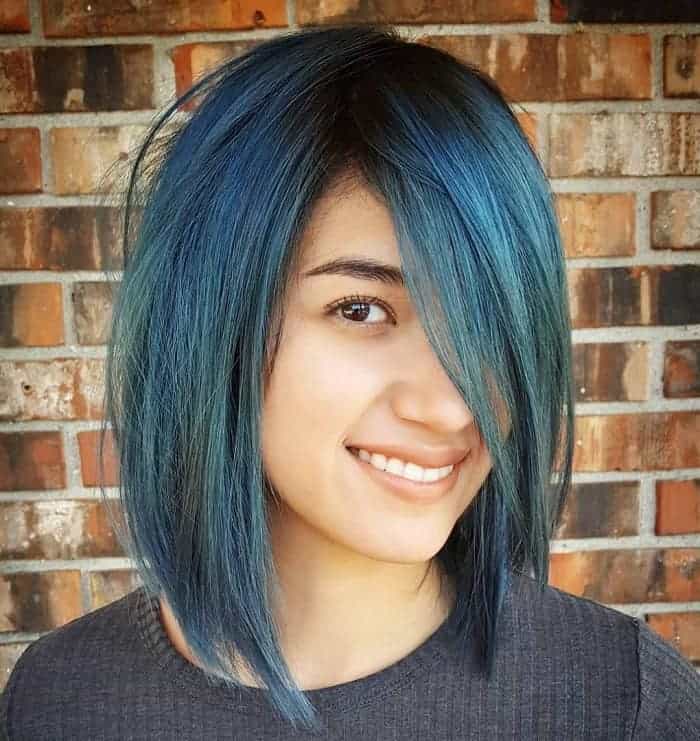 Get yourself a long bob cut with fringes swept towards one side. This short haircut will bring out the jawline of your oval face and enhance your facial features. Add a quirky touch with a hint of blue and dark green colored highlights.
42. Sophisticated Bob for Oval Face
Are you someone who has got thin and fine hair? If your answer is a 'yes,' style them perfectly! Go for a long bob cut with hair swept to one side. Add golden or bronze highlights to top up the style. This look will look ultra-sophisticated and is perfect for those in the job front.
43. Unicorn Pixie
Let the feminism inside your shine from within. Try out a lavender, unicorn shade for your hair this time and go for a cute and short pixie hairstyle. There is something subtle and bold about this look at the same time!
Keep your dreadlock bangs up in the front and wear a beanie over your hair. Just letting the tiny braids fall on the forehead and give a bold look to your face. Put on some eye makeup and a good lip shade to top up this hairstyle.
45. Mid-Length Pony
Ponytails always add an unexplainable edge to the looks. Pull your hair back in a mid-length ponytail. For the front, opt for side bangs, or long fringes swept to the side. The look is just perfect for all type of occasions.
46. A Hybrid Lob for Oval Faced
Merge a lob and a pixie cut coupled with hair swept to one side for this look. And, there you have it, a cute and elegant look for your oval face. Light hued hair suit better for this look as the haircut looks more prominent and edgy in light shade. Pair it up with feminine attire, and you are all set to rock!
47. Fringe Bowl
Try out the bowl cut with moderate length fringes falling straight on the forehead. The fringes bring out a child-like look within you, while the bowl cut brings an elegance. This look is just perfect, whether you are planning a casual day-out or have a formal affair to attend!
48. Crop Haircut for Oval Face
Not everything has to be fancy to look great, right? Try out something simple and add a charm of simplicity to your looks. This simple cropped cut with almost shoulder-length hair has a subtle appearance. If you like it simple and beautiful, this short hairstyle is for you!
49. Redhead Curls
Let your hair loose and wild. Let those beautiful curls take their own flow. Blow dry your hair up and let them sit on your head, effortlessly. The red-colored curls look lovely and bring out a completely unique touch.
50. Shiny Pixie Haircut for Oval Face
If you have an oval face, get a short blonde pixie hairstyle and look like a complete Barbie! Let your cheekbones look more prominent and give you a magical look in this cute, shiny pixie haircut. The looks go well with both, professional as well as casual attire.
51.
short hairstyle for black women with oval faces
52.
hairstyle for short forehead and oval face
53.
short choppy hairstyle for oval shaped faces
54.
short fine haircut for oval faced women
55.
short haircut for oval faces with glasses
56.
oval faced woman with short asymmetrical haircut
57.
short hairstyle for Asian oval faced women
58.
very short haircut for oval face
59.
short blunt haircut for oval faces
60.
These short hairstyles will look perfect on women with oval face shape and help to enhance natural beauty. If your face is not oval shaped or if you want to try out a longer cut, then you should take a closer look at some of our other cool hairstyle lists.
When you're picking out a hairstyle based on your oval face, do you like super short haircuts or do you prefer a style that's a bit longer? Let us know in the comment.