Short hairstyles are finally giving long hairstyles a run for their money. And the best part is the younger women are going crazy for it, and that's why pixie cuts have become all the rage for teenagers these days.
Well, it doesn't come as a surprise. In addition to being extremely hip and youthful, this short hairstyle is versatile and easy to style.
But wait, before you grab those scissors and cut your hair short, you may want to check out the most stylish pixie haircuts for teenage girls we've compiled just for you.
Trendy Pixie Cuts For Teen Girls
There are many pixie cuts that teenage girls can choose from, and we handpicked 12 pixies that are perfect for those who want to dive into the world of short hairstyles. Check them out below!
1. Pixie Bob
A pixie bob is a crossover between a pixie cut and a bob hairstyle. The result? You get a grown-out pixie cut that is shorter at the back and sides then longer at the top and front.
To style this, lightly blow dry your hair then run a flat hairbrush or straightening iron from the front to the back of your head to create more movement and volume.
2. Layered Pixie Cut
A layered pixie features a seamless combination of long and short hair strands. All the beautiful layers create a short hairstyle that's highly texturized and voluminous.
To achieve gorgeous layers without the frizz, ask your stylist to point-cut your hair instead of cutting it directly using texturizing shears.
3. Pixie Cut with Undercut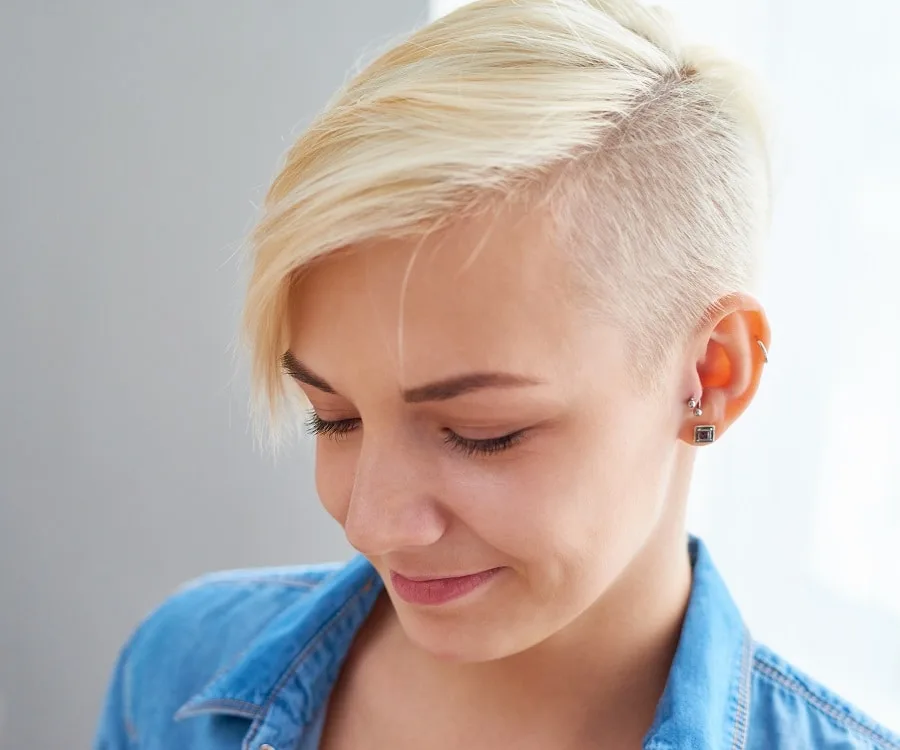 When you combine an undercut with a pixie cut, you get a short hairstyle with shaved sides or back.
Styling waxes or clay can help you maintain that cool teen girl hairstyle, while dyeing it in an eye-catching shade can help you achieve the ultimate rocker girl look.
4. Ultra-short
With ultra-short hair at the sides and the back and slightly longer hair at the top, this ultra-short pixie looks both edgy and sporty.
But please be warned, this hairstyle is not for everyone. To know if you can pull off this look, try scraping your hair into a really tight ponytail and see if it suits your face shape.
5. The Lixie
Compared to the classic cut, the Lixie or Long Pixie has a longer top and bangs. You can go for a longer version if you think you look better with softer layers or with wisps around your face.
With all its angles and layers, this pixie cut is highly recommended for teen girls aged fifteen or sixteen with dull and limp hair.
6. Brushed Up
Brushed up, slicked back, or Pompadour– whatever you want to call it, one thing remains the same: it's a hairstyle fit for a girl boss.
Achieve this head-turning hairstyle by brushing your hair back, then apply a spritz of hairspray or a lightweight pomade to seal the look.
Pro Tip: Tease the roots to build volume at the crown and create a more robust look.
7. Curly Pixie
Surprise: pixie cuts work on curly hair too! In fact, it's the best choice for naturally curly-haired teenagers who want something low-maintenance. To minimize frizz and maintain the curls, make sure to use hair products in gel, spray, or cream form.
Pro Tip: Unique and bold hair colors are the best ways to finish off sweet and simple pixie cuts for teenage girls with curly hair.
8. Two-toned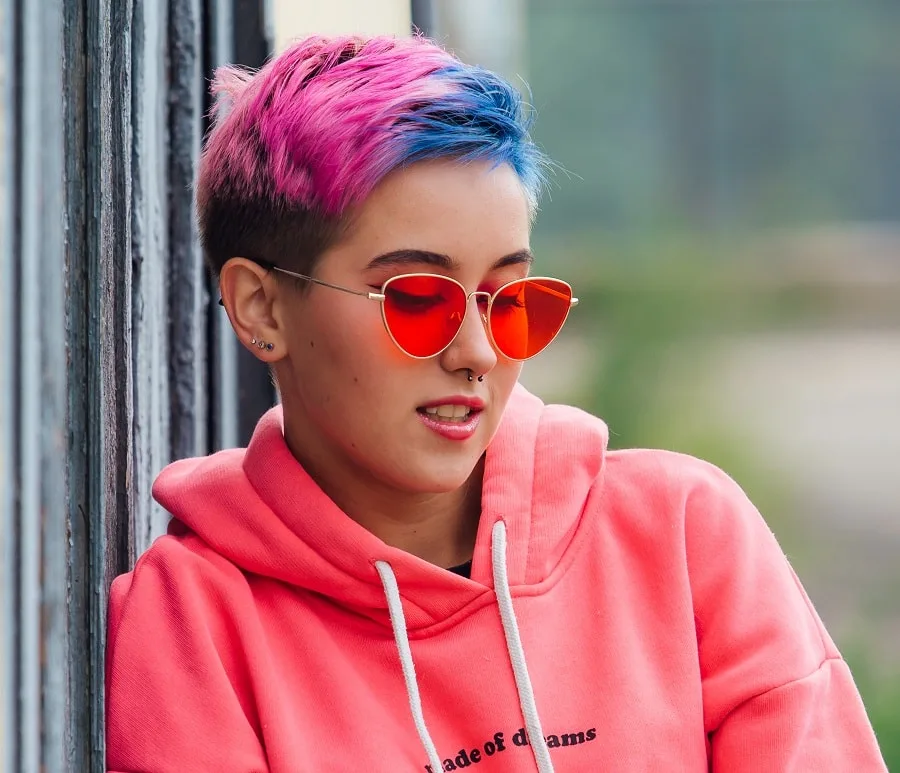 When it comes to hair colors, the more, the merrier! Not only that, the brighter the shades, the better as well!
Aside from this blue and pink combo, other color combinations you can try include blue and violet, pink and platinum, and many more.
9. Asymmetrical Pixie
This hairstyle is shorter on one side and longer on the other and gives off an edgy vibe you can't get from other pixie cuts for teenage girls. If you have a round face, ask for long wispy bangs to perfectly frame your face and make it look slimmer.
10. Layered Pixie + Wispy Bangs
For those girls with fine hair or long face, finding the right pixie cut can be a bit of a challenge. Adding bangs can do the trick!
The layered pixie cut will create an illusion of fullness while the bangs will help balance the length of your face. Heads up! Since the haircut has more layers and textures than the classic pixie, it would require longer styling time as well.
11. Vintage Look
This pixie cut is perfect for teens with naturally wavy hair, If you weren't born with one, you can easily create this look by using a molding paste.
Get a good amount of the paste and run your fingers through your hair to create the definition and waves you want. Complete your vintage look with a few beaded hair clips or barrettes.
12. Choppy Pixie + Full Bangs
The best pixie cut for Asian girls with fine hair is the Choppy Pixie. It's textured, and piece-y and usually falls right above the ears, which is perfect for creating volume and adding fullness to your hair.
There you have it– the most stylish pixie cuts for teenage girls that are perfect for bold and fashion-forward Femina. So what are you waiting for?
Take your pick and make sure to follow all our styling tips so you can create the most suitable pixie cut for your face shape, hair type, and personality.