The hairstyles for black women over 50 have been one of the most searched topics on the internet. Hairstyles not only transform the look but define our personality. The craze for trending haircuts has never been outdated amongst women.
What's more fascinating is the overwhelming interest shown by the old ladies towards hairstyles. Of course, you are never too old to rock a new hairstyle.
Best Hairstyles for Over 50 Years Old Black Women
Check out these fabulous 35 hairstyles for black women over 50.
1. All About The Bangs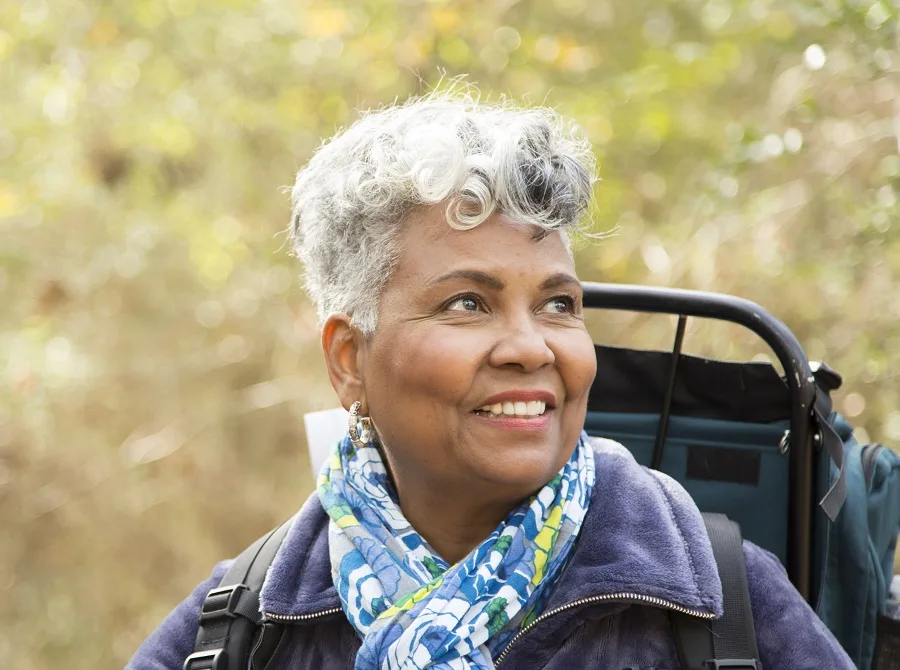 Short cuts are perfect for the active woman that still wants to communicate style. This cut is bang-heavy, making it perfect for naturally curly hair. By keeping hair short and neat all around the back and sides of the head your look will stay pulled together.
2. Curly Locs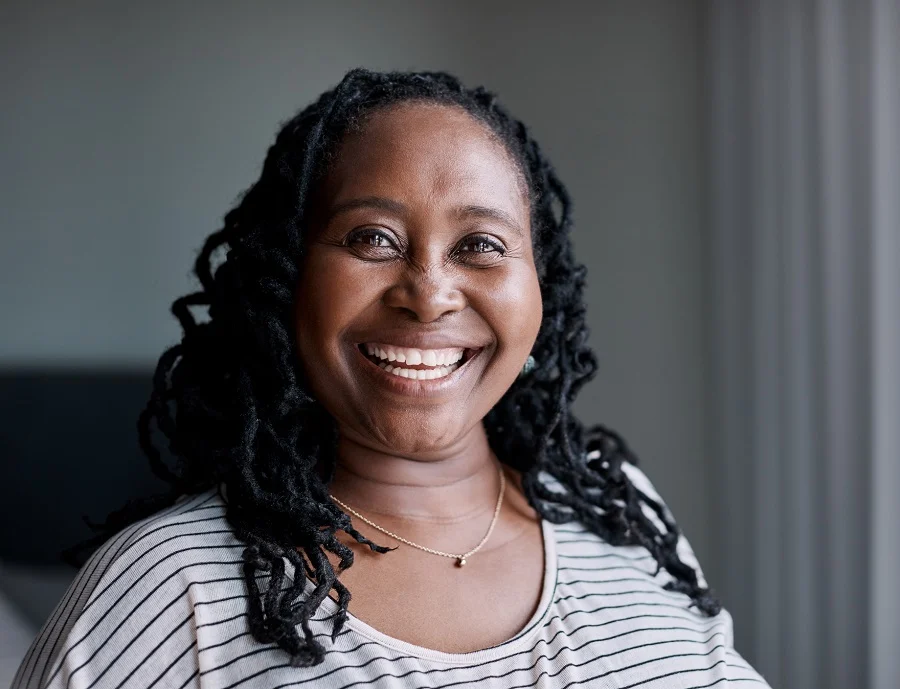 Not ready to give up your long hair? No problem! Women over 50 can look great with long hair, especially as style like this has plenty of texture. If you have a round face shape, compliment it with wavy locks.
3. Stylish Bob
This haircut is perfect for the professional woman. Shoulder-skimming length with soft layers and short side bangs make this look feel tidy yet sophisticated. It's the perfect in-between if you don't want a pixie and you don't want your hair long, either.
4. Updo Braids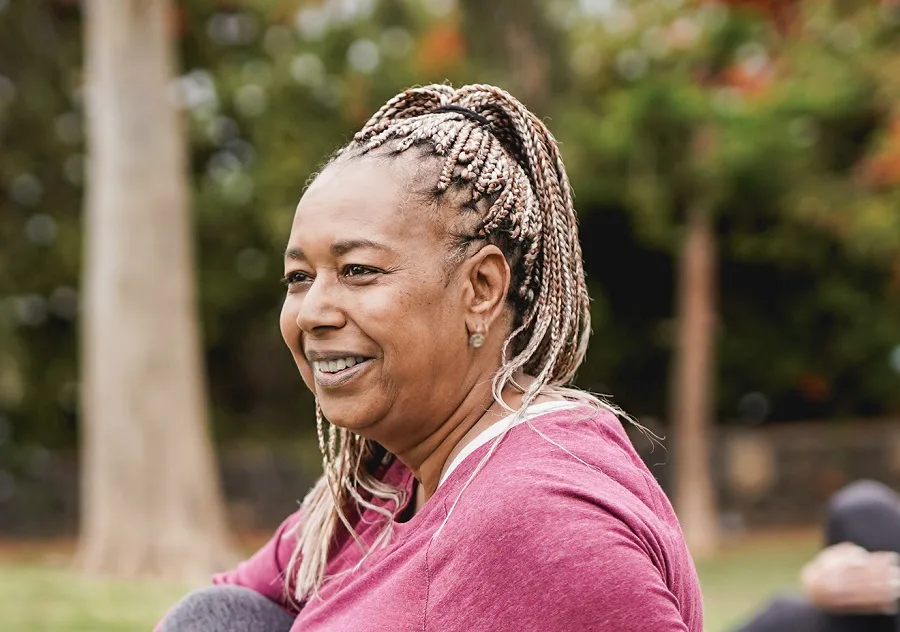 Braids are fantastic for women of every age. As long as they aren't done too tight, then this style can encourage hair growth and protect the hair that you do have. Short styles are good, but long braids can be better if you're active and prefer ponytails for exercise.
5. Straight Pixie with Undercut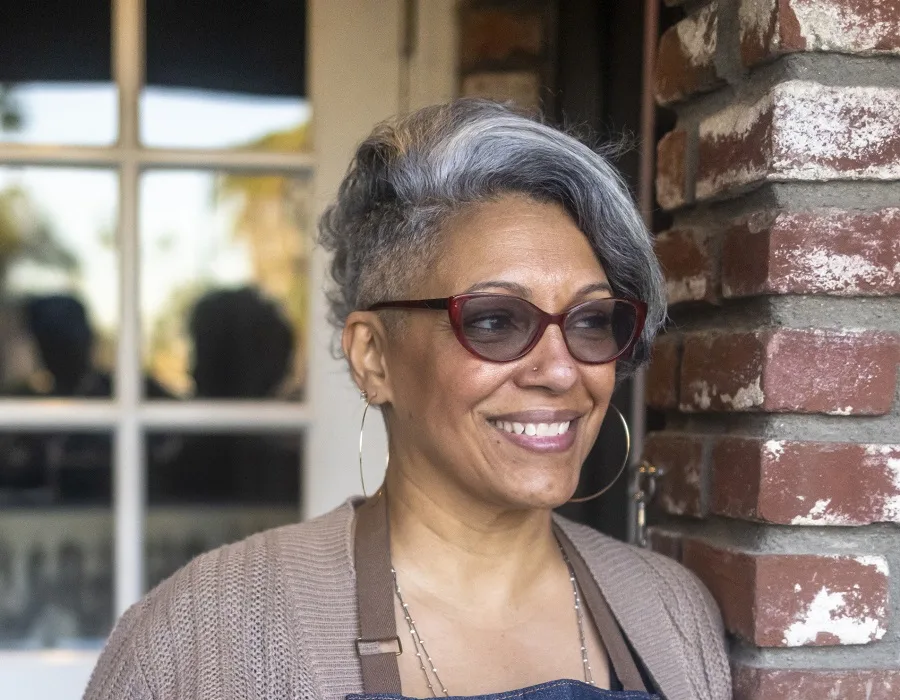 Show off your edgy side with this gorgeous undercut style. Whether your hair is curly or straight, undercuts are easy to work with, keep you cool, and show everyone that even if you're over 50, you've still got it!
6. Short Naturally Textured Bob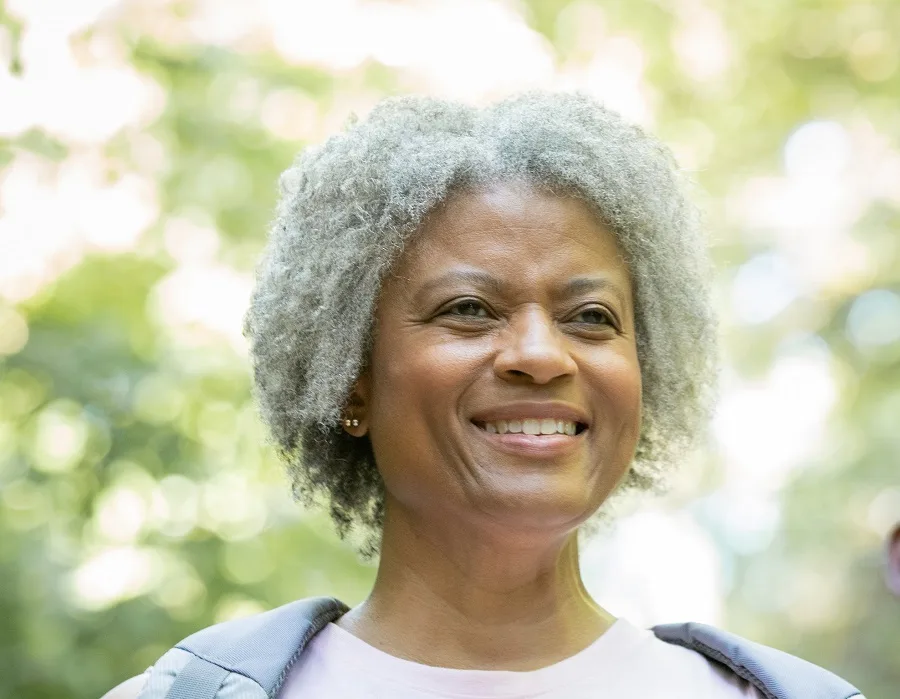 Do you want to keep some length on your hair while keeping it protected? A short bob style like this one can still frame your jawline, thanks to short front layers. A simple centered part will help to frame the eyes. This length is ideal for dry, brittle hair that needs some TLC.
7. Rope Twists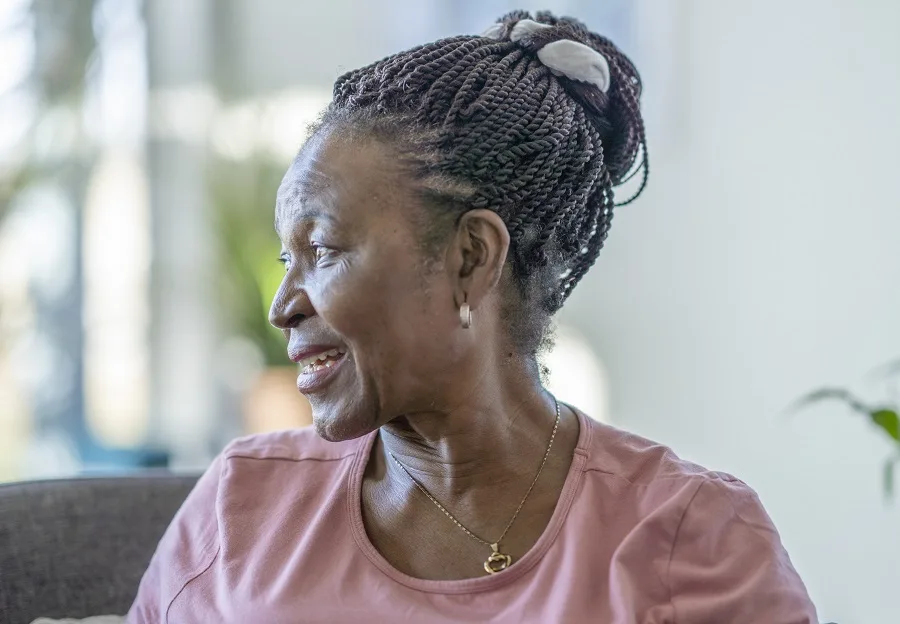 Rope twists, also known as Senegalese twists, are a protective style that give hair a shiny look. It's perfect for growing out your hair and giving your look an elegant appeal.
8. Locs with Layers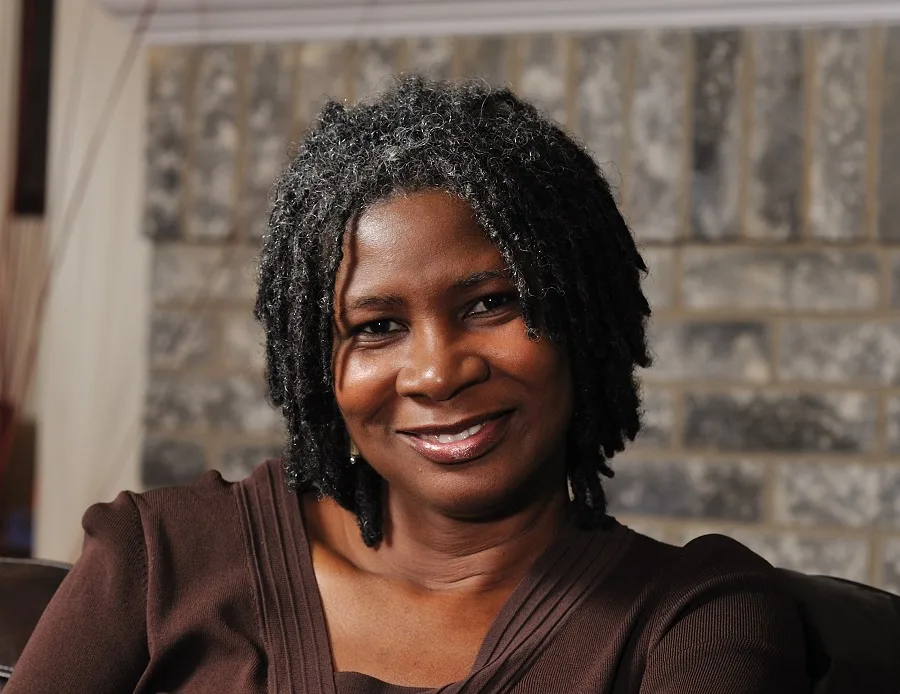 Why not create some style with your locs? This cute style uses longer bangs to frame the sides of your face and draw attention to plump cheekbones. Short lengths add definition to your face with a style that is super manageable.
9. Cropped Natural Hair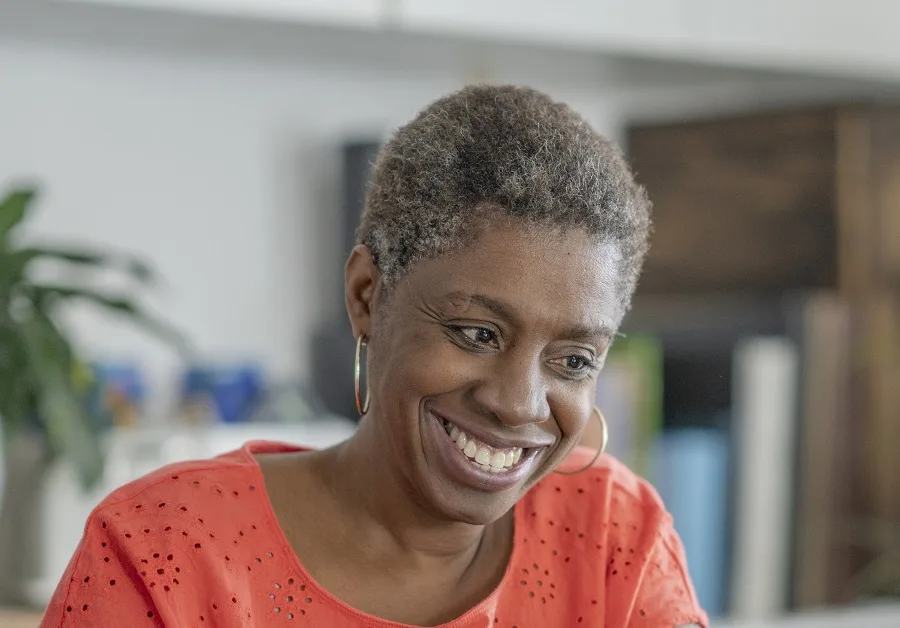 Aging hair can be so beautiful, especially as gray tones start coming in. Show it off with a short cropped style that is evenly cut around the head. This somewhat rounded look is great for oval or long face shapes.
10. Curly Twists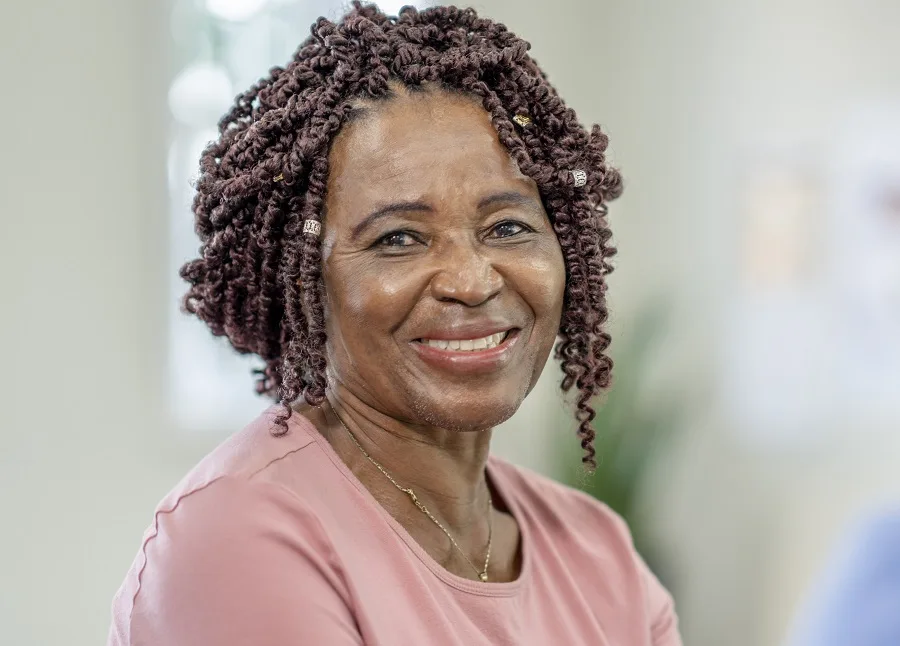 This beautifully twisted style not only frames the face but it gives off a very elegant vibe. A few long and loose curls should surround the face if you're going for a romantic feeling. Add a few beads for a touch of glam.
It is one of the best hairstyles for black women over 50 who have short and curly hair.
Ideal for: If you have a slim and oval face, with a broad forehead, this look will be a perfect companion.
How to style: The curly head ladies can complement the look with a shoulder length layer cut. Keep the front side portions short and flicker. Try out this look after well conditioning by doing a side partition.
12. Wavy Short Locks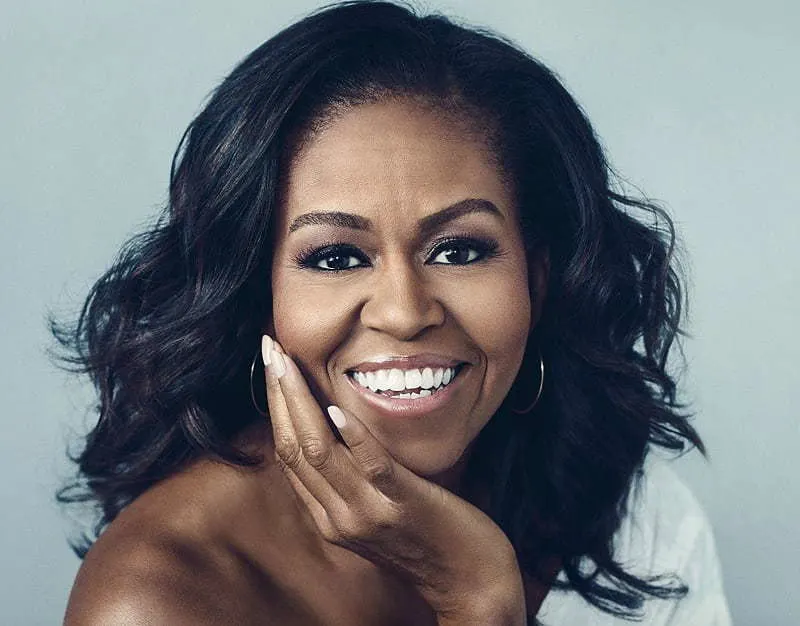 The straight locks are added with baby curls. It is one of the most loved hairdos for 50 year old black women.
Ideal for: If you have almond eyes and a sweet round face with an outward chin, try out this wavy look.
How to style: It involves the least efforts when styling. After a complete hair cleansing session, trim off the edges. A side or middle partition will rock the look. To add the volume you can curl the endings and get that extra puff.
13. Messy Pixie Waves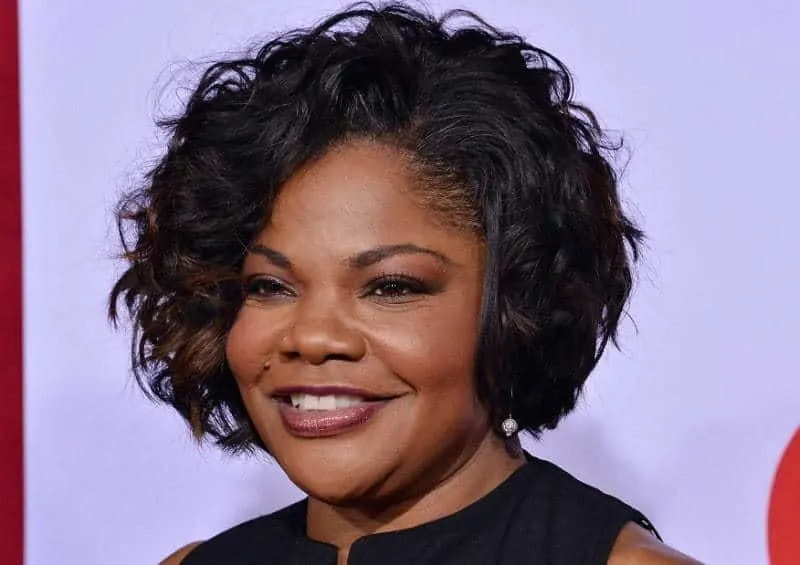 The cute modified pixie cut has gathered quite a popularity amongst elderly women. This reminds them of the good old days when they were young.
Ideal for: It is a perfect look for short and broad face black women.
How to style: It is very similar to a messy bob cut look. The beauty lies in the length of the hair. Keep it short and trimmed by visiting salons every three months. Let the short curly flicks come over your forehead and eyes. Run your fingers through for a messier look.
14. Long Frizzy curls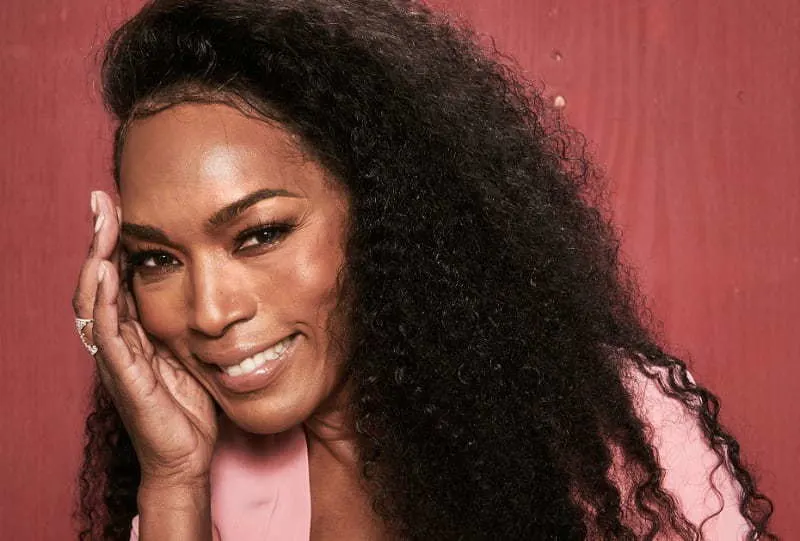 One of the most natural and classic 50 year old black women hairstyles. Frizzy hair looks good every attire. So, you can rock it everywhere.
Ideal for: This versatile hairstyle is perfect for almost all face cuts.
How to style: Start with conditioning and blow drying. Use a curling iron for end curls. The best part of styling is you need to let them loose with a side partition. Run your fingers through the long locks for a voluminous look.
15. Messy Baby Curls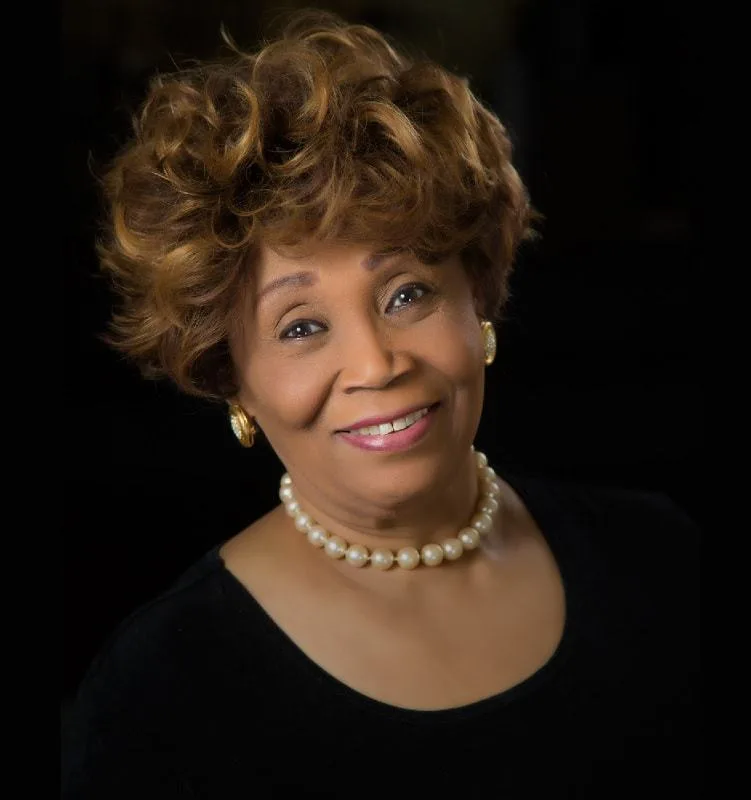 It is a trending and catchy hairdo for black ladies over 50. The baby curls on a brunette head are a true elegance.
Ideal for: The hairstyle will be appropriate for round face brunette ladies.
How to style: The curls should be distributed alongside your ears with some lying over the forehead. Style your hair parting in different sections with hairpins. After air drying removes the pins.
16. Fluffy Parted Curls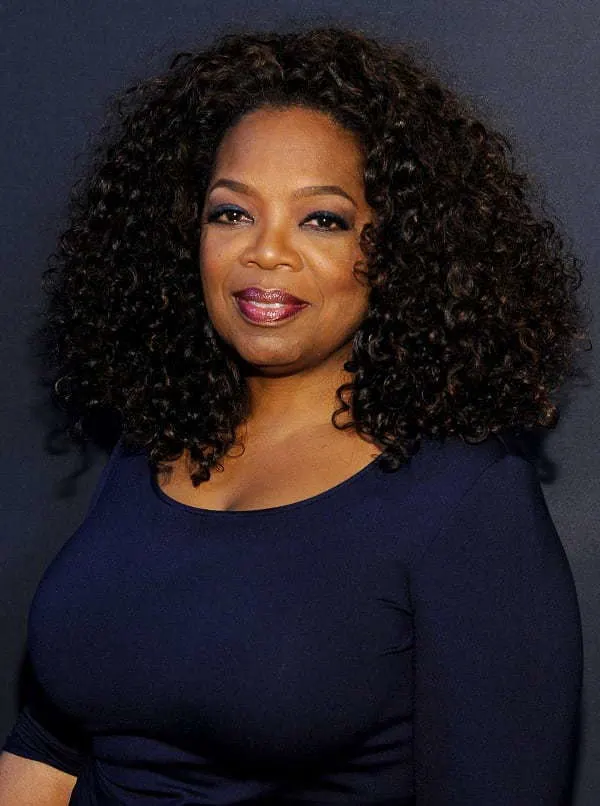 One of the most trending curls is the bouncy partitioned curls. This look with medium curly hair will keep the feeling of youth alive.
Ideal for: It suits and goes with all oval face shape with broad chin ladies.
How to style: This for black women over 50 style is an easy hairdo with fluffy drop curls. Condition your hair very well and apply serum for a glossy look. Partition your hair from middle and untwist small sections of it. Step out with the voluminous look.
17. Elegant Raised Boy Cut
It is a hassle-free and easy to maintain hairdo for 50 year old black women.
Ideal for: This elegant look works best with a long face shaped women with narrow eyes.
How to style: The look is well styled by providing an elevation to the traditional boy cut. Use a round wide-mouthed comb, brushing it all the way up. Keep the side portions slight shaved giving your ears a full display. Blow-dry the middle portion well.
18. Short Bangs with Short Sides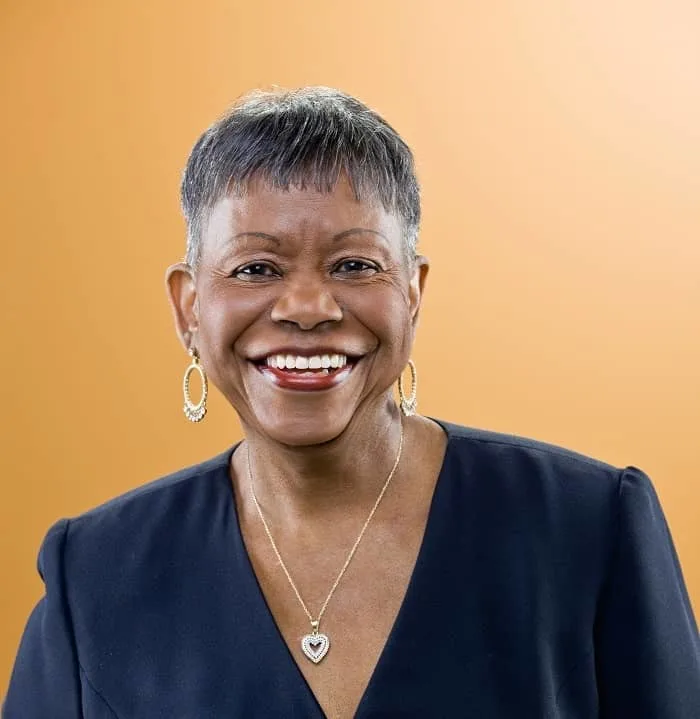 Super short bangs are the way to get your eyes to pop. The blunt-cut bangs are about an inch above eyebrows, opening up your face and eyes. Keep the sides short as well to nicely outline the shape of your head.
19. Curly Pixie
A short salt-and-pepper haircut will keep you cool and spending less time in the mirror each morning as a pixie. If your hair is naturally curly, use curl creme to enhance texture.
20. Wavy Bob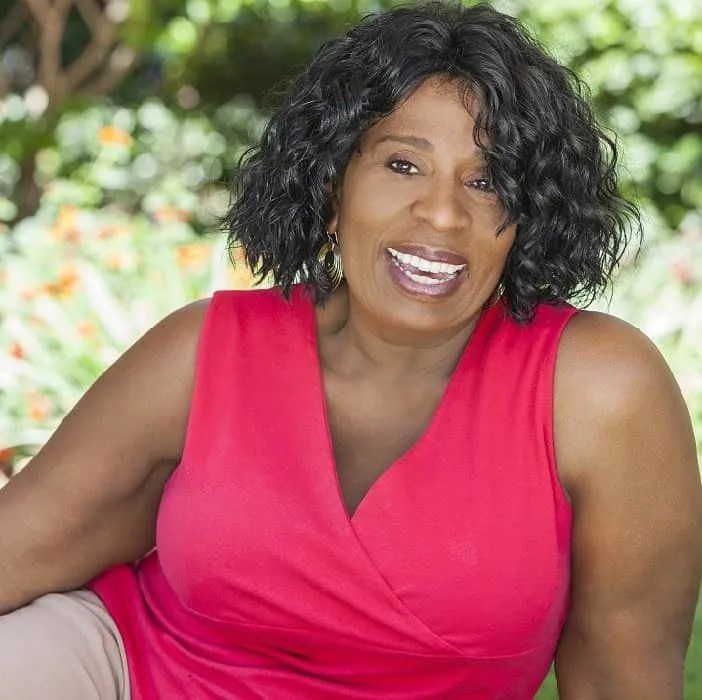 Bobs become a popular haircut choice as women age because of their low maintenance. To get this wavy do, run your fingers through locks with a bit of hair oil.
21. Platinum Cropped Pixie
Platinum hair color is beautiful against dark skin. Pair this look with a bold red lip when heading to dinner with the girls, and wear it with no makeup for a look that will still stun.
22. Blonde Highlighted Bun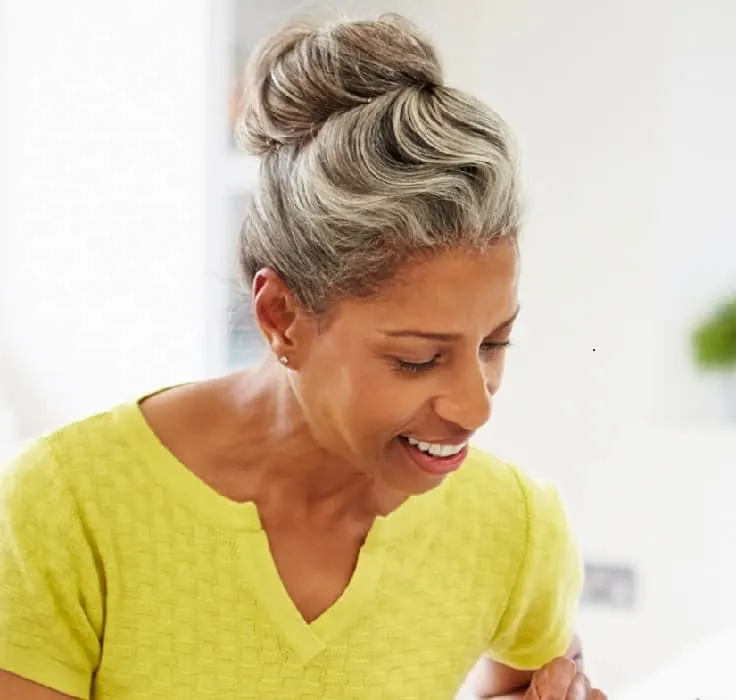 When summer is just around the corner and you want a youthful glow, blonde highlights are just the thing. They'll blend with your natural color to look natural and look gorgeous wrapped up in a loose bun.
23. Straight Bob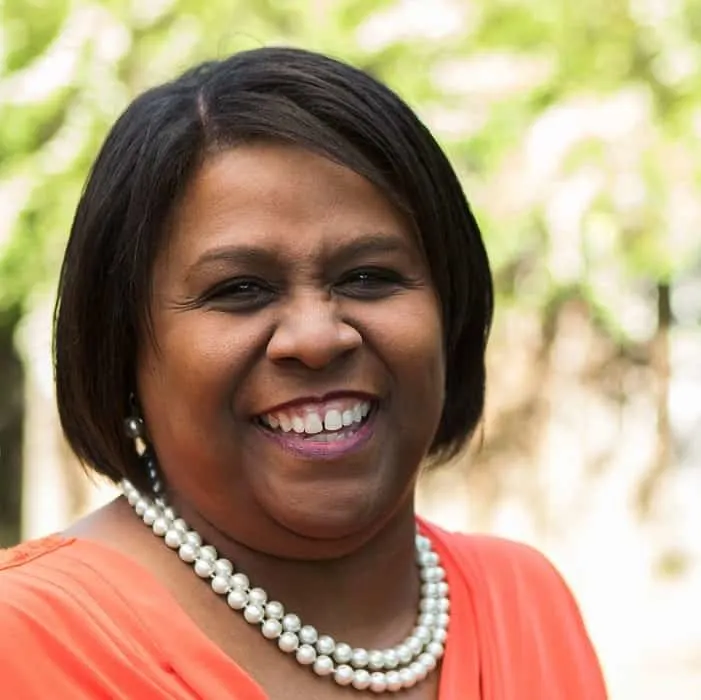 Looking for a short haircut for black women over 50? A chin-length bob flatters round faces. Straighten your hair and part it at the side for an uneven dimension that complements your face shape. Take a section of hair from near the front of the face and secure them together in the back when you want to dress up the style.
24. Thick Wavy Pixie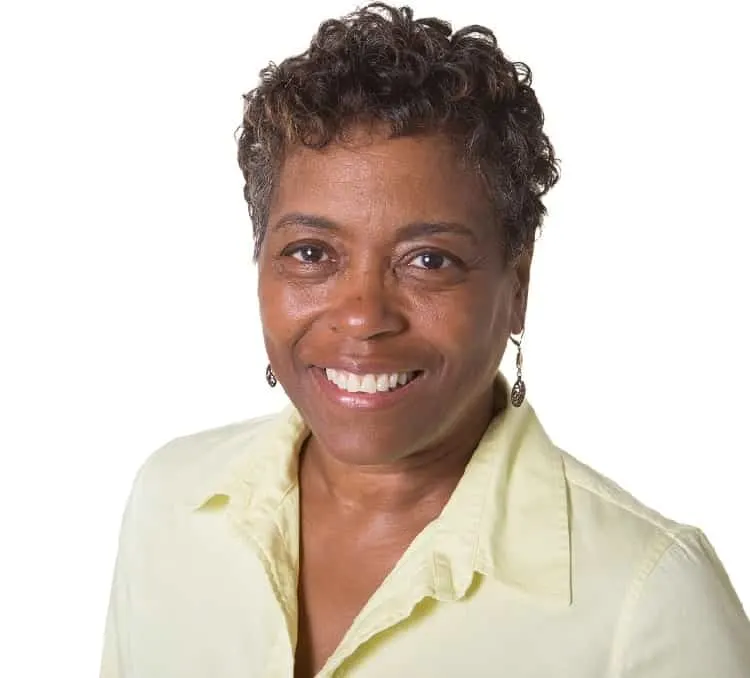 A choppy pixie will easily show off your wavy textured hair. If you have an oval face, this hairstyle will make you look sophisticated yet still young.
25. Round Curly Bob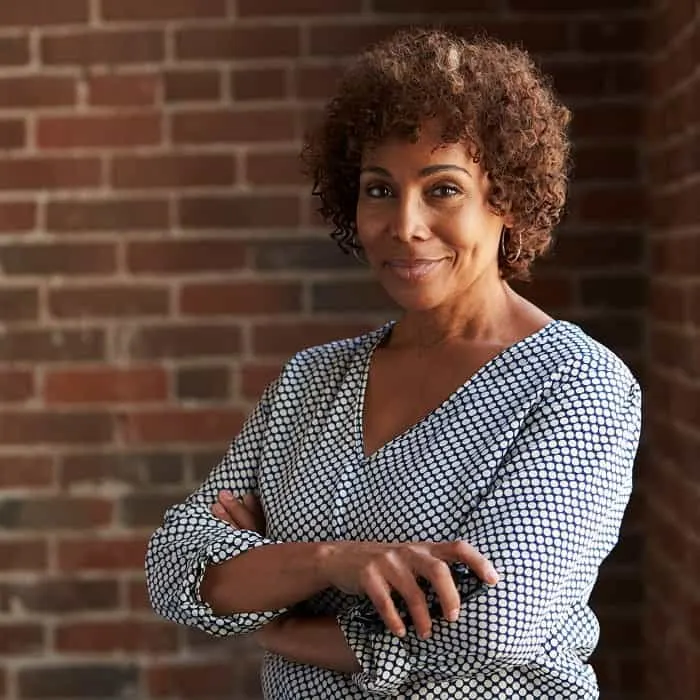 Make your curly bob conform to your face shape to really flatter angles. A dark chocolate brown with a few blonde highlights will instantly make you feel younger and trendy.
26. Side Parted Black Bob
This straight bob for black women may seem simple, but the understated beauty is what makes it a classic choice for a woman's hairstyle. Part hair at the side to add extra volume and keep the length at chin level.
27. Thick Bob with Side Bangs
Do you like a hairstyle that has a bit of thickness to it? A full bob with a side bang is complete with touchable volume. Straightened throughout with a subtle curl to the ends and a soft side bang, this bob also features subtle pink color.
28. Long Grey Braids
If your naturally black hair is starting to show grey hairs, just have your stylist add in long black braids in a mix of grey and black.
29. Thick Black and White Hair
If you're lucky enough to still have thick hair in your old age, you need to show it off. Wear it down and have your stylist color the body black while keeping the front shorter pieces white.
30. White Afro Hair
A thick white afro is another great way to show off natural kinky curls. Have your hairstylist cut hair when it's dry to avoid having too much cut off. A few shorter pieces at the forehead keeps the look soft.
31. Long Straight Hair
Not ready to give up your youthful looks? Straighten your hair and add white highlights over black hair for a mix between young and old.
32. Layered Black Hair with Side Bang
If your forehead is on the larger side, you'll love how a side bang covers it up. Adding layers to long hair creates shape and movement you can easily manipulate with your fingers.
33. Thin Dreadlocks
Have you always worn your black hair in braids or as a weave? A bunch of thin dreadlocks in white with hints of black creates a full, voluminous look.
34. Long White Locs
For a hip way to wear your white or greying hair, opt for locs. This long hairstyle is easily maintained and a simple style, needing only to be worn up in a bun or ponytail when you want hair out of the face.
35. Curly Bob for Round Face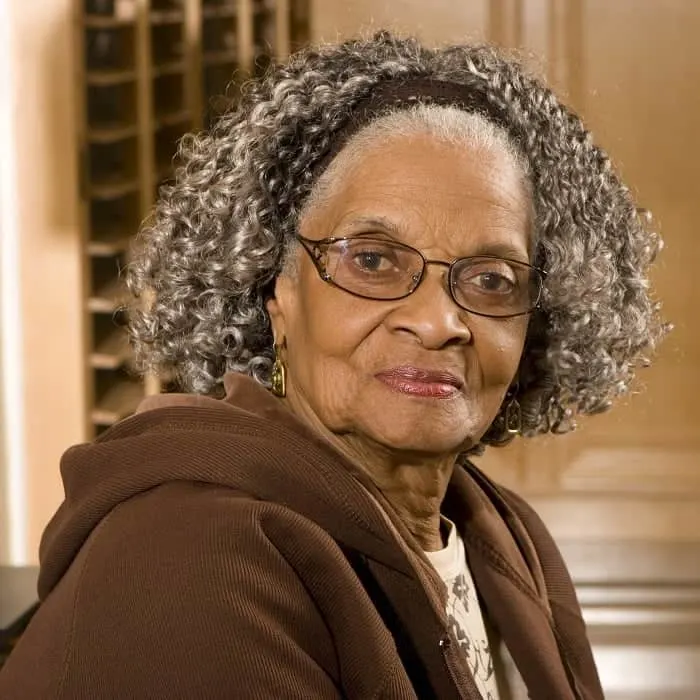 For a round face, a bob full of curls looks adorable with a headband to smooth hair back off the face. This look also flatters women who wear glasses and want to show off their cute specs.
These were our picks for hairstyles for black women over 50. Without giving it any further thoughts, try these spectacular hairstyles today and bring back those good days.