A pixie haircut will work like magic for women over 50 who have to deal with fine hair. There are numerous approaches you can take when struggling to make your fine hair look more defined and with great shape and more volume.
Pixie Cut Ideas for Women Over 50 With Fine Hair
If you're in your 50s and struggling with fine hair, a pixie cut can give you a youthful, lively flair. A pixie is not only easy to maintain but also adds volume and texture to fine hair. So, if you're a fine-haired woman over 50 and ready for a chop, a pixie haircut could be your perfect match!
1. White Wavy Pixie
Fine wavy hair can be cut and styled to build more volume. It doesn't necessarily need to be bluntly trimmed since layers can also work to your advantage.
Go for a side part, opt for long bangs that you swipe to the side and mess up the top.
2. Layered Pixie With Pink Nuances
If your hair is fully white, you can add a pale pink toner in the root area that will beautifully coat the entire hair so it will look lovable in the sunlight.
Keep the hair longer in the crown area and go for bangs that you will messily swipe to the side.
3. Burgundy Pixie
If you're one of those gorgeous women over 50 with wavy hair, dyeing it in a burgundy red color will emphasize the natural curves of your strands.
Choose a pixie cut that tightens the waves and makes them outstanding. Go for bangs and wear them to the side.
4. Pixie with Feathered Bangs
Get a layered pixie with long sideburns and feathered bangs that you will arrange on the forehead.
The longer pieces from the temples should be flipped over the ear and the sideburns styled in front, to frame the face.
5. Comb Over
If you want to embrace your white strands and stop dyeing your hair, you need to let your strands grow. Comb over your fine hair and lift the roots to gain more height for those white pieces.
6. Salt and Pepper Wavy Hair
Pixie cuts work so well with geometric glasses with a cute pattern. If you don't want a dull look, then a messy hairstyle will be an amazing match for you, even if you are in your 50s.
Keep the top longer, tousled, with a side part and short stacked layers in the back.
7. Short Pixie
A simple pixie is the best approach for a woman who in her 50s who is dealing with fine hair because the cut is short, low maintenance, and can be easily styled for all types of outfits.
If you're having a busy day running errands, do a simple tousle and you're good to go.
8. Curly Pixie
Fine hair will get more texture and volume, especially if you style curls. Get a pixie cut with more hair length for the top and short sides and back.
Curl that crown area and part each curl so they gain more definition.
9. Messy Curly Pixie
A curly pixie haircut will give your ringlets bounce and shape. If you already have white hair strands, you will get amazing salt-and-pepper hair with depth and highlights.
Define each ringlet with a curling mousse to make your fine curly hair gain a tighter aspect.
10. Pixie for Wide Face
If you are dealing with fine hair and want to create a color mix that helps your strands gain more depth, combine blonde highlights with lowlights for the crown area.
In the back, the layers should be stacked and short, emphasizing the crown.
11. Buzz Cut
Ultra-short pixie cuts need no styling since they are such practical wash-and-go hairstyles for any woman over 50.
The hair is too short to be styled and all you need is to dry it and give it a tousle.
12. Pixie with Asymmetrical Bangs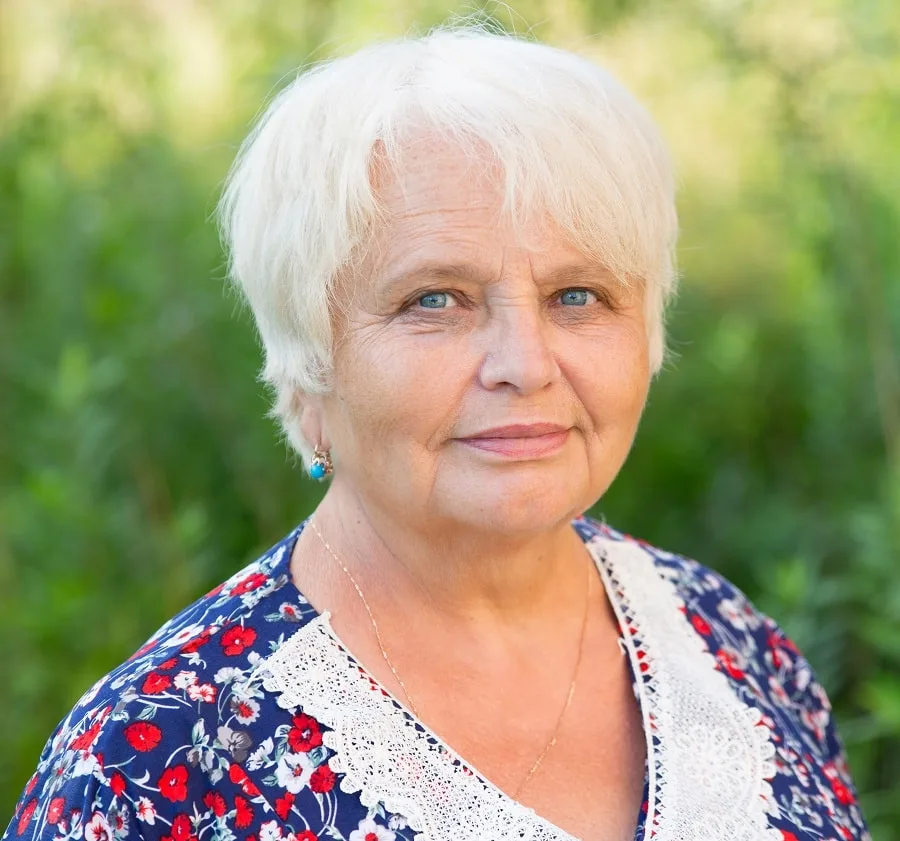 Asymmetrical bangs should be included in any hairstyle, pixie or not, for women over 50 with a rounded face or prominent cheekbones.
If your skin is fair, you don't even need to dye your hair since the white strands look so unique and make your eyes stand out.
13. Baby Bangs
Baby bangs are quite common for women over 50, however, the approach is not as modern as you'd think.
Incorporated in a pixie cut, with curved bangs and strands, the entire look is more old-fashioned a proper for older ladies who crave a classy look.
14. Pixie For Round Face
If you want your hairstyle to have a slimming effect, you have to be careful while choosing your pixie as a round-face woman over 50.
Therefore, our advice is to go for a short cut with asymmetrical bangs and volume concentrated in the crown area.
15. Oldschool White Pixie
At a certain age, you will observe that a receding hairline can be experienced by women too. So, to make it look less prominent, use that hair goal as a parting.
Swipe the top to the side and curve the ends for those bangs.
16. Pixie for Afro Curly Hair
Natural waves and curls can be easily tamed with a proper haircut. And a pixie cut is a fab option for a woman over 50 with fine hair who craves for volume and shape.
Go for a cut that will gradually shorten in the back, preserving the length and building height for the crown.
17. Crown Volume Pixie
When you have a rounded face, it is crucial to create angles. To do so, you can opt for a side part for your short pixie cut.
As a woman over 50, you might agree that blonde nuances are your best friend because they help you better hide those white threads.
18. Dark Teal Short Cut
Never fancied dull looks? In this case, even if you are a woman in her 50s and your hair is finer and thinner than it used to, it doesn't mean you need to switch to a good girl look.
Go for a short pixie cut and opt for a vivid color like dark teal and black lowlights.
19. Icy White Pixie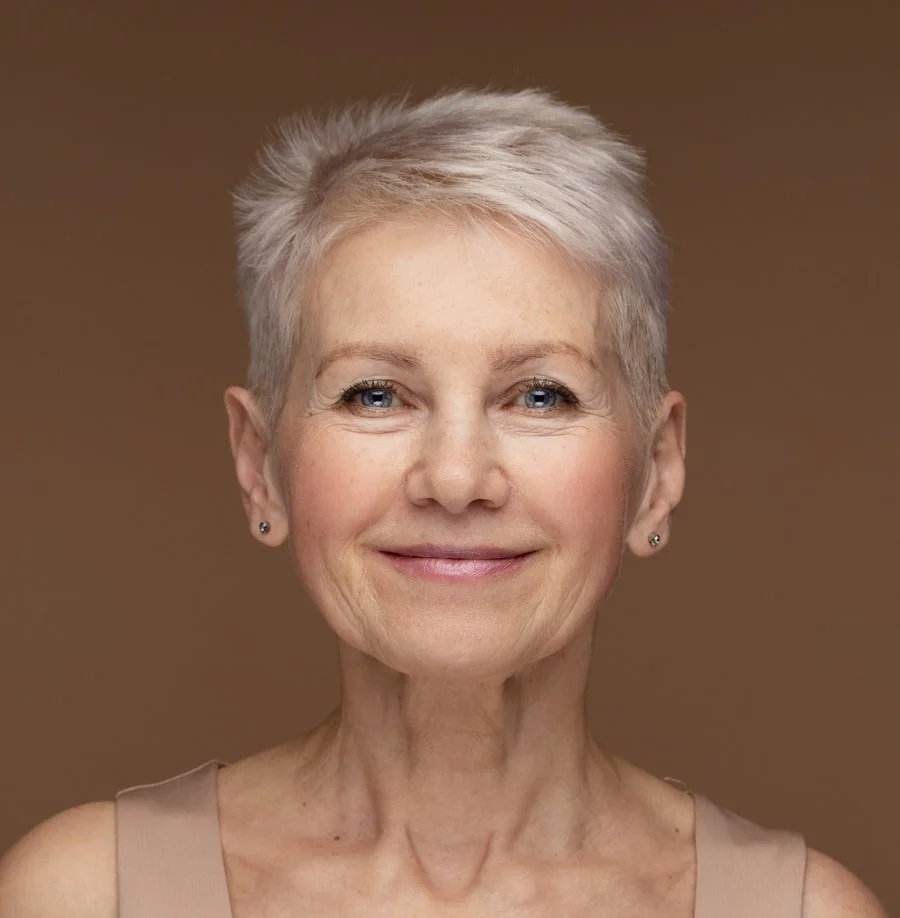 Such a short pixie cut is perfect for women over 50 with fine hair. The haircut can be quickly bleached and toned in a gray icy nuance.
Also, because the hair is short, you can style it to the side or mess it up and create an easygoing look.
20. Pixie for Rare Curly Hair
Unfortunately, as you age, your hair will become rare and fine. However, your curls can be a great option for those who need to mask the bald spots.
Keep the crown longer and trim the nape hair shorter.
21. Dark Red Pixie
Layer and feather your hair and flip out some of the ends to create more volume and shape. If you have fair skin, then a dark burgundy color will work like a charm for your complexity.
Moreover, you can style feathered bangs that you will spread on the forehead.
22. Ultra Fine Hair Pixie
Messing up your hair or teasing the roots will create the desired height. Go for a short pixie bob with bangs that you can swipe to the side.
If you still have some dark strands, you don't need to dye your hair as they will act as lowlights.
23. Teased Top Pixie
If you want to create volume for your top pieces, you can use a comb with dense teeth. Tease the hair, then gently comb it.
You will build mire height for the crown area. By using a hair spray, your hairstyle will last all day.
24. Side Part
Icy short pixie cuts are a fantastic choice for women in their 50s who don't want to worry about blending their depigmented hair strands.
Also, the short grey haircut is perfect for fine hair as it will reduce that thin, flat aspect and will get you a modern look.
25. Pixie with Headband
Pixie cuts are incredibly versatile because they work with waves, curls and can make fine hair look less dull. Moreover, they can be accessorized with headbands that keep front strands away from your face.
26. Permed Pixie For Asian Woman
Permed hairstyles are becoming popular among women over 50. Some might not have been blessed with thick hair but that doesn't mean that you don't have options that will give your hair more volume.
A curly perm and a pixie cut are fab ideas for women over 50 with fine hair who want their tresses to look rich and stand out.