Red hair on men is rare, but that doesn't mean it can't be styled attractively! Many haircuts are flattering on redheads. The most important thing to remember when wearing your natural red is to get a cut that suits your facial structure.
Keep reading for the best cuts, a few facts, and crucial things to remember about red hair in men.
Facts About Red Hair in Men
People with red hair are more likely to be sensitive to pain due to the gene mutation

MC1R,

which causes red hair. It is also the gene that affects pain receptors.

Redhead men commonly have brown eyes. They are the least likely group to have blue eyes, so the r

ed hair and blue eyes

combination are rare but beautiful!

A study published by the British Journal of Cancer suggests that men with red hair are

54%

less likely

to develop prostate cancer than men in the same demographic range who have brown or blonde hair.

Most redheaded people, including men, actually have fewer hair strands than the average person. Red hair tends to be thicker, which makes it appear just as full as blondes or brunettes.

Redheaded people do not usually go gray. Gray comes from losing pigment over time, so when redheads lose hair pigmentation they usually go blonde or white.

Worldwide, only about 2% of people have red hair. The highest concentration of redheaded people exists in Scotland, where about 13% of the population has red hair.
Red Hair Men's Hairstyles
Let's explore the below men's red hair hairstyles to see which ones stand out and look the best to you. You can definitely find a style that appeals to you and the people in your life in this group.
1. Thick Brushing Forehead Style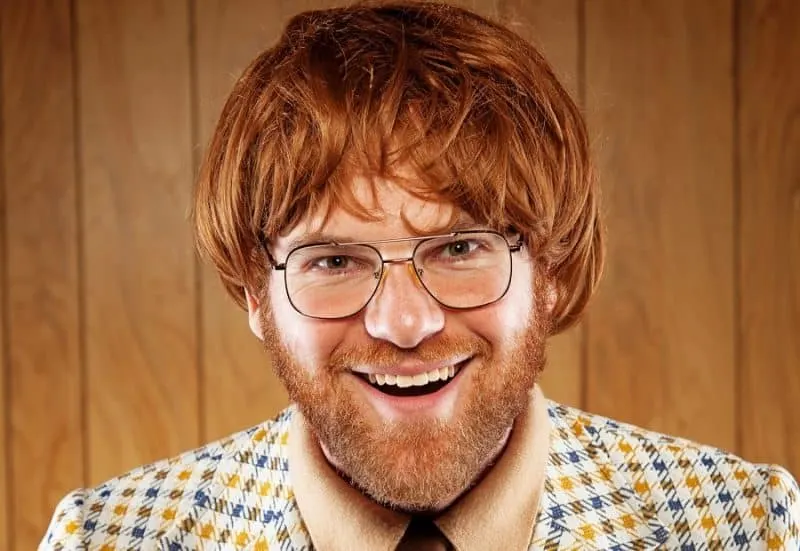 Let's start with this classic 60s retro hairstyle. It can be seen in a lot of famous men with red hair. The hair is quite thick and long, and it goes down to brush the forehead without covering it entirely. It's a little casual and messy for a natural look.
2. Vibrant and Wavy Look
If you have very vibrant natural red hair, then this hairstyle can help you show it off very well. The hair is gently wavy and it's styled upwards to showcase those waves, and the vibrance of the hair is very noticeable on the choppy sides.
3. Side Brushed Bristly Look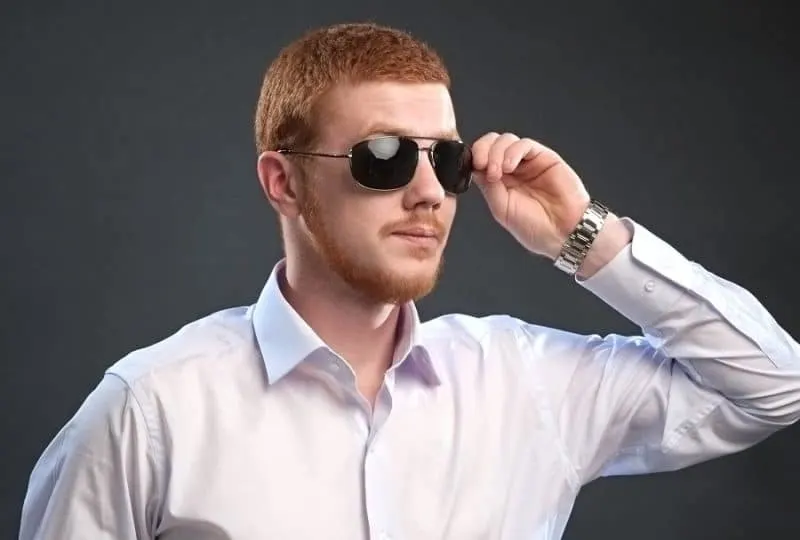 For something shorter, this redhead men's hairstyle has the hair very short and bristly, quite textured and choppy. It helps keep it looking interesting despite being so short. The hair at the front is then brushed to one side so it doesn't look plain.
4. Vivid Tall Messy Hair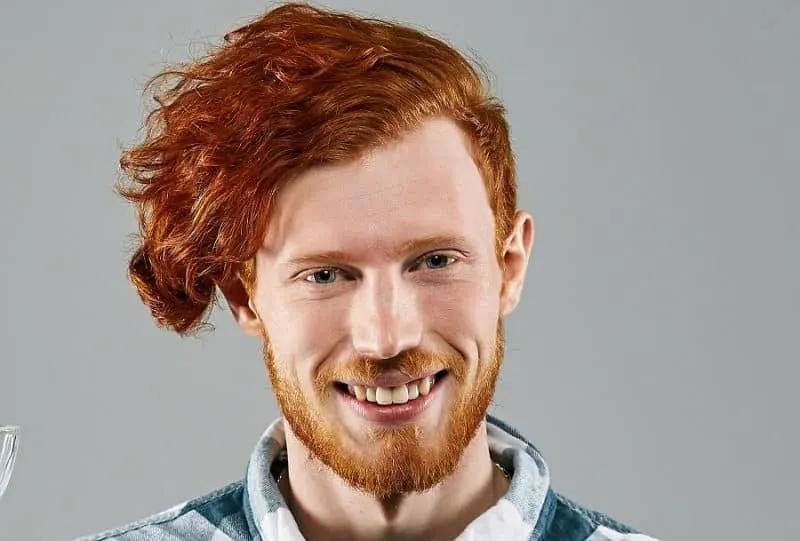 This is another vibrant hairstyle for men who love to dye hair. It's dark and vivid but still a very natural red, and the hair is styled into a messy but still stylish look. Some of the hair is piled very high but it's still soft looking to capture that easy, everyday look.
5. Mullet with Teasing
If you really want to show off a quirky personality, then this is a great style for you. The hair is short at the sides and long in the back so it creates a mullet style. The front of the hair is then teased high.
6. Curly Side Bangs and Choppy Sides

Curly redhead guys need some cool styles, too. If you have naturally curly hair, then show it off! A lot of the hair is brushed forward into some bangs across one side of the forehead, and the rest of the hair is kept short and choppy so the curls don't have time to form.
7. Sleek White Touched Look
Are you a mature man with hair that's lightening? There's a touch of white in the beard and around the roots of the hair. This is a very sleek hairstyle where the hair is slicked back nicely away from the face, and it's paired with a smart and well-groomed natural-looking beard.
8. Long Muted Look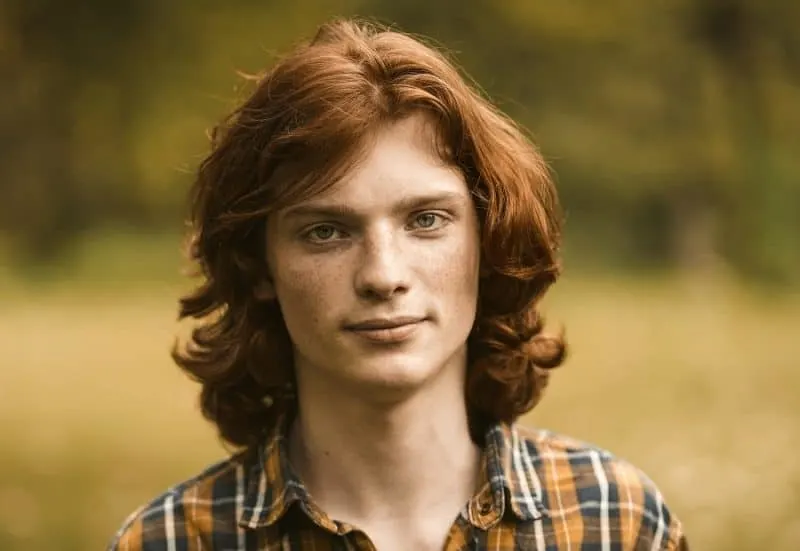 Long hair needs some love, too. This is a great look that shows off a muted red hair color that's on the cusp of brown. It's long, thick and layered with some waviness at the end, and gives a masculine long hair look.
9. Thick Corkscrew Curls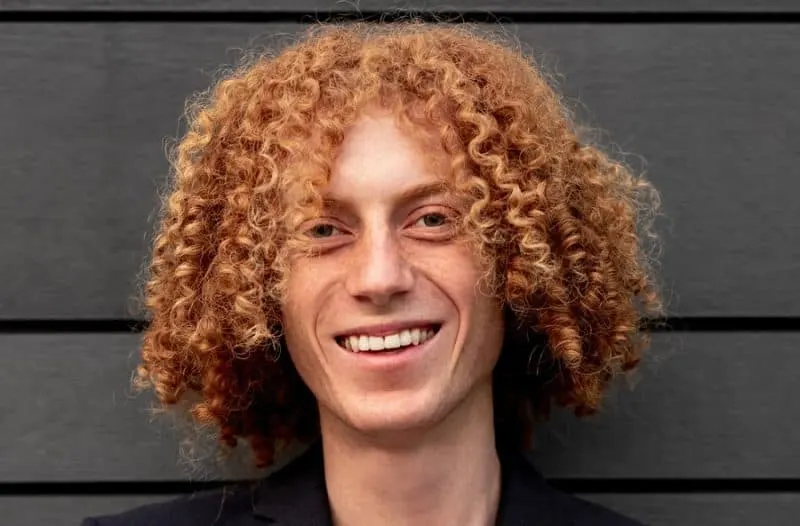 Sometimes it's difficult to make very spirally curly hair look under control, but simple styles let you control it easily. Here's a great example of that. The hair is parted in the middle, and the hair is let hang heavy and thick by the face. There are some shorter sections so it's a layered look that isn't too thick.
10. Gently Spiked with Slick Sides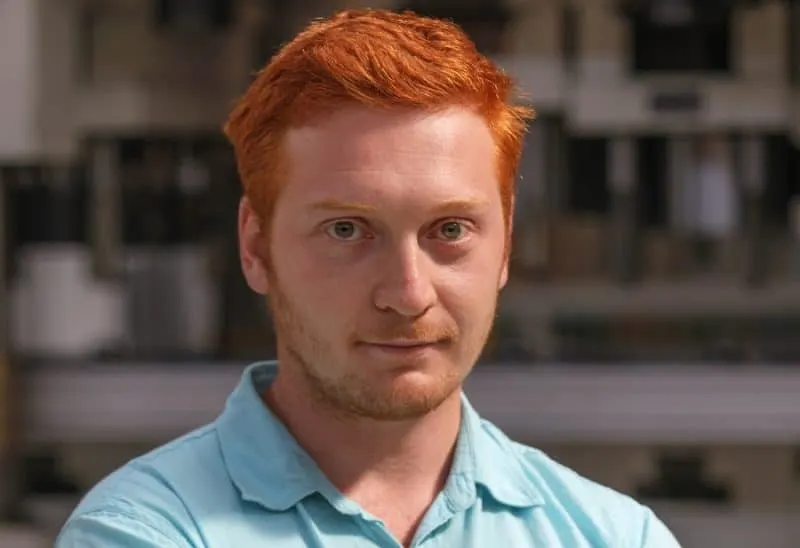 Bright red hair is easy to make look great. This hairstyle has a small quiff that's gently spiked, and most of the hair is given minimal volume. The sides of the hair are much shorter and are slicked back slightly but they still look nice and soft for the look.
11. Long and Messy Thick Hair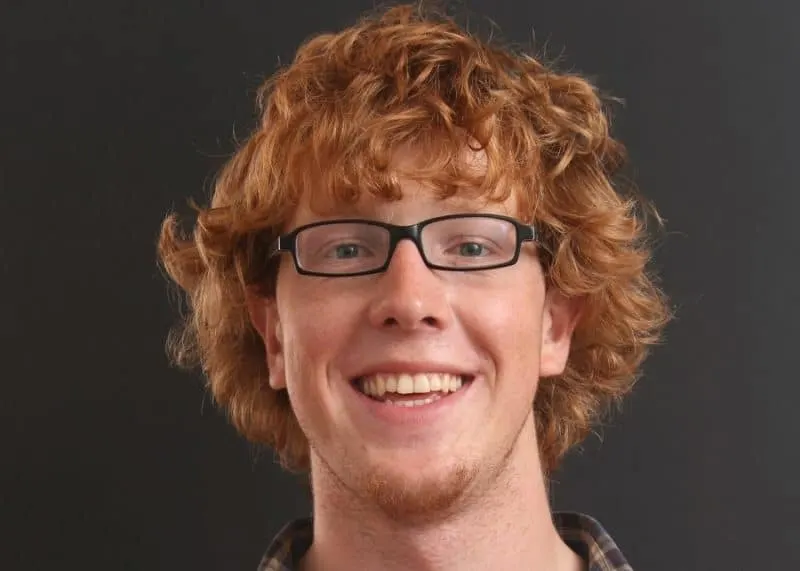 You can't beat an organized mess like this. Here's a great look if you want some length but not too much. The back is long and flares out and the sides are slightly longer too, but the front is nice and short and some curls fall over the forehead. This red hairstyle is ideal for thick hair. It's a fantastic look if you tend to run your fingers through your hair often.
12. Nice Top Man Bun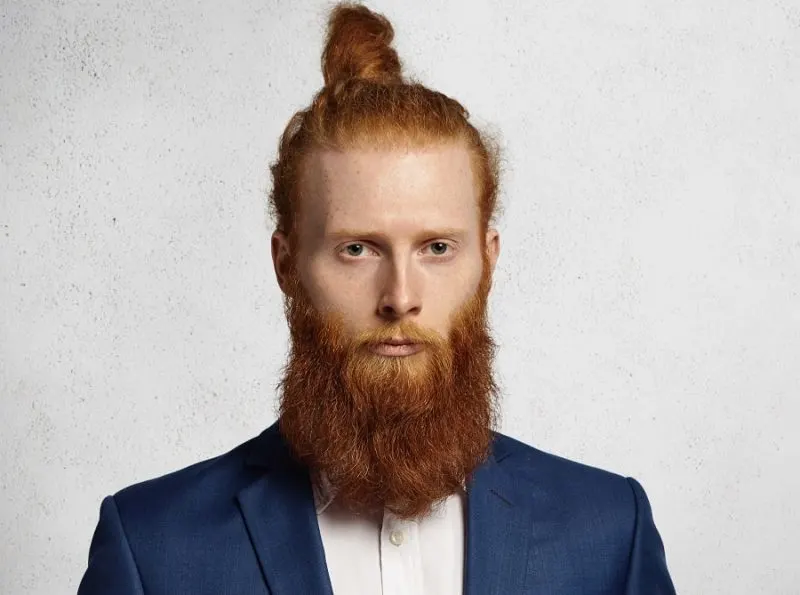 Man buns are very on-trend right now, and this bun is directly on top of the head. It's a nice style with the hair twisted into shape and it's all very neat, but there are still some flyaways on the side for a natural look.
13. Brushed Forward Soft Look
Do you want a casual and cool look? Try this. The hair is brushed forward from the crown of the head, creating a very soft and slightly layered look as the hair is quite croppy. The hair on the sides is much shorter and compliments the look well.
14. Side Swept Thick Hairstyle
This hairstyle is nice and thick on the top, and the sides have a nice fade look going on. The top of the hair is light and fluffy as it's swept to the side in a sleek look that contrasts a thick and scraggly beard.
15. Tall Swirling Hair Look
If you'd like to draw a lot of attention to your hair, then this is a great look for you to try out. The hair is all brushed upwards and curls inwards on both sides, creating a swirl look. The sides of the hair are very short.
16. Long Loose Mohawk Look
This red hair men's look that's inspired by a mohawk is always an attention-grabber. The hair is situated in the middle of the head from the hairline to the nape of the neck, and the rest of the hair is shaved. The hair within the mohawk is very long and loose, so it's not a traditional mohawk style.
17. Dark Red and Black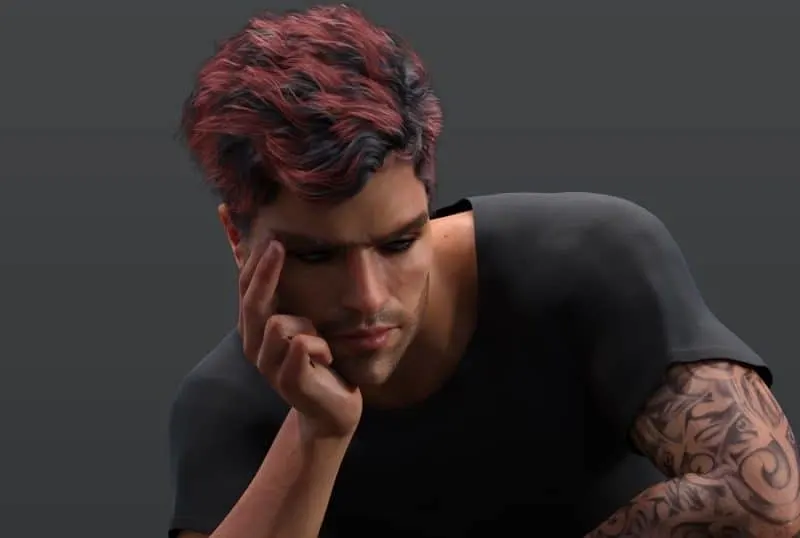 Here's a darker, edgier look for you to try out if you're interested. The hair is nice and thick with some gentle waves, and it's a textured look that mixes deep red and black together to create something very unique.
18. Short Sides Swept Back Top
Some men just want a modern and trendy style that's great for showing off your red hair, and here's one of those. The sides are cut short and kept neat, and the top is brushed back but it's not slicked down. It looks easy and casual, and you can do this look every day.
19. Long Swept Back Look
Versatile looks are very in right now. This hairstyle is delightfully casual, but it still looks nice and neat so you can wear it to more business-oriented or even formal occasions. The hair is long and down to the chin, but it's all brushed back.
20. More Slick Pushed Back Hairstyle
If you like the idea of a pushed-back hairstyle, here's one to try out. The hair is short and it's slick, and the pushed back section covers the entire top of the head. The sides are left short and feathery.
21. Red and Brown Split
Here's an interesting and modern style that you'll like playing with. The hair is split down the middle with one side brown and the other bright red. It's an undercut style with most of it shaved around the head, and there's a nice bowl shape with longer bangs on top.
22. Thick and Fluffy Casual Style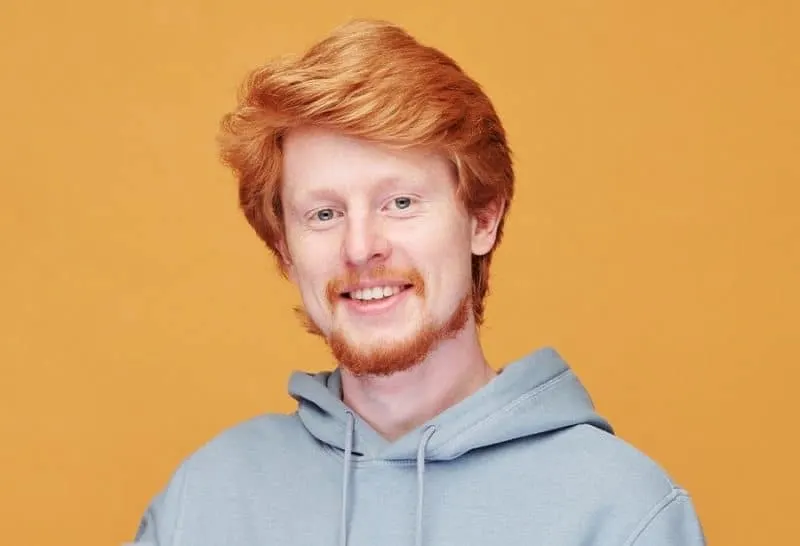 Thick ginger red hair is easy to make look casual. The hair is very thick and fluffy with a fluffy rolled piece at the front of the hair, and it's all casually brushed back with a little volume added to it. It's a very fun everyday style.
23. Short Textured Minimalistic Look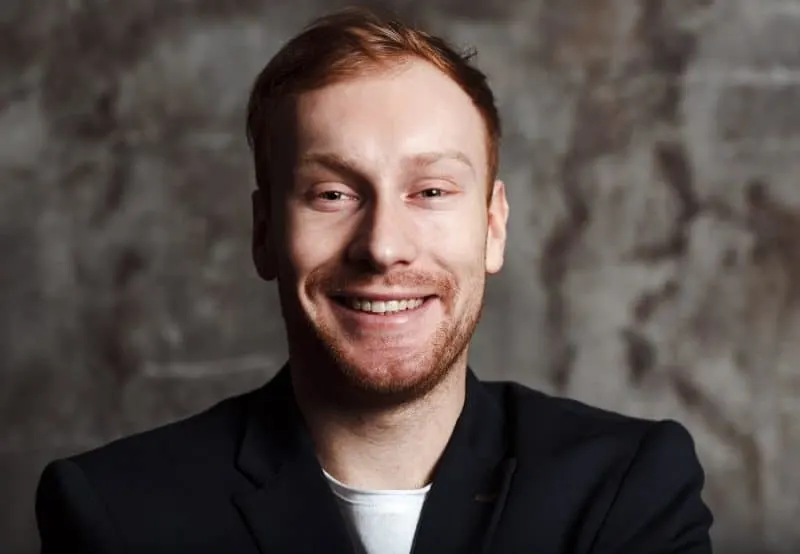 Sometimes short hair is best, as you don't have a ton of time to dedicate to styling your hair every day. If you like having minimal hair to worry about, then here's a look you're sure to enjoy. It's styled to appear textured enough that it's interesting to look at. It works for all occasions as it's both a sleek and natural-looking red hairstyle for men.
24. Tall Rolled Look
Youthful looks like this are great, but older men can wear them, too. This is an example of an everyday look you can style easily, and it's very common among teens and young men. The hair on the top of the head is long, but it doesn't look too long. It rolls over nicely to one side and has a lot of volumes. The hair on the sides is short and brushed back.
25. Messy Curls Look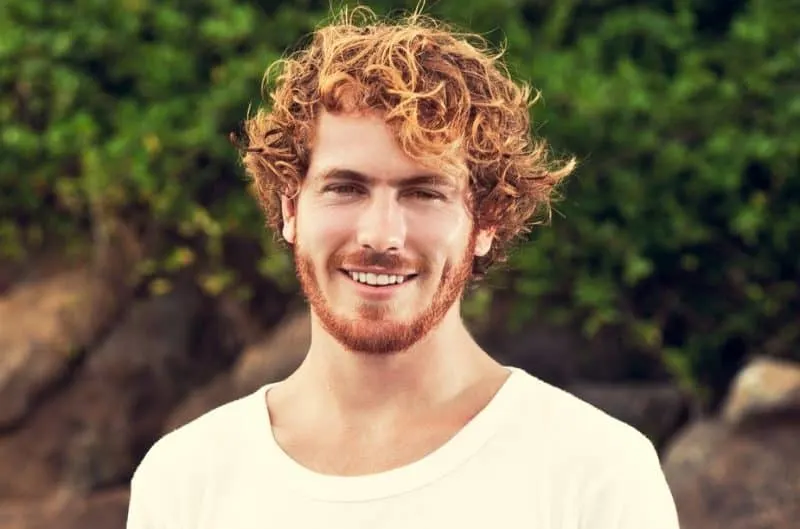 If you have a mixture of curls and waves and enjoy a messy look, here's a men's red hairstyle that will look fantastic on you. The back of the hair brushes the nape of the neck, and the sides are ear-length. The top stops above the eyebrows.
Challenges for Natural Redhead Men
If you have red hair, chances are you also sport fair skin. Fair skin is especially liable to sunburn, so it's important to wear sunscreen and reapply throughout the day, especially because frequent burns increase skin cancer risk.
Sun exposure also causes freckles to develop quickly, thanks to that MC1R mutation that causes an overall lack in melanin. To some, this may not be desirable, but don't worry– freckles have absolutely gained popularity, and many people wish they could develop them, too!
Men with this natural hair color may struggle with growing a full beard because the hair is so light that it has to grow in a heavy concentration to appear fuller.
Wearing orange is a challenge if you are a natural redhead because your skin pigmentation and hair color will affect the way orange looks on you. Lean towards other colors that are more flattering, like blues and greens!
Being a natural redhead comes with its own set of challenges. However, there are plenty of fun facts and perks to being a redhead, including being unique and part of a subset of people who are not like anyone else!
Learn to embrace your coloring and your uniqueness! These red-haired men's styles will definitely give you some hair inspiration for your current and all your future hairstyles. You'll make all the ladies love your hair for sure, and you'll have a lot of fun showcasing your new style while your hair looks better than ever.