Reverse Mohawk has been around for quite a long time and its popularity keeps on increasing. The fashion models and top hairstylists all try to come up with newer and cooler versions of this funky hairstyle which has been a good thing, hasn't it? There are not many hairstyles that complement African American hair as much as the reverse Mohawk hairstyle, because it is made particularly for this type of hair.
The old tribes used similar hairstyles to distinguish themselves from the people of other tribes. It was their way of taking pride in being a part of the tribe that they were born into. Now, however, it has become more of a fashion thing and why not. The world is excelling rapidly in fashion then why not incorporate some fun hairstyles like reverse Mohawk into it?
What Is Reverse Mohawk?
A reverse Mohawk is a literal reverse or opposite of a usual Mohawk style worn by Black Men. The Mohawk hairstyles usually have the hair at the center grown and shaped nicely while the rest of the head is shaved off.
The exact opposite happens in reverse Mohawk where the sides of the head have hair while the center is shaved. This makes for a fun and unique hairstyle that is not for the weak at heart. This is for especially confident and bold people who are unapologetically stylish.
They love themselves and know that they can rock any hairstyle, no matter how funky or unusual it is. This style has taken Instagram in a wave and everyone is trying it for the sake of it. It has recently gained more popularity because of the reverse mohawk hashtag on Instagram.
How to Do Reverse Mohawk
Reverse Mohawk is a cool and somewhat crazy hairstyle that guys who love extreme fashion choices can go for. The style is as funky and fun as it can be without having to look too absurd. If you have liked what we have told you so far about this hairstyle then you must be willing to know how to get yourself a good reverse Mohawk. So, let's see how to do it yourself without beating about the bush anymore.
First, dampen your hair with a spray of water or some moisturizer to make sure that the hair is well-settled for styling.
After dampening your hair, brush it thoroughly to remove any tangles. Once you have removed all the tangles, you are ready for giving a Mohawk to your hair.
While brushing your hair, make sure to move the brush from the front to the back of your head in straight sweeping motions since you do not need to part it from the center or side. It just has to be brushed backward in a very gentle manner.
Now comes the fun part! Take a fading machine and fade the hair right through the center of your head all the way to the back of your head.
Run the machine twice more over the cleared patch of the scalp to remove any extra hair which might have been left behind.
Now brush the rest of the hair to both sides and you are ready to click a photo of your new funky hairstyle and put it on Instagram with the hashtag reverse Mohawk.
Amazing Mohawk and Fohawk Fade Hairstyles for Men
Reverse Mohawk
Well, we have already told you about the coolness of the reverse Mohawk hairstyle and how to do it. This seems only fair to now tell you about some of the coolest hairstyles, doesn't it? So, here is a list of 20 funkiest hairstyles with a reverse Mohawk that we came across.
1. Diagonally Shaved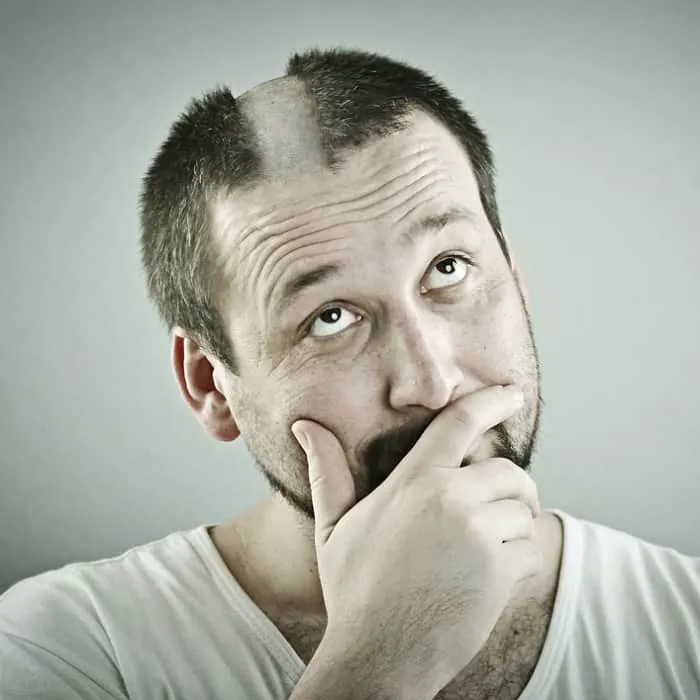 Shave a line about an inch and a half wide diagonally across from the hairline to the neckline for this reverse mohawk. The sides will be about an inch or two longer.
2. Bi-colored
If you have a scruffy beard and thick hair, first shave a thin line from the hairline to the neckline. Then add a pop of color to your already existing color by coloring just the opposite sides.
3. Long Hair
Do you have medium length or longer hair? Try adding an edgy shaved line in the middle to get a reverse mohawk and a whole new perspective on your look.
4. Reverse Mohawk with Fade
Instead of bringing a wide shaved line all the way up through the hairline, stop halfway through. After adding a fade with shaved designs, no one will dare say your reverse mohawk isn't packed with punch.
5. Bald Reverse Mohawk
If your hair is already balding, there's no reason not to try a reverse mohawk, right? Embrace your natural curly texture on the sides of this style.
6. Spiky and Green
You can still rock spiky texture on a reverse mohawk. Use hair gel to shape locks into points. A funky green or another color like blue will make your style more playful.
7. Mullet Reverse Mohawk
Don't chop your long hair just because you're changing styles. Combine a mullet with a reverse mohawk by cutting top hair and leaving the rest long.
8. Super Short and Bleached
This reverse mohawk doesn't feature a shaved line. Instead hair is very short except for two slender lines on either side. Bleach the hair for even cooler contrast before shaping it into curved spikes.
9. Curls and a Fade
Switch up your curly hairstyle for a reverse mohawk. A medium fade combined with the shaved line in the middle makes this a memorable look.
10. Tattooed with Color
For all you truly bold men with tattoos who like to play with color, you'll love this long reverse mohawk. From the neckline and around to the top, hair is spiked out with a pop of purple.
11. Cool Black Reverse Mohawk
Black has always been contrasting, haven't they? This cool and impressive reverse Mohawk hairstyle has both sides of the hair black. It gives it a cool and mysterious attractive style. The hair is cut to the exact length too so that it looks great but not messy and the stubble beard makes it complete.
12. Nice and Neat
Reverse Mohawk on crew cut can make you look smart and polished too if you cut the side hair short too. The central patch is neatly cleared off which gives a very well-kempt look to your hair and makes you look decent and sophisticated even when you are sporting a hairstyle as funky as this with short beard.
13. Cute and Funky
This reverse Mohawk hairstyle gives this masculine and the big guy a very cute and adorable look, doesn't it?
9 Bold Short Mohawk with Fade Hairstyles for Men
14. Simple and Adorable
This little boy with straight hair here is rocking a reverse Mohawk which brings out his facial features more. The hair at sides and a clear patch through the middle makes him look more adorable. Maybe he knows how cool his hairstyle is since he has that cute knowing smile on his face, doesn't he?
Kids love such unique yet simple hairstyles since they offer them a chance to look different from their peers and feel more confident whenever someone praises them for things as simple as a reverse Mohawk.
15. Red and Black Reverse Mohawk
This cute kid has a fun twin colored reverse Mohawk hairstyle which speaks so much of his personality and style sense. The sides are black and red each presenting a contrast to the other.
This hairstyle is sure to grab away all the attention at a place and makes your kids feel more confident and braver. Why not try this for your little one this season and make him look as cool as his parents are?
16. Spikey Reverse Mohawk
Okay, so why stop at only clearing off a patch of hair from your head when you can more fun and get the remaining of your hair to stand up proudly in spikes?
This guy here has done just that and we are sure that his Instagram feed would have gone crazy on seeing his cool and fun hairstyle. You can try this too but remember the shorter the hair, the better the spikes with this reverse Mohawk haircut.
17. Cool Purple Reverse Mohawk Hairstyle
Reverse Mohawk is meant to be fun and cool, isn't it? So why not add a dab of some funky color to the hairstyle? The shades like purple and electric blue can go a long way in making you look more attractive and fun-loving, so try these when you get yourself a hairstyle as unconventional as a reverse Mohawk.
18. Adorable Shades of Blue
This kid has got a lovely reverse Mohawk with low fade and he is looking totally adorable with all the shades of blue in his hair. Both sides across the reverse Mohawk have different shades of blue which add more character and detail to this fun hairstyle. His hair is cropped short too which make him look less intense and more aww-worthy.
19. Barely There Reverse Mohawk
If you are not up for some very bold hairstyles then this thin reverse Mohawk with buzz cut can be a good starting point for you.
20. Fiery Red Reverse Mohawk
This red funky spiked is one of the coolest reverse Mohawk hairstyles that you will come across.
These reverse Mohawk hairstyles are fun and cool, but you need to be very confident and bold to try them. So, when you are feeling brave and want to try something unconventional, go for a reverse Mohawk!