A lot of people think that women with 4c hair don't have many options when it comes to short hair, but we know better, and that's why we have put together a list with seven of the very best short 4c hairstyles you can try on this year, let's begin!
Latest Hairstyles for Short 4C Hair
4c hair is a complex natural hair type. Here we have put together the 7 best short hairstyle ideas for women with natural 4c hair.
This is probably one of the most trendy short natural hairstyles for black women with 4c hair out there, and we are going to tell you exactly how to get it. First, you will need a hair tie, multiple hairpins, and gel.
Then comb your hair, helping yourself with a wide comb and applying hair gel to make sure it sticks throughout the day. Tie half of your curls up and make a hair bun.
If you are looking for very, very short 4c haircuts, this is the one for you. To get it, you will have to cut down your hair, almost to a buzz cut not so much, because you'd want your curls to be visible.
After that, hydrate and style your natural curls with some hair gel to give them some shape. Last, lay your edges on the side to replicate the same effect. You can help yourself with a little brush or your fingers.
If you are a woman with natural 4c hair and you want to give your hairstyle a little bit of a twist, then you need to try and dye it a cherry red hair color. To get this short red curls, it's very likely you will have to bleach them first and then apply the hair dye.
This time, make sure the top part of your hair is longer so your curls can be seen; you can help yourself give it some shape with your fingers. Make sure to lay your edges as well.
Believe it or not, you can still get a Mohawk even if you have 4c hair. To do so, you will have to push your short hair upwards until it reaches the middle of your hair.
Once that's done, you can shape your very tight curls into 'bigger' curls, you can help yourself by using some hairpins to make them stay in place. Also, make sure to use some hairspray to set it all together.
What's great about short 4c hair is that you can easily turn it into a little afro. Of course, you want the afro to stay short. However, the curls should be long enough to actually achieve an afro style. Also, make sure to part it down the middle as well.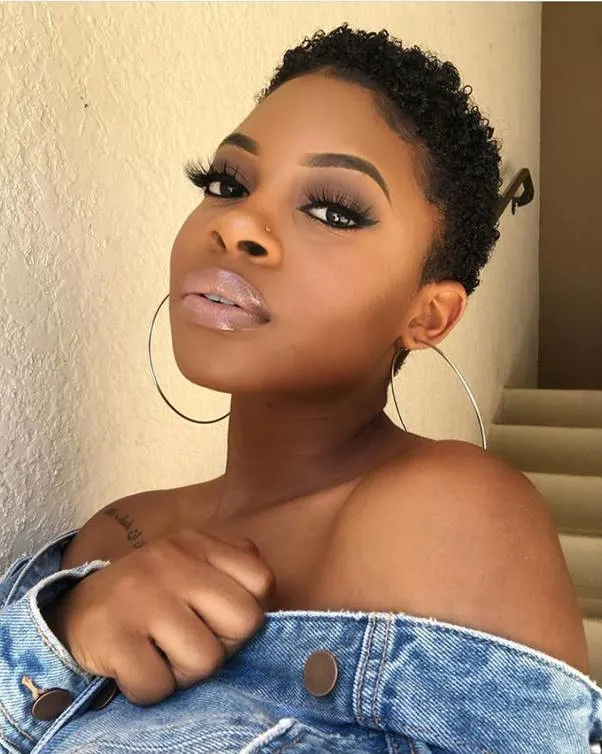 This natural hairstyle is similar to the number 2 style we showed you previously on, however, this time, you'd want your short curls to start a little bit farther of, meaning your edges should be a little bit bigger and shorter than the rest of your hair.
Amongst our all short 4c hairstyles, this is the preferred one. Your curls should be long but your overall haircut should be above your shoulders. As to how to style it, you would want to part it down the middle, leaving the top part to fall to your forehead, letting your curls frame your face.