Short red hairstyles are your starting point if you want to stand out without going too extreme vis a vis your color and 'do. Short hair is an eye-catcher, whether you go with a dynamic style or a classic cropped coif.
Red hair is a stunner, too—it's rare, and so everyone wants it. Say what you will about gingers, but they always stand out in a crowd. Besides, there are so many shades of red, ranging from rich natural tones to bright, vivid hues, that you can easily find a shade that complements your eye color, skin tone, and personal style. Copper red like a shiny new penny, cherry red, auburn, strawberry-blonde—there's a rainbow's worth of red hues out there, and just as many short styles to do the color justice.
Popular Short Red Hairstyle Ideas
In a sea of candy-coated locks, it might seem like short red hairstyles are now boring and obsolete, but that's not so. Because everyone's attention is so hyper-focused on shades of pink, purple, and turquoise, the more "traditional" colors seem to stand out that much more. They're unexpected because the unexpected is currently more expected if that makes any sense. A vibrant red coif reveals more individuality than in recent years. The hue has always been a bold choice, but now it's a statement-maker. Are you ready to make a statement?
1. Natural Mohawk
Need a new protective style or a fresh look? There's a bevy of short red hairstyles for natural hair, and they are nothing less than divine. This naturally curly take on the mohawk features shaved sides, a gorgeous shape, and—it looks like—some braids on the side.
2. Edgy Like Beckham
There's something very Victoria Beckham-esque about this coiffure. If not for the hair color and the piercing, this is almost a dead ringer for the former Spice Girl. It's an edgy cut with sharp, deliberately uneven layers and side swept bangs. The color's rich but not heavy.
Best Hair Ideas with Red Highlights
It's odd, but both red and black hair lends itself well to uneven crops and choppy cuts. Maybe because both shades are extreme, they complement extreme cuts. Don't worry. A jagged pixie is artful enough that no one's going to think you just got carried away with the scissors.
4. Natural Russet Curls
The russet red of these curls is glorious. Her hair looks like a late summer sunset. This is also an example of the importance of choosing a short red hairstyle in a shade that flatters your skin tone. Her combination is perfection—her hair brings out the cinnamon undertones in her skin.
5. Choppy Lop
Evenness isn't an issue when you're rocking a redhead lifestyle. Tousles are a perfectly acceptable 'do for a ginger, whether the color's all natural or faux. The lop here is a bit shorter than a bob with lots more layers. They add texture, dimension, and bedhead appeal.
6. Women Copper Spikes
Comb your fingers through your short new 'do, spray the spikes to hold them in place, and you're good to go. Ask your stylist for a purposely messy, slightly asymmetrical cut like this one if you're in a punk rock frame of mind.
7. Pageboy Hairstyle
The pageboy hairstyle doesn't get a lot of play, partly because it isn't always fashionable, but it works as a short red hairstyle. A natural carroty red like this does something to the cut—but so do the waves and the longer, blunt-cut bangs. It's not as flat and one dimensional as a traditional pageboy.
8. Red Hair, Don't Care
Tousles really do work as a coif for carrot tops—or variations thereof because there's nothing orange about this deep shade of red. You may have to get your hair thinned, and layering is a must to pull off this style.
9. A Brighter Shade of Red
This red is so bright, it's nearly pink, but oh, does it ever work. Her curls are a bit loose and longer, so they throw off different shades—peep close, and you'll spot ruby red, cherry, a hint of fuchsia, and even some orange.
10. Bardot Bob
Not all short red hairstyles are super short. A bob still qualifies. With its loose curls and waves, this bob is evocative of Bridget Bardot's bedhead hair. The vibrant color is honestly breathtaking. Anybody else sort of in love with the freckles, too?
Trendy and Popular Short Teenager Girl Hairstyles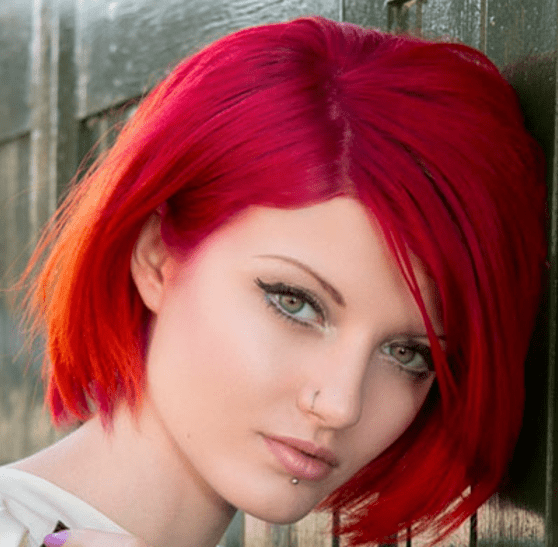 It takes a bold, confident woman to step out with a short red hairstyle—but you're bold and confident, aren't you? Prove that redheads have more fun. How short are you going to go?